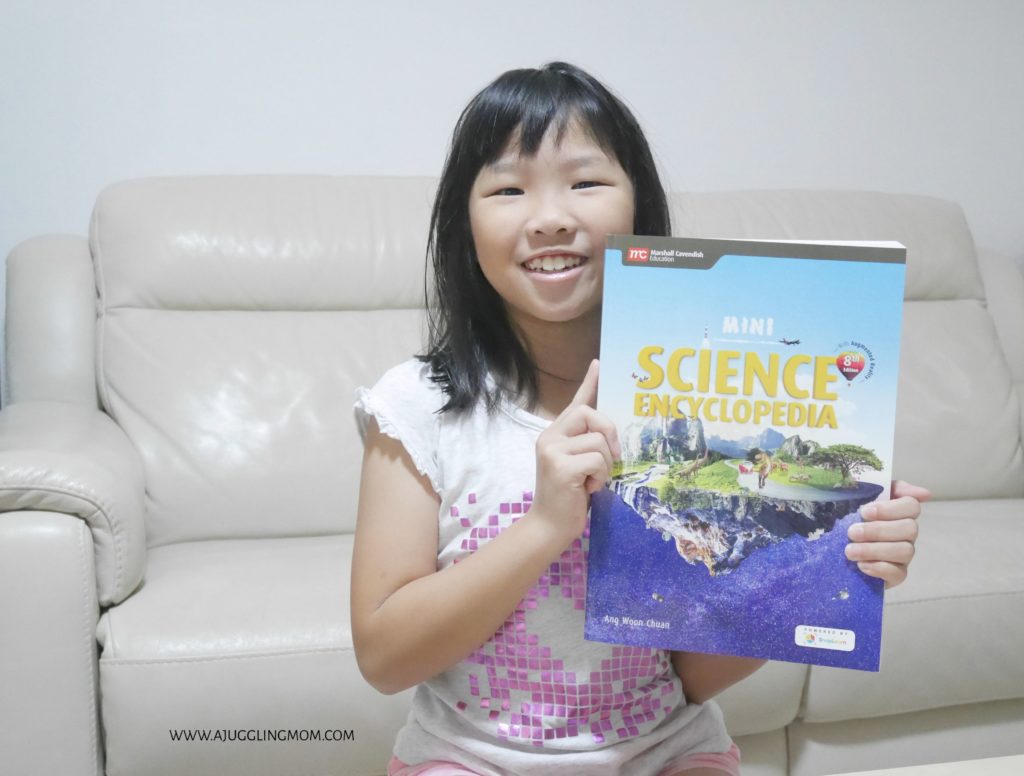 If you have primary school going children, you'll hear how Primary 3 gets more challenging with the introduction of Science. There is definitely some truth to it as Science at Primary 3 is no longer what we used to know.
Like many parents, I'm surprised that students these days are expected to tackle tricky Science questions where answers have to be spot on with the use of precise key concept and keywords to demonstrate that they have grasped the subject well. To be honest, it's been an uphill task trying to get Sophie to enjoy the subject as the school expects students to  expectations for the subject
If you have kids entering Primary 3, here's a list of Science resources which I have been using to coach Sophie at home.
LINK: Tackling Science in Primary 3
Science in Lower Primary
If you have kids who are in lower primary, it's important to cultivate their interest for Science now. One way to do that is by making them aware of how Science relates to their daily lives by pointing out the nature of Science like where does their food come from, how is weather predicted, life cycle of plants, etc. Encourage your kids to ask questions to promote a healthy curiosity for the world around them.
You can now make learning Science come alive with the latest edition of Mini Science Encyclopedia by Marshall Cavendish Education that is Augmented Reality (AR)-enabled. The very first of its kind in Singapore!
Learning Science with Augmented Reality
If you've always associated science encyclopedias with thick, dull and boring books that lulls one to sleep, you'll be for a surprise with this latest encyclopedia that's powered by AR!
The Mini Science Encyclopedia (8th edition) by Marshall Cavendish is targeted at lower primary students. But guess what, even I was pretty impressed by the newly incorporated AR feature.
To start the AR experience, we had to download the SnapLearn App.  After activating the app by scanning the barcode on the back of the book, we were ready for our AR experience.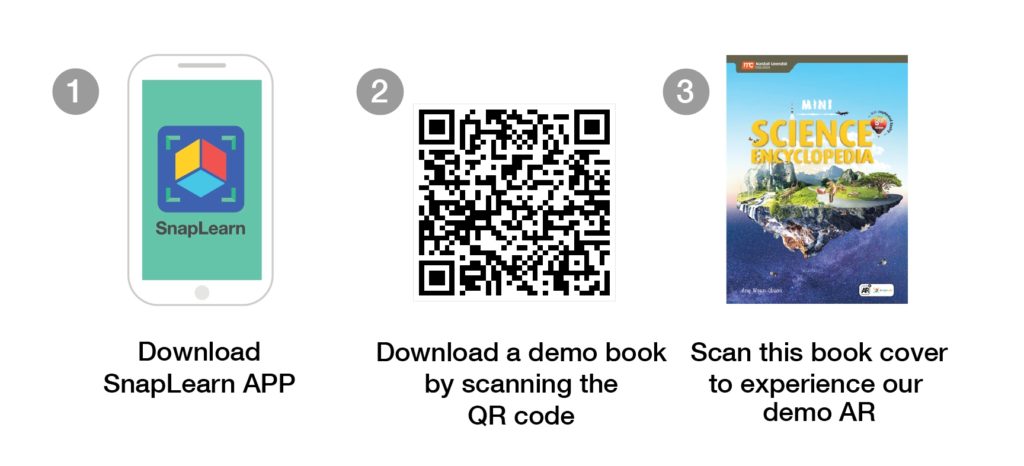 Just look for pages with the AR logo and point your camera on your device. Within seconds, content from the pages leapt off the page, and came to life in 3D. Sophie's first reaction was, "Wow, so cool!"
Sophie was very impressed by the lively and interactive graphics and went on to scan many more pages and kept asking me to watch the videos with her.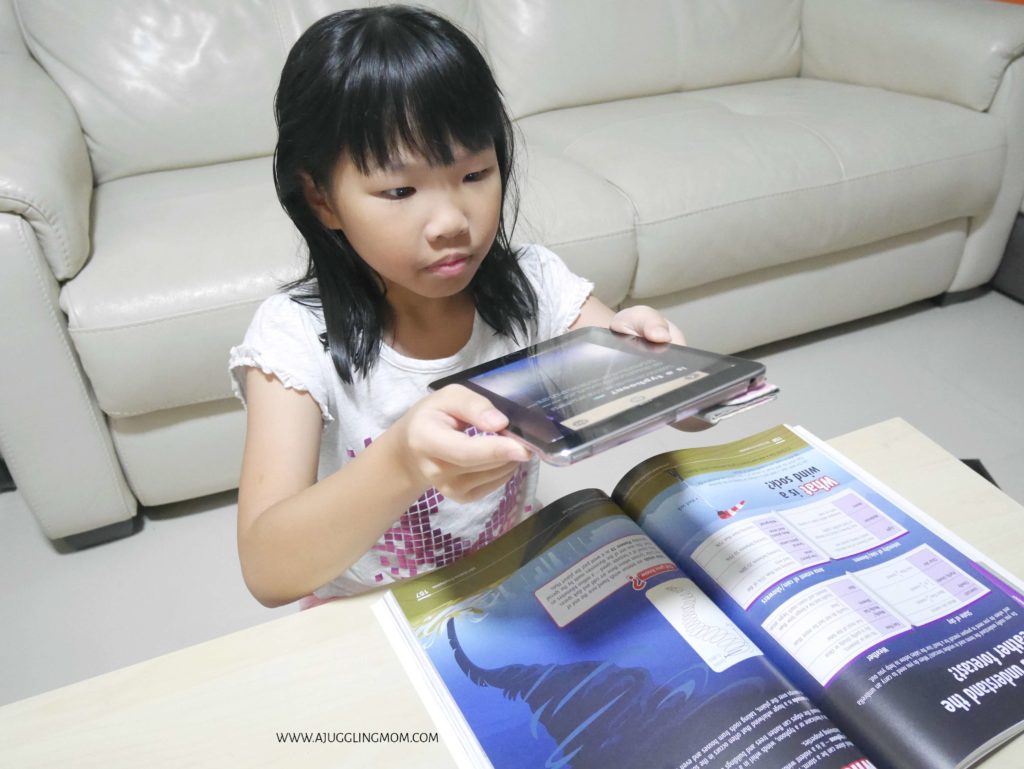 As modern day parents, it's futile to fight against the use of screen time. So in my opinion, this is a more educational option combining traditional encyclopedia where kids flip through the pages while using technology for a more immersive learning experience.
Developing a curious mind for Science 
What I liked is how each topic starts with a question promoting curiosity and triggering little minds to ponder about the world around them. Being curious is an important life skill that children need to be equipped with for the future so that they don't just end up being book smart only.
The "Can You Believe It" section, has lots of fun and interesting facts which Sophie like to quiz us on and she gets mighty pleased when we are stumped at some of the lesser known facts.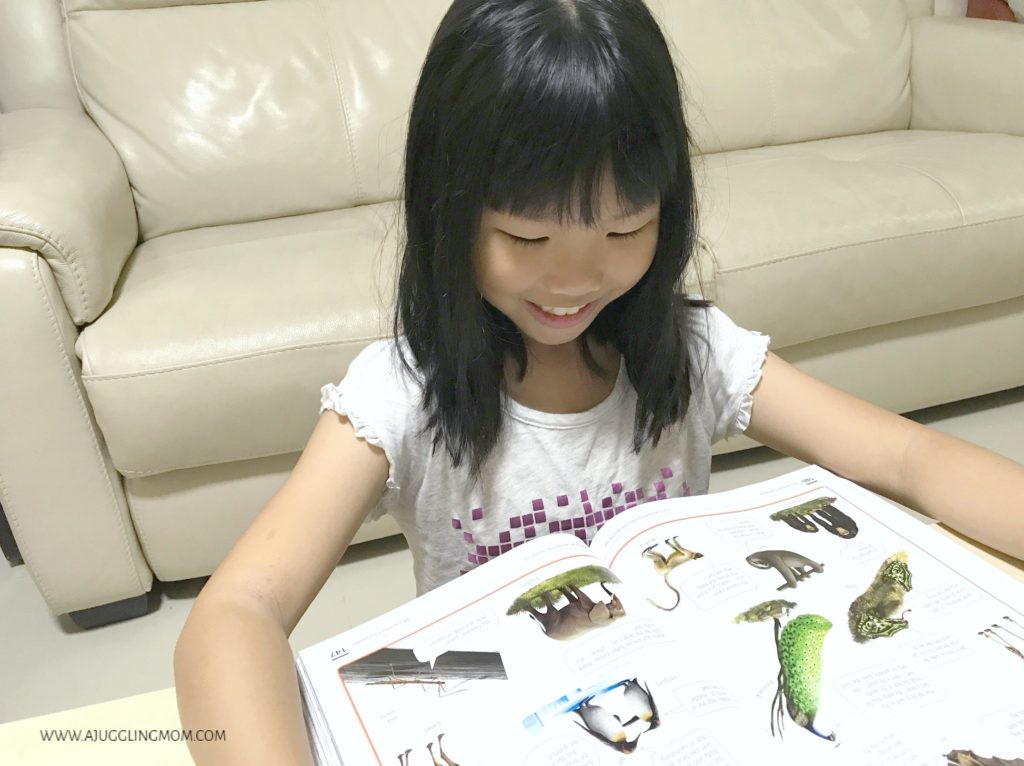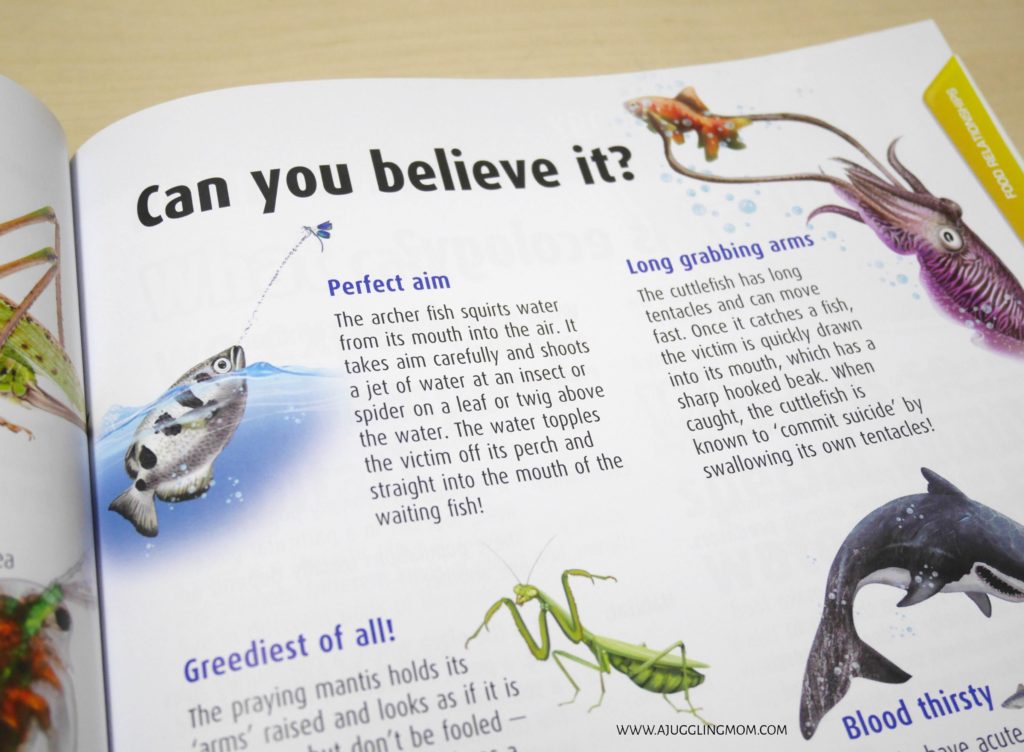 The Mini Science Encyclopedia covers a wide range of topics that range from animals, food, weather, etc to topics that will be covered in the school curriculum, like energy, heat, plants, etc. Being the 8th edition, the book includes current topics like life sciences, stem cell research, emerging diseases and even NEWater so kids can be kept up to date on emerging Science discoveries.
The bite size content serves as a quick introduction for young readers, but it will not be sufficient as a learning supplement to compliment the school syllabus when they proceed to upper primary.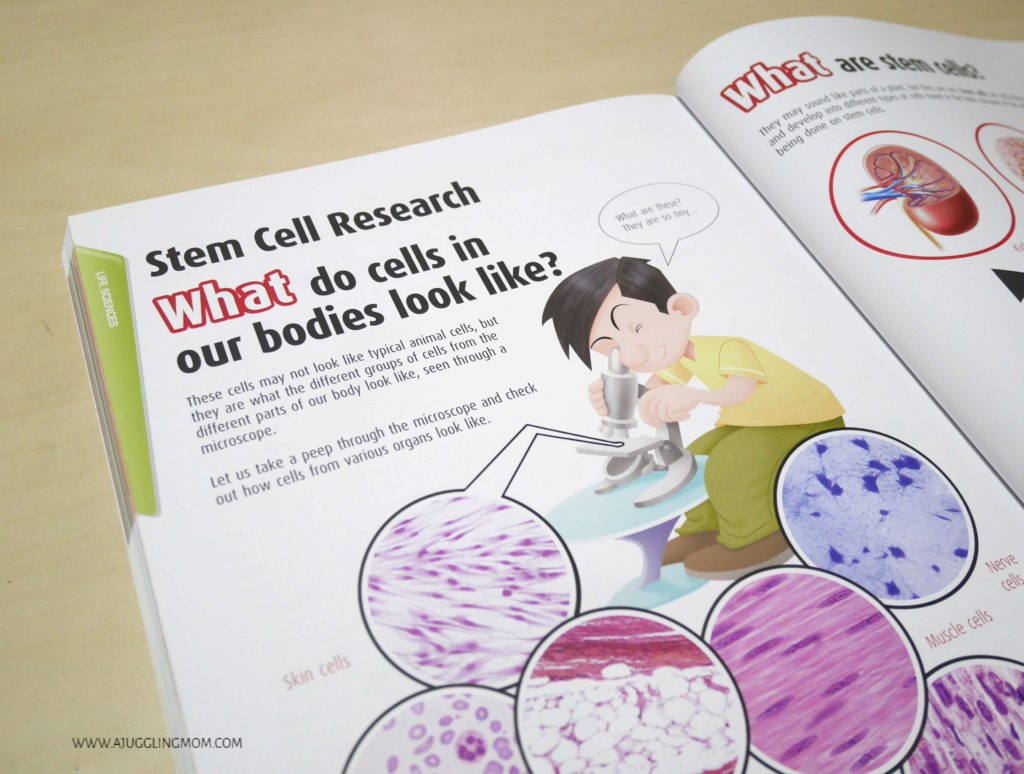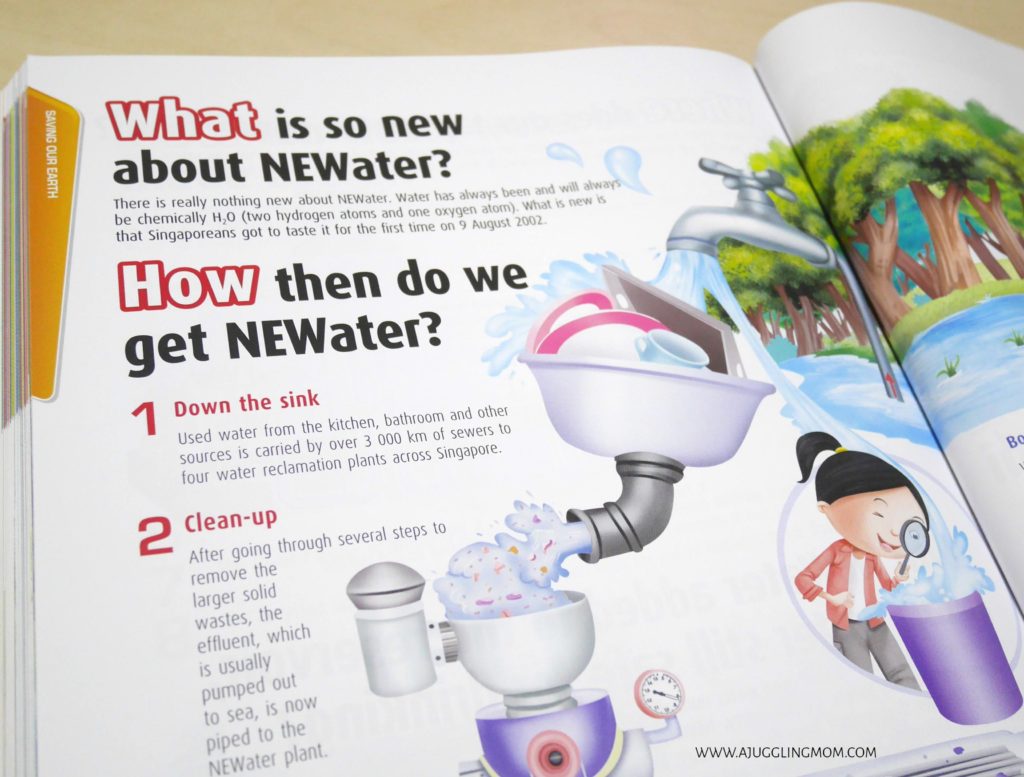 What really stands out from other encyclopedias is the bold and colourful graphics. For young pupils who are visual learners, the Mini Science Encyclopedia is ideal as there are lots of photos and illustrations , making it visually attractive to capture their attention.
For kinesthetic learners, they will enjoy the hands-on experiment sections where they get to perform simple activities helping  them to understand science concepts better. Most of them can be conducted with adult supervision and it's a great way to make links on topics like shadows, magnets with materials that are easily available at home.
Sophie has been having her nose in the book for the past week and it's a joy to hear her share about new knowledge that she's learning about the world around her. As a Mini Science Encyclopedia , this is a great introduction to the world of Science for young readers and with AR, this makes it even more compelling and engaging for kids of all ages.
The Mini Science Encyclopedia is now available at Popular bookstores and retails at $21.50 (before GST).
– – – – – – – MINI SCIENCE ENCYCLOPEDIA GIVEAWAY – – – – – – –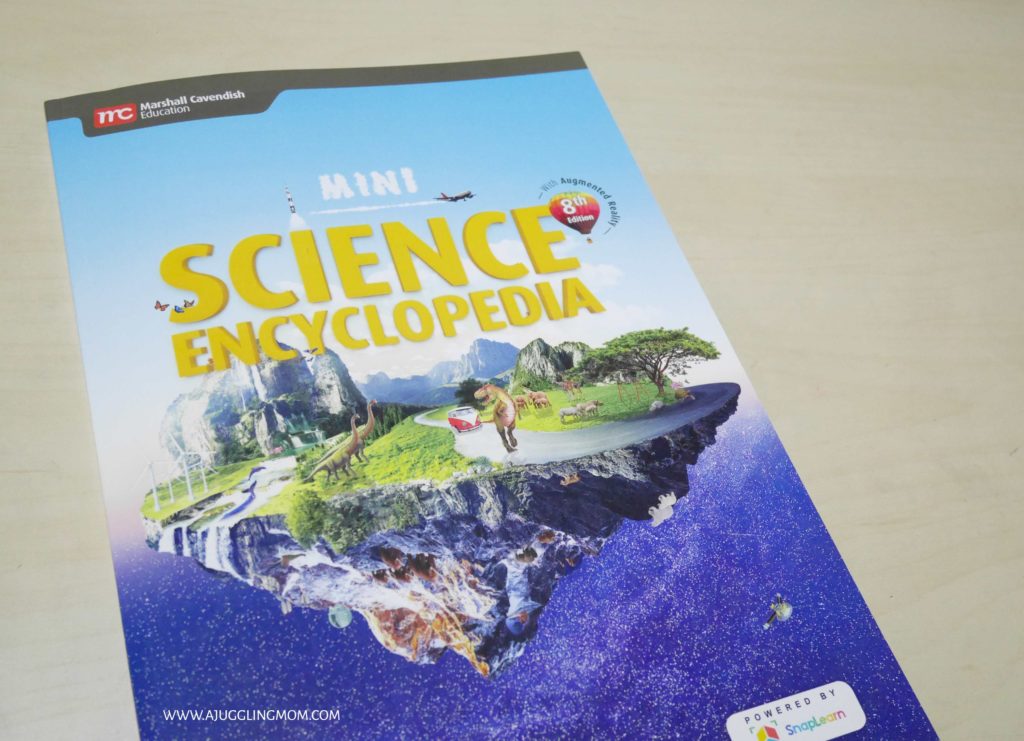 Thanks to our sponsor Marshall Cavendish Education, we are giving away 2 MINI SCIENCE ENCYCLOPEDIA (8th edition), to 2 lucky readers.
To participate, simply:
1. LIKE & SHARE this post (must be set to public).
2. LIKE Marshall Cavendish Education & A Juggling Mom Facebook pages.
3. LEAVE A COMMENT on why you want to win this for your child and TAG 3 other friends to share this giveaway with them.
This giveaway is open only to those residing in Singapore & closes on 8th Feb at 2359 hrs. Steps 1-3 must be completed to be eligible for the giveaway. All the best!
I'll also be picking another winner from my Instagram (@ajugglingmom) so do take part there to double your chances of winning!
Take note:
2 winners will be randomly chosen from Facebook and Instagram and winners will be notified via email or direct message.
Winners must collect their prize by 15 February 2019.
This giveaway is only open to all readers residing in Singapore. This giveaway is by no means endorsed, administered or affiliated with Facebook or Instagram.
*  A Juggling Mom received a copy of the Mini Science Encyclopedia to write this review. No monetary compensation was received. All opinions and photos are mine.
Tagged: learning, learning Science, lower primary, primary school