There is nothing more that I look forward to than a holiday to get me away from the hustle and bustle of the city. Shortly after our getaway to beautiful Bali in May, we jetted off to Gold Coast in July after we snagged a good Scoot offer. Although it was supposed to be winter, you can always count on the sunny state to bring lots of sunshine where the July weather was between 9 to 20 degrees.
We took the red eye flight at 10:25pm and was hoping to catch some sleep on the flight.  But with food being served, people walking up and down the aisles on a full flight, the constant chatter and the lights only turned off after midnight, sleep eluded us and I felt a little dazed from the lack of sleep when we landed .
Day One in Gold Coast
After a quick breakfast at the breakfast, Alexis went to buy a data plan so that we can navigate ourselves when we drove.
We figured that since Gold Coast wasn't that big, we'll be be able to get from one place to another faster by car. We did some research and Apex topped the list for having the most competitive rates where we paid AUD$42 a day for 9 days. The car also came with a child seat for Sophie.
But for those who don't drive, you'll be glad to know that Gold Coast just started their their Gold Coast Light Rail , which takes you to Surfers, Broadbeach and Main Station just to name some of the 16 stations that it runs through.
We had initially planned to visit the Currumbin Wildlife Sanctuary on the first day. But thankfully we changed our plans as we exhausted from the flight and decided on a more leisurely day. So we headed to the famous Surfers Paradise beach.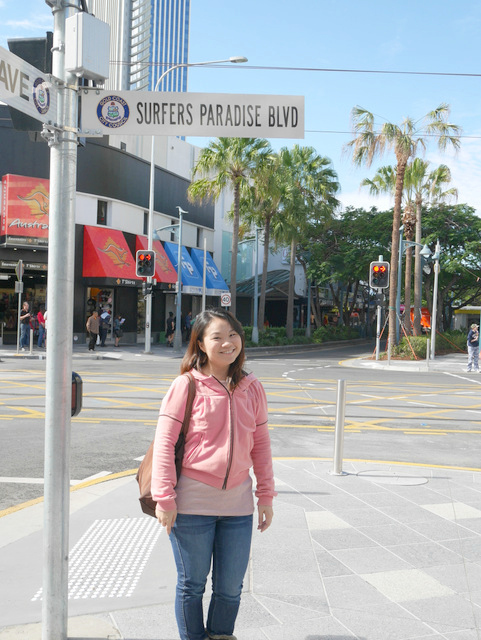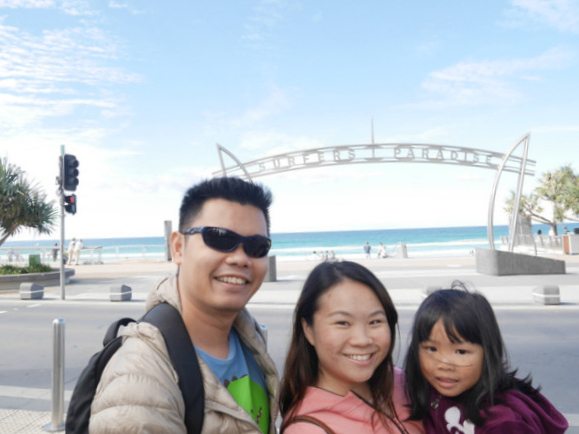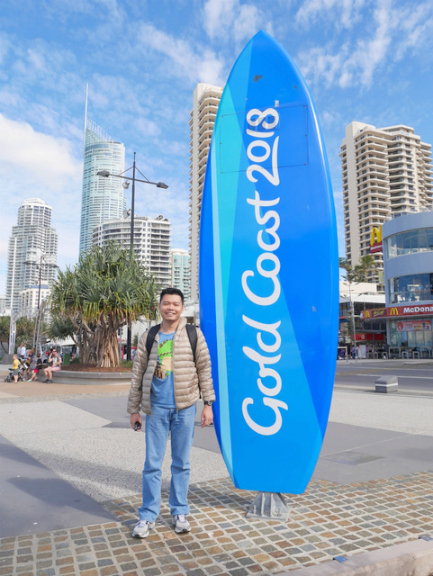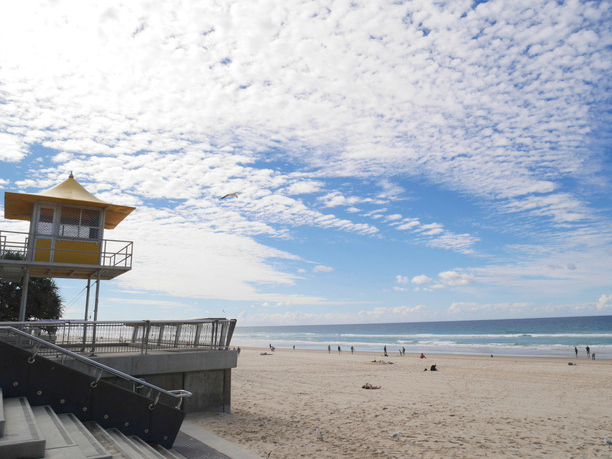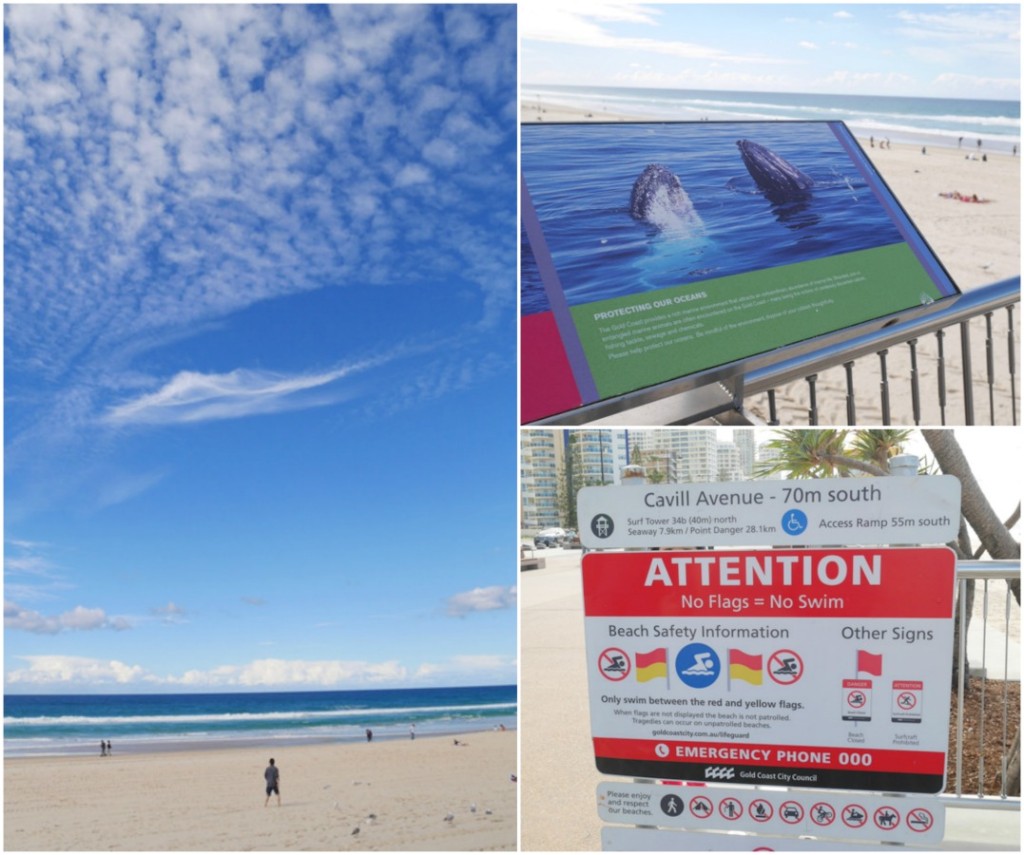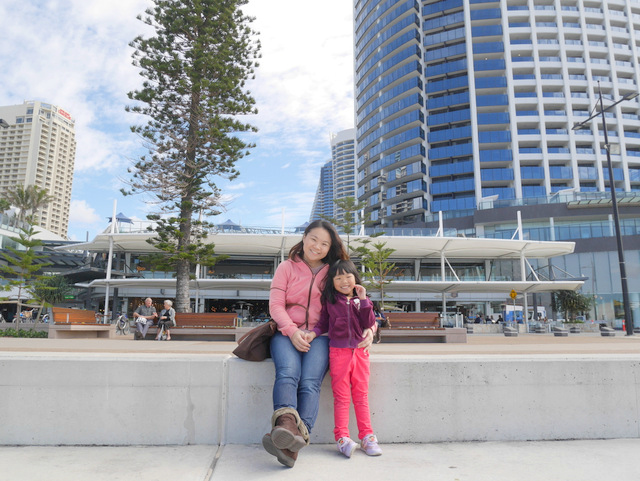 It must be something in the air, but it felt so refreshing to see the vast expanse of sky and sky collide , to hear the crashing of the waves and see the golden sandy beaches that all our tiredness melted away under the warm sun rays as we strolled along the beachfront. Sophie was running around and chasing after the sea gulls after she mustered up her courage even though there were so many of them around. And while it might be winter and we wee cladded in our jackets, there were locals who were sun bathing in their bikinis and surfing.
Since we were already at Surfers Paradise, we thought we'll go for the Aqua Duck tour. Besides the Aqua Duck, there were a few other companies that offered the same tour, except Aqua Duck gave the kids an opportunity to be steer the boat like a captain which I knew Sophie would enjoy. We paid AUD$35 for adults and AUD$26 for Sophie (kids 4-16 years).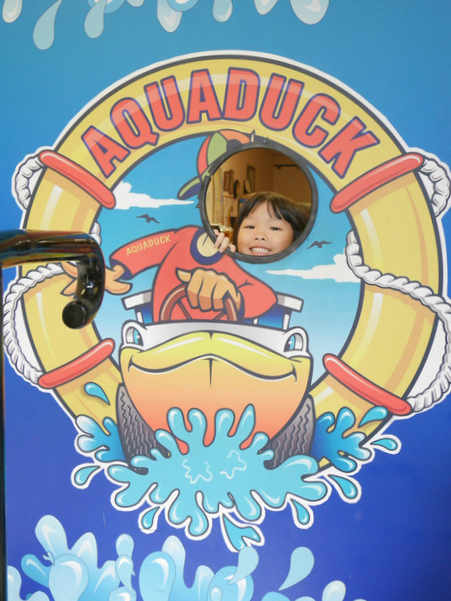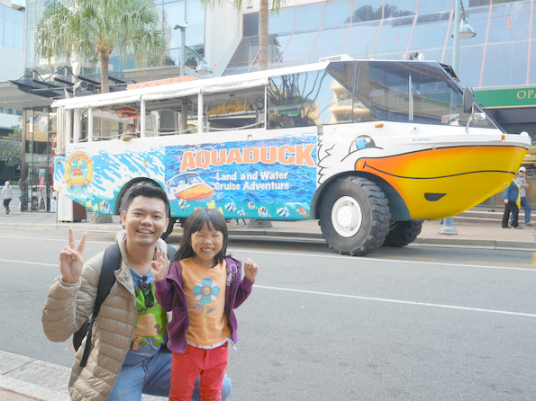 The tour departs hourly throughout the day and it took us to pass the streets of Surfers Paradise, along the beautiful coastline of Gold Coast with a bit of a bump because of it's wheels and then later took a swim into the spectacular Broadwater. We managed to see the magnificent Versace and Marina Mirage Resorts as well the homes of the rich and famous and even caught a glimpse of Sea World, where we'll be staying.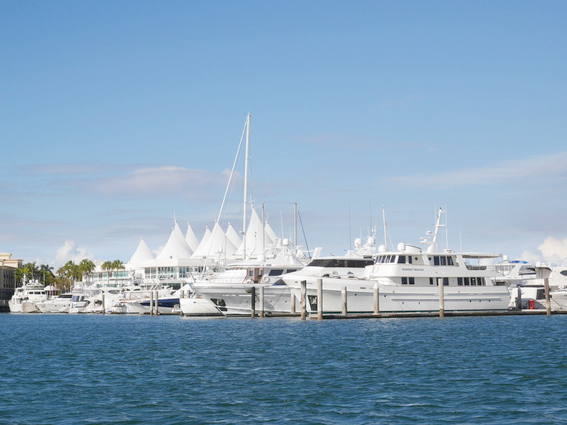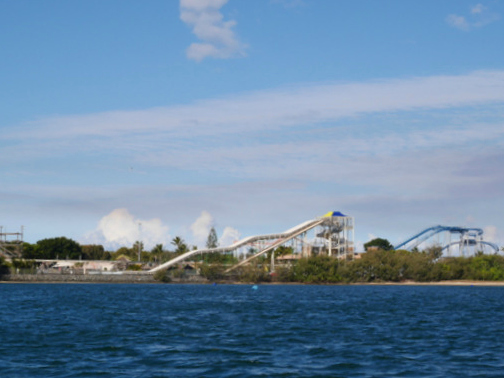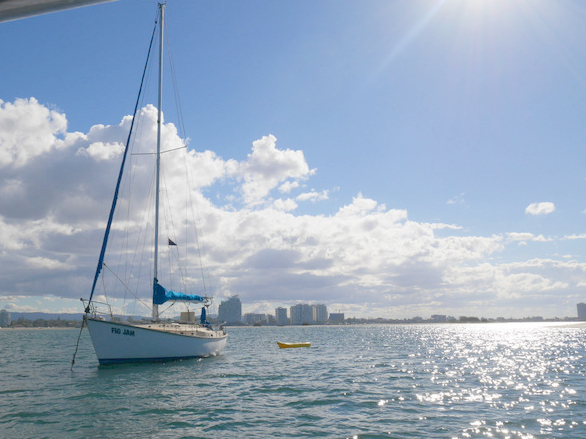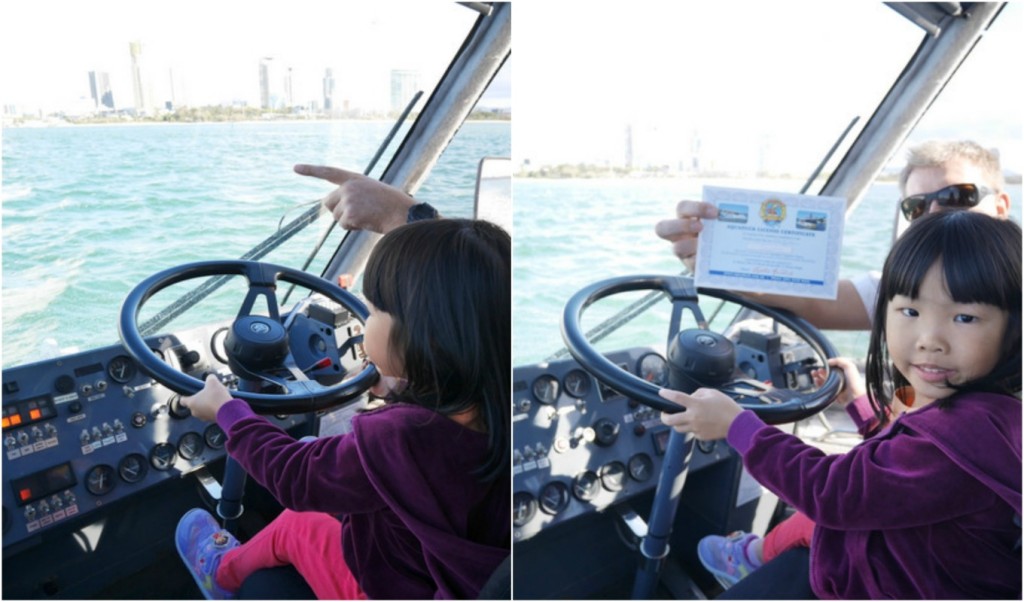 If you don't mind the cold or lame jokes from the driver on your tour, this was a rather fun activity for the family especially so for kids since they get to be captain for a while.
By late afternoon, we were all feeling sleepy and went for dinner before heading to a nearby Coles to grab some groceries for our breakfast and went to check into our hotel at the Crowne Plaza at Surfers Paradise.
We were initially given a room on the fifth floor but staying at Surfers was all about having a view of the beach so we upgraded to the 12th floor. Not the highest but it did give us a view of the beach and I was looking forward to catch the sunrise.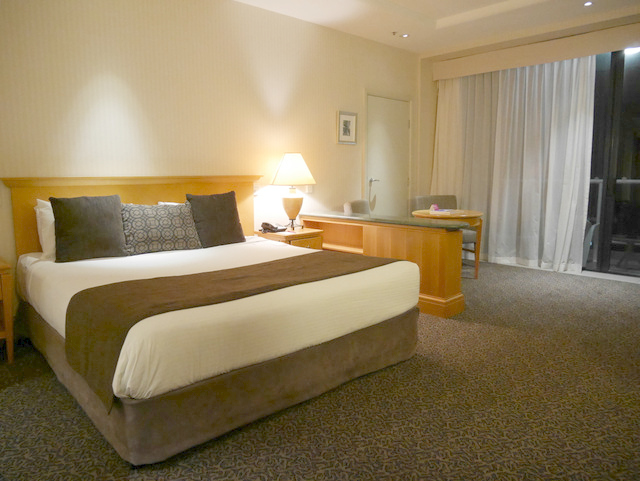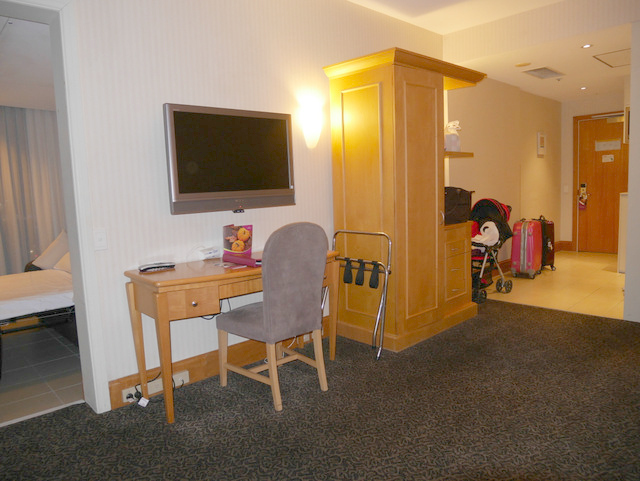 The room was pretty big but could do with some refurbishment as the furniture looked a little dated. We had a kitchen area where there was a microwave oven, fridge, stove, dishwasher, toaster and kettle which is useful especially if you need to prepare simple meals. The toilet was also spacious and came with a washing machine and jacuzzi much to Sophie's delight!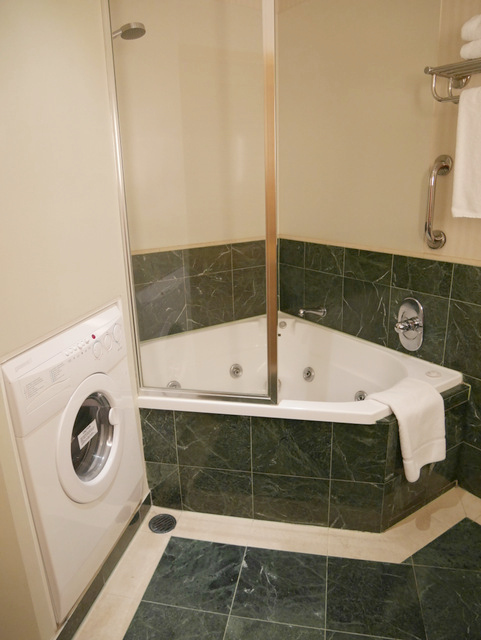 The beds were comfy enough and for the first time we were all sound asleep before 10am. It's good to be in Australia where it's all about chillaxing and taking it slow.
I'll be back to share more about our Gold Coast holidays, where we visited the Currumbin Wildlife Sanctuary and all the themeparks!
Car Rental – Apex Car Rental
Hotel – Crowne Plaza Surfers Paradise
More of our Gold Coast adventures
Day 2 – Wildlife Currumbin Sanctuary
Day 3 – Dream World with Kids
Tagged: Australia, family vacation, Gold Coast, travel