Teacher's Day falls on 5th September this year. If you don't already know, it falls on the first Friday in September so that teachers get an extended weekend 🙂
To show her appreciation for her two K1 teachers. I got Sophie to make them cards. I'm proud to say that she did it all by herself, except the bit on the Chinese words for her mandarin teacher.
I prepared a practical gift- double walled cups with straw, something that they can use in the school or at home because as teachers they often have to use their voices and it's good to remind them to drink up. I printed tags with a message to tell them what a tea-rrific teacher they've been.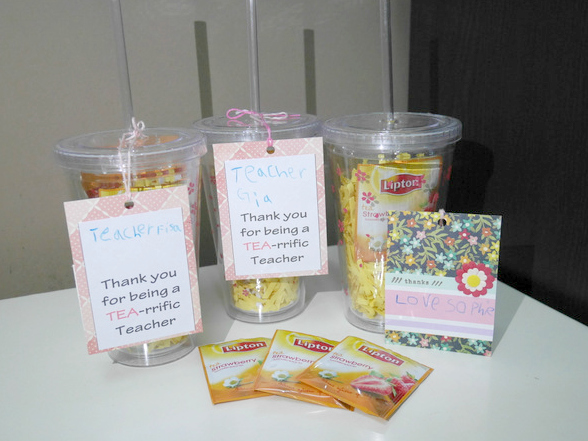 I filled the cups with shredded paper and added a personalised tag tied to the straw. And in line with our tea-theme, I added a couple of tea bags inside the cup which they can brew and enjoy. I'm really thankful for Sophie's teachers.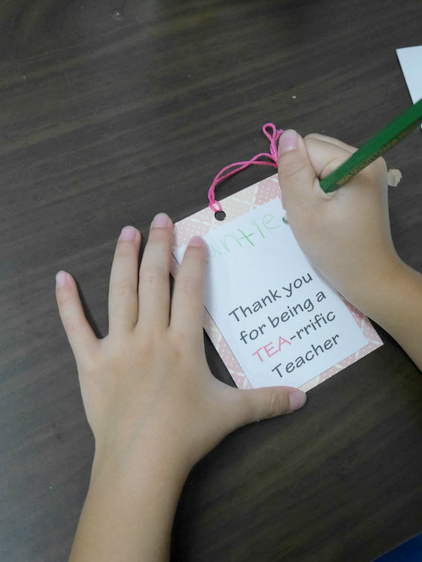 It's not everyday that we remember to show appreciation to Sophie's teachers and I'm thankful that she has them to impart knowledge and instill a sense of curiosity in her everyday learning journey.
To all the teachers, thank you for your dedication and for moulding and nurturing young minds. Happy Teacher's Day!
For more Teacher's Day gift ideas, do check out what we did last year and here too.
Tagged: DIY, gift ideas, teacher's day