The school holidays are officially here! While the kids are rejoicing at the long-awaited break from school, you can keep keep them busy in a good way at Playeum's third and latest exhibition, A World Full of Stories that launched on 15 November 2016 at Gillman Barracks.
A World Full of Stories' offers a series of interactive and open-ended spaces for young minds from the ages of 1-12 to feed their creative imagination through role play, storymaking, illustration, writing, drama and puppetry. Here there are no rules and kids can thinker about with that appeals most to their sense and interests.
Story Cubes
Here kids are encouraged to get lost in a good book or two with some of the world's best story books in the book corner. I really liked the idea of an open display of titles with their vibrant book covers in the wooden shelves that's just calling out to be read.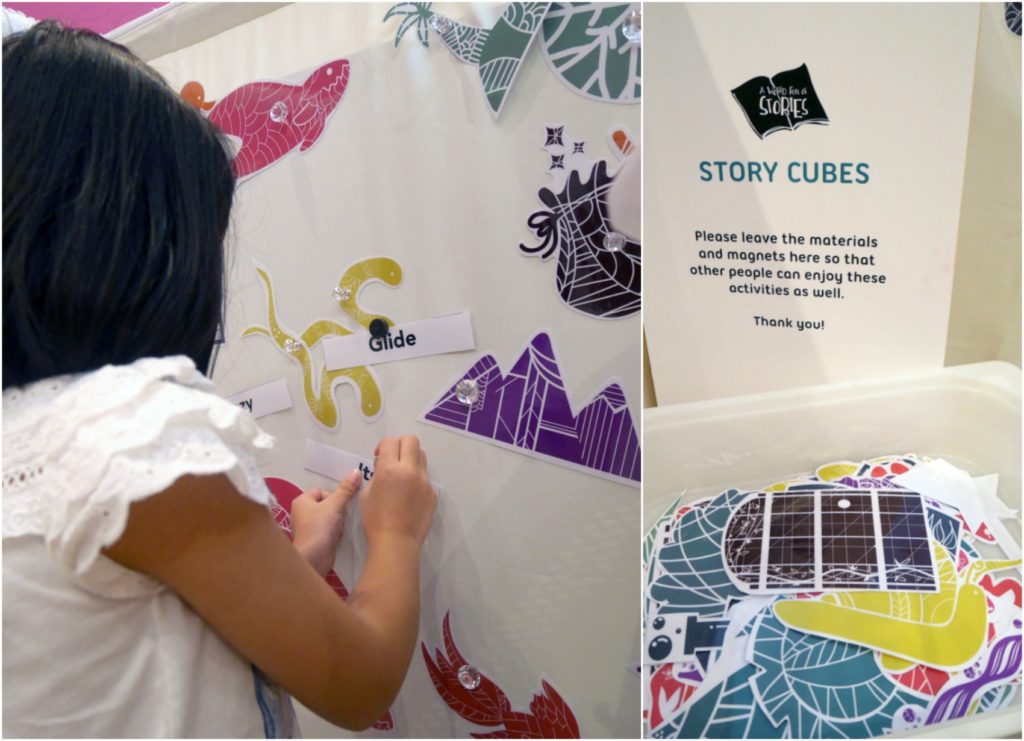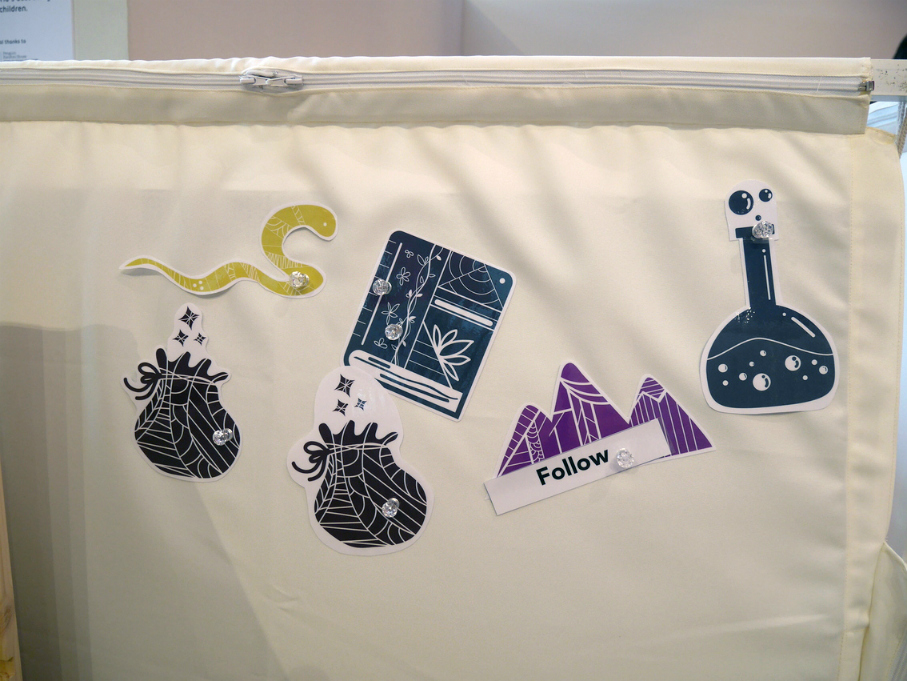 Or perhaps your kids prefer making up their own stories. Here children are encouraged to spin their own tale using the magnetic surfaces of these cube shaped structures with visuals of places, characters and objects which can take them from a fantasy or an adventure story.
Story Caves
Who doesn't like hiding in a cave? Sophie went wild running in and out of these immersive and multisensory cardboard caves with the little friends that she made at day.
One of them had a glowing magical environment where it lit up by luminous objects and the other had cups, funnels and tubes running through it that allowed kids to experiment with sound. Plus I think they really liked that it was kid sized which sends an unofficial signal for parents to keep out of their play zones.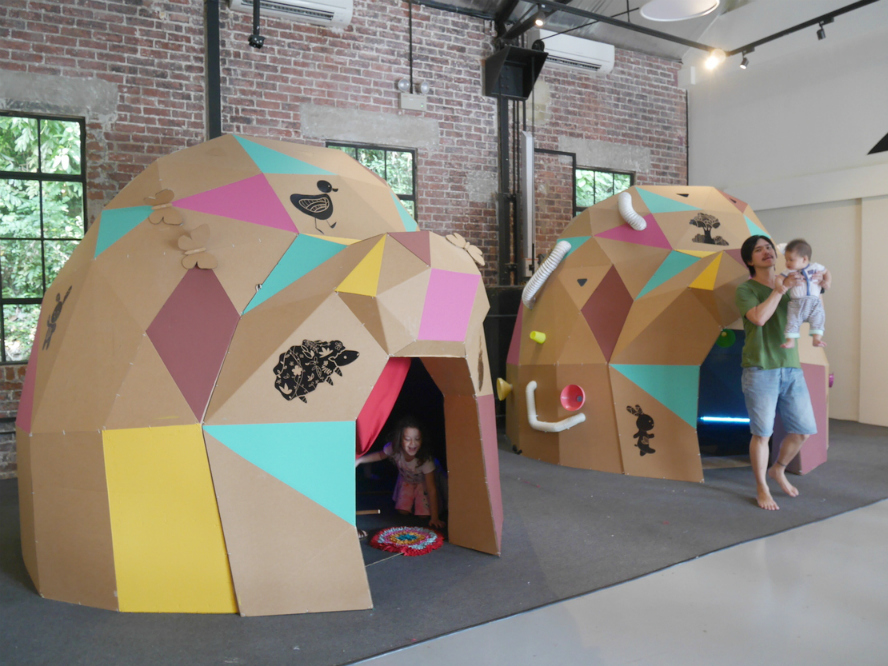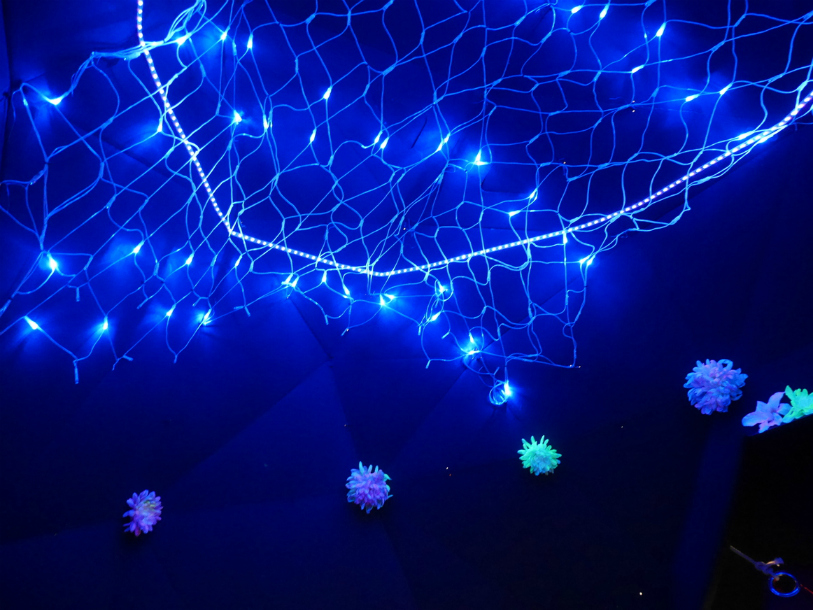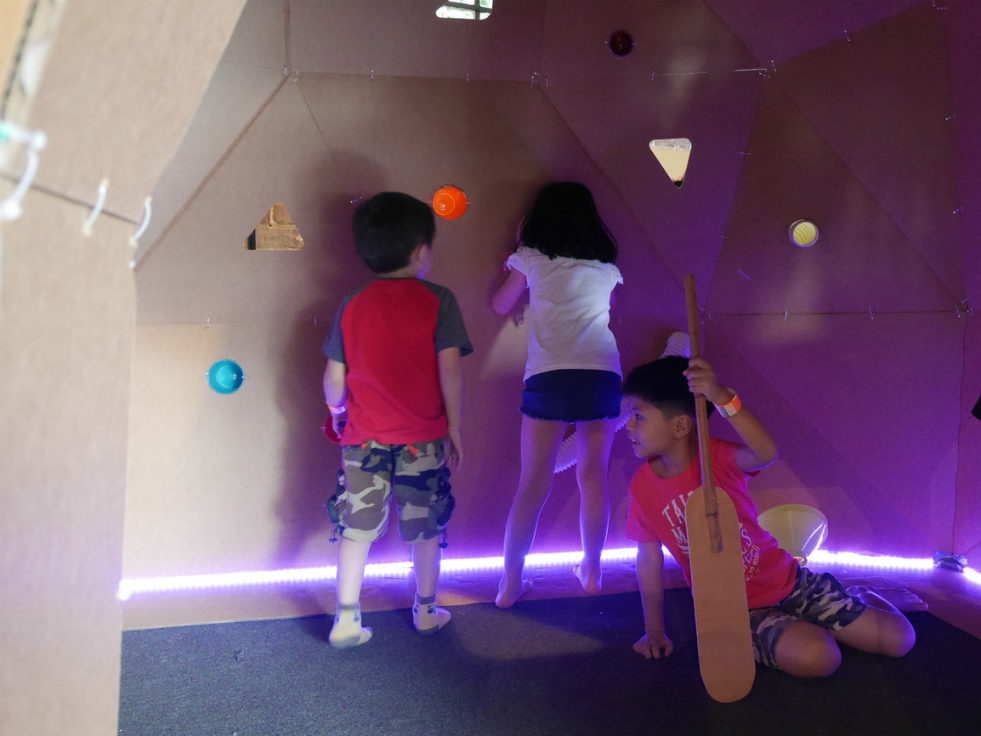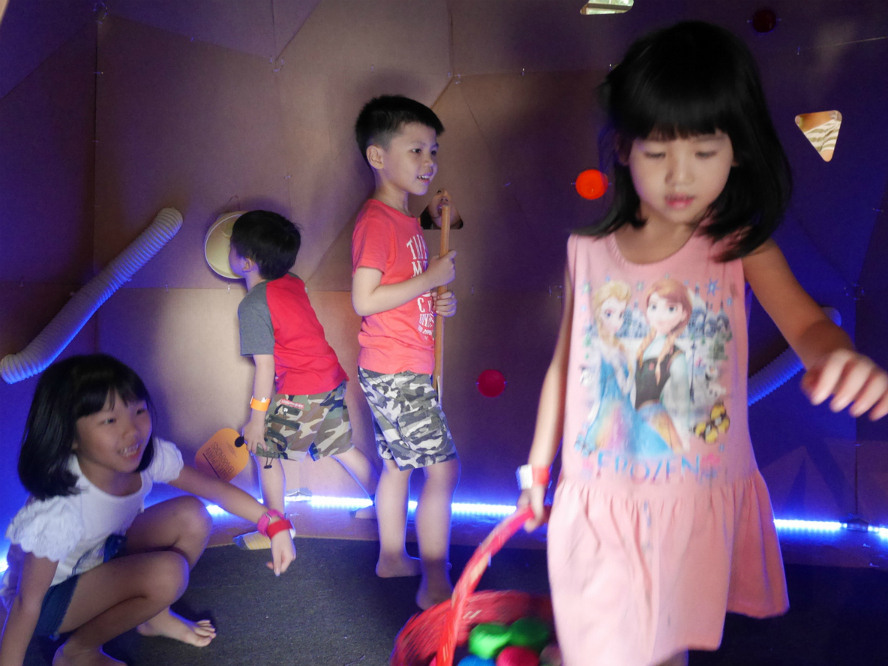 Story Raft
Another of Sophie's favourite spot was the story raft.  This centerpiece right in the middle of the space at Playeum just calls out to every kids to jump onboard and pretend they are out at sea on a raft.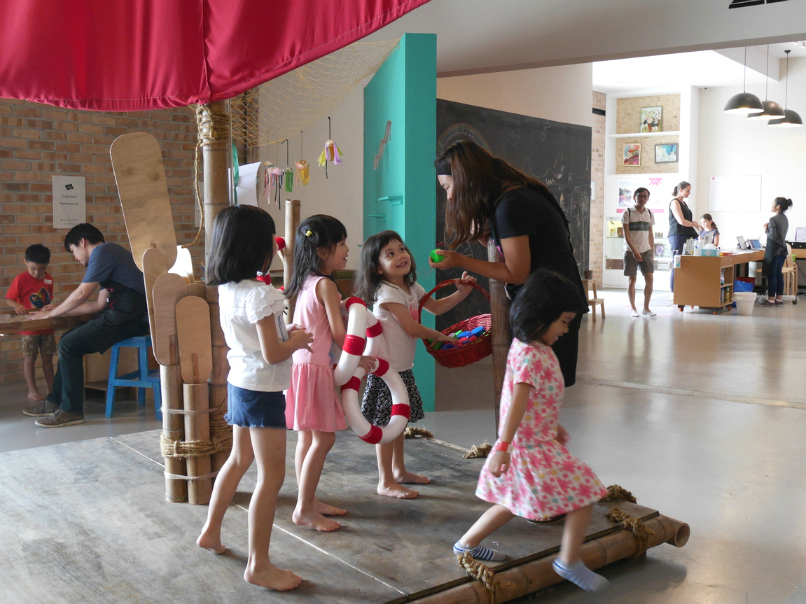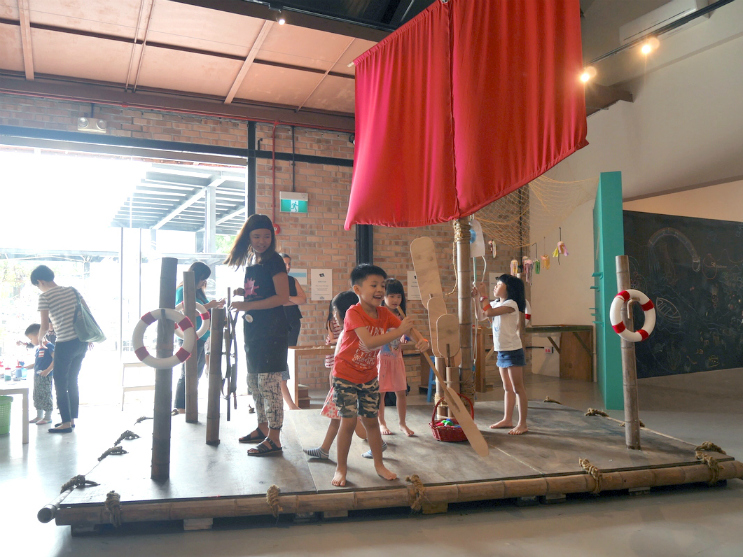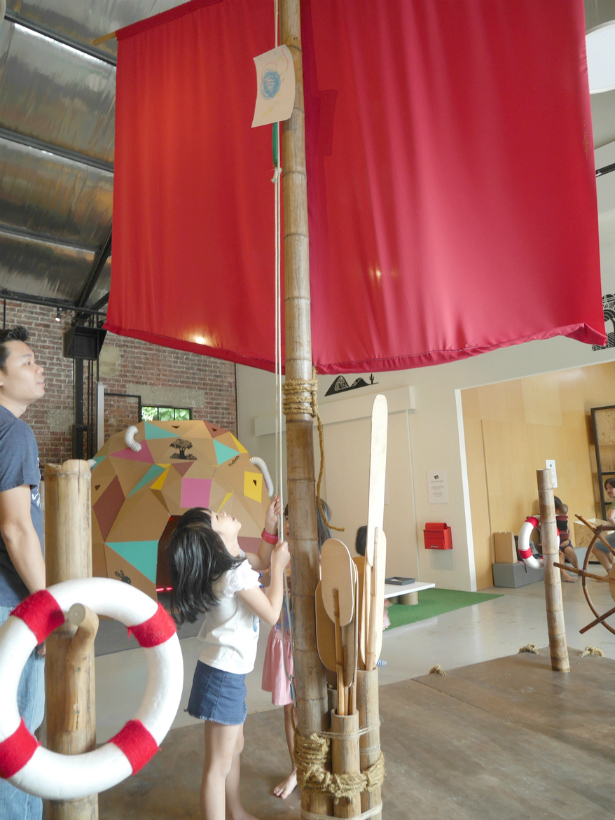 While it may be simple in setup, there are lots of possibilities where kids can take turns being the Captain on the steering wheel or paddle away as a member of the crew. They can also have a time of art and craft and create their own jelly fish with recycled materials or play with kinetic sand, something which Sophie never gets tired of playing.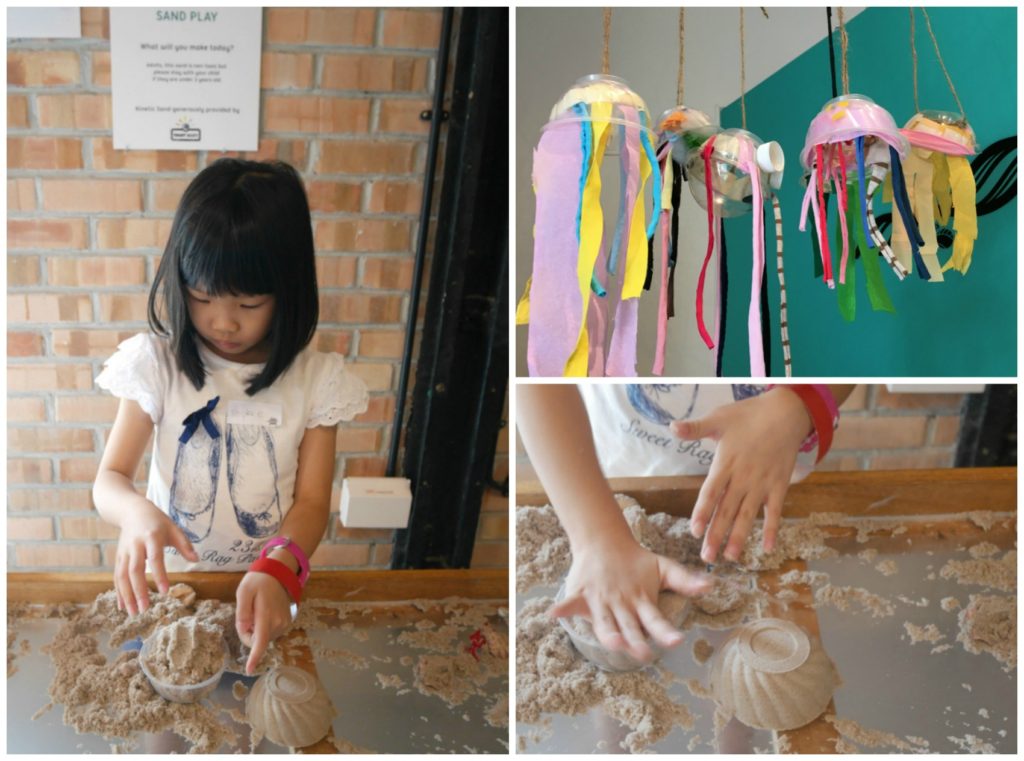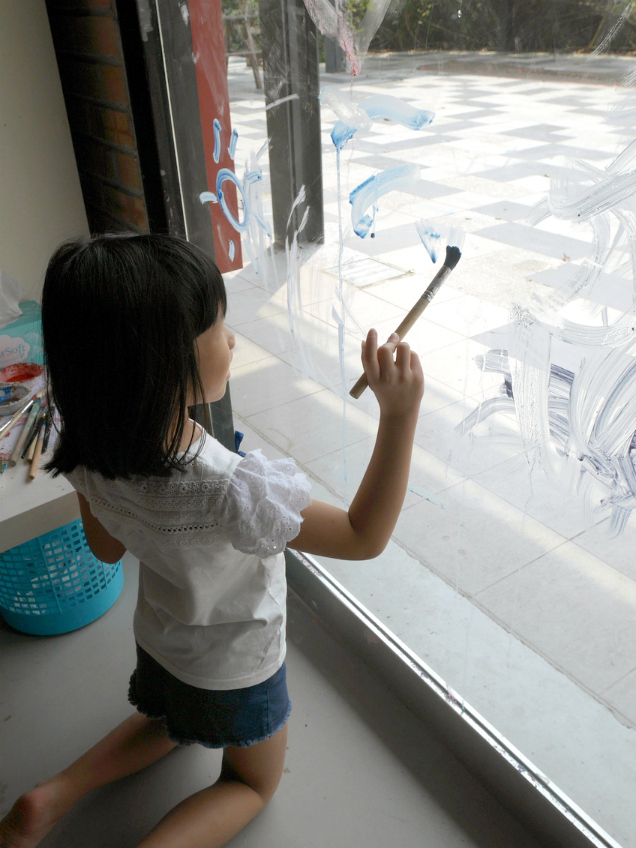 Another activity that was a hit with Sophie was chalk painting. I was surprised to learn that you can make chalk paint simply by mixing chalk powder that's been crushed up with water and they're ready to go on glass panels.
There's something just so therapeutic when you allow the paint brush to take over as you watch the colours appear on the glass door. I've been told that it can be easily wiped away as well, so give it a shot as an indoor rain activity at home in the bathroom 🙂
Fantasy Dress Up
Kids can dress up to be who they want to be at this space with plenty of materials to choose from. The idea is so simple but I can foresee endless possibilities for both little boys and girls and it sure makes a fantastic play date idea too!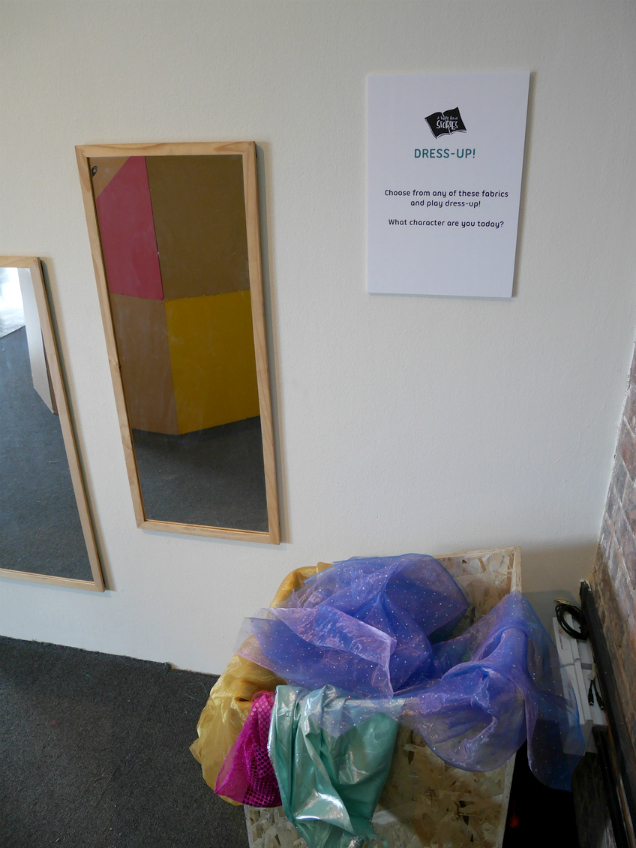 The Story Booth
Still in line with their story telling theme, this interactive story booth invites children to share their stories in a purpose-built space, enabling them to document their creations through photography and video.
Play Making Space
I liked the open area at the back of the space where kids are welcome to get hands on and make puppets and toys from upcycled materials, from cardboard to cloth, pipe cleaners and much more.
Children can also stage their own puppet show and be the little budding directors they always wanted to be behind the screens complete with sound and lighting effect.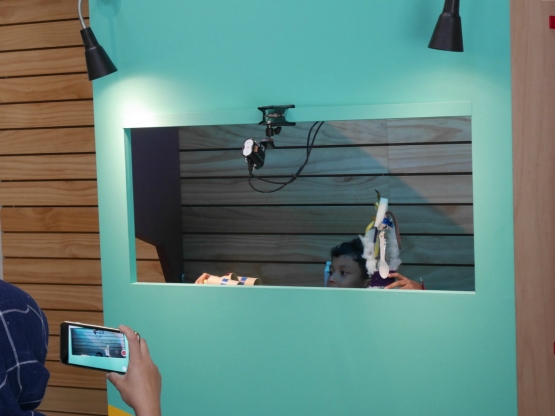 A Film Full of Stories
If your kids prefer listening to stories instead of being their own storyteller, then head here where some of Singapore's finest storytellers whisk you away with their stories as the walls light up with glowing story icons and motifs on the surrounding walls.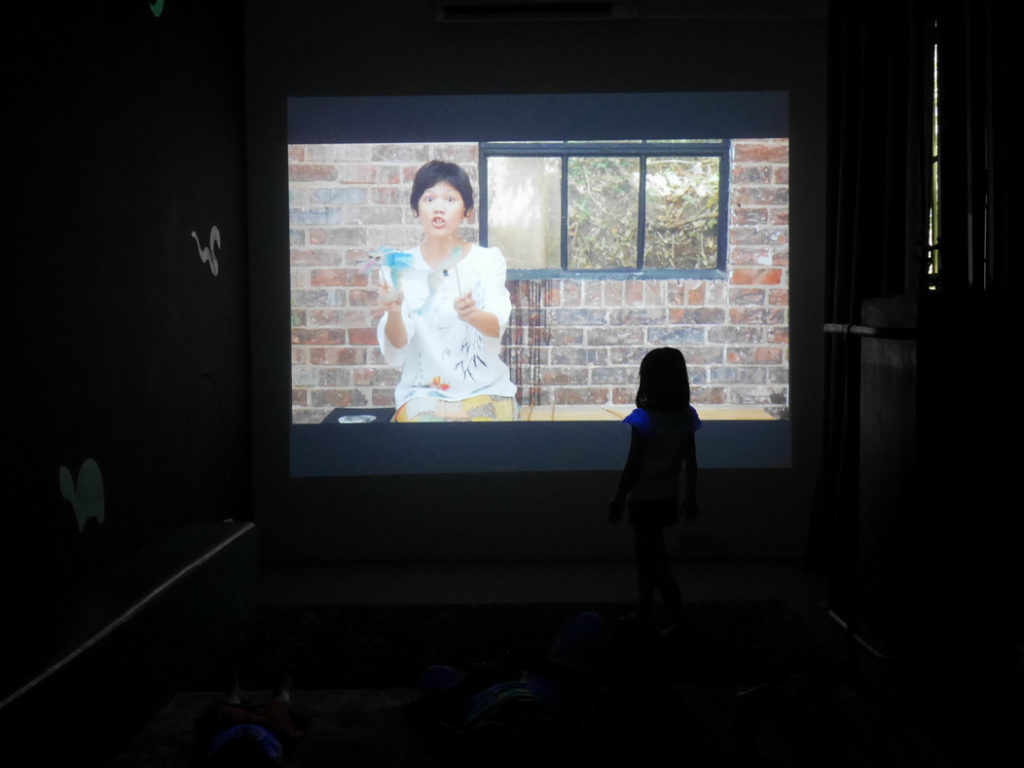 The Chalk Wall
Don't forget to get your kids to leave their mark and add their own chalk artwork on the huge chalk walk. It's literally a canvas waiting to be filled by the creative imagination of kids 🙂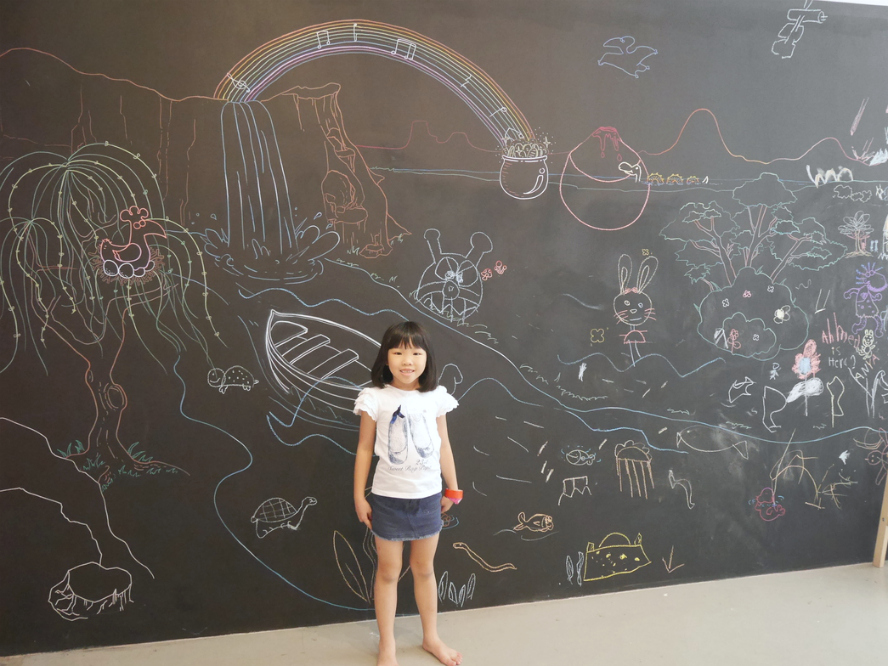 Holiday Camps

Do check out the series of Holiday Camps held in November and December 2016 in store at Playeum where kids can learn to be their own flim director, or experiment with sand doodling or coding.
More information can be found on their website here.
A World Full of Stories by Playeum
Dates: 15 November 2016 to 30 April 2017
Location: Children's Centre for Creativity, Blk 47 Malan Road, Gillman Barracks, Singapore 109444
Admission prices: $22 per child/parent pair, additional adults $10
Opening Times : Tuesday to Sunday, 10 am to 6 pm
Visit Playeum's website for more information or click here.
Here's other's mums take on A World Full of Stories
Enjoyed reading this post? Do like my Facebook page to get more family friendly activities. You can also follow me on Twitter (@Susankoh) or Instagram (@ajugglingmom) for more travel and parenting posts.
*A Juggling Mom was invited to the media invite to write this review. All photos and opinions are my own.
Tagged: November school holidays, Playeum, School holidays