Can somebody give a big horray because school's out starting this weekend!
If you haven't got anything planned for the March school holidays, why not check out Gillman Barracks for a slew of fun family activities?
Gillman Barracks is a visual art cluster and home to leading international and home-grown galleries, art rganisations and of course Playeum for children. Now before you go, me and my family are not the arty farty sort, you can be assured that you don't have to be an art lover to appreciate art. All you need is an open mind and an empty stomach for Timbre's Super Social BBQ this March!
'Tales of Time' holiday camp at Playeum
I brought Sophie to Playeum last year and fell in love with their concept of open and unstructured play. As Singapore's first dedicated creative space for children, Playeum advocates exploratory play to spark curiosity and creativity in kids.
The open-ended concept of play is something that children don't get exposed to enough of especially as when they grow up in environments where play gets too structured with boundaries, rules and do and donts. Their exhibition changes themes regularly and right now, the current exhibition is on "A World Full of Stories" which you can read here for our experience.
Anyway, we had a taster of Playeum's upcoming March school holiday program, 'Tales of Time' last week where kids get to explore the concept of time with games, storytelling and art and craft.
Here are the kids drawing their interpretation of time.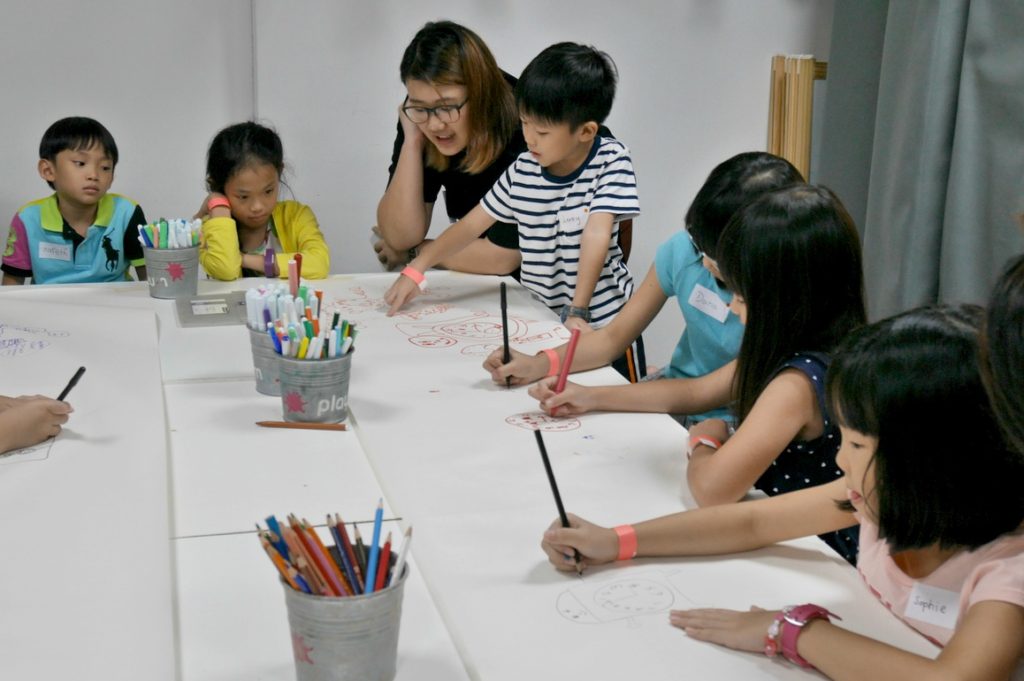 Sophie and her clock which I thought resembled Cogsworth from Beauty and the Beast. Ooo I can't wait to catch the movie when it opens in cinema on 16 March.
I joked with Sophie that if I had to draw my interpretation of time, I'll draw myself with a huge big speech bubble going, "Hurry , hurry, we are late!" Doesn't that sound all too familiar? #storyofmylife
Check out the creativity that flowed around the table!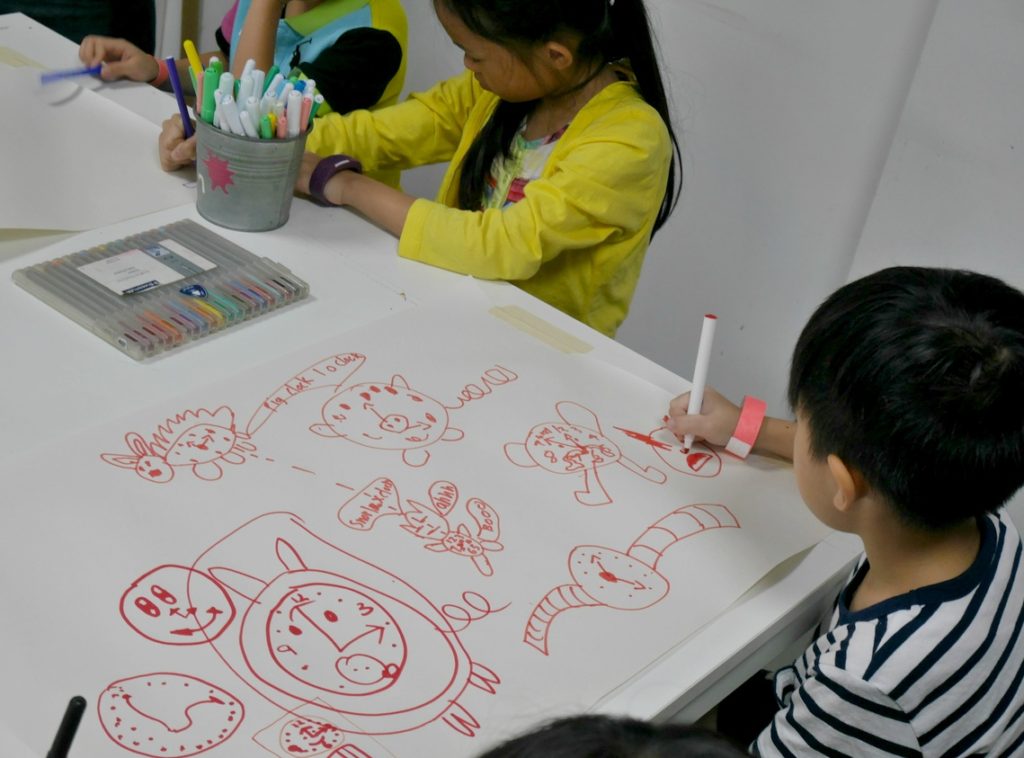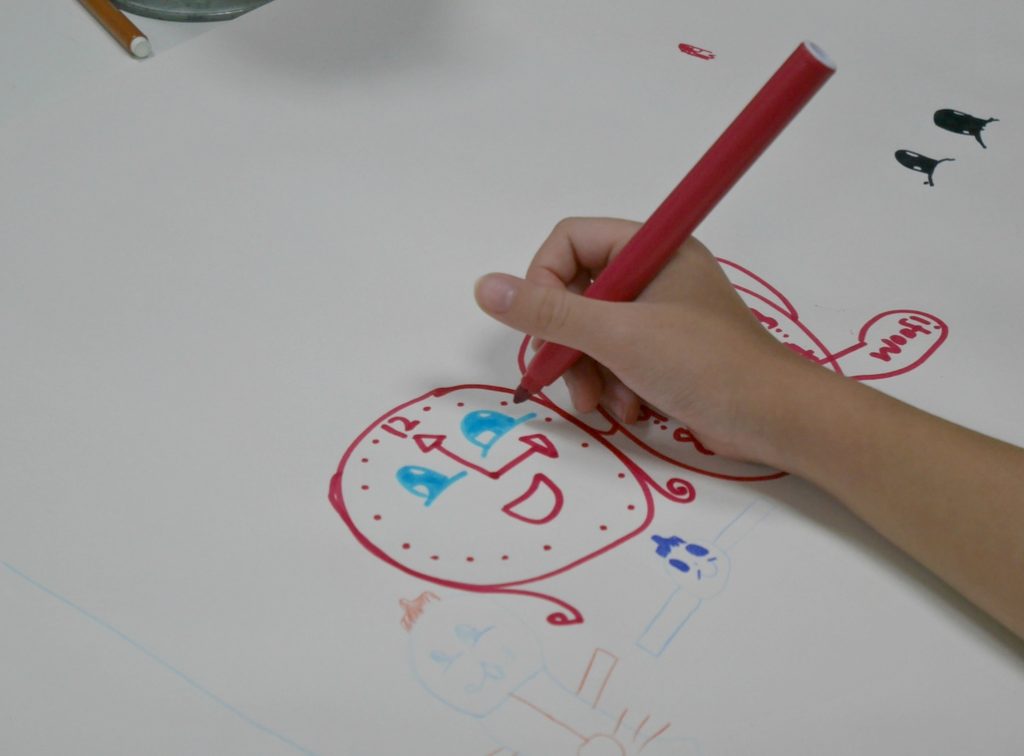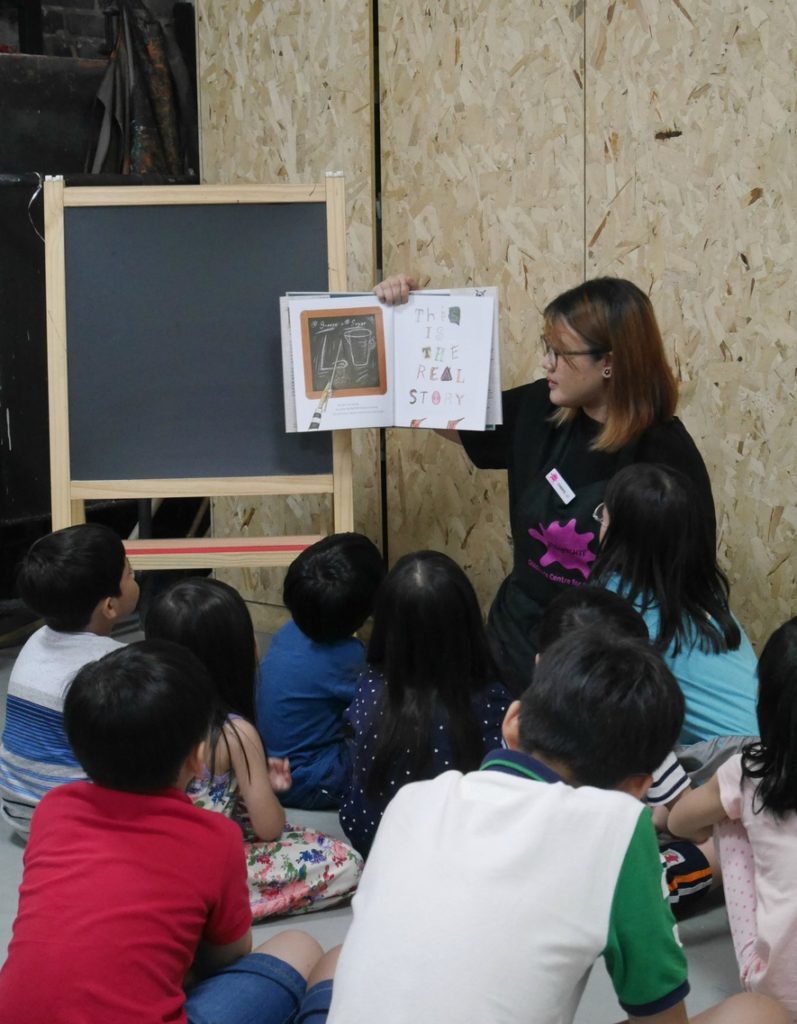 Cheryl reading about the Real Story of the 3 Little Pigs where the concept is time is demonstrated by different things that the wolf does in a day. It may have been a children's story book, but I was quite draw by the story that presented the alternative fact where it gives the wolf side of the famous fable which allows you the chance to talk to you kids about seeing things from another perspective.
'Tales of Time' holiday  camp is suitable for ages 6 to 12 years and more details of their Holidays Camps can be found on their website.
Tour of Lock Route
Lock Route is Gillman Barrack's current public art showcase and it's inspirations is from Gillman Barracks's address and the 24km long route march common in the training of "graduating' army recruits in Singapore.
The outdoor art installation is a great introduction for the kids to learn how art can be encountered anywhere – including outside the galleries and museums. Perfect if you ask me as they don't have to keep their voices down and walk around on tip-toe.
Here are some of the interesting artwork that caught the kids attention.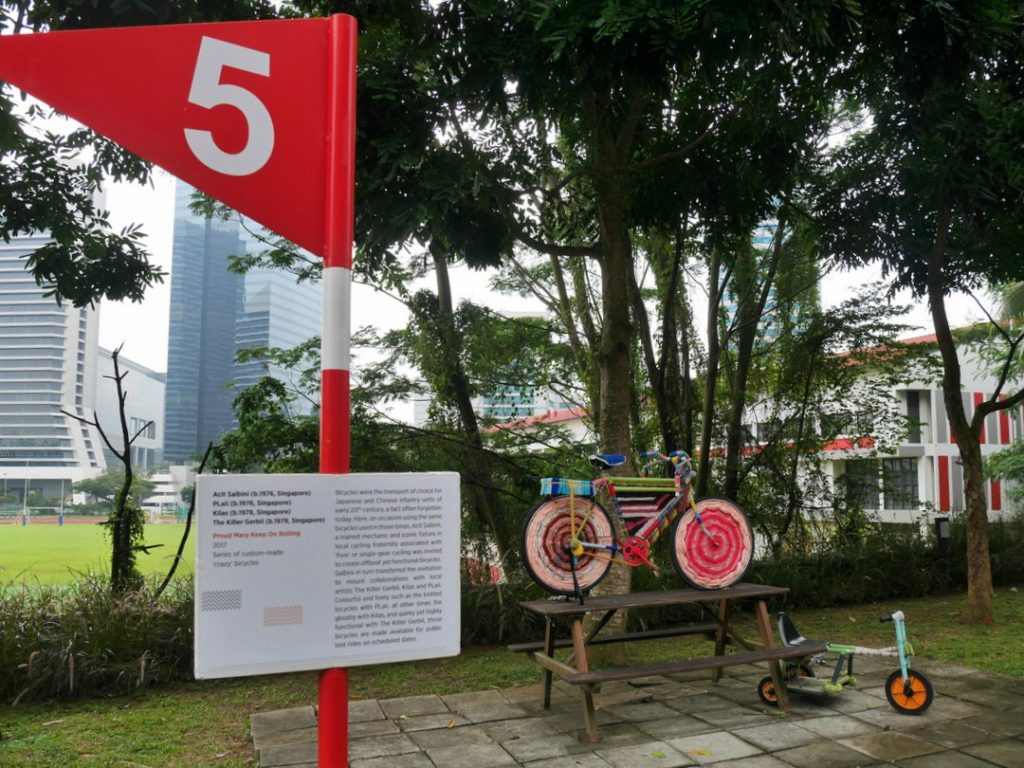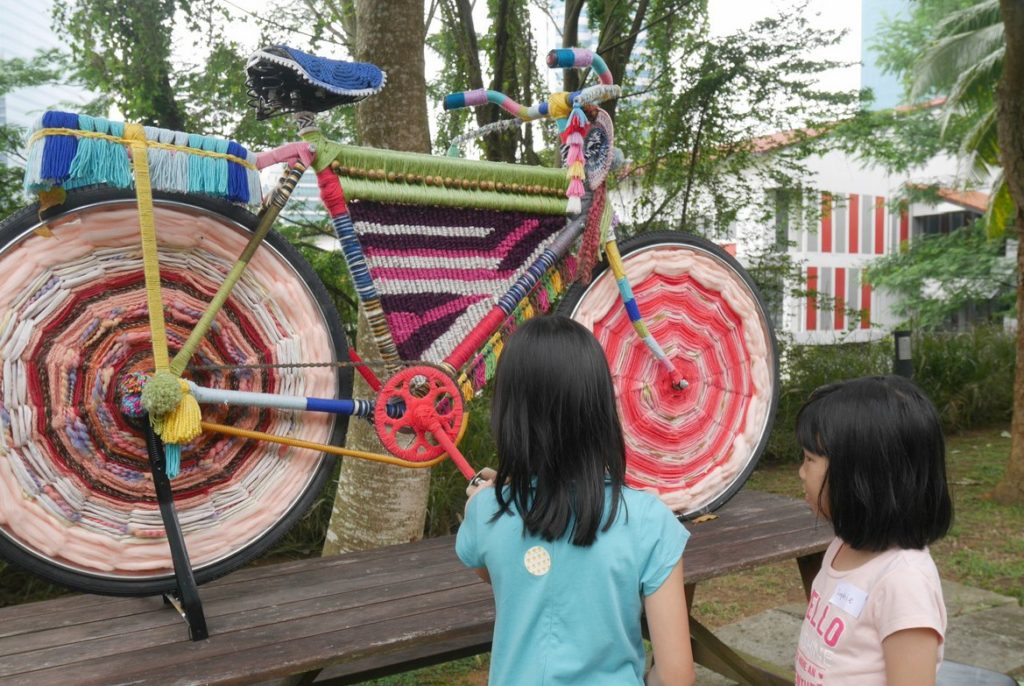 The kids checking out if the colourful knitted bicycle can be pedaled!The wheel reminds me of cotton candy and I feel so happy looking at the kaleidoscope of colours coming together.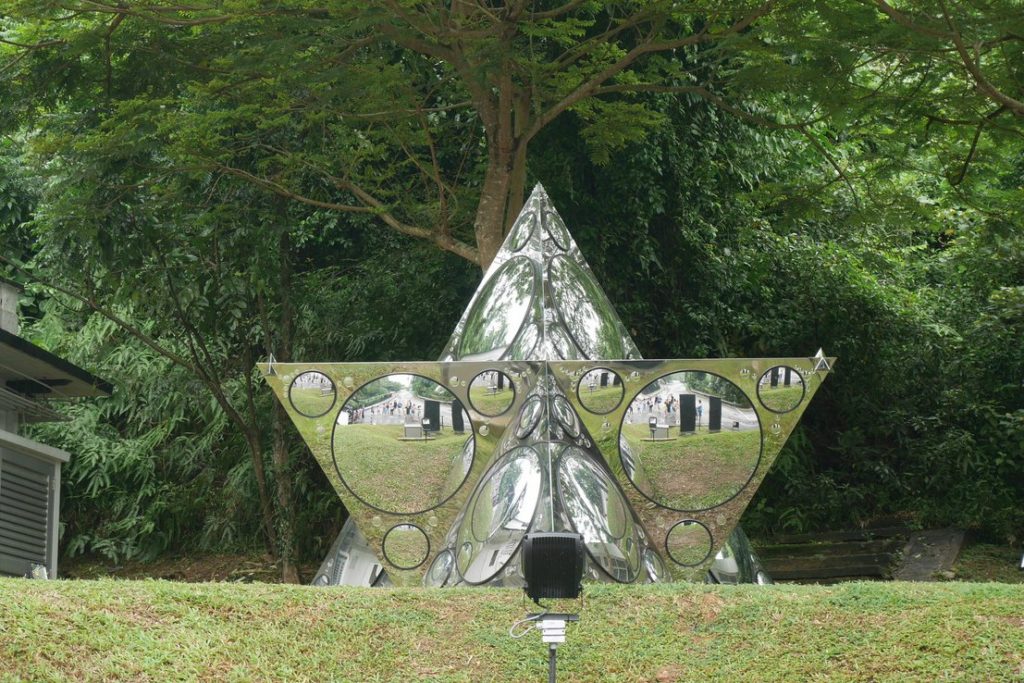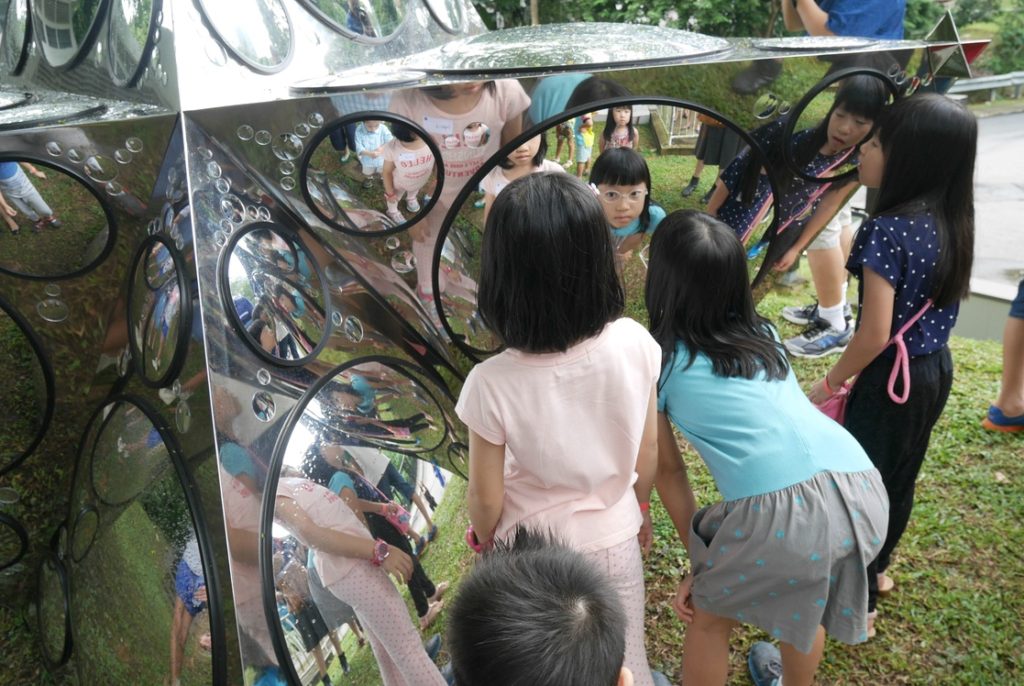 This is the 'Constellation of One' sculpture by Kirsten Berg. The artist used car park mirror for this artwork which showcases reflection and geometry.
Is it only me who thinks that this sculpture resembles a steamboat pot during Chinese New Year?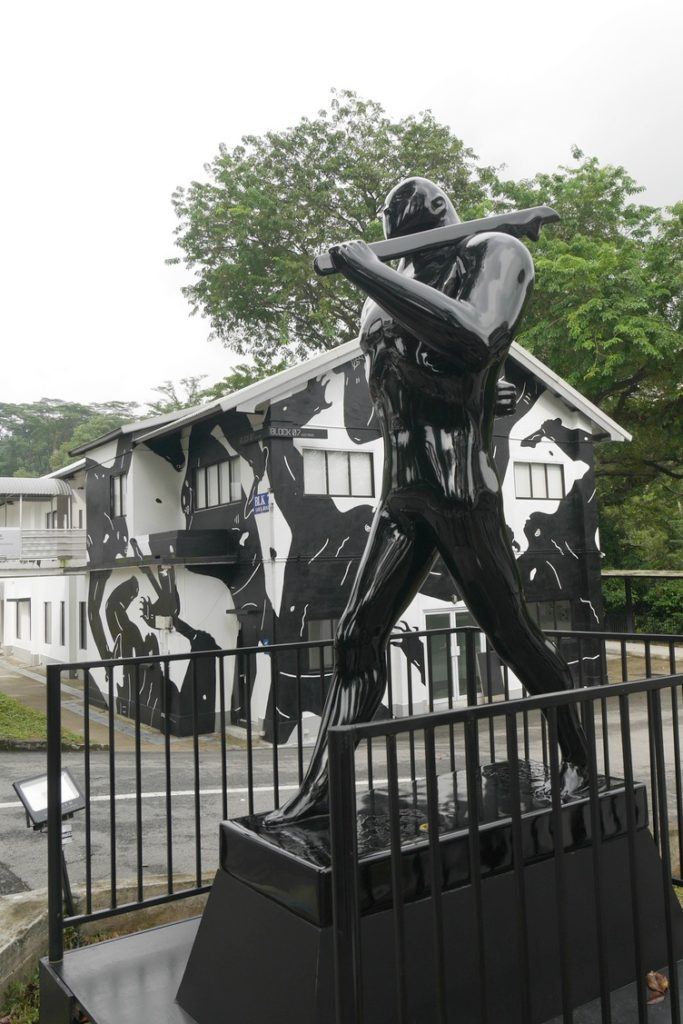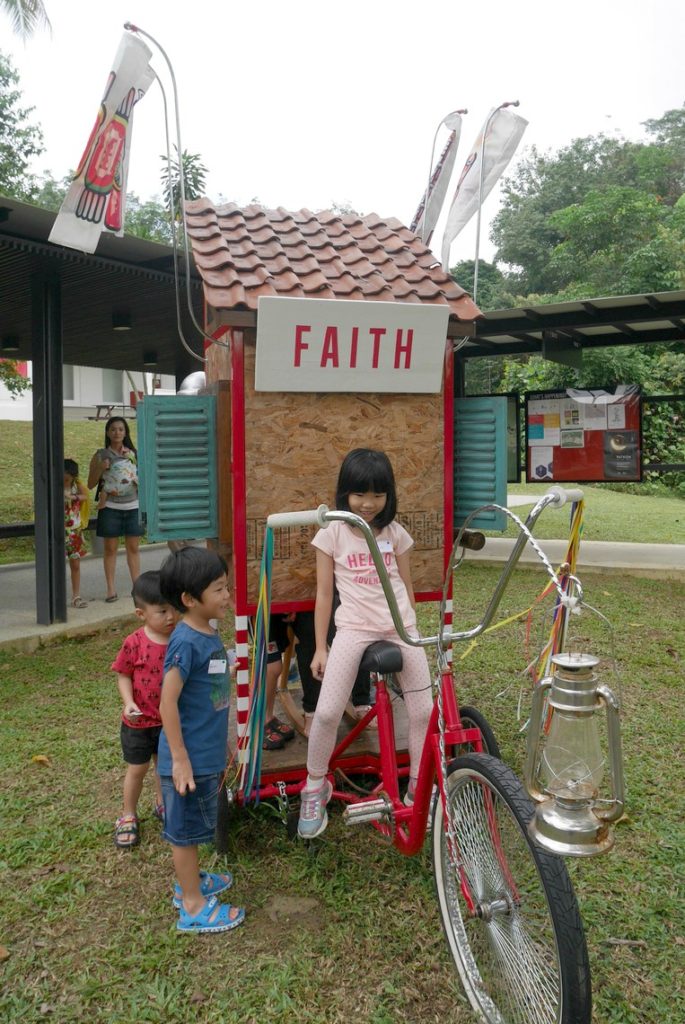 Though it was a rather uphill tasks to get the kids talking about the art pieces, they love it that some of art are interactive and provide them the opportunity to jump, climb and even ride them
I was personally amused by the mobile barbershop installation, 'Goyang Cukur' and heard that there even invited an actual barber to give haircuts.
The one that got the kids absolutely wild was no doubt the Kapumg Singapura where the climbed in and out of the cabin-like installation and refused to leave until we mentioned there's a bouncy castle waiting for them!
Timbre @ Gillman's Super Social BBQ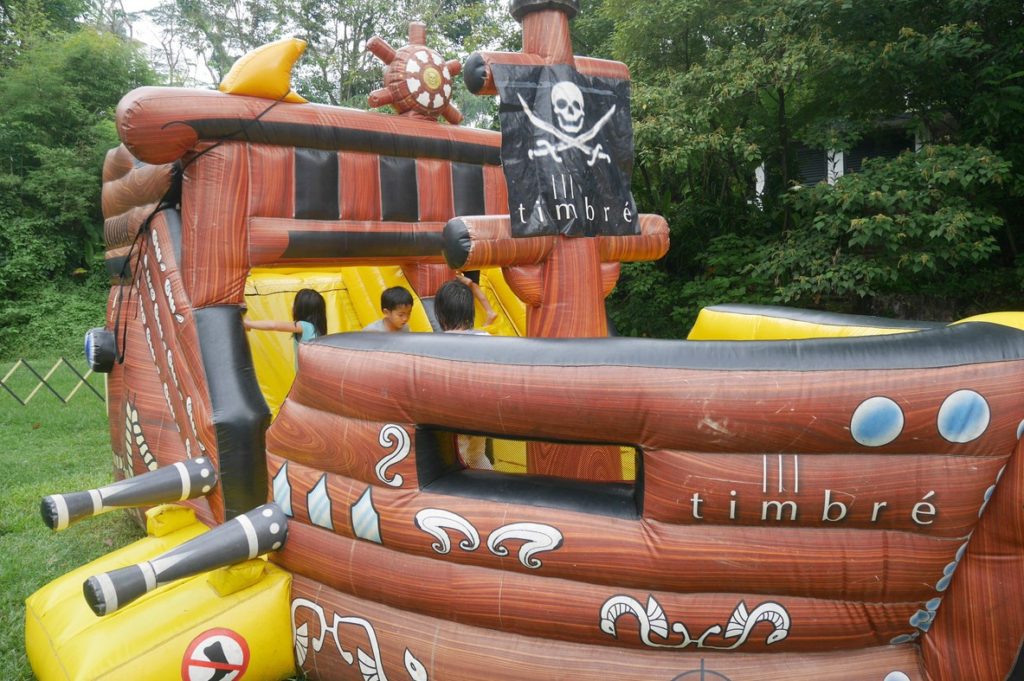 Yipe you heard it, kids can look forward to bouncy castles and a variety of different arts and craft activities at Timber's weekends Super Social BBQ and for the month of March, the theme is Princes and Princesses.
This was our first visit to Timbre at Gillman and the expansive al fresco setting was perfect for chilling out with friends. Not only was there a live band that gets you in a groovin mood, the food was delectable and I had such a hard time deciding what to order from their extensive menu.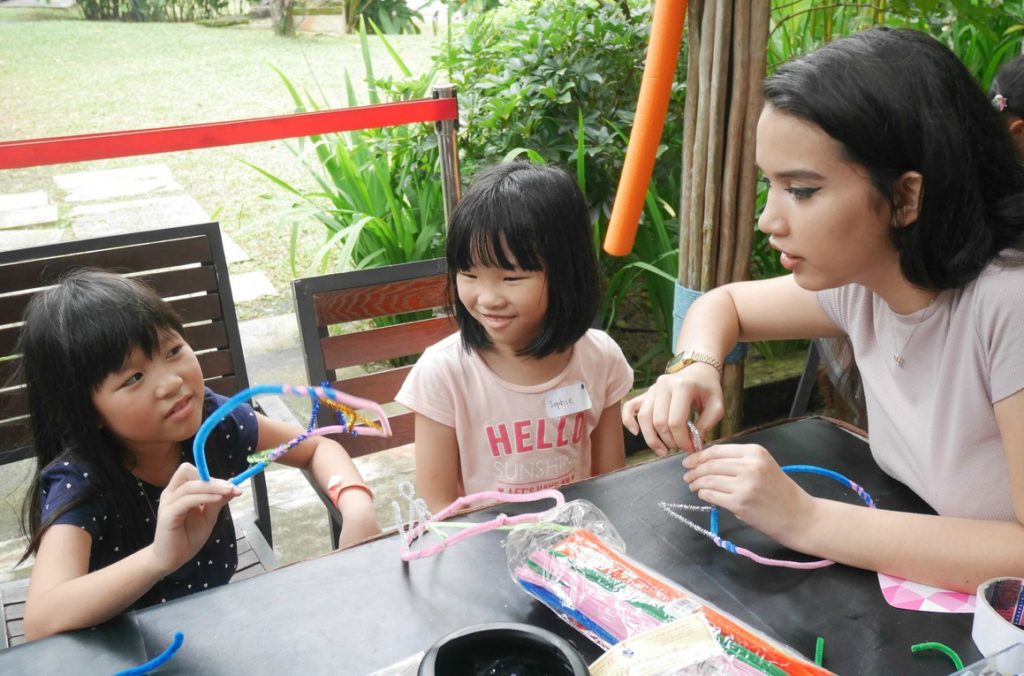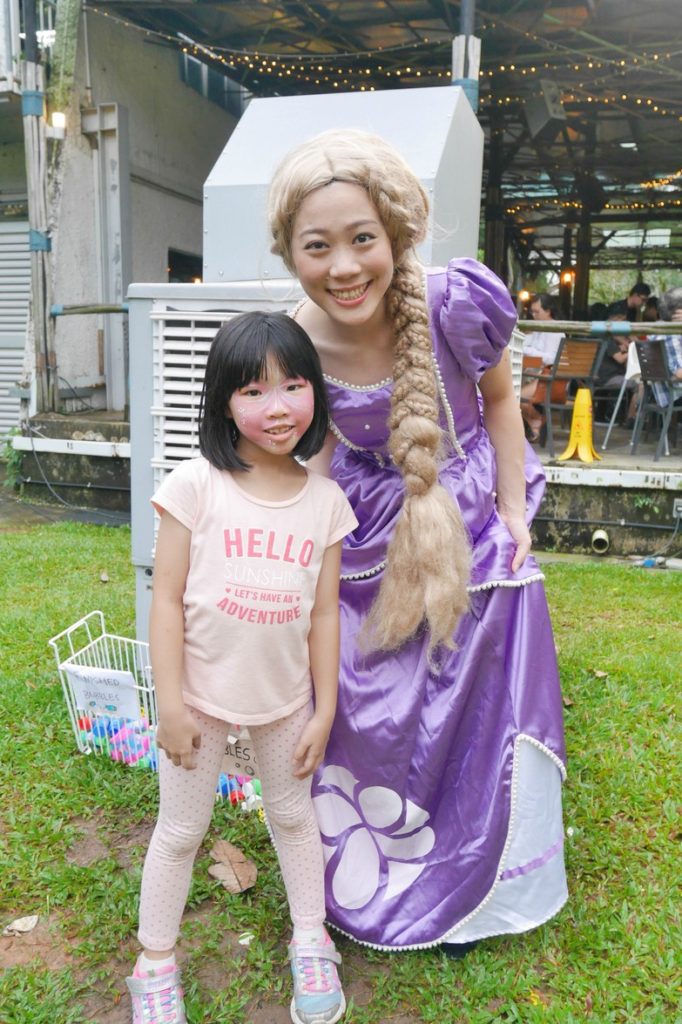 After Sophie finished her meal, she was hardly at the table because she was so caught up with all activities offered from tiara making, face painting and even meeting a princess!There's also colouring and dress up but she thinks she now too cool for kiddy stuff.
Here's a video of the activities we covered last weekend. It's my first video attempt and I hope to improve on my video editing skills 🙂
Art Day Out 2017
If you're thinking of heading to Gillman Barracks then don't miss this Saturday's Art Day Out happening on 11 March, where they are celebrating all things design in conjunction with Singapore Design Week 2017!
Highlights of this edition include the first Singapore + Wallpaper* Handmade Classics exhibition: MultipliCITY, design workshops and public presentations held at the NTU Centre for Contemporary Art Singapore alongside various other LOCK ROUTE fringe activities and performances with free admission that day.
In addition, visitors can look forward to precinct-wide art activities and programmes, including F&B offerings, free drop-in family-friendly activities by Art Outreach and guided docent tours by Friends of the Museum.
In addition, parents can look forward to a special 20% discounted entry at Playeum the Children's Centre for Creativity from 2pm onwards for the exhibition A World Full of Stories across all ticket categories.  There will also be free art activities such as The Amazing Shapes Trail and a specially-designed 'Art Jam' session ('Make Your Puppet Move!') that will also be conducted at the Block 47 plaza outside
Teaching your children to care about the arts
After my visit to Gillman Barracks, I did a bit of reading on how I can further expose Sophie to the arts and came across this article on how you can teach your kids to care about arts. It's a pretty lengthy read but a very insightful one if you want to widen your child's perspective on art.
I like this quote in the article, "There's nothing about our exhibiting artists that makes them suited to children. It's just that we're actively encouraging children to use their minds and think about the work and talk about the work." Underlying this approach is a recognition of the innate sophistication of children."
We don't have to dumb down art for kids. They are capable of observing, telling you what they see with their eyes and feel with their hearts about a piece of art.
It's definitely an area that I'm still learning as well and it's great that we have so many avenues to expose arts to our kids.
Enjoyed reading this post? Do like my Facebook page to get more family friendly activities. You can also follow me on Twitter (@Susankoh) or Instagram (@ajugglingmom) for more travel and parenting posts.
*A Juggling Mom was invited to the media invite to write this review. All photos and opinions are my own.
Tagged: family friendly activities, family friendly activities in Singapore, family friendly restuarant, March school holidays