As a mum, some days I need a reminder to have more joy in my life. Because if I were to describe how I feel these days, it's exhausted, tired, cranky, stressed up with my tank running low on joy.
Sure motherhood is a joy. But there are days when it can be so tiring and testing that its sucks the life out of me. It doesn't help that my four-year-old is somehow just like me, stubborn and obstinate so when I go tough on her, it does nothing but make her comply.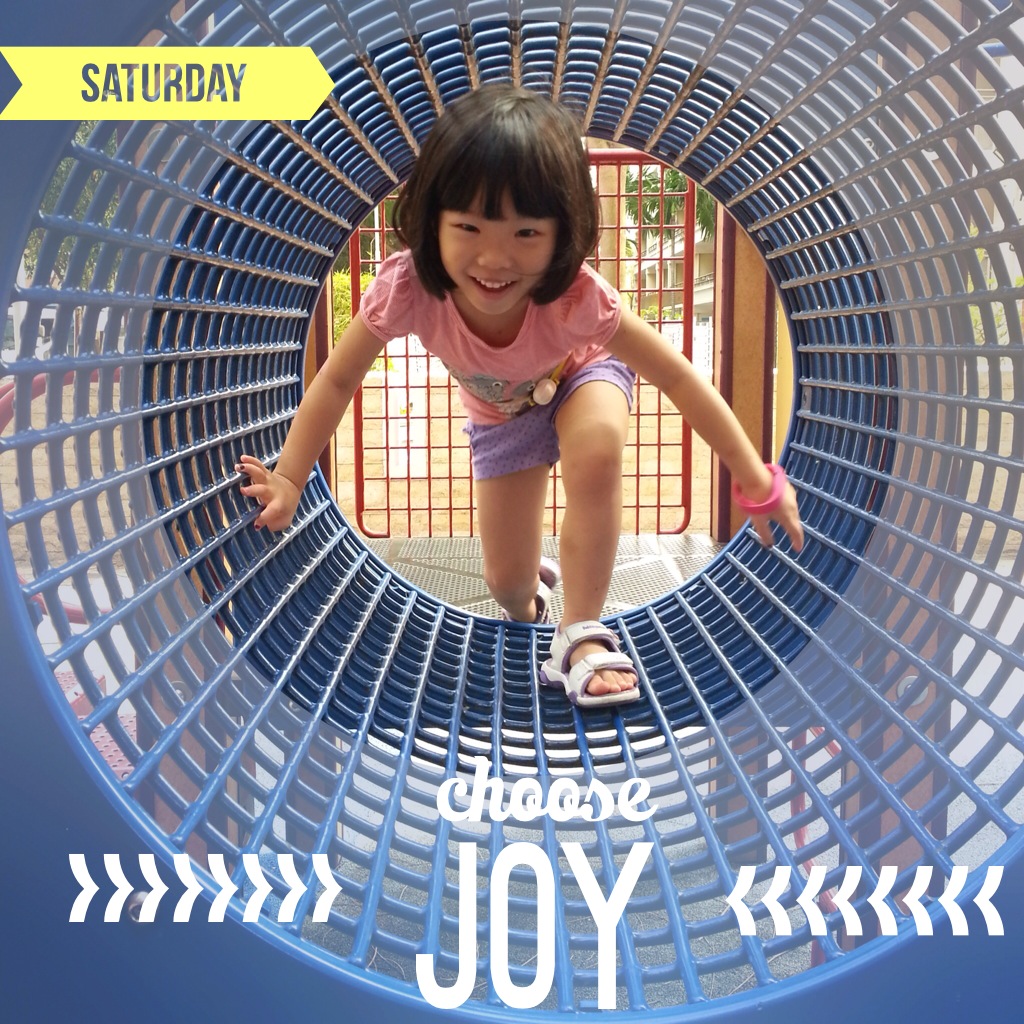 Just last night, I had to raise my voice after she tried a hundred and one things in her book to delay bedtime.
One more story mummy
I need to apply moisturiser on my body
I need to pee pee
I need water
I need a hug
Mummy, please pray for no scary dreams for me
There was silence. Then I heard her scratching and scratching because she said it was itchy, again. So I slapped on some more cream for her, barked at her to go sleep and went to sleep myself.
The truth about Motherhood is that it's a relentless giving of self. Without starting a working mum versus stay at home mum wars, we all have untold stories of how it can be a struggle to juggle work, home, marriage and the kids. And like what I tell many people, work simple never ends. After work, I clock in another good 4-5 hours of work doing the cooking, washing, playing, teaching, reading, mothering in general. And while there can be sweet moments, when Sophie shows me a picture she's drawn for me or tell me stories about what happened in school, there is also the nagging because she simply don't care for bedtime or the mess she creates after playing with lego.
Yes that's motherhood….and it probably will be like that for a good I don't know 3, 10 years, for life?
But I know that this is not just the story of my life. It is the same stories for most mums, regardless if you have 1 child or 3. Dealing with bedtime woes, feeling battles, sibling rivalry and don't even get me started about the dishes and laundry.
So I know I'm not alone. You are not alone too. Even on days when it feel like you're dragging your feet to get around from being so sleep deprived. When the kids are bangig on the toilet door and all you want to do is hide inside.
You. are. not. alone.
So here's a reminder
To take deep breathes.
To catch cat naps
To ask for help
To do something you enjoy
To have less stress and more joy by focusing on the long-term
I know it's hard, that's why most of us get so caught up in the day to day madness. But after hearing stories from those with grown up children, I think there is a silver lining…
As for sleep. Who needs it anyway… okay I take it back, I need my coffee now!
Link up for Motivational Mondays
Do link up every Monday on what motivates you to be better be it a fitness goal, parenting, marriage, etc. Share your recent posts and encourage someone. Share your recent posts and encourage someone. Don't forget to grab my badge and include it in your post after you have linked up and leave me a comment too.
I host Motivational Monday every week and I hope that you can join me every Monday. Have a great week ahead!