It's been two weeks since the start of 2016 and like many I had a hard long thought about my direction for the year. This was inspired by  Ali Edwards when I got introduced to  Project Life where she likens One Little Word to "a word to focus on, mediate on, and reflect upon as I go about my daily life".
For me My One Little Word is like a compass that directs how I'm going to live my life, a sail what steers me for the next 365 days and a word to keep me focused this year.
My One Little Word for the past two years have been
2014 – Nurture
2015 – Pause
While I don't think I paused very much last year and may have even suffered from fatigue as I struggled to keep afloat trying to swim against the tide, I did set aside time to nurture myself in 2014  when I embraced a healthier life style and picked up a new hobby, scrapbooking and Project Life.
For this year, I'm going with SIMPLIFY.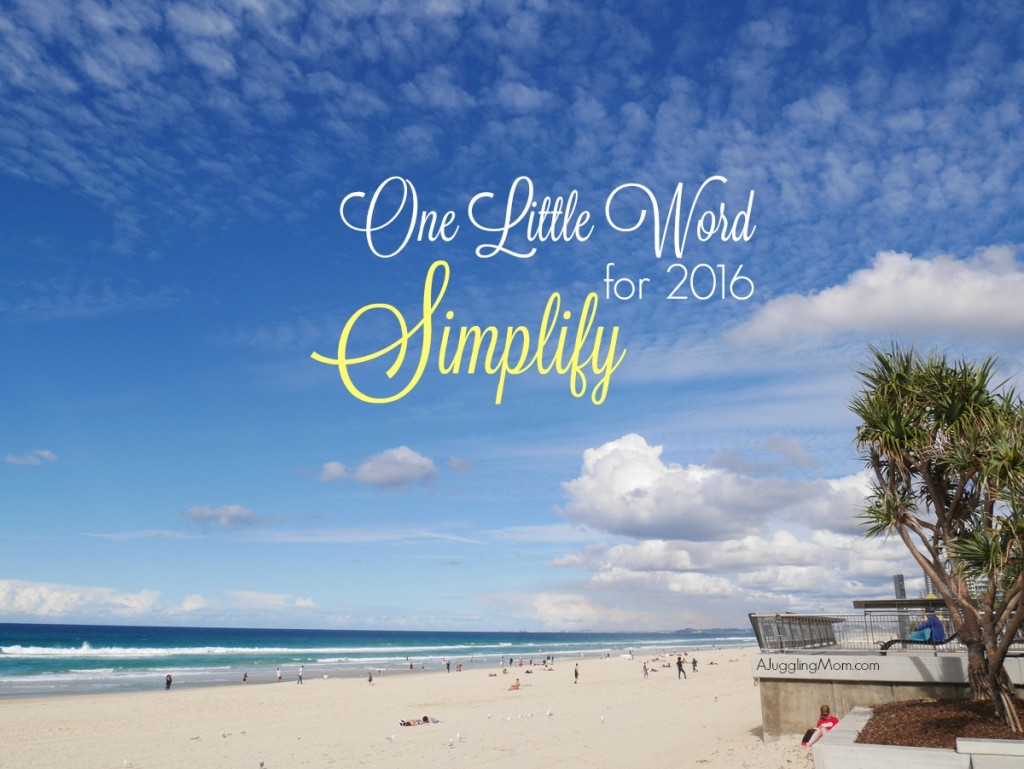 SIMPLIFY
A word to remind me to prune away at the areas of my life that are holding me back from living a more purposeful life.
A word to remind me to avoid over scheduling my life with too many appointments and activities that I can't stop to smell the roses.
A word to remind me to reduce my choices and be more single minded in my decisions, starting from my wardrobe and shoes.
A word to remind me to get rid of the clutter in my life and only hold on to what's of significance.
A word to remind me to live simply and be contented with what God has already blessed me with in life.

And on that note, I started 2016 decluttering my home and I packed away bags and bags of things that I no longer need in my life, from worn out clothes, to clothes at least 2 sizes smaller, to letters and documents dating back to my first job, craft projects I no longer do or will do, expired stuffs like lotions, make up, and the list goes on….
While I have read the widely popular konmari method, to only keep things that spark your joy, I very frankly and somewhat heartlessly junked even things that brought me joy, because no matter how you see it, they are still cluttering my space, my home, my life. To be very honest, I think what helped was having a right logical and rational hubby who kept questioning why I was holding on to so and so item, that I threw them away to avoid his questioning and you know what, I really don't miss them at all.
Another area what I'm going to simplify is also on this virtual space of mine where i'll be more selective of what I post on my blog. I'm sure fellow bloggers will agree with me that fatigue sets in once you lose your direction and voice on your blog. And the last thing I want to do is to feel like I'm just a platform for pushing out reviews and products that come my way. I'm thankful for the opportunities that have come my way, but will have to be more discerning of what I want to feature so that my blog can be a place for me to share stories from the heart 🙂
Thanks for sticking around and I hope 2016 treats you better 🙂
Enjoyed reading this post? Do like my Facebook page to be updated of the next post. You can also follow me on Twitter (@Susankoh) or Instagram (@ajugglingmom).
Tagged: new year resolution, One Little Word