When it comes to stereotypes, Sophie dispels all myths that girls are sugar and spice and everything nice. In fact, a friend of mine who has three boys once commented that Sophie is just like one of the boys after he saw how active she can get.
Although Sophie has her favorite indoor moments like reading, painting or having her eyes glued to the iPad, what she really relishes are moments when she gets to be outdoors. In fact she lives for them and would go "Yippee" at the top of her voice when we tell her that we're heading outdoors.
To keep up with her active lifestyle, she's been wearing her new pair of New Balance Premus sports shoes, thanks to the good people from New Balance. These lightweight pair of shoes offers a natural barefooted feel and ground contact that totally suits her active lifestyle.
In fact, they are so light it gives her enough lift for a take off!
And have I mentioned, how they give her an added spunk to her kick-ass attitude. Plus they are in a rockin' shade of hot pink!
Here, take that!
By the way, have you noticed the recent posters that I've created for Sophie? I think she makes an excellent poster girl and gives me loads of inspirations like this and this. These posters have been good reminders of the many lessons that she's been teaching me as she sees the world from her eyes.
One of the recent lessons that she's taught me is the freedom to be me. As children, kids never had much inhibitions being themselves. And while we try our best as parents to teach them the correct etiquette that's expected from them, you'll find that they pretty much have a mind of their own and wear their emotions on their sleeves.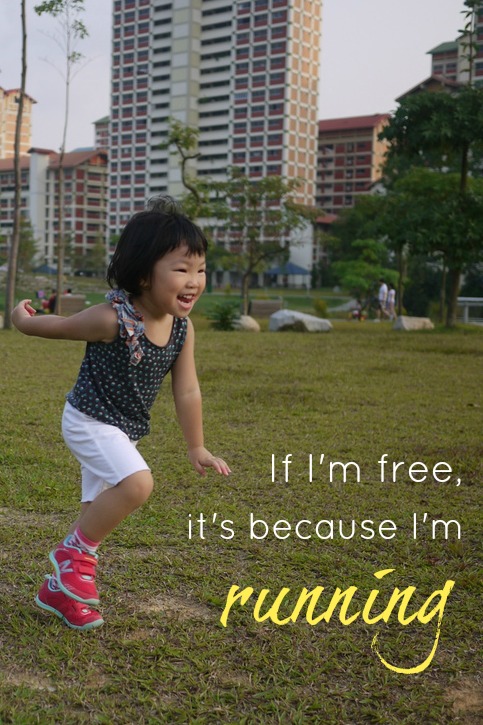 For Sophie, we often find her breaking into a song or dance when she's happy. And when she's upset, she makes sure that we get the message loud and clear too.
Perhaps as adults, we have been too careful at hiding our emotions to the point that we're no long as free as we ought to be. Lets take a leaf from our kid and set our spirits free.
– – – – – – – – – – – – – – – – – – – – – – – – – – – – – – – – – – – – – – – – – – – – – – – – – – – – – – – – – – – – – – – – – – – –
To celebrate our children, for the month of October I'm planning a series around our children to mark Children's Day. I'm calling for contributions on how your child has overcame the odds or perhaps a lesson that they've taught you. It can be as simple as how they've overcame a fear, or perhaps a prolonged sickness or maybe a learning difficulty. Or maybe, you'll like to give it a go at creating a poster with a favorite quote from your child. The possibilities are endless.
To join in,
pen a post in October and dedicate it to your child

;

grab the badge below to include it in your post;

link your story to this post or come back every Thursday and link it to my "Celebrating our Children" linky party.
Let's celebrate our children today!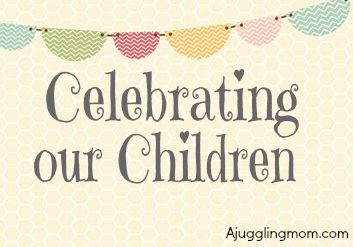 <div align="center"><a href="http://ajugglingmom.com/?s=celebrating+our+children" title="www.ajugglingmom.com"><img src=" http://i1264.photobucket.com/albums/jj499/Susan_koh/ChildrenBadge.jpg" alt="www.ajugglingmom.com" style="border:none" /></a></div>
PS: It's still Motivational Monday too 🙂
<div align="center"><a href="http://ajugglingmom.com/?s=motivational+monday" title="www.ajugglingmom.com"><img src="http://i1264.photobucket.com/albums/jj499/Susan_koh/MM-1.jpg" alt="www.ajugglingmom.com" style="border:none" /></a></div>

'); // ]]>

Tagged: celebration, Children's Day