Chinese is one of those subjects in school that children either love or hate. I remembered reading the importance of making the language interesting for children and was determined not to make Mandarin dreadful for Sophie.
Besides bringing her to watch Chinese performances and Chinese cartoons, another great way to spark her enthusiasm for Chinese was immersing her with Chinese books. And no surprises, when I even reached out for comics to make it a fun and interesting read. After all, kids learn best when they are enjoying what they do.
Here are 3 latest titles from Marshall Cavendish Education that are perfect to introduce to primary school students. Do read on to find out how you can win a set of these books!
Nao Nao Comics Street闹闹漫画街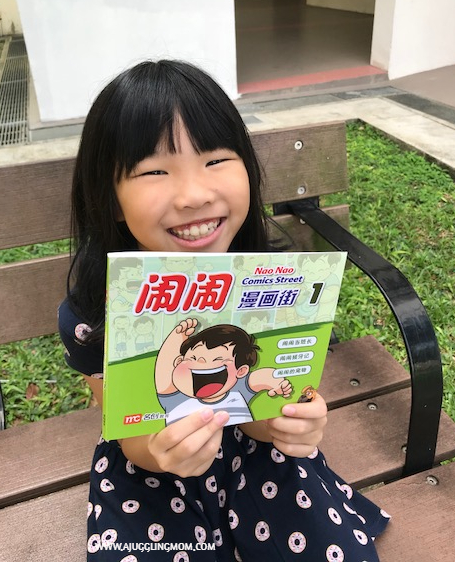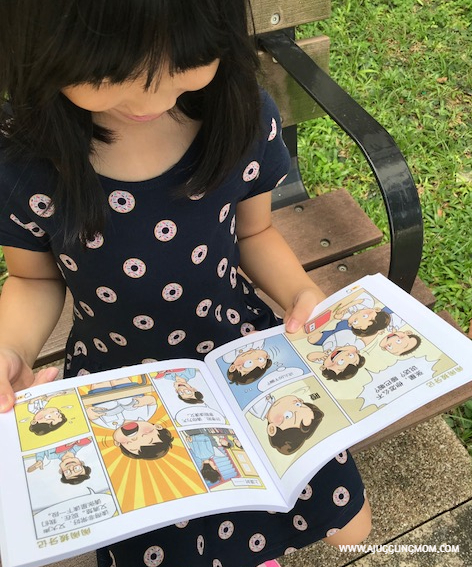 Nao Nao is well-loved character who's popular among kids. As a cheeky student, his character is relatable to young readers as the stories revolve around every day scenarios about school life, friendship and family. His mischievous antics invariably land him in some kind of trouble from time to time with a huge dose of humour. But at the same time, important moral values are subtly woven into each story, teaching kids valuable lessons which they can apply in real-life situations.
This series is a great introduction to lower primary pupils as they'll be drawn by the colourful and delightful illustration as well as the relatable story setting. There are three stories in one book, making it an irresistible book to put down.
At the end of each story, a Chinese-English vocabulary list is provided to reinforce the learning of new words in the comics.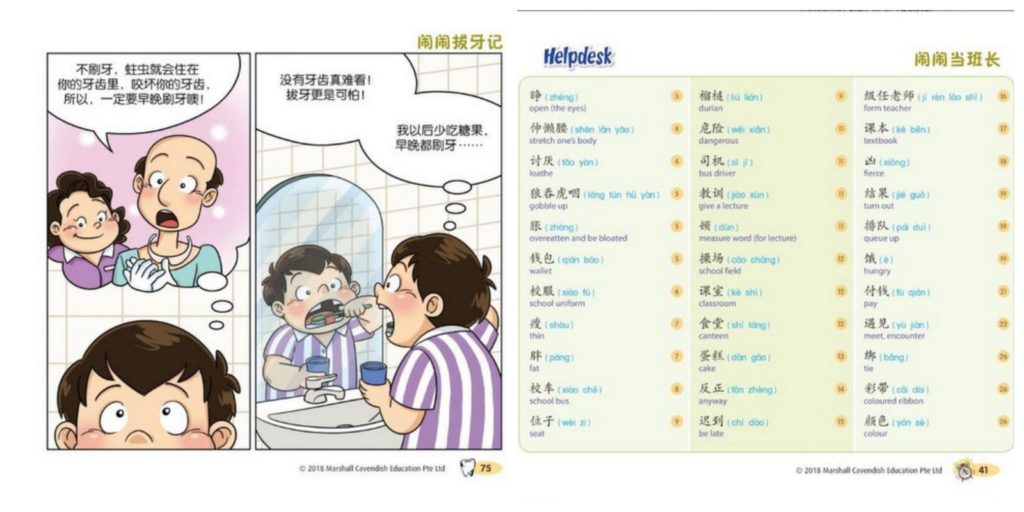 Old Master Q Happy Idioms 老夫子 快乐成语
I'm sure老夫子  is no stranger to you and it may well have been your favourite comic back in your primary and secondary school days. At least it was for me 🙂
So it gives me great delight to introduce this classic comic to Sophie where she get tickled pink while learning Chinese idioms at the same time. With Sophie in Primary 3 this year, she's stepped up on her compositions where her teacher have emphasised the importance of using Chinese idioms in her writing.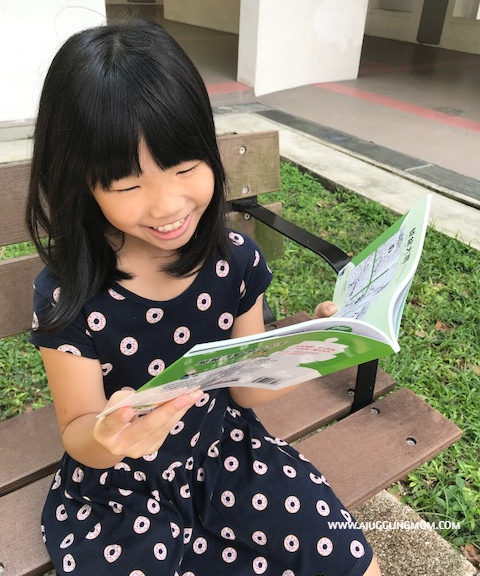 With this series of Old Master Q Happy Idioms books, Sophie get to learn the meaning of over a 100 idioms presented in true Old Master Q style with humorous and witty interpretation, which can be quite slapstick too.
What I personally liked is how Hanyu Pinyin and English explanation are added to aid understanding of each idiom. In addition, each idiom is supported with an antonym to learn the opposite meaning along with sample sentence for reference.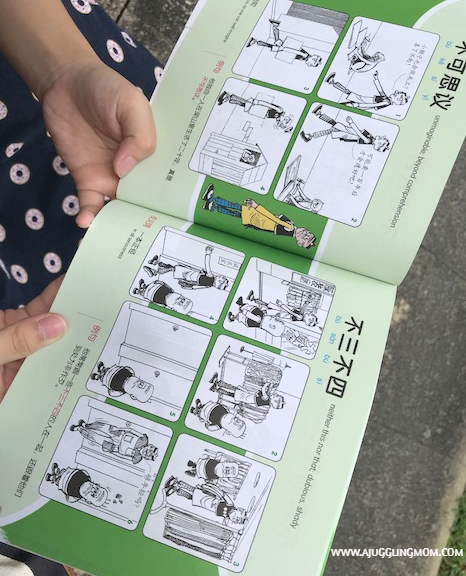 Le Le Brainwave Comics 

乐乐计转弯
Le Le Brainwave Comics is Marshall Cavendish Education's latest Chinese comics series and one which got us very excited as it weaves the learning of mathematics seamlessly into its stories.
The book brings young readers along the adventures of Le Le and his family where he solves mathematics questions through everyday situations and kids learn maths concept from measurements, distance, fractions and much more.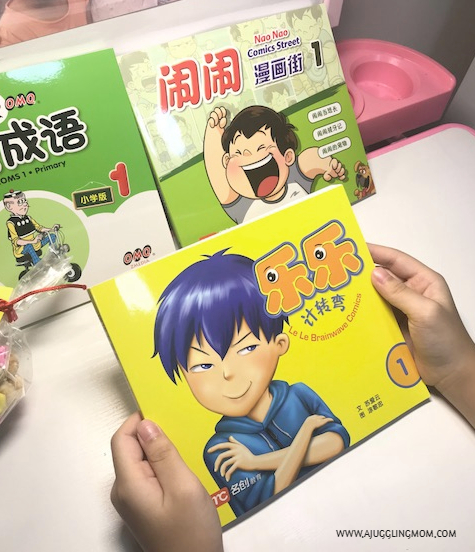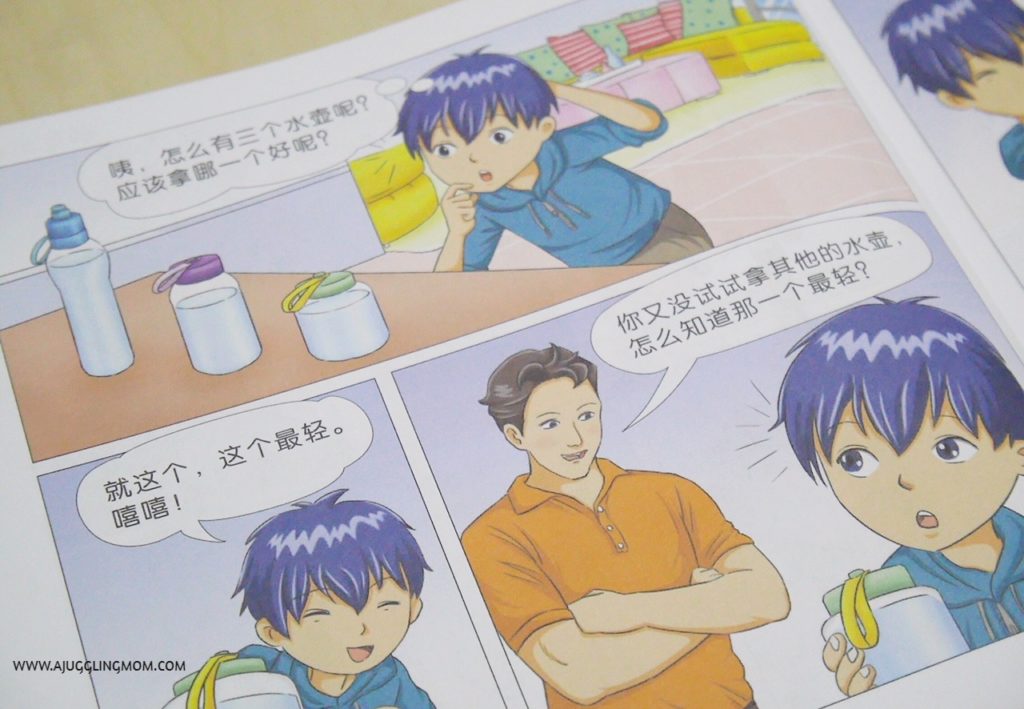 In book 1, there are hands-on activities like origami folding exercises, which kids can follow along with the characters in these comics as they learn about geometry.
After each story, little readers can get their brain juices flowing and try to solve relevant maths questions in the 想一想 section. At the end of the book, there is a Chinese-English vocabulary list where kids can reinforce their learning of  new words which they come across in their reading. 
An engaging comic title that incorporates mathematics is so hard to come by and it's great that the content is not too challenging  for kids to understand which may be a put off if they feel too overwhelmed.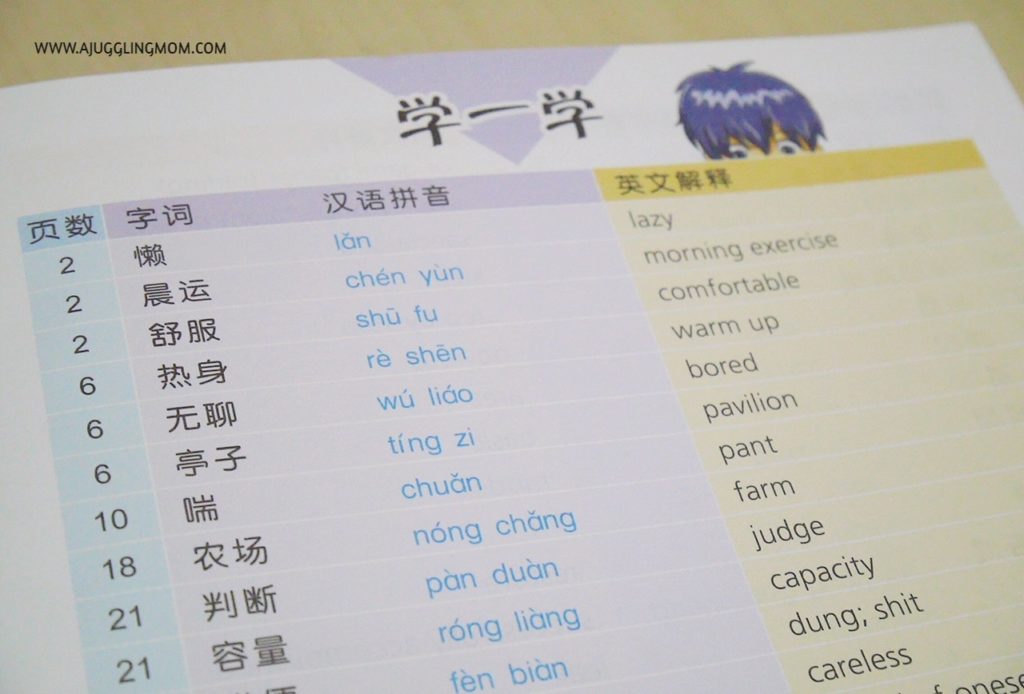 – – – – – – – -– – – – – GIVEAWAY FOR A JUGGLING MUM READERS (Closed) – – – – – – – – – – – –
Thanks to our sponsor, Marshall Cavendish Education, we have 2 sets of Chinese comics series to give away to 2 lucky winners. The set of Chinese comics series comprises of
Nao Nao Comics Street闹闹漫画街 Book 1
Old Master Q Happy Idioms 老夫子 快乐成语 Book 1 & 2

Le Le Brainwave Comics 

乐乐计转弯 Book 1
All you have to do is:
1) 'LIKE' our Facebook Page and 'FOLLOW US' to be the first to get notified of our next giveaway.
2)  'LIKE" Marshall Cavendish Education​ Facebook page
3) 'SHARE' this post and tag another friend whom you wish to share this giveaway with
Complete both steps to be eligible for the giveaway.
ONE lucky winner will be drawn and announced on the blog and Facebook on 14 June, Thursday.
Congratulations to our two lucky winners, Linda Wong and Sylvia Tangugu!
You have each won a set of Chinese comics series for your kids.
Please note:
Giveaway ends on 13 June, Wednesday 23:59
Only readers residing in Singapore are eligible for this giveaway
Winners will be notified via email and have 48 hours to respond to email otherwise a new winner will be drawn
All false FB accounts will be disqualified from the giveaway
Here are some links on Composition Writing that you may be keen too.
* A Juggling Mom was sponsored the above titles to write this post. No monetary compensation was received. All opinions and photos are mine. 
Tagged: books, giveaway, Learning Chinese