After being at sea for 2 days, I was looking forward to our short stop over at Langkawi. Being down with a  flu bug and fever and having to be cooped up in the cabin was definitely not part of my holiday plan and I was dying to get some much needed fresh air.
We took our breakfast at the Bolero Buffet on deck 11 and opted for outdoor seating where we enjoyed the warm sun and gentle breeze as we sailed into Langkawi. As a buffet, we found the spread offered for breakfast to be quite lacking in choice. They had the usual breakfast fare of pancakes, eggs, toast, sausages, fruits, porridge, noodles, cereal, and a whole lot of bread choices. In fact, their bread was the best food that I had and I always have my favorite croissant to start the day.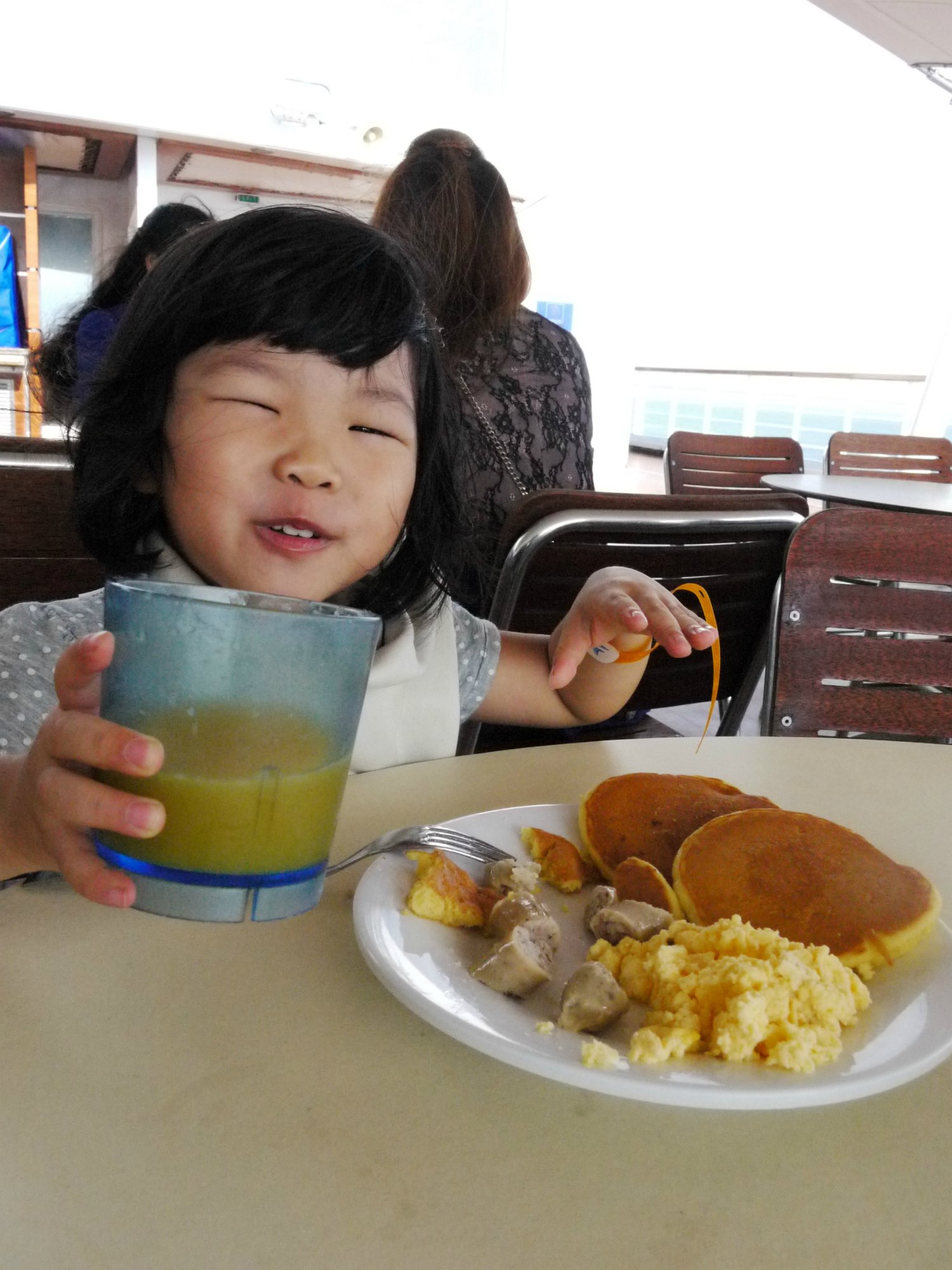 Sophie's breakfast of pancakes, eggs and sausage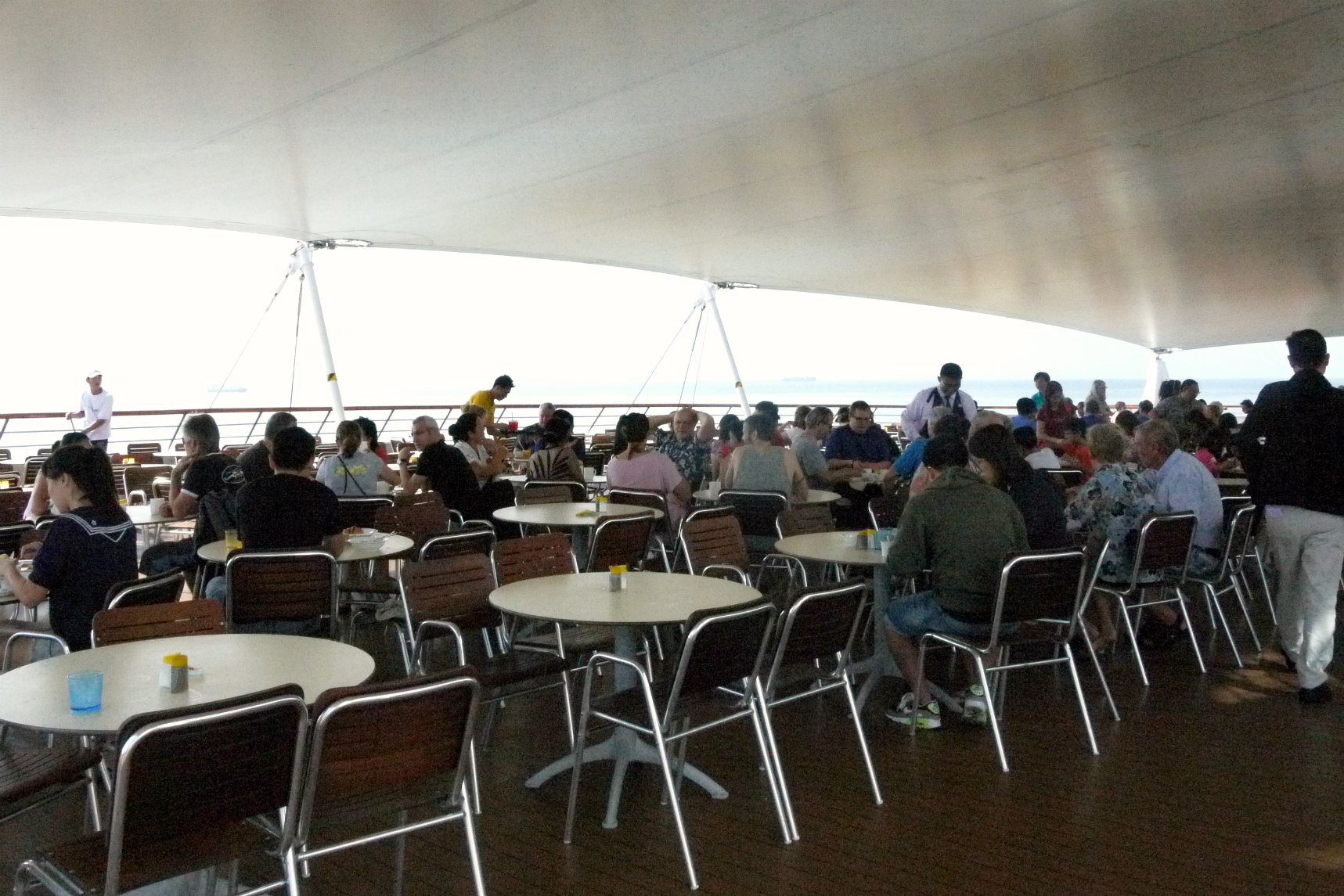 The alfresco seating at the back of the ship
On the way back to the cabin, we stopped to take a few pictures around the ship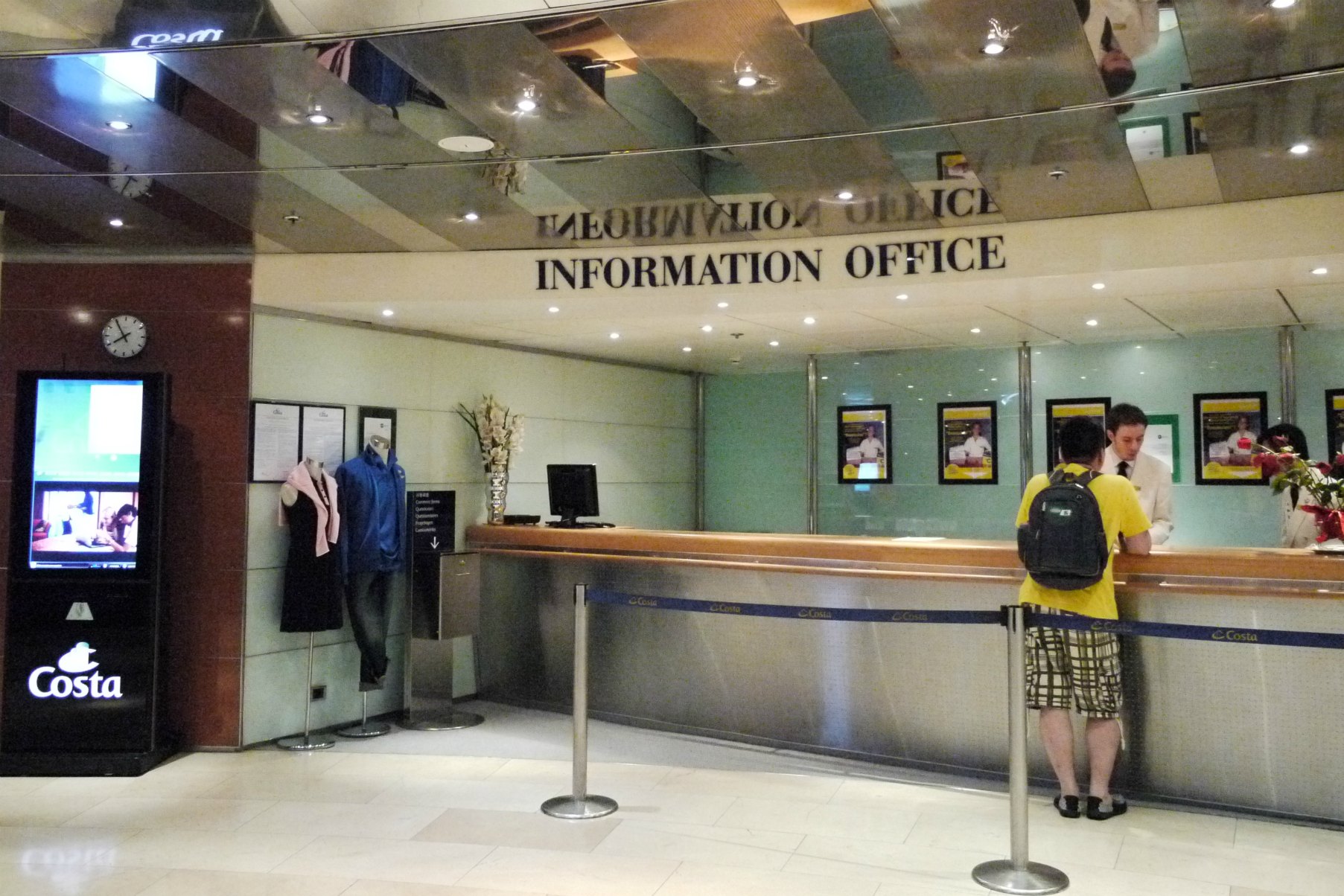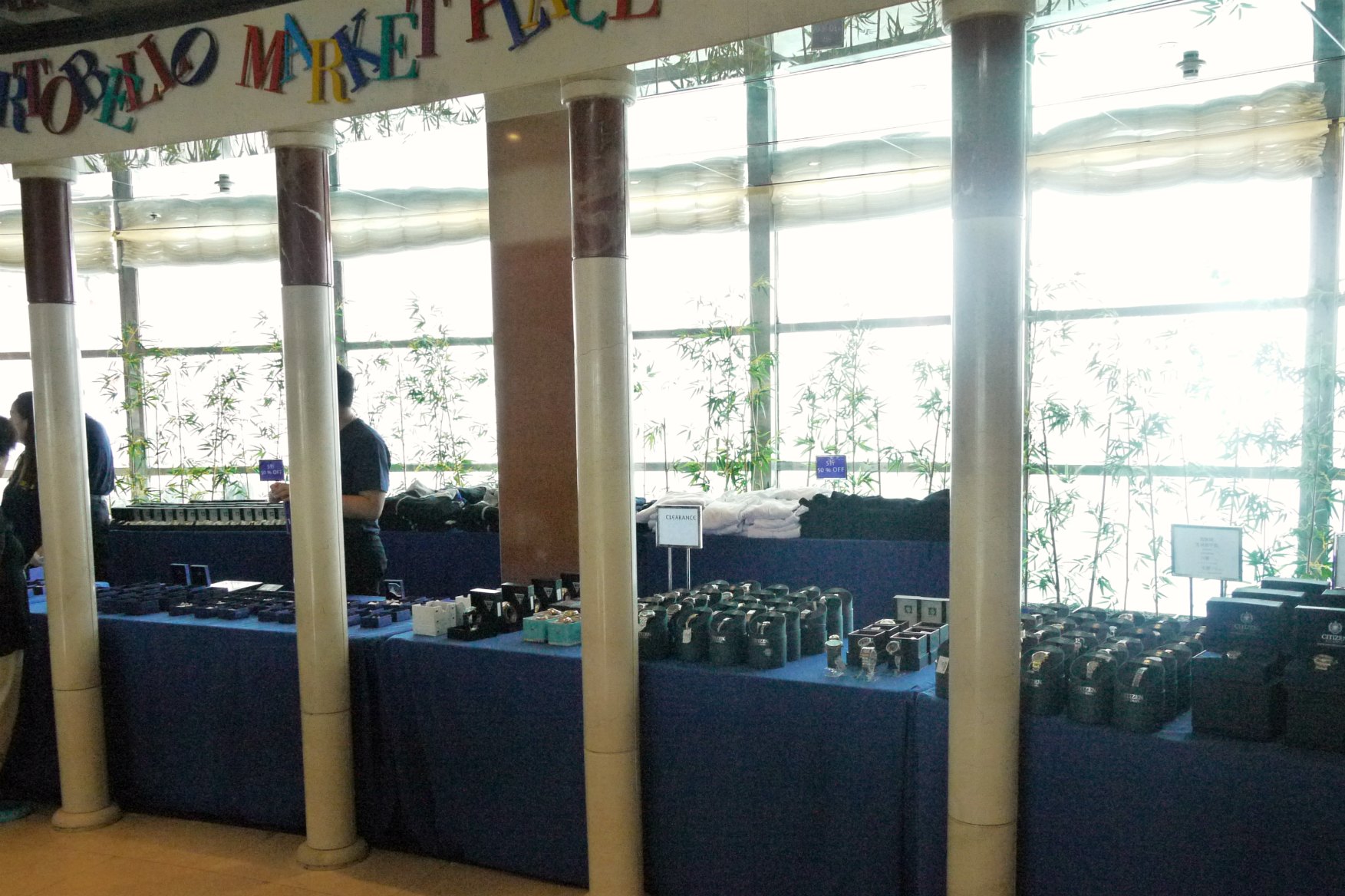 The Portobello Market on deck 7. Everyday, there would huge crowds checking out the day's special offers from perfumes, watches, sunglasses, jewellery sets and apparel. USD  currency is used on board. If you want to pay for any services or do your shopping, you can register your credit card at the credit card kiosk before paying for your purchases.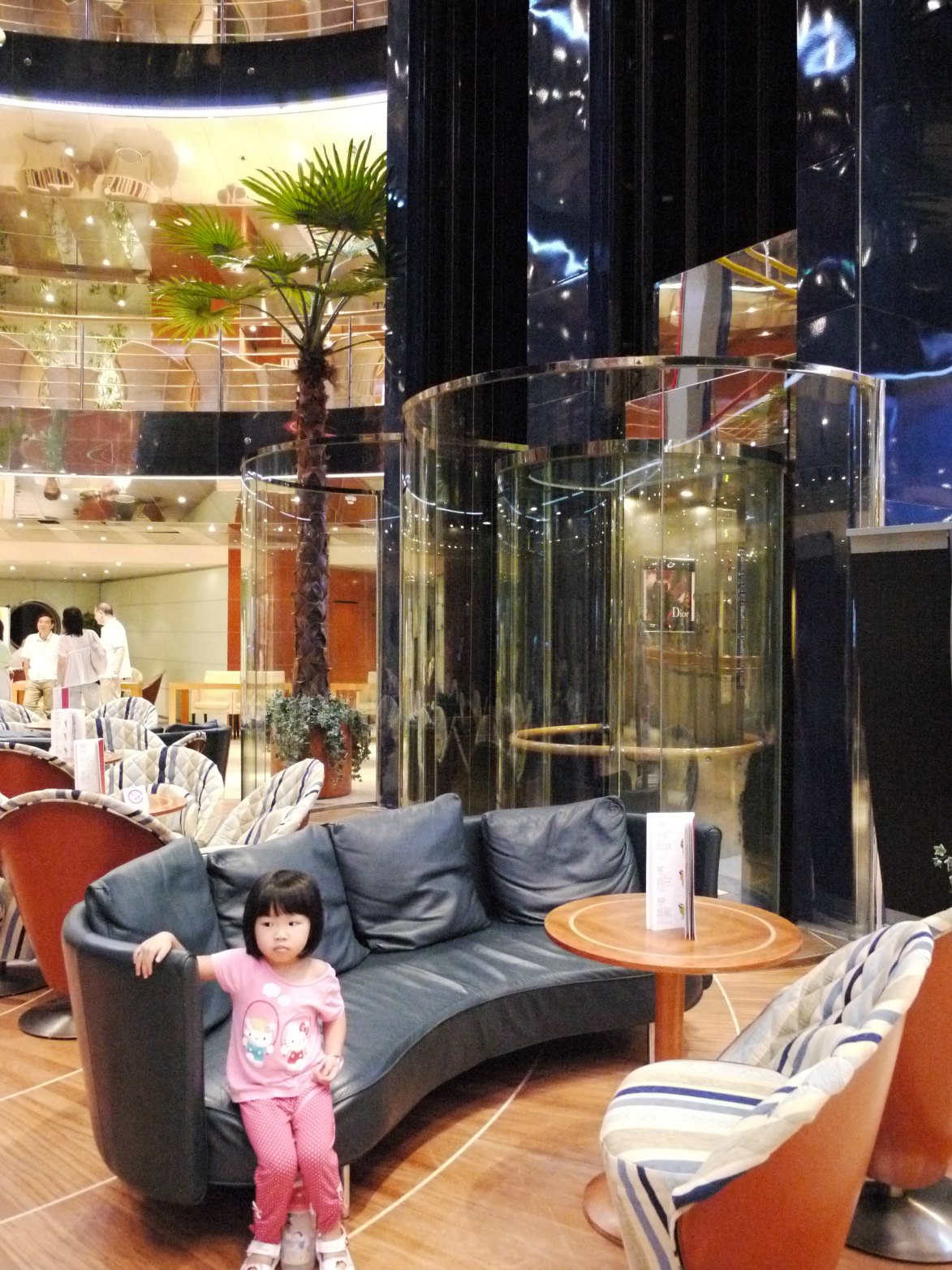 The main hall on deck 5
 We can finally see land!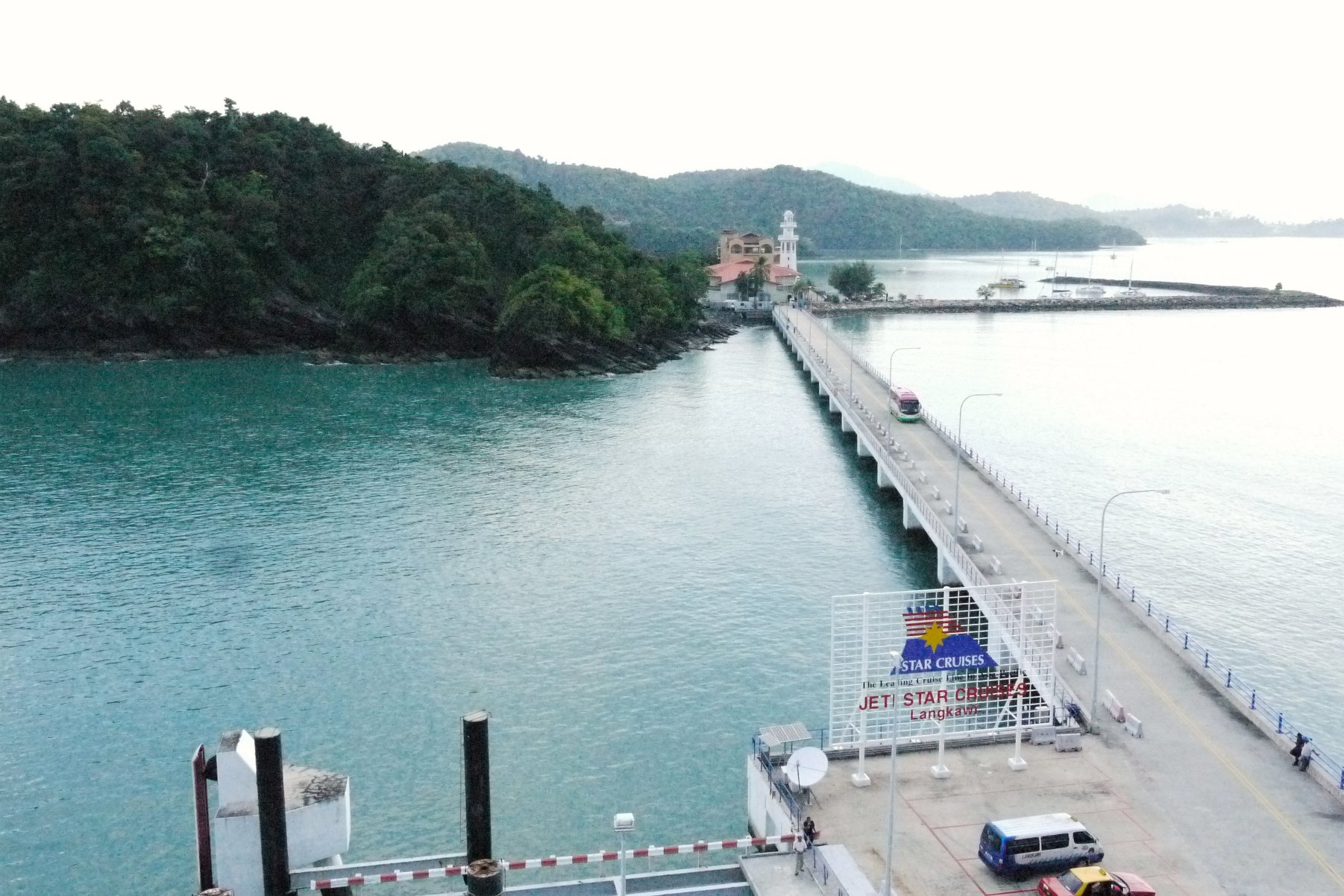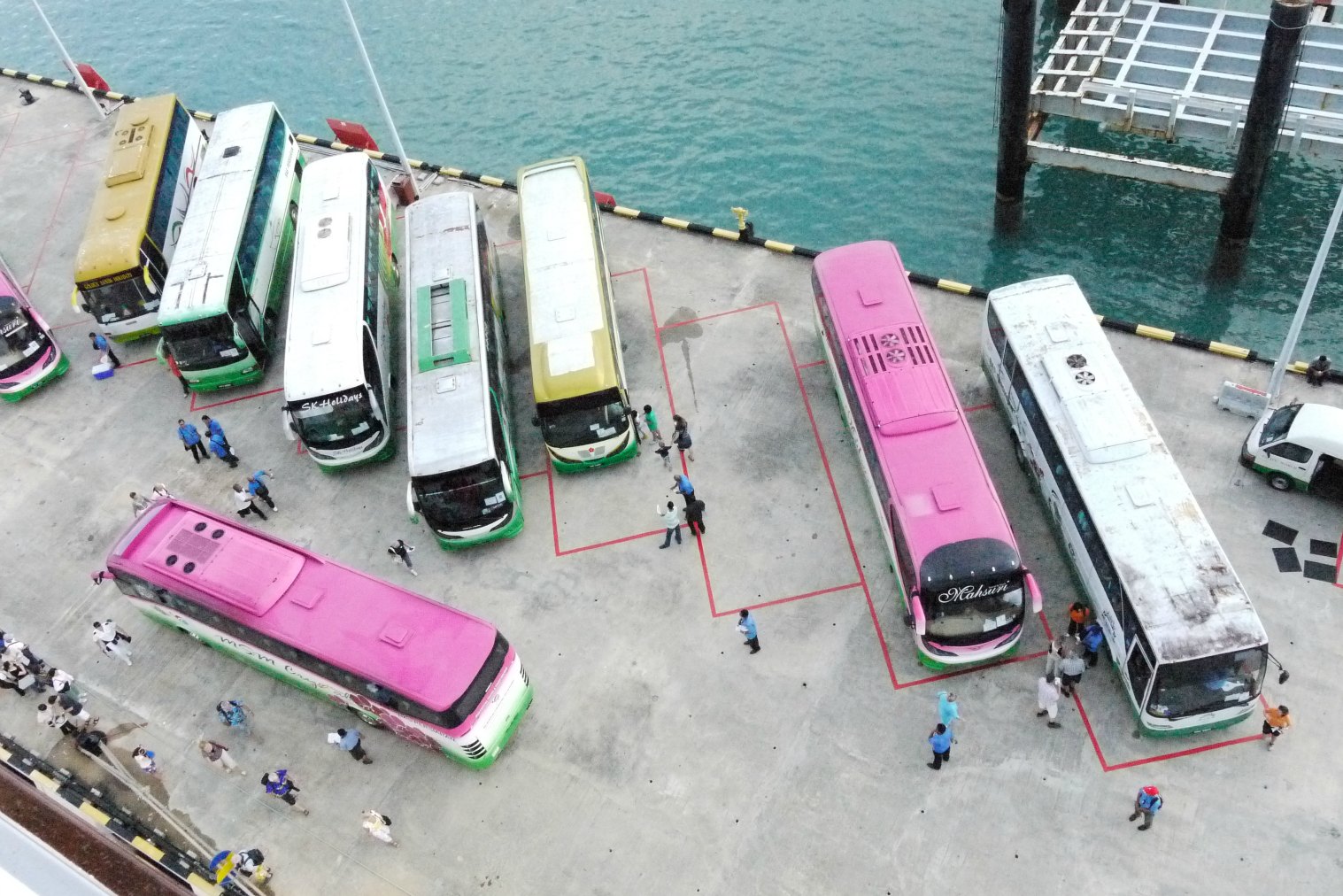 The buses that were waiting to ferry the passengers out from the port
We didn't sign up for the optional guided excursions as we thought we'll explore the island at our own leisure. We boarded the coach which provided complimentary ferry service to the city and we planned to walk around town and head to the beach.
Since we were alighted at the entrance of the Underwater World, we thought that we'll hop in for a visit before going to the beach.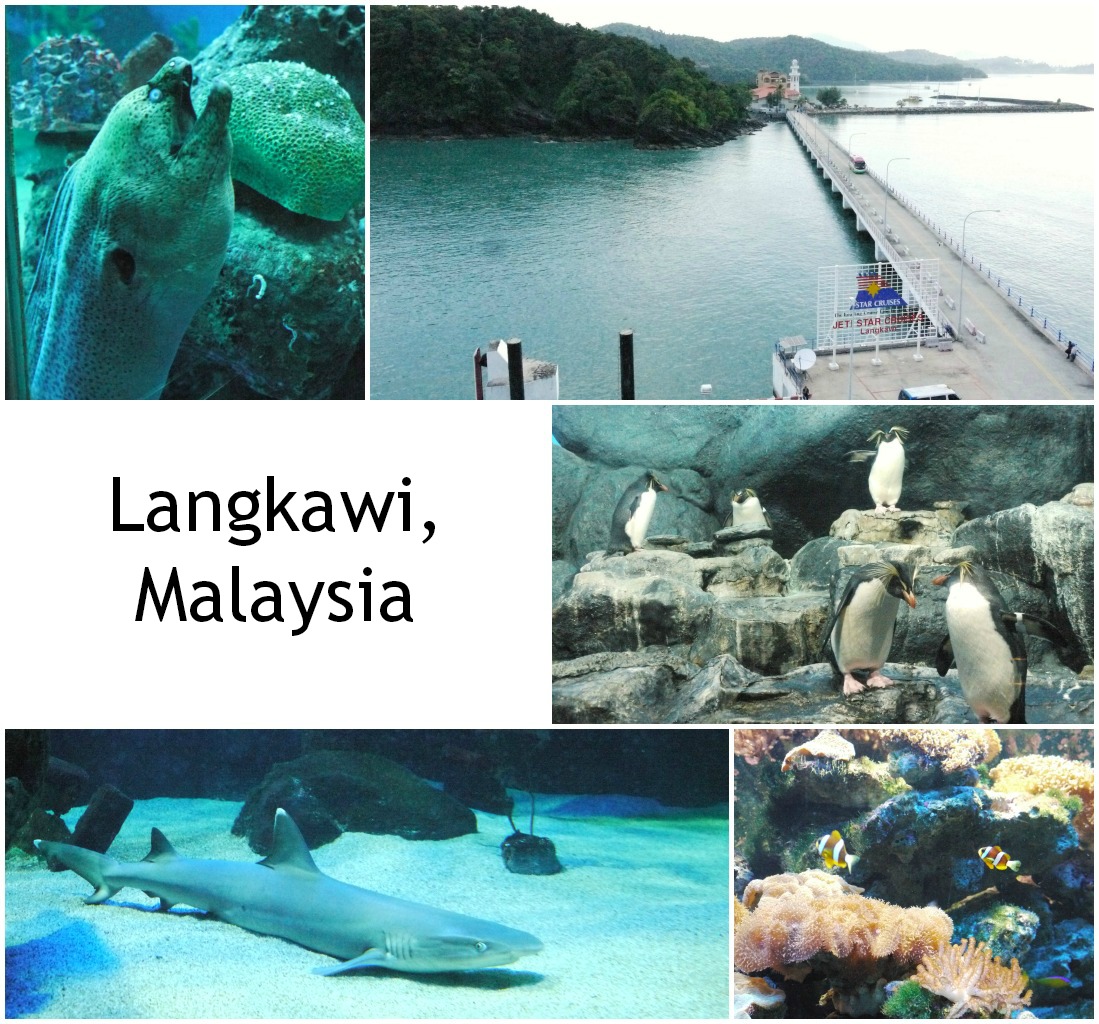 The Underwater World turned out to be an enjoyable attraction. Although it looked pretty old and unimpressive from the outside it had a wide variety under one roof. It was divided into three  sections, from the Tropical Rainforest to the Antarctic.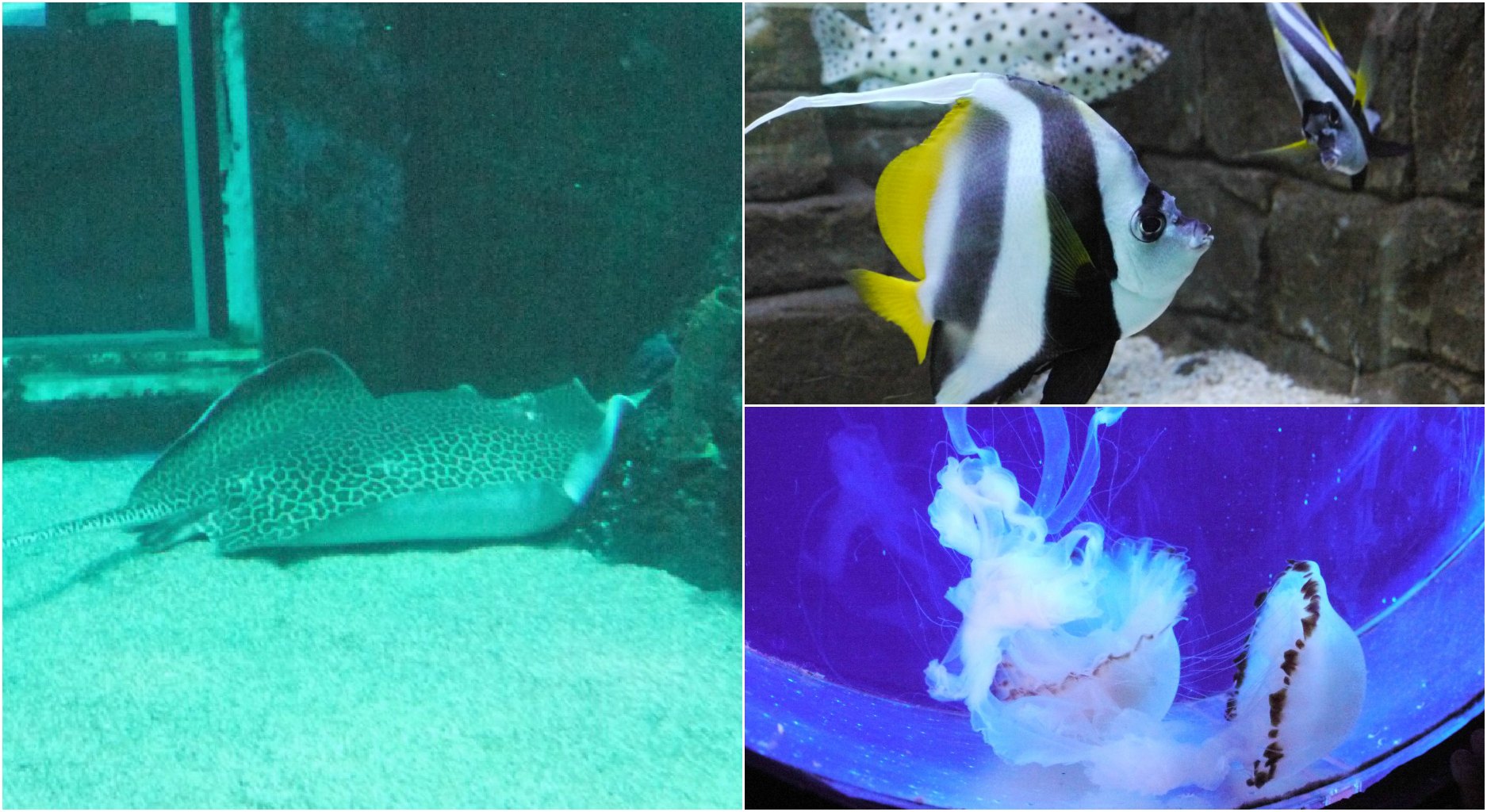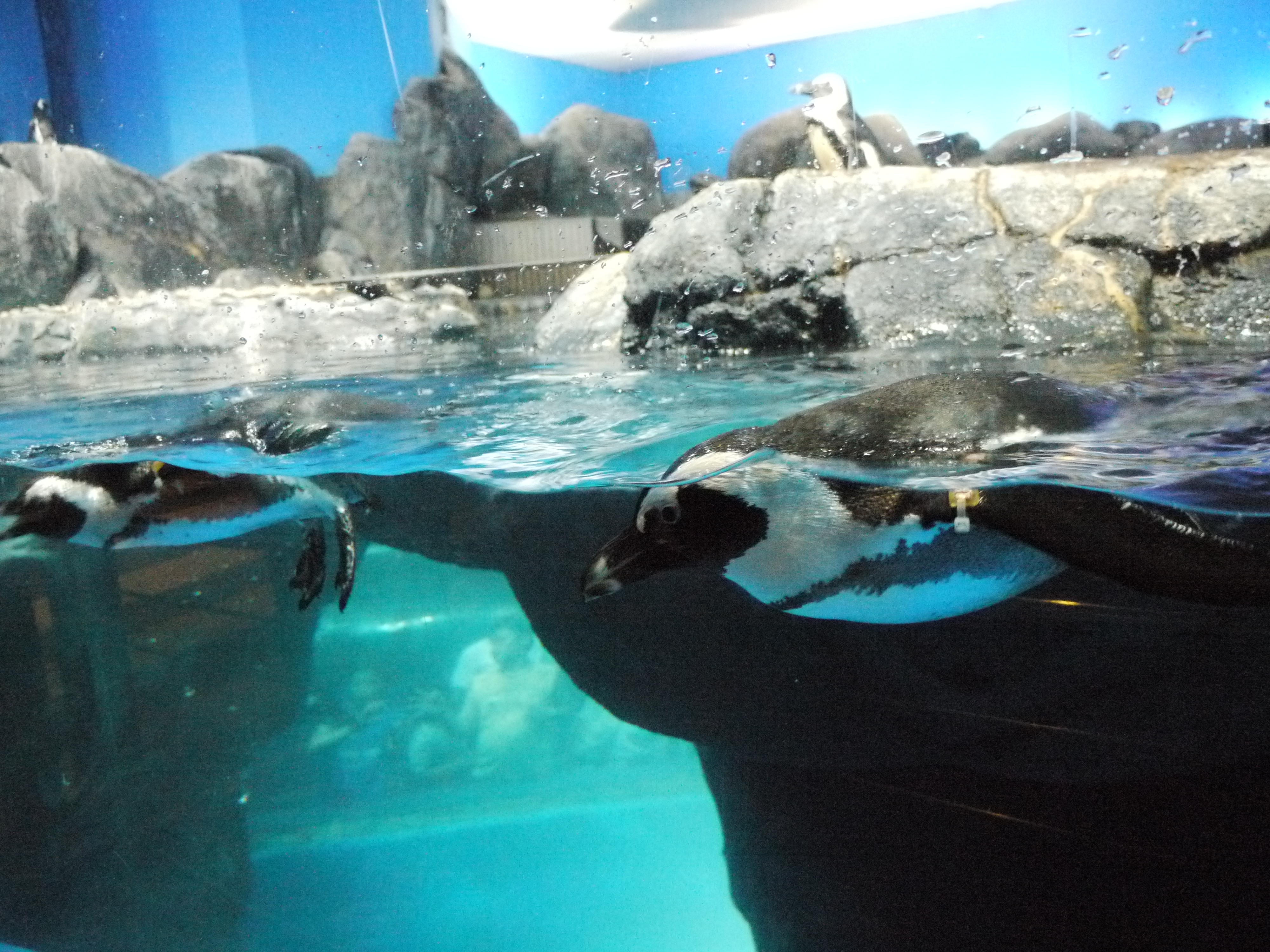 It was followed by lunch where we had the most predictable food, a meal at McDonalds. And as we would have it, the skies poured and we never made it to the beach at Langkawai. It felt a little silly waiting for a downpour to stop, so we boarded the coach and went back for an afternoon nap instead.
That afternoon, Alexis started to feel ill and it was his turn to come down with fever. So it was more rest for the whole family. Alexis and I joked that we were the 三只病猫. How sad 🙁
In the evening, we went for an Italian themed dinner. The restaurant was decorated with the Italy flag and after most diners had finished their meal, the waiters and waitress got everyone on their feet to dance.  The atmosphere was very fun and everyone gamely took part. It was a pity that Alexis couldn't join us for dinner and missed a fun evening.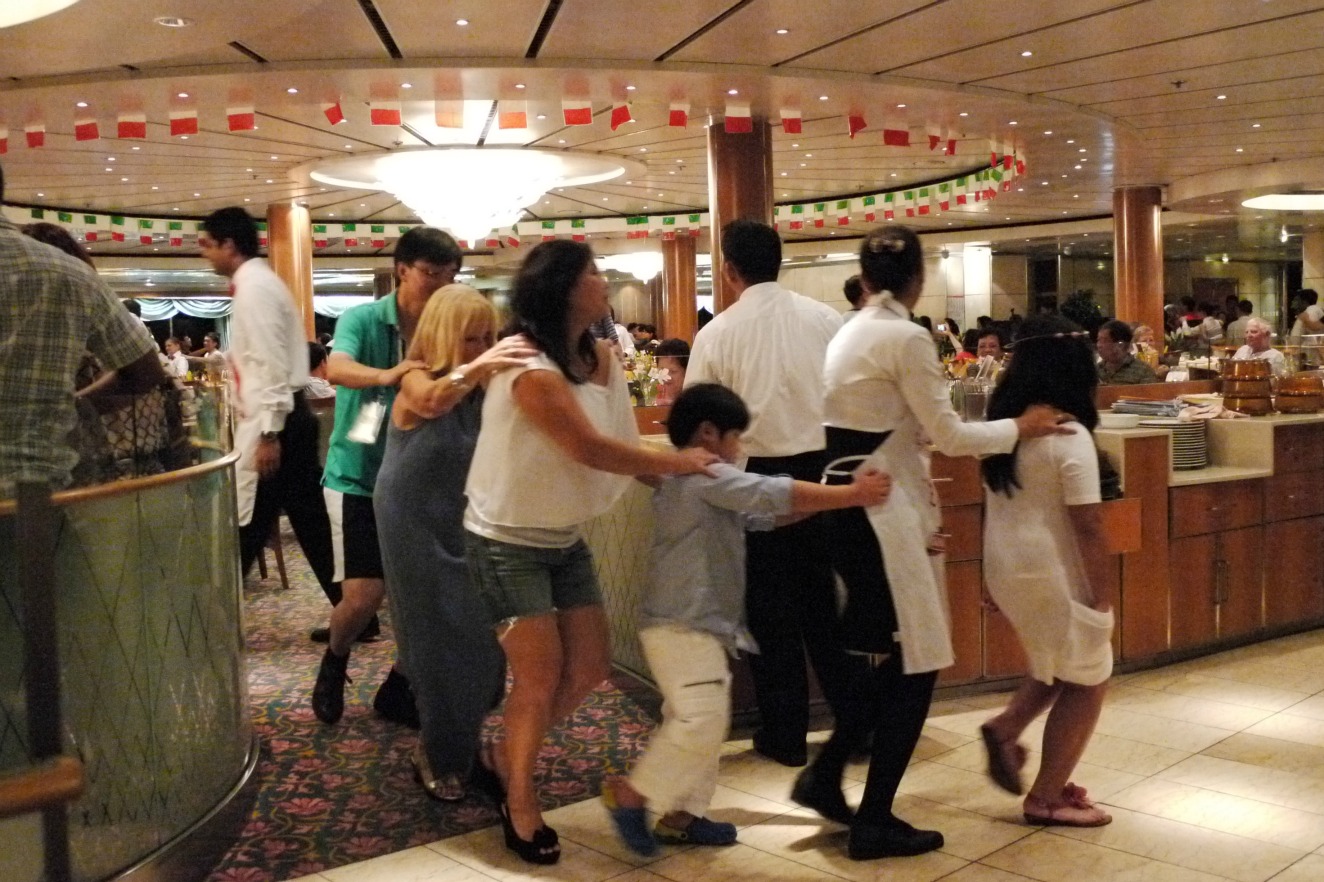 That evening, we skipped the night performance and decided to rest up for Penang the next day.
Day 4: The sight of Fort Cornwallis in a distance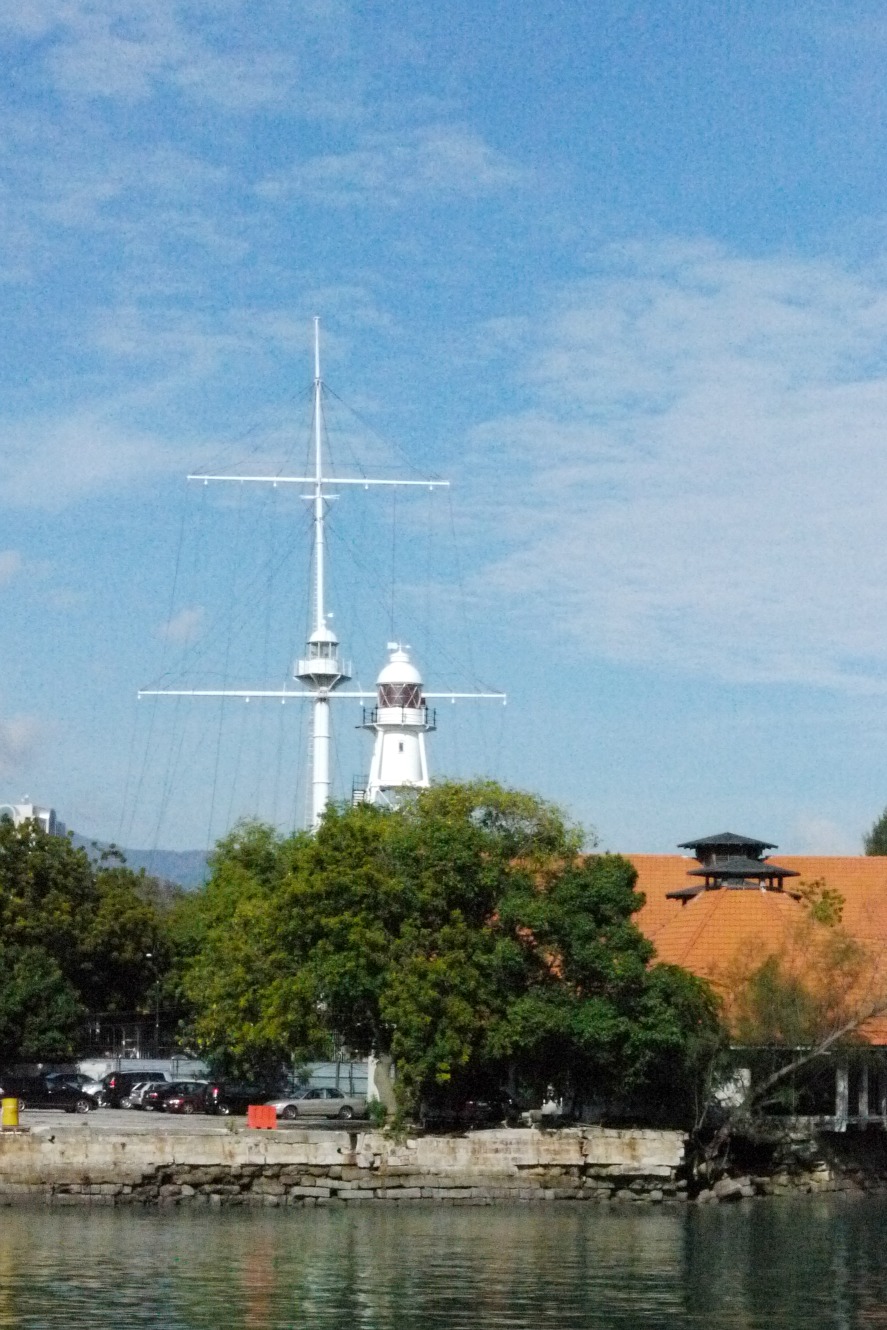 The ferry terminal was at the Esplanade and we were just a short walking distance away from the Fort Cornwallis. This is an attraction that families may enjoy and it takes less than one hour to cover the whole place.
As we have visited Penang two years ago and covered most of the key attractions, I was only detremined to go for two things- Assam Laksa and chendol. I remembered having the best ones from cafe Joo Hooi at  Penang Road so we boarded a cab here. The cab fare was a flat 12 ringgit.
Turns out, we were way too early at 9:30am, so we walked to a nearby Georgetown for their famous Penang White Coffee.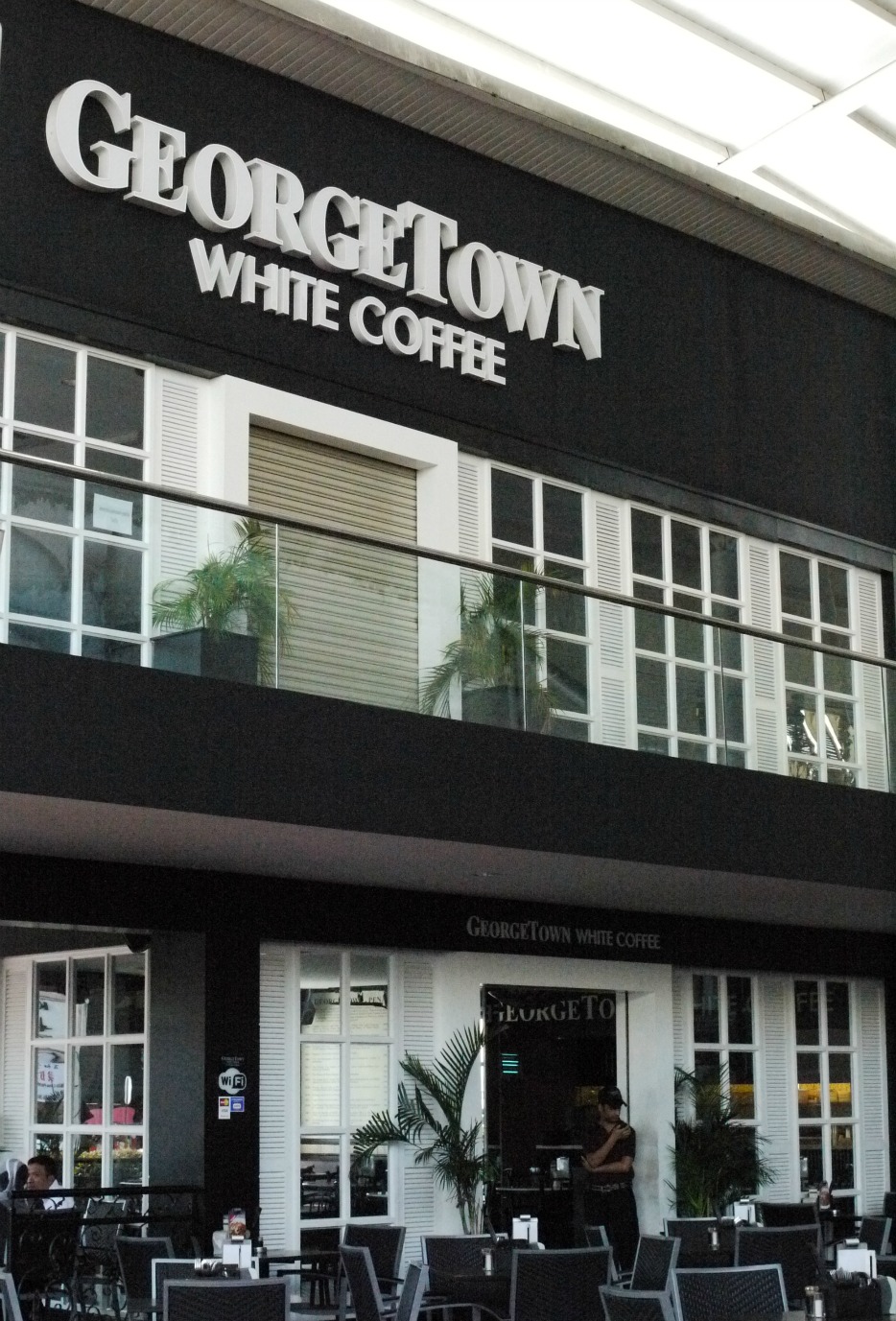 I did the most Singaporean thing and went to the nearby supermarket to look for my vanilla coke and bought two bottles. How I've missed you so!
We went back to the coffee shop at 11am and by then the coffeeshop was filled with hungry locals and tourist. I had my Assak Laksa craving satisfied and enjoyed an icy chendol that had huge kidney beans. Needless to say, I was very satisfied 🙂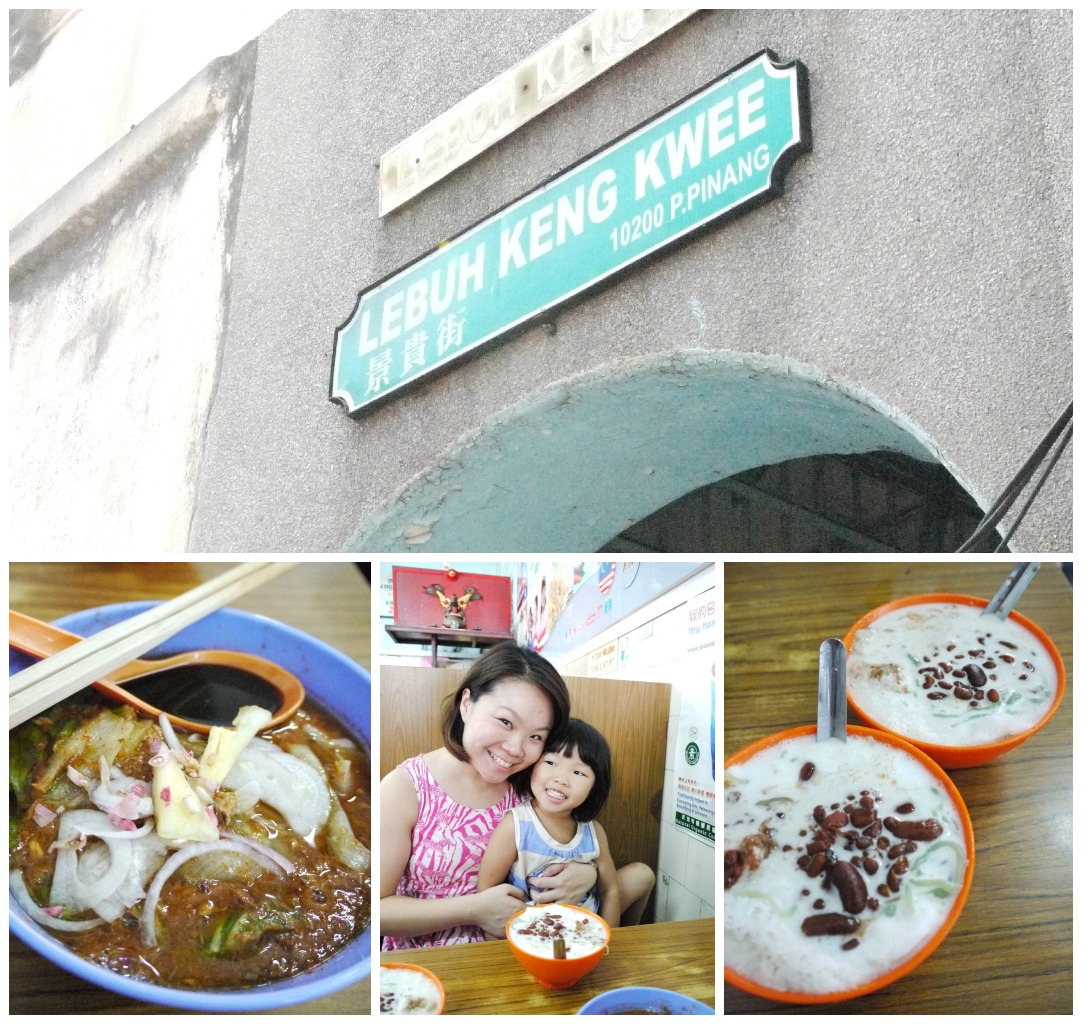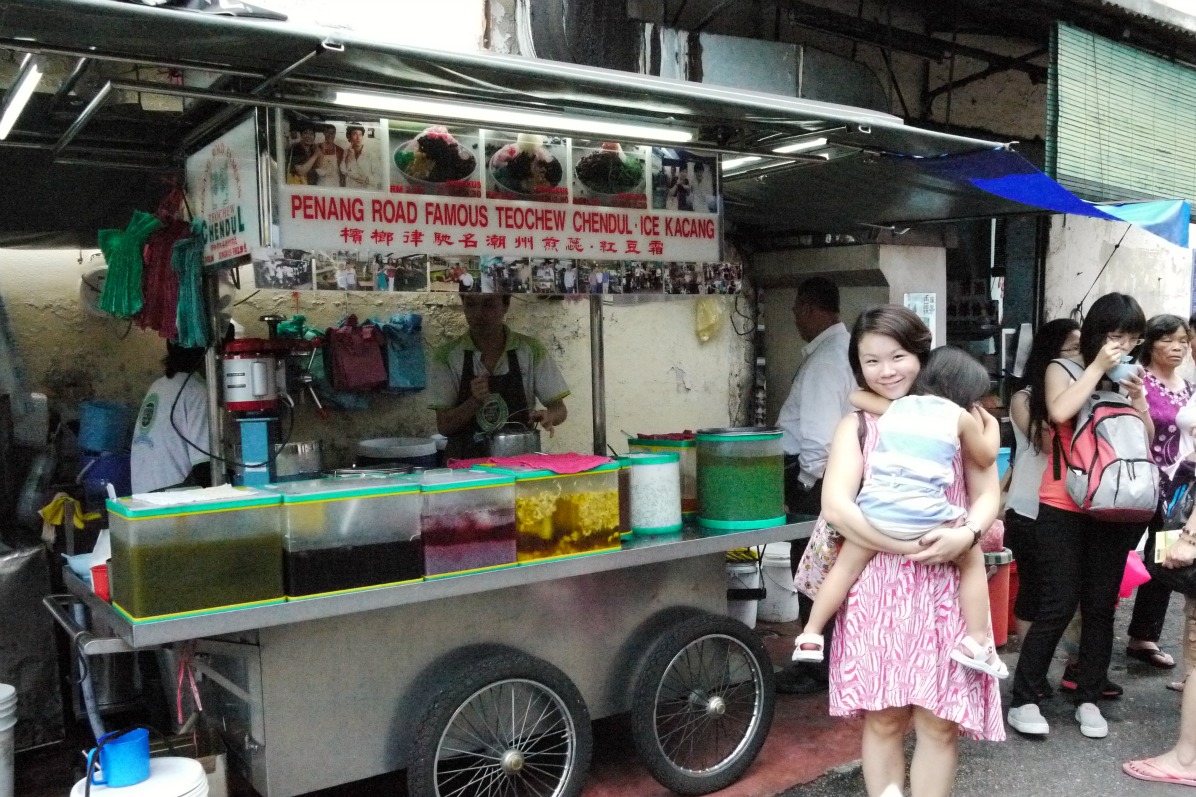 The make shift chendol stall just beisde the coffeeshop. You may not be able to see it but Phua Chu Kang and Rosie patronised this stall and had their picture taken too. See top right photo.
The stop over in Penang was only till 1pm, so after lunch we hurried back to the port. If we had more time, I would have made a stop for their famous tau sar piah from Him Heang.
If this is your first time to Penang, you may also want to visit places like the Butterfly Farm, Tropical Fruit Farm, Kek Lok Si Temple where I heard they have the best Assam Laksa. It's a pity that we were way too early for Gurney, else I would have stuffed myself silly from all the yummy street food.
Back on the cruise, we checked out some of the programs in the afternoon where they had food demonstrations class, like sushi and pizza making demos.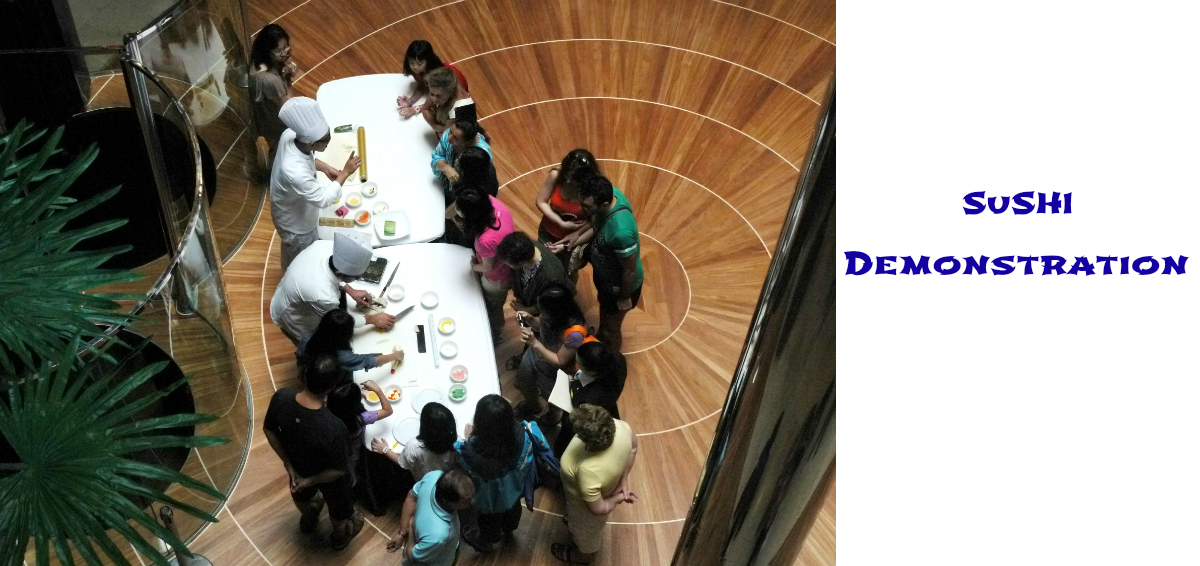 For those with dancing feet, you can also learn a new dance with the instructors on board. In the morning, I also spotted yoga and aerobics classes.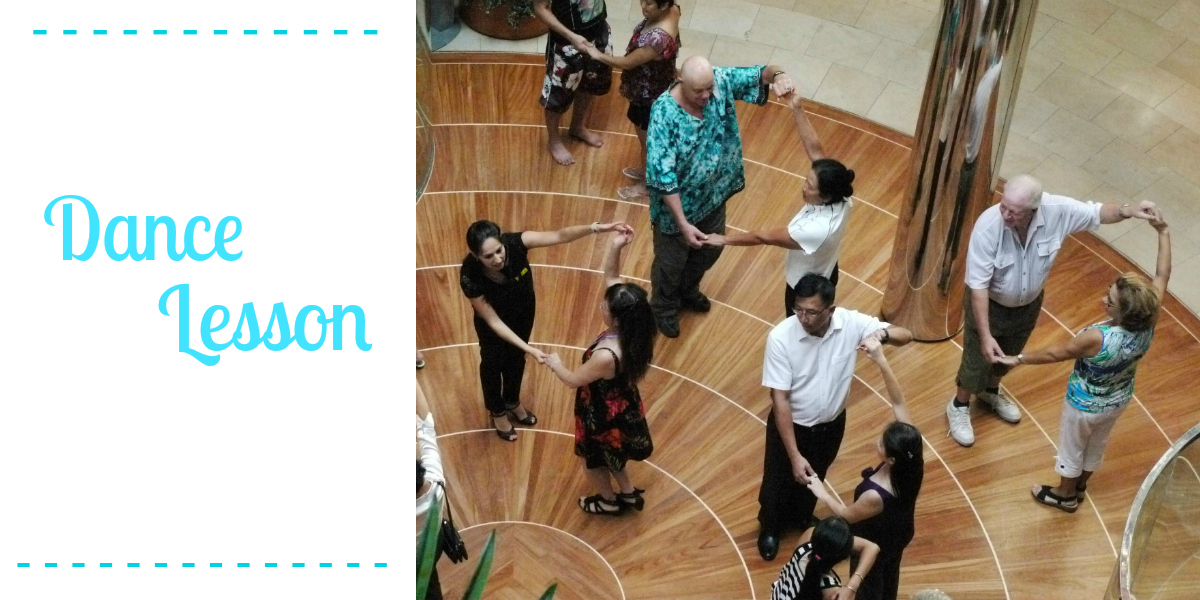 So my verdict on the Costa Victoria? We expected the cruise to be more kids friendly since cruises are quite a family affair. But with only a squok club to keep the kids occupied, I wished that they had more facilities for kids. Oh yes, they did have an arcade, pool and card games for rental, but for young kids, you may want to bring your own toys or books to keep them busy as well.
Food wise was disappointing and I didn't have any meals that impressed the socks off me. I didn't try any of their Italian pizza which was served at tea time as I'm usually snoozing. But you'll not go hungry as all meals from breakfast, lunch, tea, dinner and supper is served.
Nightly performances-  I only managed to catch the night show on the last night which was an act from Las Vegas. According to a friend who was also on board, it was the only family show as the previous nights were singing and dancing. Other than that, you can also boogie every night where there are parties that start around 10pm.
I would give our cruise experience on board the Costa Victoria a 2.5 out of 5. While I was not so impressed with the facilities of the ship, the helpful and friendly crew on the ship made it a pleasant holiday for us. If I do consider a cruise in future, I'll check out the Royal Caribbean, especially since they have the cast of Madagascar which I'm sure Sophie will enjoy. Thankfully, Sophie was easier to please and she had thumbs up for her holiday. What can I say, I've got a happy camper 🙂
Tagged: cruise, family friendly, Holiday, malaysia