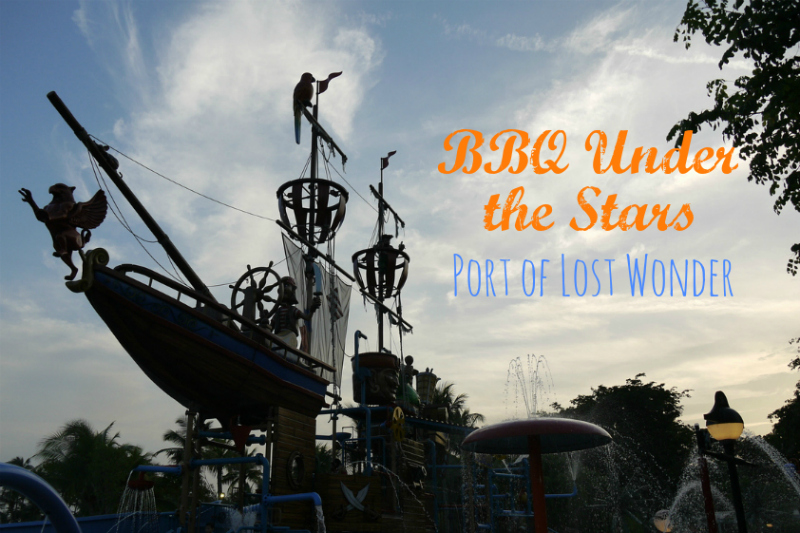 We've come to the last week of the June holidays and if you were saving the best for the last, why not plan to have a BBQ under the Stars at Port of Lost Wonder?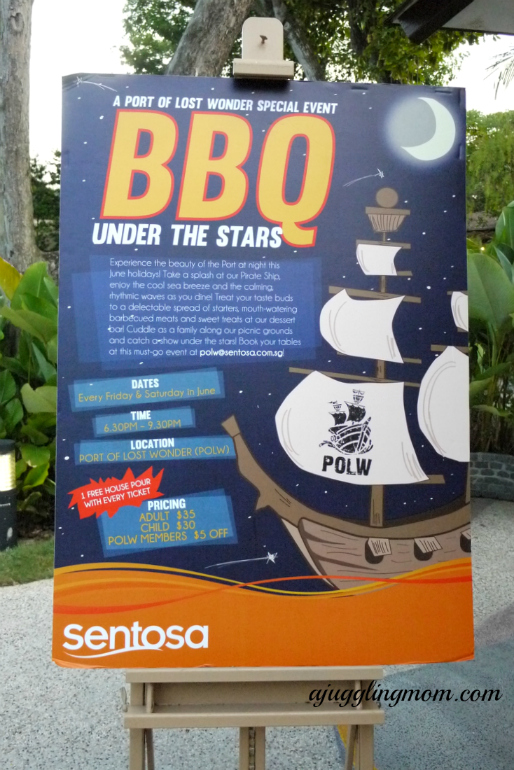 For the month of June, Port of Lost Wonder (POLW) remains open on Fridays and Saturday evening from 6:30-9:30pm. So while the earlier crowds are ready to call it a day, you'll be most glad to know that the pirate fun continues after dark and dad and mum can kick back and take a breather while the kids play.
We were there two weeks ago before the haze started and Sophie had a blast! Upon arriving at POLW, we were given a menu to place our orders. Each adult and child main course comes with potato wedges and a side salad and a complimentary drink.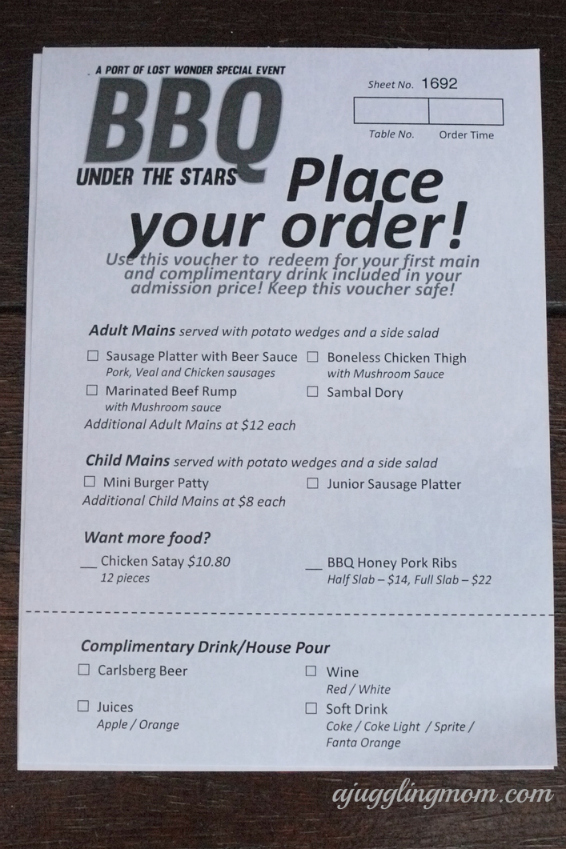 But of course, Sophie wasted no time and ran into the pirate ship that was waiting for her after she changed into her swimming attire. Usually I would jump right in with her, but this evening, I decided to let Sophie and Daddy have some father-daughter bonding. Besides the photos will show that Daddy is more fun than mummy 🙂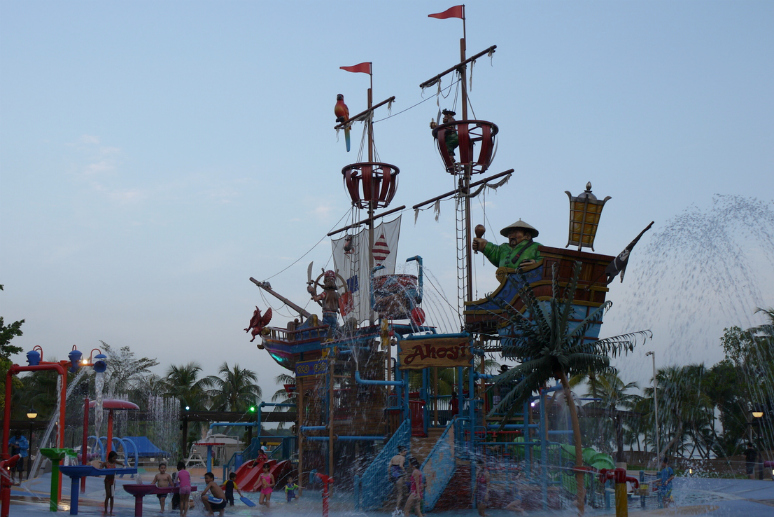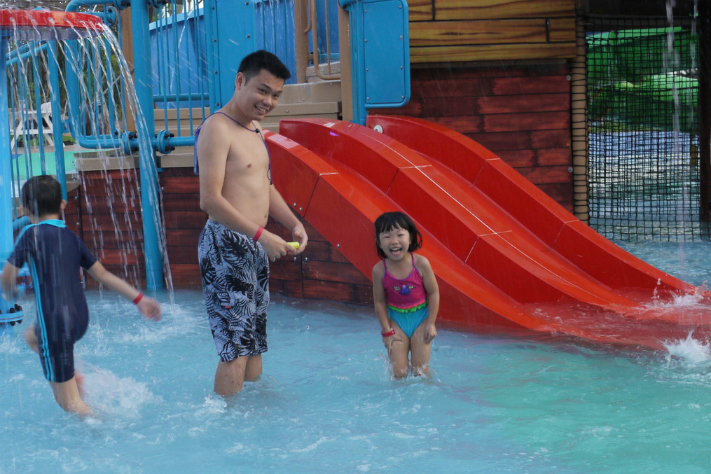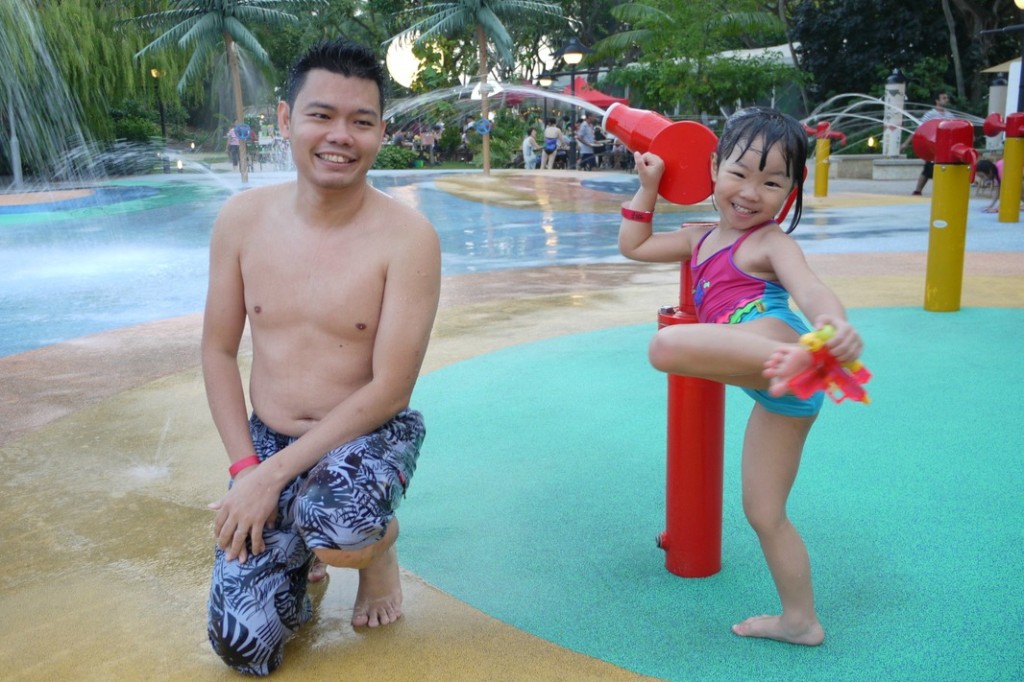 Sophie: I bang you with my water gun
Daddy: Not my eyes!!!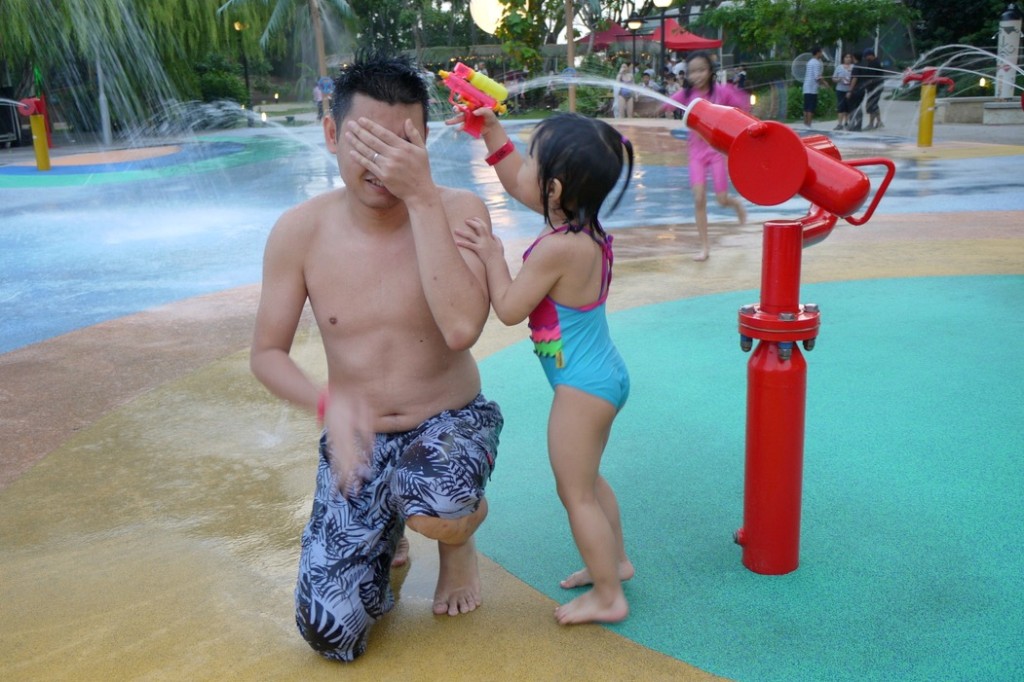 The best part of it all was almost having the whole place to ourselves! If you've been to POLW, you'll know that this placed is packed on weekends and they even have a capacity limit and have to turn people away . But since this was a pretty new concept, we didn't see too many people.
Just like other mums, I'm usually not keen to have Sophie in the water when it gets dark. But since this was a holiday, I decided to let this be a treat for her and she thoroughly enjoyed herself.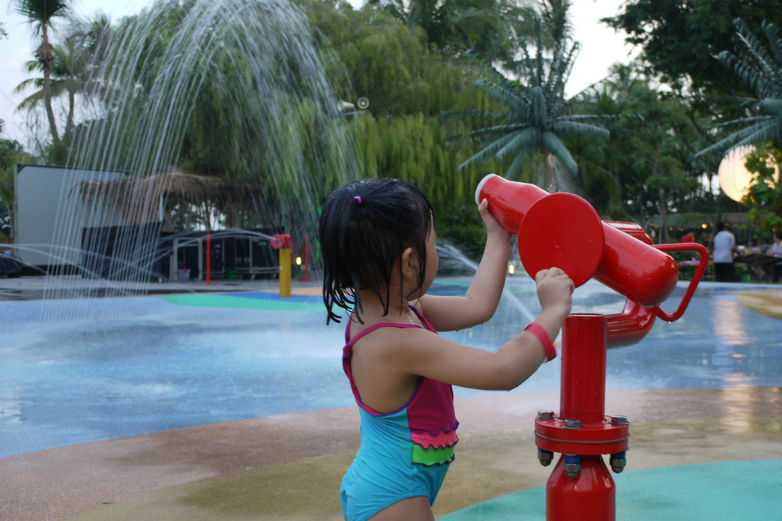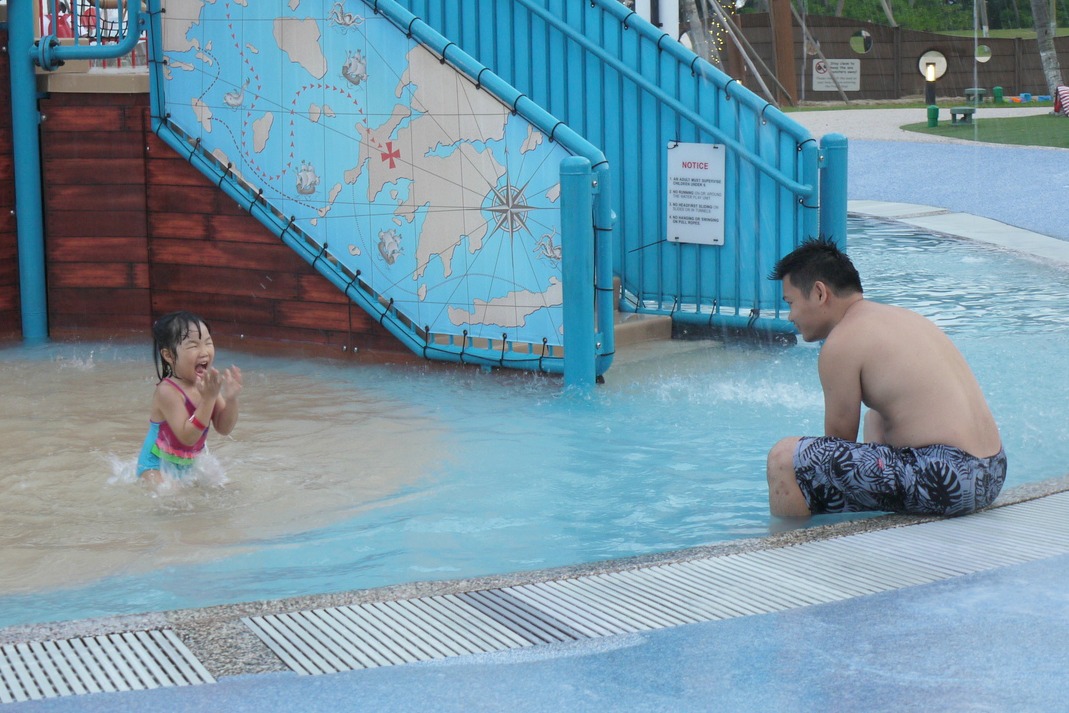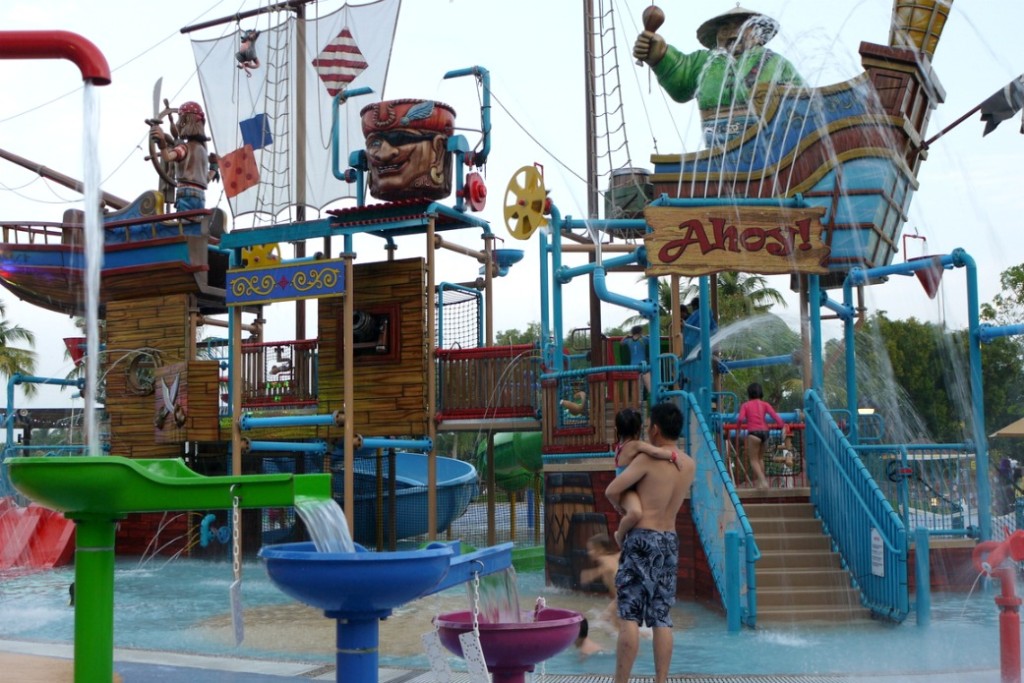 While the duo were busy having their water fights and fun on board the pirate ship, I went to check out the dinner spread that waits us that evening.
Besides the main course, there was also a buffet where you can find local Asian delights like curry and mee siam to soups, salads, and desserts.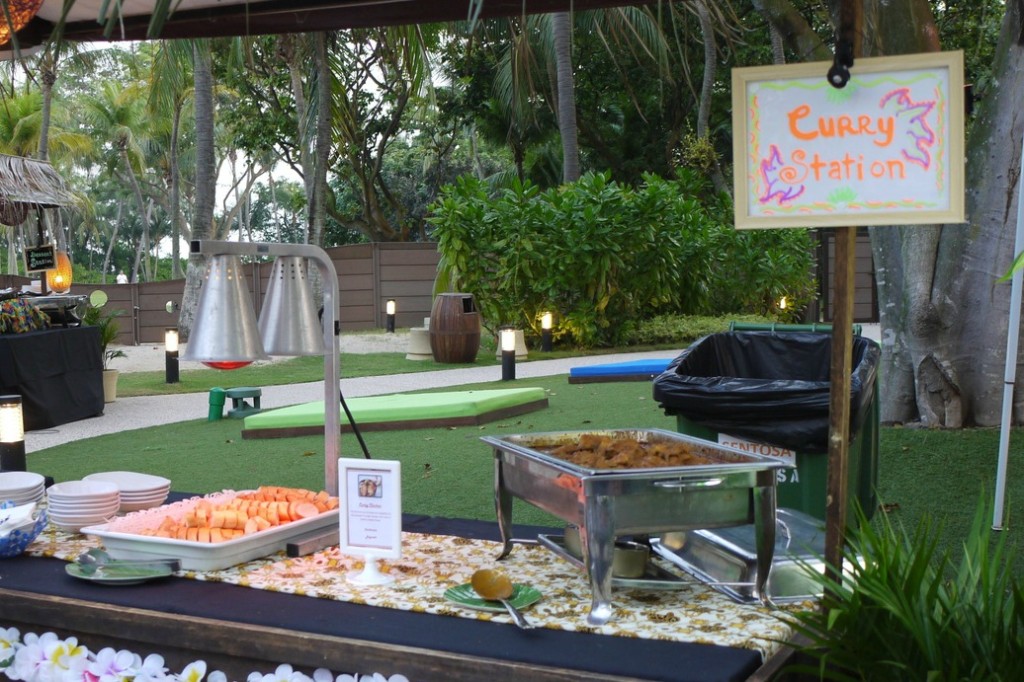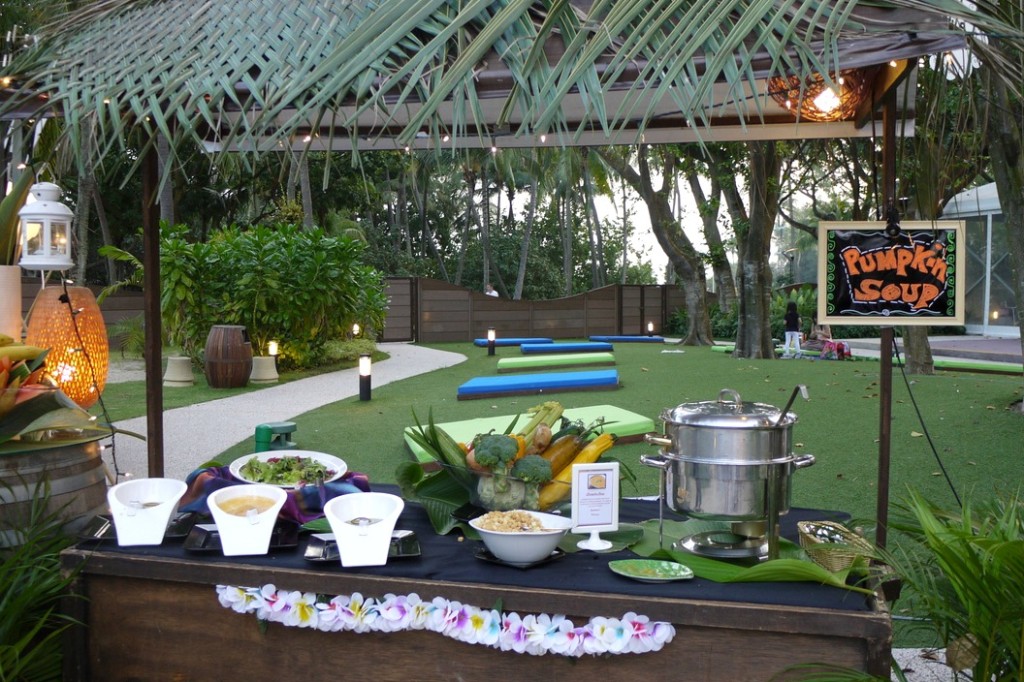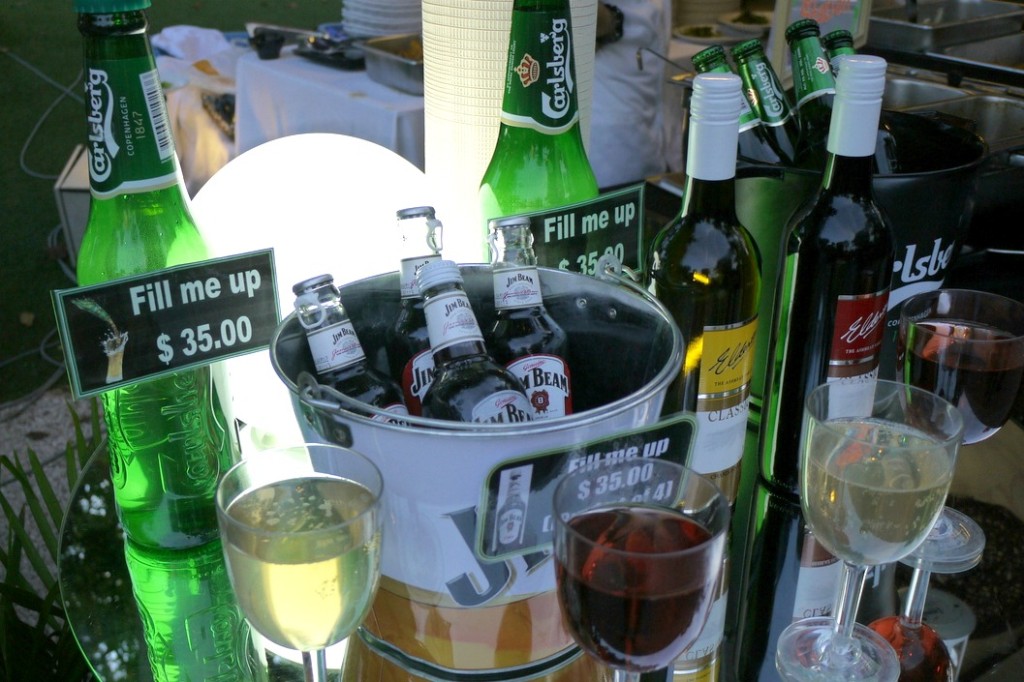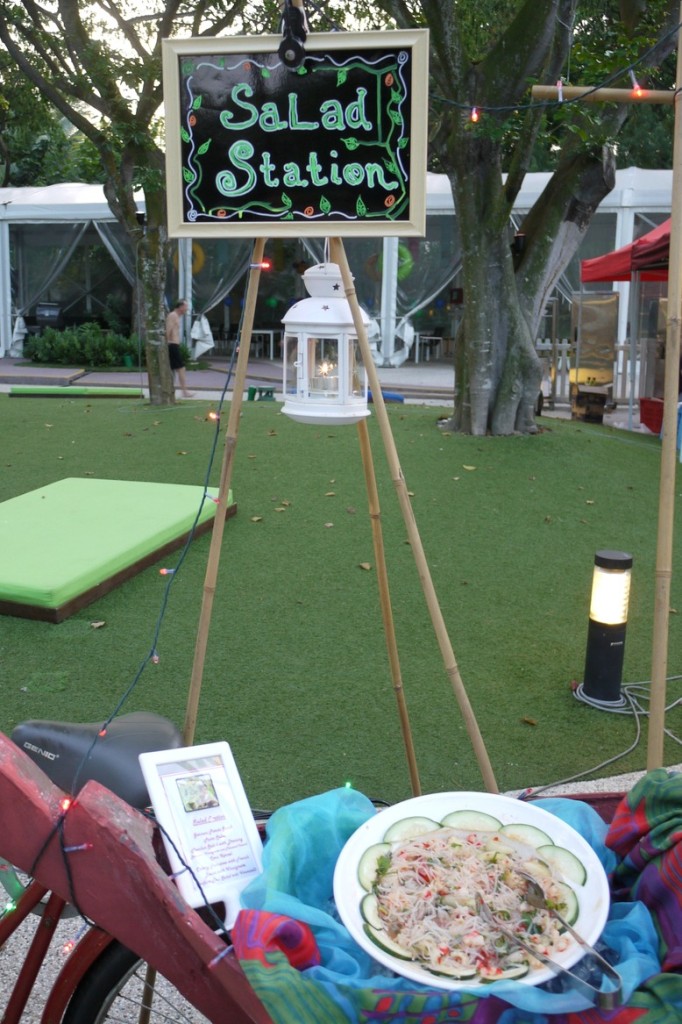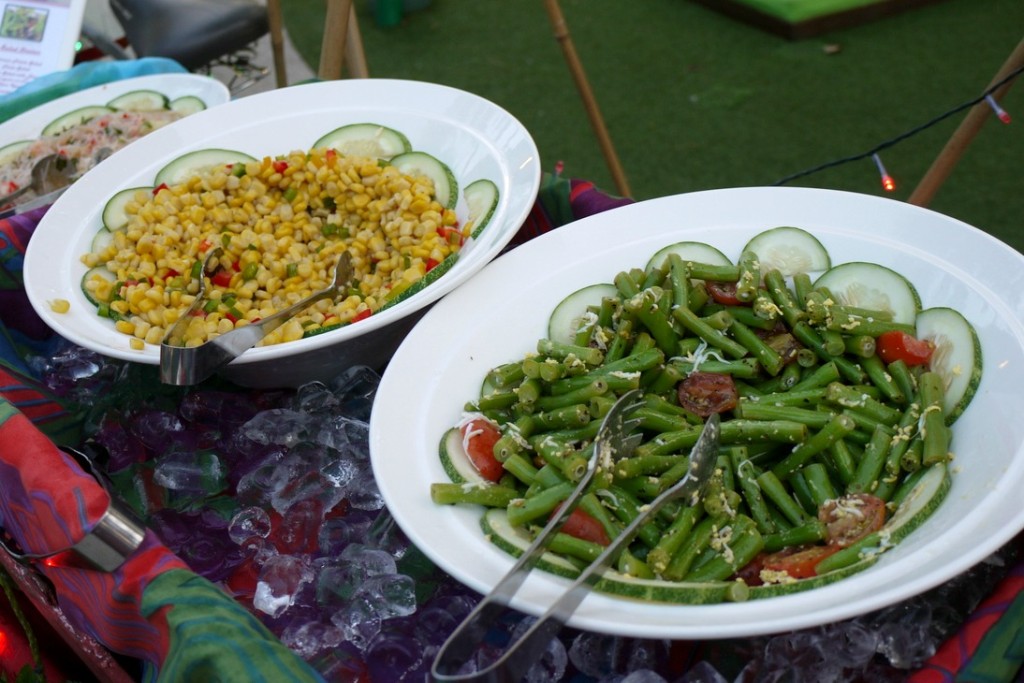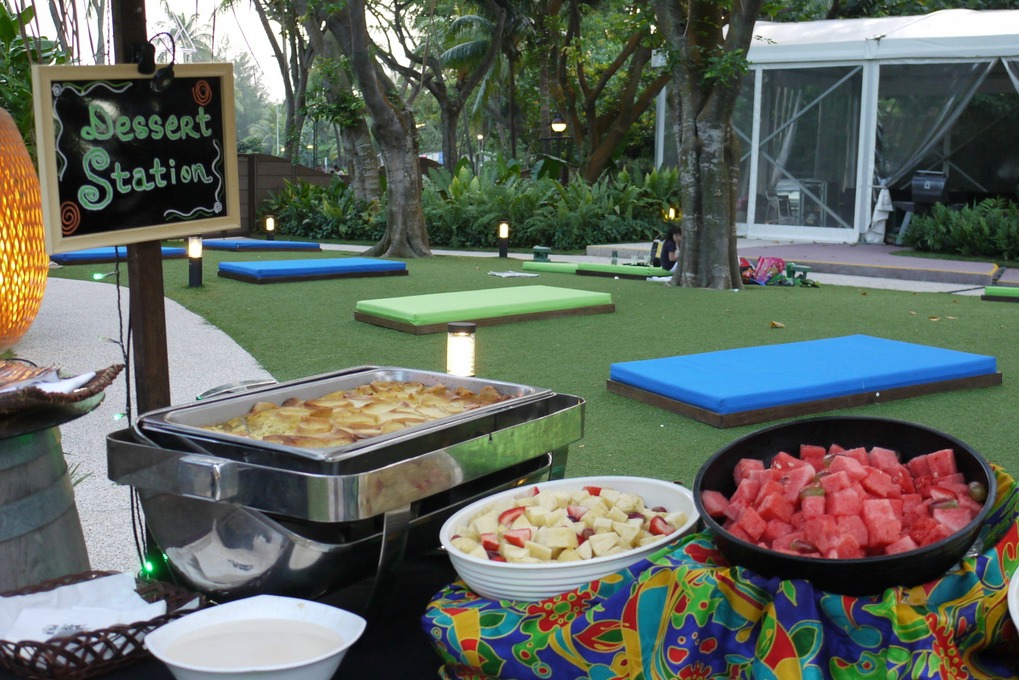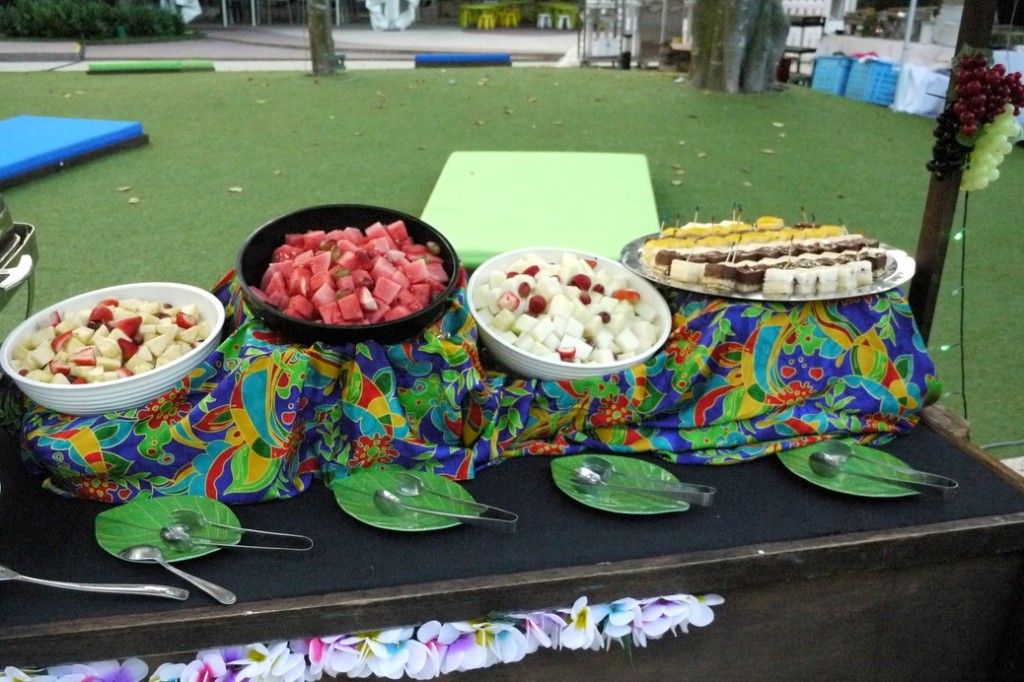 I had a hard time getting Sophie out to eat her dinner but boy was she famished when she came up. I had the sausage platter with beer sauce, Alexis had the boneless chicken thigh with mushroom sauce while Sophie had a mini burger patty. We all enjoyed our food and the food was very nicely grilled to perfection.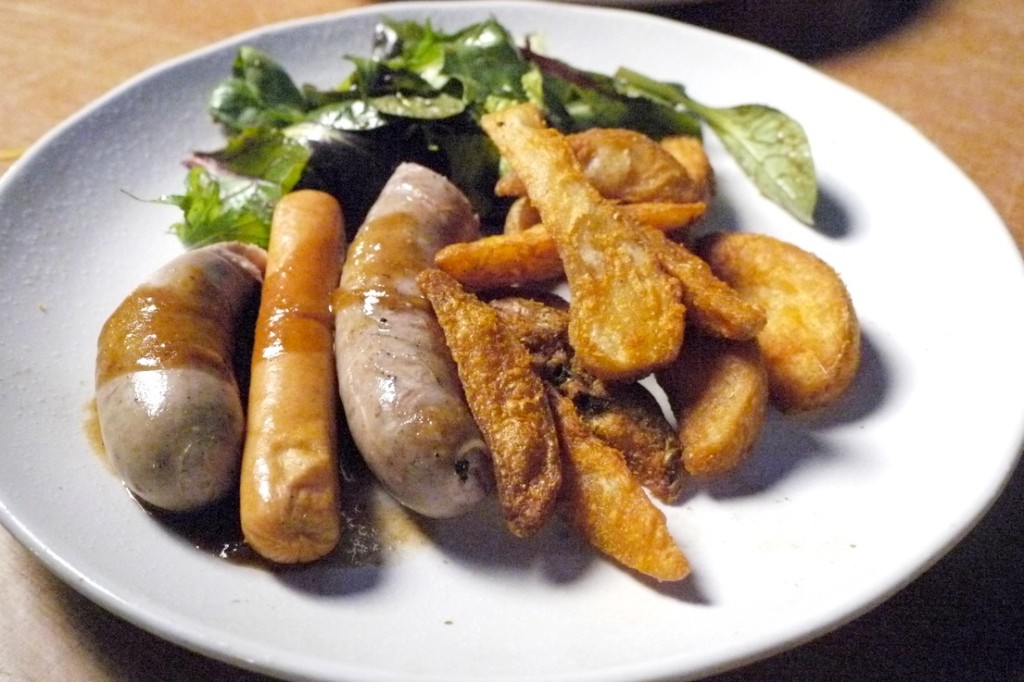 Come night time, POLW looked extra charming with the coloured floodlights that lit up the whole place.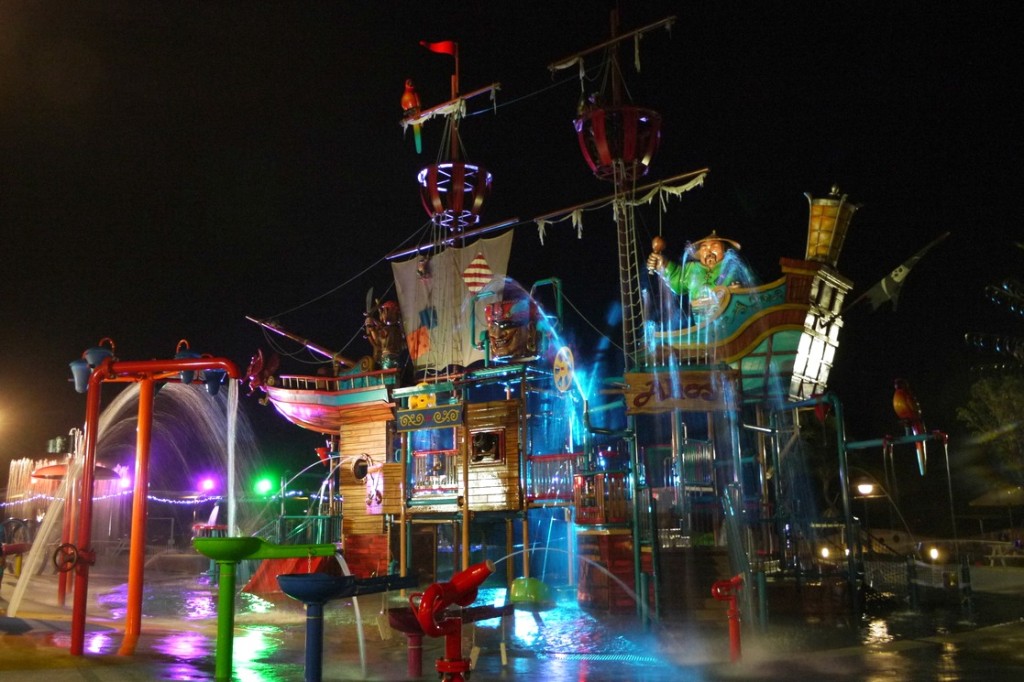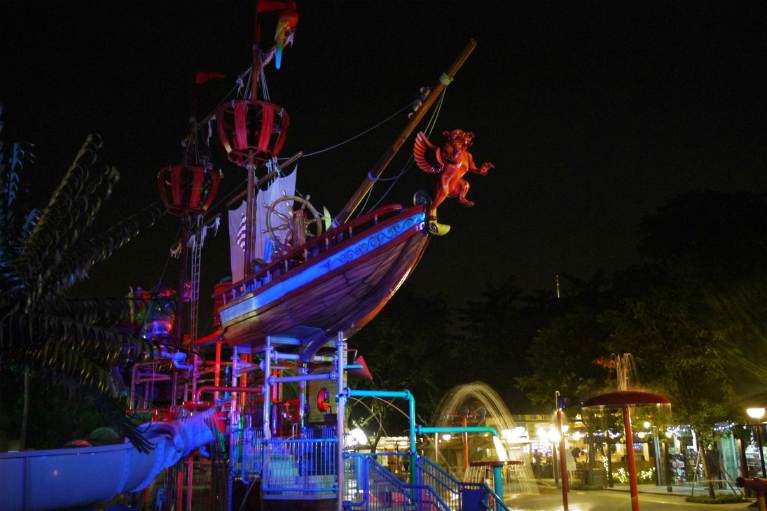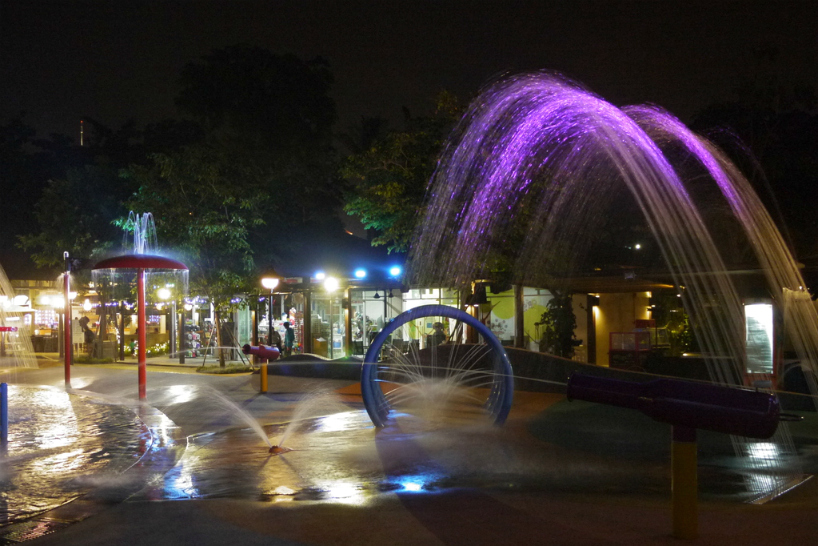 We also noticed that there was a foam party going on. A kids form party where the life guards were busy keeping the kids entertained as the kids laughed and laughed as they launched their attack on the poor guy.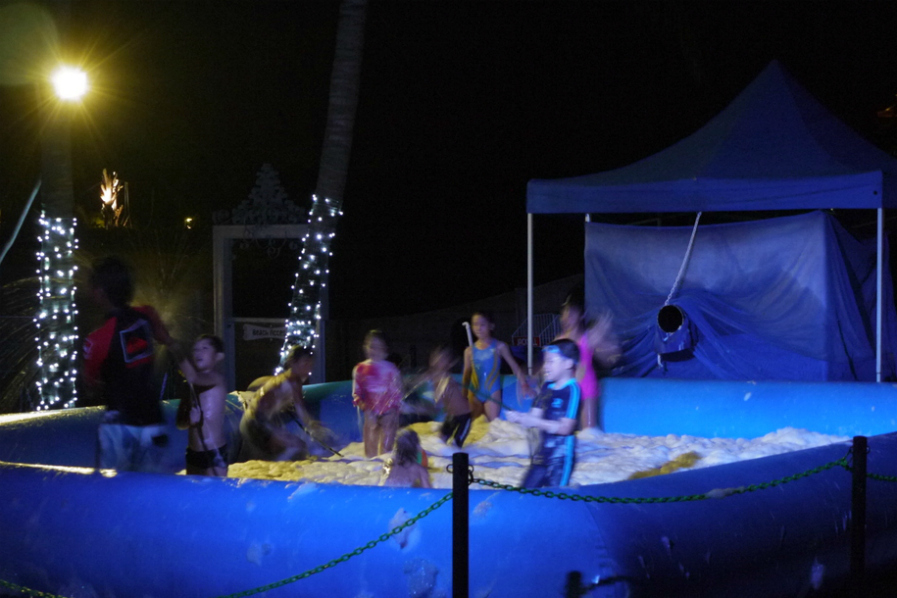 And to end the night on a sweet note, we were treated to candy floss as we bade our farewells.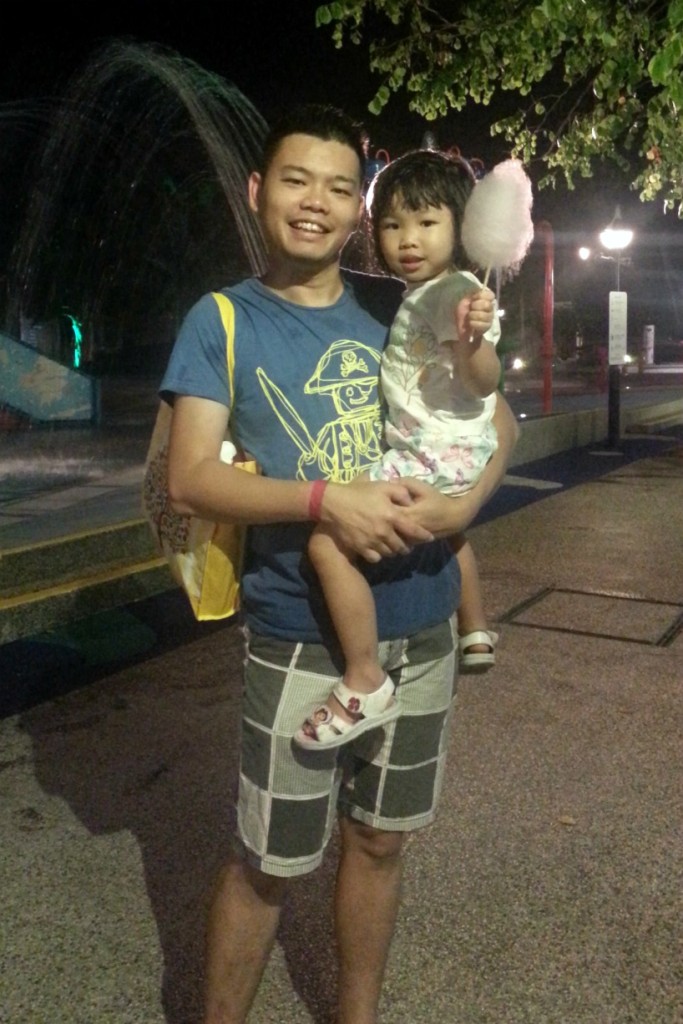 BBQ Under the Stars takes place at the Port of Lost Wonder, from 6.30pm to 9.30pm, every Friday and Saturday in June.
Dates: Every Friday and Saturday in June 2013 (7, 08, 14, 15, 21, 22, 28 and 29 June 2013)
Time: 6.30pm – 9.30pm
Location: Port of Lost Wonder
Pricing: $35 Adults, $30 Child (comes with a free drink/housepour)
Thanks for inviting us Sentosa. It was definitely an enjoyable evening that gave us parents the opportunity to  chill and unwind over good food and good fun for the whole family.
Updated on 30 June 2013: BBQ under the stars will take place on the first Saturday of every month starting from 6 July! Prices remain as $35/Adults and $30/Child and POLW members get $5 off
To see what you can expect from Port of Lost Wonder by day, do visit my review here.
Tagged: Media Invite, school holiday ideas, School holidays, Sentosa