As mums, we want to take care of our kids from head to toe. Besides paying attention to their growth and development, diet, another aspect is the products that they use as well.
I was recently introduced to Human Nature and am so glad to know that they carry a wide range of natural personal care products which are 100% free from harmful chemicals like parabens, phthalates, propylene glycol, and synthetic colors. That simply means that their products are so gentle, they are suitable for babies and even pregnant mums, so it's guaranteed not to harm your skin or Mother Earth.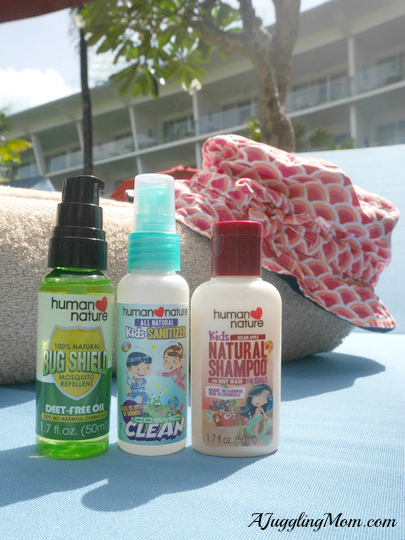 Knowing that we were going on a holiday, we went sent a mini travel pack and the products that really stood out for me were the Ocean Apple Natural Shampoo & Body, DEET-free Natural Bug Shield Oil and Natural Kids Sanitizer Cosmic Clean. Let me give you a quick introduction of why we love them.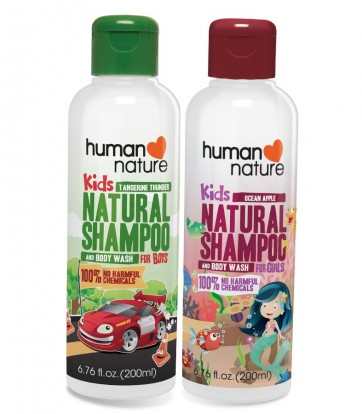 The Ocean Apple Natural Shampoo & Body was clearly love at first sight for Sophie. Just look at the beautiful and fun illustration of the mermaid on its packaging and you'll see how it evokes Sophie's imagination of being a mermaid with long flowy tresses. Being a huge mermaid, Sophie will jump at any chance to be associated with mermaids.
But design aside, the shampoo does a good job of removing grime and dirt and leaves Sophie with clean and healthy hair that with a light hint of sweet apple fragrance. What I especially like was the fact that it could also double up as a body wash which is pretty uncommon but super useful when going for holidays.
I was curious why the shampoo doesn't lather as much as regular shampoo and Christine enlightened me that all genuine natural and organic products do not lather as much because they do not use the harmful foaming agent, Sodium Lauryl Sulphates (SLS and SLES), which according to research has been linked to cancer, neurotoxicity, organ toxicity and skin irritation. *Gulp* It's definitely something that I need to start looking out for in other products that we use.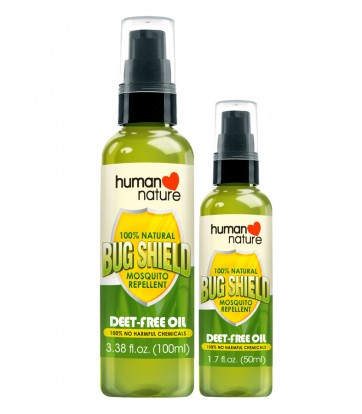 The DEET-free Natural Bug Shield Oil was a life saver when we were in Bali as we visted the Bali Safari and I give it the thumbs up for effectively keeping the nasty mozzies away. If you don't already know, DEET is used in many insect repellents and was developed for military warfare and not for daily, long-term use.
Studies have shown that long-term exposure to DEET kills brain neurons and affects the central nervous system. So it's something that I look out for when buying insect repellent and it was reassuring to know that DEET is not a chemical that you'll find in Human Nature's products. And combined with soy bean oil and eucalyptus oil, it  gave it a very natural and citrusy citronella scent.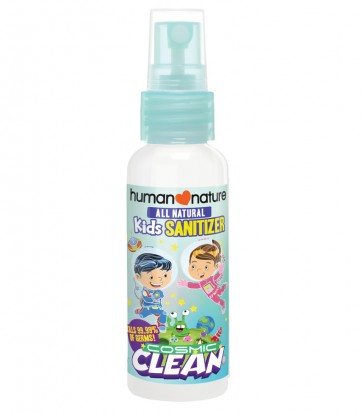 And the third product, which is also the one that I personally liked the most is the new Natural Kids Sanitizer Cosmic Clean which I never leave home without these days. This 100% natural sanitizer has a unique blend of sugarcane-derived ethyl alcohol to disinfect and kill germs which is clinically proven to kill 99.99% of germs. 
Once rubbed into your hands, it is easily absorbed and leaves hands smelling like fresh apples. And unlike some other sanitizers that I've used, they don't dry out my hands as they have aloe vera to soothe and keeps my hands moisturized.
One thing I've noticed in using these products is that all these products have an expiration date. But if you think about it, it makes perfect sense since unnecessary synthetic chemicals are added to extend the life of the products. So fresh is the way to go!
And if you're thinking that you'll have to pay a premium price for natural products, think again. Prices for Human Nature products are so wallet friendly because they deliberately chose to reduce the usual profit margins and be affordable so that more people can use products that are good for them and the environment. And that's why I'm an advocate of their product and am sharing them with you. 
– – – – – – – – – – – – – Exclusive Discount Offer for A Juggling Mom Readers – – – – – – – – – – – – –
Want to hear even better news? When you place your order for any products at the Human Nature website, you'll enjoy a 15% on all products. Simply key in the promo code AJM15 upon check out .
This offer is valid till 12 July 2014, so shop away and please pass this on so that more can be educated about the importance of going natural.
Disclaimer: A Juggling Mom received products to write this review and no monetary compensation was received. All opinions are honest and are my own.