There's something about the new year that brings hopes to all that we have survived a year (good or bad) and have another year to look forward to. I read this quote from someones's FB post on New Year's eve.
"A New Year is like a blank book. The pen is in your hands. It is your chance to write a beautiful story for yourself."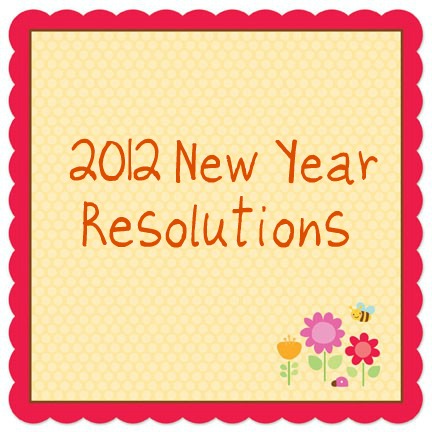 So on 1 Jan 2012, I'm doing the customary New Year resolutions and penning down some of the things that I want to achieve for year.
Be contented. Be thankful. Be grateful.
I think I saw the worst of me in 2011. The circumstances and situations in my life were, well …less than ideal and many a times, I found myself being bitter and angry at people and the events that happened to me.
I don't want to be that person anymore. So for the New Year, I'm reminding myself that instead of thinking about the could have beens, I'm going to live day by day being grateful and thankful for what I have. And yes, having a contented spirit.
Build deeper and more meaningful relationships. 
Like most parents, the arrival of a baby also means good bye to your social life. Things are better now that Sophie is two years old. But having said that, a child has added another dimension of who I am now as a Mom and should not deter me from maintaining or building relationships with my friends.
So I resolve to make myself more available and yes perhaps hold back from talking non-stop about Sophie and be more involved in the lives of my friends and build deeper and more meaningful relationships. And yes that includes my relationship with hubby dearest too.
Having a healthy body and mind and soul.
I am hardly what you called a domesticated wife. I do enjoy cooking now and then, but the thought of washing and cleaning puts me off so much that I just go for the easy way out and eat out or pack dinner back. Coupled with my poor food choices (Yes confession is good for the soul), I have been putting on weight and resolve to shed it in the New Year.
So in 2012, I'm planning to cook healthy and hearty meals for the family and also yes get the body movin.
And to add to the list
Taking time for myself and doing the things I enjoy like baking, crafts, reading, etc
Travel to at least 2 countries this year
Be more organized, especially on the home front
Learn to manage my time better
Sleep more
Laugh even more
Love my family unconditionally!

What's on your 2012 New Year's Resolution list?
Tagged: New Year Resolutions