If there is one thing that kids have plenty of, it's their ability to be creative and imaginative when it comes to play. That's why, you'll find them pretending to be a teacher one day and the doctor another day. And the moment you get them dressed in a princess or superhero's costume, they'll get right into character and forget they're even kids.
Based on the concept of role play, The City allows kid to unleash their imagination in pretend play by putting themselves in the shoes or in this case the uniforms of the different occupations and see what it feels like to be a policemen or nurse for the day. As their name suggests, this interactive learning playground likens a little city where you'll find familiar places like the supermarket, clinic, cafe, police station  where each is designed to look like the real thing.
So far, The City is the first playground in Singapore to have this concept. But I've heard that there are similar playgrounds like this in Taiwan, BabyBoss and in KL, Seoul and Jakarta called Kidzania, which is opening in Sentosa next year.
First, a view of the playground.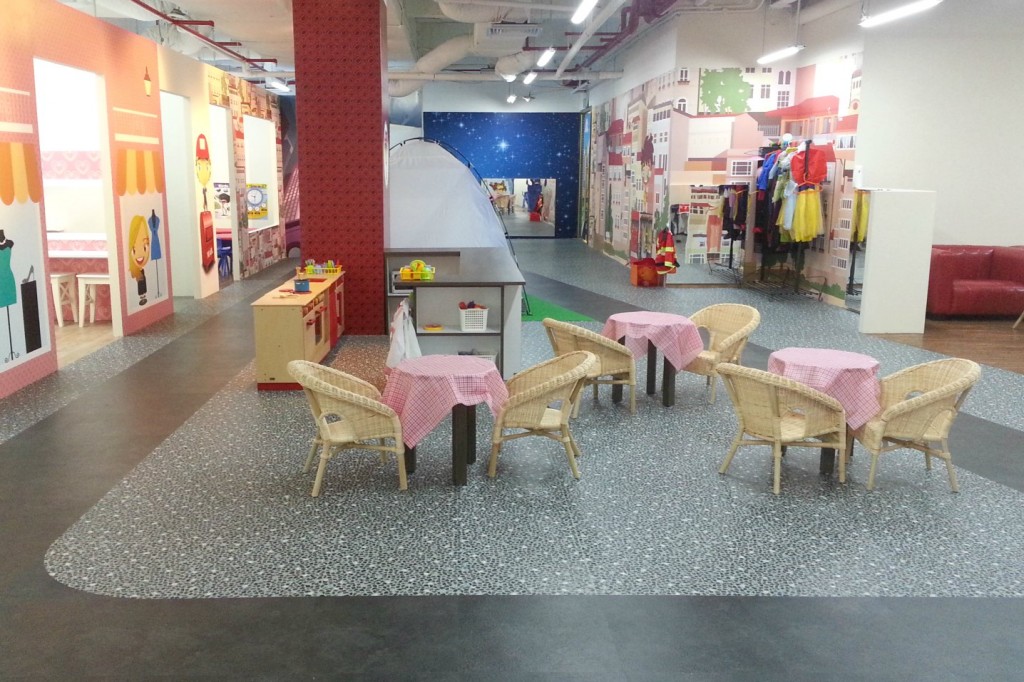 View of the kitchen and camping site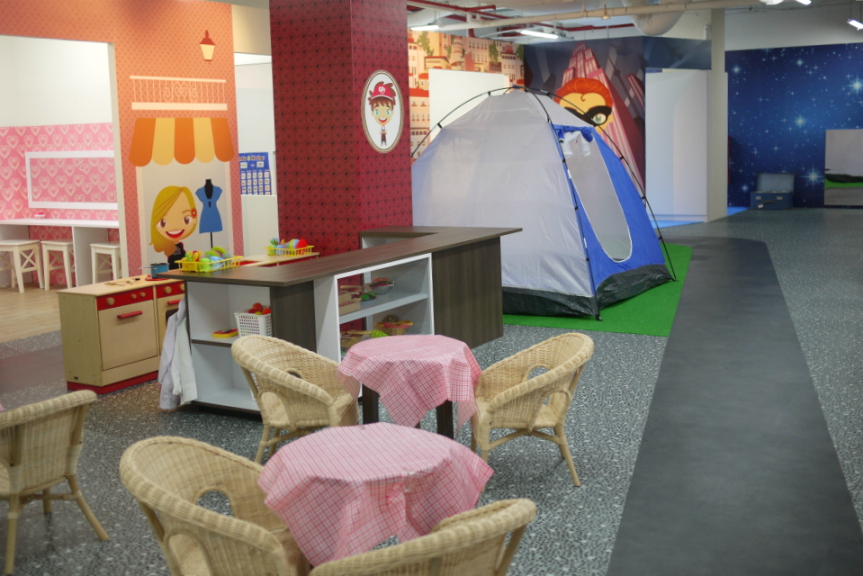 Sophie was drawn to doing some shopping in the supermarket. Kinda tells you very much of where her mama likes to head to in a mall. Of course in this supermarket, the trolleys are all kiddy sized and all the items are comfortably stacked for her height.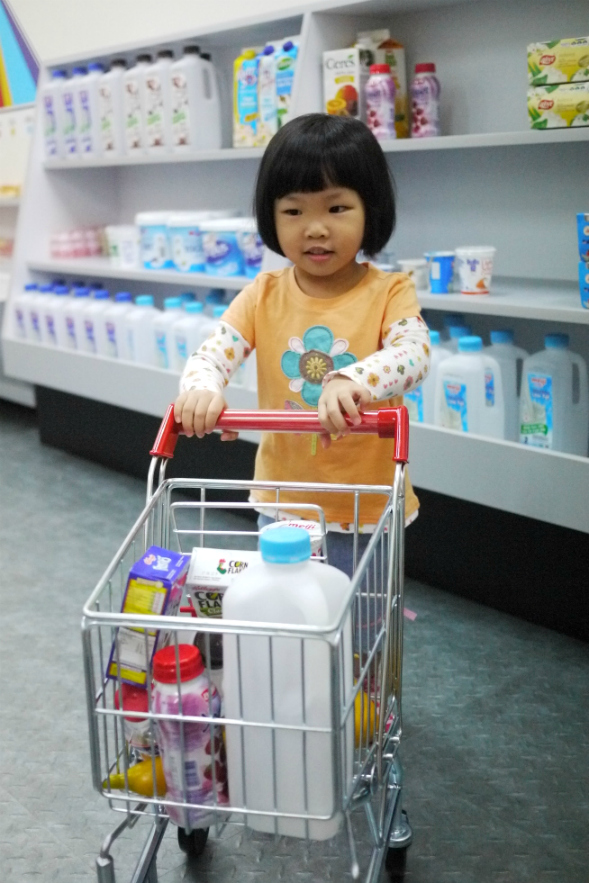 Sophie spent a good deal of time here  for her grocery shopping and I had to tell her repeatedly that there were other places to explore.
Next we went to the clinic and nursery that were just next door. The nurse's uniform that was hanging on the side caught her eye.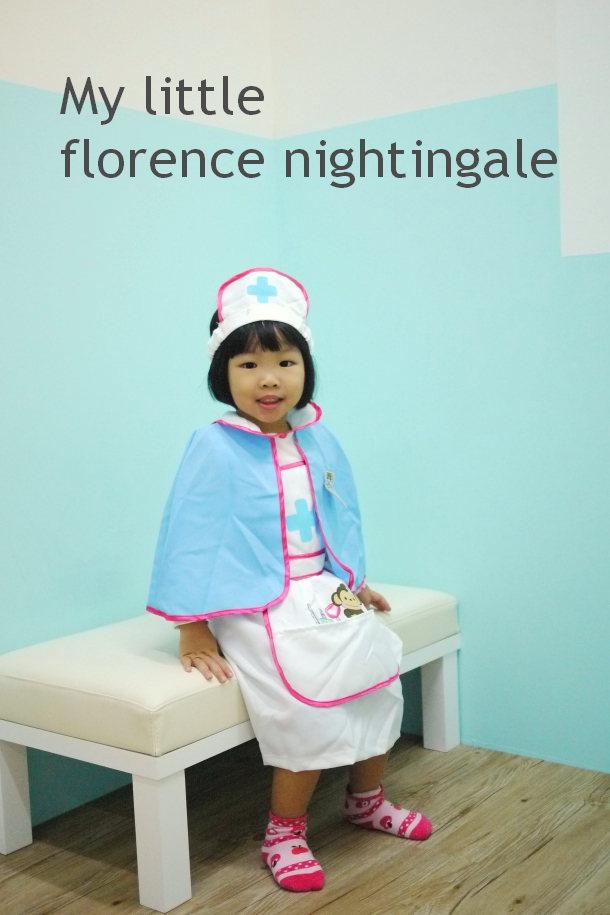 She sure looked like a Florence nightingale here. Immediately she got to her nurse's duty and went to check on her little babies in the nursery. She rocked them, fed them and even changed their diapers for them.

 She even told them for a walk around the City.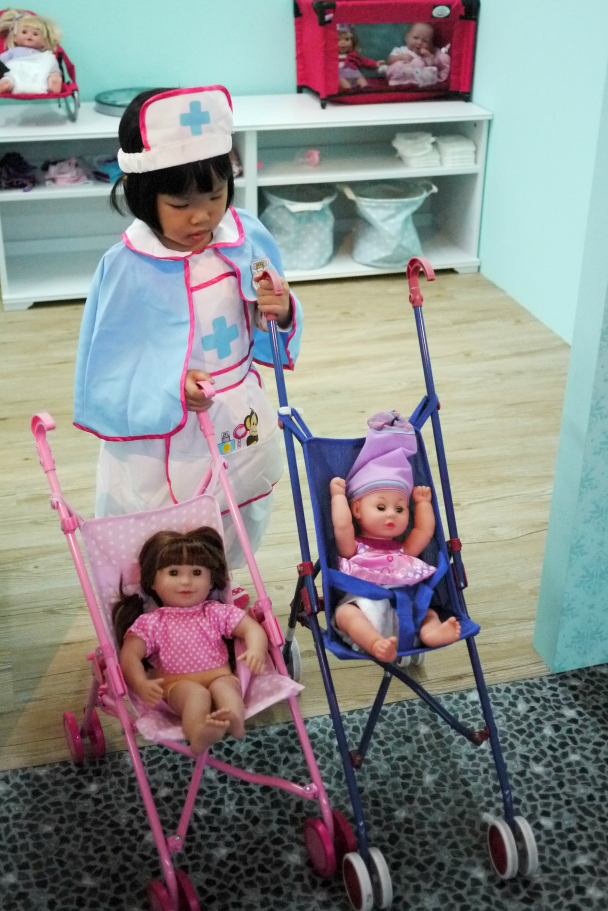 They had such life like babies that looked kinda creepy starting right back at you.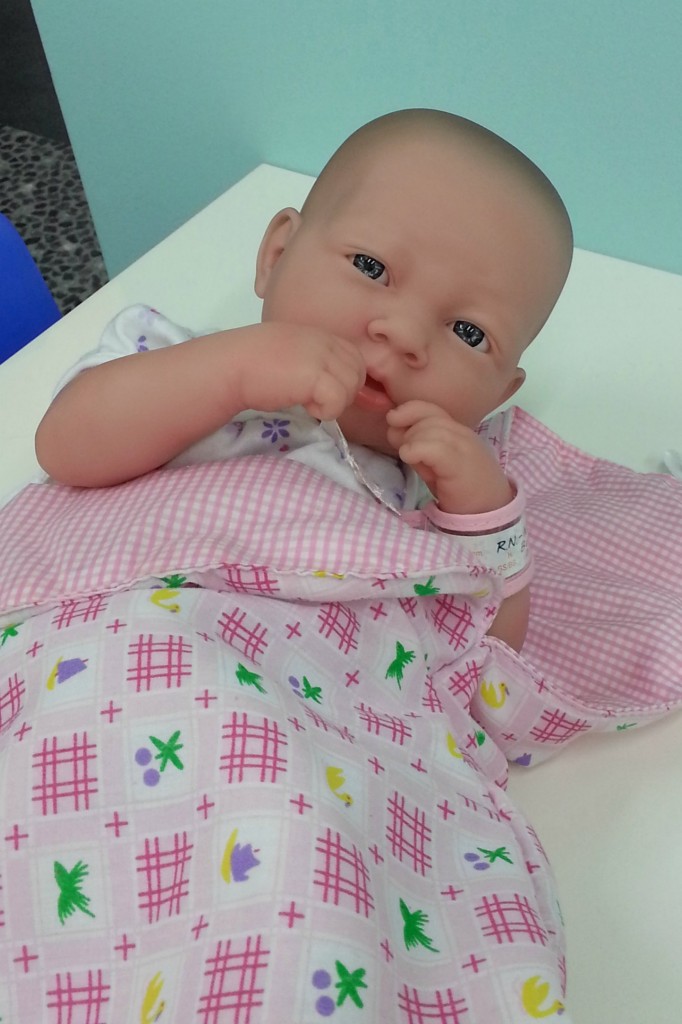 There was also a small Post Office where kids were provided with stationary supplies like paper, color pencils  envelopes and even stamps to write letters. On the side of the wall was a large world map so kids can learn some geography too.
Although the Post Office was much smaller than other learning stations, this was interesting for Sophie since the post office is hardly a place that she visits.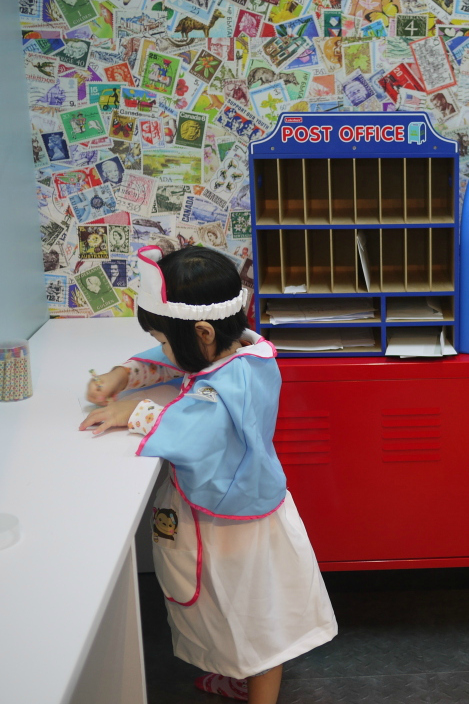 Sophie was so happy to post out her first letter which she addressed to herself.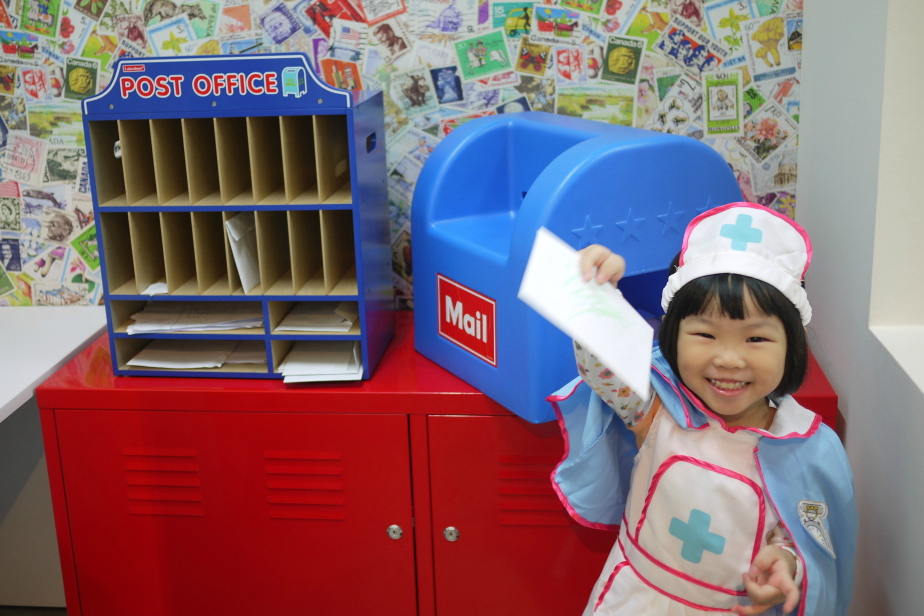 Enough of being a nurse, Sophie decided to switch roles and with a change of uniform, she was Dr Sophie.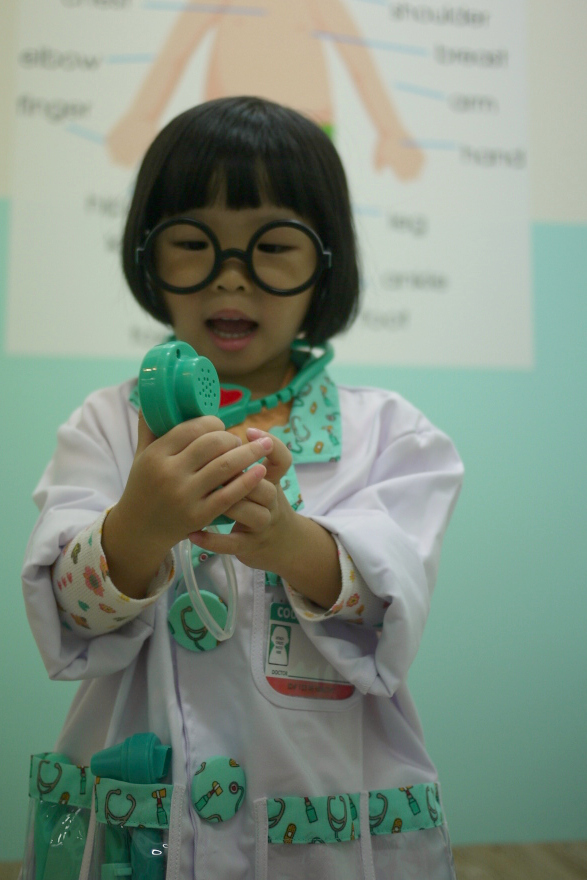 Hey nurse, you smell something funny in here? Hold your breath!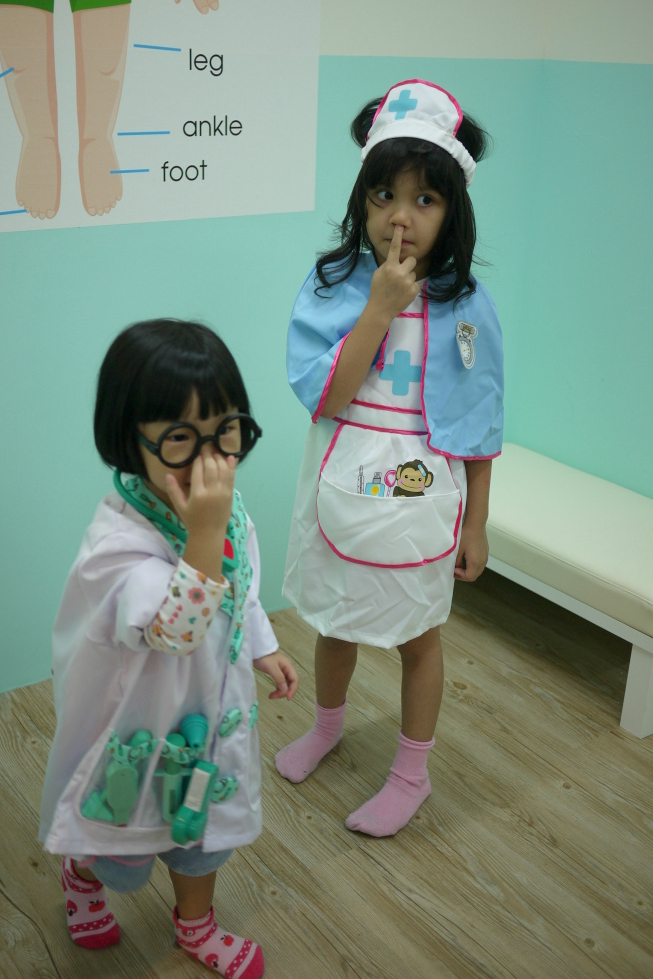 But with no little patients for her, Sophie decide to wander a little out of her clinic and came to the cafe.
 So it's time to switch to a little chef. Oh and make that an Italian one too 🙂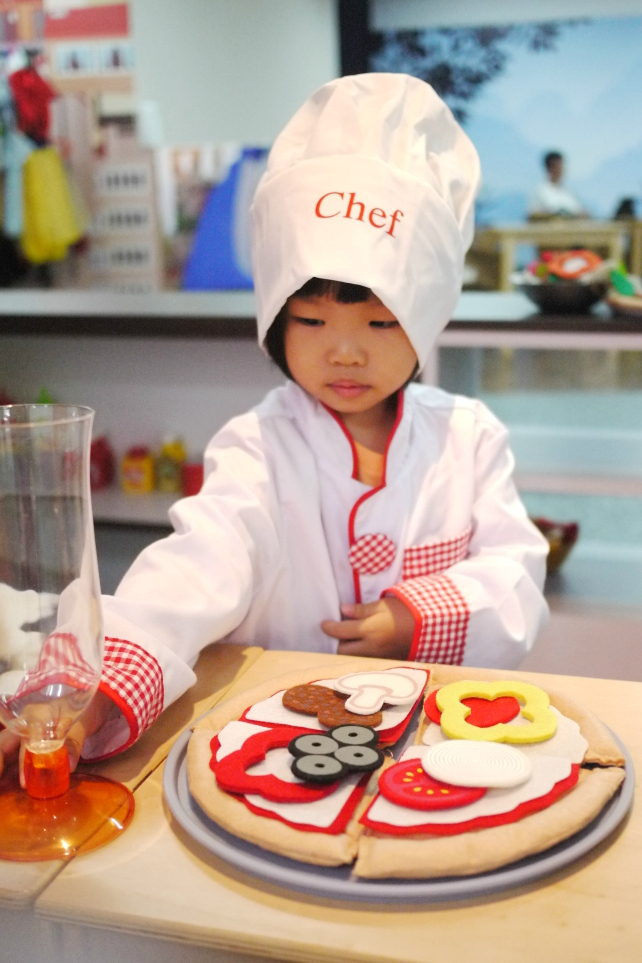 Chef Sophie recommends pairing your pizza with a glass of white wine.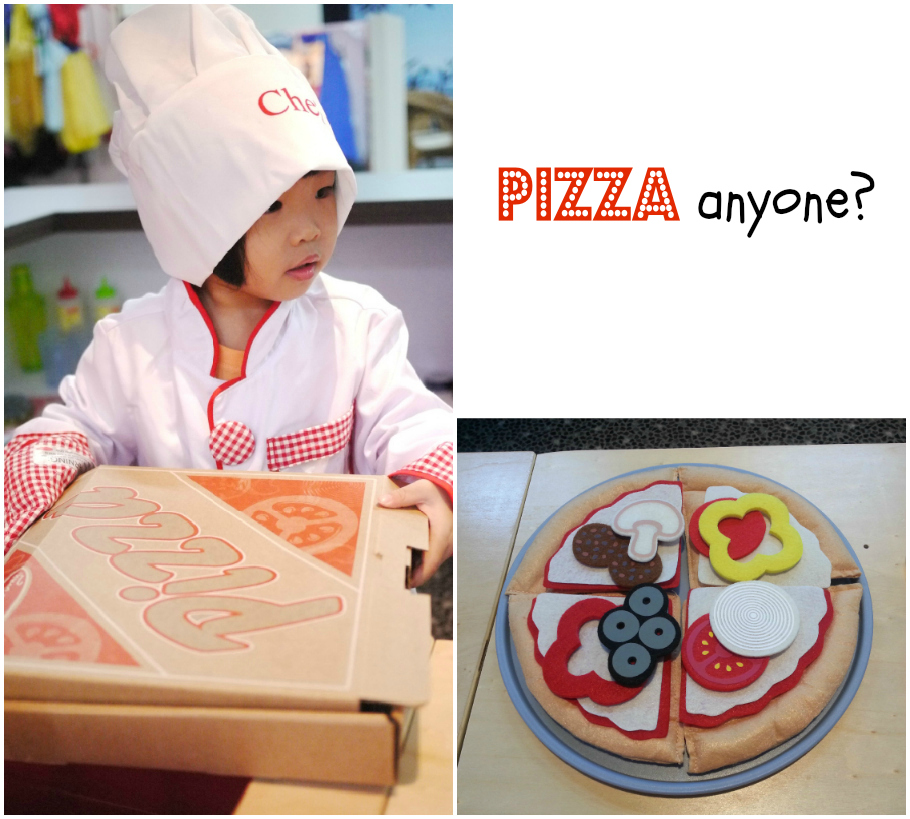 This was another station that kept her occupied for a long time as she cooked and served and washed the dishes. The kitchen was another station where it was done up with more attention to the details like the food to the dishes and kitchen equipment.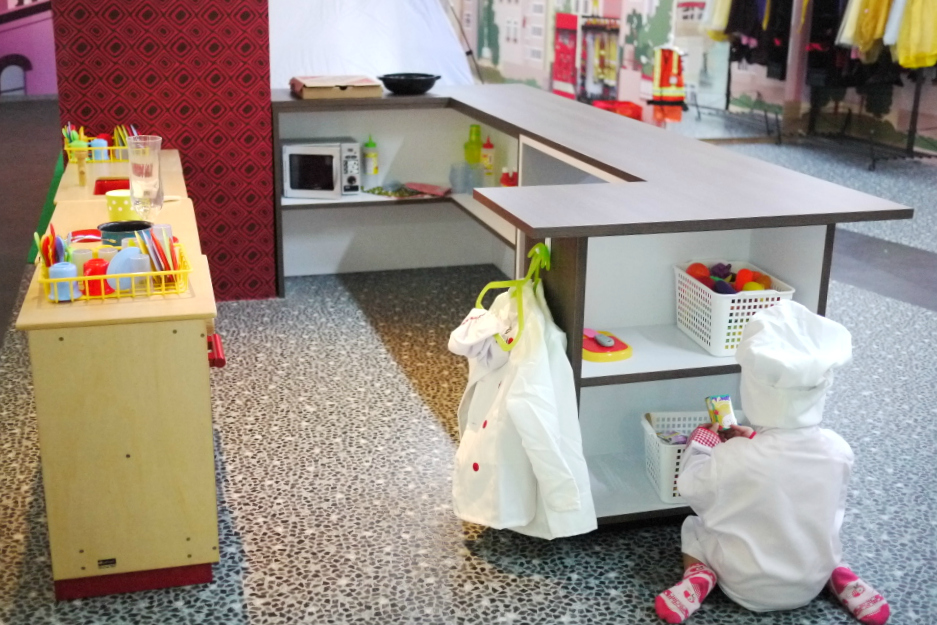 Next she went to the classroom and tried her hand at being a teacher..and then a hair stylist.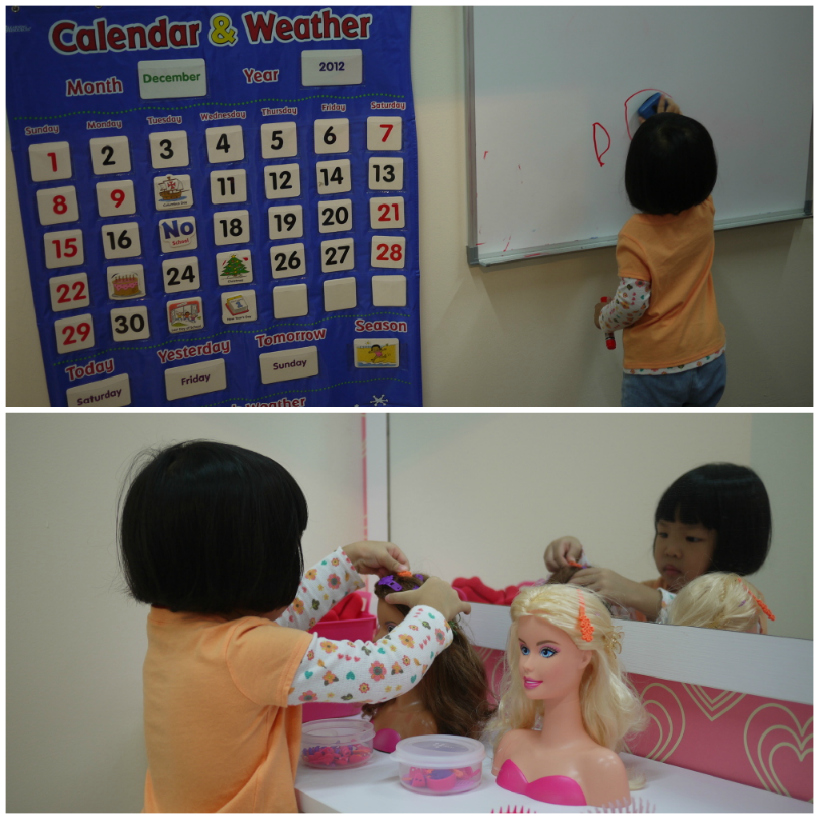 But another uniform soon caught her eye, the fireman's uniform.
Making sure she reads the instructions before using the fire extinguisher.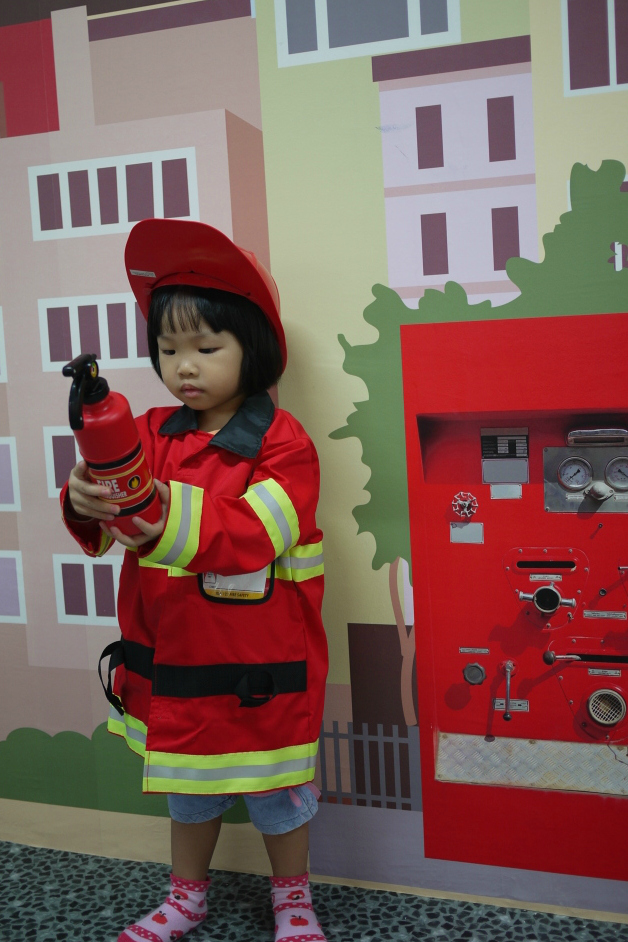 She put out a fire at the camping site and decided to call it a day as a fire fighter.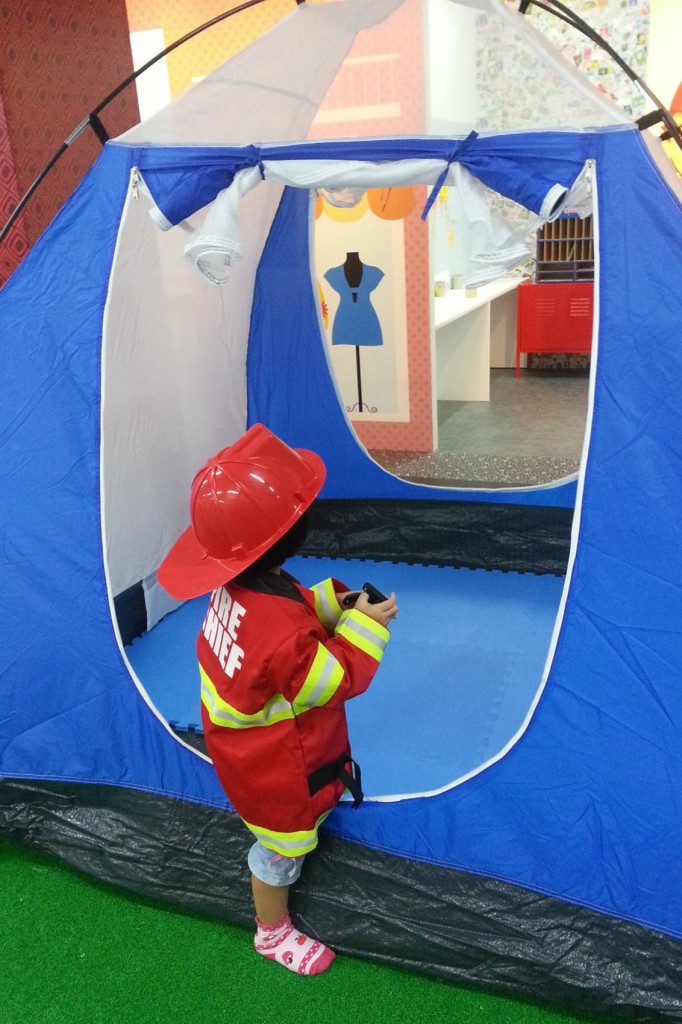 And for the last stop, she went to the Police Station and became a police woman. The police station had little vehicles which brings them around The City for their patrol duties. You can even choose to be a traffic police as there were traffic signs to direct the traffic.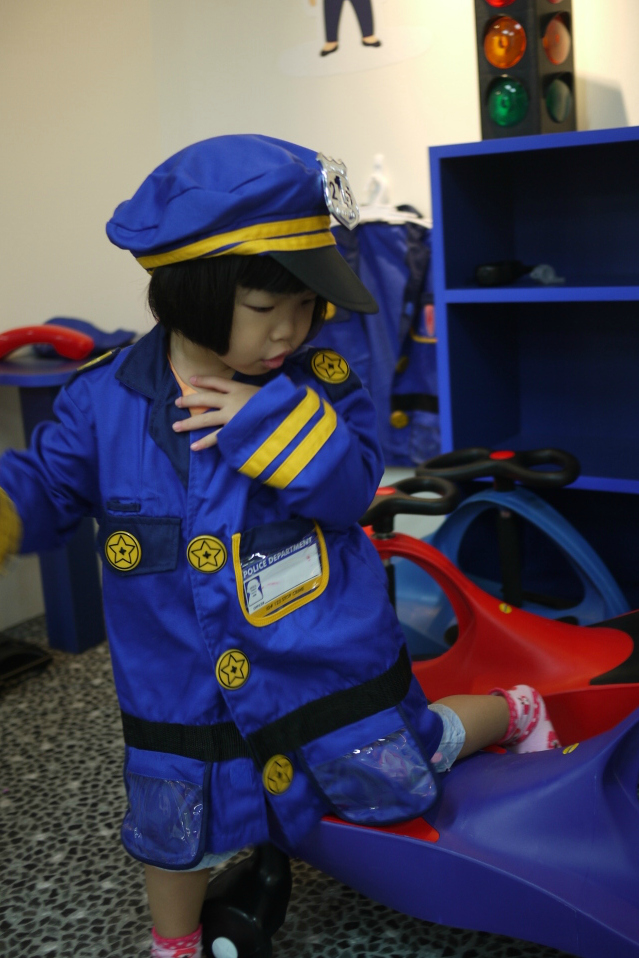 But this little law enforcer was not doing her duty well as daddy was being a crook and stealing money fro the supermarket and Sophie wanted some of his loot too! I think we need a lesson on moral education soon.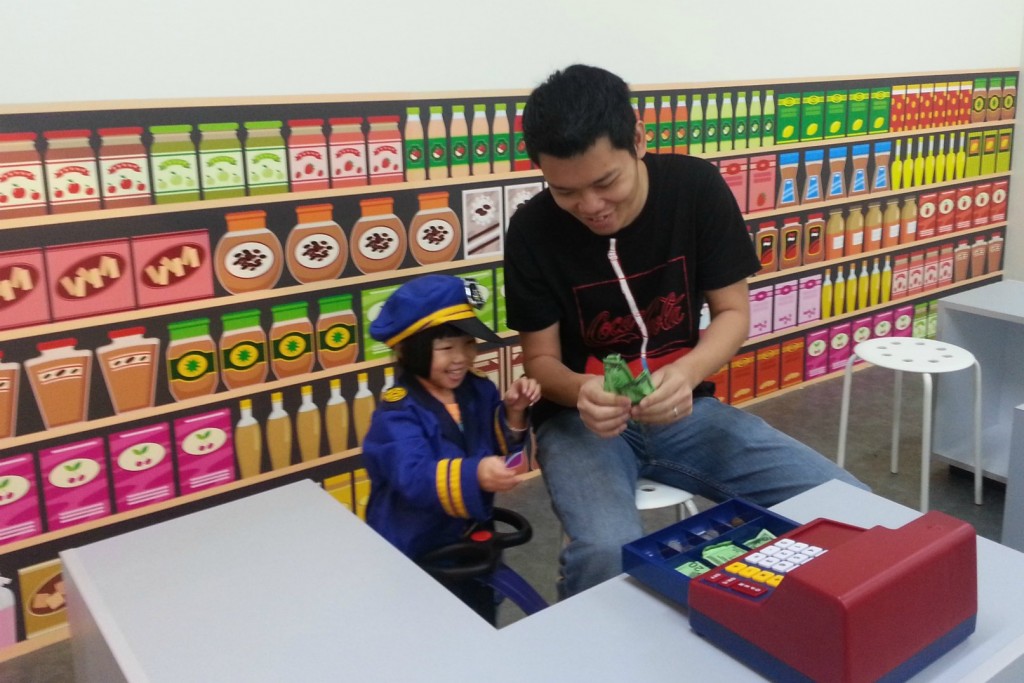 Right next to the fire station was a rack of costumes. There were costumes for those who want to be superheros, characters from Toy Story and of course princess costumes for the little girls too.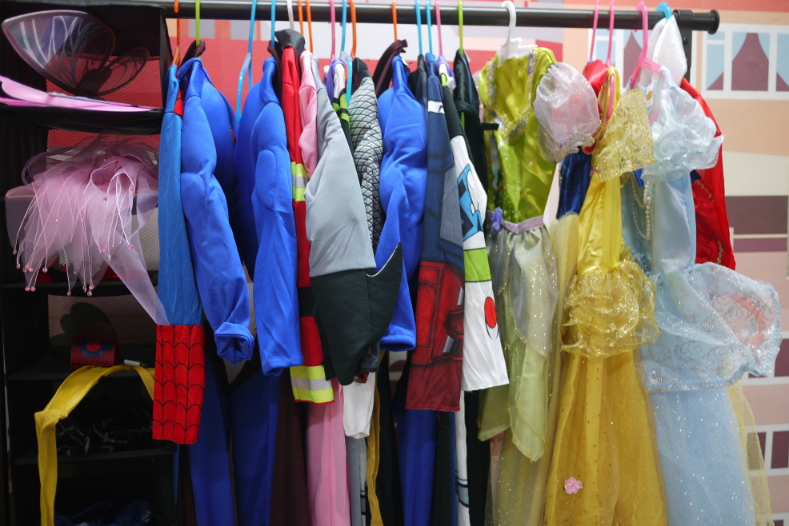 And just at the entrance, there is a lounge area for parents to hang out and keep watch on the kids.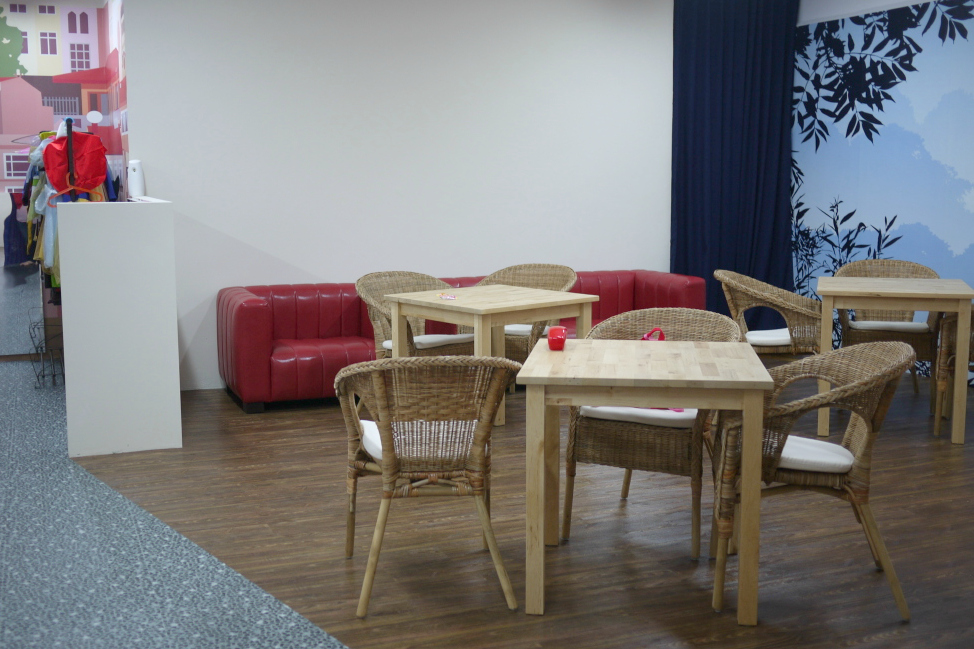 My overall impression of The City
With 10 learning stations, there are sufficient opportunities for kids to explore the different occupations. Some of the stations were more interactive and well equipped like the supermarket and cafe which kept Sophie occupied for a long time. However some of these stations are pretty simple and without any guidance, the kids will be easily bored.
As a playground, I was expecting staff on hand to provide instructions to the kids or perhaps even some guidance on the intention of each station. But when I was there, one staff was at the counter attending to queries and another was busy picking after the children. So it's pretty much up to the parent to accompany the child around the playground and play with them. Not exactly a concept that I like very much, since you have to pay $22 entrance fees for unlimited play. Friends who have been to Babyboss and Kidzania told me they had better experience there as there are staff to bring the kids around the playground and it's all hands on like baking actual cookies as a pastry maker.
What can be improved is to have briefing for the kids on some safety rules. I noticed that some kids were "driving" recklessly on the pedal cars which can be dangerous for little kids especially on weekends or school holidays. In addition, to keep the kids coming back, there should be more purposeful play. But most importantly, the need for adult supervision makes it tiring for me so if someone else is doing that, I'm happy paying for it.
But that said, Sophie did have an enjoyable time at The City. In my opinion, The City is suitable for kids between the ages of 2-6 years. So if you've got kids who love to pretend play, the City is the place where pretend play comes to life!
Admission fees for unlimited play is as follows:
Babies under 1 year, Free

Under 3 years, $18
3-8 years, $22
Adults, Free
The City is located at Liang Court, #03-04A , 177 River Valley Road, Singapore 179030
 *A Juggling Mom received an invite to The City in order to write this review. However, all opinions expressed here are my own.
Tagged: Weekend activities, weekends