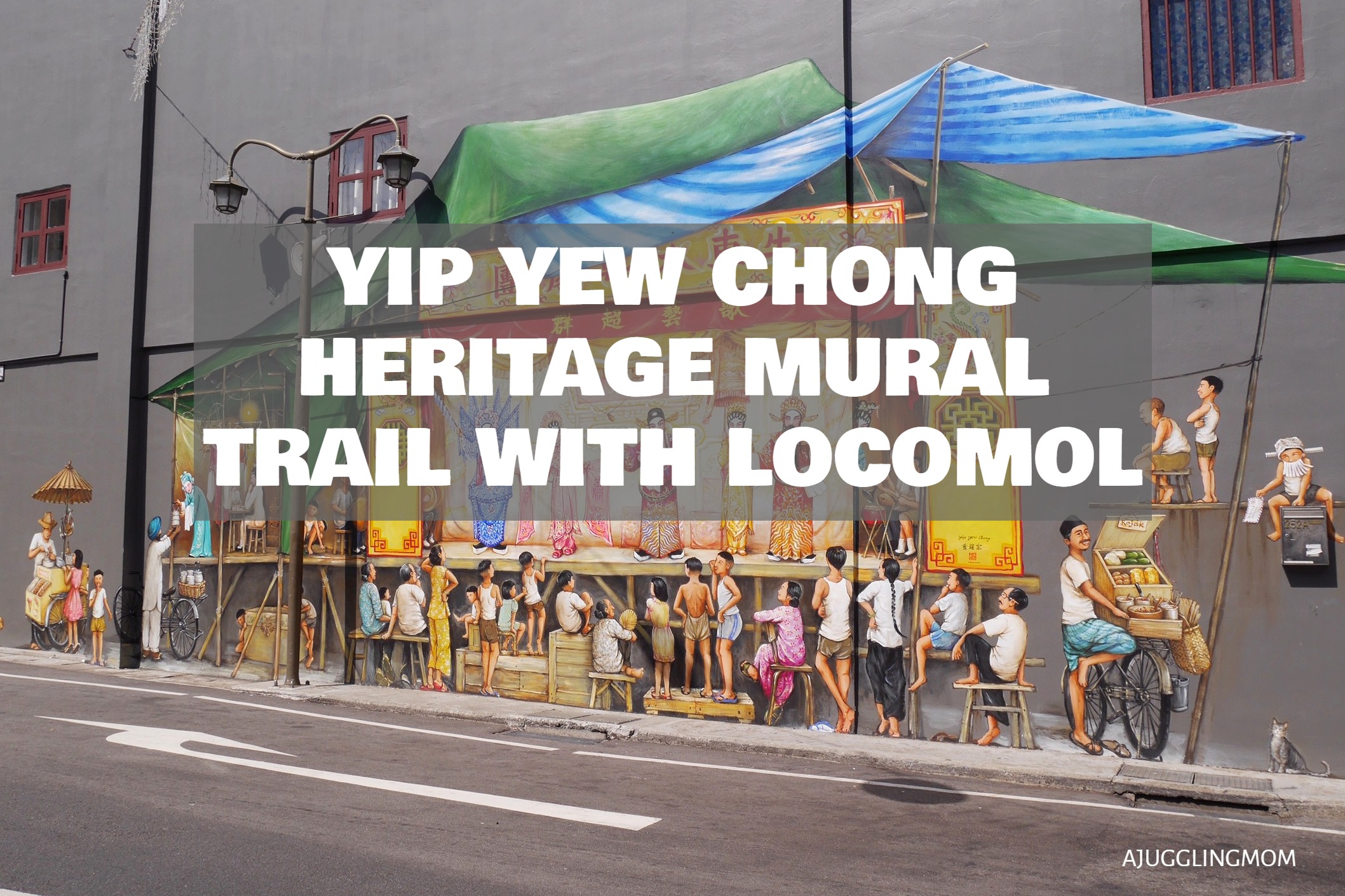 Yip Yew Chong is no stranger to the Singapore street art scene. As a self-taught artist, Yew Chong has painted countless heritage murals depicting Singapore's culture and heritage.
Many of his street art features vanishing trades from ma jies, to traders, puppet sellers to his most recent mural, Cantonese opera singers. We were privileged to hear the inspirations behind a few of his murals from Yip Yew Chong on the Heritage Mural Trail with LocoMole.
LocoMole Yip Yew Chong Street Art Trail in Chinatown
LocoMole is an experiential discovery mobile app with over 75 interactive self-guided trails around Singapore. This app allows users to immerse in Singapore's heritage using storytelling, interactive games and augmented reality.
The latest self-guided heritage trail was done in collaboration with Yip Yew Chong, showcasing his murals in Chinatown, Tiong Bahru and Everton Road. These were the murals we visited around Chinatown accompanied by the artist himself!
Chinatown Heritage Mural Trail
1."Mid-Autumn Festival 庆中秋"  
Mural location:  No. 83 Pagoda Street back alley, behind Lucky Chinatown
Created in September 2018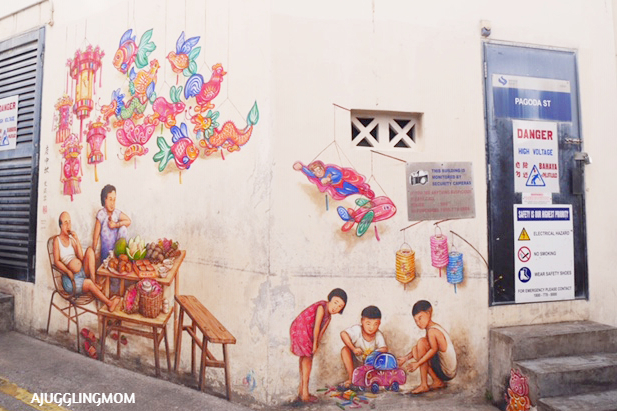 Mooncakes and lanterns are the main highlight of the Mid-Autumn Festival. I'm sure the animal shaped lanterns made of colourful cellophane paper bring back lots of childhood memories.
Yew Chong let us in on a mistake that he overlooked while painting this mural.
Can you spot it? The clue is found on the table of food.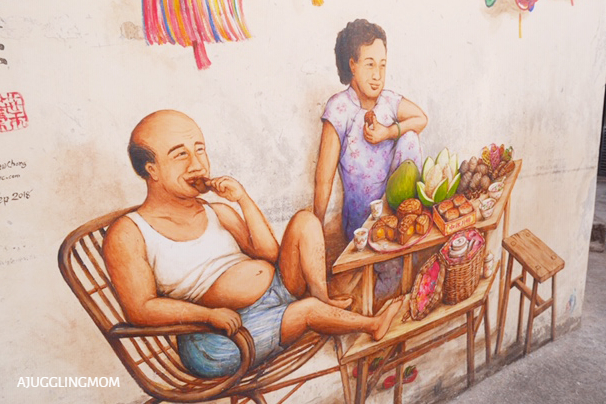 While mooncakes, pomelos, tea and piggy-shaped biscuits are enjoyed during the Mid-Autumn Festival, tang yuan are only served during Winter Solstice or 冬至.
Did you guess that correctly?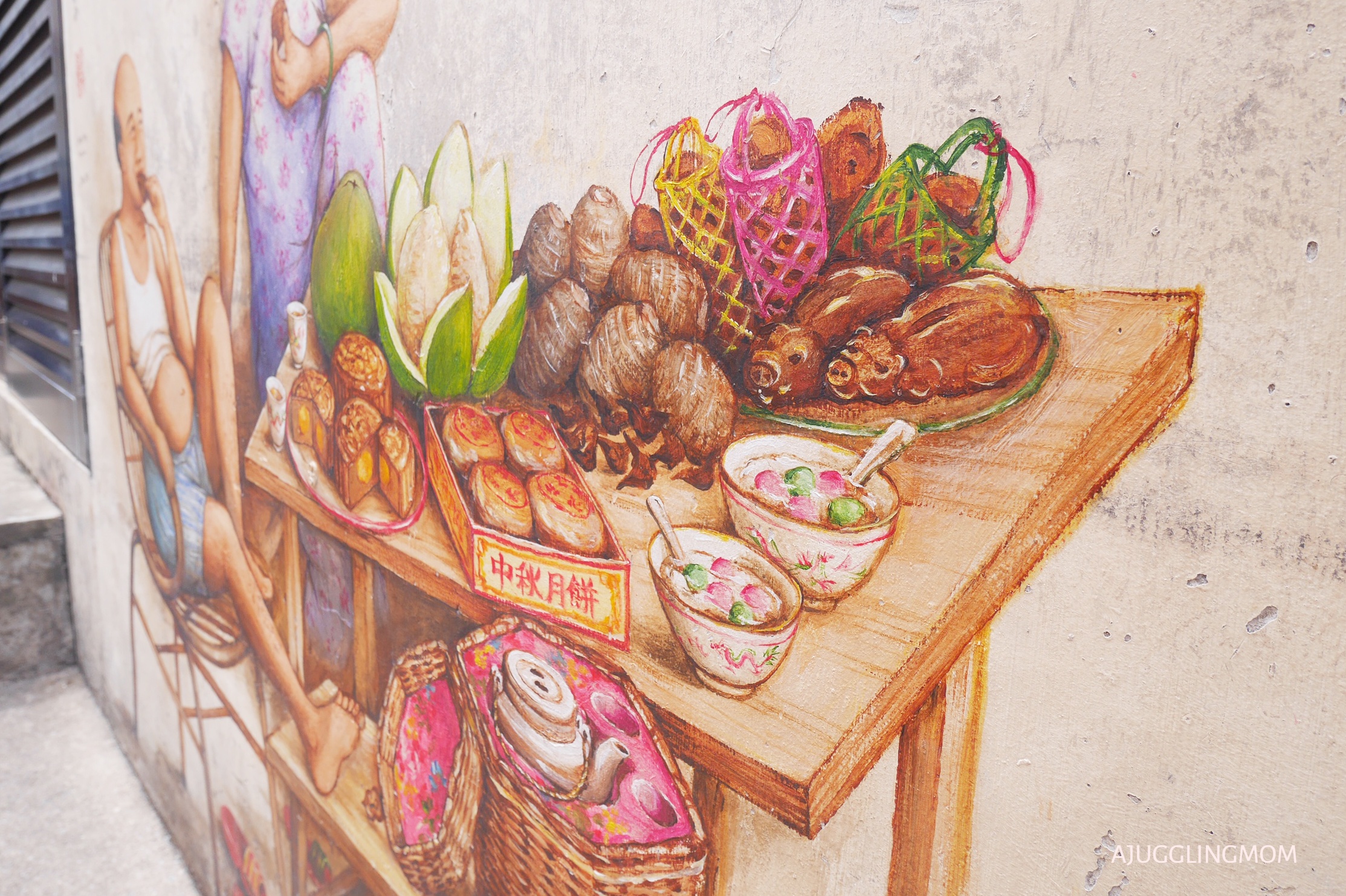 Yew Chong said that after he painted the kids playing with lanterns, someone told him that they looked like Yew Chong and his siblings. Yew Chong mischievously added that he used to play games such as attempting to put out one another's candle flames and making ghostly faces with the flames shining from their jaws.
The superman lantern that resembles Yew Chong!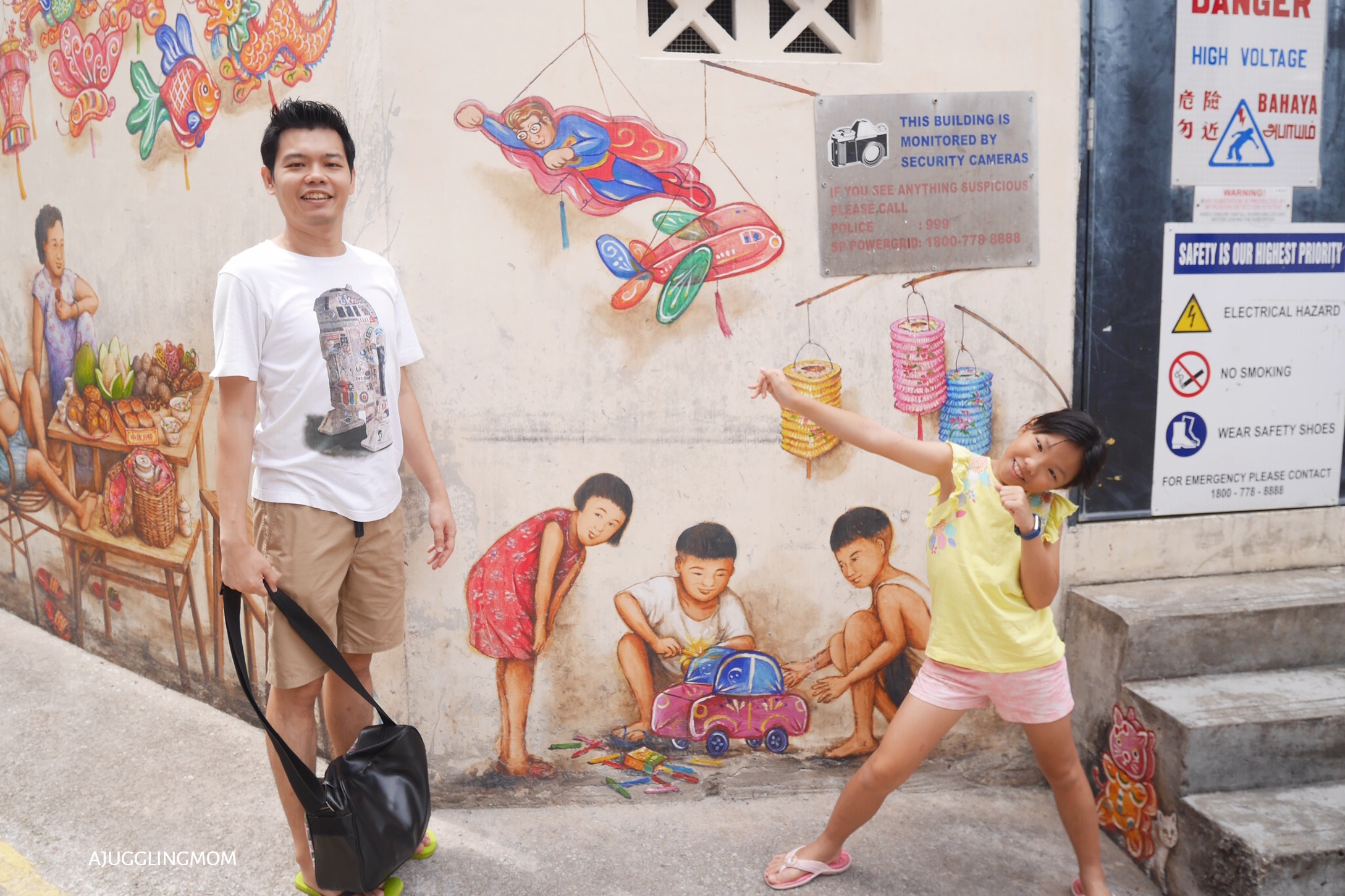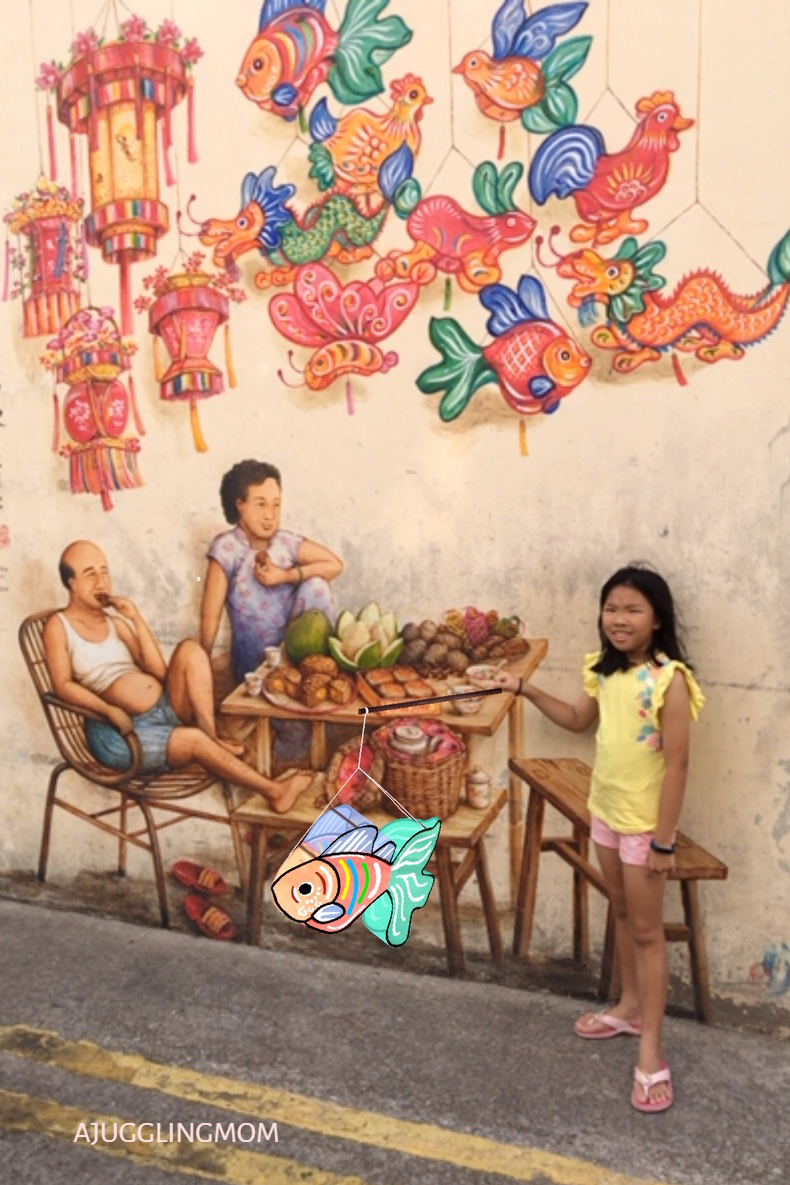 Use the Loco Mole app to get your very own AR lantern.
2. "My Chinatown Home", 我家牛车水 
Mural location: 30 Smith Street.
Created in April 2019
This mural depicts Yip Yew Chong's first home in Sago Lane, Chinatown. The attention to every detail on this long stretch of wall is astounding as he painted it based on his memories.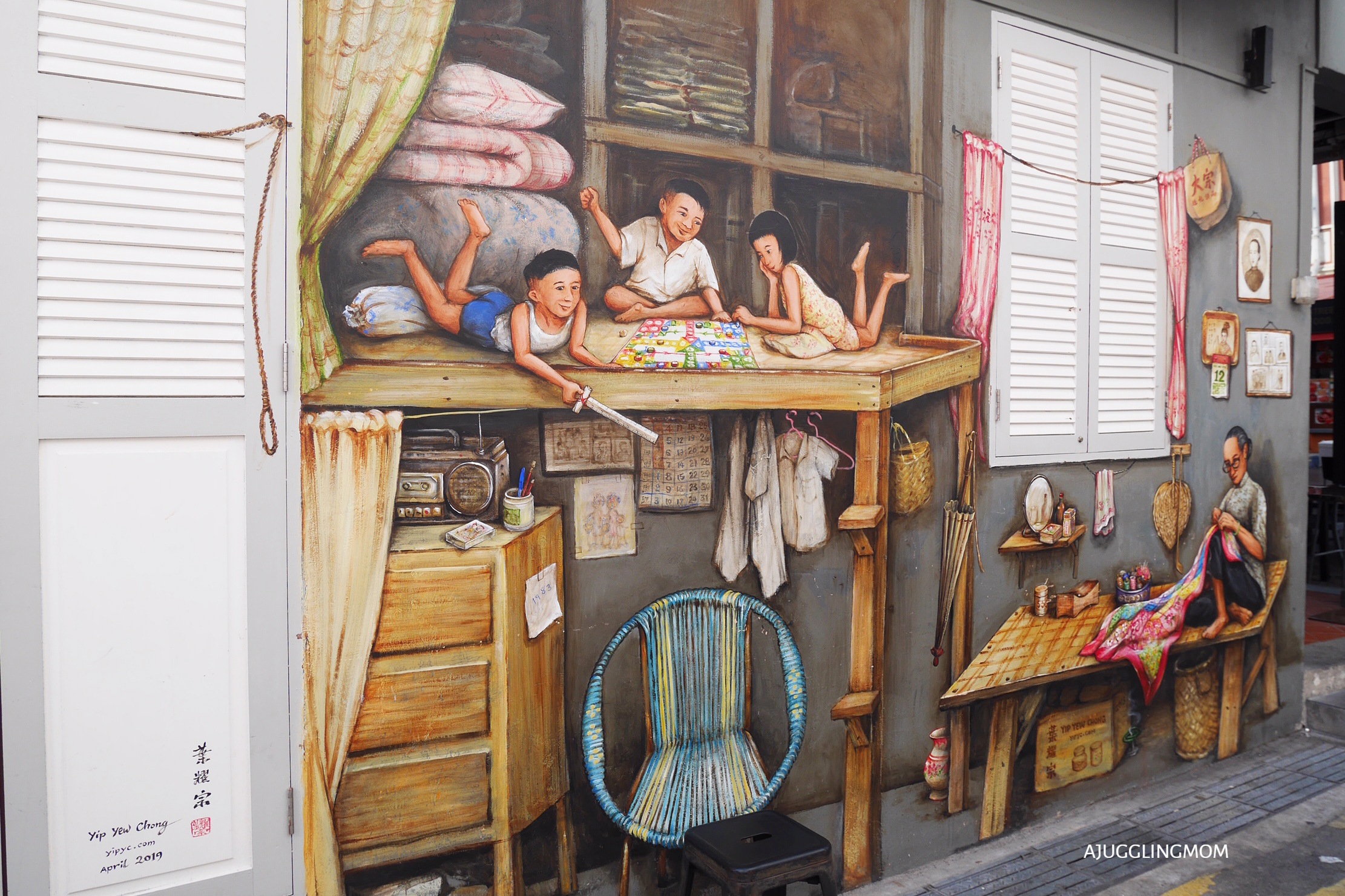 He shared about how life was sharing the house with his family as well as other families who were co-tenants. He was asked why cats are always featured in his paintings and explained that many households kept cats as pets to keep the rats away.
Sophie immediately exclaimed, "Oh, that's what Por Por used to tell me too!" I was so heartened to know that Sophie remembered the stories that my mum used to tell her of her youth.
Yew Chong and his siblings playing a game "aeroplane chess" in this part of the mural. Being kids, they often pretended they were superman and jumped off the bed to his mum's dismay.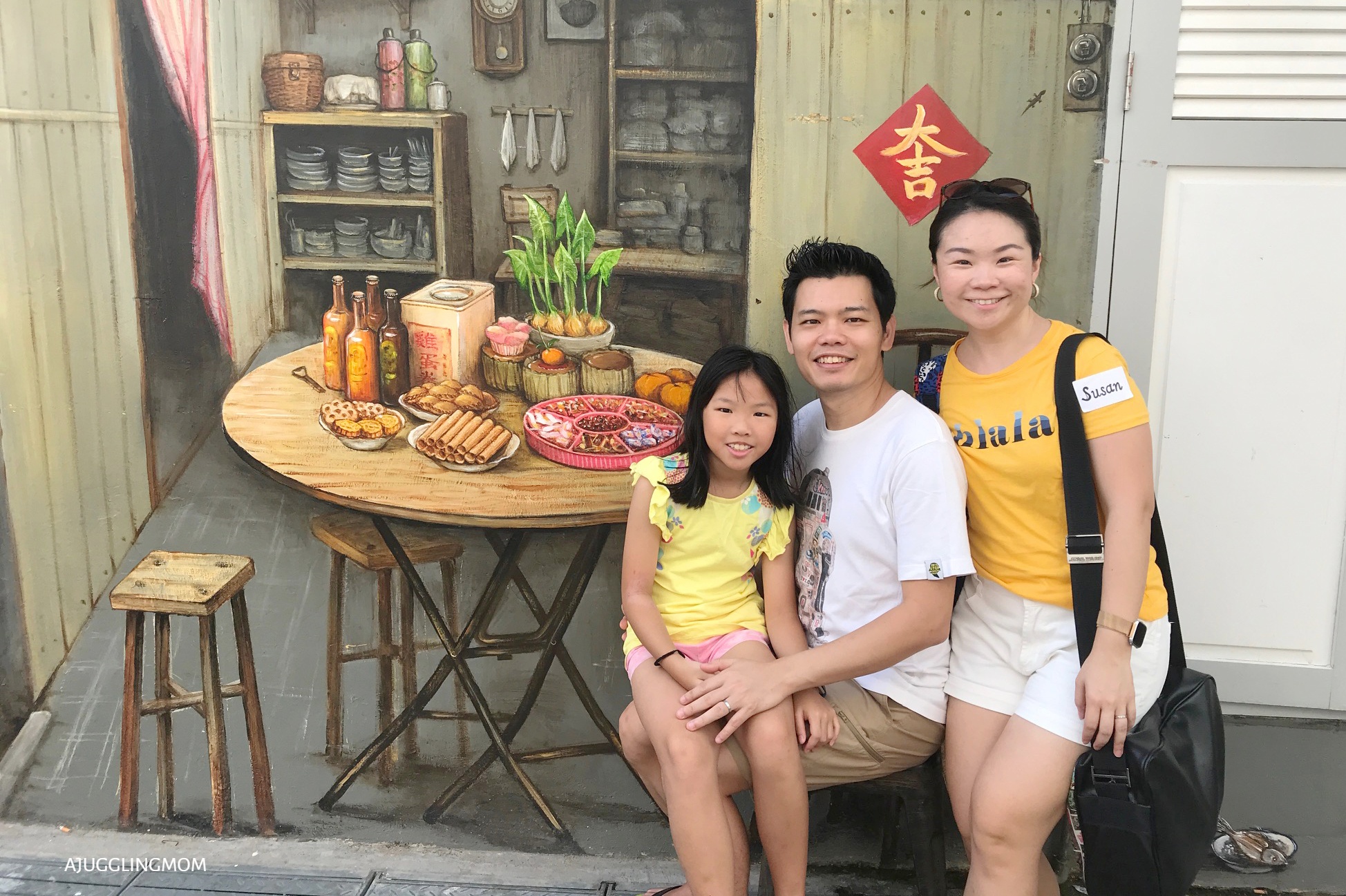 Here you can use the Locomole app to "open the door" and explore Yip Yew Chong's home in 360 degrees in Augmented Reality.
3. "Cantonese Opera"
Mural location: Temple Street (gable wall of No.252 South Bridge Road).
Created in April 2019.
This vibrant mural depicting a Cantonese opera scene is strikingly remarkable!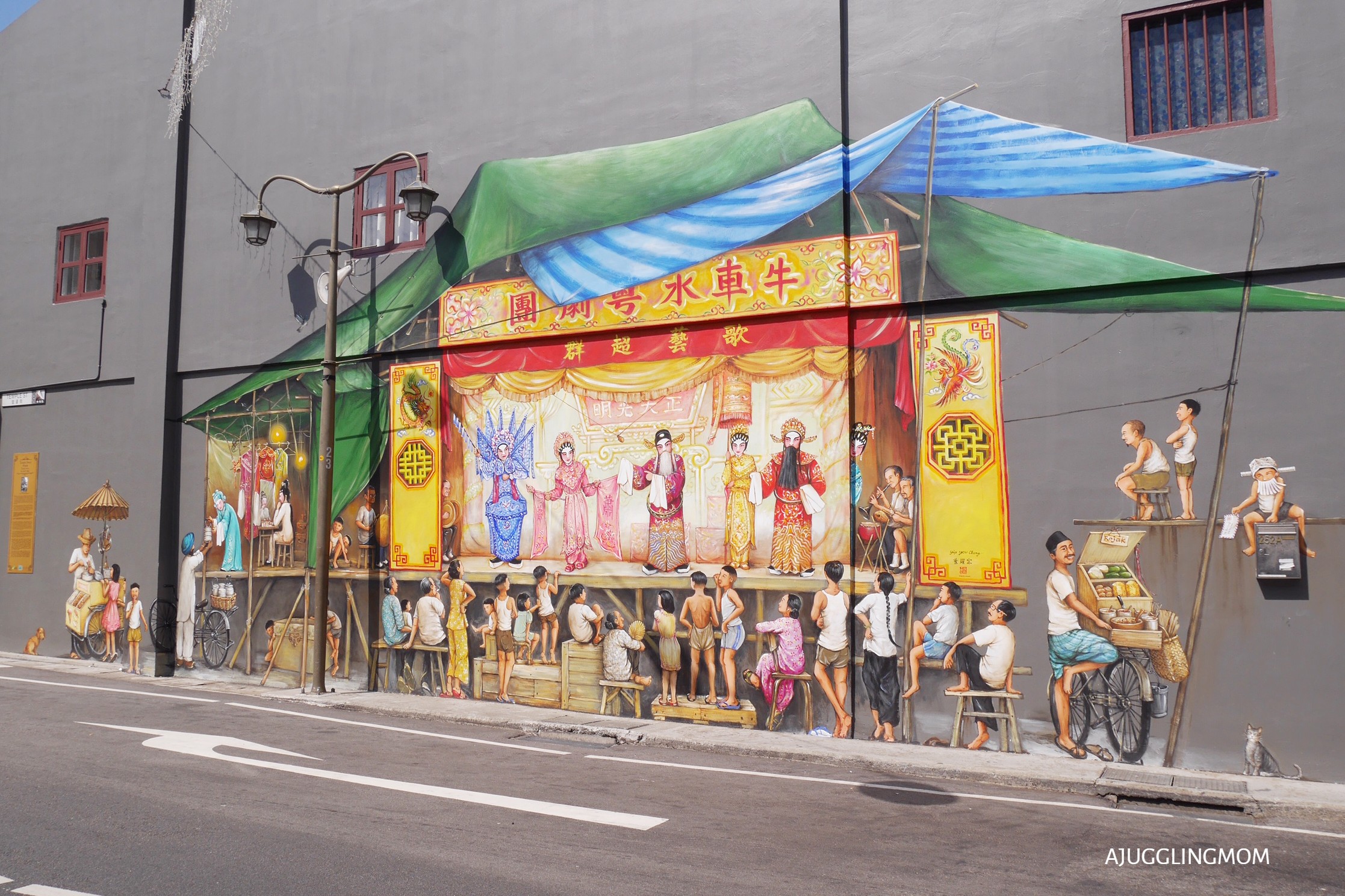 As a boy, Yew Chong often followed his aunt to watch Cantonese operas. From there, the extravagant costumes, elaborate background and props caught his attention which went on to inspire his style of art.
He remembered how the opera was watched by people of all races and ages, so he made sure to add that in the mural.
On each side of the stage, there are mobile food stalls –one selling rojak by an Indian and another selling ice cream by a Chinese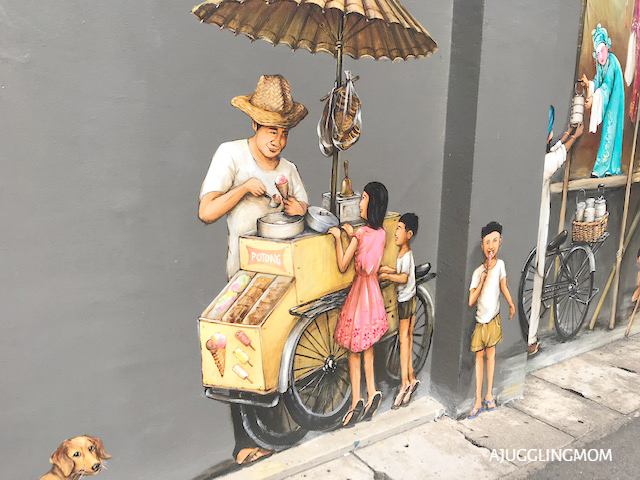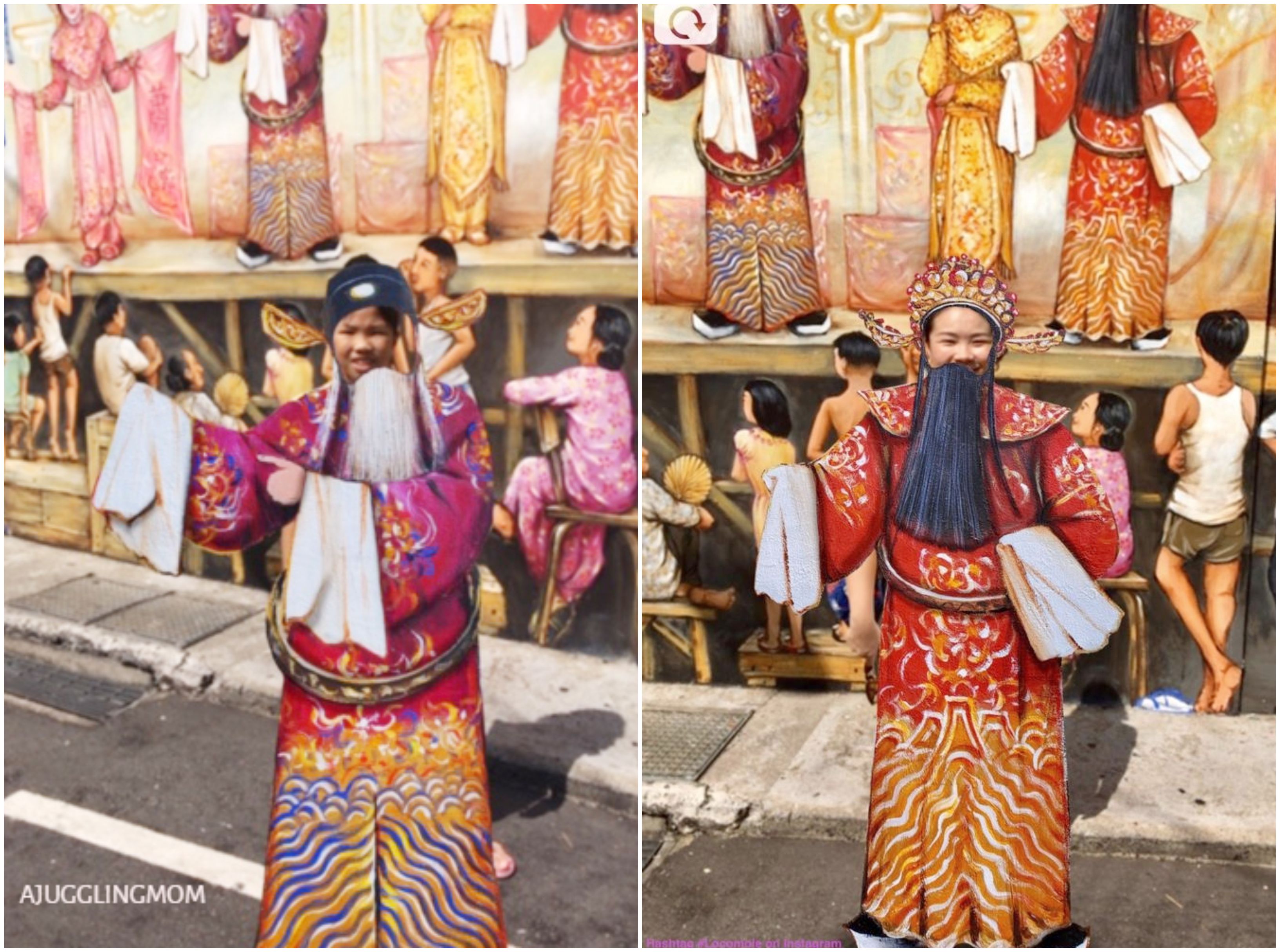 Use the Locomole app and be a part of the opera troupe in Augmented Reality!
4. "Lion Dance Head Maker and the Window"
Mural location: Mohamed Ali Lane, Chinatown (on the side wall of House 227 South Bridge Road).
Created in October 2018.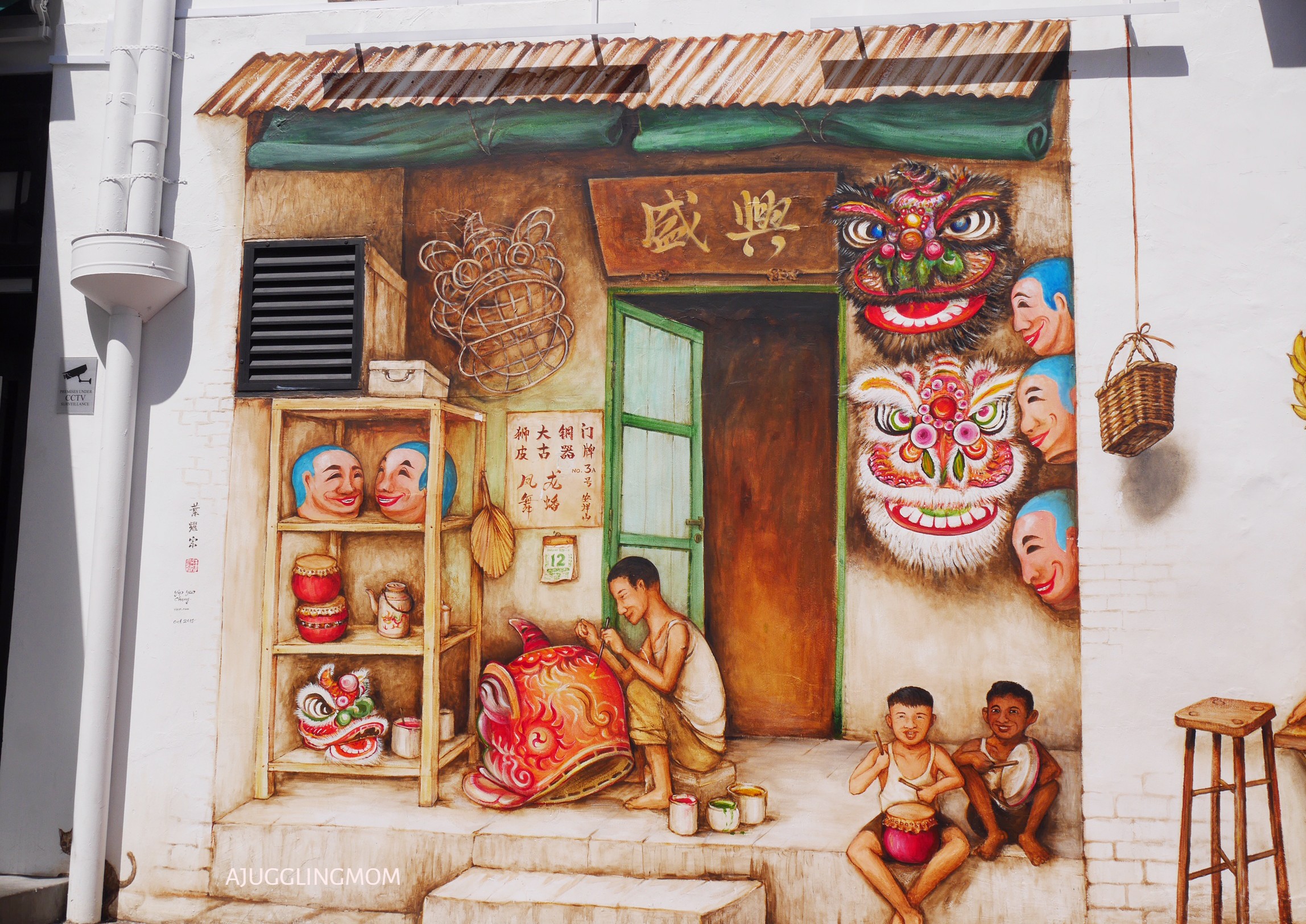 This mural of a Lion Dance Head Maker Shop at Mohamed Ali Lane is based on the actual shop at No. 3 Ann Siang Hill in the 1980s.
The man that Yew Chong drew is Henry Ng, one of Singapore's lion dance costume makers. Henry is one of the last full-timers, which makes him a custodian of this vanishing trade even though lion dance is very much a Chinese tradition for auspicious occasions.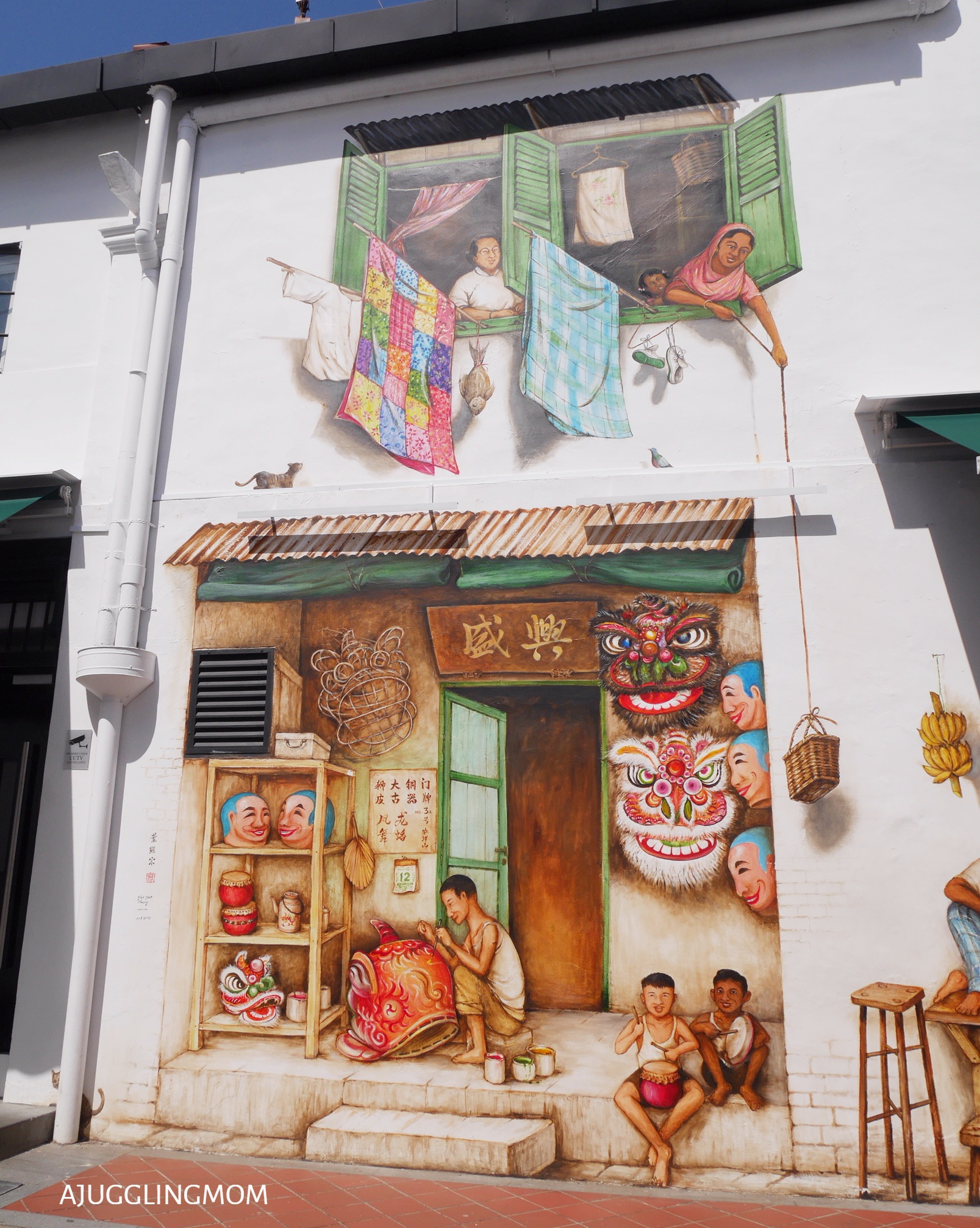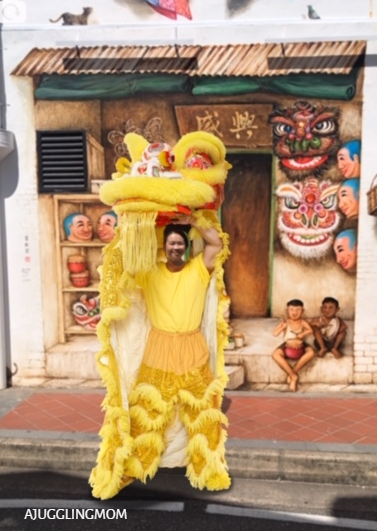 Above on the second floor window are two ladies, an Indian and Chinese. In the past, it was common for families of different race and language to live under the same roof in the shophouses.
Using the LocoMole app, tap on the AR Scan and join a lion dance in Augmented Reality!
5. "Mamak Shop"
Mural location: Mohamed Ali Lane, Chinatown (on the side wall of House 227 South Bridge Road).
Created in October 2018.
A little further, you can find the 'Mamak' shop – a convenience store usually owned by early Indian immigrants.
Sophie was delighted to spot "treasures" like country erasers and lollipops in the Mamak shop. Pretty amazing how well-stocked a humble mamak shop can be back in those days.
6. "Paper Mask and Puppet Seller"
Mural location: Mohamed Ali Lane, Chinatown (on the side wall of House 227 South Bridge Road).
Created in October 2018.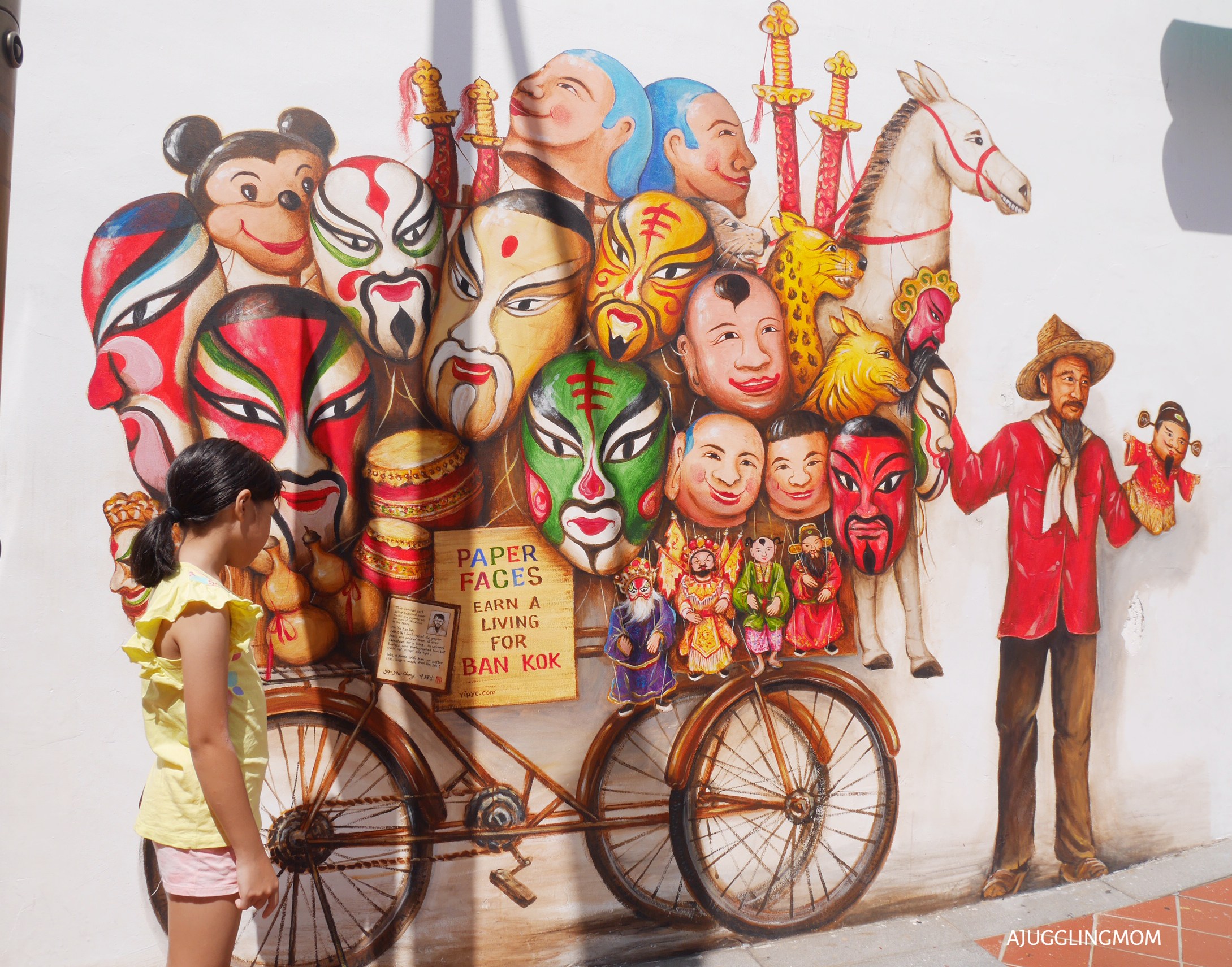 The last mural is paper mask and puppet seller Mr Yeo Ban Kok. I must admit I've never heard of him before this trail.
I can imagine it must have be exhausting balancing so many colourful masks and puppets and hawkering them from his cart.
7.  Tong Heng Bakery
285 South Bridge Rd, Singapore 058833
This
80-year-old brand Singapore heritage brand specialising in Chinese pastries
was our last stop for the day and concluded our preview of LocoMole's heritage mural trail.
With the LocoMole app, we could redeem a $4 discount from Tong Heng's Double Blessings Pastry Set.
Review of LocoMole Heritage Mural Trail with a Discount Code
This self-guided heritage mural trail is a fun and interactive way to capture kids' curiosity and deepen their appreciation for our history and culture. With the LocoMole app, you can easily find the murals around Chinatown, Tiong Bahru and Everton Road mapped out without the hassle to plan it personally .
This is a history lesson with a difference for kids, as they get to learn interesting facts about each artwork be it a festival, trade or simply sights from the past in the palm of their hands with the brief write up on the app.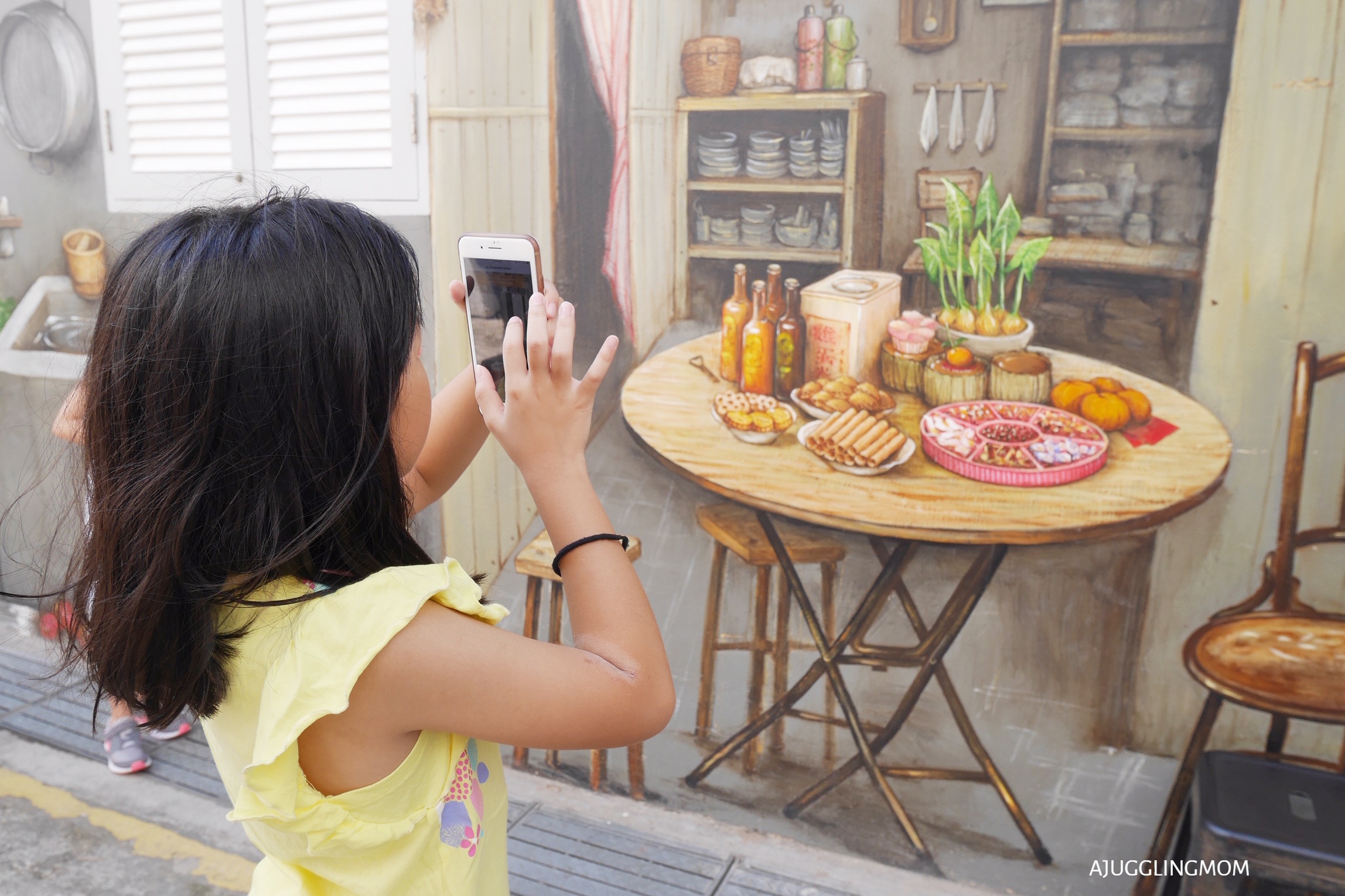 Sophie enjoyed the various AR activities at each spot. They were prefect opportunities for her to discover more about each artwork and their significance to our culture too.
Personally I feel the quality of the AR photos can be improved as the photos captured were grainy for us. The Yip Yew Chong heritage mural trail is priced at $9.98. You'll also enjoy discounts at a few local dining outlets, like 1-for-1 all day breakfast set at Killiney,  $20 off Wholly Crab seafood bucket, and other.
Discount Code for LocoMole Heritage Mural Trail
This heritage street art trail makes an educational activity for families, so the good folks at LocoMole has extended a 50% discount for readers of A Juggling Mom blog until 31 December 2019.
To enjoy this discounted Yip Yew Chong trail, either click on the link to be directed online or download the Locomole app and key in the promo code, "golocalsusan"  and you can play tourist in your own city for the month of August with your family!
Check out their YouTube video and see how the app works here!
*  A Juggling Mom was invited to LocoMole's Yip Yew Chong Street Art Trail to write this review. All opinions and photos are mine unless otherwise stated.
Tagged: Chinatown, family friendly activities in Singapore, Street Art