The Lorax is based on Dr. Seuss' 1971 book of the same name. Besides being a delightful children's movie, this 3D animated movie also seeks  to raise awareness of the environmental consequences if we take Mother Earth for granted.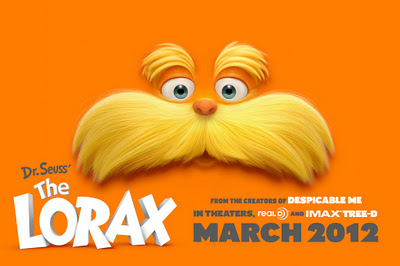 The synopsis in a nutshell:
The movie opens like a broadway musical with the citizens of  Thneedville dancing in their "plastic city". The main character, Ted Wiggins (voiced by Zac Efron) has a teenage crush on Audrey (voiced by Taylor Swift) and tries to win her affections by finding her a tree. You see, in the city of Thneedville, where Ted and Audrey live in, all the plants are made of plastic and they have never seen a real life tree. To fulfill the wishes of the girl of his dreams, Ted ventures out of Thneedville and searches for the Once-Ler who will have the answers.
His encounter with the Once-Ler (voiced by Ed Helms) reveals the story of how he was the one responsible for the extinction of trees in his bid to make a fortune out of multi-purpose Thneeds by cutting down trees and building more factories.
The Lorax (voiceb by Danny DeVito) who is the grumpy magical guardian of the forest tried to intervene and stop the Once-Ler but to no avail. With no more green land around, the Lorax and the rest of the forest animals had to find somewhere else to call home.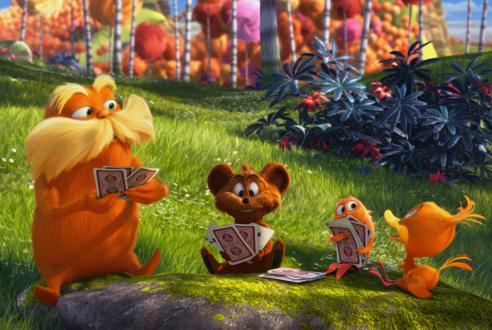 As with all children's book, it all concludes with a happy ending which I shall leave you to find out for yourself. You'll enjoy the delightful singing and dancing forest animals who makes you feel all warm and fuzzy inside. Even the orange grumphy Lorax  provided much unexpected laughter relief to the movie.
With the school holidays round the corner, kids will enjoy this charming movie especially if they are fans of the well loved Dr Seuss. The movie has prompted me to pick out the story of The Lorax the next time I'm in the library, to see how the movie compares to the book.
The Lorax opens in cinema on 8 March 2012.
*A Juggling Mom received a pair of tickets to The Lorax from OMY in order to write this review. However, all opinions expressed here are my own.
Tagged: cartoon, Dr Seuss, Movie, school holiday ideas