Before I became a mom, no one ever told me horror stories of breastfeeding woes, the night wakings, how much shi* a baby so small can produce amongst the things that I have since discovered after I became a mom. All I ever heard was how much joy babies bring and the difference they make in your lives.
No doubt, we've had our fair share of the ups and downs for the past two years. And now that Sophie is a toddler, I would have thought that things would get a lot easier. Well it has, all except one area in her life…when it's time to poo.
It's one topic that I talked about, blogged about , tweeted and asked for help, advise, suggestions on facebook and the various parenting forums about. And yes asked the PD about for a long long time. To be precise, since May this year when Sopie began to develop a fear of pooing after her episode with constipation.
Just yesterday, Alexis and I were huddled around the potty with Sophie trying to get her to poo at 3am, 5am and 7:30am. That's in addition to the night before when she also needed to go at 9plus. It's definitely not constipation we're dealing with, but a flat out refusal to poo.
We thought that converting her sit down potty into a step up adult potty would make her feel like a big girl and hence do the deed without fussing. We were wrong, so very wrong.
Isn't this the coolest potty or what?
We had to use every trick in the book just to get her butt down on the potty. From praises to threats of going to the doctor where he's going to give her an mean jab on her butt. Stickers to promises of new toys but they all fell on deaf ears as she fought to keep her poo in with her mermaid stance.
It's the stance where her feet are placed side to side with her butt cheeks all clamped up and a mosquito cant even fly through. Alexis tried it himself and he can tell you, it's super effective if you ever find yourself about to lose it. No shittin man.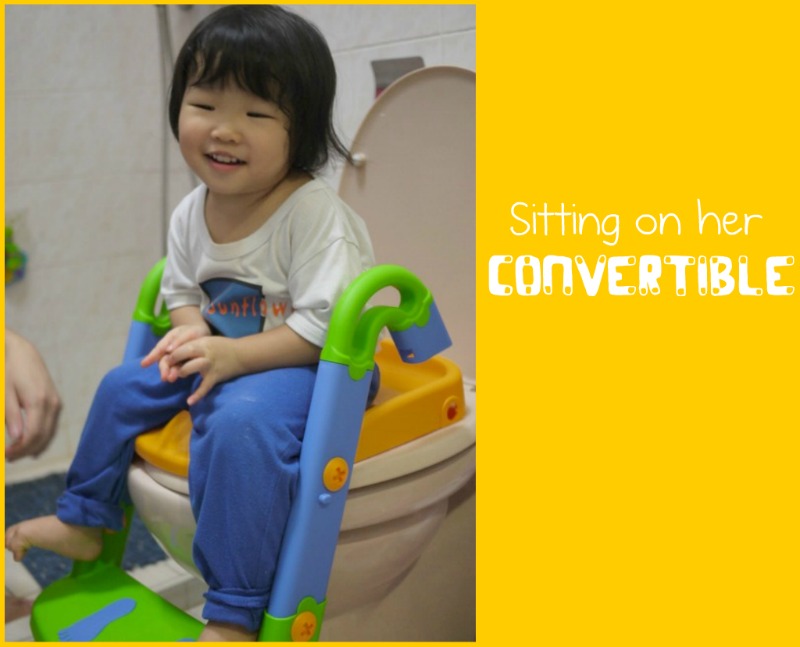 Anyway she finally did it after we succeed in peeling her legs apart. Even my mom who was around was shocked at how much strength this little girl had in her when she was fighting to keep her poo in.
I hope I know a better way to deal with this whole pooping problem. Frankly it terrorizes me as much as it terrorizes Sophie. Well at least after yesterday's episode, I know that she's the 吃软不吃硬sort. 
So here's another call out to moms who's had success with their toddlers who have overcame their fear of pooing. And if you do need some help with a constipated baby/ toddler, you can read more about what we've tried.
Tagged: constipation, fear of pooing, fear of shitting, potty training, toddler