The Art of the Brick exhibition started in November last year, so we figured we might be one of the last few in Singapore to visit it since it has been voted as one of CNN's top 10 global must-see exhibitions.
I've read about the exhibitions from a few blogs but nothing compares to seeing the life sized Lego sculptures myself. So off we went to the ArtScience Museum last weekend. Since this was an exhibition where I know I will be wowed, I challenged myself to be more creative in my photographs to see things from a different perspective.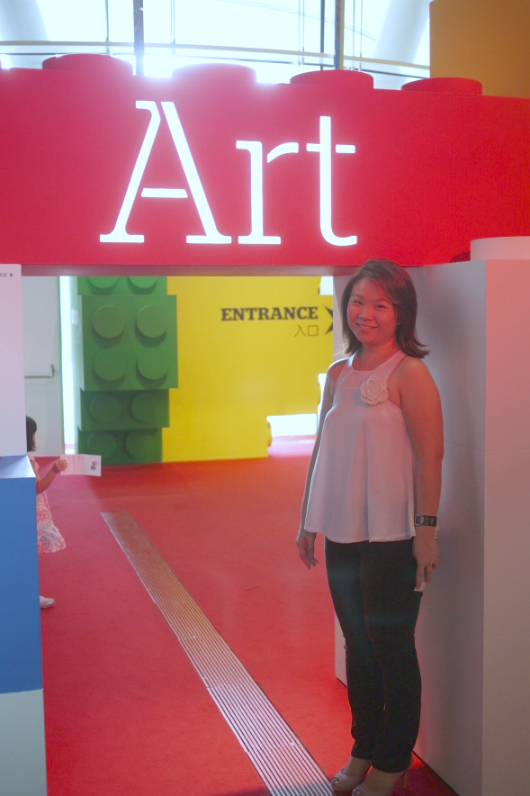 The story of how a Lego sculpturer was birthed…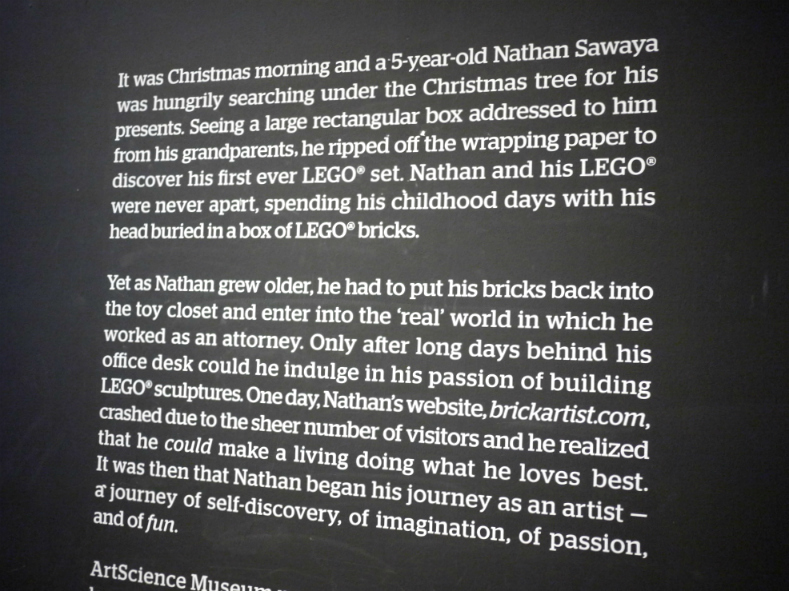 As we entered the exhibition, we were greeted by one of Nathan Sawaya's signature pieces, Yellow. This sculpture depicts man "opening" up himself for the world to see.  As a blogger where I record my life online, I can identify with this myself. Total pieces of Lego bricks, 11,014.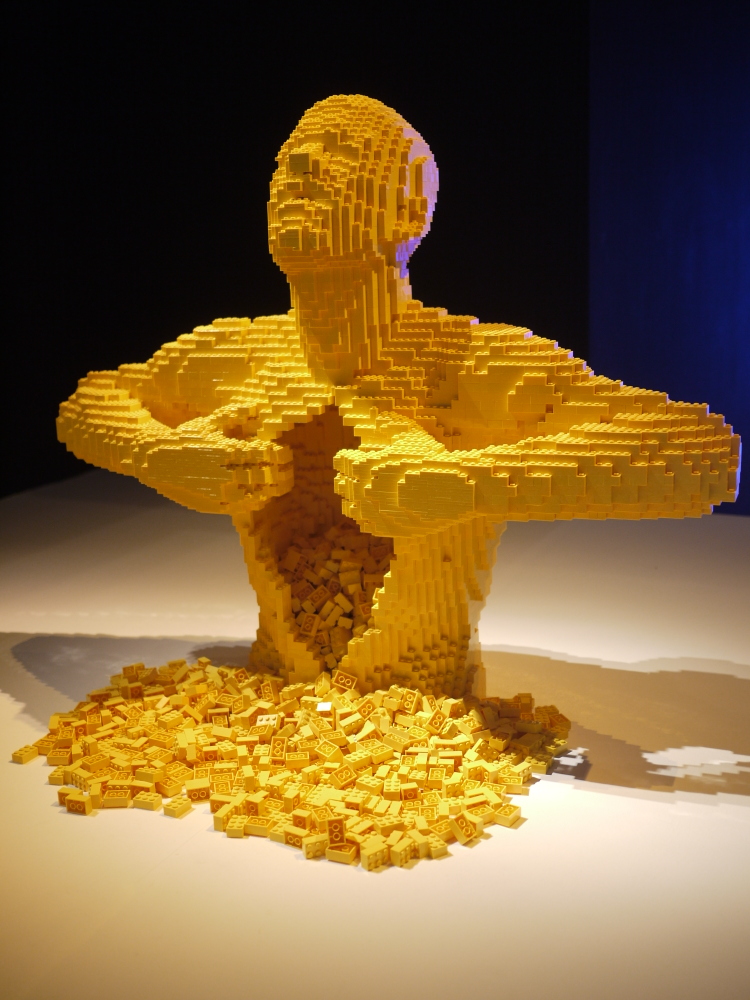 Here, I looked for an interesting angle and stepped back to capture both the description and sculpture blurred out in one shot with the photo on the left. I added the photo on the right so that you can see the full sculpture. Losing one's hands will be quite a nightmare for anyone.  Total pieces of Lego bricks, 15,136.
The sound of the splitter splatter could be heard as we entered into the Artist Studio.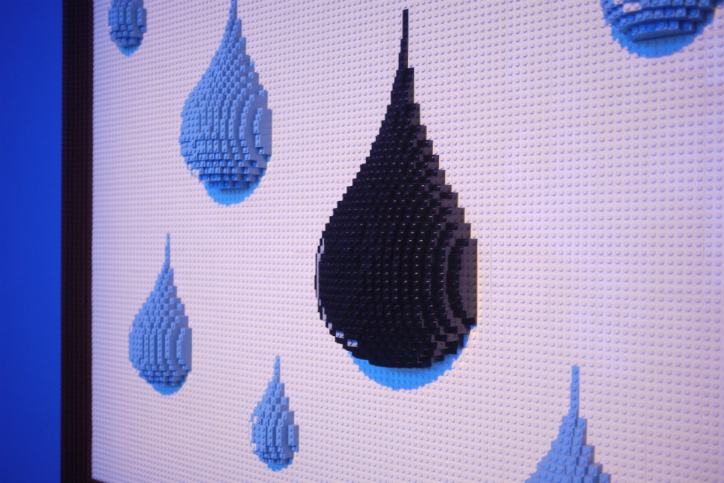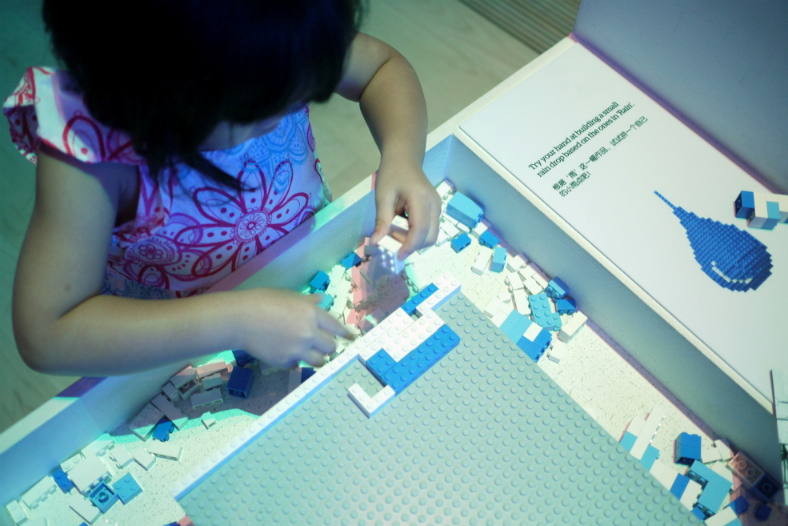 Sophie having a go at creating the raindrop at one the interactive stops
Next to the raindrop display, was this quote from Nathan on how he found happiness doing what he enjoyed most. How many of us can say that we are truly doing what we do, day in, day out and have dared to make a change?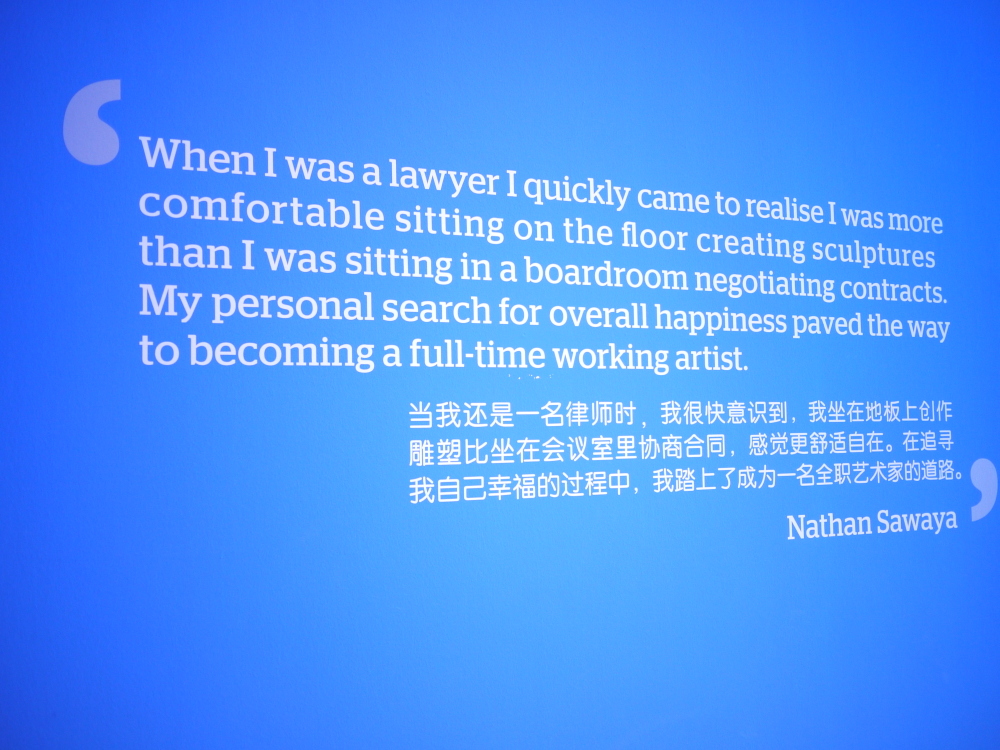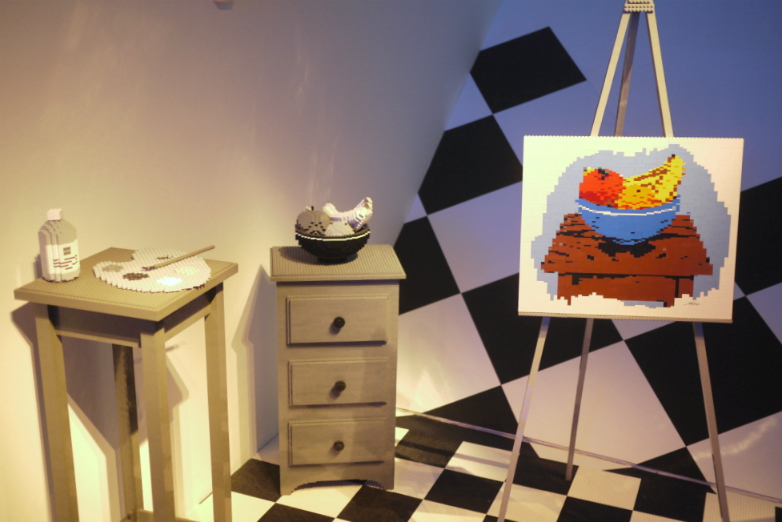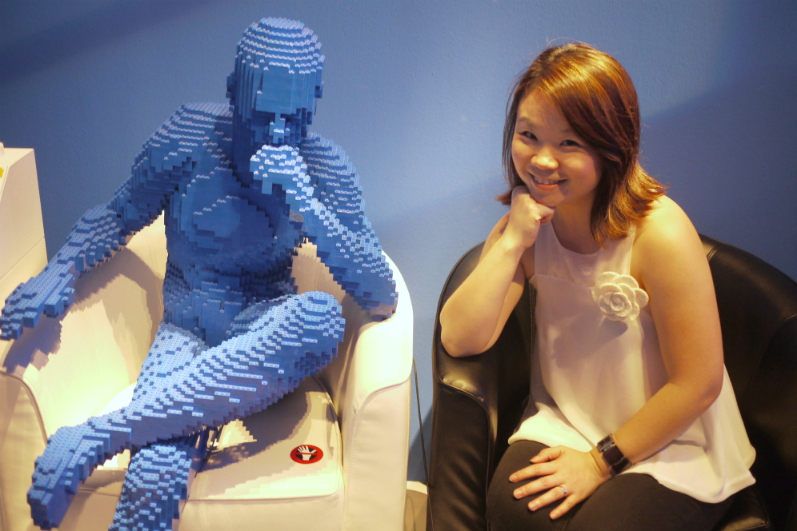 Hey, Mr Blue, what's on your mind?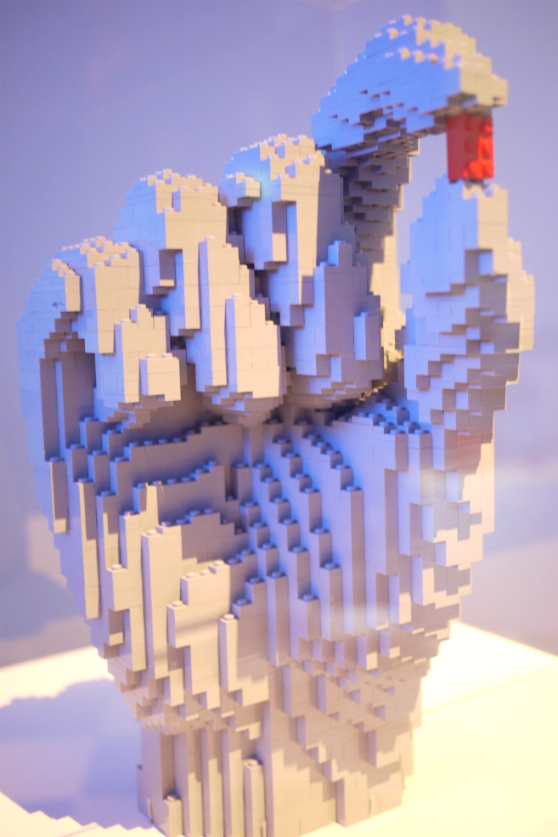 All it takes is a small brick and a big imagination to create wonders
Next we stepped into the Catwalk, where the focus was on life forms and I'm amazed at how well Nathan creates the human body from Lego bricks. From the the curve of the arm to the hunch of a back.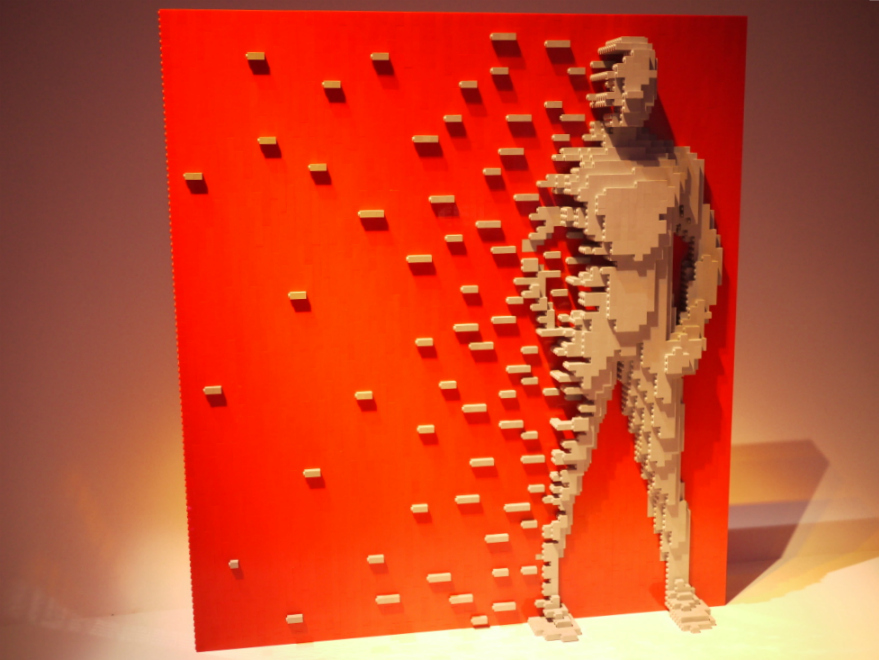 Don't let yourself be lost to the winds of life that nibbles away at your sense of self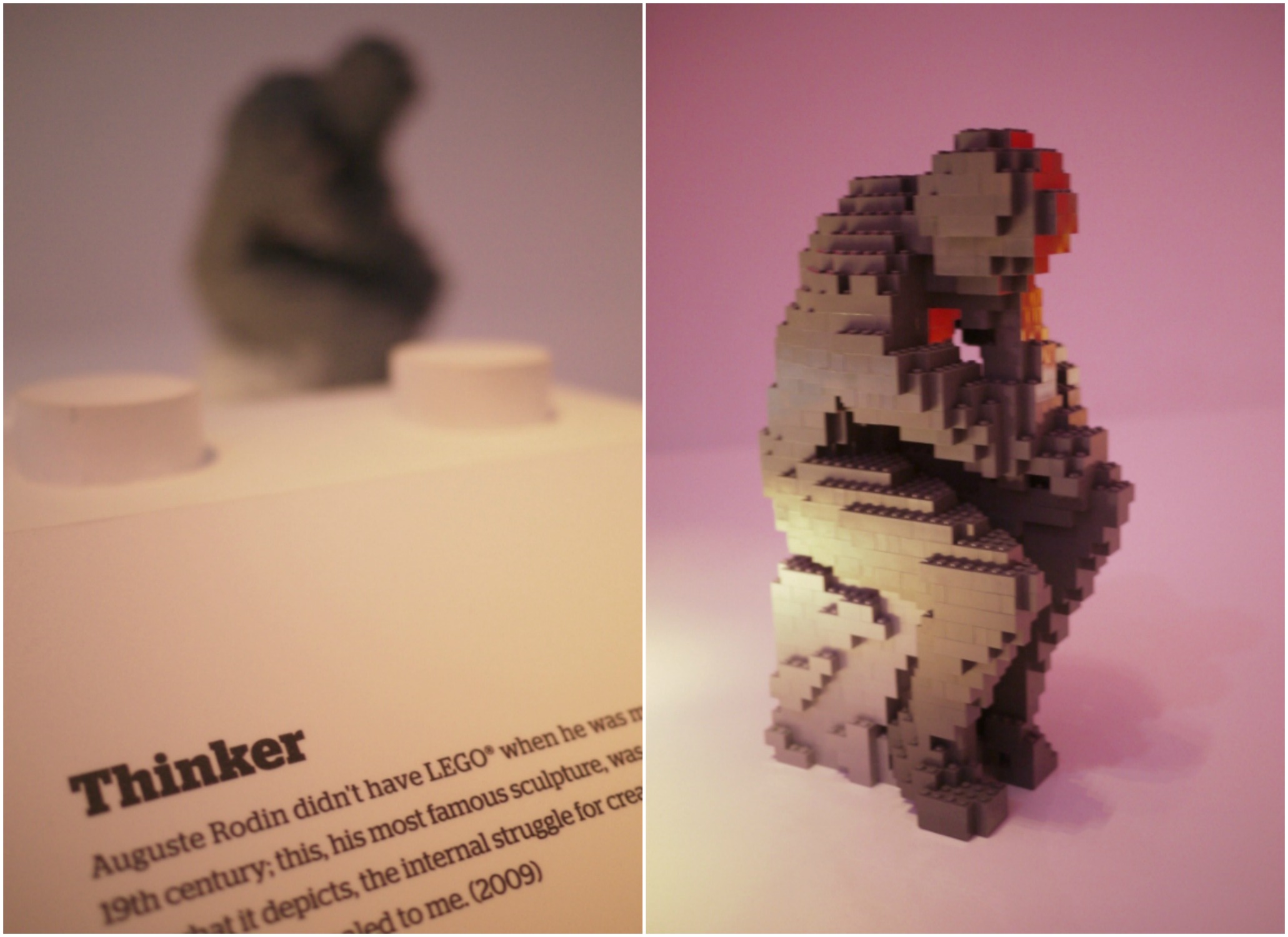 The Thinker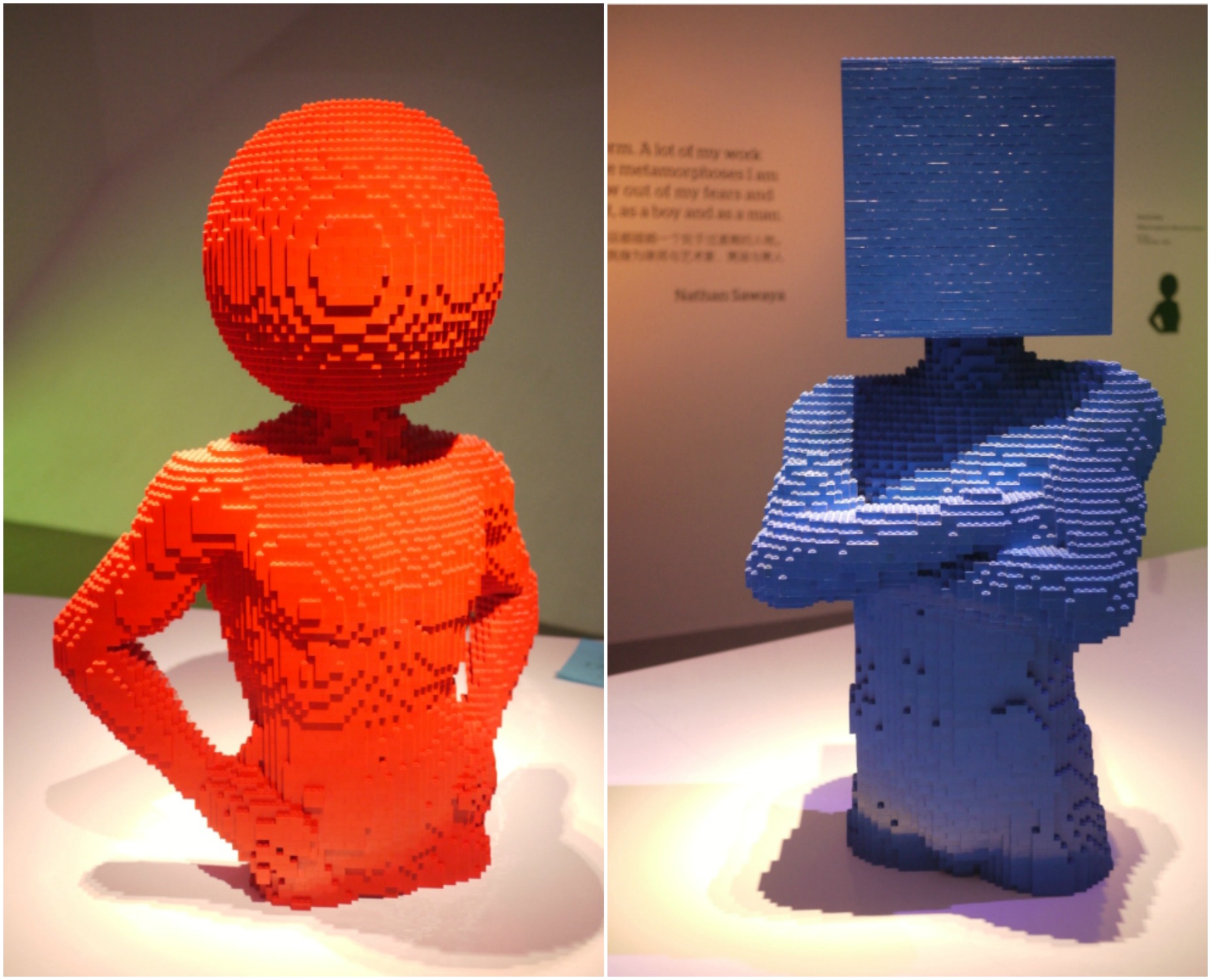 Feeling square? Or perhaps you're just an airhead.
Here's another opportunity for more interactive play where Sophie played with shadows with me trying to poke fun at her, literally.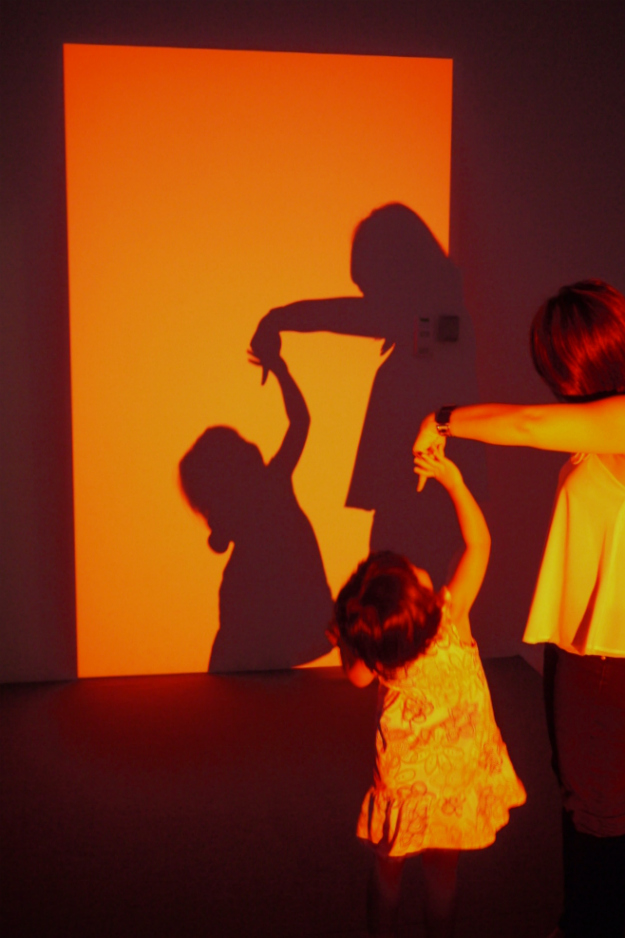 Ever seen a portrait made of Lego? No? Neither have I and here are just some of the many portraits.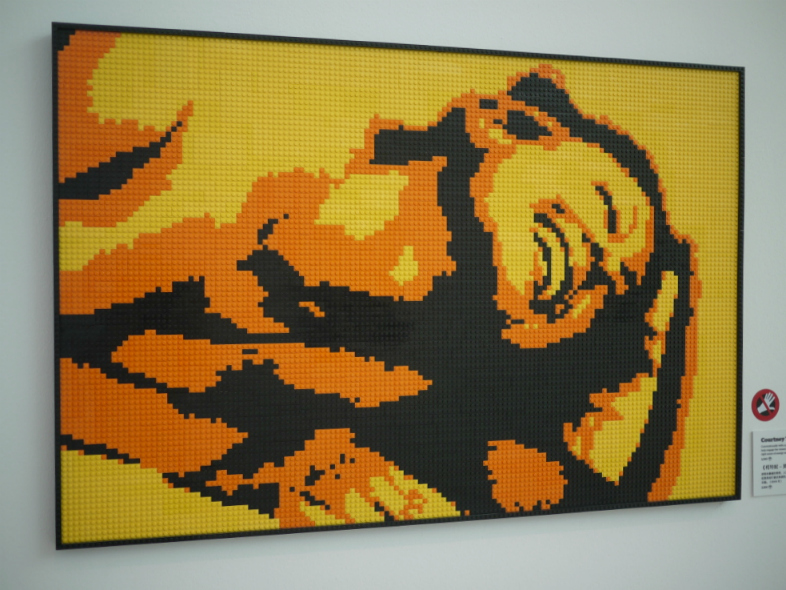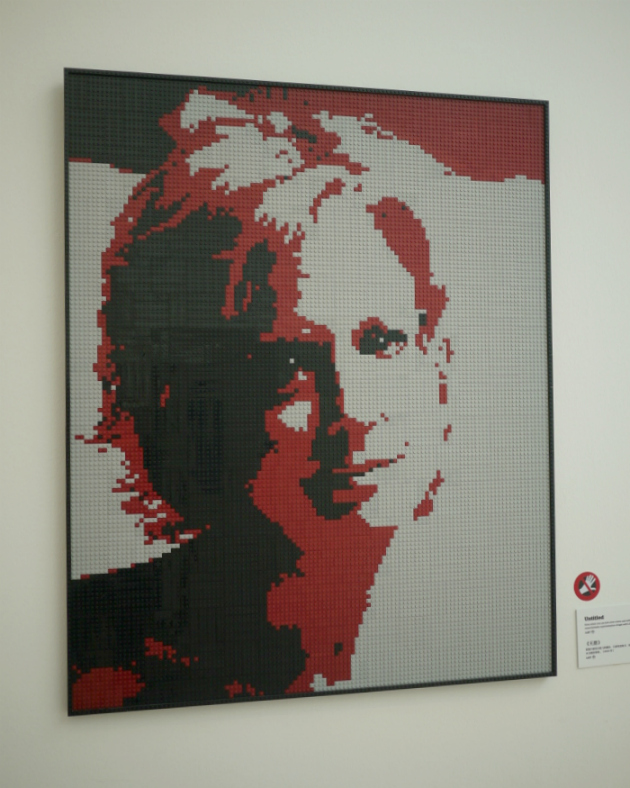 If you've always wondered how you'll look as a Lego portrait, here's an interesting stop that allows you to see yourself in Lego pieces 🙂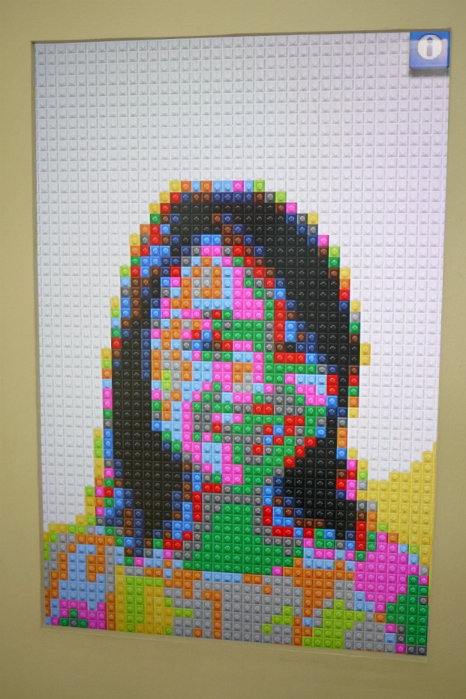 Me, Lego-lised 🙂
Entering the Portrait Gallery, you can't miss this blue musical head.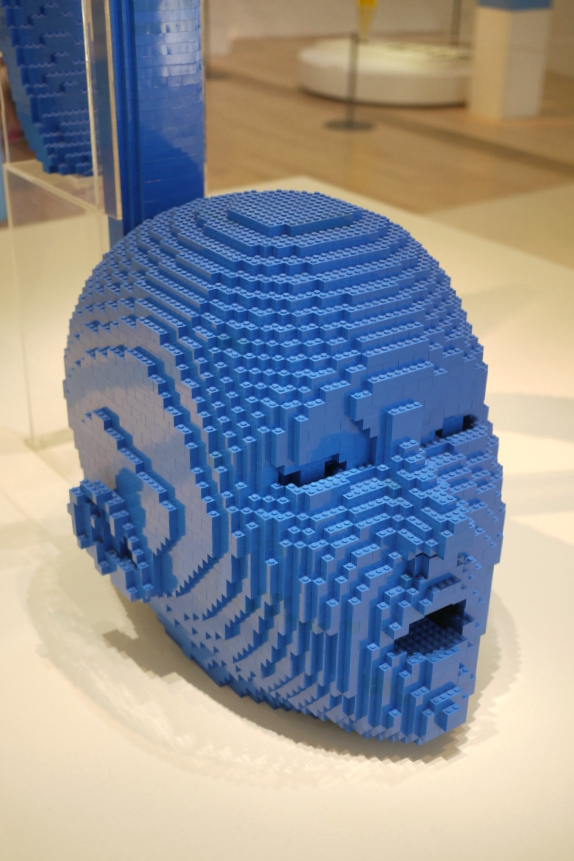 Before Nathan starts on any of his creation, he plots his artwork first. Sophie also gets down to plotting her creation… but soon got distracted when she was given a paper pencil to fix.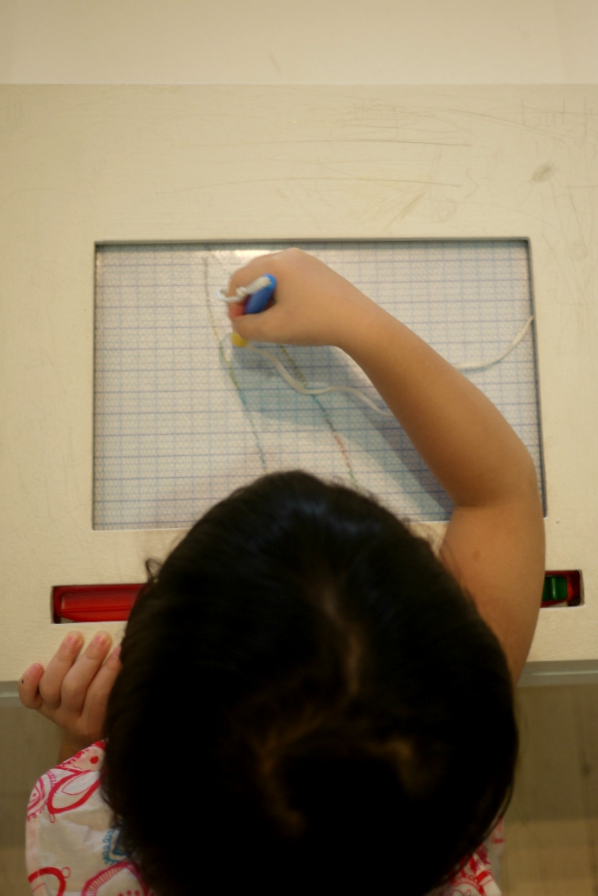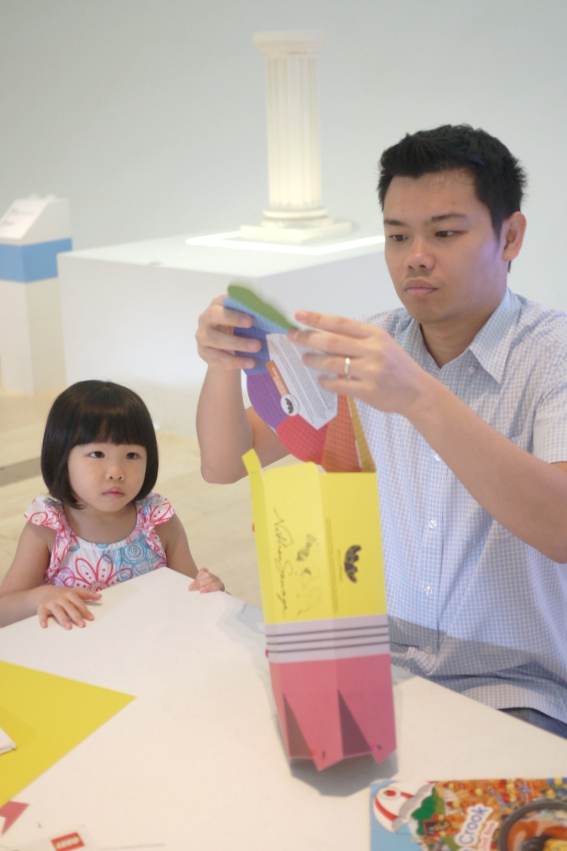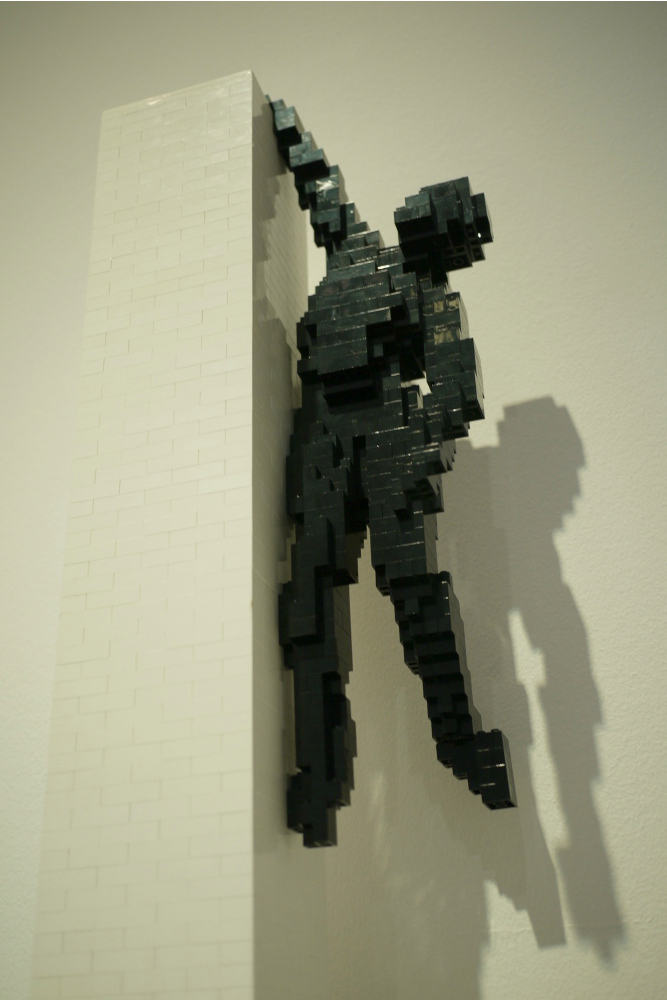 Hanging on for dear life
I took the photo from a low angle upwards to show how the man was falling but later realised that I should have gone lower as the end result wasn't what I expected.
The budding writer in me with a pencil spelling the word, fun!
One part of the exhibition, the Emotion Box, had a rather dark side where it was dark with strobe lighting and smoke effect. Sophie got a little creeped out especially when the sculpture looked a bit more abstract.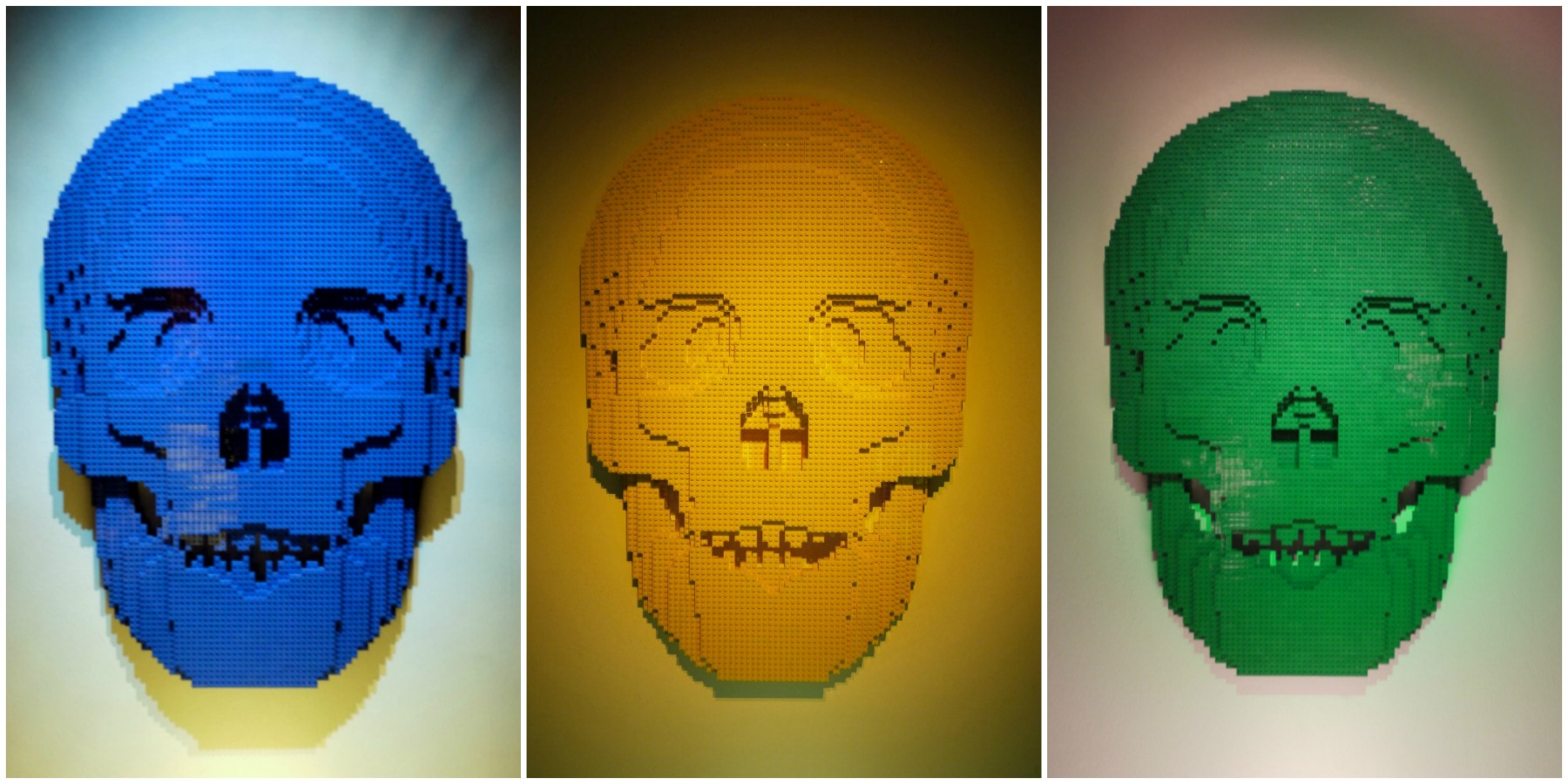 The familiar skull that reminds us of the many dangers in life
The piece on ascension was a good reminder for me especially since it's Good Friday today. Where will you go after you die?
Here I captured the main sculpture with the three shadows behind as I was instantly reminded of the scene where Jesus died with the two robbers on his left and right.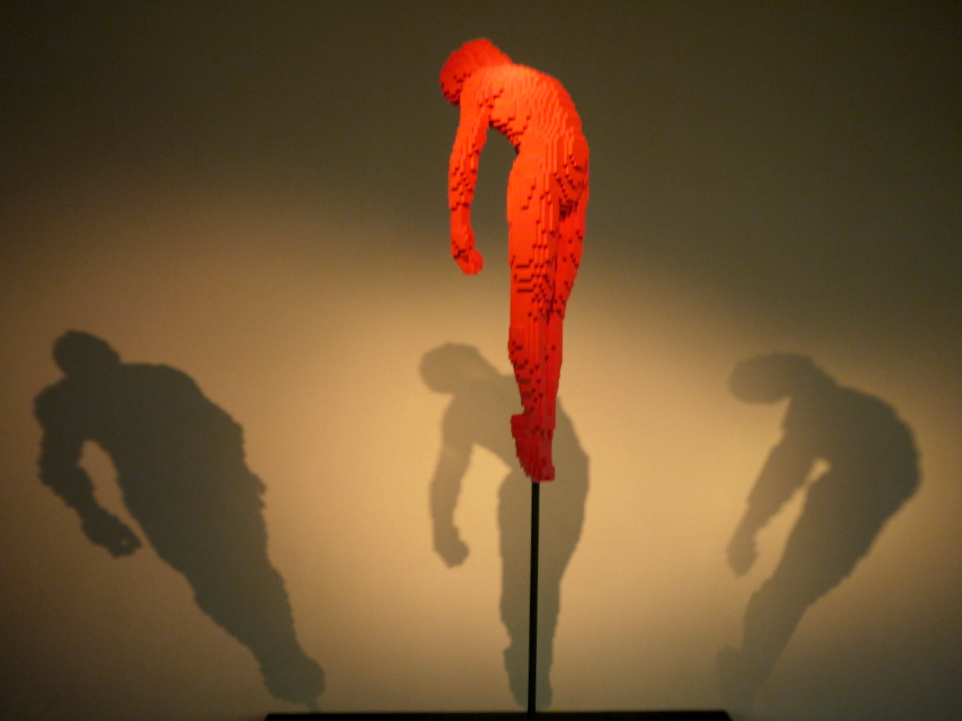 Finally we reached the last sculpture that had me spell bound. A 6 meters long T-rex dinosaur skeleton. How one can even imagine to create this from Lego bricks is just pure genius!
We stayed there for quite a while as I marvel in awe. I'm sure, little boys who are dinosaur lovers will be thrilled so see this.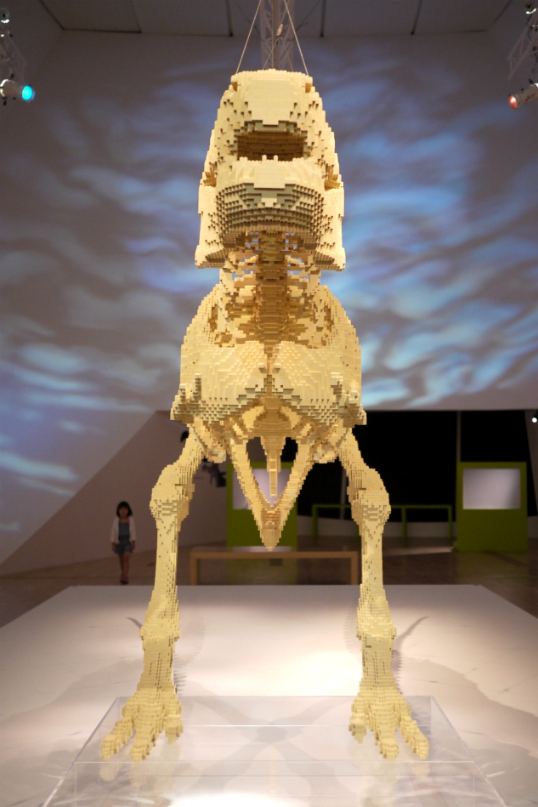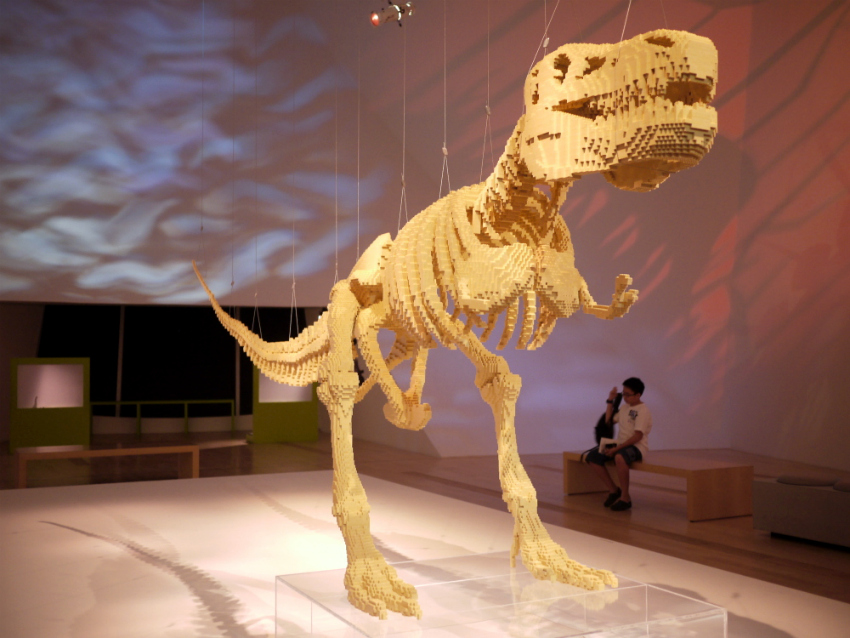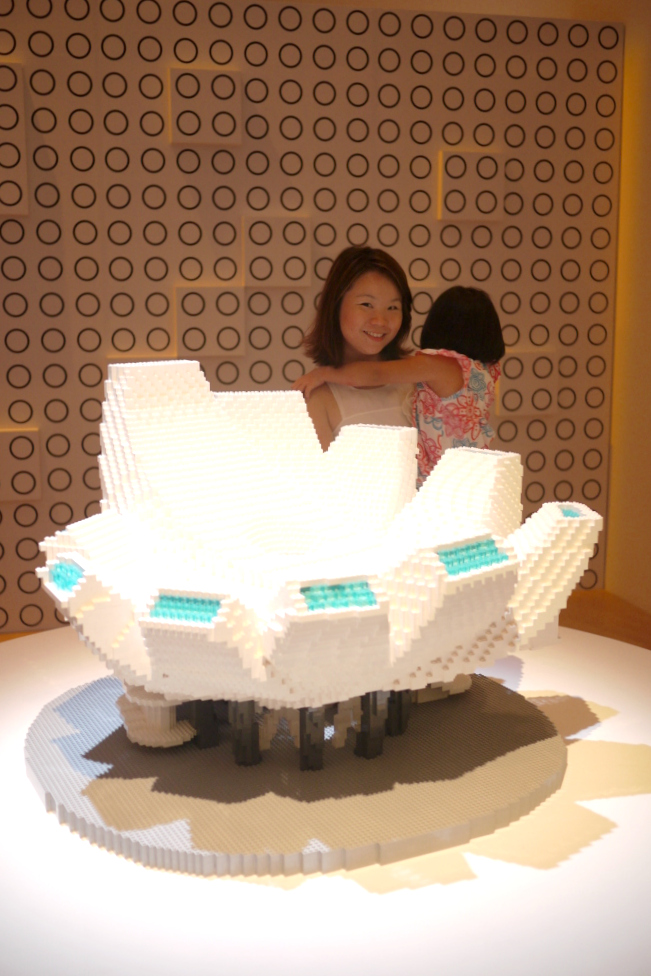 We got to see the sculpture of the ArtScience Museum, which was the first time it has gone on displayed.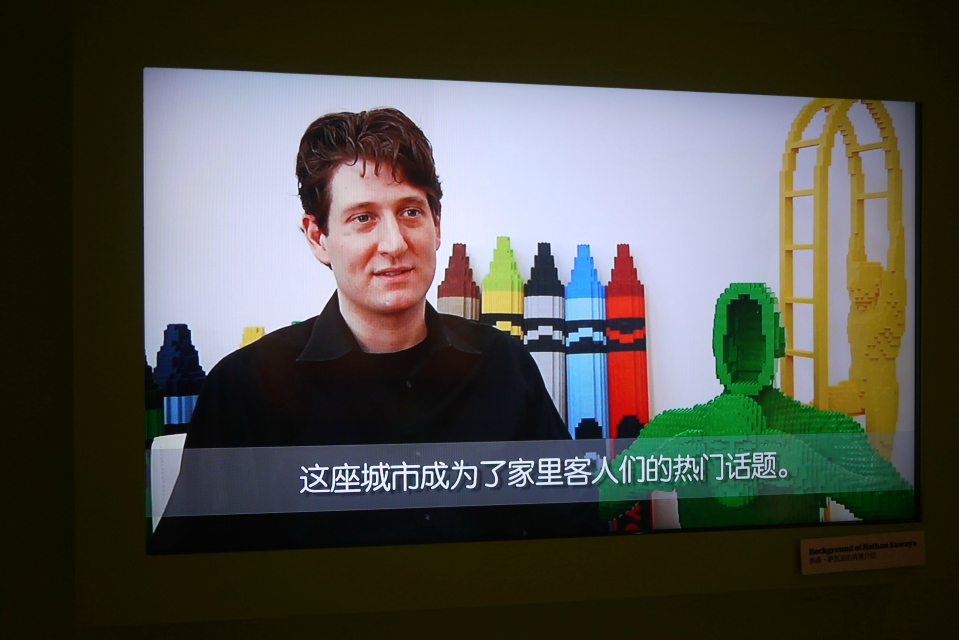 The man himself, Nathan Sawaya
At the end of the exhibition, there is an activity corner where kids can finally have their go at creating their own Lego masterpiece.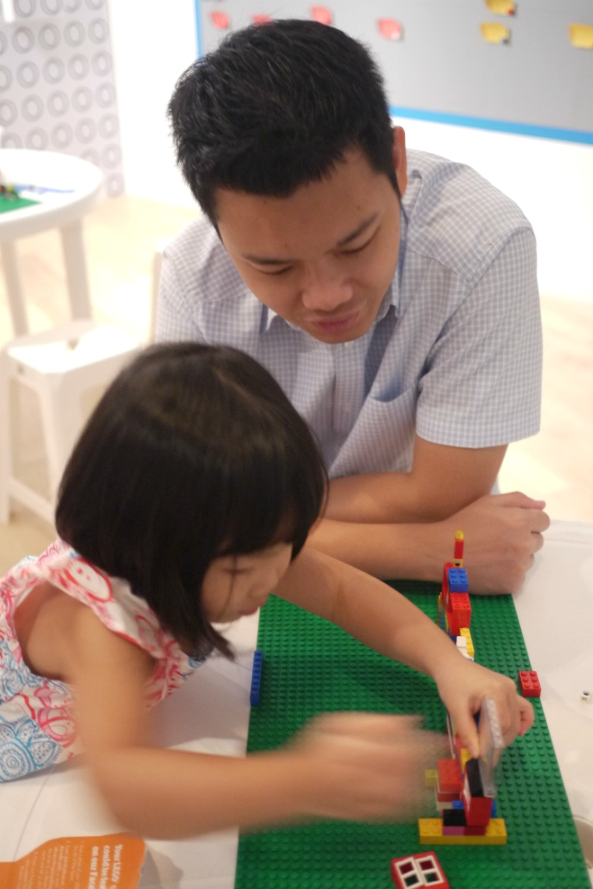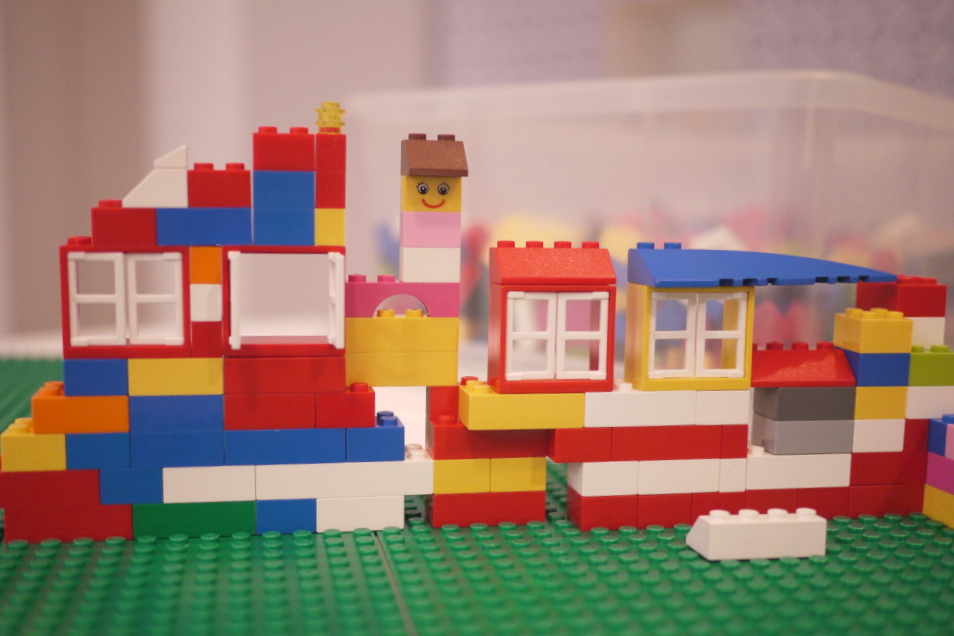 Sophie and her colorful house. Can you spot her?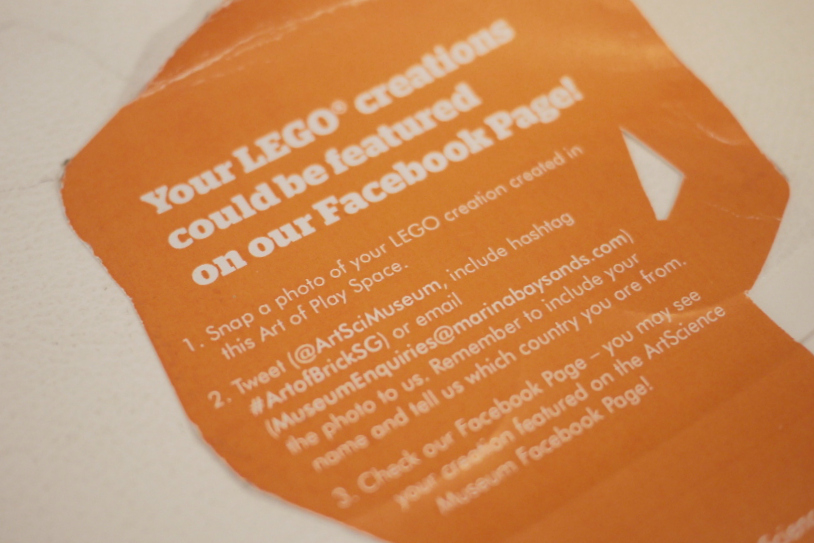 Enter your Lego creation by tweeting to @ArtSciMuseum and your picture may be feature on their Facebook 🙂
We all hate stepping on Lego pieces sprawled around the floor, but this was a pretty interesting foot reflexology.  Here's another interesting angle where I took the photo by strategically placing Sophie's shoes near the message and captured her from a distance. This is one of my personal favorite from that afternoon.
As we were there on a Saturday, they also held  activities such a playing with patterns and a stop motion video workshop.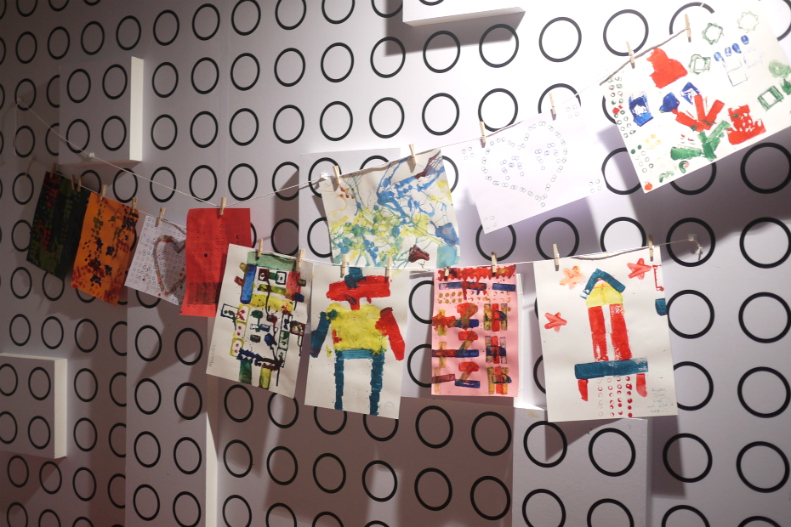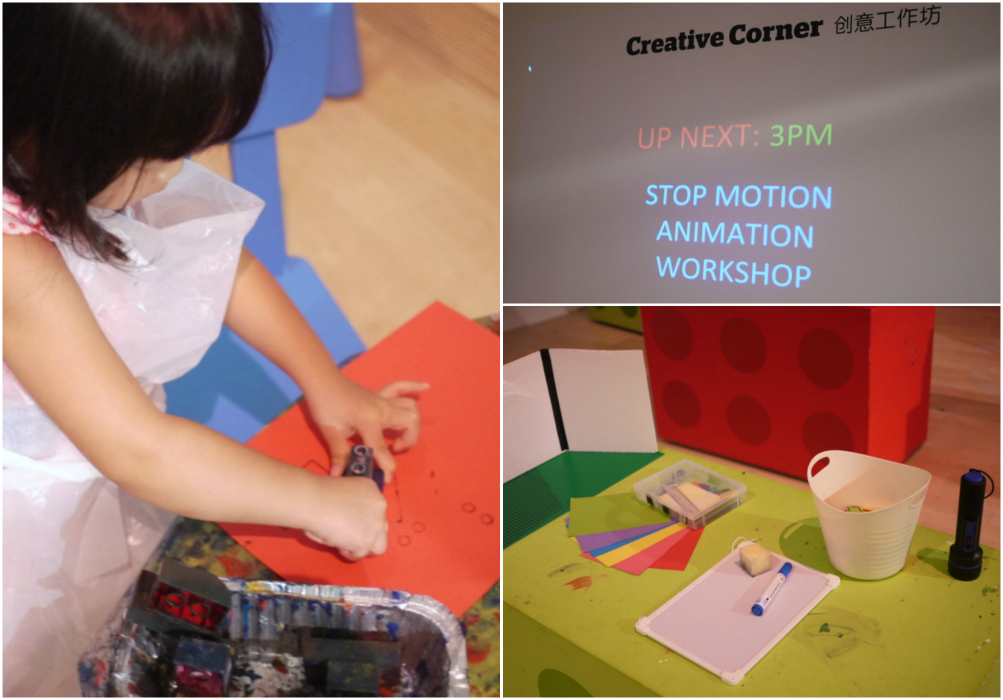 Painting with lego pieces
I left the Art of Brick exhibition with a sense of wonder and awe at how far one's passion can take you if you put your whole heart in it and chase after your dreams. I'm also inspired to be creative and that afternoon I felt like I've done it by pushing myself to look for interesting angles to capture my photos.I'm challenging myself to be more creative and imaginative and hopefully encourage Sophie to do the same too.
The Art of the Brick exhibition is now extended till 26 May 2013. So if you haven't seen the exhibition, I strongly recommend that you do. It's a fantastics exhibition that will be enjoyed by the whole family.
I ending this post with a quote that I love from the exhibition.
When Nathan is asked what his favorite piece is, he often answers, "The next one!"
Details of the Exhibition
Date: 17 November 2012 – 26 May 2013
10am to 10pm (Last admission at 9.00pm)
Venue: ArtScience Museum at Marina Bay Sands
Price: (Exclude booking fees)
Adult – S$14 (Locals -S$12)

Child (2-12 years) – S$8 (Locals – S$7)

Senior Citizen (65 yrs & above) – S$13.00 (Locals S$11)
* Disclaimer: This is not a sponsored review. All opinions expressed here are my own.
Tagged: family friendly, Singapore, Weekend activities