When it comes to encouraging creativity in our kids, the possibilities are limitless. While creativity is conventionally encouraged in subjects like art and music, I recently came across a new medium where kids can exercise their creativity with their T-shirt with the Tangram Tee.
Tangram Tee
The Tangram Tee is an innovative T-shirt that gives kids the freedom to come up with their patterns and design on their tee with pieces of Tangram. When I first heard of the idea, I thought it was such a clever idea to use a T-shirt as a canvas to showcase their creations. Just imagine the possibilities you can come up with!
Educational Benefits of Tangrams
If you're unfamiliar with Tangrams, it's an ancient Chinese puzzle that comprises of seven pieces of three geometric shapes – two large, one medium and two small triangles, one square and one parallelogram.
Research has shown that there are many benefits of playing with Tangram, from developing problem-solving and logical thinking skills to visual-spatial awareness, mathematical concepts and of course creativity.
And the beauty of Tangrams, is that it caters to a wide variety of ages. So for young kid, its a way to practice hand eye coordination and hone their fine motor skills as they manipulate the pieces to from pictures from the given examples. For older children, it helps to spark their creativity as they attempt to invent their own unique patterns and design.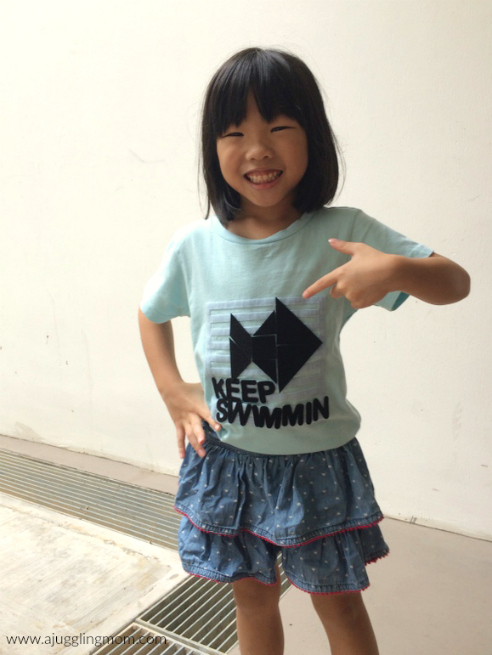 Our experience with Tangram Tee
When we got our Tangram Tee, it came in a foiled packaging with the pieces of Tangram accompanied by packets of alphabet in Fairy Fuchia and Sesame Black.
The front of the T-shirt has soft-loop strips which functions as a canvas to stick the velcro tangram pieces as well as the letters. The pieces do stick on well but we did lose a letter "L" the first time Sophie wore it out, so now we're extra careful to make sure they stick on well.
For Sophie, she was more comfortable following the designs that were given while I incorporated quotes to go along her designs. Some of the given designs proved to be more challenging than others and in the process, her patience was also put to the test as she had to carefully manipulated the pieces to get them to fit while I encouraged her on the side.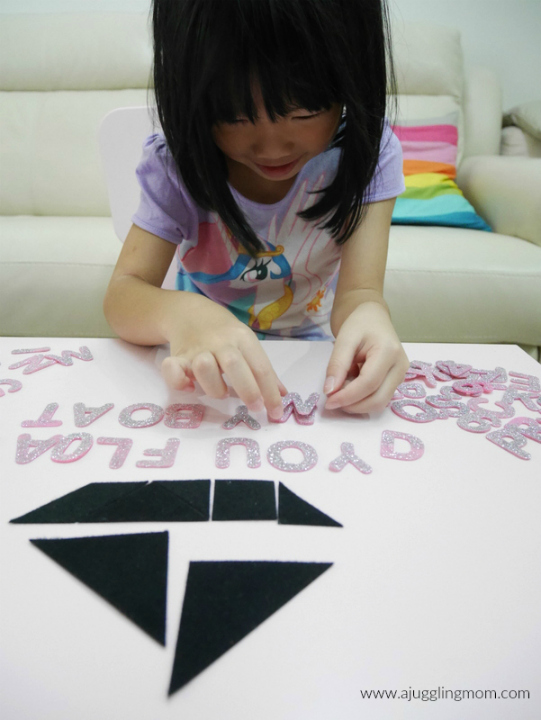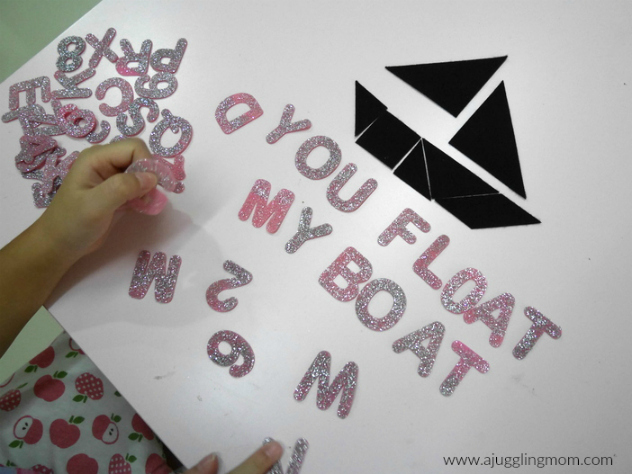 And needless to say, the satisfaction of achievement was written all over her face when she successfully managed to piece the puzzle together to her desired pattern.
What a boost of confidence to wear her creation with pride!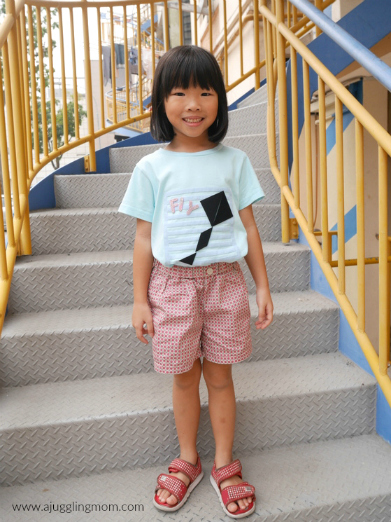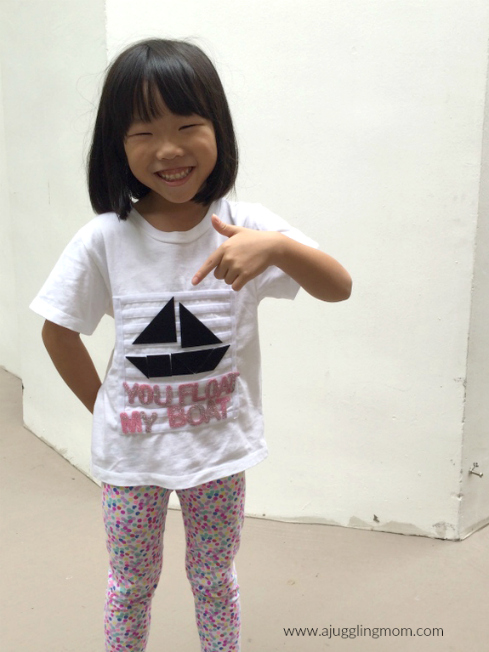 Interested to get your hands on the Tangram Tee?
You can place your here at Fabricate and we've got a discount code for all readers. Every purchase of a t-shirt comes with an additional free set of alphabets.  Just enter the code 'SECRET12' at checkout.
– – – – – – – -– – – – – GIVEAWAY FOR A JUGGLING MUM READERS – – – – – – – – – – – –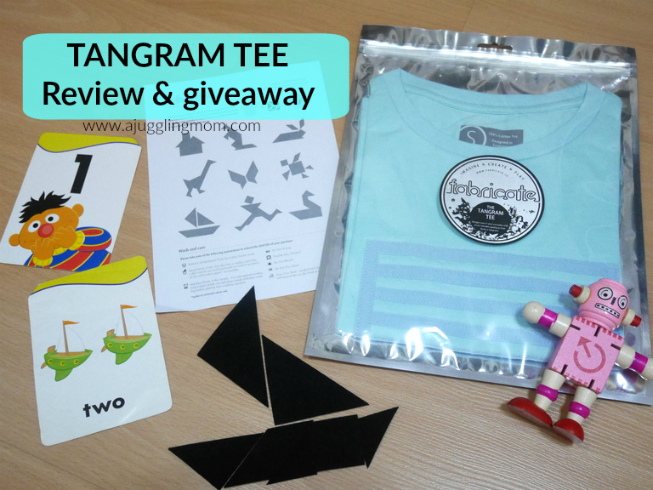 Thanks to Fabricate, my very kind sponsor, they are also giving 3 readers a chance to get your hands on these Tangram Tees! Each Tee is come along with a set of tangram shapes and a set of alphabets (Worth $37!).
To participate in the giveaway, simply follow the steps below:
1. Like A Juggling Mom on Facebook
2. Like Fabricate on Facebook
3. Like this Facebook post and
– leave a comment on why you'll like to win the Tangram Tee and
– tag 2 other friends to share this giveaway
Please note:
Giveaway ends on 14 November at 23:59pm
Only readers residing in Singapore is eligible for this giveaway
Winners will be notified via email and have 24 hours to respond to email otherwise a new winner will be drawn
All false FB accounts will be disqualified from the giveaway
Double your chance of winning the Tangram Tee and take part in the giveaway hosted by Mum in the Making too!
 A Juggling Mom, Beanie N Us, and Dinomama are pleased to bring to you a series of giveaways leading into December! Please remember to share and like our pages to keep abreast of our giveaway lineup!
* We were sponsored Tangram Tees to write this review. No monetary compensation was received. All opinions are honest and are my own.