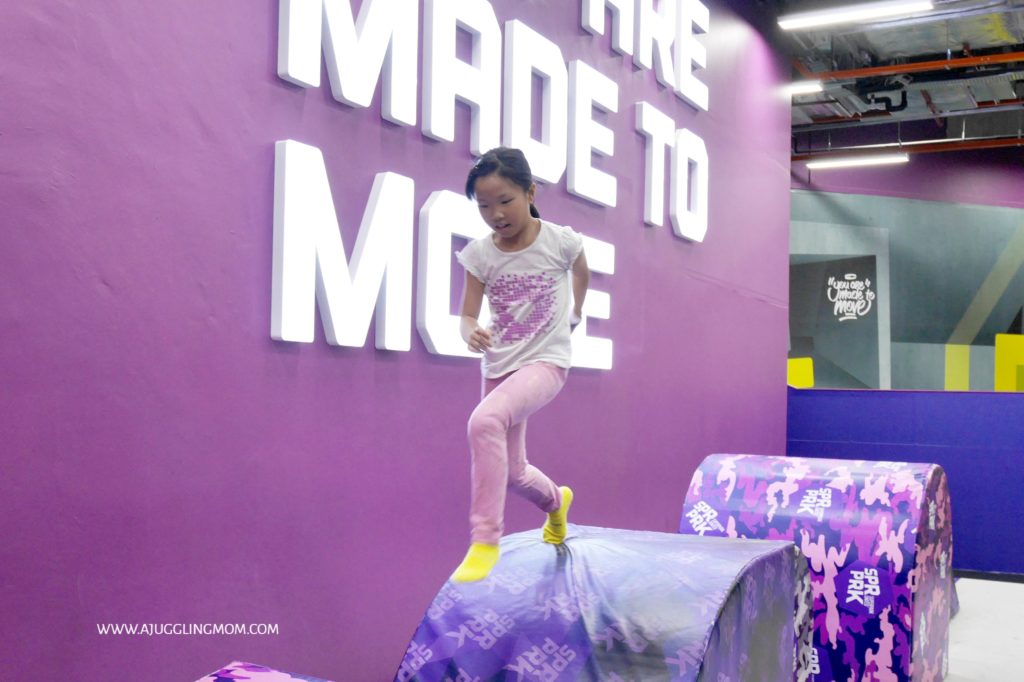 "Superpark means super fun right?"
Sophie shot me this question cheekily when I told her we were going to SuperPark.  This girl had her expectations way up high for her visit to Superpark Singapore and Sophie certainly was not disappointed.
Spanning 40,000 square feet over two levels (level 1 and 2) in Suntec City Mall, this all-in-one indoor activity park from Finland gets our stamp of approval!
Not only is it indoors and fully air-conditioned (YEAH!), it is humongous with over 20 fun and wholesome activities where both young and young at heart can have an adrenaline-charged time together no matter rain or shine.
For Sophie who's soon turning 10, this park is perfect as she has long outgrown kiddy indoor playgrounds and there are SO MANY activity options in SuperPark to choose from.
I am absolutely sold by their #madetomove tagline, which is what our little digital natives and quite frankly we as parents need to be encouraged to do more of as well. Best of all, SuperPark is not only for the kids and youths as it has been purposefully built for all ages to join in the fun and stay active.
So yes parents, forget about watching your kids from the side and jump into action to get moving with the kids.
#MADETOMOVE
So where do we get started? Let me take you on a tour with a review of the activities and find out which made it to Sophie's top 5!
SuperPark Activities on Level 2
Once we entered the park, Sophie made a beeline for the Pedal Car which is always a hot favourite.
The pedal cars come in varying sizes for kids (min 95cm) and adults alike, so everyone gets to experience life in the fast lane together.
Go as fast as your legs can take you, after all your legs are the engines of the car.
Once Sophie warmed up after a few rounds on the track, she wasted no time and tried Super Bowling.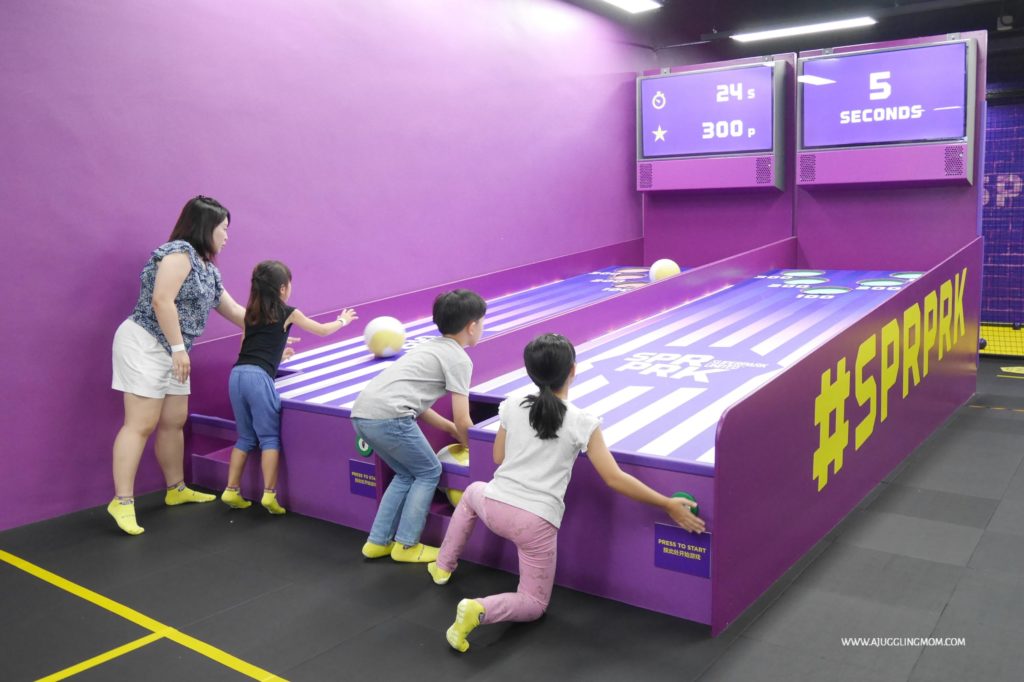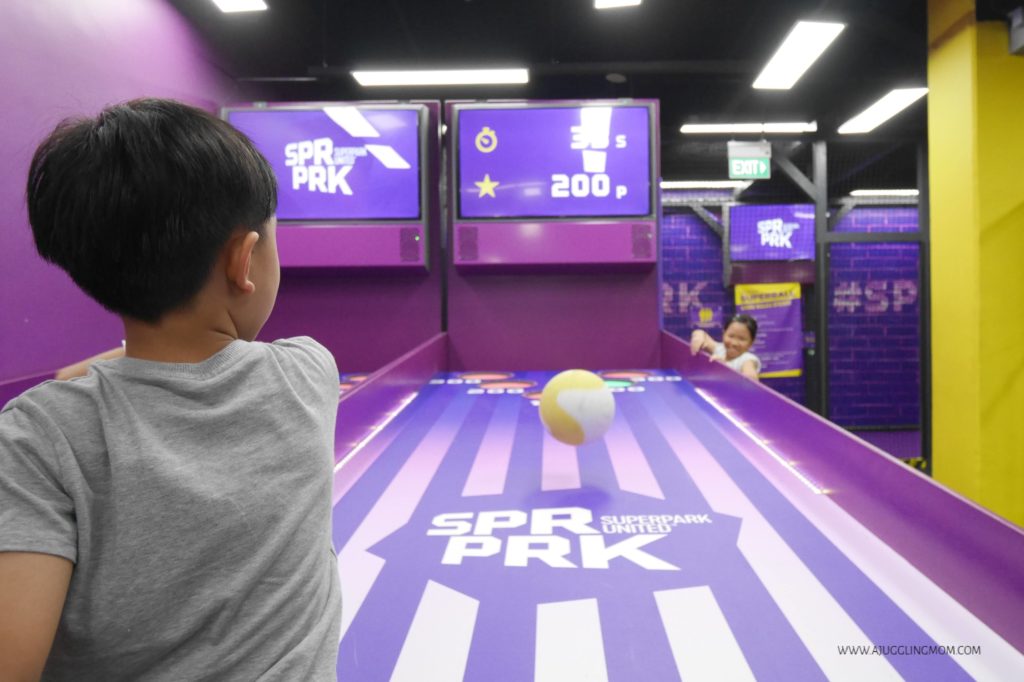 There are no pins to knock down, instead you have to roll a ball up the inclined platform to score for your team. This is a great game for some side-by-side friendly competition with lots of laughter!
Speaking about laughter, we had a side-splitting and exhausting game of Superball where it was mummies vs kids. The aim of the game is to shoot as many goals on your opponent's board within the time limit.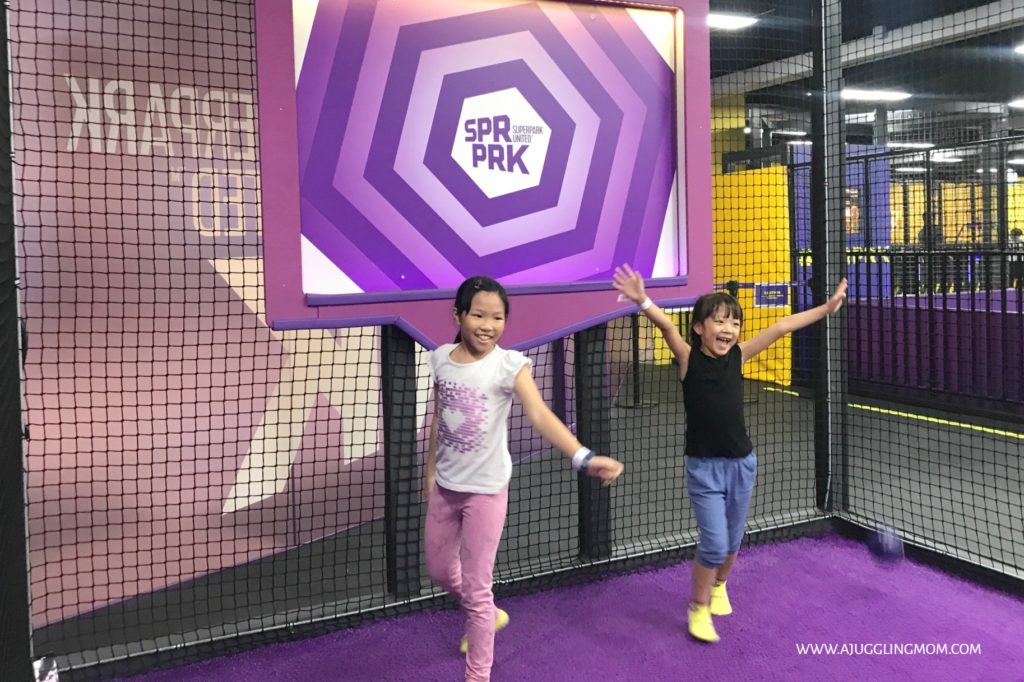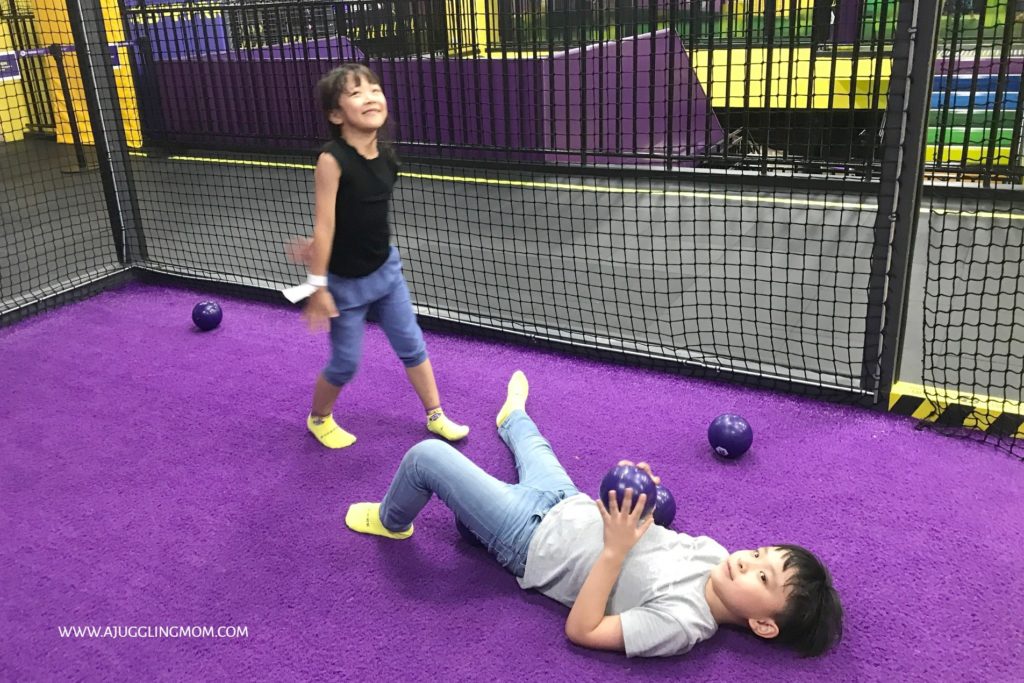 We went wild shooting goals and dodging balls as the timer counted down . Suffice to say, this was not a quiet game at all and we came out with very flushed cheeks and a bellyache from all the laughing.
SuperPark Activities on Level 1
After being all pumped up, we headed down to level 1 where Sophie caught sight of the Flying Fox! Being one who never says no for a zipping good time, Sophie went on it so many times that I lost count. Even knocking down the foam blocks at the end was fun for her.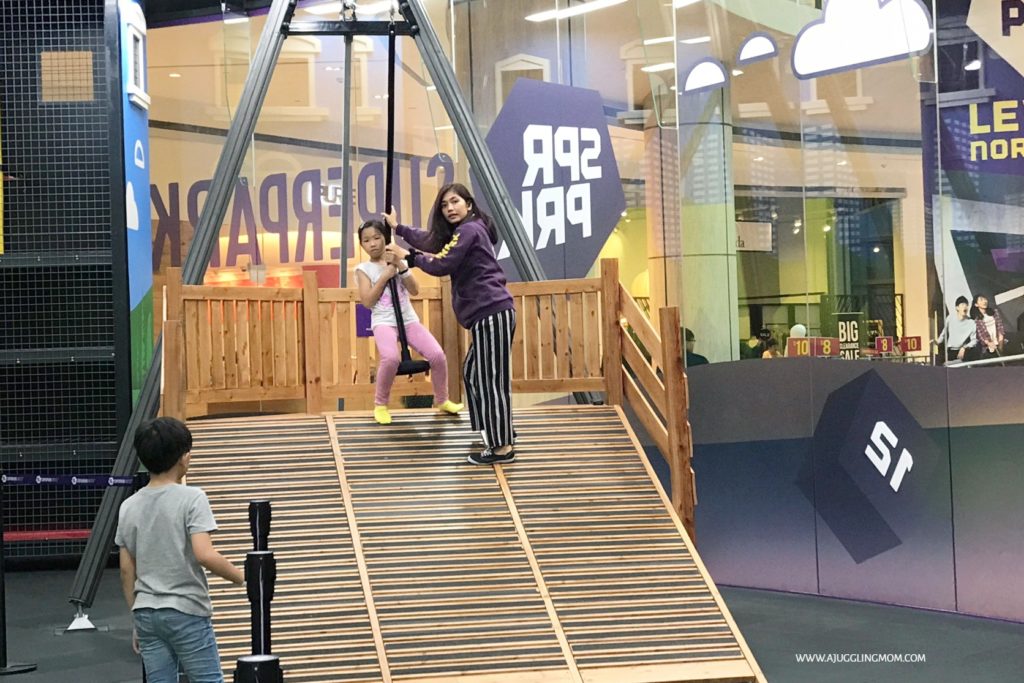 Her only gripe – that it would speed up a bit more for this little adrenaline junkie.
The Tube Slide is another must try activity where you'll find yourself on repeat mode as once is not enough! After dragging your tube-tyre up the hill, you get to slide all the way down and according to Sophie it's most fun when she got spun around!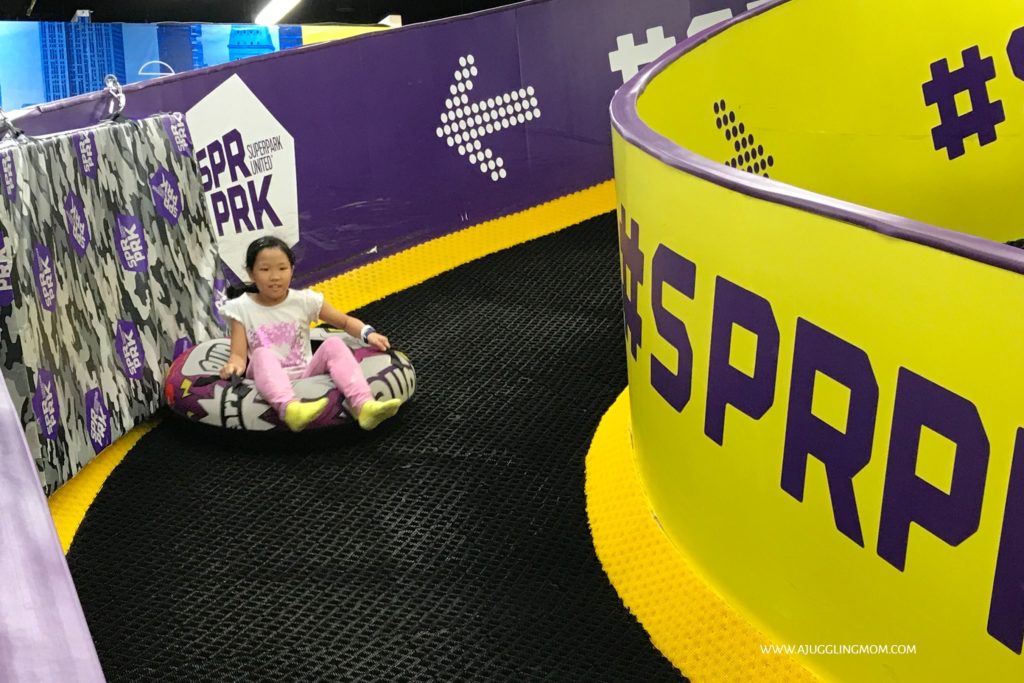 As Sophie has outgrown indoor playgrounds calling them babyish, I assumed she would have little interest in Adventure City, but I was so wrong.
As you can see from the photo, the ceiling is a lot higher in this play structure and I even spotted adults in the tunnel.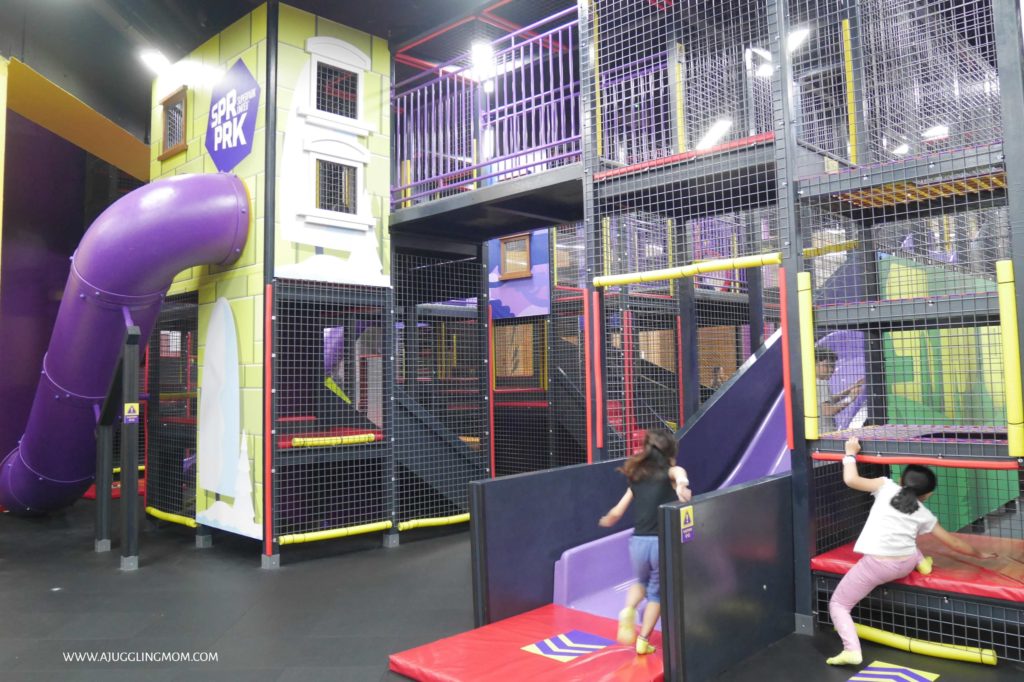 Sophie climbed up and down and squirreled through tunnels and towers while playing a game of hide and seek. The kids were so lost in their game until we announced that they can bounce to their heart's content at the Trampoline.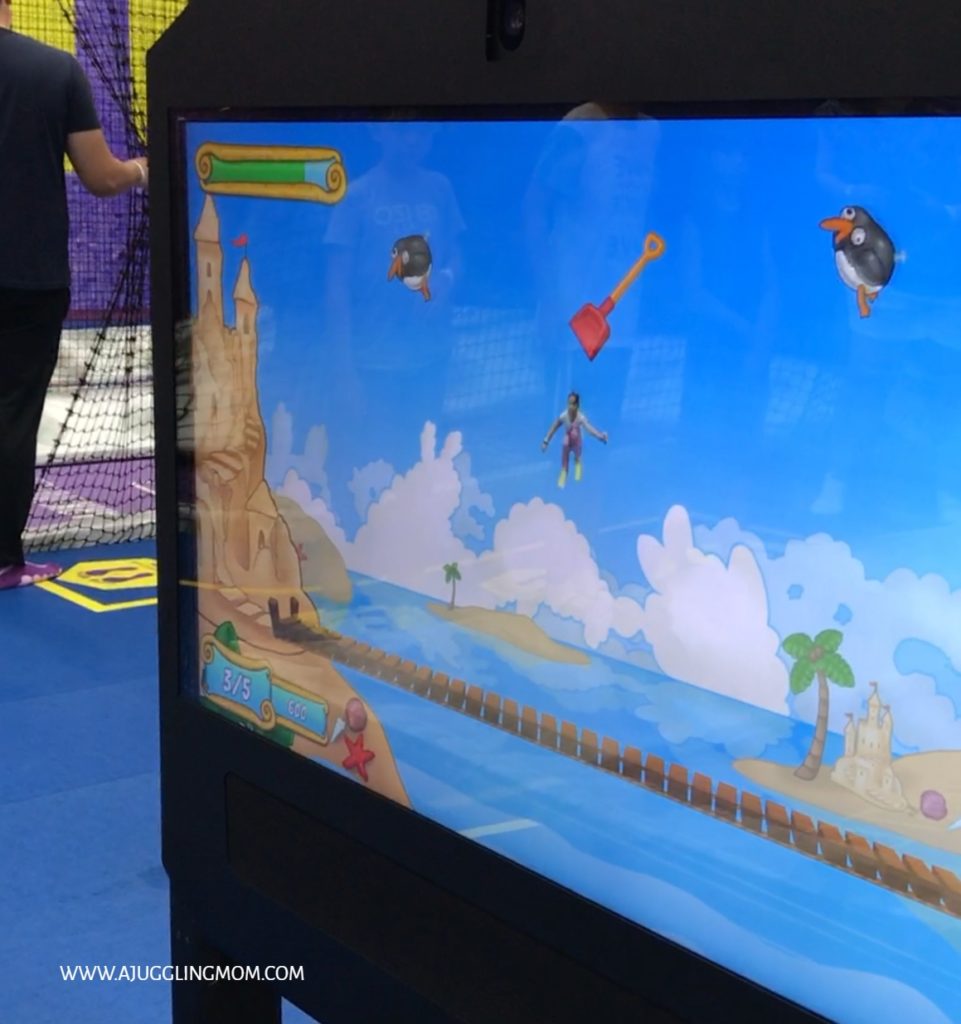 Besides the conventional trampoline, there is an interactive game, Valo Jump where Sophie got a chance to be an avatar in the game! How cool is that. I don't think I've seen her bounce so high before, so clearly the idea for this game is ingenious!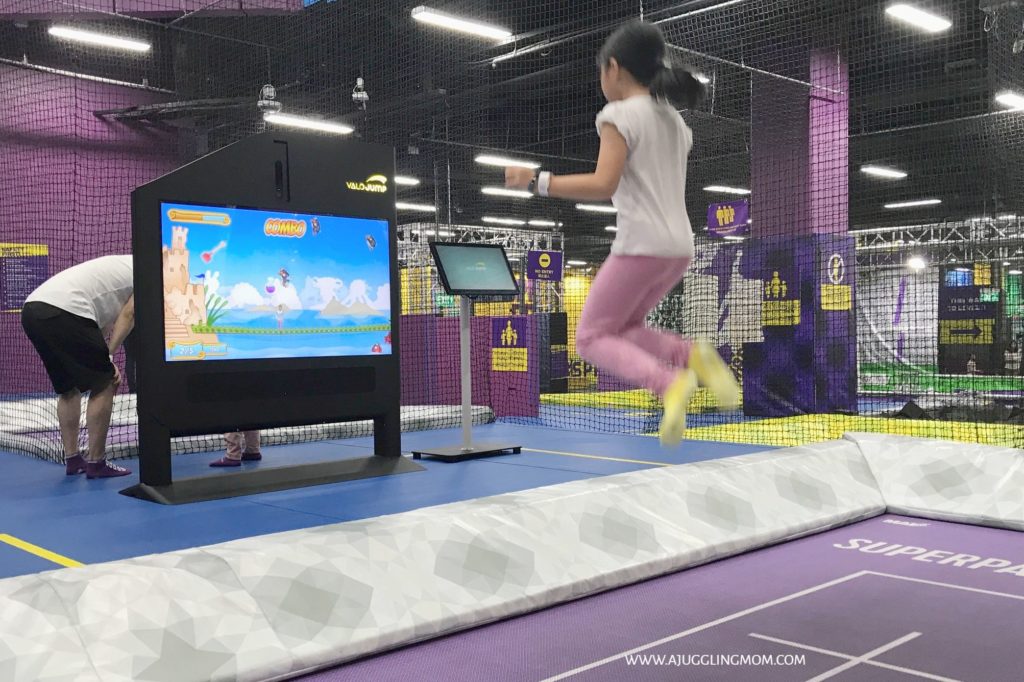 For toddlers, there is a separate Trampoline area for little ones with a height restriction of maximum 120cm so your preschoolers wouldn't miss a thing here.
Have a go at the Rock Climbing Wall, which isn't as easy as it looks! For the more adventurous ones, try Clip N Climb to scale up the wall. Covered shoes are required for this activity.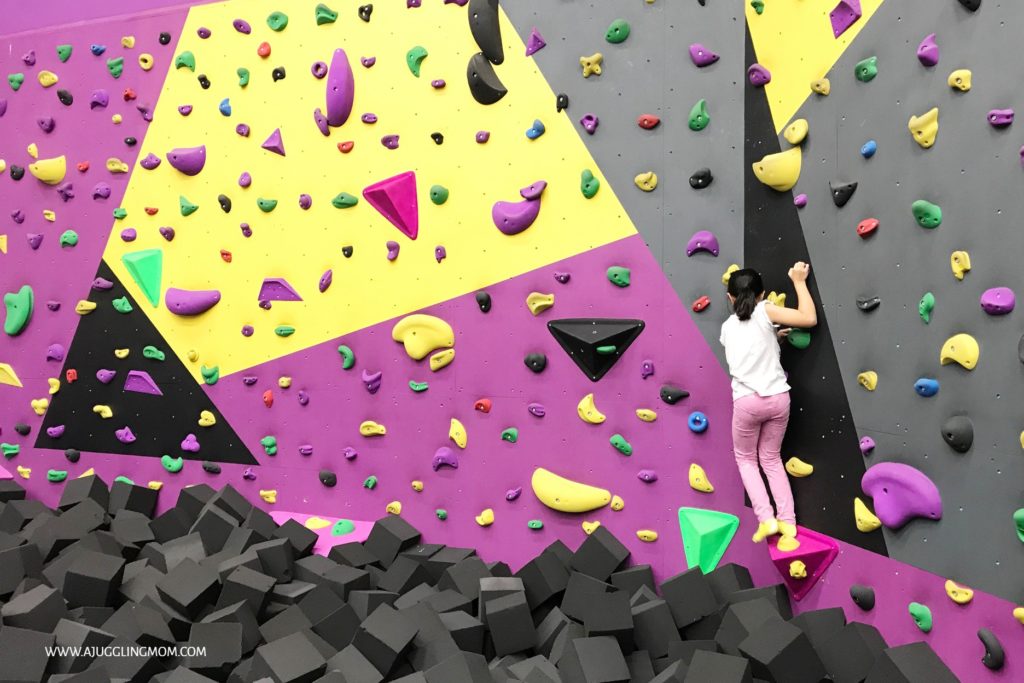 The Augmented Climbing Wall was a fun activity where the wall turned into a video game and the children had to whack the bats on the wall. A test of their reflex and agility which they passed with flying colours.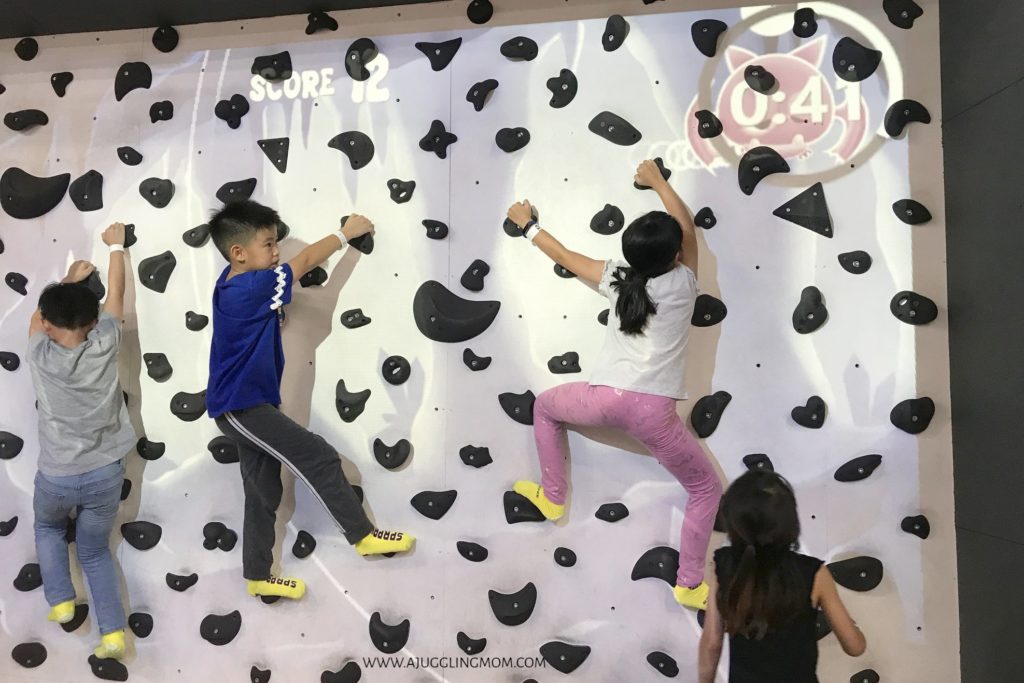 The Ninja Track may look unassuming, but the kids soon realised that the obstacle course posed a fair bit of challenge especially on the hoops at the end.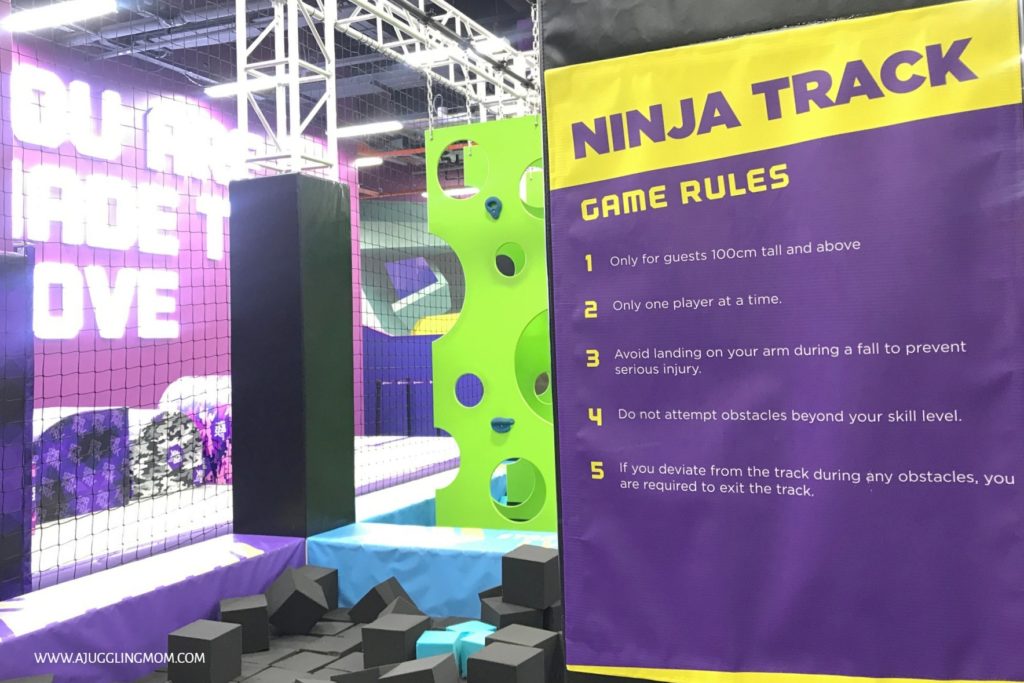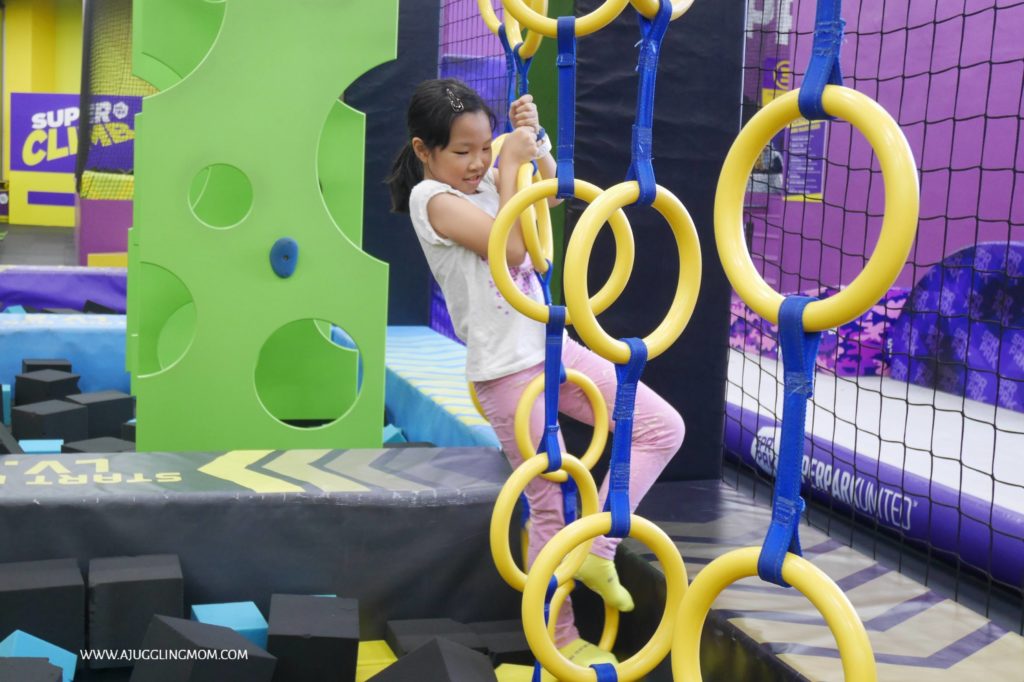 Watching Sophie pick herself up after falling a few times and overcoming obstacles in her way with determination in her eyes made me proud as I cheered her on from the side.
If you've always wanted to try skateboarding, you can give it a go at the Skate and Scoot World. Safety equipment like helmets and guards are all provided and you'll need to be in covered footwear.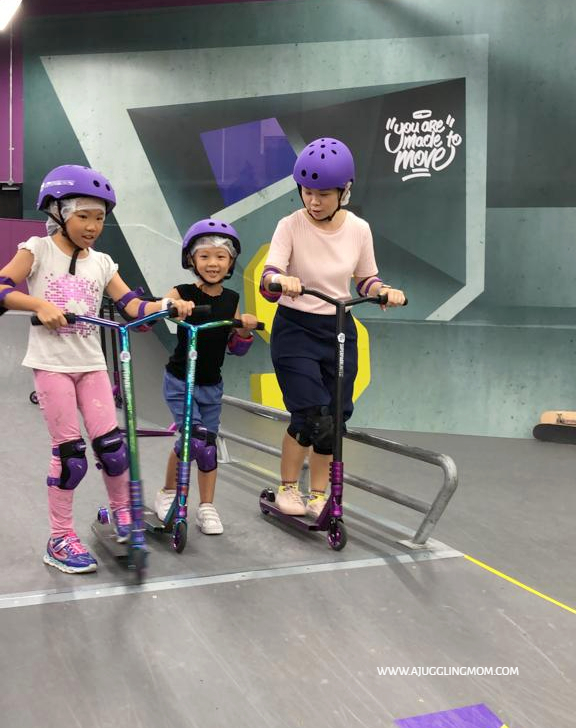 I liked that there are slopes of varying gradient so you can try skateboarding or scooting on what feels comfortable for you. There was also a staff who gave us some helpful tips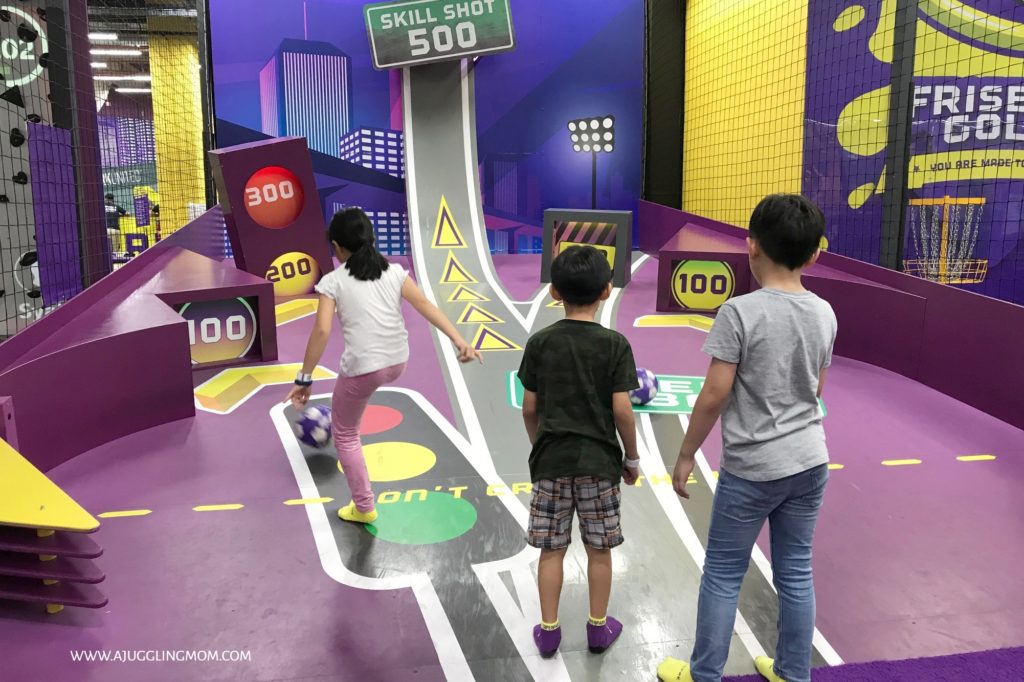 Experience what it feels like to be in a human size pinball game in Super Pinball.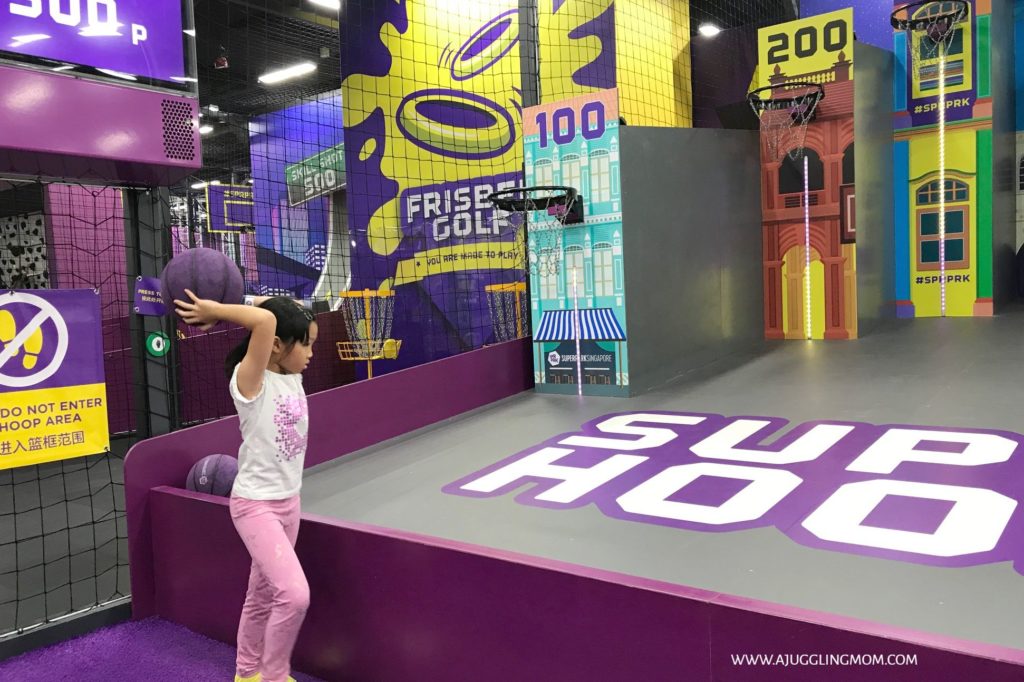 If basketball is your thing, then head to Super Hoop to show off your nifty moves shooting hoops.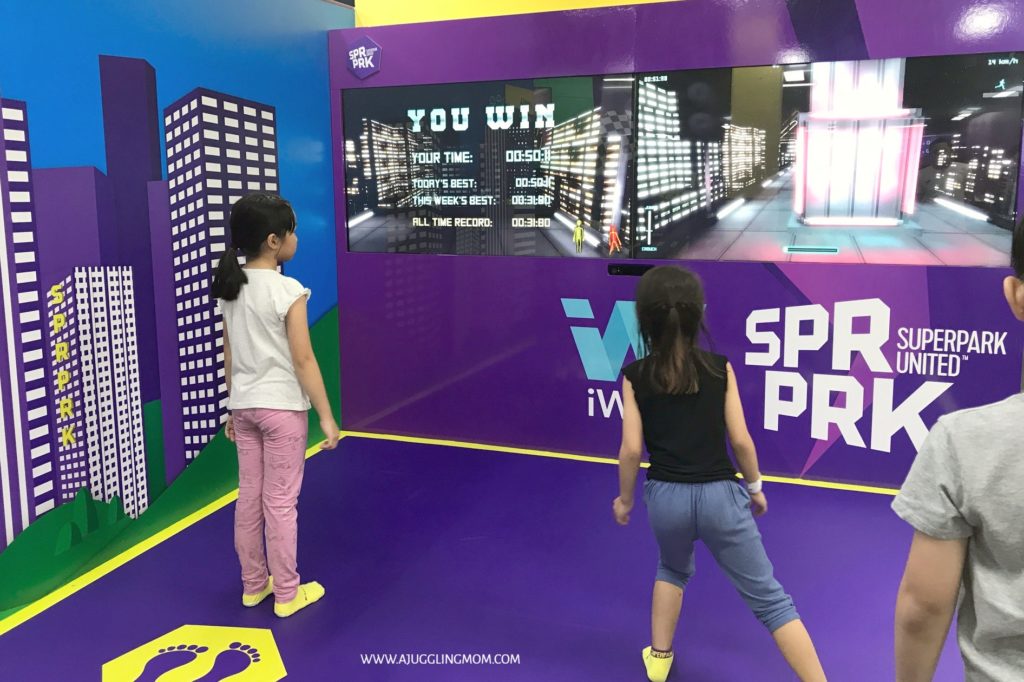 Before we left, I asked Sophie for her top 5 picks and they are the Flying Fox, Tube Slide, Superball, Valo Jump and Pedel Car! As a mum, I really like that SuperPark encourages families to have a fun and enjoyable time together through the power of joyful play.
If you are a family with kids of different ages, it's always a challenge to find something that suits everyone. But here, you are spoilt for choice and everything is all under one roof. Plus you don't even have to make any wet weather plans for a fun time together. We foresee ourselves coming back with more friends and with Daddy too!
SuperPark Singapore Ticketing Information
Same ticket price applies for adults and kids and children under 3 years old may enter for free.
Prices for SuperPark passes in Singapore are as follows and visitors can get more information and book their tickets online at https://www.superpark.com.sg/.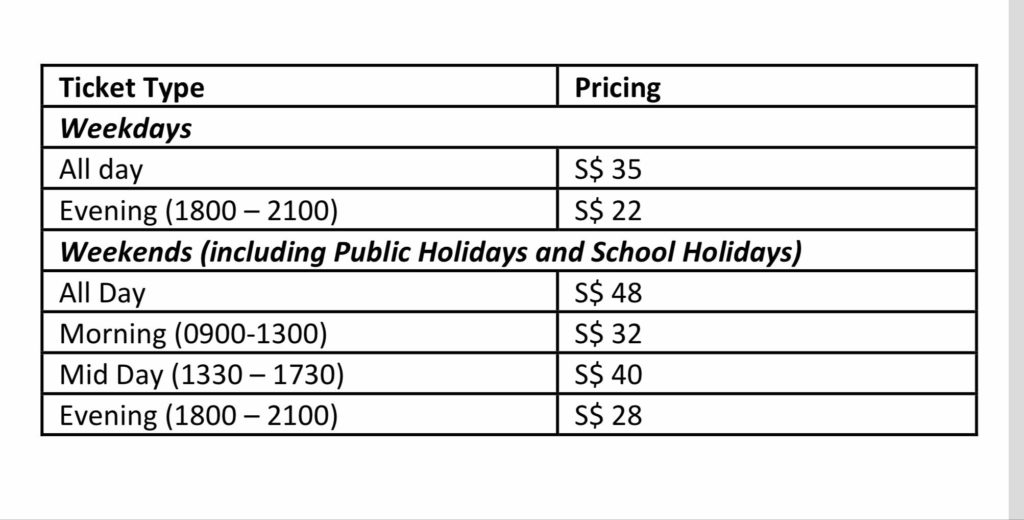 Address:  #02-477 Suntec City Tower 1 (North Wing), 3 Temasek Boulevard
Opening hours: 10am – 9pm (Mon – Fri) & 9am – 9pm (Sat, Sun, Public & School Holidays)
Website: www.superpark.com.sg


 

– – – GIVEAWAY TO WIN TICKETS TO SUPERPARK SINGAPORE (CLOSED)  – – –
Thanks to our sponsor SuperPark Singapore , I'll be giving away 2 pairs of regular day tickets, where you can experience all these activities in SuperPark!
To participate, simply:
1. LIKE & SHARE this post (profile must be set to public).
2. LIKE SuperPark Singapore & A Juggling Mom Facebook pages.
3. LEAVE A COMMENT on which ride you're most excited to take and TAG 3 other friends to share this giveaway with them.
This giveaway is open only to those residing in Singapore & closes on 22 March. Steps 1-3 must be completed to be eligible for the giveaway. All the best!
I'll be picking one winner from Facebook and one winner from my Instagram (@ajugglingmom) so do take part there to double your chances of winning!
Take note:
2 winners will be randomly chosen from Facebook and Instagram and winners will be notified via email or direct message.
Prizes are regular day tickets which cannot be used on weekends and school holidays.
This giveaway is only open to all readers residing in Singapore. This giveaway is by no means endorsed, administered or affiliated with Facebook or Instagram.
*  A Juggling Mom was invited to SuperPark Singapore to write this review. No monetary compensation was received. All opinions and photos are mine.