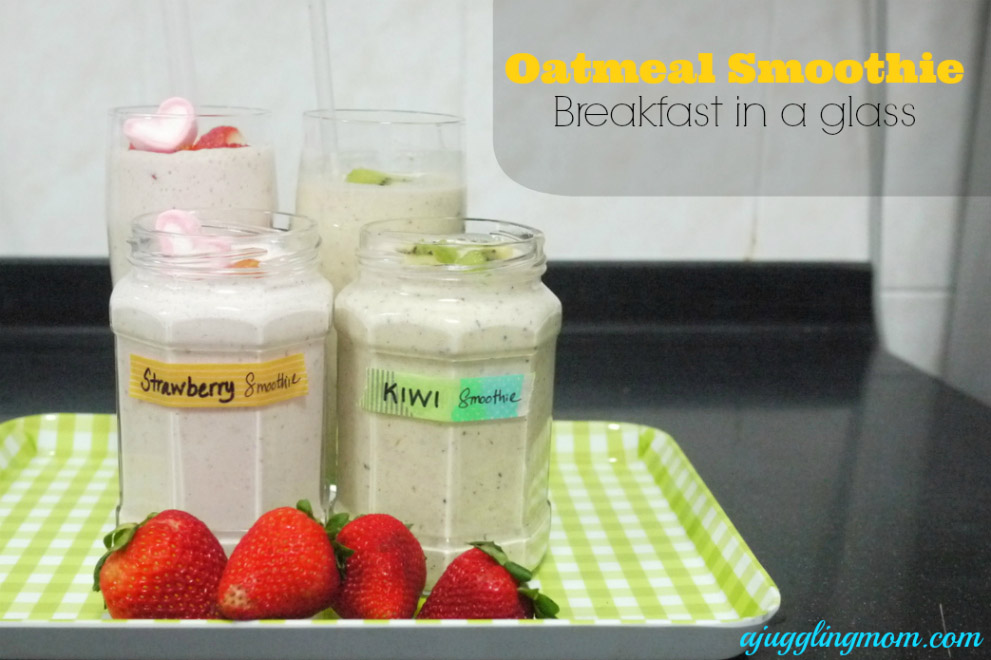 One of the things I struggle with as a working mum is preparing healthy meals. When I embarked on my journey to eat healthy last year, I would plan my menu in advance and put in extra effort to stay up late to pre-cook my week's meals beforehand after tucking Sophie to bed. But slowly, I got lazier so it was back to dining out and packing food. While we may have a lot of dining options, they tend to be MSG laden which made me lethargic and slowly I started to put on the weight that I had initially lost.
I know that in order to make any changes to my body, 80% has to do with what I feed my body. And the most important meal is breakfast. Besides having my corn crackers, another thing that I've incorporated into my breakfast is a healthy and wholesome breakfast in a cup – oatmeal smoothie. Thanks to my new blender, making smoothies are now oh-so easy.
First, an introduction to my new gadget in the kitchen, the Philips Jamie Oliver Blender.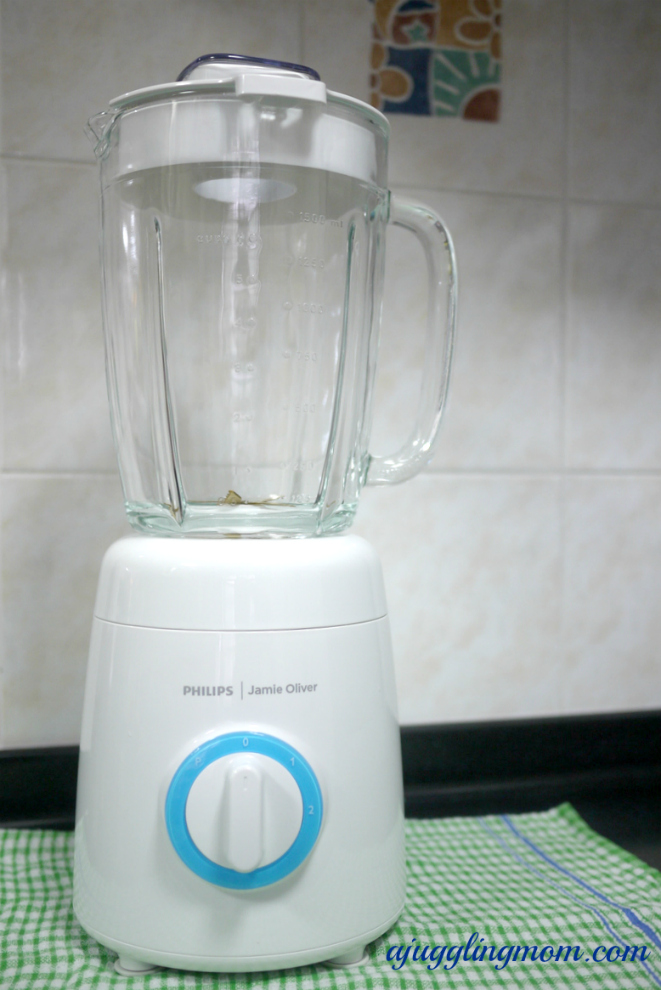 Jamie Oliver is no stranger when it comes to cooking. So it's no rocket science when Philips teamed up with Jamie Oliver, who by the way is still looking yummy, to bring a series of kitchen appliances ranging from blender to food processor and hand blender to help whip up fast and easy meals for the family.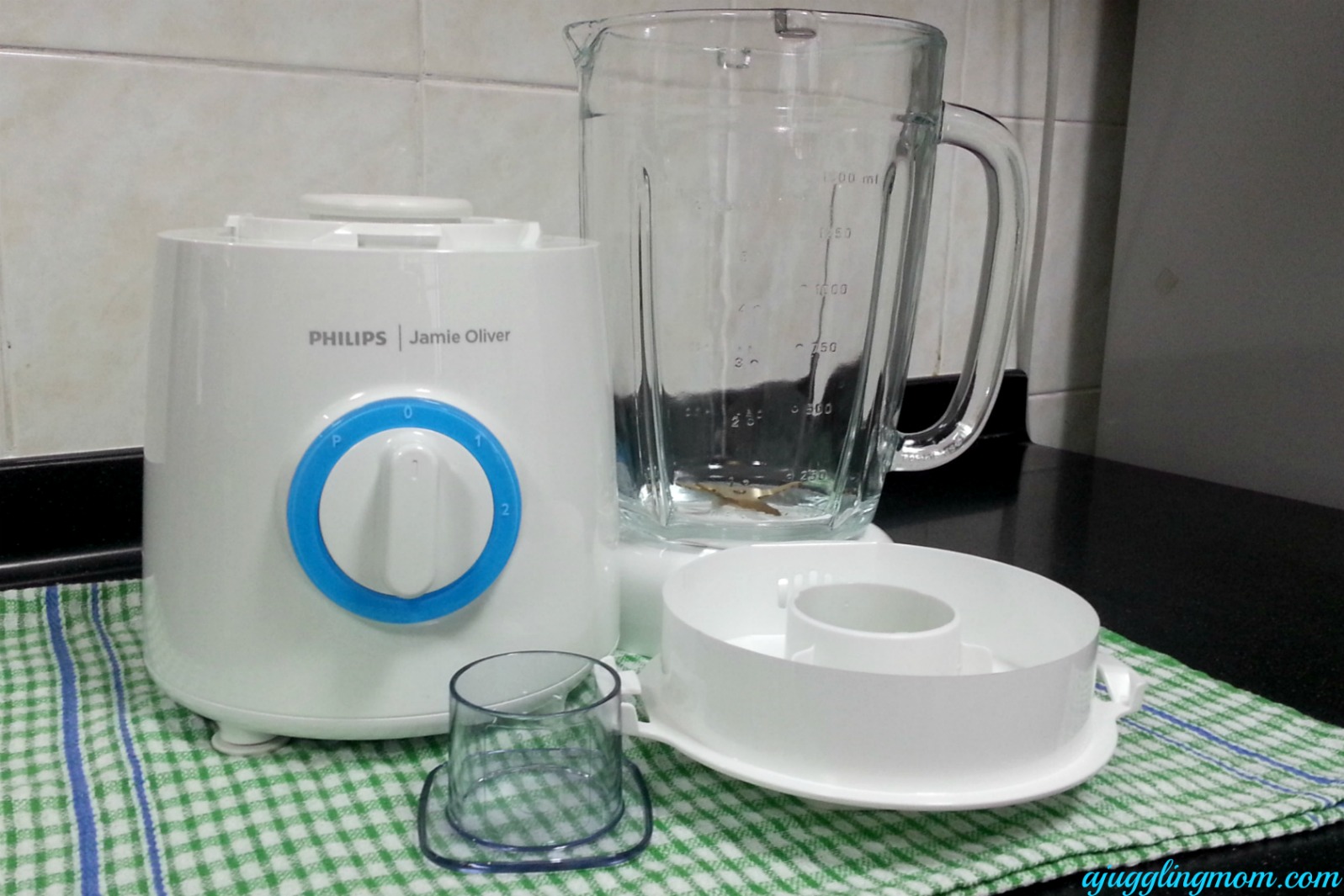 I like how simple it is with just 2 speed options and a pulse setting. Unlike other blenders, the jar for this Philips blender is made of thick glass which makes washing up a breeze. But more importantly, it doesn't absorb smell or colours, so I may even attempt to make beet root smoothies!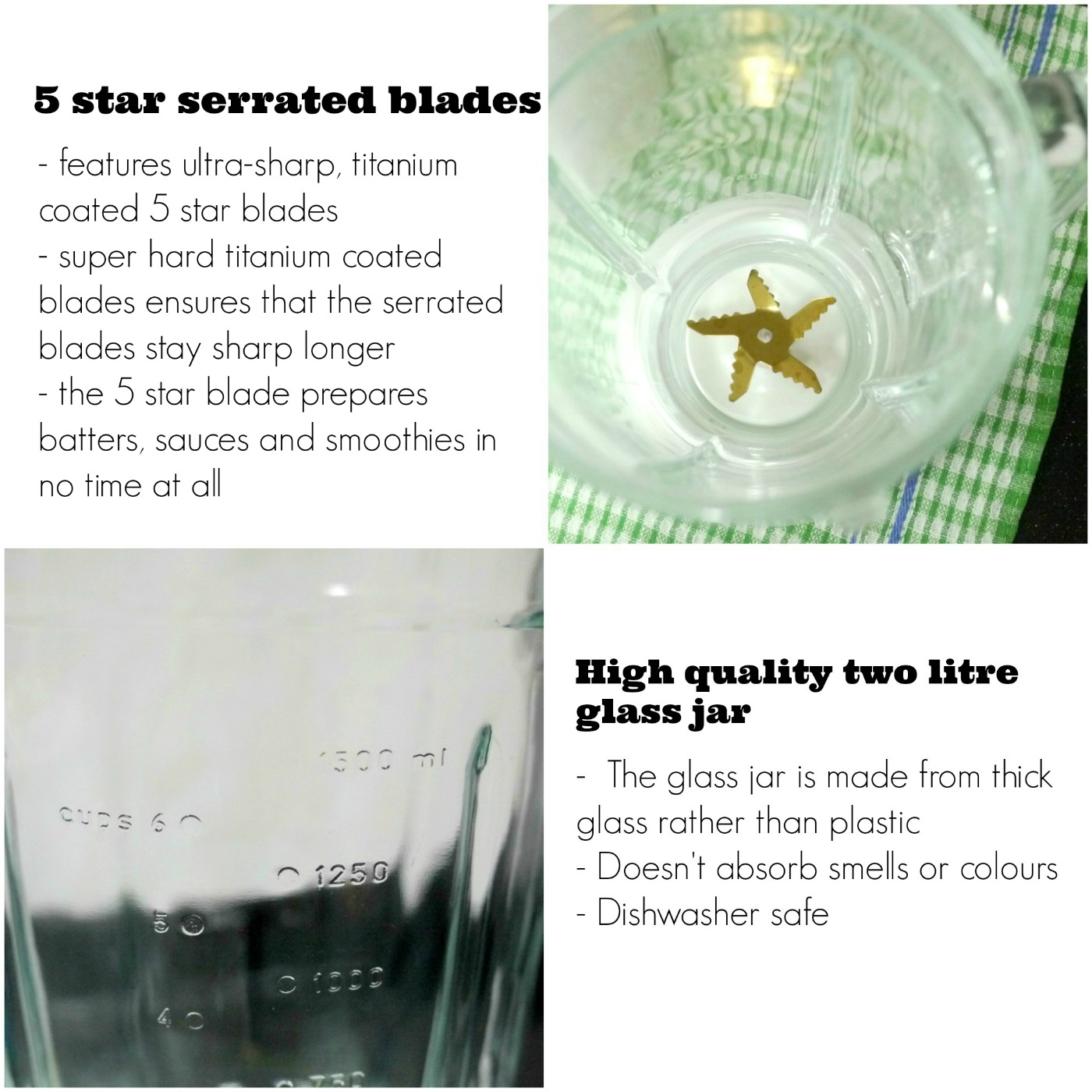 The Philips Jamie Oliver blender has a set of 5 star serrated titanium coated blades which ensures that the blades stay sharp longer. Thanks to it's super sharp blades, batters, sauces, smoothies and even milk shakes can be whipped up with minimum effort, just the way I like for me to prepare healthy meals for my family. Erm milk shakes, maybe not so healthy but we all need a little treat from time to time.
So back to the goal of having a healthy breakfast to start the day. Here's the list of ingredients you'll need to make an oatmeal smoothie.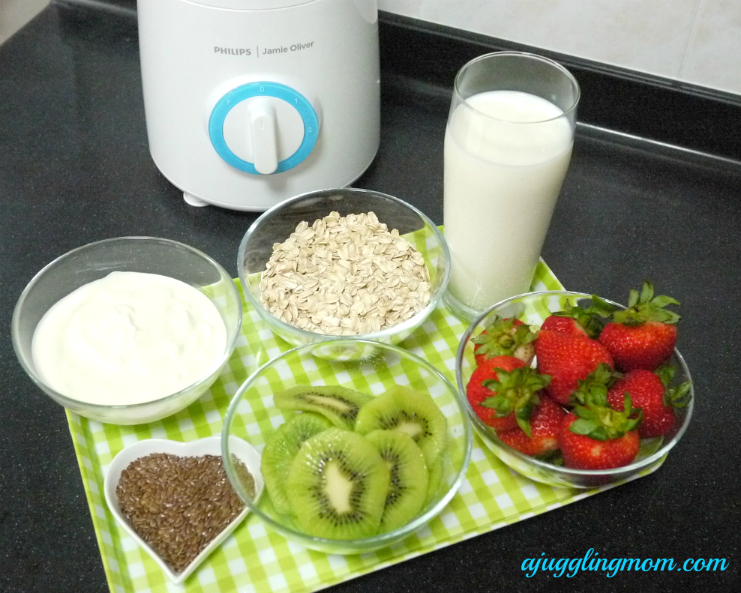 Ingredients for Oatmeal Smoothie
¼ cup of rolled oats (Steel-cut oats are not recommended as they don't blend and soften well)
Fruits. I used 3 kiwi and 12 strawberries for my smoothie
1 ½ tablespoon of honey
¼ cup Greek yogurt (I choose Greek yogurt as it's higher in protein level and has a creamy consistency)
½ cup of low fat milk (You may also use skim milk)
½  tablespoon of chia seeds or flax seed
Steps
1. Add the rolled oats and chia seed/ flax seed into blender and blend it into a fine powder. The Philips Blender did a great job at this with a speed 1 setting.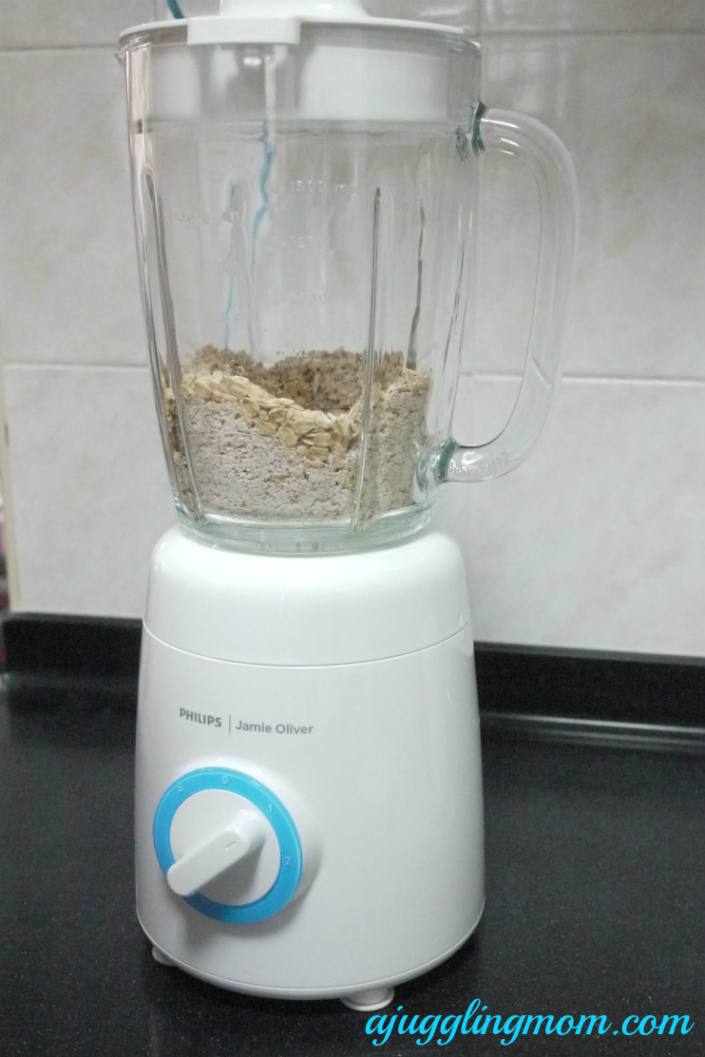 2. Next, add in milk and yogurt and blend at speed 1 setting again. Stir the mixture with a spoon from time to time to ensure consistency. Here's when a good blender will make a difference and my Philips Blender gave me a very nice and smooth consistency.
3. Next add in fruits. I did two variations, a kiwi and a strawberry.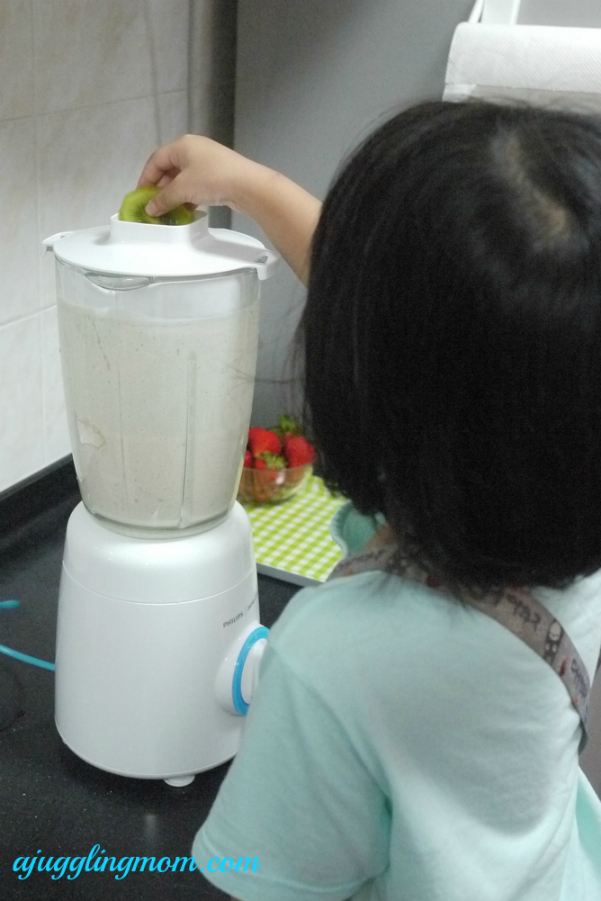 4. Lastly add in honey to sweeten if desired. This is optional and can be omitted for a healthier version.
And to finish it all off, top it with some slice fruits to give it a perfect look and you are ready to post it on Instagram and Facebook (because that what makes us Singaporeans) before popping them into the fridge for at least 3-4 hours. During this time, the oats will soften and expand, plus it helps to give the smoothie a thicker texture too.
What I liked about this smoothie, is that it can even be frozen. I got my bottles from Daiso and labeled them with washi tape because everything looks prettier with washi. To drink it after removing from the freezer, simply place it in a bowl of water and thaw them. or if you prefer just have them chilled 🙂
And there you have it, my oatmeal smoothie or what I call a breakfast in a glass, which makes a pretty wholesome start to your day too.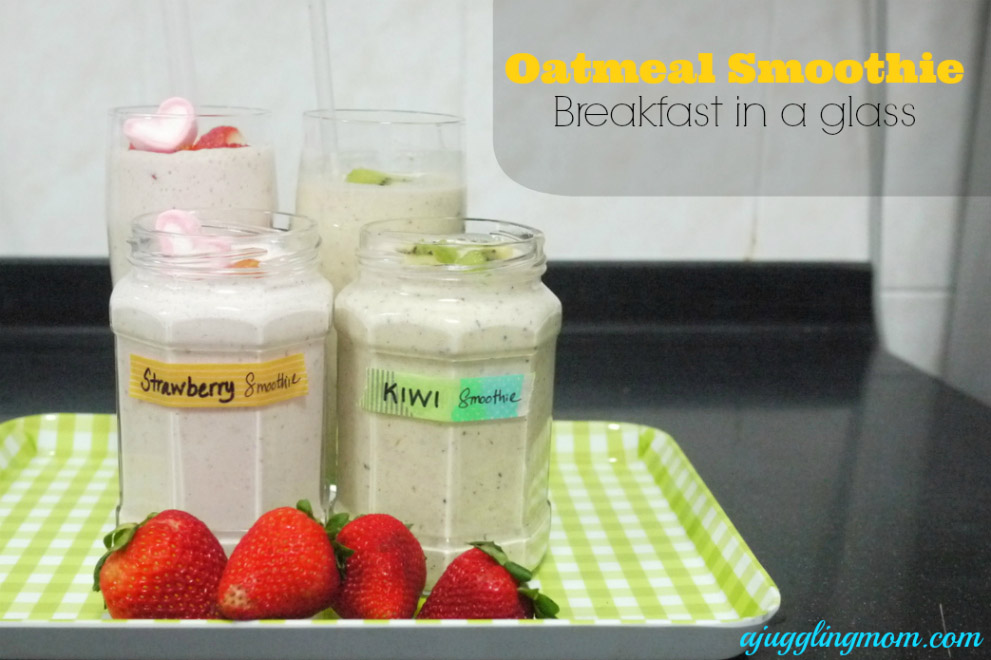 I'm intending to try other flavours like blueberries, pineapples, banana and peanut butter … the possibilities are endless. I know that my breakfast can be healthier with Philips Jamie Oliver Blender!
Keep life simple with the PHILIPS | Jamie Oliver range which includes a food processor (S$268), handblender (S$128) and blender (S$108). Available at leading electronics and departmental stores.
*A Juggling Mom received a Philips Jamie Oliver Blender and was compensated to write this review. Product attributes mentioned are provided by Philips. However all opinions expressed here are based on my own experience. 
Linking up with
Tagged: breakfast, domestic goddess, healthy, oatmeal smoothie, Philips, recipes