I enjoy baking but of late it seems to be a hobby that's in the past tense. I've been sorely neglecting my oven, as frankly, I'm quite put off by all the washing after that. But I really should step back into the kitchen and put my oven to good use. In the baking aspect, Sophie is probably more enthusiastic than me and she tells me that she learnt how to bake in her childcare. Thanks to the little chef sessions conducted by her teachers, I've been treated to her baking exploits from cookies to pizza and muffins.
So when Play-Doh offered their latest Sweet Shoppe Frosting Fun Bakery Playset for my review, I jumped at the opportunity for some fuss free baking fun without any washing required!
 Sophie and her baking equipment
A close up of the Frosting Fun Bakery set and the three stations.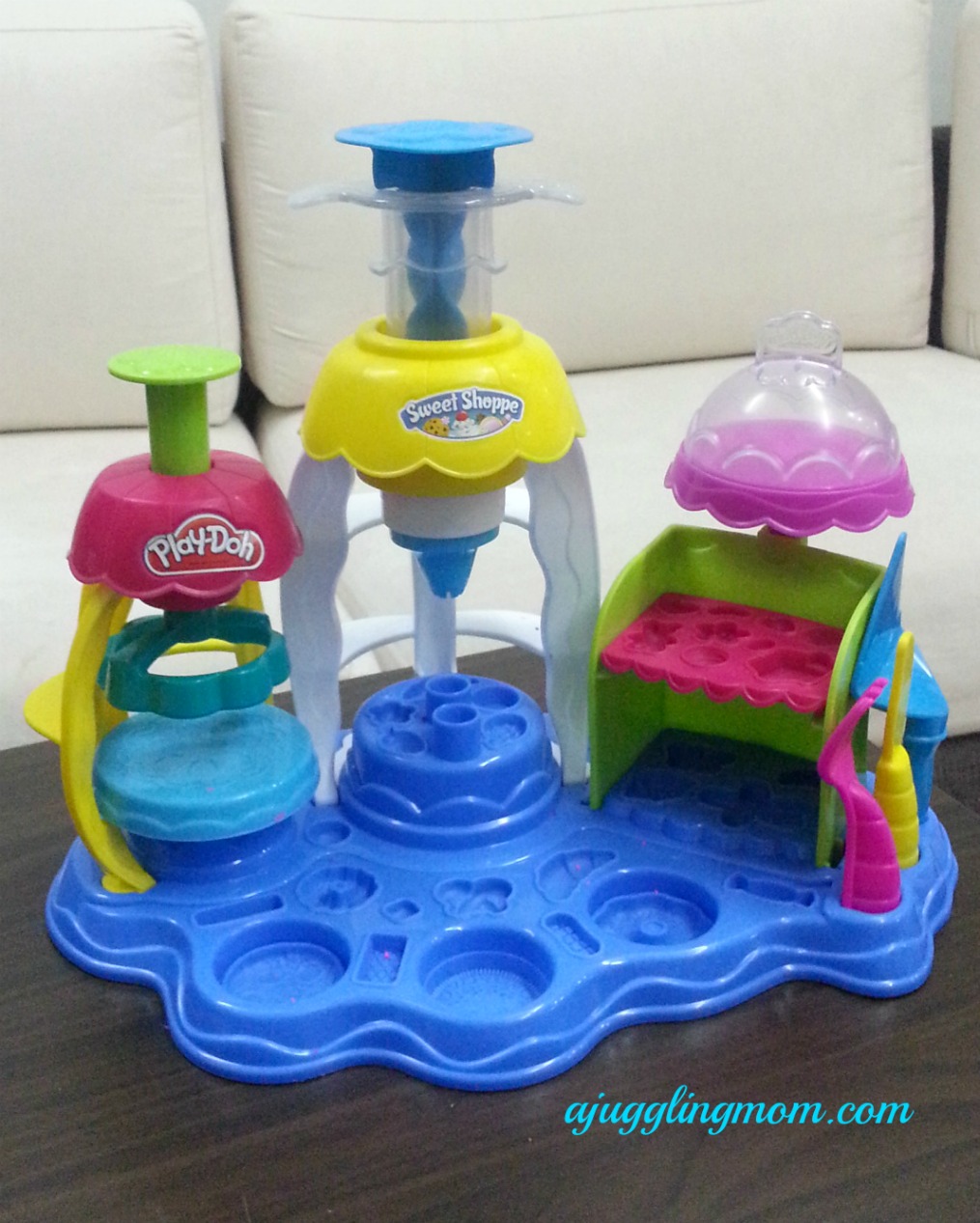 From top left: The new Play-Doh Plus and a closer look of the 3 stations
In the Frosting Fun Bakery set, there are four cans of Play-Doh where you can create colourful and pretty looking cupcakes, pastries, cookies and more. Two of these cans are the new compound, Play-Doh Plus which has a softer and smoother texture which helps to achieve realistic-looking textured swirls.
The first station is to create the mould of your cake. There are 4 cake cutters to choose from. Simply flatten the Play-Doh, place it on the turn table and press to get the desired shape.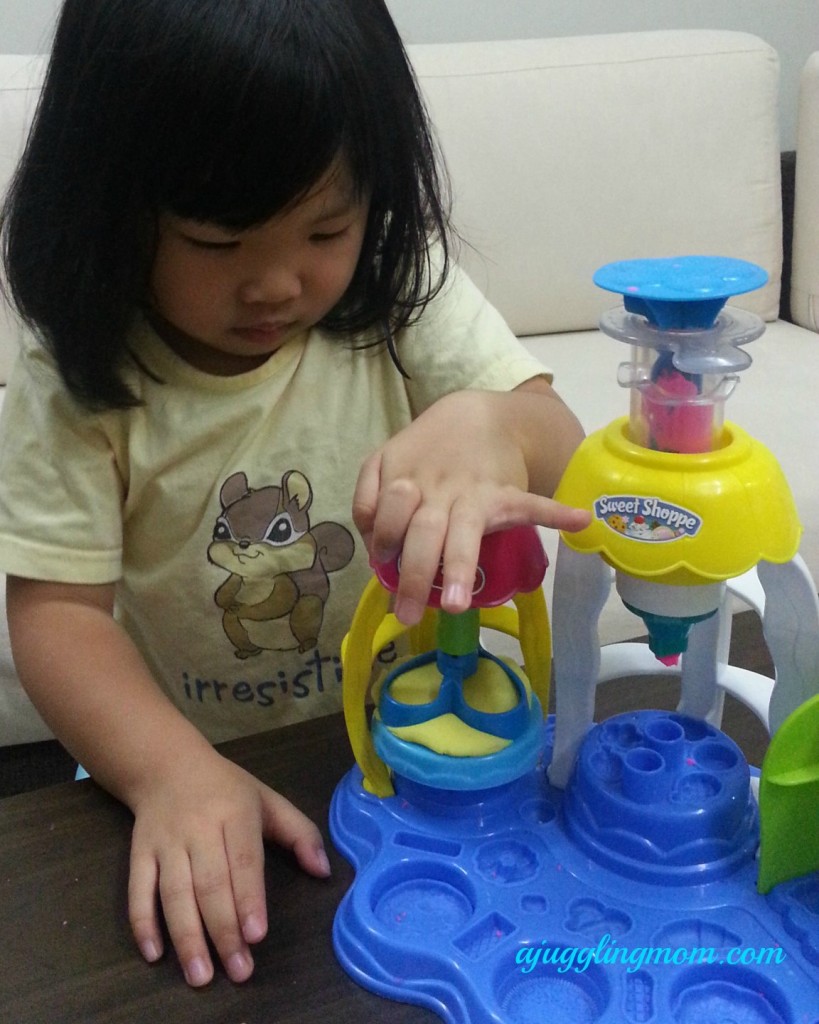 Moving on to the Frosting Station. Secure your chosen frosting tip and place the Play-Doh into the extruder which looks like a syringe and press it out with the plunger.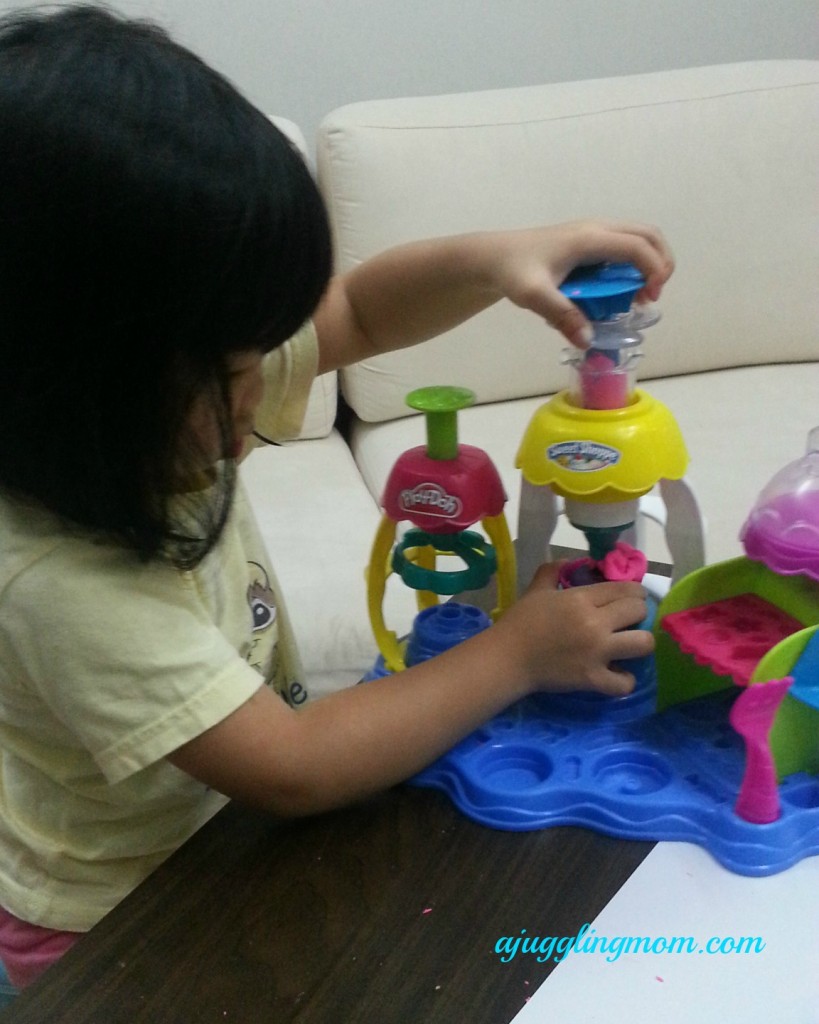 At some points, the Play-Doh got stuck, so we had to adjust it in the tube. And one thing I didn't like was how the Play-Doh got stuck in the side of the extruder making it messy to clean. We had to use disposable chopsticks to scrap the Play-Doh off the sides as none of the tools provided allowed us to reach them but Sophie didn't seem to mind one bit and had dollops of fun!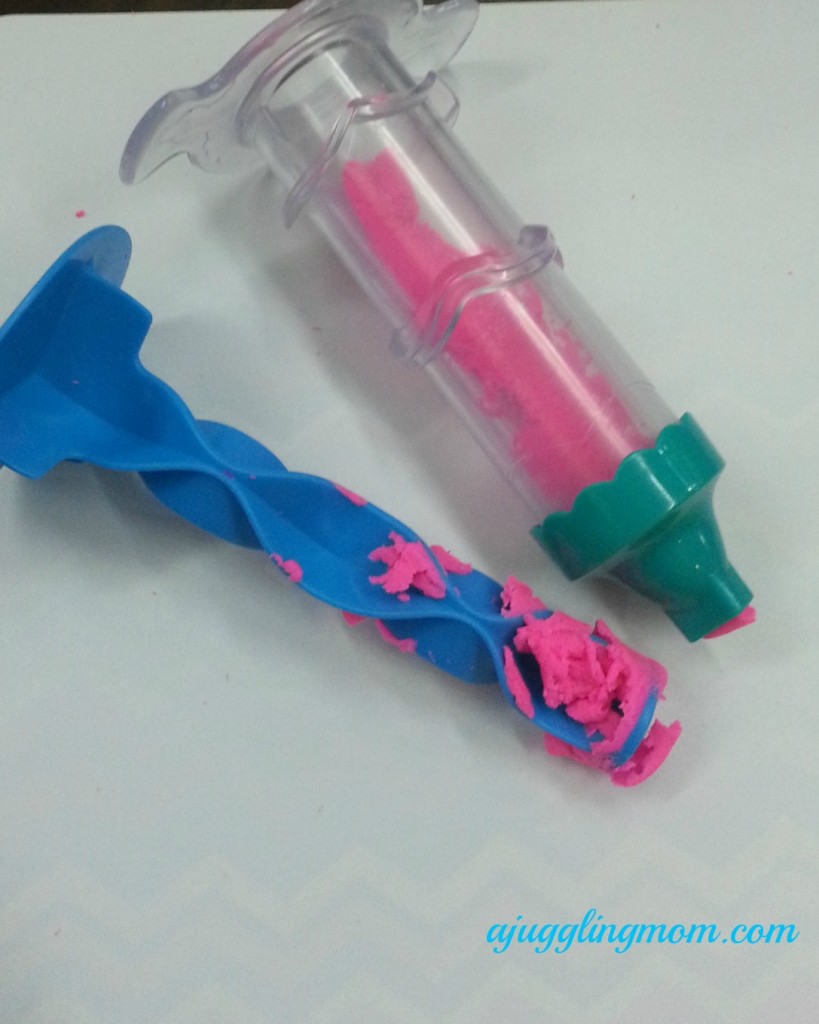 The last station is where you add the last bits of decorations with fun shapes ranging from jelly beans to hearts, fruits, candies and even ribbons.
How does our cupcake look?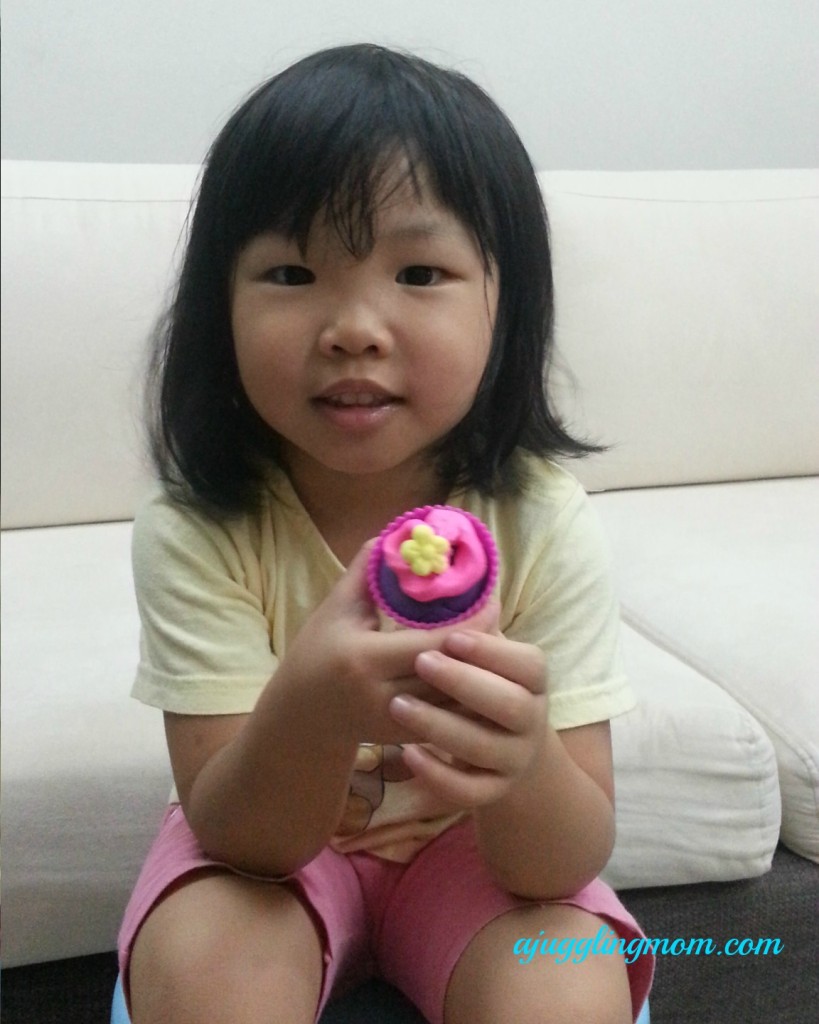 When you're all done, you can serve up your baking creations on the plate or cake stand. We made a cupcake, a cookie, croissant and biscuit!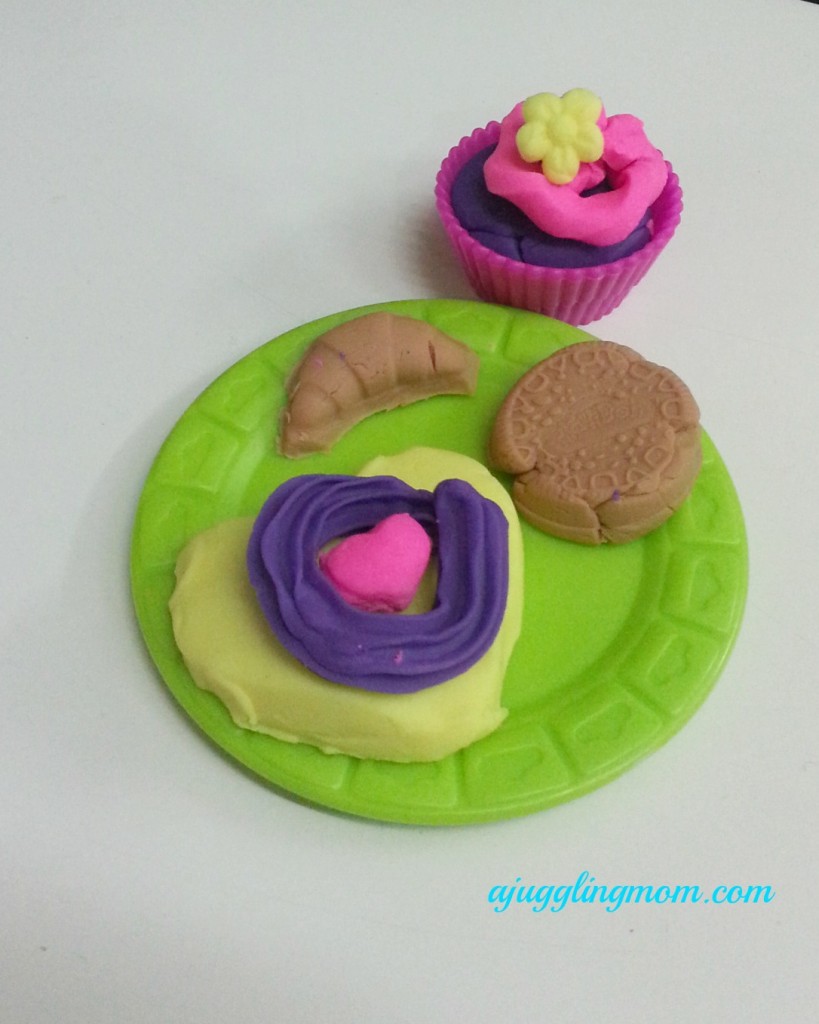 We can proudly say that Sophie's bakery is open for business!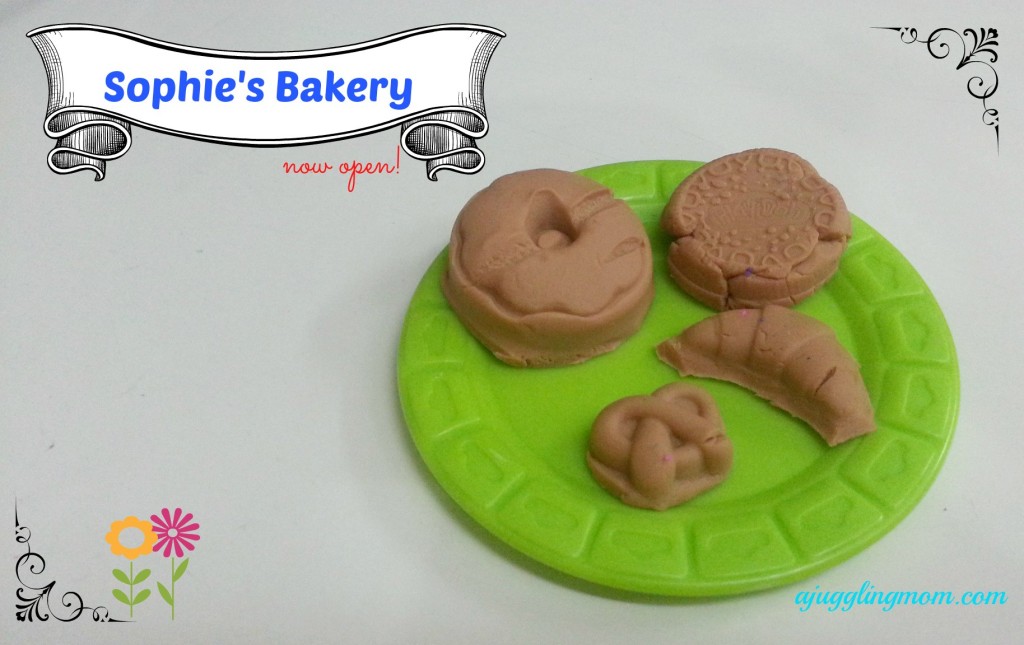 I don't know of any child who doesn't like playing with Play-Doh. With a bakery theme, kids can be creative as they turn into little chefs to make their own baking creations. I like how the Play-Doh plus makes it possible to achieve realistic looking frosting though the cleaning part was a bit messy. Now I'm keen to buy the Play-Doh with sprinkles on it to make my cakes look so pinterest worthy that you'll want to sink your teeth into them. But remember, they are fun to play with but not to eat.
The Play-Doh Sweet Shoppe Frosting Fun Bakery gets a rating of

.
Play-Doh Sweet Shoppe Frosting Fun Bakery retails at $24.90  and can be found in Toys "R" Us and major departmental stores.
– – – – – – – – – – – – – – – – – – – – – –  GIVEAWAY TIME  – – – – – – – – – – – – – – – – – – – – – – 
For your chance to win a Play-Doh Sweet Shoppe Frosting Fun Bakery Playset, simply take part in my Giveaway by completing the Rafflecopter form below. This giveaway will run from 6 June to 16 June 2013, midnight and winners will be contacted by email. Good luck!
*A Juggling Mom received a Play-Doh Sweet Shoppe Frosting Fun Bakery playset in order to write this review. However I am not financially compensated for this post and all opinions expressed here are based on my own experience.