One of Sentosa's most exciting attraction is the Skyline Luge. With a combination of high speed adrenalin rush, panoramic views from the chairlifts and thrilling decent down the winding tracks on it's unique 3-wheeled gravity ride, it's no wonder that it has been voted as the top attraction in Sentosa island by visitors on the popular tourist review site, Trip Advisor. Since it opened it's door in 2005,  the Skyline Luge has providing both locals and tourists alike with great fun and excitement with a huge dollop of adrenalin rush for the past 9 years. With it's latest upgrades and extensions, it promises to leave customers with a more memorable experience.
The Improved Skyline Luge
In it's continuous effort to improve the visitors experience, they recently upgraded the tracks and added eight more ticketing counters as well as family friendly spaces. To make guests more comfortable, they also expanded the seating area,  sheltered space and also added a new F&B kiosk that serves light bites and savoury finger food.
We first brought Sophie at 4-year-old to the Skyline Luge back in April when we had a staycation at the Shangri-La's Rasa Sentosa for my birthday. When she saw how quickly the luge sped past her, my little speedster was all ready and roaring to go.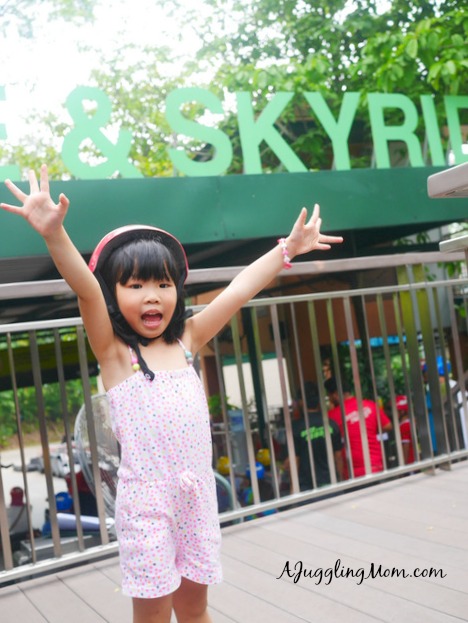 What Sophie didn't expect was how high the chairlift ride which took her up 320-meters from the ground. The  first time she took the ride, she had to put on a brace front and force a smile for a picture before telling me to put my camera away and stop talking to her.
While it may be a frightful experience for those who are afraid of heights, it's the perfect place to catch a bird's eye view of Sentosa island, the Singapore skyline and the South China sea. and come evening time, you can even catch the fireworks from the newly opened Wings of Time show.
For Sophie, her fears were soon exchanged for lots of thrills and laughs as she took turns to ride tandem me and Alexis as we sped down the two different tracks. Of course, when she had to take the chairlift the second and subsequent times, she was unfazed as she knew that an exhilarating ride awaits her. Needless to say, she enjoyed herself and asked us to bring her again!
So when we had the opportunity to ride it in the evening to check out the upgraded Jungle track, she was the most enthusiastic one of all.
Skyline Luge by Night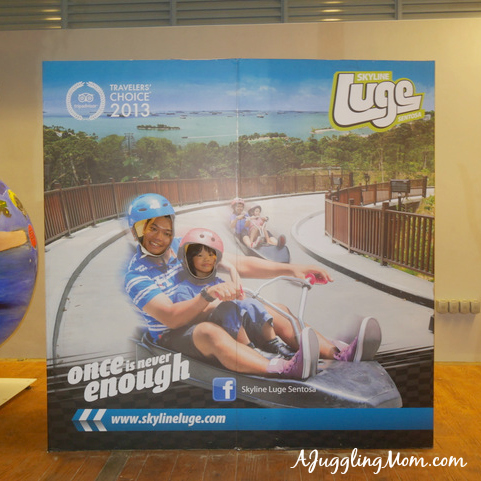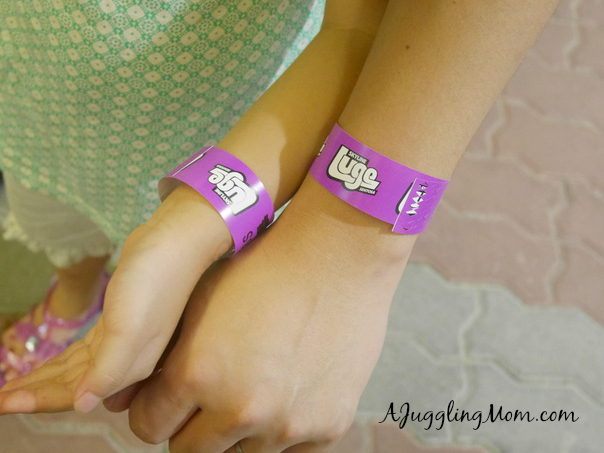 Taking the Luge when night falls was a whole different experience. Unlike the day, where you need to remember to slap on your sunblock, the ride up on the chairlift and down the tracks is more comfortable as you enjoy the evening breeze and wind in your hair. And though it feels a little more intimidating taking the chairlift up at night, we got more comfortable after taking it the second and third time.
In the night, the two tracks, the 688 meters Dragon trail and 628 meters Jungle trail come alive with flashing lights to guide you down the tracks. On the upgraded Jungle track, you can't miss the visually arresting RGB LED lighting fixtures. And as much as I hate to admit that I'm getting older, I could definitely feel the difference when I took the Dragon trail as I had to pay more attention and concentrate harder.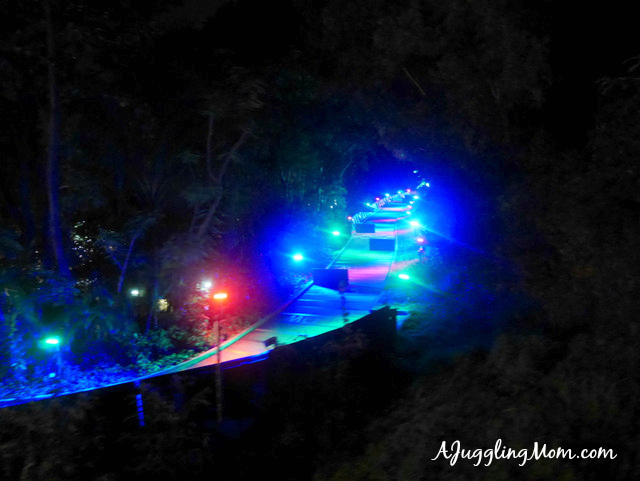 And true to what it promises, once is really not enough and we took a total of 8 rides that evening and left way past Sophie's bedtime. I guess someone wasn't complaining since she had so much fun.
It's one thrilling ride that's fun for the whole family and suitable for all ages.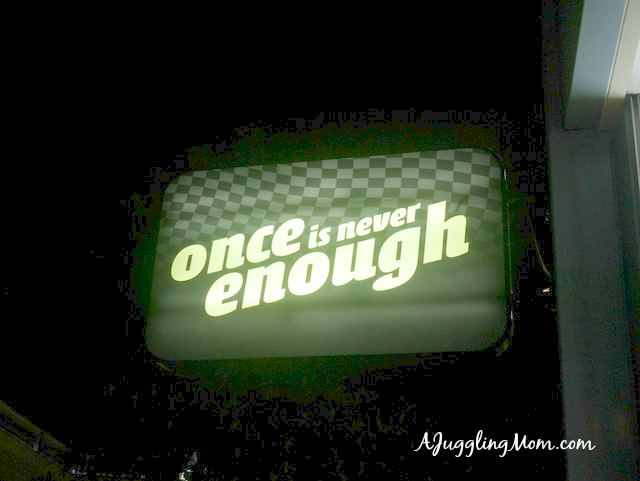 Skyline Luge Sentosa
Opens daily 10am-9:30pm
-– – – – – – – -– – – – – –  GIVEAWAY FOR A JUGGLING MUM READERS – – – – – – – – – – – – – – – 
Thanks to Skyline Luge Sentosa, 3 lucky readers of A Juggling Mom has a chance to win family passes (2 adults and 2 kids) each! Simply enter with the rafflecopter widget below:
Please note the folllowing T&Cs:
– Giveaway ends on 30 July at 12:00am
– Family deals are applicable for families with children below 16 years old
– Children under 6 years or shorter than the required 110cm to ride alone, may ride the Luge in tandem with a full paying adult
* A Juggling Mom was invited to the Skyline Luge to write this review. No monetary compensation was received. All opinions are honest and are my own.
Tagged: family friendly activity, giveaway, Sentosa