Before Sophie was a toddler, I would look at parents whose kids were glued to the iPad or DVD players while eating and thought to myself that I will NEVER be that kind of parent. The kind of parent who would readily dish out my mobile device just to keep the kiddo quiet at meal times. So often I see the kids with their eyes glued to the screen that their parents would have to feed them even though they are perfectly capable of doing.
That would never happen to me, I thought.
Turns out that I was not much different.
In fact, I turned out to be THAT mum and Sophie started young too.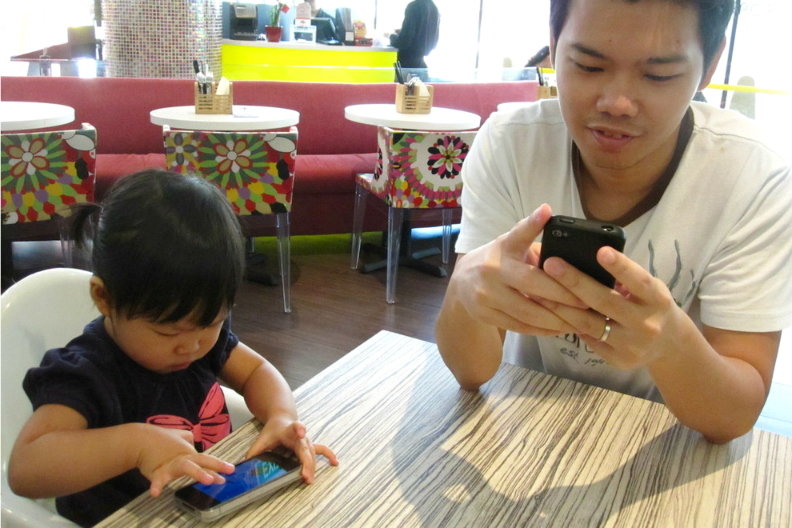 I became the mum who gives in to my child's incessant demand for my handphone or iPad just so that I can eat in peace. It doesn't help, that I'm always snapping pictures of my food before I eat, so naturally once Sophie sees my handphone, she'll ask for it. Someday she will sneakily ask to see the picture that I've taken then conveniently forgot to return my handphone and play with it.
In my defense, I'll tell you that she's mostly playing with educational apps. Apps that help her to practice her writing, perhaps some coloring skills, counting and of course Mandarin. And if she's watching a show, it's likely to be an educational one like Super Why.
Now, I know what you're thinking because which mum does that especially when there are researches and studies which shows that kids who do not engage in conversations at meal time and are playing on the mobile devices turn out to be anti-social, lacking in EQ, social etiquette, rude, inconsiderate and all that jazz.
Change of strategy
So recently, instead giving to her request for my mobile phone, I've been keeping her busy with my new bag of tricks. One where I've packed books, card games and a coloring set to keep her away from my handphone. I would say the plan is going well.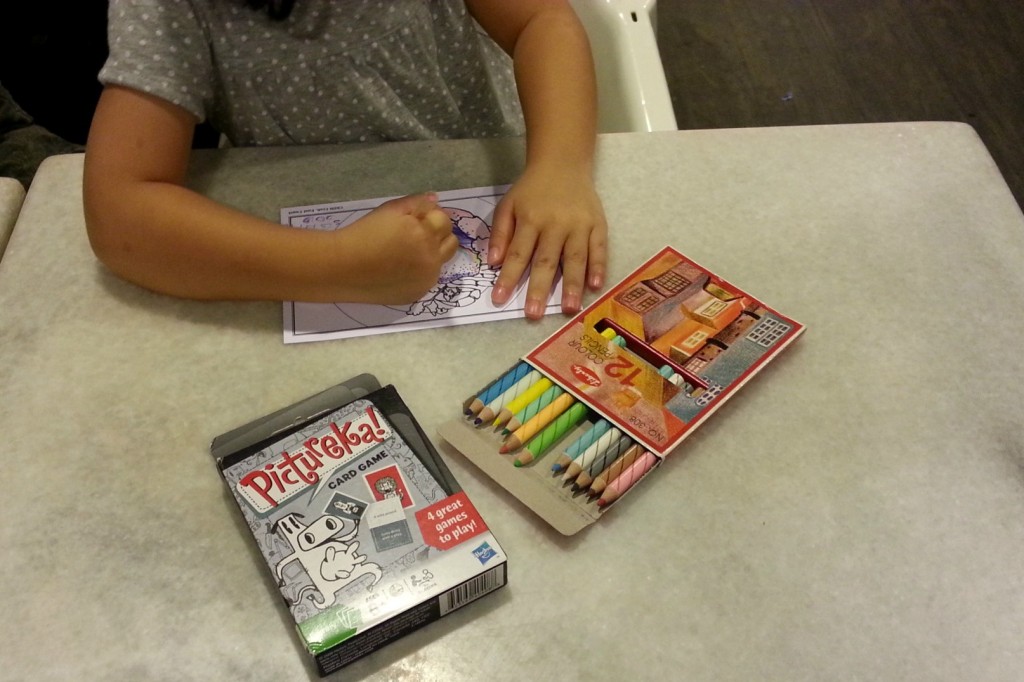 Keeping her occupied with coloring and card games
But honestly, if she's coloring on a coloring book, how is that different is that from coloring on an app? I reckon, this may be the sort of question that Sophie will throw at me, then how will I answer? Sure, I could  shoot back with the, too much time on the iPad will make you blind, yada yada or something close to that. But a recent article that suggests that technology may help in kid's learning is making me rethink my strategy.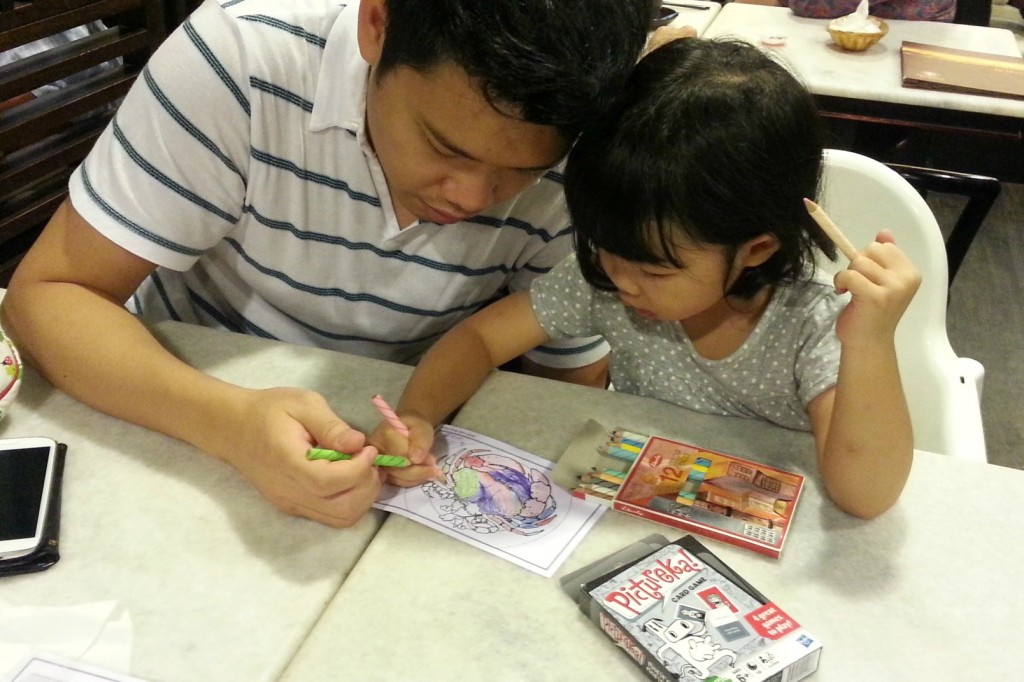 Daddy join in too!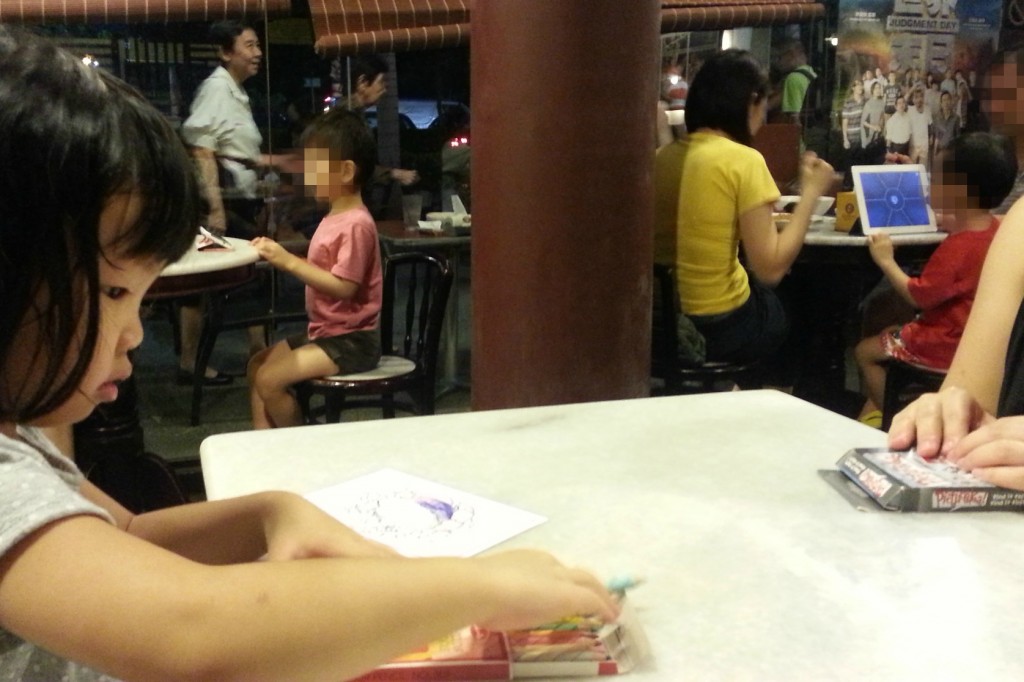 I found this photo by Alexis too funny not too share!Judging from this, I can tell that we're not the only parents who kids need their screen time.
So what are your house rules when it comes to screen time at meal times?
Linking up with Sandra