Last week has been a particularly trying week for me emotionally.  We were dealt with two bad news one after the other that left me feeling lost and despondent.
Two weeks back, Alexis complained about getting aches and pains in his shoulder and back. The pain got worse each day and he was so affected by it that all he could do was to retreat to his room to rest hoping that the pain would subside. It didn't and got worse when he experienced numbness in his right arm.
A visit to the doctor last Monday got him worried as he was diagnosed with degeneration of the spine and he was referred to a specialist to go for an MRI.  That evening , he was particularly quiet. Before putting Sophie to sleep, I went over to our bedroom and laid down beside him.
Alexis: Will you still love me if I become paralysis?
Me: Don't be silly. You'll be fine. And yes, I'll still love you and take care of you. Go to sleep and don't worry too much.
I had to be strong for him but inside me, I was worried.
To help relieve  him, I stepped in to drive us home after work, which is and still is a nerve wreaking experience for me especially with the unnerving evening traffic. Because his aches act up more by the end of the day, he'll sleep extra early, leaving me to deal with an overly active toddler who refuses to sleep. 
Then on Wednesday, we went to see my gyne as we've been trying for number two for a while. Before this visit, we did some tests and the results were not looking good. Though I was a picture of calm, when she said the words, fertility assistance and IVF, I felt crushed inside.
I know that we're tremendously blessed to have Sophie and really she's more than we asked for. We count our blessings that compared to other couples who had to go through so much to have a child, a year of trying for us was really nothing. Still my heart ached.
But at this point, the priority is for Alexis to get better. So, I'm staying strong and doing my best as a wife to give him support, encouragement and rest when he needs it. It's not easy, in fact, I feel tired doing solo-parenting these days with Alexis out of action with an aching heart. There were times at I snapped at him because I got so tired.
But I'm reminded of our marriage vows made 7 years ago.
"To have and to hold, from this day forward, for better, for worse, for richer, for poorer, in sickness or in health, to love and to cherish 'till death do us part."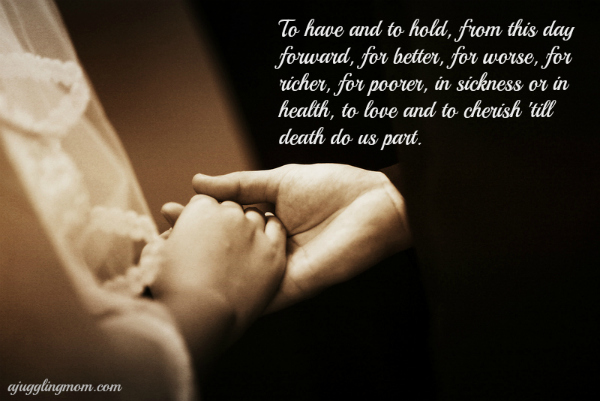 When you've been married for seven years, love is shown in action more than words. And it's something that I've learnt from Alexis by the things that he's done for me regardless of whether it goes noticed or unnoticed by anyone else. Now it's my turn to step up and be that support for him, for us.
How has your marriage been put to the test recently and how are you sticking as a team?
Do link up every Monday with my Motivational Mondays post. Don't forget to grab my badge and include it in your post after you have linked up and leave me a comment too. I will be hosting Motivational Monday every week and I hope that you can join me every Monday. Have a great week ahead!
Note: Highlight the code & press Ctrl + C buttons to copy.
<div align="center"><a href="http://ajugglingmom.com/2012/08/motivational-monday-linky-party-cook-for-family-initiative " title="www.ajugglingmom.com"><img src="http://i1264.photobucket.com/albums/jj499/Susan_koh/MM-1.jpg" alt="www.ajugglingmom.com" style="border:none;" /></a></div>
Linking up with
'); // ]]>