It's a funny thing how peer pressure can bring up the sleeping kiasuism in me. To me I've always thought that it's important for Sophie to have a carefree childhood. And that means no enrichment classes, lessons like art, dance and swimming don't count because they are non-academic.
But early this year, when we started to shortlist a primary school for her at five, we got worried about her Chinese language ability as we think we might be sending her to a SAP school (only because it's the closest for us). To help gain her confidence and interest in Chinese, we've started speaking and reading to her more in Mandarin, only to have her reply that she don't like Chinese.
I asked around and Berries was like the default or rather most popular Chinese enrichment centre and signed her up. But to my horror, they had a long waiting list… Granted that I was looking at a weekend morning class, the waiting still took more than half a year to get her into a class! So if you're looking at sending your kids to Berries, you've been warned. She's taking well to the class and recently just switched to another branch at our preferred timing and thankfully she's likes the teachers there.
Another incident that got me worried was when my group of mummy friends started to post what they kids were learning in school. When I saw the words they had for spelling, I was shocked! Ambulance, motorcycle, aeroplane for a five-year-old? Don't even get me started on their Chinese spelling list. But wait, are they already supposed to know all this?
I know that Sophie is given spelling in her CC but don't really know what's on her list as they do it all in school. In fact, her Chinese homework stopped for a while and I was starting to question if maybe the teacher should bring it back so that she'll learn to be disciplined to finish her homework before play on weekend.During the next few days, reading to her was like a test when I got her to read on her own and even write down words to learn and spell.
Yes, I was starting to sound like a typical KS mum and I didn't like it one bit. I know that it's important for our kids to learn at their own pace and it's okay to encourage them to learn more. After all they are like sponges and able to absorb quickly. But it was my attitude that shocked me because I was getting frustrated when she still couldn't differentiate between 'b' and 'd' and my words were less than kind to her.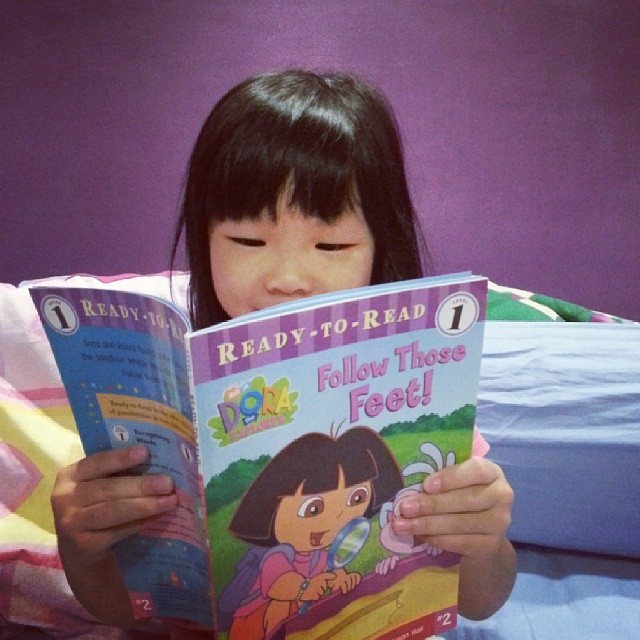 I had to remind myself that she's only less than one and a half years ago from primary school and by then she'll have a lot more learning to do and less play to enjoy. As a mum, encouraging her to learn is one thing, but to try to impose and force it upon her is a sure way to kill her interest and motivation.
So I've learnt to loosen up a little and just enjoy our bedtime reading together with no other agenda. Let's hope that this mum her don't get into her KS gear soon…
Do you also have a child who is entering primary one soon? How are you keeping a balance for them between play and school?
Link up for Motivational Mondays
Do link up every Monday on what motivates you to be better be it a fitness goal, parenting, marriage, etc. Share your recent posts and encourage someone. Share your recent posts and encourage someone. Don't forget to grab my badge and include it in your post after you have linked up and leave me a comment too.
I host Motivational Monday every week and I hope that you can join me every Monday. Have a great week ahead!
Note: Highlight the code & press Ctrl + C buttons to copy.
<div align="center"><a href="http://ajugglingmom.com/category/motivational-monday/" 

title="www.ajugglingmom.com"><img src="http://i1264.photobucket.com/albums/jj499/Susan_koh/MM-1.jpg" alt="www.ajugglingmom.com" style="border:none;" /></a></div>
'); // ]]>