When it comes to holidays, I have concluded that beach holidays are more my kinda thing. I used to turn my nose at the idea of slow and relaxing holidays with no agendas. After all, who wants to sit around and do nothing? But the beach holidays I had so far have given me a fresh new perspective of what it means to simply
Slow down. Unwind. Relax.
And this year, I had not just one but three holidays where I had a glorious time being a beach bum in Bali, Gold Coast and the most recent in Phuket where I almost didn't feel like coming home.
Our flight to Phuket, Thailand was a mere 1 hour and 45 minutes flight where we flew with Silk Air.  We were served breakfast as we took the 6:50am flight and I'm glad that Sophie could pretty much entertain herself with drawing, colouring and I played a few rounds of hang man with her before we landed in the land of smiles.
We stayed at Holiday Inn Resort at Mai Khao beach which was the perfect getaway for busy city dwellers like us. Getting there was a short 15 minutes drive away from the airport where we were picked up by the airport transfer service provided by the hotel.
As the resort is situated in the quieter North West coast of Phuket, you'll find that it is so peaceful there unlike beaches like Patong, which is always buzzing with activities. Once you step foot in the resort, the tranquility of the place immediately sets in and you'll be all ready to kick back, take a breather and have your cares sweep away like the waves beneath your feet.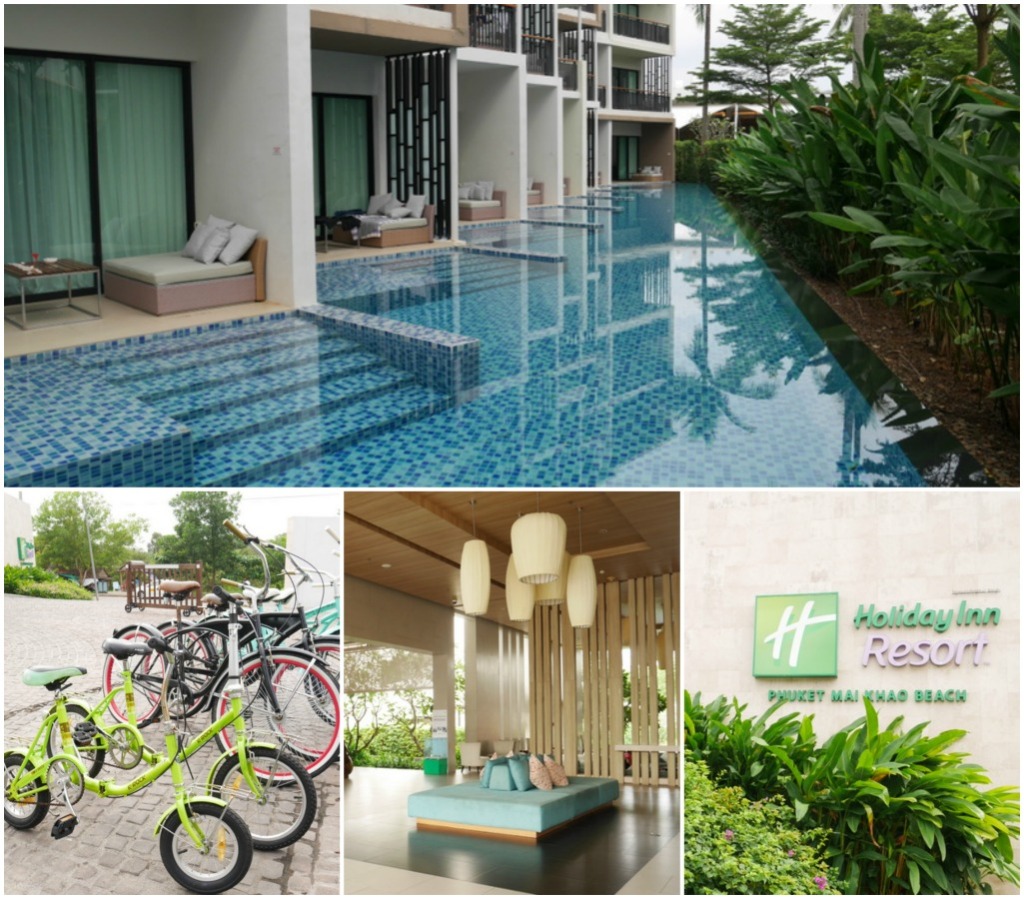 Accomodation
We were greeted with welcome drinks and cold towels when we checked in and were ushered to our room. We stayed in a Junior Suite on the ground floor which was tastefully done up in a modern and contemporary decor.
As you can see the room is very spacious and we even had an extra bed which came in handy as Alexis fell sick on the first day and slept away from us. Right in front of our king sized bed was a couch where you can relax in.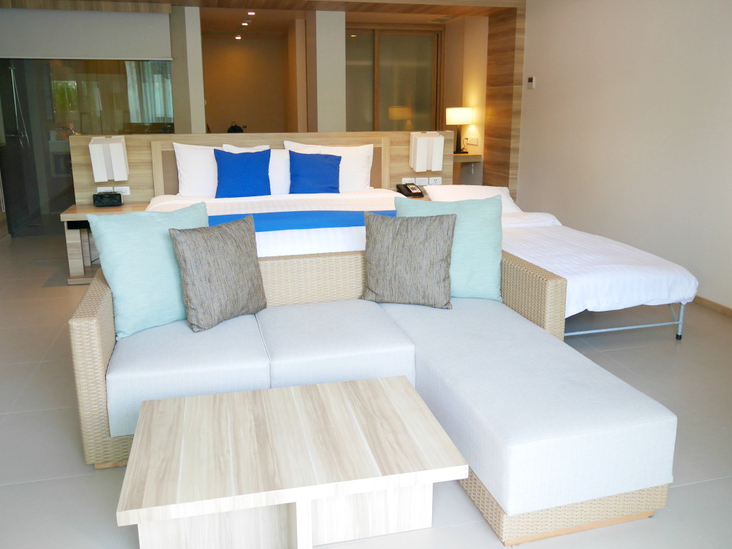 I especially liked how airy the room felt and there was lots of natural sunlight from the balcony which opens to our own exclusive pool with an outdoor seating area! Yes, a pool access room rocks as it's so convenient to just jump into the pool at any time of the day.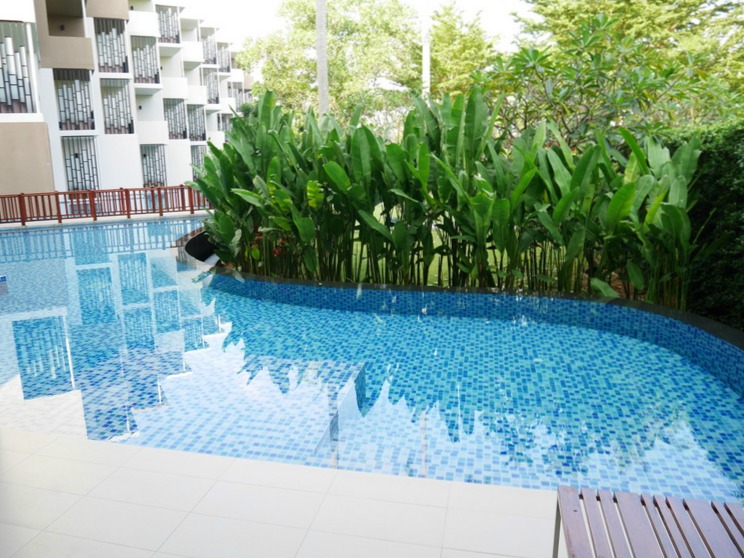 The bathroom area has two separate areas for the toilet and a walk-in rain shower. Within the room, you have a working area which has international adaptor at the study desk for charging all our gadgets. Oh and yes, how can I forget the free wifi in your room and throughout the whole resort too!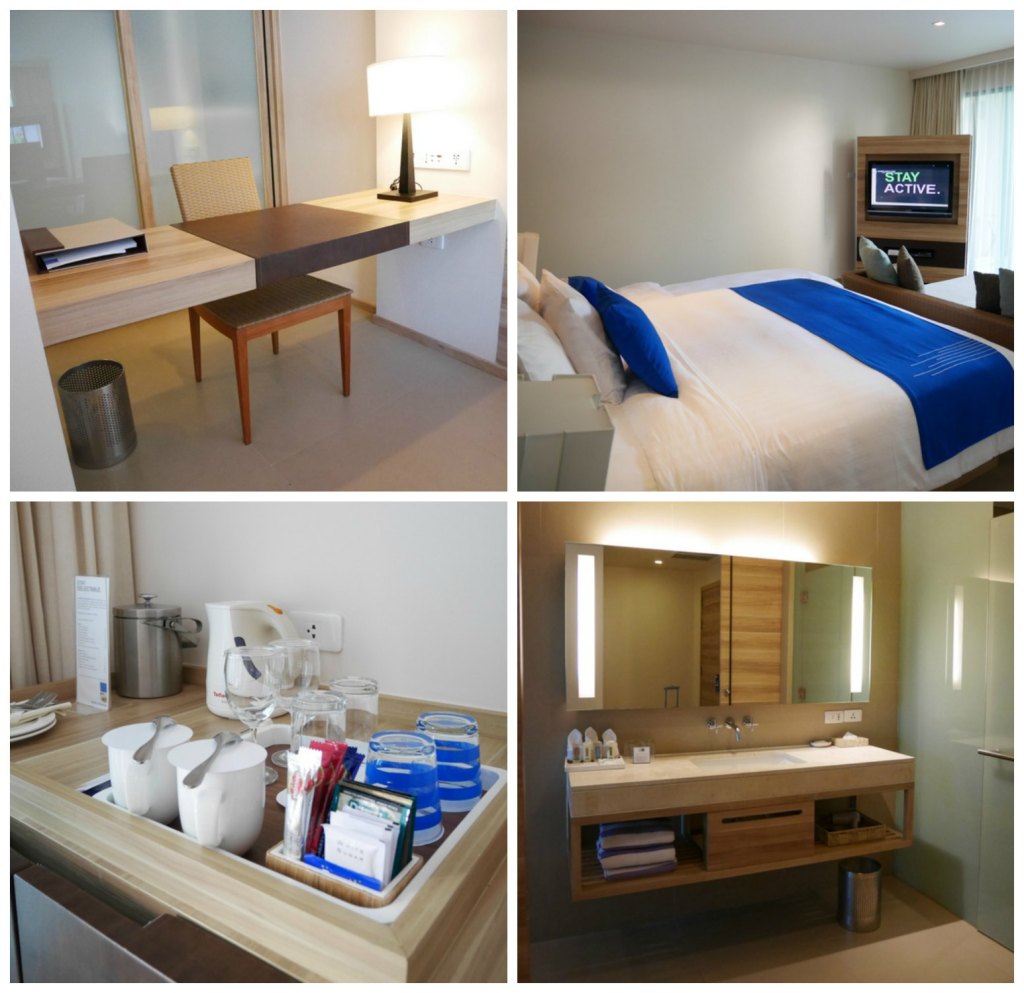 We didn't manage to stay in their Junior Suite or Kid's Suite but we understand that they are really a hit for families with children as the kids have their own private room within the suite with their own TV, DVD player and game console.
These room options are perfect for those with slightly older kids, giving parents some well deserved break and privacy too. Not only that, the kids even get to have their own special kid's bathtub complete with all the kids amenities.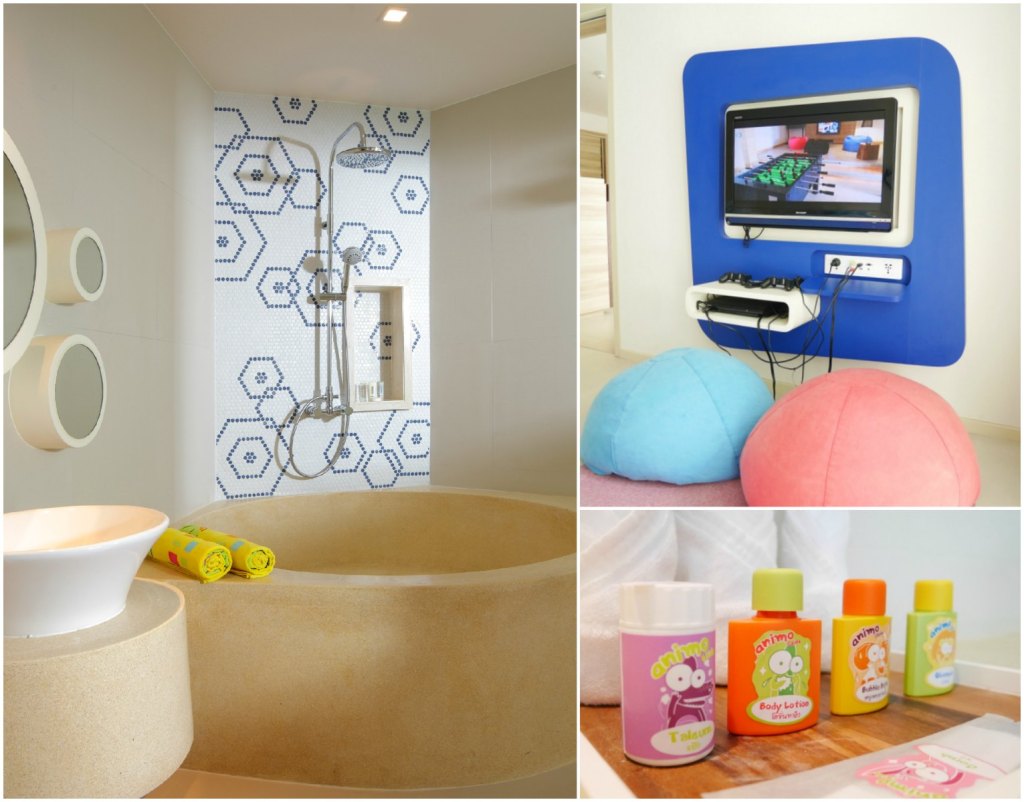 Food & Beverage
Food wise, you have plenty of options from international cuisines to local Thai delights. We had most of our meals at J's Restaurant where we start the day with their international buffet breakfast spread and come evenings, they offer themed buffet dinners. If you prefer al fresco dining, you can choose their out-door seating with views over the resort gardens.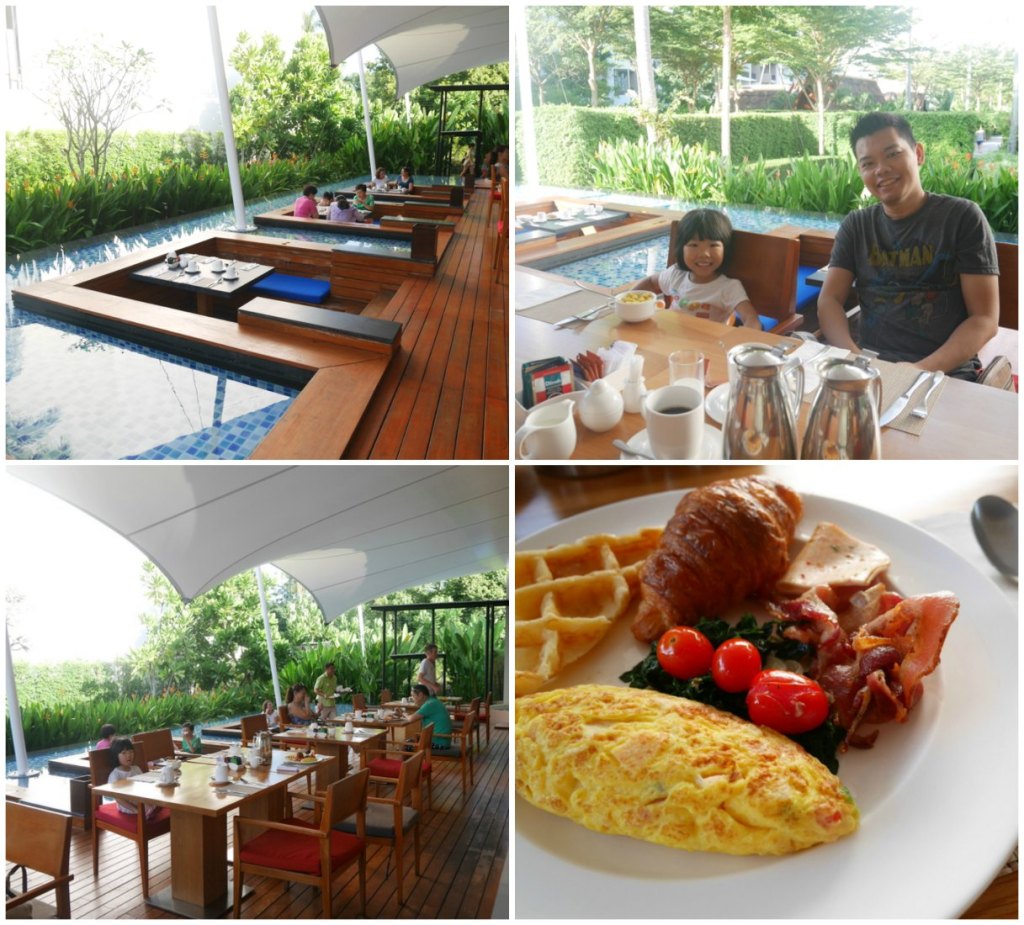 On the first evening we had their local street buffet dinner and got to indulge in many of their local delicacies from tom yum gong, pad thai, osyter omelette, green curry, and their mouth watering desserts. We even had the chance to make our own ice kachang with this retro looking ice crusher!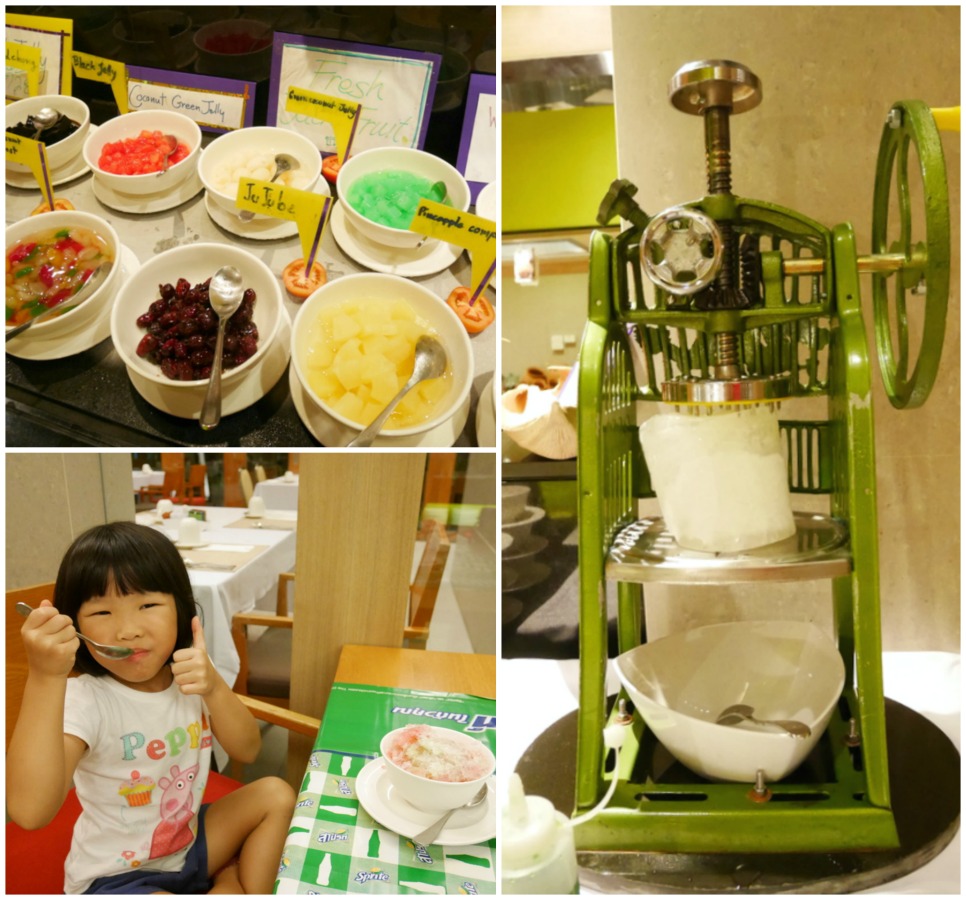 On the second day, we even attended a Thai cooking class offered right here at the Holiday Inn Resort's kitchen under the wing of the restaurant's chef where we whipped up Tod Mun Goong (Fried prawn cakes), Gang Kiew Wan Gai (Green curry) and Larb Gai (Minced chicken salad). And just in case you're wondering, it turned out to be a pretty fun experience and I'm glad Alexis took up the cooking challenge and did it alongside me.
While we may not emerge as Thai chefs after one session, our food was up to scratch according to the chef and don't they just look mouth-watering to whet our appetite now? A Thai cooking class is something to try when you're in Thailand and what a great take away experience you'll gained from it.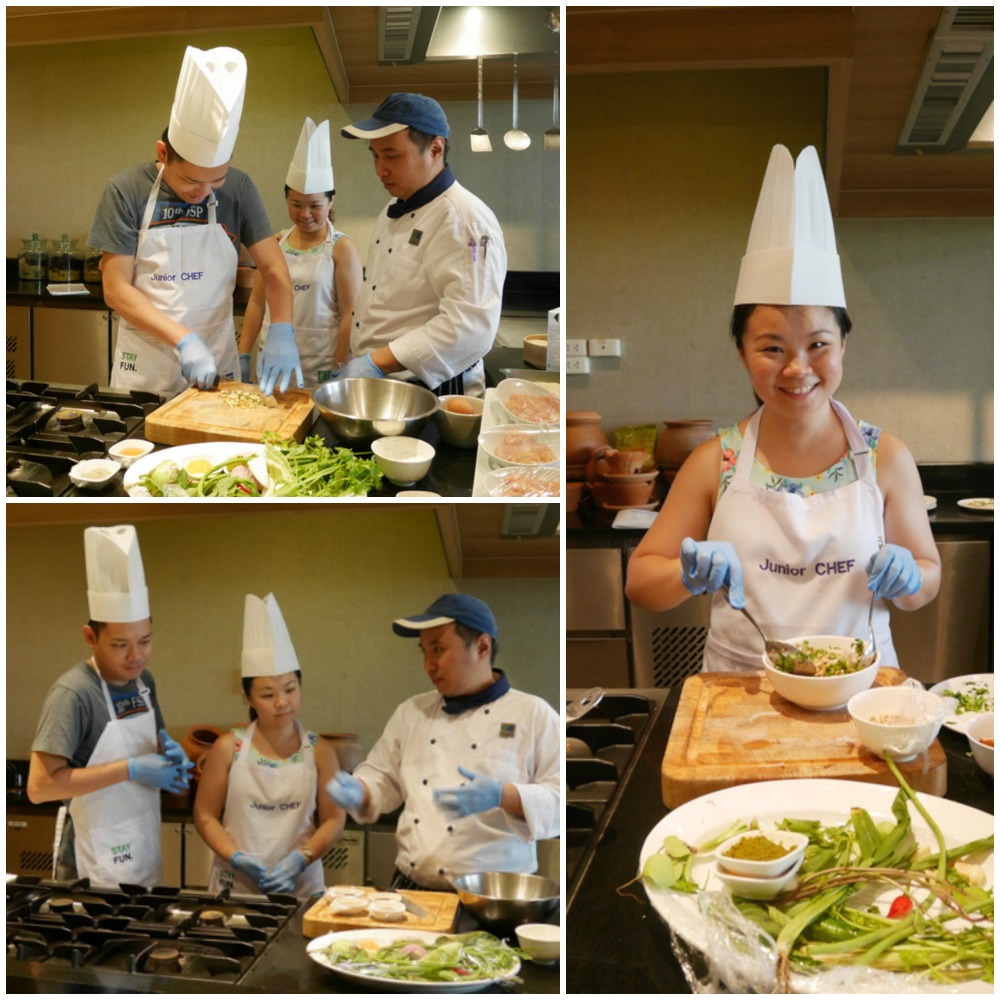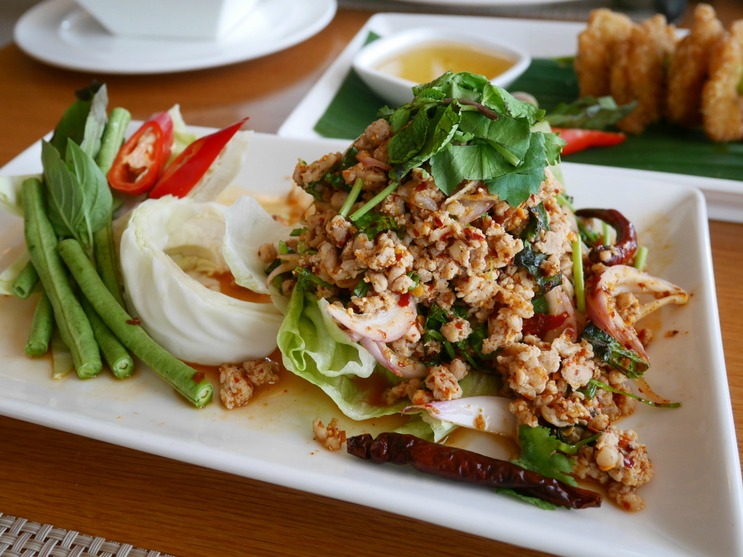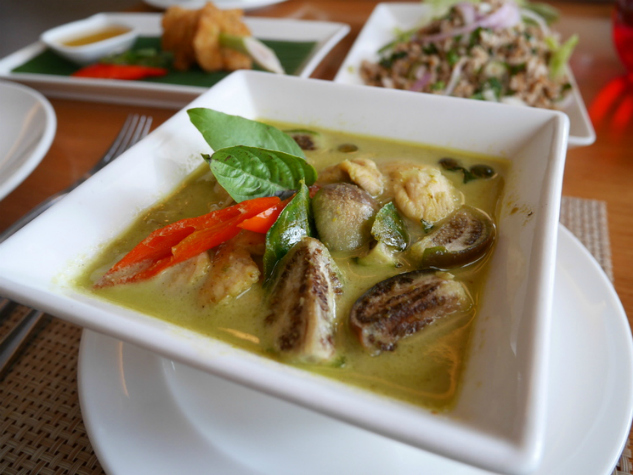 We also dined at their beachfront restaurant, Pesto that serves traditional Italian cuisine. By day, it offers a great view of the beach and you get lulled by the sea breeze and the gentle crashing of waves as you sink your teeth into their scrumptious Italian dishes. You can choose to order from their ala-carte menu or even design your own pasta and pizzas if you feel more adventurous.
On one of the days, we even had a family picnic by the beach which was a unique experience where we dined with sand in our toes and watched the clouds float by.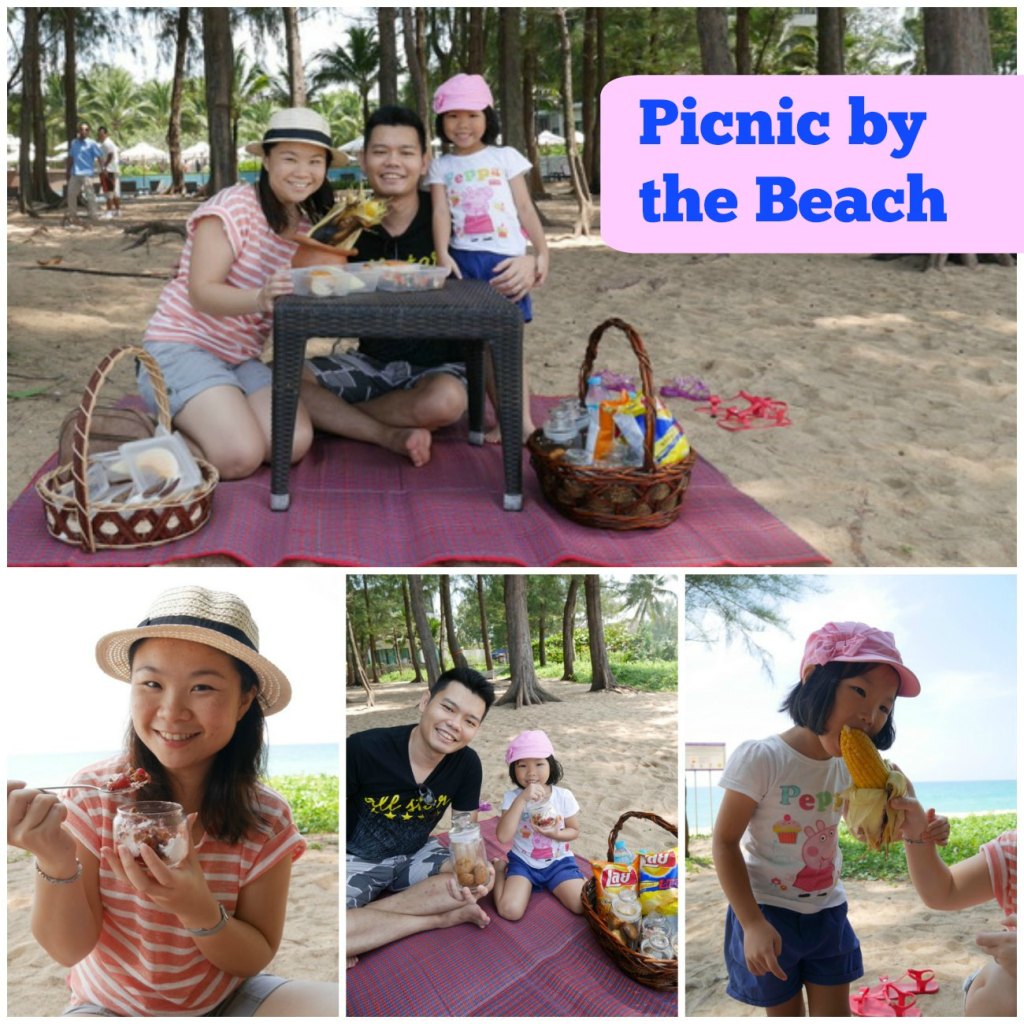 Facilities and Activities
As Mai Khao beach is about an hour's drive away from central Patong area, we choose to stay within the resort but were certainly not bored at all. Besides the Thai cooking class, there were daily activities around the Holiday Inn Resort for all ages. Some of them were free like yoga at the pool, movie nights, learning thai massage, the 24-hour gym, table tennis while some were paid activities like fan and batik painting to cover the costs of the materials.
The hotel also has a library resource centre where you can borrow books and DVDs to watch from the comfort of your hotel room. Sophie was of course thrilled that we had movie night every night which means she gets to stay up later than usual.
Besides swimming in our own private pool, we also went to the infinity pool which had a bar beside it which makes it a perfect spot for those who prefer to lounge under the sun to suntan and chill out with a pina colada in hand. There is a baby area so you can plonk little ones there as they waddle about. And if you forgot to pack your floats and beach toys, you can easily purchase it there too.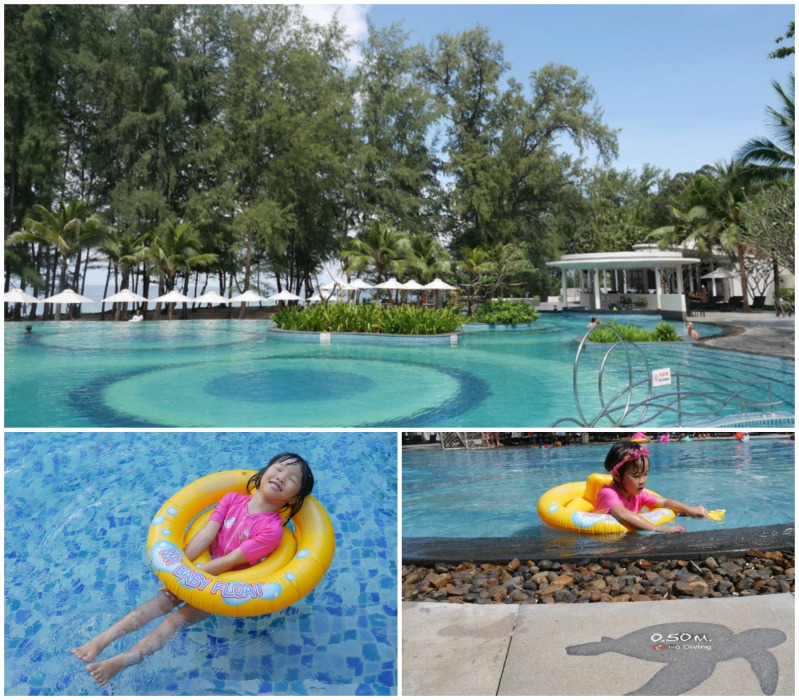 From the pool, the beach was just at our footstep and what better way to welcome the day than taking a walk down the beach as a family as we soaked in the beautiful sights of nature, the sun, the sea and the sand. It almost felt like it was a private beach as it was so quiet making it a real gem as you experience the tranquility and peace as you watch the waves roll in and hear the soothing the sound of the waves.
Sophie went armed with her pails and toys to build her sand castles, while I picked sea shells and Alexis just chilled on a hammock. On one day, we even saw a set up for a romantic beach wedding!
But the most impressive part for us or rather Sophie was really their impeccable Kid's Club. Not only do they have an outdoor playground, they also have a kids club that kept the kids very busy and extremely happy.
Inside the Kid's Club, parents need to sign their child in and if you have your own plans, you can inform the friendly staff. The ball pit with an indoor playground complete with slides and swings is hard to miss and that's the first things that all kids will excitedly dive into once they enter.
At any time, there will always be staff on hand to man the kids. And unlike some clubs where staff only sit around to chit chat, the staff here actively play with the kids and engage them with activities and crafts. I was certainly impressed by how attentive the staff were as they remember the name of the kids and also change activities to suit the kids if they got bored.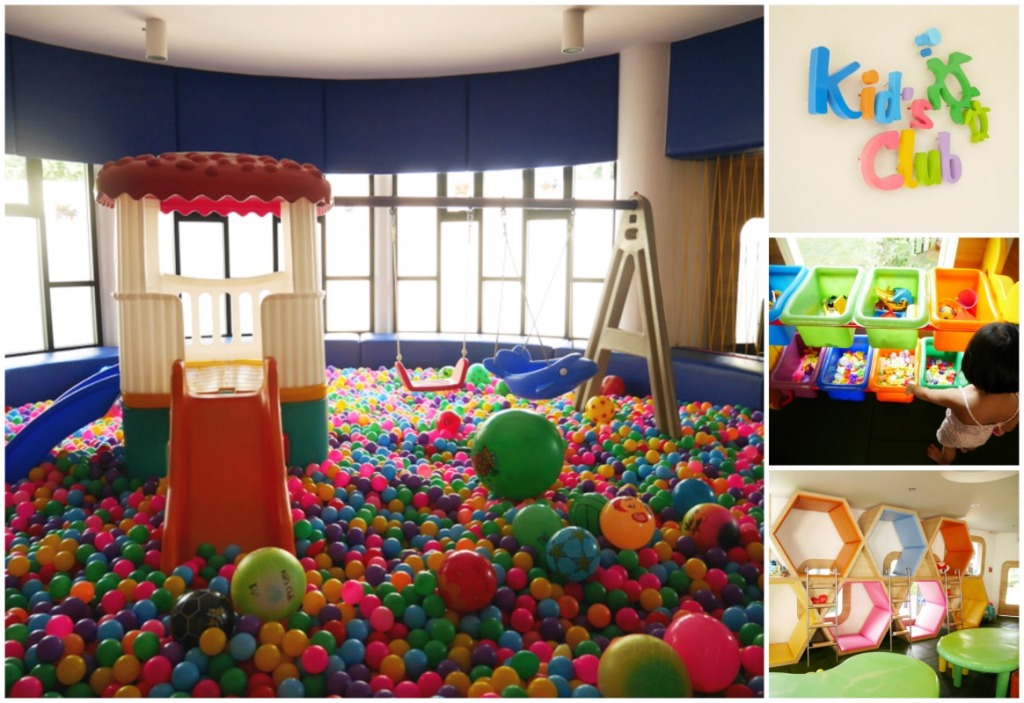 I could sense that they genuinely liked kids and because of their conscientious efforts to engage the kids, the kids enjoyed their company too.
Sophie was absolutely chuffed that she got a kiddy manciure and had her nails painted, made her own friendship band, visor, a photo frame and also did batik painting.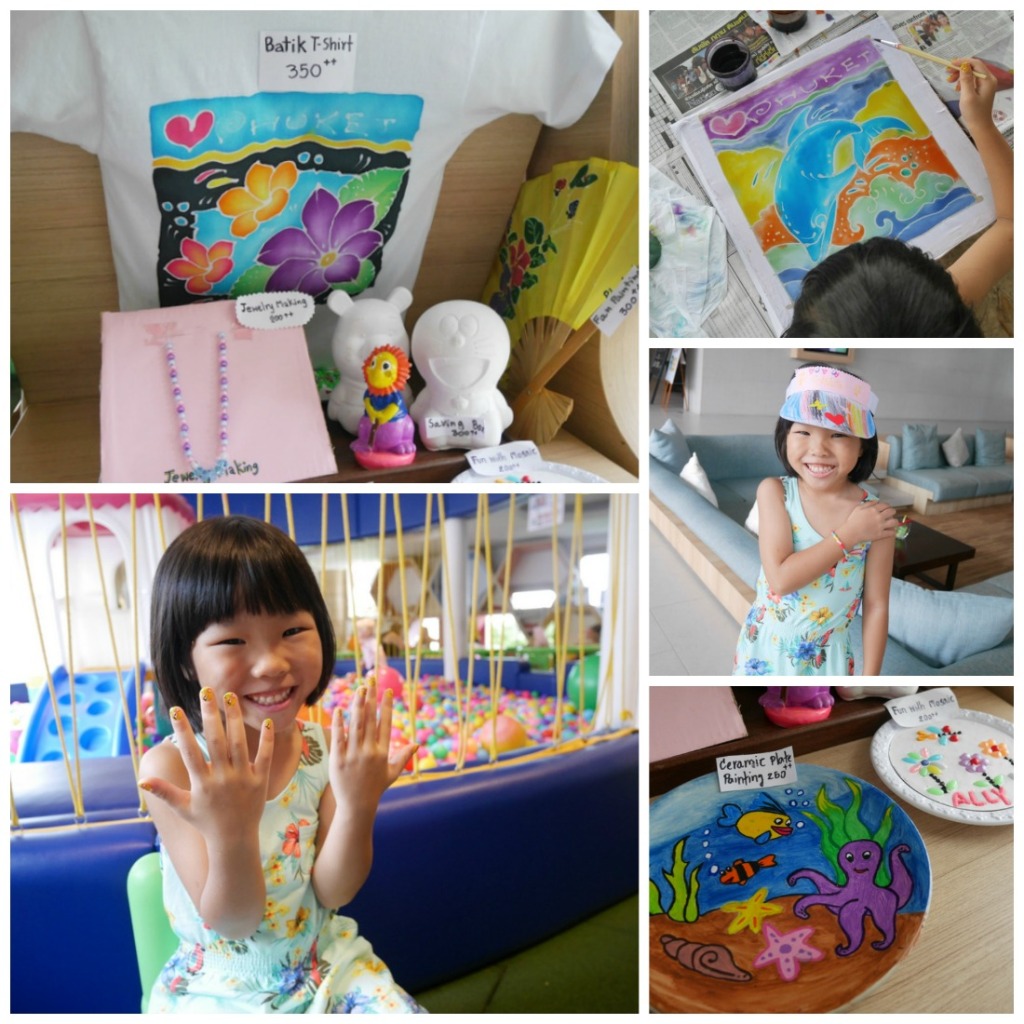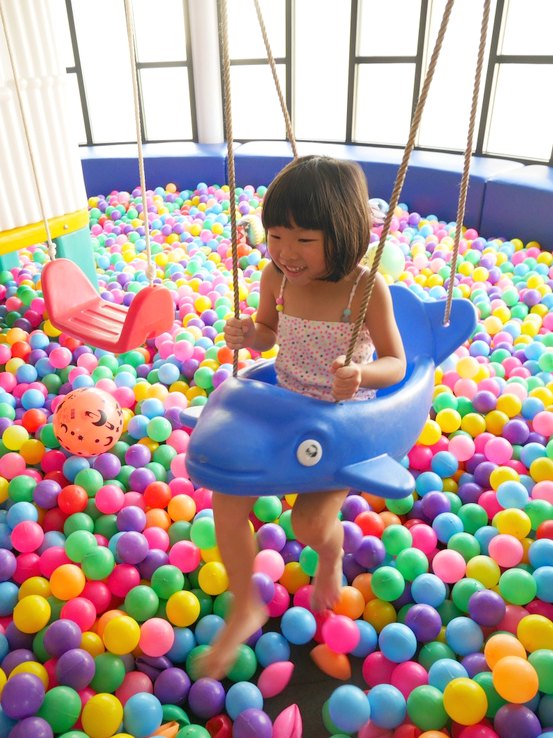 There is also a DVD and game consoles area for kids who prefer their screen time. And if quiet play is more their thing, they've also got a reading corner or they can do colouring.
And how do you know that Sophie enjoyed herself? She asked to go to the Kid's Club every single day after breakfast  and didn't want to leave unless it was meal or pool time. And this drawing that she did was a tell tale sign of how how much she enjoyed herself at the Kiddy Club with the friendly staff there.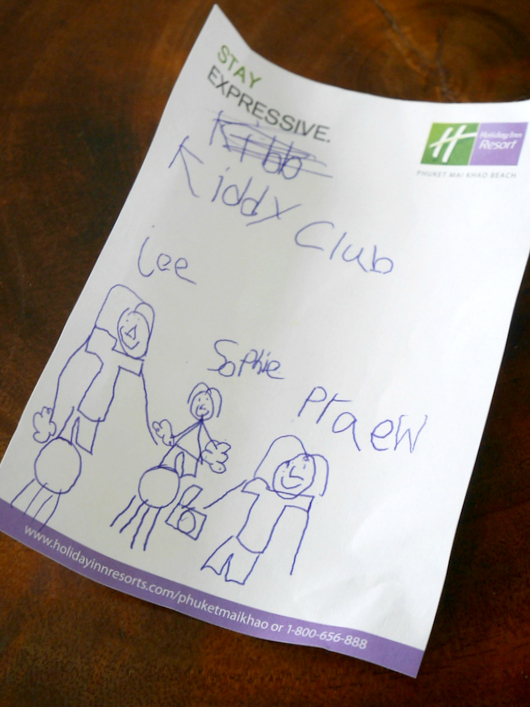 I'm truely thankful for this wonderful beach getaway at Holiday Inn Resort in Mai Khao. They have not only received the Certificate of Excellence on Trip Advisor for 2013 and 2014, the resort is also awarded as Top 25 Hotels for Families, Travelers' Choice winners in 2013 and 2014. And reading all these wonderful reviews on Trip Advisor, I know I'm not alone when I say that this holiday resort is an ideal beach holiday destination if you're looking for a getaway from the busy city life.
But if you prefer a more happening and exciting beach holiday, then stay tuned for our review of Holiday Inn Resort Phuket in Patong.
For this Christmas festive season, Holiday Inn Resort Mai Khao is offering a special offer when you book before 15 November and stay between 1 December and 31 January 2015 that includes:
Accommodation with daily buffet breakfast at J's Restaurant
One beverage package for the family at the pool bar with beers, soft drinks, juices and French fries
Kids cooking class
10% off on Food and beverages
Rates start from THB4,510++ (approximately SGD 175++)
Holiday Inn Resort Mai Khao
81, Moo3, Tumbol Mai Khao
Ban Mai Khao, Phuket
Thailand 83110
* A Juggling Mom received a complimentary stay at Holiday Inn Resort Mai Khao to write this review. No monetary compensation was received. All opinions are honest and are my own.
Tagged: family holiday, Holiday Inn, Mai Khao, Phuket, Thailand, travel