If I have a fairy godmother, my wish is to have freshly pressed clothes every day without lifting a finger. Yes, every single day. You see, ironing is the one household chore that I dread because I can't outsource it to my hubby. He's great at the other chores around the home (I know, I'm a blessed wife!), but ironing is one territory, he's not stepping into.
Ironing requires me to stand on my feet and give it my 100% attention. I've to remember to adjust the temperature setting as I go from my husband's working shirts to the jeans and then to my delicate garments. Then there are tricky corners in my already hard to iron clothing which makes the chore even more of a challenge. I'm guilty to even admit I've ever burnt my top and even damaged my iron. So domestic goddess I'm surely not!
So when I was given the opportunity to review the new Philips PerfectCare Pressurized Steam Generator (PSG) Iron, the question in my mind was "Can it really make ironing a breeze?"
First impressions
Wow, what a HUGE iron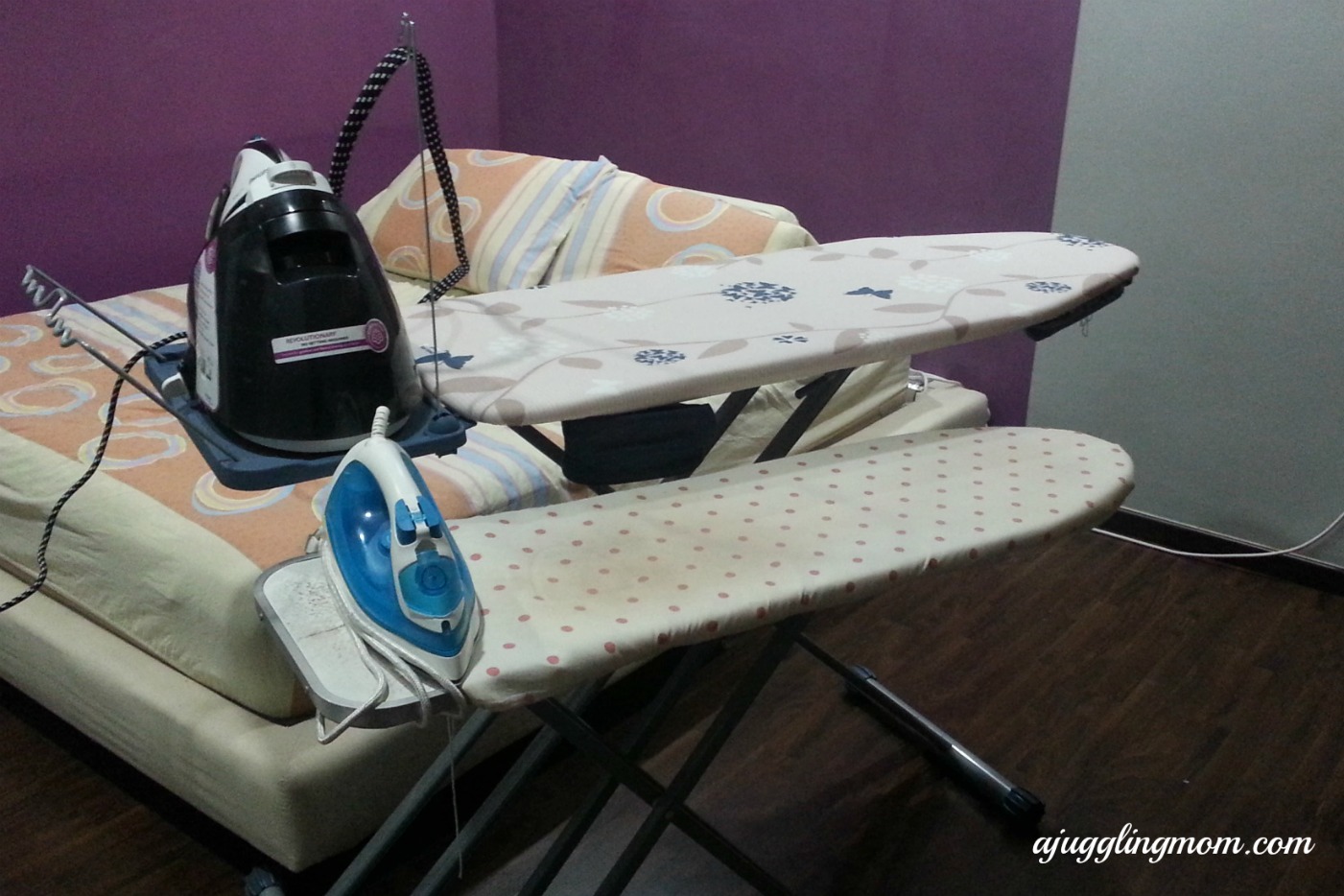 Look how much bigger it is compared to my current iron and ironing board.
The ironing board has a few innovative features like the Shoulder-Wing system to help you reach the corners of shirts. In addition, it has a storage basket, so items like your mobile and even the remote can be kept close by. On the side is also a shirt hanging rail for easy access to your clothing that needs ironing.
The set up is easy peasy.
Steps to get started:
First fill up the 1.5l water tank base unit. This provides up to two hours of uninterrupted ironing without refilling. With a flick of the steam generator button, it's ready for use in just two minutes.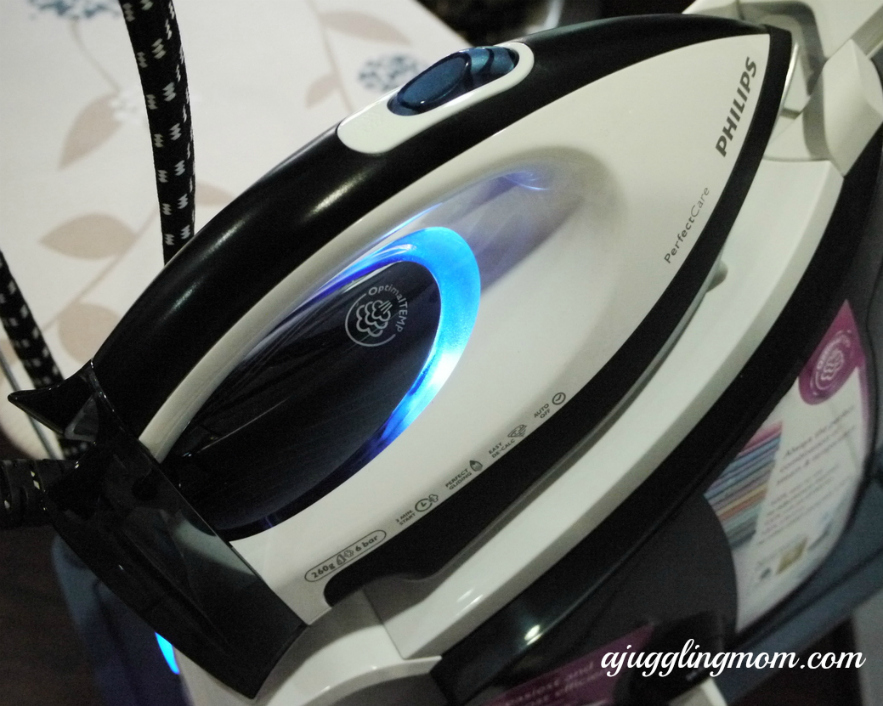 For regular ironing, select the ECO mode at optimal temperature which helps to go green at the same time.
For clothes with stubborn creases, you can use the steam boost function simply by pressing the bottom on the top of the iron. This helps to get the ironing done must faster and more efficiently.
Caution: Never direct the steam at anyone. And as tempting as it seems, please don't try to save yourself a trip to the hair salon and use this to steam your hair!
For delicate garments with pleats and gathers, you can try the steam iron vertically. Just hang your clothes on a hanger, pull it taut with one hand and with the other hand, press the steam button to release the steam.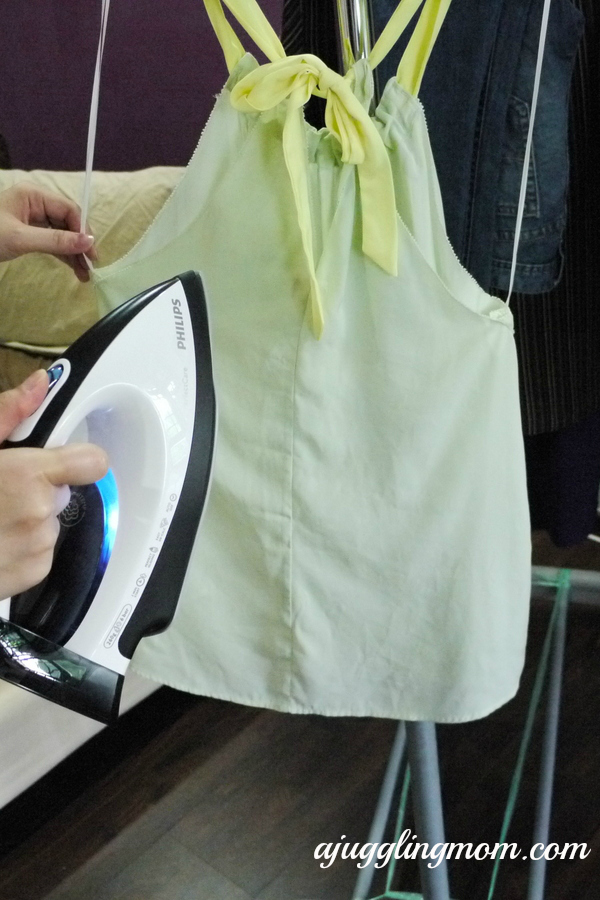 I tried to go over the creases with the base of the iron plate. But it took a couple of swipes and a jet or two of steam before it did its magic.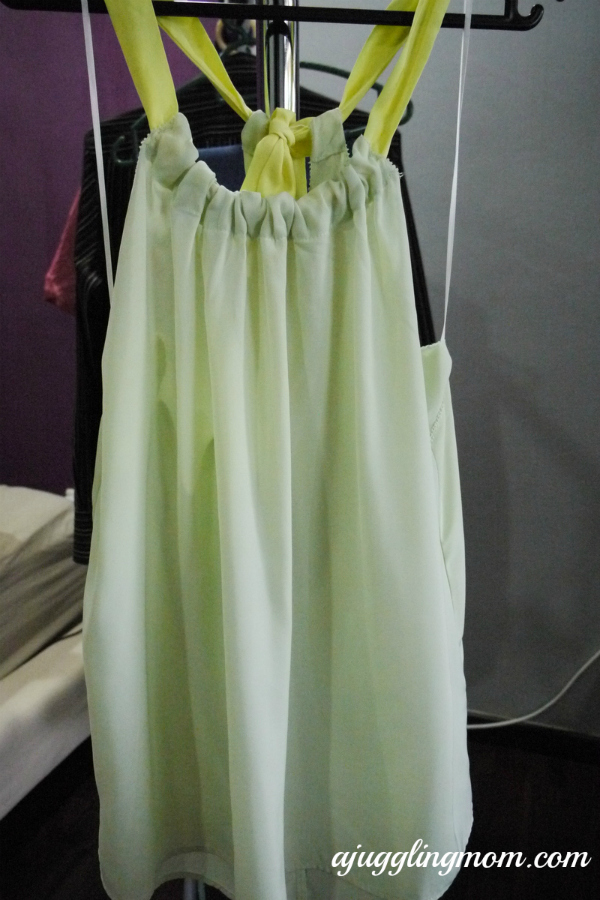 Promise put to the test
The promise that Philips makes with this iron is simply "No burns, no setting. Just perfect."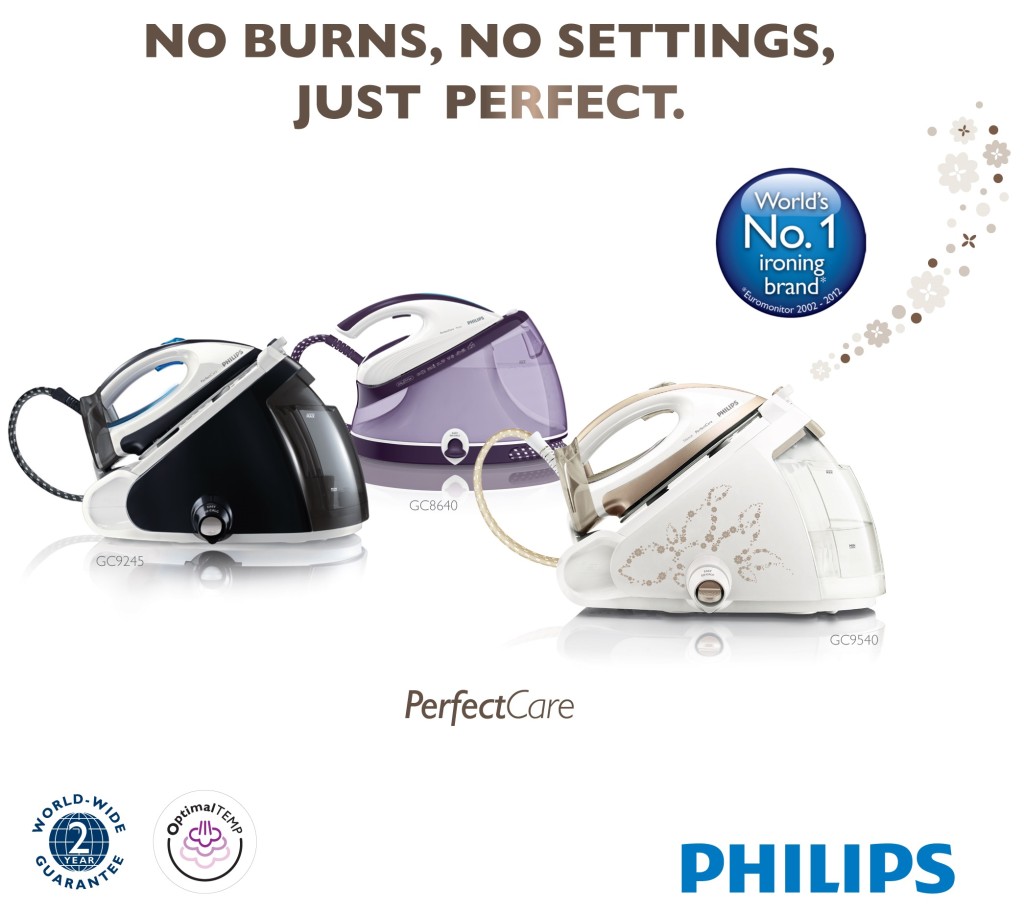 Don't ask me how it knows – it just works like magic and I did put it to the test.
Ironing my polyester blouse to jeans and t-shirt and I didn't have to adjust anything!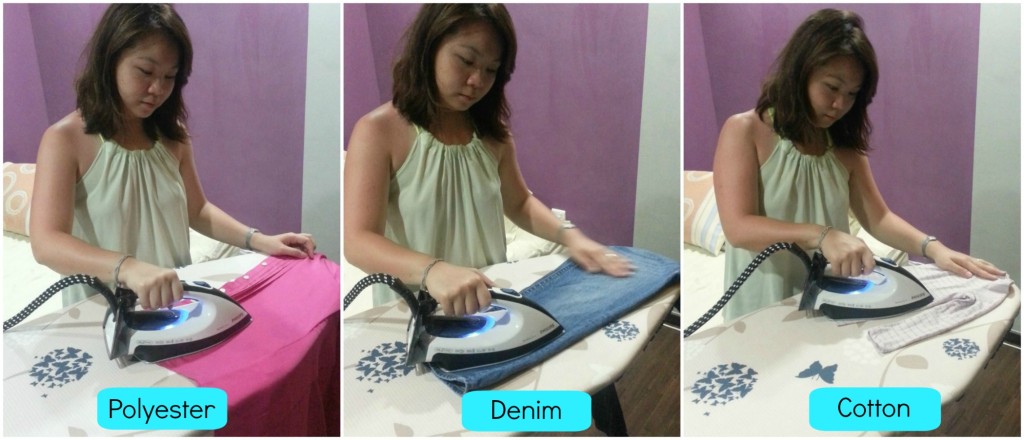 Delivered on promise. Check!
Think it's intelligent? Wait till you hear this.  If you accidentally leave this iron on your clothing your clothes will not be burnt regardless if they are silk, polyester or cotton.  Awesome for those with mummy brain, like me!
And the most important thing that all mums look out for, safety features. To store the iron, push the carry lock over the tip of the sole plate to lock the iron. With the iron fastened, you don't have to worry about flying irons!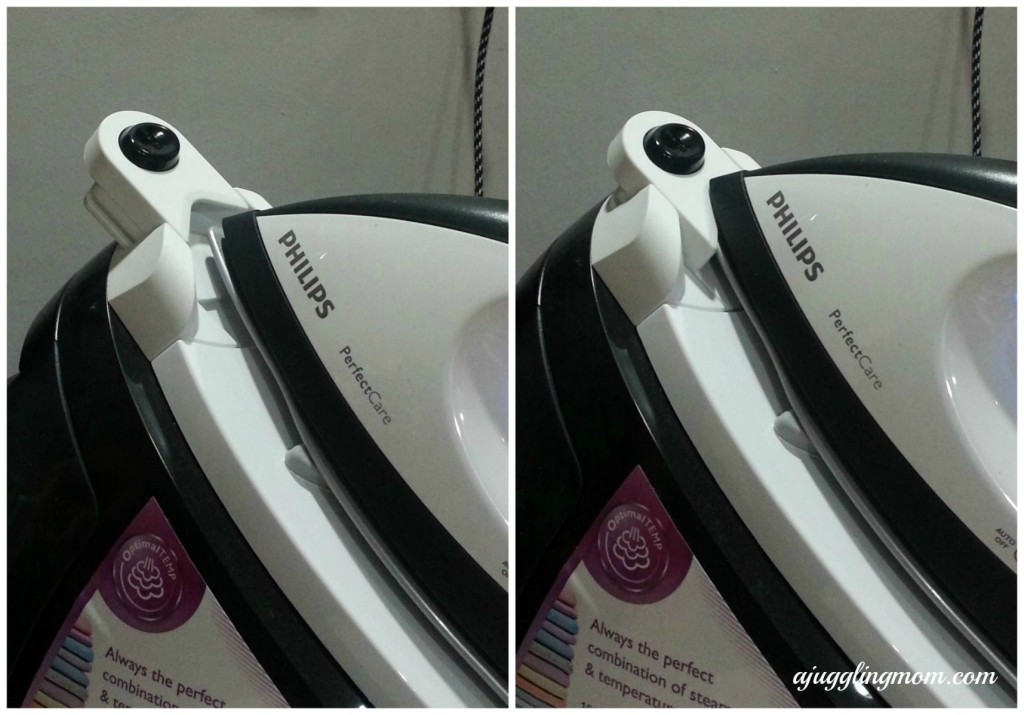 In fact, it's so user friendly that I've converted the man in the house to be my own personal Iron Man!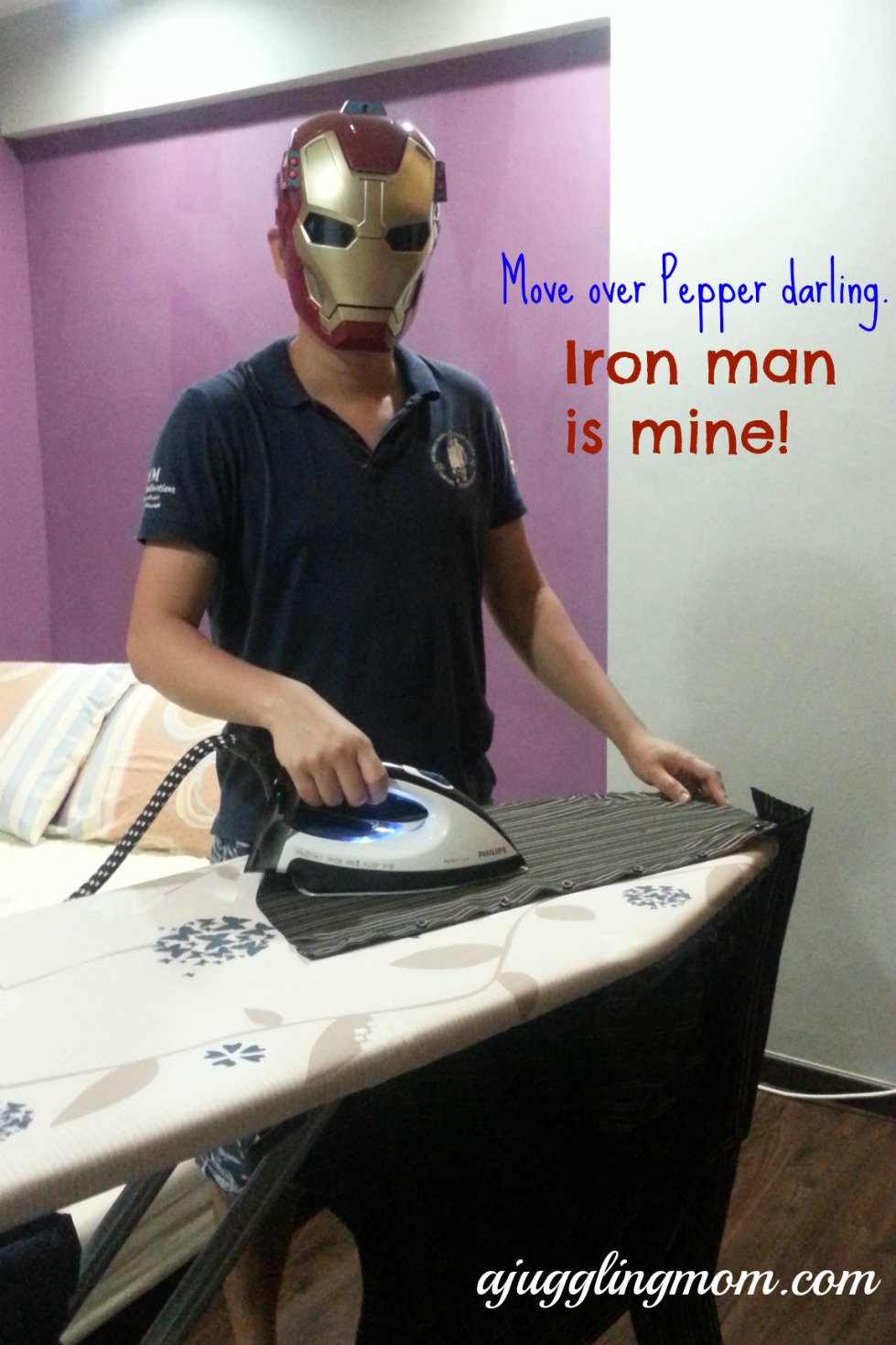 The Philips PerfectCare PSG Iron gets 4 stars from A Juggling Mom.

Pros
Quick set up of just two minutes
Transparent water tank so you'll always know when it needs to be refilled
No temperature adjustments needed
No fear of burnt clothing when the iron is unattended even with mummy brain
Bonus points because it's easy enough for the hubby to use
Cons
The big ironing board may be bulky if you have tight spaces in the home
Double takes needed for steam ironing vertically
The Philips PerfectCare Expert PSG Iron retails for $699 (with a Complimentary Easy8 Ironing Board worth $299!) at leading electronics and departmental stores.
* A Juggling Mom received the Philips Perfectcare PSG iron to write this review. However, all opinions are based on my own experience.
Tagged: chores, domestic goddess, housework, Philips