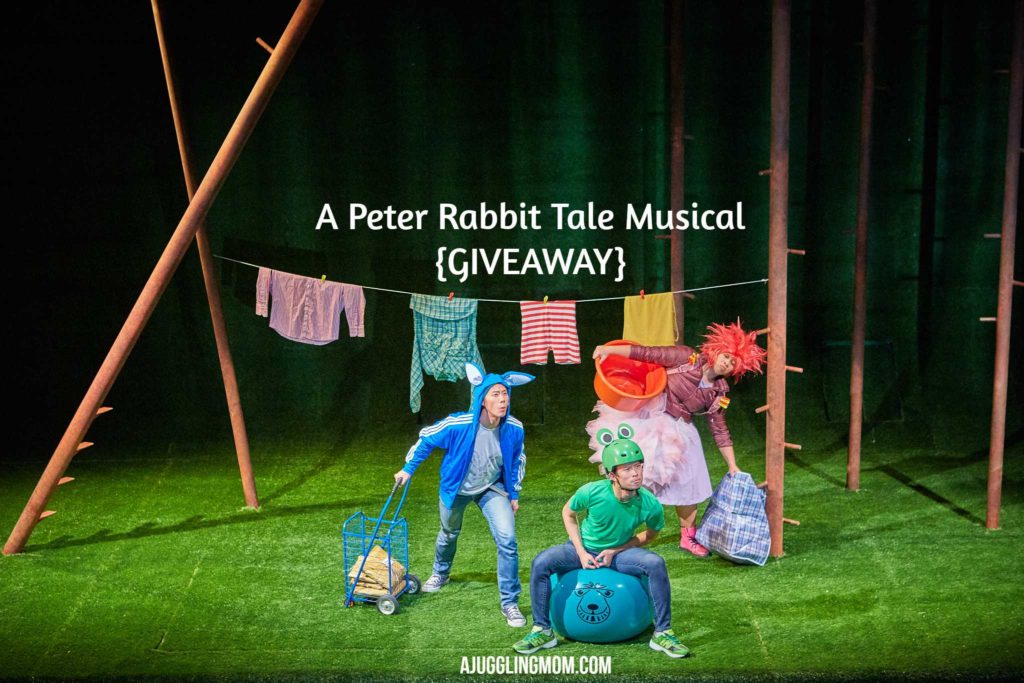 Peter Rabbit is a well loved children's classic by Beatrix Potter that many are familiar with. I remember liking Peter Rabbit when I was much younger in Primary school and wanted to buy a bunny as pet after I received a soft toy of it. But mum was dead against the idea because rabbits, if you don't already,  poo a lot and she wasn't going to clear up any shi*. 
Fast forward many years later, the Singapore Repertory Theatre is now staging A Peter Rabbit Tale musical by The Little Company for the family and I was so excited to take Sophie to watch the musical after hearing so many glowing reviews about it. It was the perfect way to end our March school holidays and we invited our friends along.
Since the recommended age for A Peter Rabbit Tale was 2 years and above, I was little apprehensive if the older kids would enjoy it since they are between 7 to 10 years old.
But as it turned out, my worries were completely unfounded as I saw the kids bopping and swaying their heads to the songs and they were amazed by the cast of 5 who took on multiple characters from homely rabbits, to playful squirrels, industrious mouse and many more on this musical adventure.
The storyline is about Peter's adventure when the mischievous bunny decided that he didn't want to be bossed around by his twin sisters who always called him lazy and irresponsible and ran away from home. Along the way, he decided that he could try to be another animal but none of them suited him.
During the show, the actors even ran up and down the aisles to interact with the audience much to the delight of the kids to make the little ones feel like a part of the show.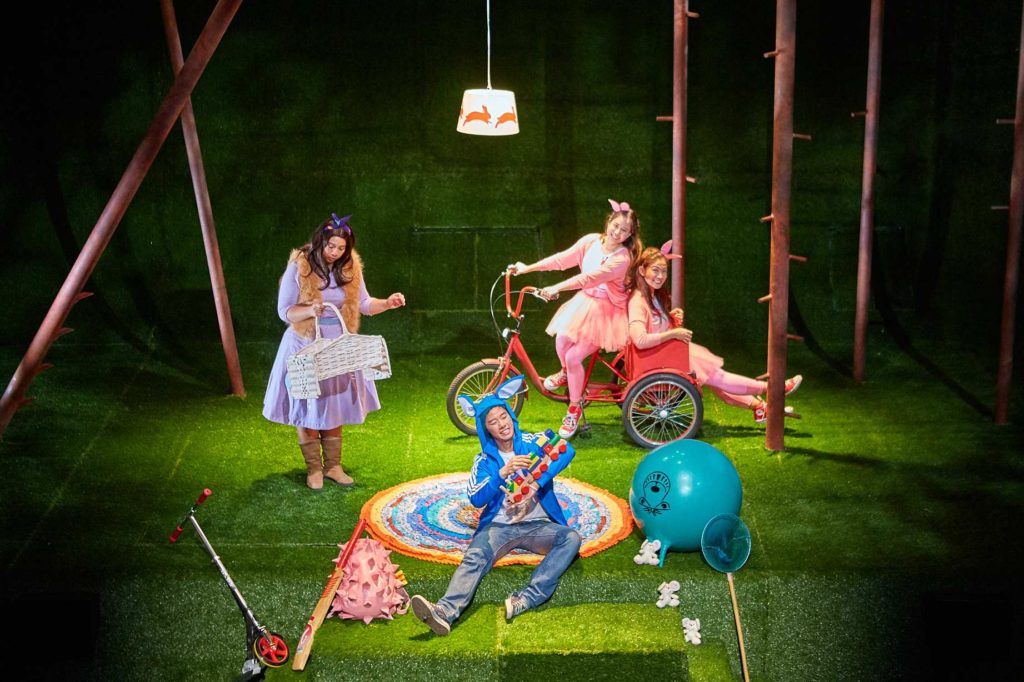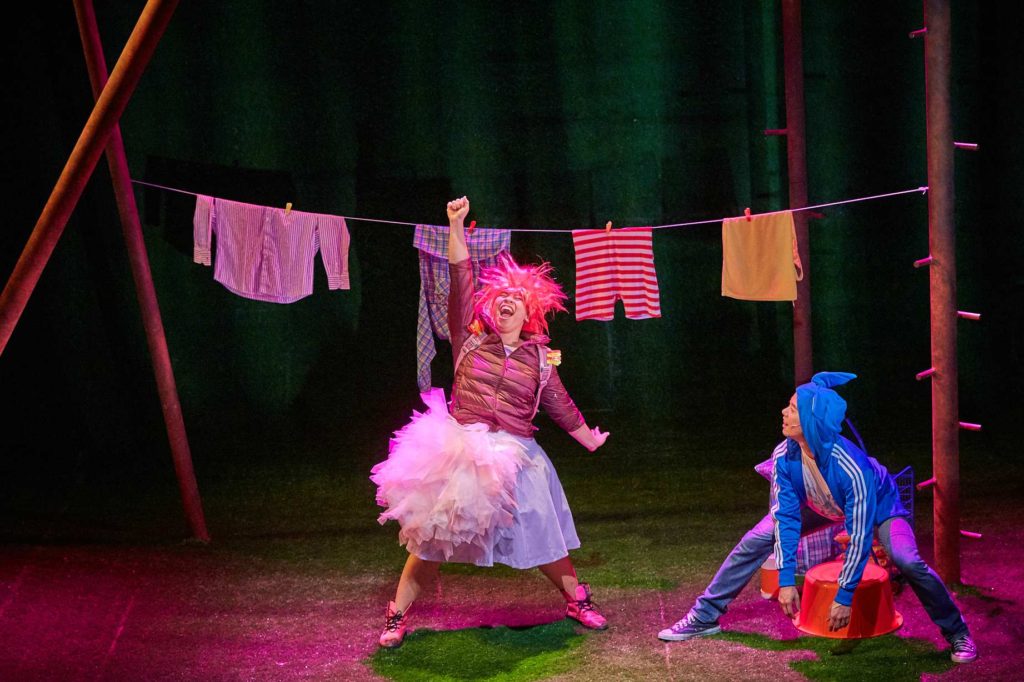 At the end of the day, Peter realises that there is no where quite like home after he meets Mrs Tiggy-Winkle, the funky hedgehog rockstar complete with a crazy hairdo and tutu. She gave him wise advice and made Peter realise just how important his family means to him
The lesson that everyone took home from the play is to always treasure your loved ones because they are the ones who always have your back and love you for who you are.
A Peter Rabbit Tale runs till 14 April 2017 so get your tickets before they end.
A Peter Rabbit Tale
Ticketing Details
Tickets start from $25 onwards and you can book via Sistic.
Dates
28 Feb (Fri) to 14 Apr (Fri) 2017
Show Timing
Weekends & Public Holiday : 11am & 2pm
Weekdays : 10am
Venue
KC Arts Centre Home of Singapore Repertory Theatre
20 Merbau Road
Robertson Quay
Singapore 239035
– – – – – – – -– – – – – GIVEAWAY FOR A JUGGLING MUM READERS (ENDED) – – – – – – – – – – – –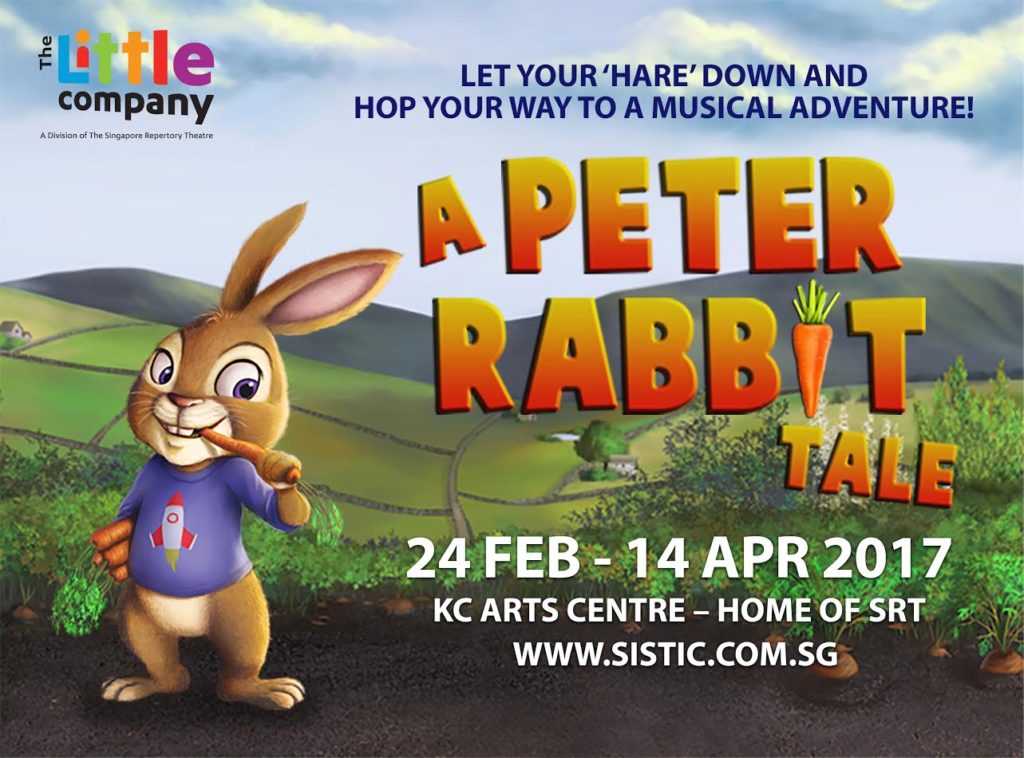 Thanks to Singapore Repertory Company, you can win a set of family tickets for 4 to watch A Peter Rabbit Tale on 1 April, Saturday at 11am.
All you have to do is:
1) 'LIKE' our Facebook Page and 'FOLLOW US' to be the first to get notified of our next giveaway.
2) 'SHARE' this post and tag 2 other friends, "Hey friends, take part in this giveaway to catch A Peter Rabbit Tale".
Complete both steps to be eligible for the giveaway.
ONE lucky winner will be drawn and announced on the blog and Facebook on 30 March, Thursday.
Good luck!
Congrats Joyce Tan Bee Chin!
You have won a set of family tickets for 4 to watch A Peter Rabbit Tale on 1 April.
Please note:
Giveaway ends on 29 March, 23:59
Only readers residing in Singapore are eligible for this giveaway
Winners will be notified via email and have 48 hours to respond to email otherwise a new winner will be drawn
Tickets are non-transferable and date/time of show cannot be changed
All false FB accounts will be disqualified from the giveaway
*A Juggling Mom received complimentary tickets to A Peter Rabbit Tale for this review . Photos are used with credits to ABA Productions.
Tagged: family friendly activity, giveaway, kids theatre, performance, SRT, the Arts