The month of October can be summed up in two words for me, Family Vacations.
And unlike other trips, where it was just the 3 of us, this time, my in-laws and parents came along and it was 3G family vacation first to Bangkok my in-laws and then to Penang with my parents. I've so much to share about both trips so I'll start with our Penang trip while it's all still fresh in my memory.
We took a short flight to Penang on Air Asia. Thankfully I don't have to bring along my usual arsenal of in-flight entertainment for Sophie for the one hour flight. But I did prepare books and did an impromptu crossword activity to prep Sophie on the places we were going and seeing on our trip. She also made a paper aeroplane for the Captain and scored herself a photo with him!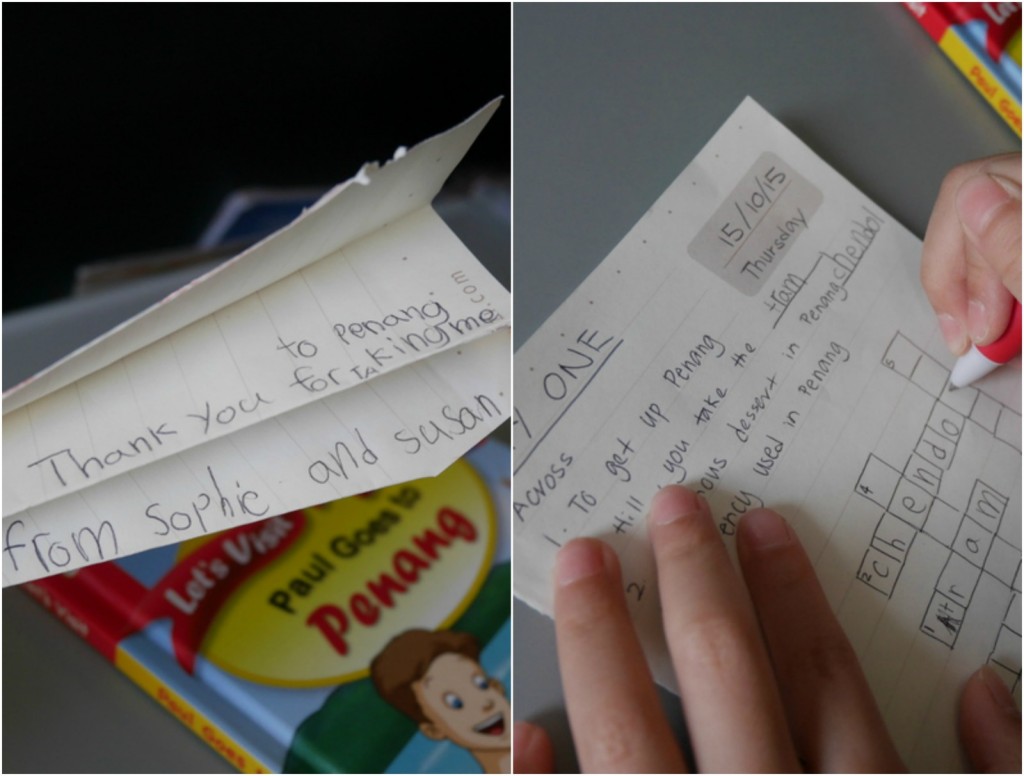 After we picked up our rented car from the airport, it was off to the hotel where we checked into the Golden Sands Resort, located along the popular Batu Ferringhi beach. When I was doing my research on family friendly hotels in Penang, the hotel came up many times among friends who gave it glowing reviews especially from those with kids. Besides the usual family friendly amenities, we liked that it gave us an opportunity to head to the sandy beach and get our toes in the sand and sea and be close to nature.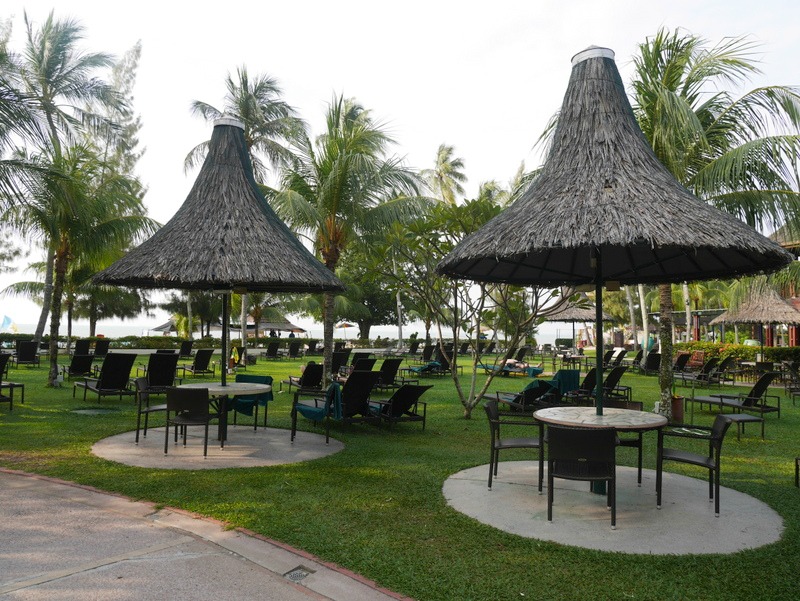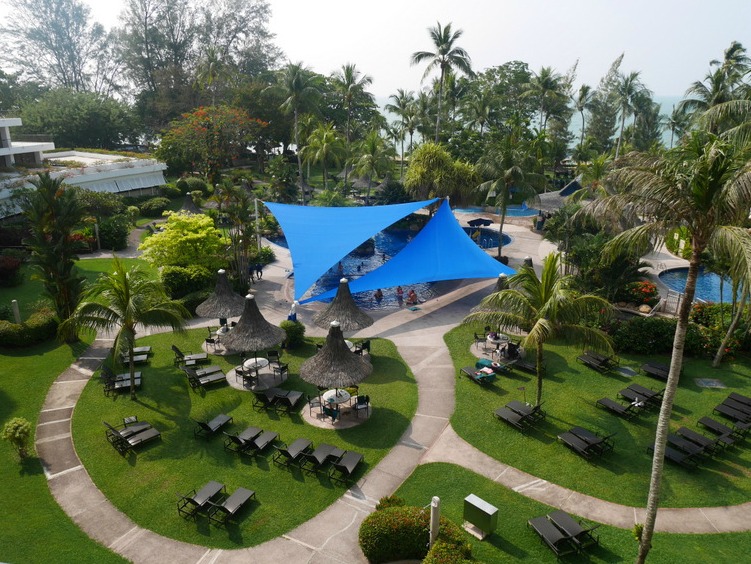 Being Golden Circle members, we were ushered to the Cool Lounge for check-in where we were greeted with warm hospitality and a welcome drink. Here guests can use their facilities like complimentary internet access, borrow books or watch the TV if the rooms are not ready yet. The hotel very thoughtfully arranged to have our room on the same level as my parents and we had the Deluxe Sea Facing Room while they had the Deluxe Hill Facing room.
Our room was furnished in a modern and contemporary style that exuded a very comfortable and relaxed resort vibe. I especially liked that the we had a full glass panel for the sliding door that opened up to panoramic view of the sea while overlooking the swimming pool. Sophie was welcomed by Polly the Parrot, the mascot for Adventure Zone that is an indoor playground right on the same grounds as the hotel!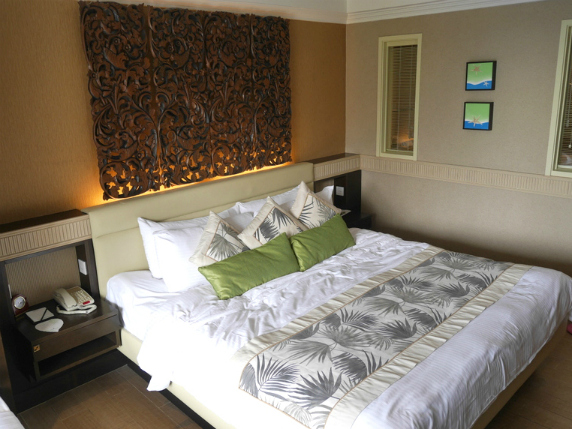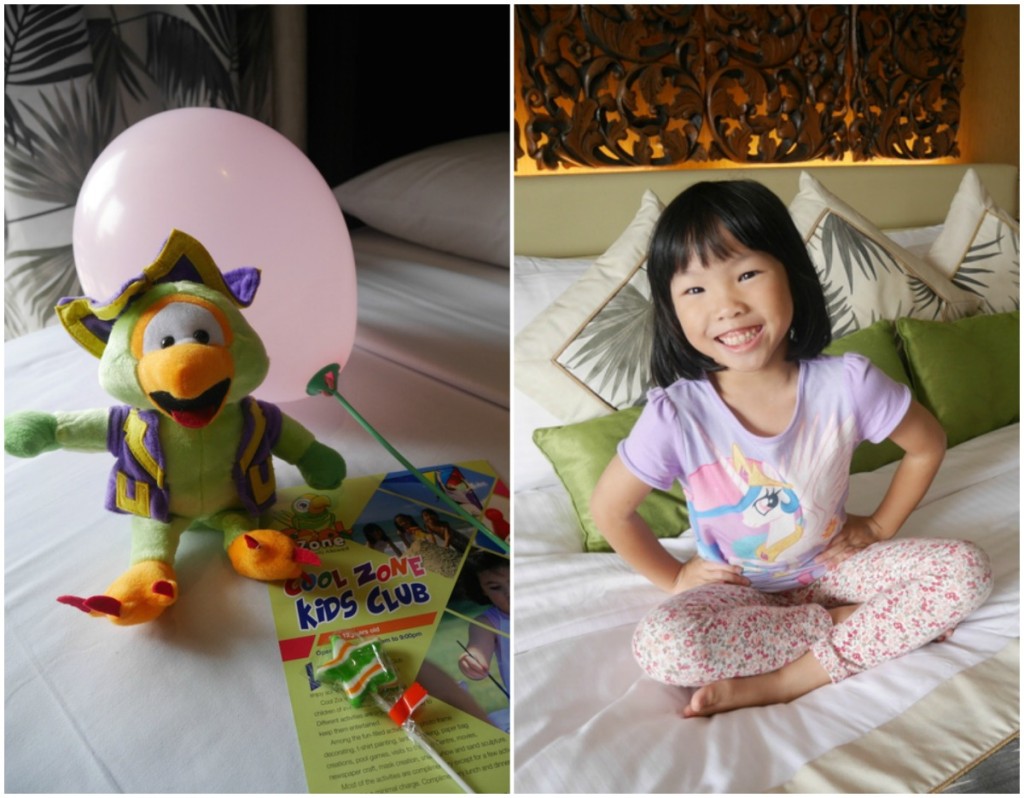 We wasted no time after unpacking and headed straight to the pool. As a family friendly hotel, they truly won me over when I saw the shelter above the kids pool. You know how we mothers will always try to get the kids out of the pool before they get burnt. In this case, never mind that it was 3pm  in the afternoon, and I can play to her hearts content in the cool of the shade, under the watchful eye of a lifeguard on duty.
Besides this pool for the kids, there was another childrens' pool with a water slide and it was a hot favourite among all the kids who went on the slide again and again. Too bad adults are not allowed! Guess it no surprise that we were at the pool on all three days of our stay.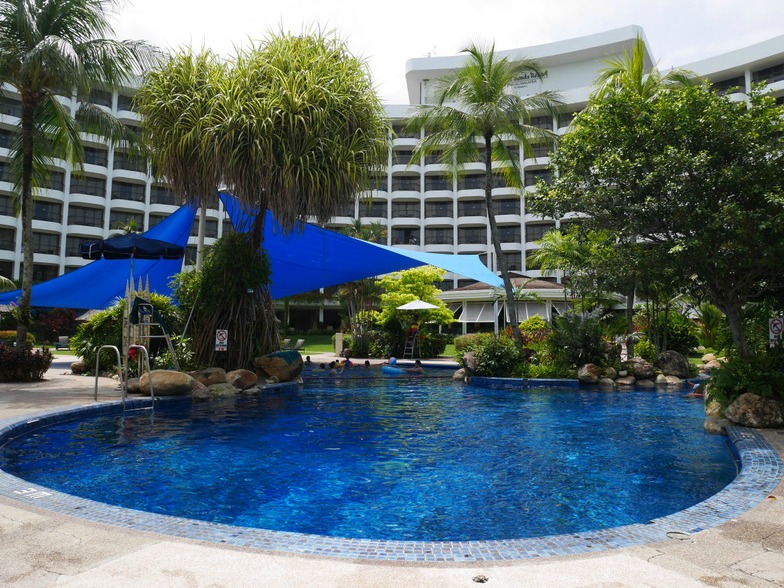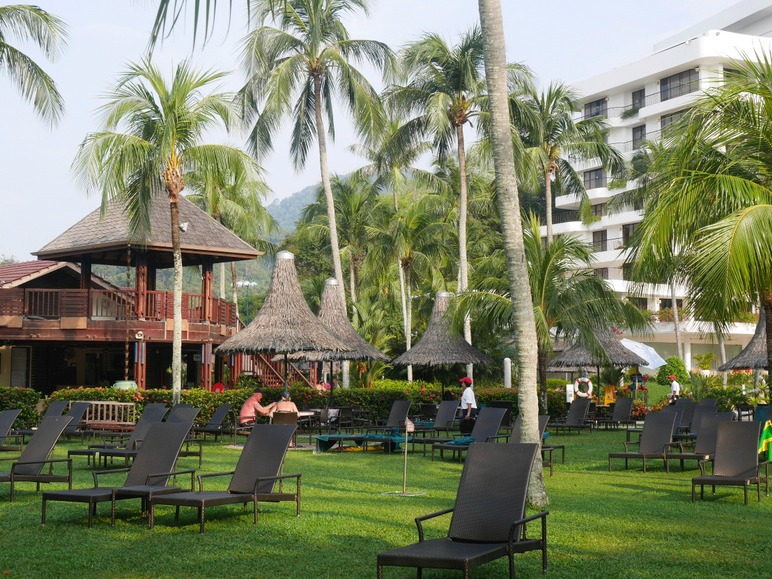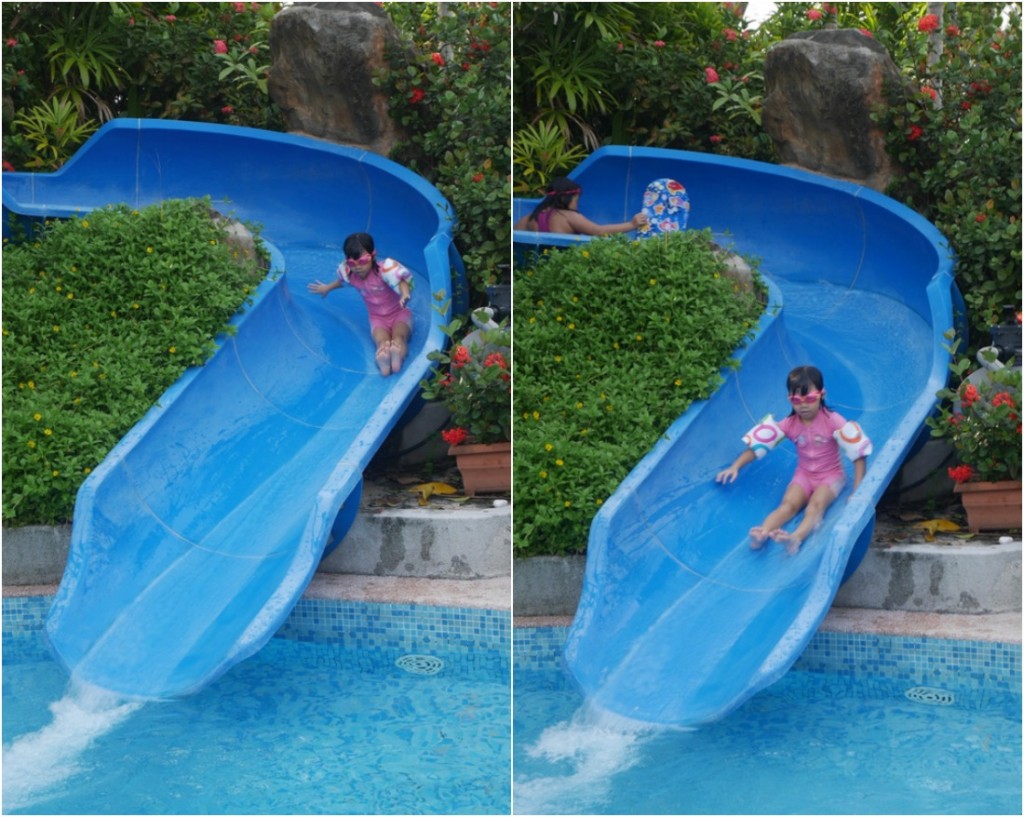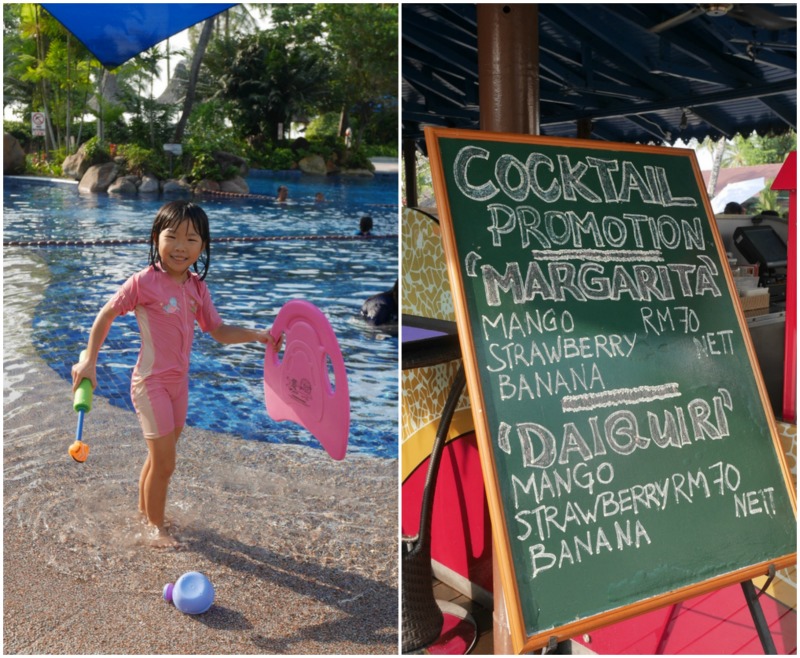 The pool facility was only one of the reasons that makes the resort a child friendly establishment. Young guests between 5 to 12 years old also get to enjoy complimentary access to the Cool Zone Kids Club where they have activities such as art and craft, t-shirt painting, sand sculpture and even cooking lesson so parents can sneak off for some couple time. And not to worry, complimentary meals are also provided for your child.
While we didn't a chance to check Sophie in at the Cool Zone Kids Club, we had a spectacular time at the Adventure Zone. Yes it wasn't just her who got to play this time, Alexis and I also got to be kids and zipped down the rainbow wave slides along with her. The main highlight of the Adventure Zone is their thrilling drop slides where they have three levels, the Hyperglide Astra Drop also known as the rainbow wavy slide to Sophie, the Double Drop and the Demon Drop which none of us dared to try.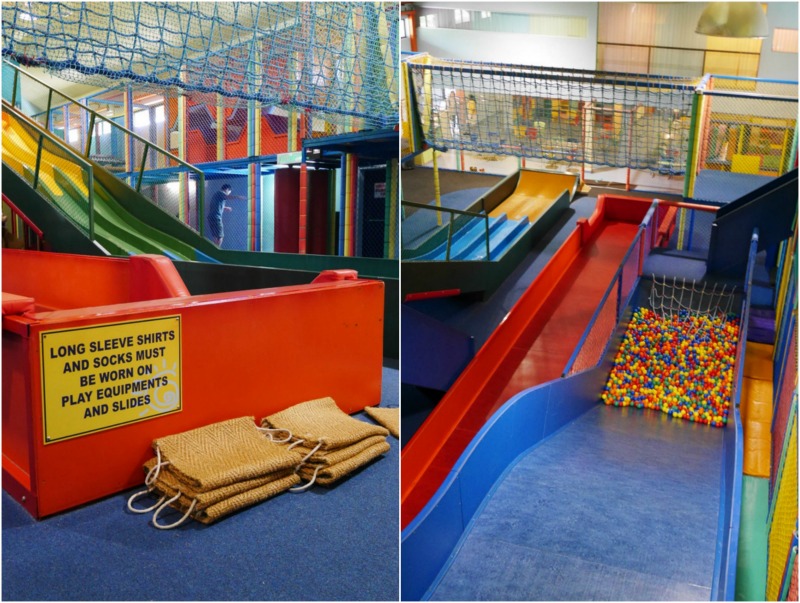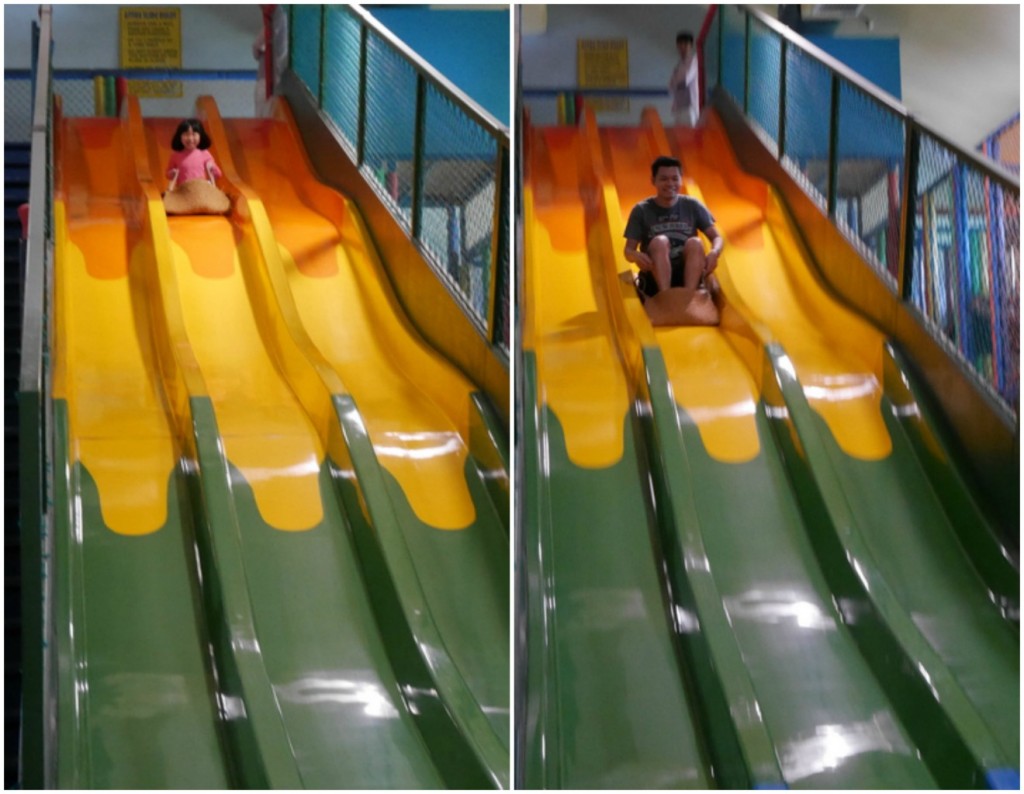 I took the most mild looking rainbow slide and it was so exhilarating that I embarrassed myself and let out a scream as I zoomed down the slide on the gunny sack while Sophie laughed at me. But I didn't let that deter me and we were off for more thrills.
We were not aware that we need to dressed in long sleeves and long pants so we couldn't try the other two slides. But Sophie did muster her courage and took the Double Drop where she landed into what she called M&M coloured balls and oh what joy to see her pride for conquering her fears and her her excited laughter from the rush of adrenaline.
Besides the slides, there were also challenging play modules that had us crawling, climbing, swinging, spinning and running around with abandonment. We must have played there for close to 3 hours and we probably would continue for another 1 or 2 more hours if we didn't have to go for lunch.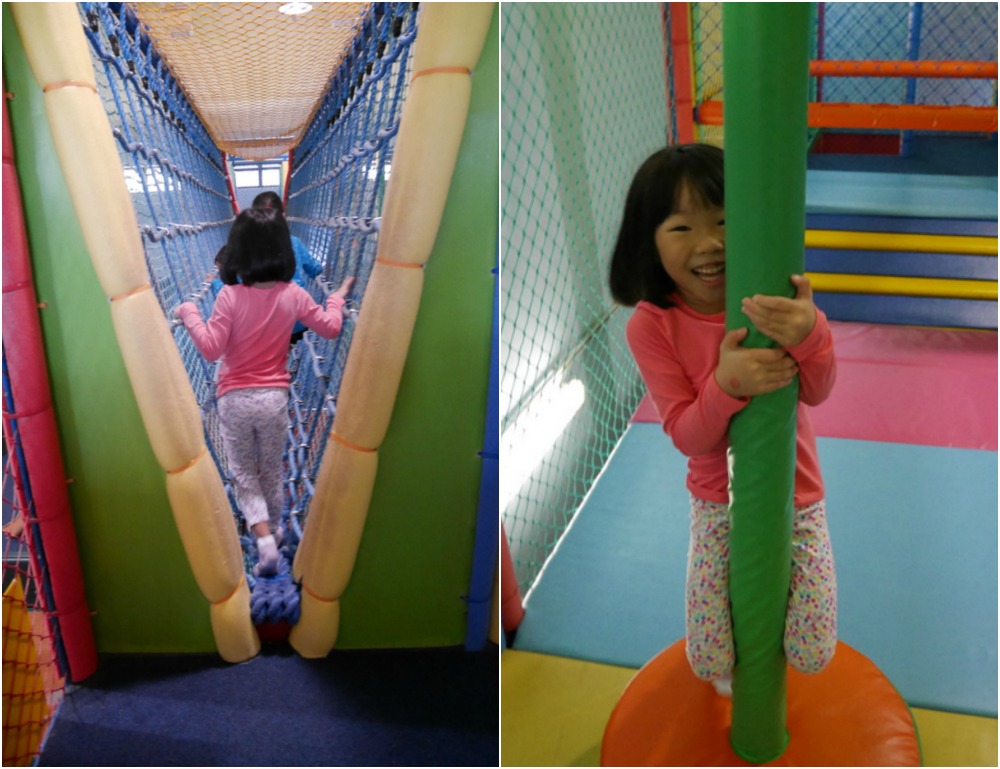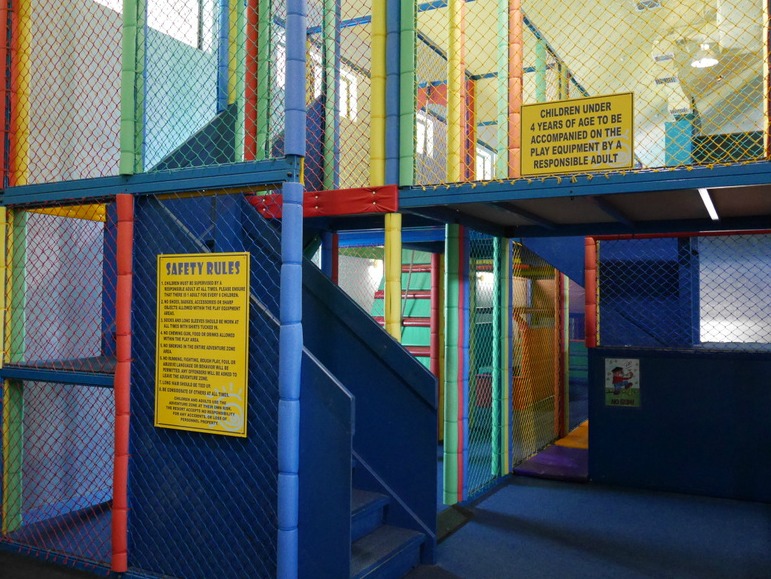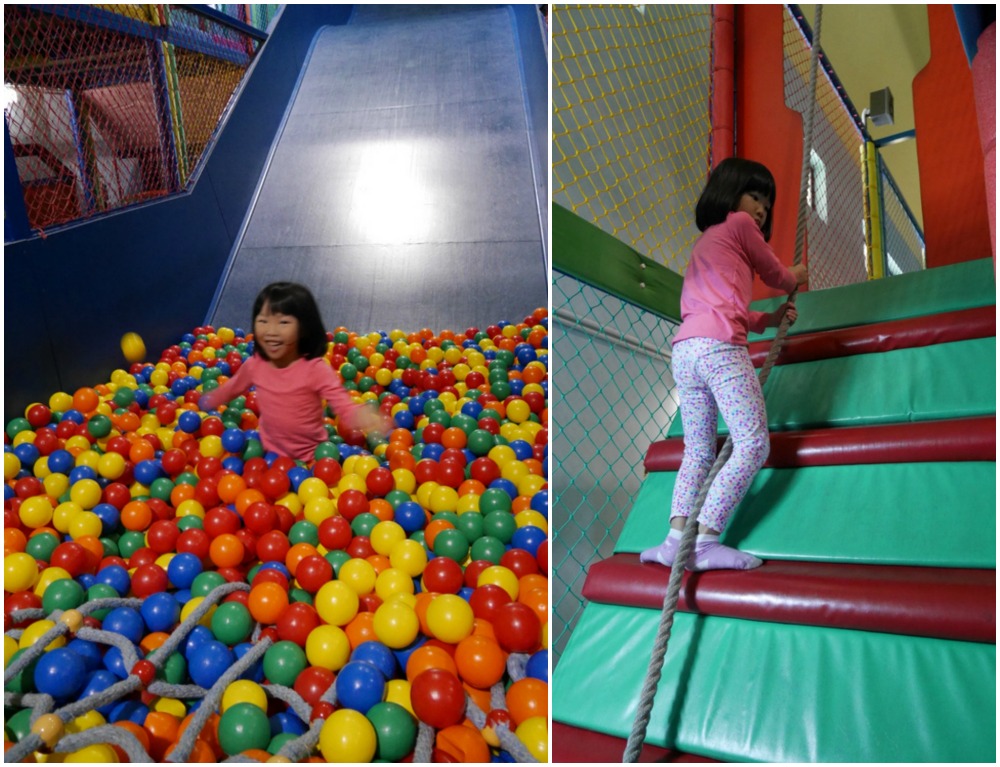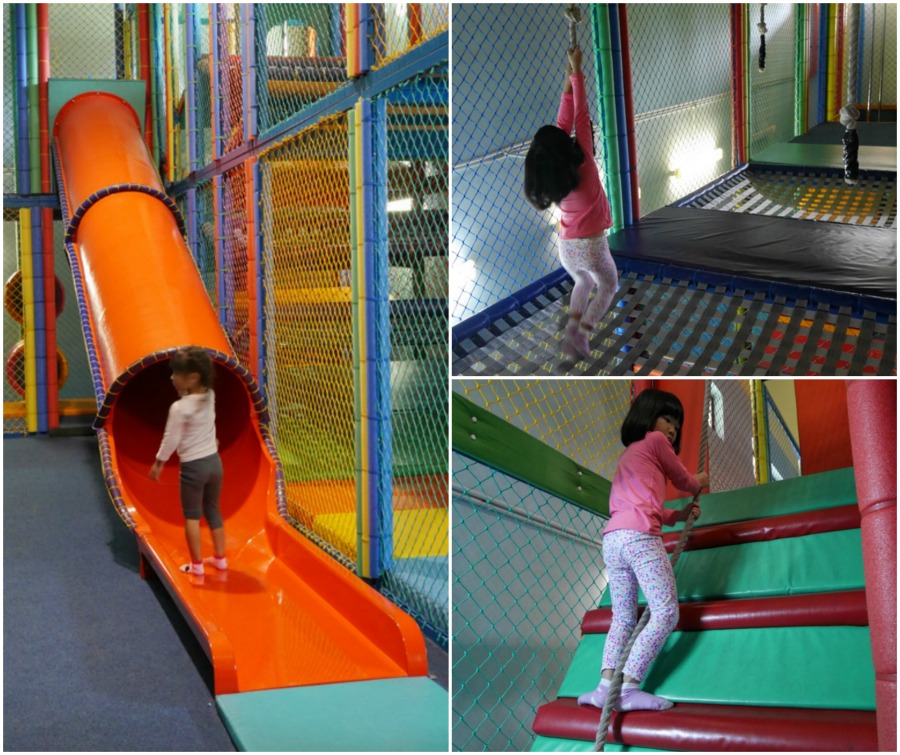 Our stay came with breakfast where we started our day at the open-air Garden Cafe that overlooked lush tropical greenery. We were spoilt for choice with local delights and international cuisines from freshly prepared roti canai to scrambled eggs, nasi lemak and dim sum, just to name a few.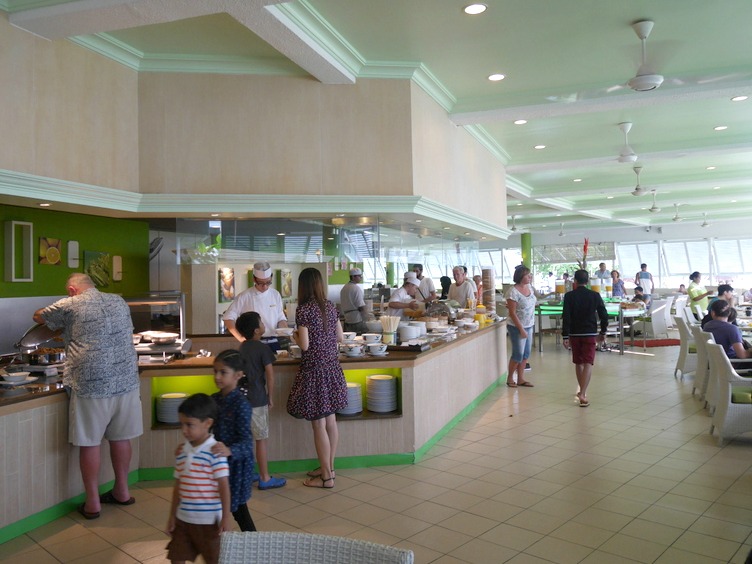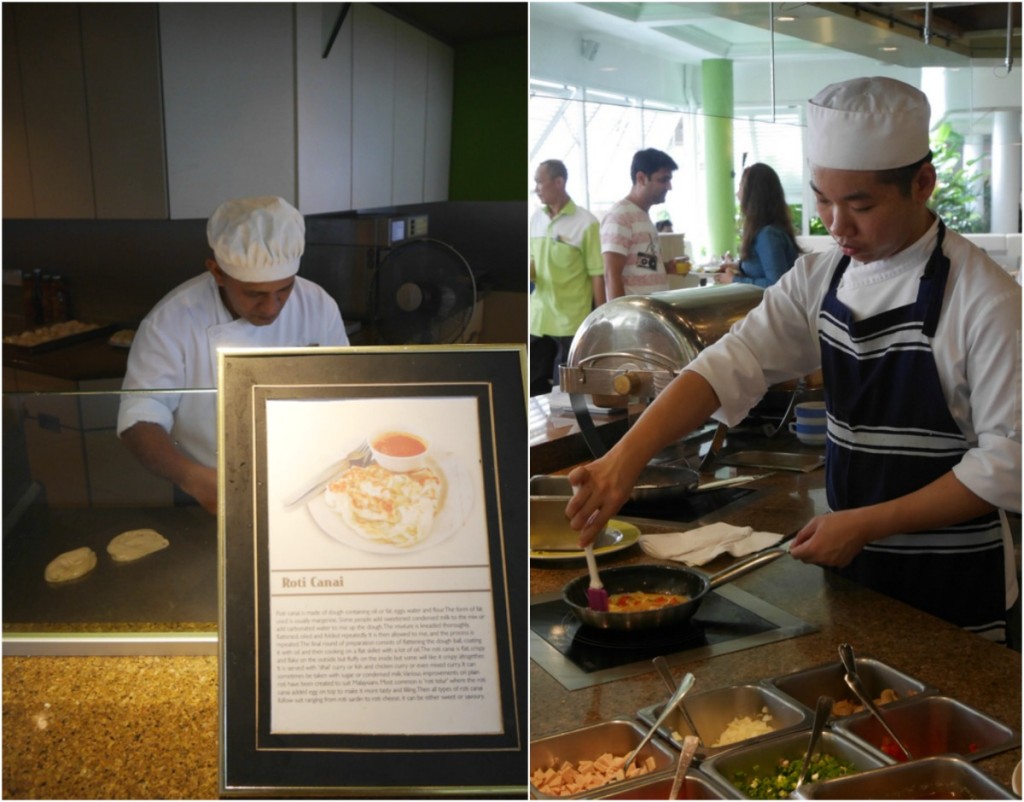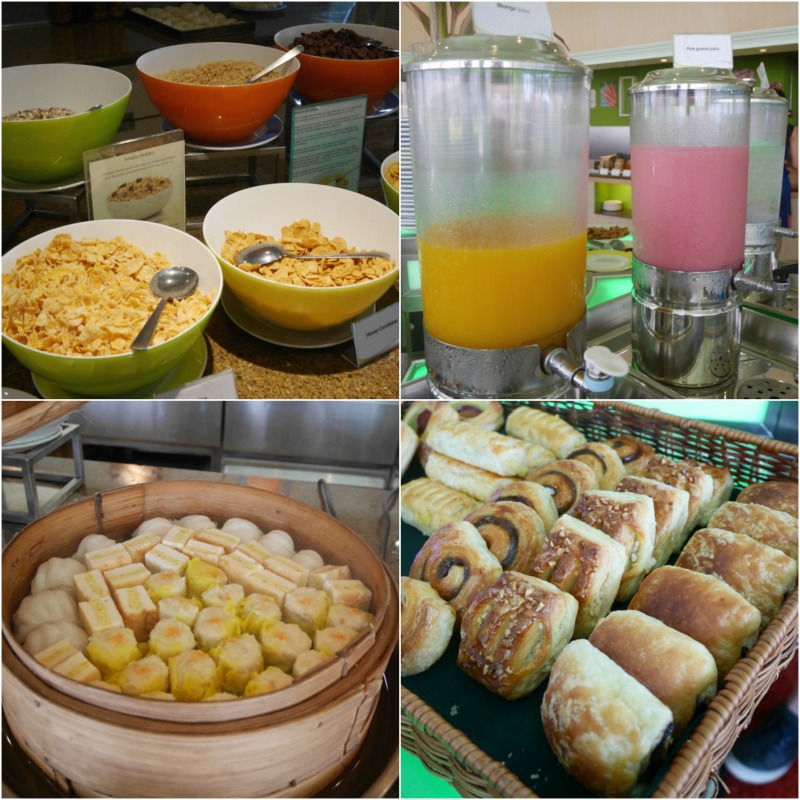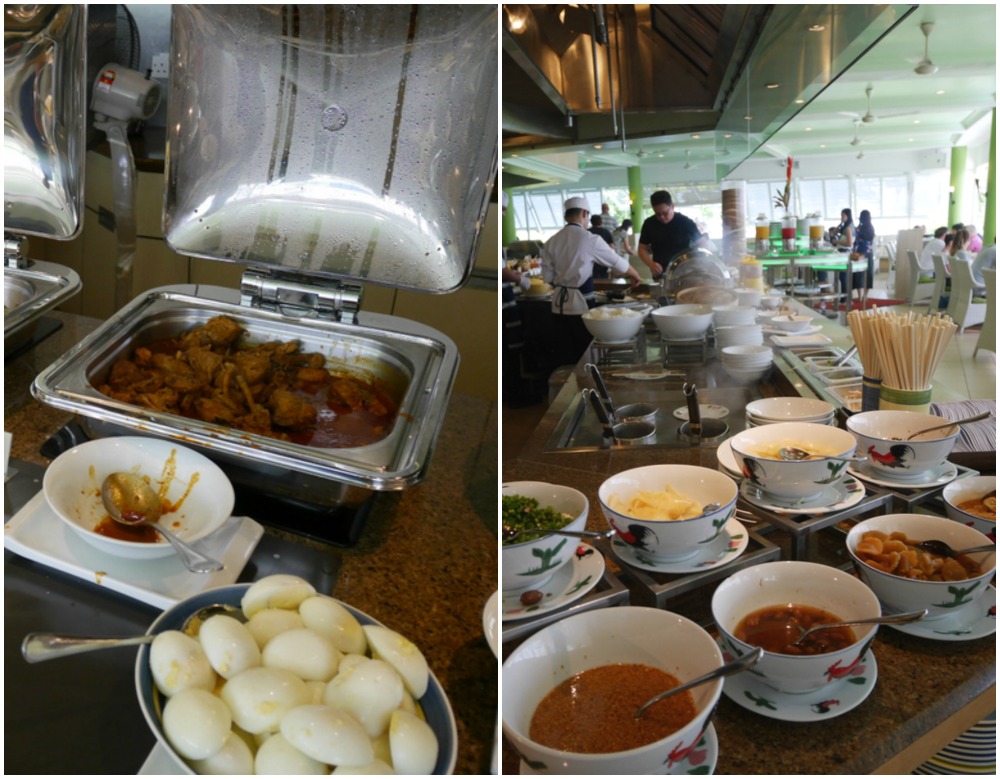 But more than just the food, the service staff were all very welcoming, wearing bright smiles as they ushered us into the restaurant. They would occasionally check in to see if we needed anything, asked how was our meal and assisted with every request with a smile. That's the warm hospitality that we really appreciated during our stay which made it extra special.
Since we haven't been able to head outdoors back home with the annoying haze, we were more than happy to wander out to the Batu Ferringgi beach which was right behind the resort. There were little huts offering massage, hair braiding as well as sea sports.
Sophie was contented to wet her feet in the sea and walk on sand and requested to go back to the pool. And since I missed my chance to do parasailing when we were in Phuket last year, I did it this time. It was exciting at first to be lifted off from the ground and flying up high and it was such an awesome feeling until I had difficulties decending. No matter how hard I pulled to get myself down, I was still afloat and I went for another round by which time I started to panic…
Anyway long story short, I realised I was supposed to only pull one side of the parachute to decend and finally managed to get myself on the ground after a loud thump 🙁 But still it was an experience I'll never forget.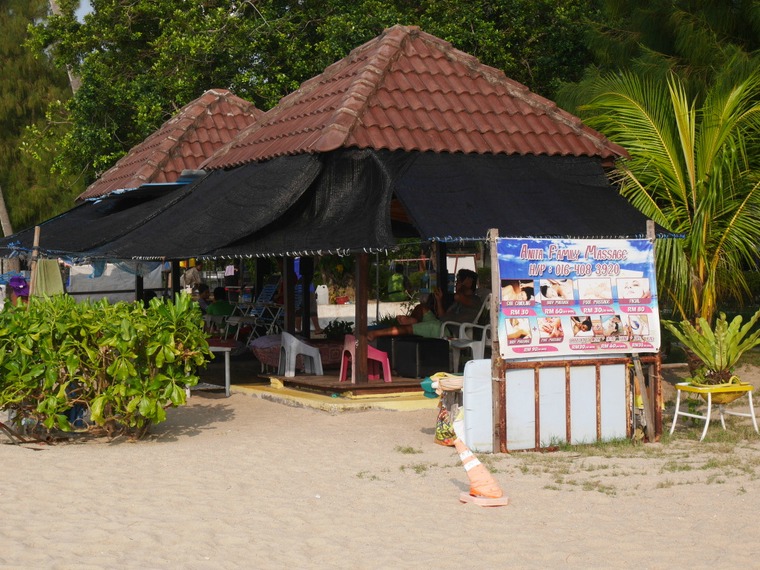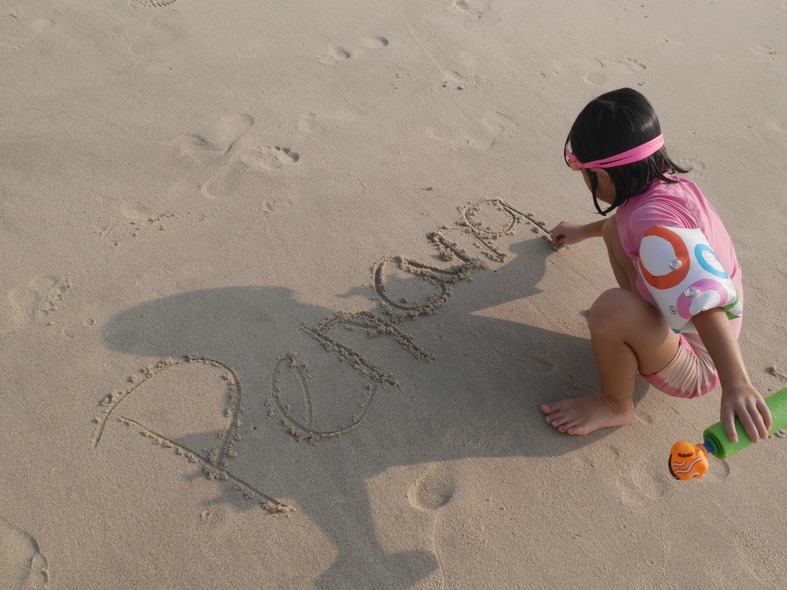 This is our third family trip to Penang and I'm certain we'll be back soon. The short budget flights definitely makes it easy for the family to get away for a vacation and oh the food, glorious food that Penang offers, which I must blog about in another post. 

Now that I've experienced Golden Sands Resort, I can see how my friends all have such fantastic reviews of it and my parents have been recommending the hotel to friends and family after we got back as well. Perhaps this 2016 Singapore Public Holidays is what you need to get booking for your next Penang trip 🙂
If you're seeking for an escape in Penang, then slip away with the new wholistic wellness escape programme at Shangri-La's Rasa Sayang Resort & Spa in Penang. The all-inclusive retreat that will allow you to unplug from your everyday routine and refresh your body, mind and soul.

* A Juggling Mom received a complimentary stay at Golden Sands Resort to write this review. No monetary compensation was received. All opinions are honest and are my own.
Tagged: family holiday, malaysia, Penang, travel