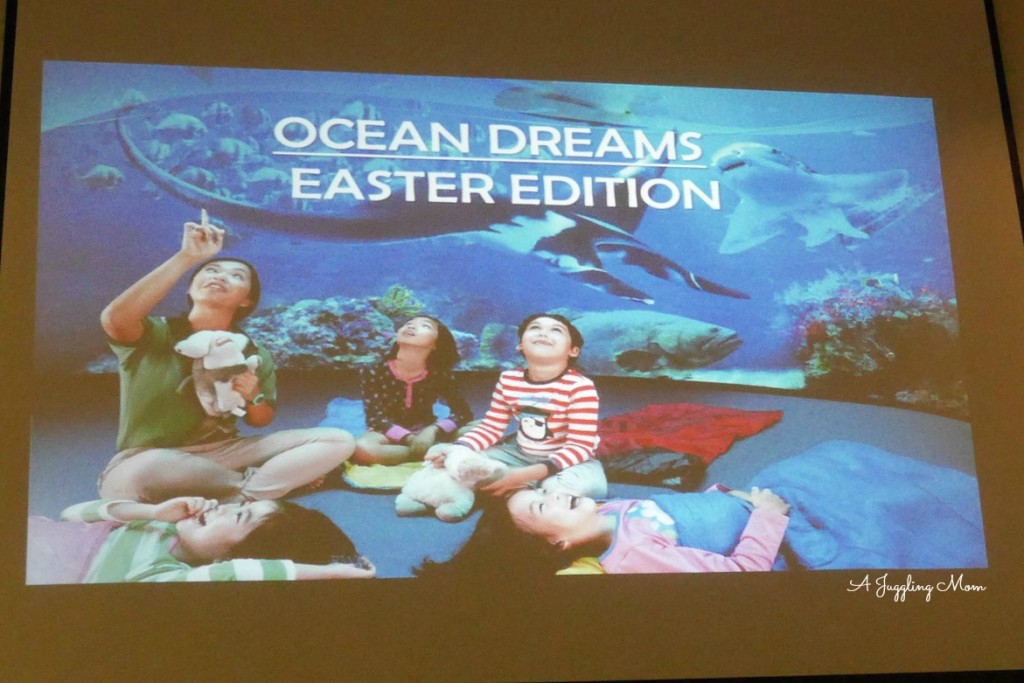 Everyone knows about the S.E.A. Aquarium in Resorts World Singapore. But I bet not many know that they have a sleepover program called Ocean Dreams that takes place right in front of the grand Open Ocean Habitat. Sounds like an amazing experience?
You bet and here's what you can expect at Ocean Dreams.
Ocean Dreams at the S.E.A Aquarium
Ocean Dreams is a 2 day 1 night sleepover program at S.E.A Aquarium targeted at families with young kids from 6 years and up. As our sleepover was on the first weekend of April, they had a special Easter program with an Easter twist from games, programs, right down to meals.
Day One
After a prompt check- in, we were ushered to a holding room and were briefed on the program. There were a total of 8 families and to my surprise, half of them were tourists hailing from Japan, India and China.
To keep the group more intimate, we were split into two teams and set off to explore the Maritime Experiential Museum with our friendly facilitator, Captain Ashlyn.
The guided tour, was just one of the perks of our staycation as you'll normally have to rely on the information at the exhibits. This gave us plenty of opportunities to learn and ask questions about Asia's maritime history and rediscover Singapore's past as a trading port.
We got acquainted with the two big ships, the Jewel of Muscat as well as Admiral Zheng He's treasure ship (Bao Chuan) and learnt many interesting facts about them. Like for example, did you know that the Jewel of Muscat, which is a replica of a 9th Century Arabian ship,  doesn't use a single nail and its timber planks are all sewn together with coconut fibre ropes?
To engage the younger ones, there were games and activities and the kids instantly bonded as they put their heads together to solve puzzles and play charade.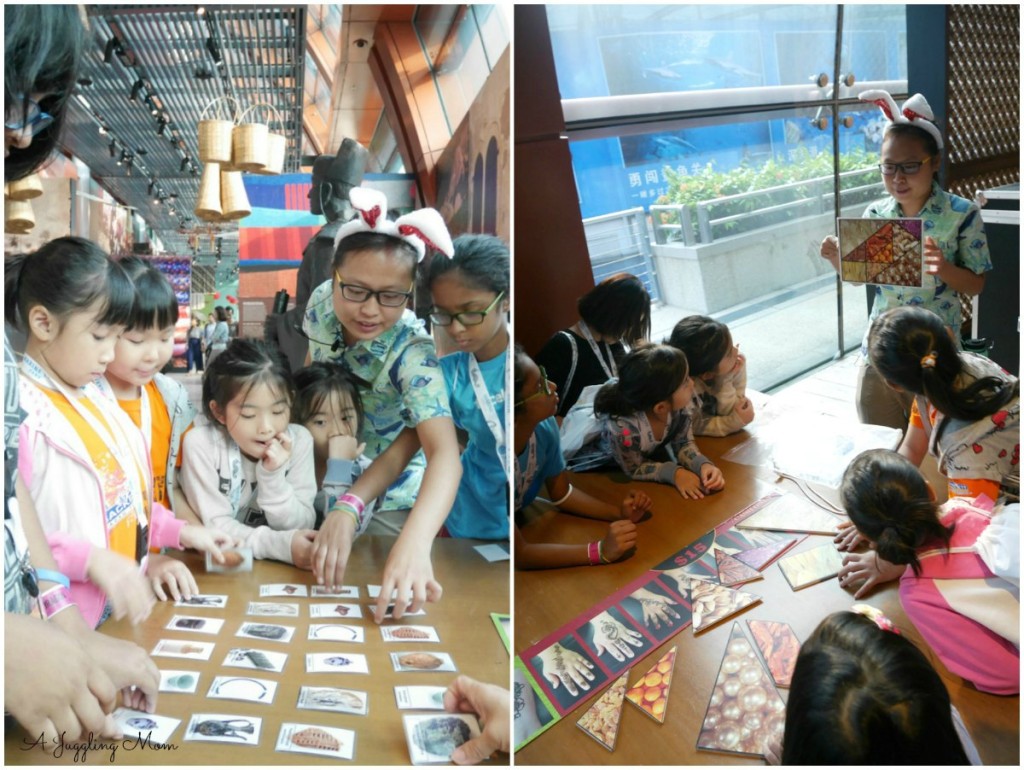 After dinner at the Bay Restaurant in Adventure Cove Waterpark, we were off to an exhilarating 4D show in the Typhoon Theatre.
The special effects of the typhoon was so realistic complete with lighting, thunder and even rain that Sophie cowered in fear under Daddy's protective arms. Photography is not allowed but trust me, the show is really top-notch and we were awed by it.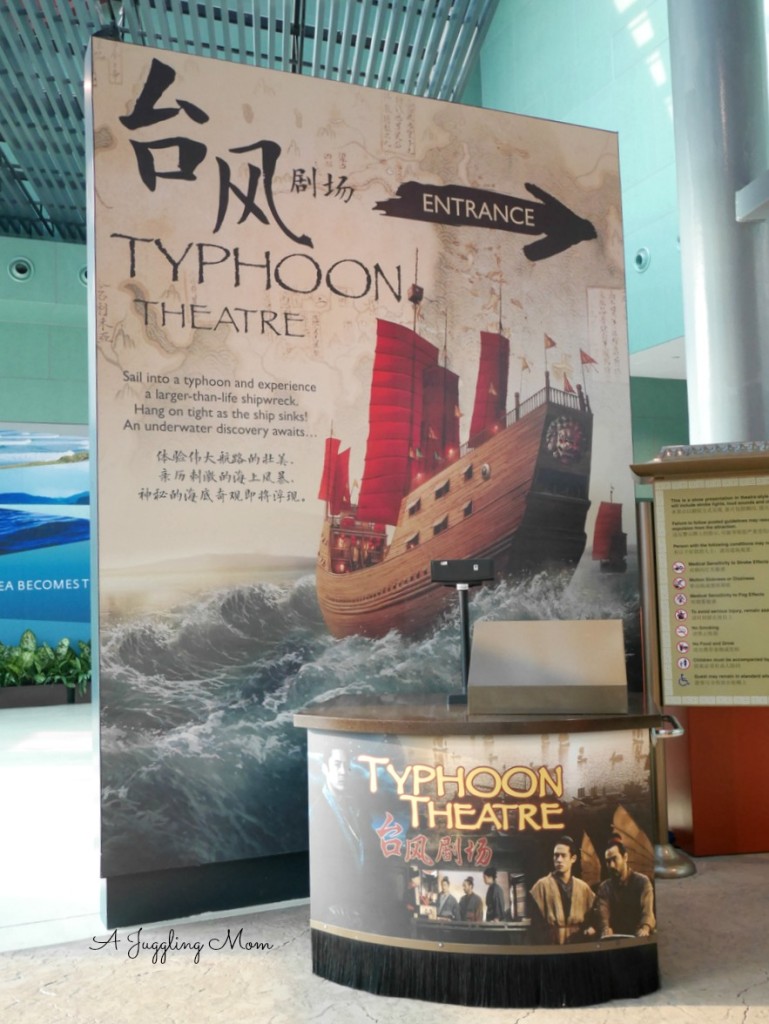 For little Sophie, her fears soon turned to excitement when she and the other kids heard that there was going to be an Easter Egg hunt inside the Aquarium.
By now, all the guests have left for the day so we had the whole aquarium to ourselves, yet another bonus where we could take our time to look at the exhibits without having to crane our necks and get elbowed by the crowds to get a better look. The knowledgeable guide.was also on hand to answer all our burning questions.
Naturally, the kids were attracted to the Discovery Touch Pool where they got to hold a knobbly sea star, sea cucumber and even a mermaid's purse – the pod where a baby shark was hatched from.
My favourite part was seeing the sea jellies floating carefreely in the tank. I am always so mesmerised at the sight of these beauties and there is something so therapeutic and calming watching them float about.
It's hard to imagine that they are venomous and can cause so much pain if one got stung by them.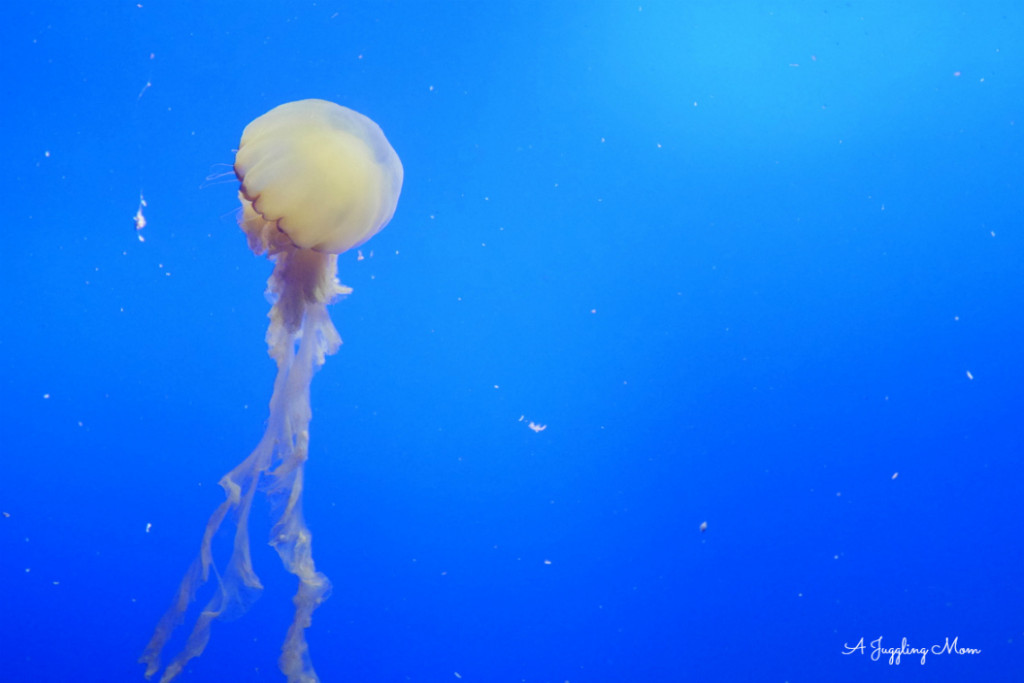 With our guide around, we could field off questions from the kids to her and it was an educational session for many of us adults too as we discovered the various species of marine life and their respective habitats during our private tour.
Before we knew it, our day of fun has come to an end. But bedtime was another highlight as we were going to sleep right in front of the Open Ocean Habitat viewing panel!
Sleeping bags and blankets were provided and we laid them out in full view of the viewing panel. By the way, this was Sophie's maiden sleepover but not many can boast that they slept with over 100,000 marine animals with some of the big boys likes giant manta rays, goliath groupers and leopard sharks.
In my opinion, what we had was clearly a  much superior view than the  folks in the Ocean Suite since they only got a fraction of our view. But we also got a fraction of their comfort since we had to sleep in sleeping bags #justsaying
Like the rest, we didn't sleep after the main lights went off as everyone was still transfixed on the spectacular view before us. Sophie in particular was hesitant to sleep because she was worried that the sharks were going to eat her when she asleep.
Not an unfounded worry for a six-year-old but we explained that we were actually behind a very thick wall, 70cm to be precise, so we were not going to be supper for the sharks.
Even after Sophie drifted to sleep, I laid awake admiring the amazing sea life that was teeming with life and marveled its beauty. The world seemed to come to a stand still and brought about a indescribable sense of serenity and soon I was lulled to sleep.
Day Two
Morning soon came and after a quick wash up and a morning snack, we were whisked off for a surprise as someone was waiting to greet us – the Dolphins!
These lovable Indo-Pacific bottlenose dolphins were a friendly bunch and they swam up to us when they saw us waving to them.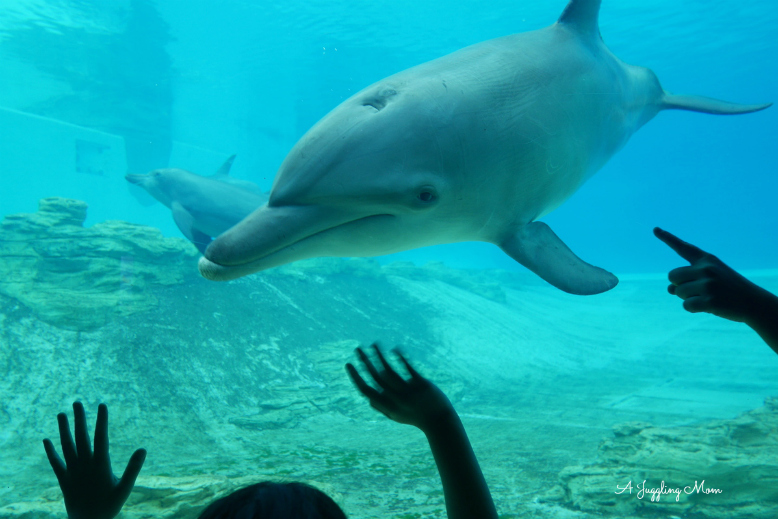 According to the guide, these mammals are so clever that they could see us through the glass panel and even made clicking sounds to express their excitement.
This is usually one hot spot in the aquarium so it was really nice that we got to linger around a little longer and didn't have to jostle with a crowd to see these adorable dolphins in action.
Breakfast was once again at the Bay Restaurant and it was a hearty meal with eggs on muffin, hash brown, sausages, baked beans and tomato and hot cross bun for Easter.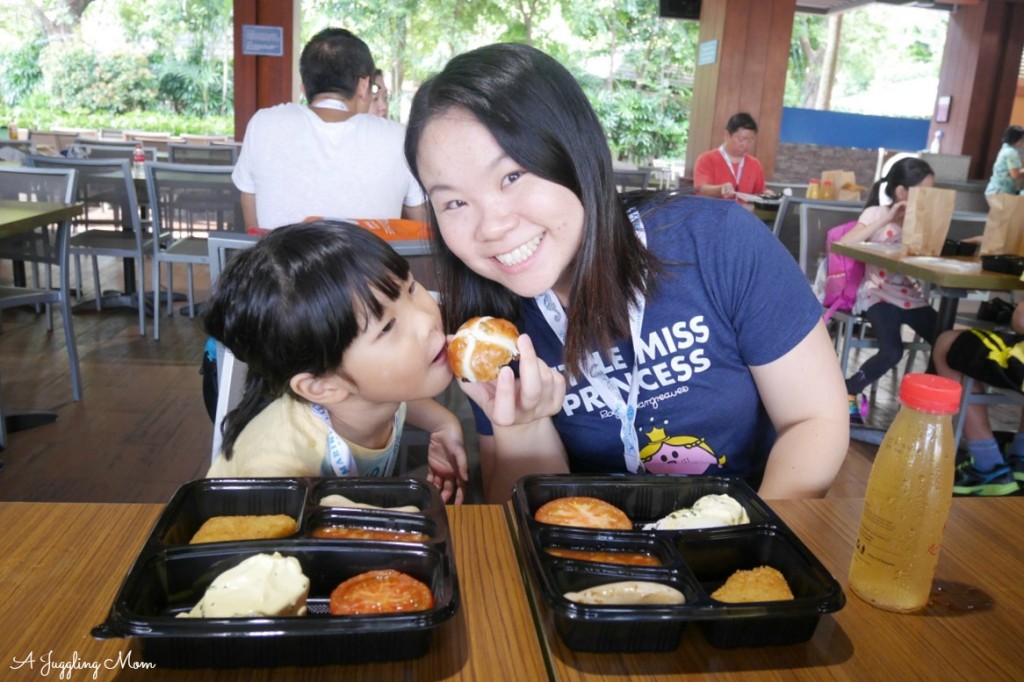 For the last segment, we got to go behind the scenes to check out a back-of-house tour and learnt how feeding is done at the Ocean Habitat.
No photography is permitted for this exclusive segment so I'm unable to show how the Ocean Habitat looks from the top view but it looks massive with an equivalent of 7 Olympic pools!
This was one truly magical sleepover party that we will remember for a long time. Thanks for such a wonderful experience!
I hope I managed to cover as much of our stay as possible. Do drop me a comment or question if you'll like to learn more about this awesome staycation.
PS: Just to let you in on a little secret, the facilitator shared that special events like Easter, Halloween and Chirstmas are extra special since the Aquarium will be decorated to theme complete with themed programs. So do look out for those festive season 🙂
S.E.A. Aquarium Ocean Dreams
Price
Adult
(13 – 59 years old)
Child (6 – 12 years old)
Senior (60 years old & above)
Family Package
(2 Adults + 2 Children)
Non-members
$193
$173
$688
Members*
$173
$153
$608
* RWS Invites Attraction members, RWS Invites Members, S.E.A. Season Pass holders, Adventure Cove Waterpark Season Pass holders, Universal Studios Singapore® Season Pass holders and Universal Studios Singapore VIP Tour guests.
Price includes: Admission to S.E.A. Aquarium within the stipulated hours of the program. Sleeping bags will be provided to all participants.
Participants can purchase discounted tickets to Adventure Cove Waterpark if they wish to continue their visit in the park after the Ocean Dreams program.
Do check out the next available dates for Ocean Dreams from SEA Aquarium website.
* A Juggling Mom was invited to Ocean Dreams at S.E.A. Aquarium to write this review. No monetary compensation was received. All opinions are honest and are my own.
Tagged: family friendly activity, Resorts World Sentosa, RWS, Sentosa, Singapore