As a child, I spent my first eight years growing up in Stirling Road. Even though we've long shifted, the area remains very much close to heart as my Grandma lives there. But to be honest, I didn't have much knowledge about the colonial heritage of my childhood neighbourhood, though it was so steep in history.
So when My Queenstown Heritage Trail opened up a new Dawson & Alexandra Heritage Trail preview, I jumped at the opportunity.
Dawson & Alexandra Heritage Trail
Organised by the Civic group My Community, Queenstown Citizen's Consultative Commitee and urban explorer Group, the other Sites of Singapore, participants will explore historic sites and community landmarks in Dawson and Alexandra.
The trail started at the Queenstown MRT and we were given a guidebook along with a headset that allowed us to hear the guide as there was a direct live feed. According to the guide, this was a more efficient way for the participants to hear his commentary without having to stop and gather everyone.
Along the way to the first stop, I stopped to take a photo of Church of the Good Shepherd (2 Dundee Road).
This was the very first church I went to as a young believer as my auntie worships here and she still does today. What makes it more memorable was that, it was also where I first started attended kindergarten here too.
Next we stopped at a 40-storey HBD flat. This was the Former Forfar House (48 Strathmore Avenue), which was once Singapore's tallest public residential building at 14 storeys, also known as 十四楼.  It was a key landmark around the area due to it's distinct zigzag appearance structure along the main road.
But another reason why this block of Singapore Improvement Trust (SIT ) flat was so famous was due to it's inauspicious association with the number 十四, hence drawing people who came here to end their lives. As my grandma says it used to be  十四楼, it's now 四十楼 🙂
Taking a turn into Commonwealth Avenue, we came to Princess House (332 Alexandra Road), a 7-storey building that sits on it's own along Alexandra Road.
The building was originally the  office for the Singapore Improvement Trust (SIT ), but later became the first dedicated headquarters for the Housing and Development Board (HDB).
It hosted various foreign dignitaries and one of them was Princess Margaret who came to learn about Singapore's housing program and also lent her name to the Margaret Estate.
In 1972, the Ministry of Environment took over the premise and long queues of hawkers could be seen applying for their hawker licenses here. Princess House was gazetted for conservation in 2007 and now stand as a lasting reminder of Queenstown's history.
Coming to a junction of Dawson Road and Alexandra Road is where one of Singapore's worst riot took place in the 1950s, the Hock Lee Bus Riots.
The riots which started as a peaceful demonstration ended in twos deaths and many more injured when the riot got violent and the Riot Police had to intervene. A grim memory of our past which I wouldn't have known if not for the tour.
Along the way to Kay Siang, the guide, Mr Huang Eu Chai, pointed out the vast difference in the housing we have today. In the above picture, was the 4-storey SIT flats that used to line the roads in the area.
Now, privately designed and built HDB flats that looks like private condominiums are built up. Who would  even imagine that these are our public housing and how far we've progressed.
Walking along Kay Siang, I spotted the Black and White bungalows across the road, which was coined after their distinct black timber frames and white walls.
They were constructed by the British from 1930s onwards to house British personnel working in the nearby military installations at Alexandra and Pasir Panjang.  Today, they are used as art galleries and residences.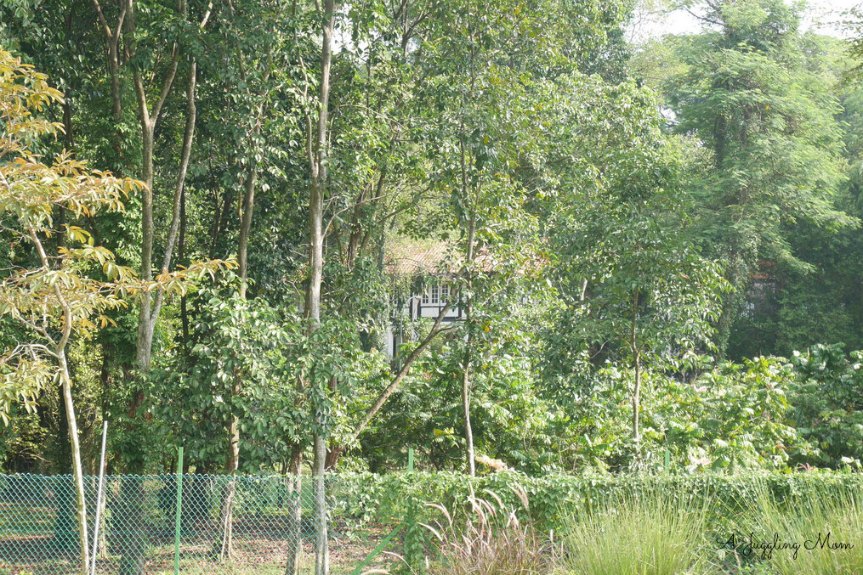 The next part of the trail is when things got more exciting or errie, as we had to make our way into a forested area (yes right in Queenstown) to explore the Bunkers at Kay Siang.
From the main road, you'll spot a metal gate and if you're planning to make that hike, do have proper footwear as the ground can be slippery and hilly. Insect repellent is also highly recommended. 
We spotted the first bunker and it was a mystery how they were built there. According to the guide and volunteers, these bunkers were likely built as storage bunkers back in the World War II.
What's left of the first bunker below is only the frame as the grounds within and surrounding it has been completely overtaken by vegetation.
The second bunker was up ahead and this unlike the first, it was pitch dark inside. I didn't dare to step foot inside when I heard those inside going, "Lizards, big lizards."
Upon closer look, I spotted a water canteen and a pair of army boots… wonder who it could belong to? There was a third bunker, but as it was too inaccessible, we didn't explore further.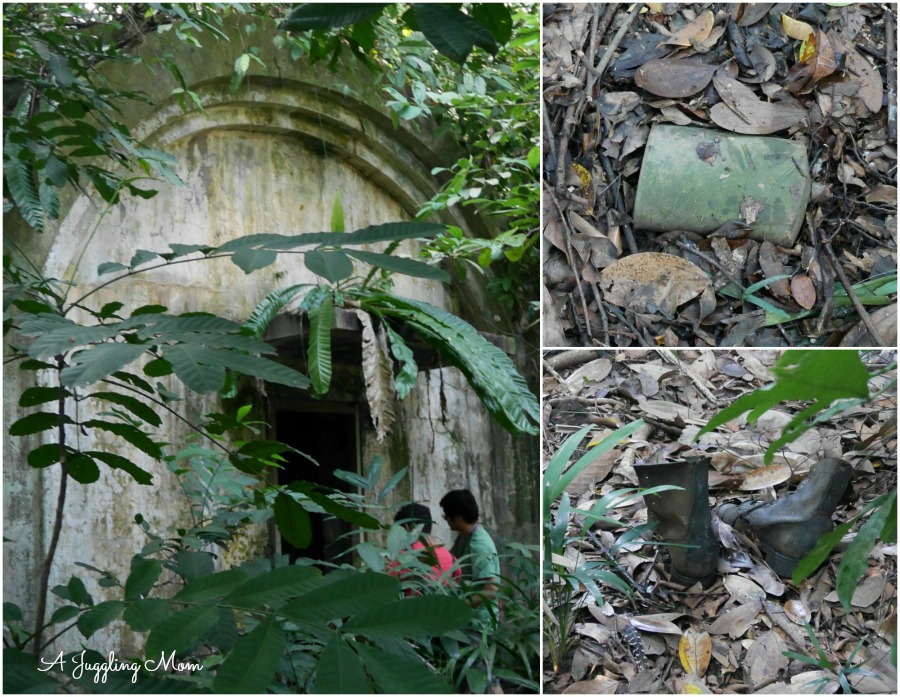 After we emerged unscathed, we hopped on a mini bus to take us to Tiong Ghee Temple (1085 Stirling Road). Tiong Ghee Temple is Queenstown oldest Taoist temple and sits amidst lush greenery on a hill. I used to accompany my grandma to this temple as a young child and watched wayang shows which they used to have beside the ground of the temple.
A former resident shared that before Queenstown was conferred with the title as Singapore's first satellite estate, the area was called Bo Beh Kang as the villagers were unable to determine the source of the river which flowed through two hills, Hong Lim and Hong Yin.
Walking a little further, we came to the Butterfly Block (168A Queensway), one of the first curve-shaped blocks built by HDB in 1973. It's striking resemblance to the winged insect earned it's name "The Butterfly Block" by its residents who no doubt were proud of it's unique design that has more character than other flats.
We spoke to a long time resident of the Butterfly Block, Mr Fernandez and he told us that back in the days, this used to be a buzzing areas as there used to be a circular carriage way, Rumah Bomba circus where there would be hawkers selling food and expatriates from Gillman Barracks would frequent the food stalls.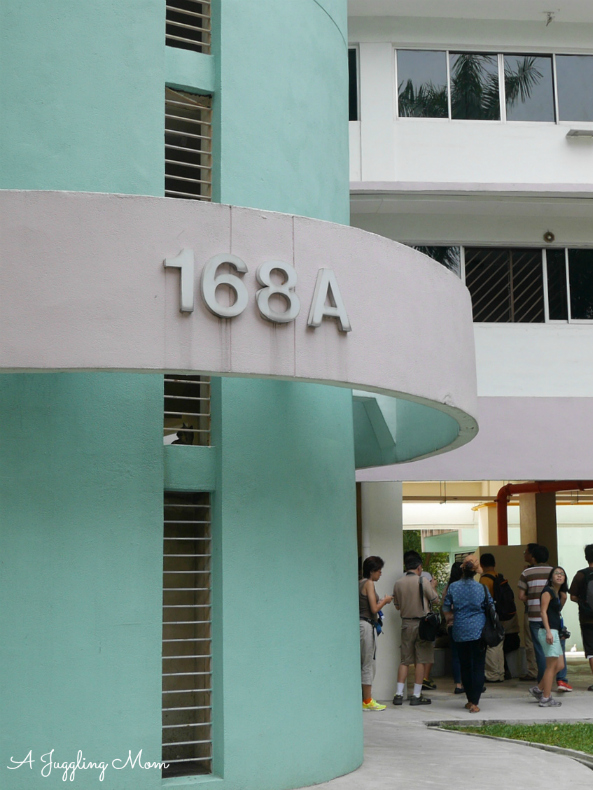 Standing at a corner of the junction between Alexandra Road and Jalan Bukit Merah, is the famous sporting shopping mall, Queensway Shopping Centre (1 Queensway). I'm sure many of us have fond memories coming here to seek out a good bargain for our first pair of sports shoes, sneakers or jerseys.
But did you know that Queensway Shopping Centre is one of Singapore's first multi-purpose shopping complexes along with Golden Mile and Katong. Its octagonal facade resembling a ba gua is said to be traced to Feng Shui.
According to the Mr Fernandez, the night club and coffee shop used to be a popular hotspot for youngsters to hang out. Though there are countless malls in Singapore, it remains a popular haunt for bargain hunters looking for good sporting deals.
The last spot for the trail was Alexandra Hospital (378 Alexandra Road). Opened in 1940, it served as the main hospital for the World War II due to its close proximity to the KTM railway tracks as it was the most advanced and well-equipped medical institution in Singapore and Malaysia then.
However, it was not spared from the violence of the war. In 1942, a massacre took place where 200 patients and personnel were killed by Japanese soldiers in a short span of 30 minutes.
Today, the hospital continues to stand among lush greenery in a serene environment and is affectionately known as a Hospital in a Garden. 

And that concludes our Queenstown Heritage Trail where I had deeper appreciation of our roots and some of these places that built, shaped and defined our nation. From the interviews by the old residents, you can hear how they made the best of what they had in the past, developed kinship and a spirit of camaraderie among their community to make their neighbourhood a place they can truly call home.
After this, I'm more keen to find out about the neighbourhood that I'm currently living in and I'm sure it has many tales of it's own.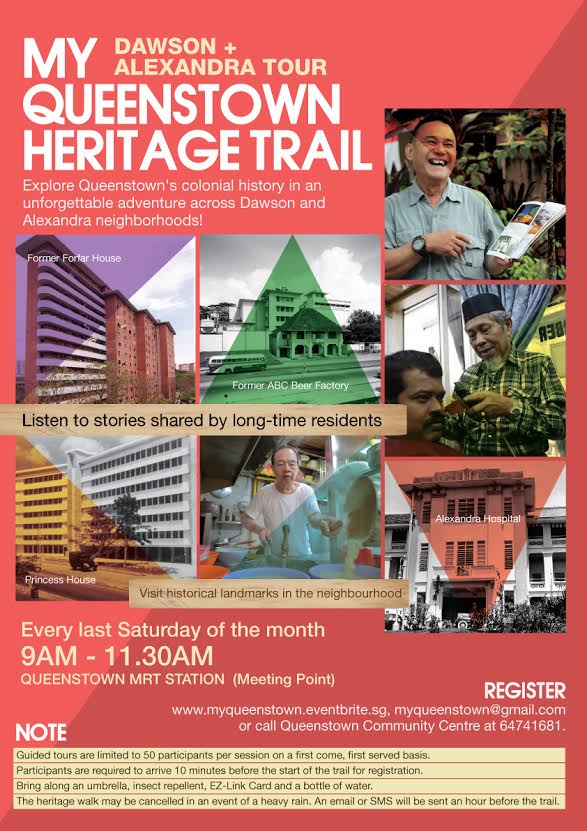 Registration Information
The Queenstown Heritage Trail that takes place every last Saturday of the month is free and open to the public. If you're keen to sign up for the trails, you may register at www.myqueenstown.eventbrite.sg or email to myqueenstown@gmail.com with your name, contact number, 3 preferred dates and number of pax. 
LATEST UPDATE
According to an update on My Queenstown Facebook page, registration for both monthly Dawson & Alexandra and Tanglin Halt & Duchess tours in 2015 have all been sold out. The next available tour is in 2016.
For a different perspective of the trail, do read the reviews from these bloggers too:
* A Juggling Mom received an honorarium to write this review . All opinions are honest and are my own.
Tagged: Singapore