With a primary school going kid, October is associated with exams and stress. While Sophie may not have any exams, she does have mini tests… well actually how can it be considered mini when she's tested on a whole year's worth of learning? Anyway, it's all ending next week and I know that she's looking forward to November when the school holiday starts.
And this school holiday, she's in for a huge surprise because we'll be catching her all-time favourite My Little Pony in their musical premier, Rainbow Rocks! We're so looking forward to it as we are fans of these lovable, colourful ponies who are always sharing the magic of friendship wherever they go.
Enough of our My Little Pony fan moments…
My Little Pony Musical – Rainbow Rocks
You may have seen your favourite My Little Pony on TV, but now you can catch them LIVE  and experience the magic of Equestria on stage as My Little Pony musical – Rainbow Rocks comes to Singapore for the very first time.
The musical promises to be a 90-minute colourful and fun-filled performance created for children and the young-at-heart. Audiences are in for a multi-sensorial treat as My Little Pony Musical Rainbow Rocks and is sure to be a delightful show with catchy songs, infectious dancing, laughter, magic and, of course, friendship!
The musical follows Twilight Sparkle's exhilarating journey to defeat the forces of evil, with help from her human friends, the girls of Canterlot High School. Along the way, Twilight Sparkle learns that friendship really is magic!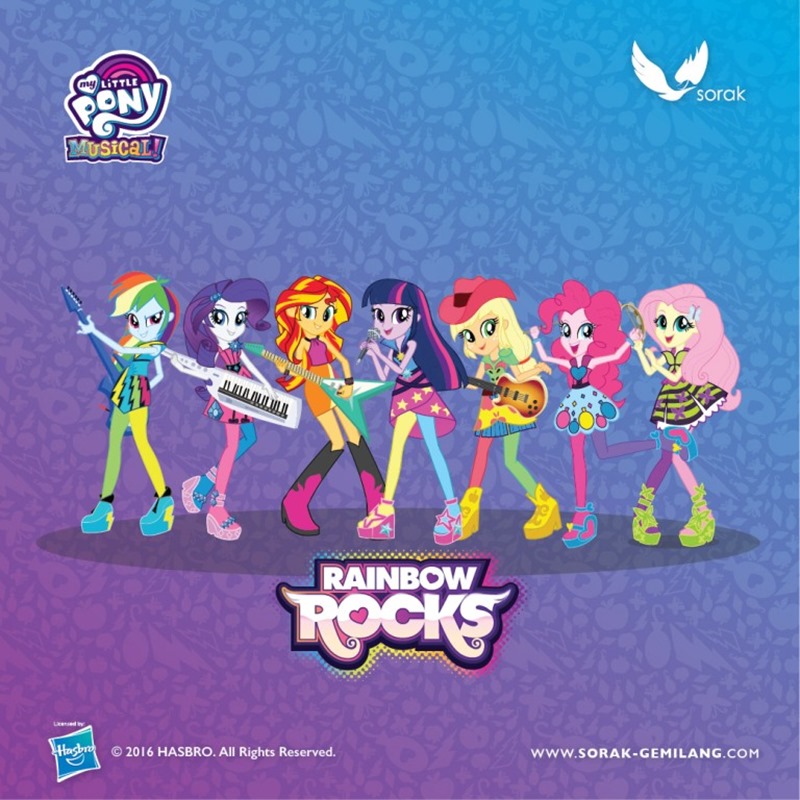 Okay, when I heard it was a musical, I was thinking maybe this is going to be an extended performance that you get with cartoon characters shows. But no, because we're talking about London's West End standard featuring the voices and acting chops of an immensely talented and international cast of 24, including Chloe MacGregor as Twilight Sparkle. The musical also showcases a sparkling new script by illustrious London's West End Actor/Playwright Hugh Osborne, and dazzling direction and choreography from the award-winning Jamie Neale.
We're so looking forward to its premier on 24 November 2016 and I know it's going to be the best school holiday treat for my little girl and all the My Little Pony fans out there.
If you're planning to book tickets, you better hurry as the musical is staged for a limited 3 days only at Resort World Theatre at Sentosa.
Book your tickets
Tickets, from S$48 to S$115, are available from all SISTIC outlets and SISTIC from 12 October 2016. Oh and here's a ticketing deal to share, Toys "R" Us Singapore's Star Card members enjoy 10% discount off ticket prices and RWS Invites Attractions members enjoy 15% discount off ticket prices.
SHOW SCHEDULE
TICKETING DETAILS
* A Juggling Mom received complimentary musical tickets to write this post. No monetary compensation was received. All opinions are honest and are my own
Tagged: arts, musical, My Little Pony, Resorts World Sentosa, school holiday ideas, school holidays 2016