As mums, we all have days when we get all tired out from looking after the kids. Never mind if you're a SAHM or a FTWM, the challenges are still the same especially when the kids are little.
I used to joke that when Sophie was younger, she demanded more of us physically with the night wakings, breastfeeding, etc. Now that she's older, it's become mentally more draining as she demands more of our time and attention to play, read and keep her occupied especially on weekends.
Throw in the other obligations around the home from the chores, cooking after a day's work, I sometimes end up as one grumpy, unhappy, tired and oh how I want to just run away from all these kinda mama. And I feel horrid wishing I have more me time for myself.
When bedtime comes, I usually drag my feet to put Sophie to sleep, wishing that this little girl can be independent enough to sleep on her own so that I can tackle the hundred and one things unchecked on my long to-do list. But when my head hits the pillow, I feel a pang of guilt for feeling that way and sometimes wish I can just remember that she wouldn't stay little for long.
How long more will she need me to tuck her in bed?
How long more will she still need me to read to her?
How long more will she still want to hold me hand?
How long more…
So if this is you too, here's an encouragement for you you mamas out there to remember to relish the present as it will be over before you know it.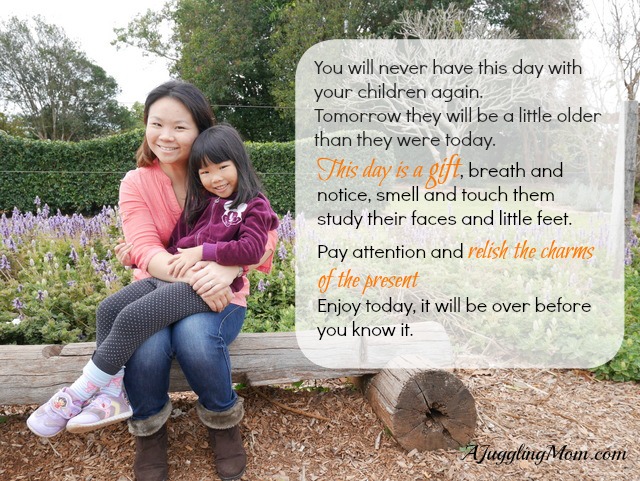 Link up for Motivational Mondays
Do link up every Monday on what motivates you to be better be it a fitness goal, parenting, marriage, etc. Share your recent posts and encourage someone. Share your recent posts and encourage someone. Don't forget to grab my badge and include it in your post after you have linked up and leave me a comment too.
I host Motivational Monday every week and I hope that you can join me every Monday. Have a great week ahead!
Note: Highlight the code & press Ctrl + C buttons to copy.
<div align="center"><a href="http://ajugglingmom.com/category/motivational-monday/" 

title="www.ajugglingmom.com"><img src="http://i1264.photobucket.com/albums/jj499/Susan_koh/MM-1.jpg" alt="www.ajugglingmom.com" style="border:none;" /></a></div>
'); // ]]>