"In a hole in the ground, there lived a hobbit. Not a nasty, dirty, wet hole filled with the ends of worms and an oozy smell, nor yet a dry, bare, sandy hole with nothing in it to sit down on to eat: it was a hobbit-hole, and that means comfort." – J.R.R.Tolkien

A gate like no other beckons us to step in-into a world , they call the Middle-earth.
An invitation to stop your hurried footsteps and take a sit on the wooden bench outside this life-sized hobbit hole as you take in the smells and sight of the flowers.
Perhaps if you peep inside, you may even spot a hobbit.

That's right, the same Hobbit Hole from Hobbiton is right here in Singapore. This 45th travelling Hobbit Hole, after the 44 in Hobbiton, has been specially flown over and constructed by the very same people who built The Shire for The Lord of the Rings trilologies now stands in Changi Airport.
As part of the Naturally New Zealand exhibition at Changi Airport Terminal 3, airport visitors can explore the Hobbit Hole for a taste of what you can expect in New Zealand.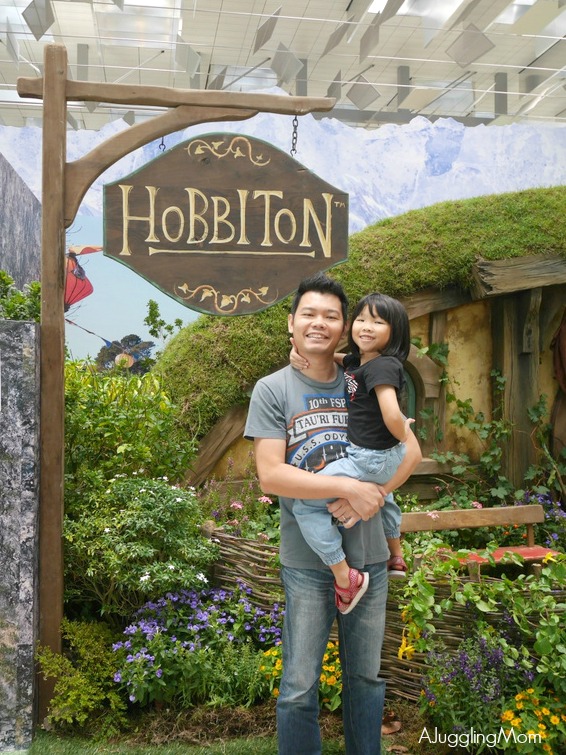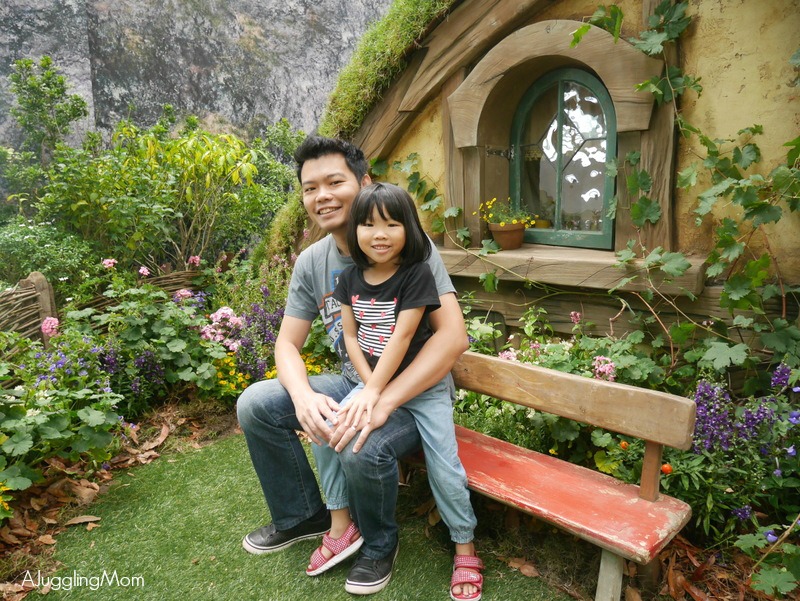 You wouldn't find any hobbits around, but you will see Gandalf the Grey, one of the most powerful wizard in Middle-earth who stand guard over The One Ring.
Another part of the exhibition features modern New Zealand, where visitors can learn about what New Zealand has to offer for adventurous travelers from sky diving, to zip lining, rafting and caving.  This is somewhere that we'll be keen to visit when Sophie is older and can join us for these activities. Hopefully my heart can still take the excitement.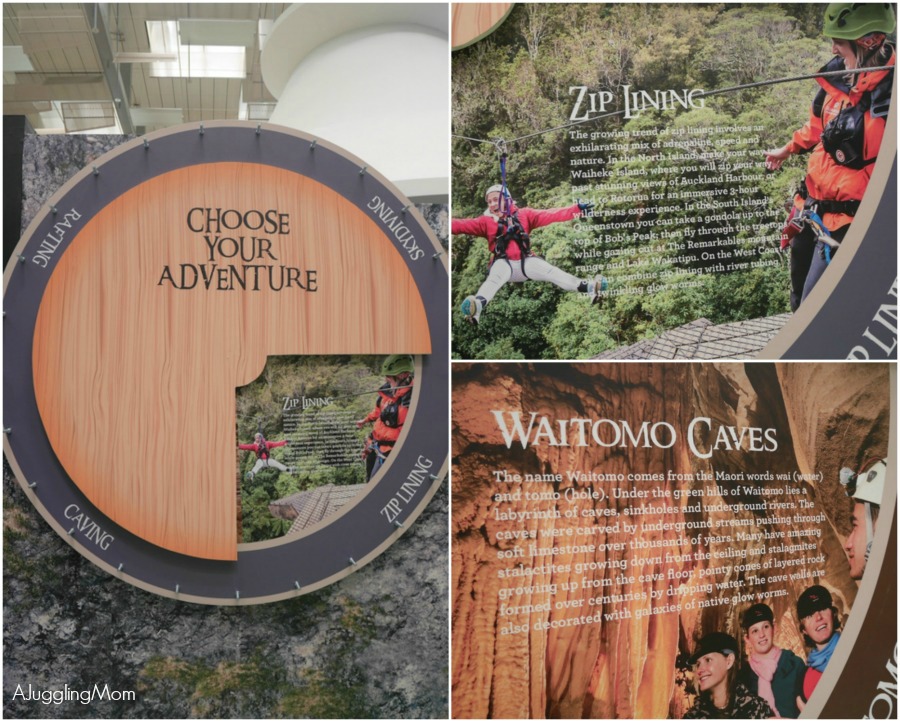 The kiwis love their sports and these are some of the most popular sports in New Zealand, rugby, cycling, cricket, kayaking, hiking.
Sophie and Daddy also tried their hand at mini golf!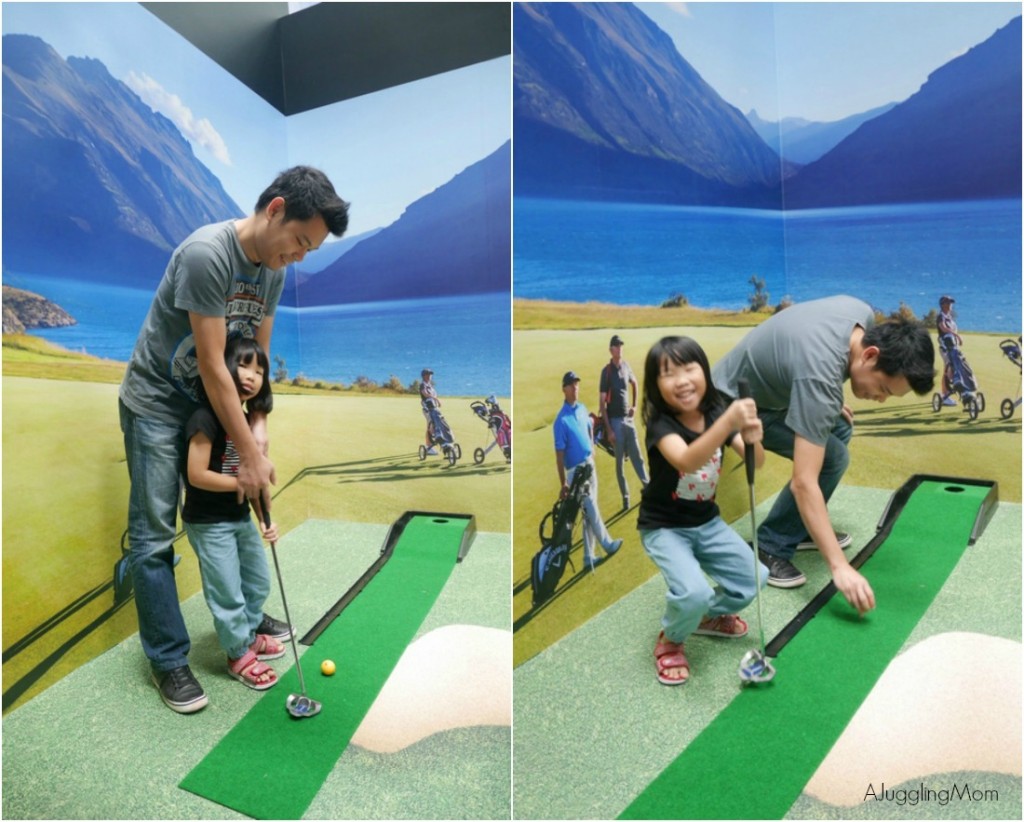 The highlight that we enjoyed the most was the thrilling 5D simulator ride into the Waitomo Cave on a roller coaster. I got to admit that the ride didn't seem impressive at first but it got and more and exciting towards the end. And Sophie liked it so much that she went twice! A minimum spend of S$40 (S$80 for supermarkets) from any Changi Airport Shop or Dine outlet to redeem one (1) activity pass. Do go early as each ride seats 9.
The exhibitions is open from now till 5 April. So fans of hobbits, don"t miss this chance to  go on an epic journey to Middle-earth!
NATURALLY NEW ZEALAND EXHIBITION AT CHANGI AIRPORT
Date : 14 March (Saturday) to 5 April 2015 (Sunday)
Time : 12pm to 11pm (Last redemption at 10.30pm)
Venue : Terminal 3 Level 2 Departure Check-In Hall Row 11 (Public Area)
HOLIDAY SPECIAL: 5D SIMULATOR RIDE
This exhilarating ride on a 5D simulator is available during March school holidays, subsequent weekends and public holiday during the event period.
Date: 14 to 22 , 28, 29 March, 3, 4 & 5 April 2015
WIN AN AUTOGRAPHED ALL BLACKS RUGBY BALL
Visit the All Blacks section at our Naturally New Zealand event and stand a chance to win an exclusive Rugby Ball autographed by the All Blacks.
HOW TO WIN ALL BLACKS RUGBY BALL:
Step 1: Take a picture with the autographed ball and show us how big of an All Blacks fan you are.
Step 2: Upload the picture onto your Twitter or Instagram account(s) with the hashtag '#ChangiNZ'
Contest ends 5 April 2015. Winner will be selected by the Changi Airport social media team and notified by 30 April 2015.
Tagged: Changi Airport, March school holidays