Just when we all thought that the persistent haze was going to leave us with no choice but to be home over the Mid-Autumn weekend, we finally had a respite and woke up to clear and blue skies on Saturday morning. Thankfully, the haze continued to be at bay with PSI levels of below 100 throughout the day and we headed out to Gardens by the Bay for their annual Mid-Autumn festival celebration.
This year, the Flower Dome is transformed into a traditional Chinese garden with more than 10,000 Chrysanthemums with over 40 varieties on display which runs from 24 September to 10 November 2015. And Chrysanthemums are the perfect choice of this season as they are often used in traditional Chinese art to represent the autumn season.
Do look out for the unique Spider Chrysanthemums that has been specially brought into Singapore for the first time!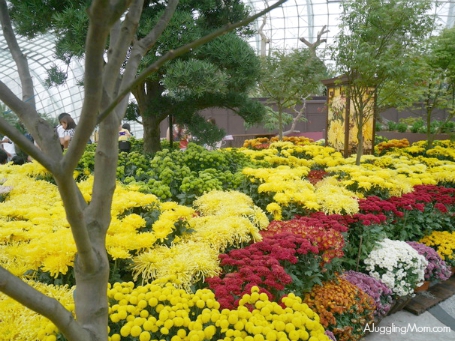 When we got there at 6pm, the Flower Dome was packed with families, young and old and I guess everyone like us was glad to be out for a change. And to make this a family affair, kids aged 12 years old and below who show up with a lantern (the LED ones as candle are not allowed in the conservatories) between 5-9pm get to enter the Flower Dome and Cloud Forest for free.
And under the SG50 Seniors Special, local seniors aged 60 and above can enter the Flower Dome and Cloud Forest for free with accompanying caregivers enjoying 50% off tickets till 31 December.
Here are some of the spectacular blooms in a beautiful tapestry of gold, red, pink and yellow.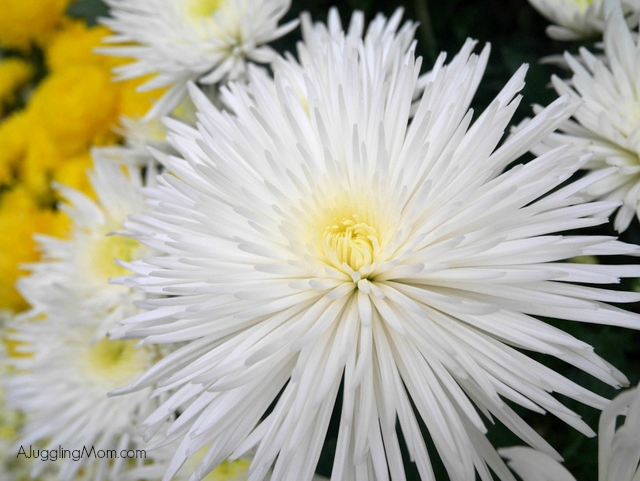 My little budding photographer also wanted to capture some photos of her own and asked Daddy to lend her his handphone and the selfie stick to take photos of the pretty flowers.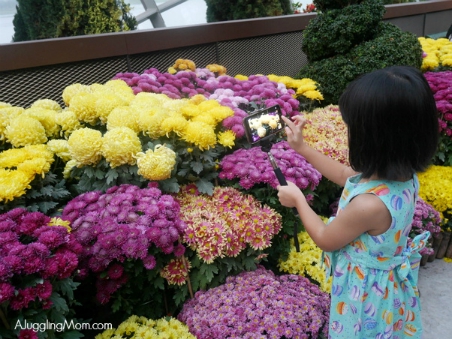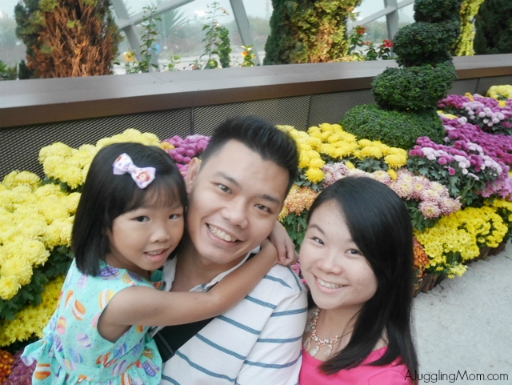 But that's not all. Head on outside to the lantern light up where as many as 300 lanterns shaped in animals and plants are lighted up from 7pm for the Mid-Autumn Festival.
After we exited from the Flower Dome, we saw these 50 goat-shaped lanterns as we're in the year of the goat. Many of them bore symbolism of Singapore and SG50.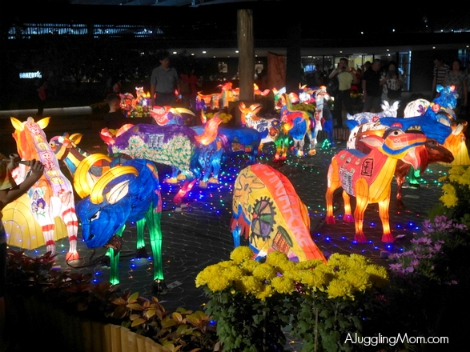 As we walked towards the Supertree Grove, Sophie pointed out the animal lanterns and the lanterns of the Chinese Zodiac Signs. While the lantern light up is on a smaller scale compared to previous years, what we liked was the variety of the lanterns and how they we could get more up close for photo taking opportunities.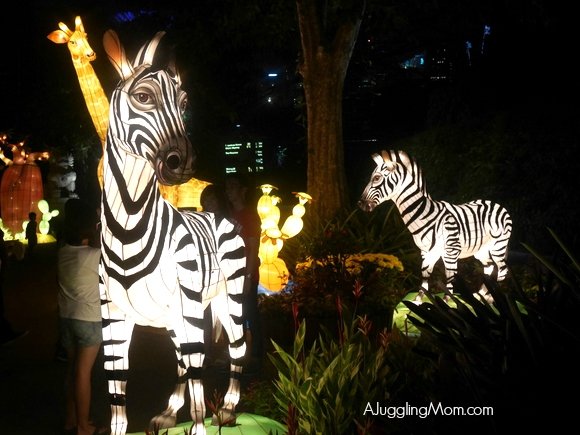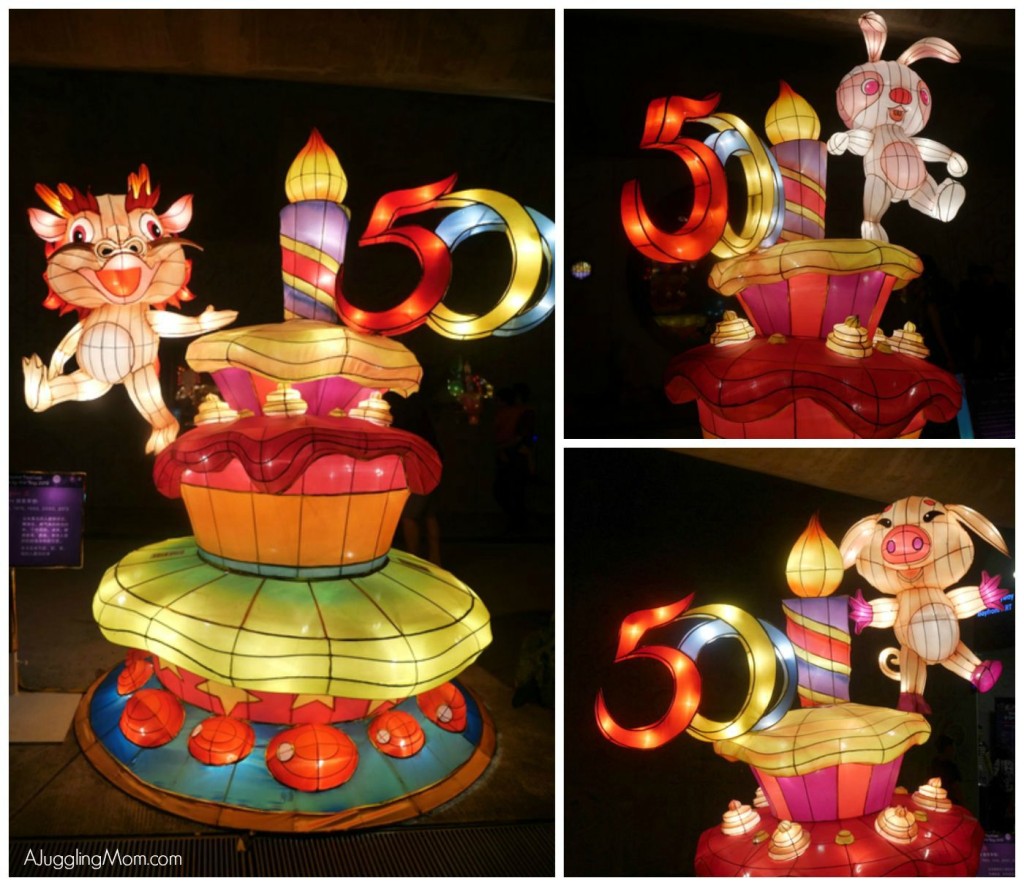 If you're feeling peckish, there is also a food street that offers lots of food choices. But I must say that prices were on the high side as we paid $2 for hotdogs, skewer of chicke seaweed, $4 for Ramly burger and $8 for a chicken kebab! While there were tables and chairs inside, I'll suggest that you head outside with your food and lay  picnic mat as it's a lot breezier.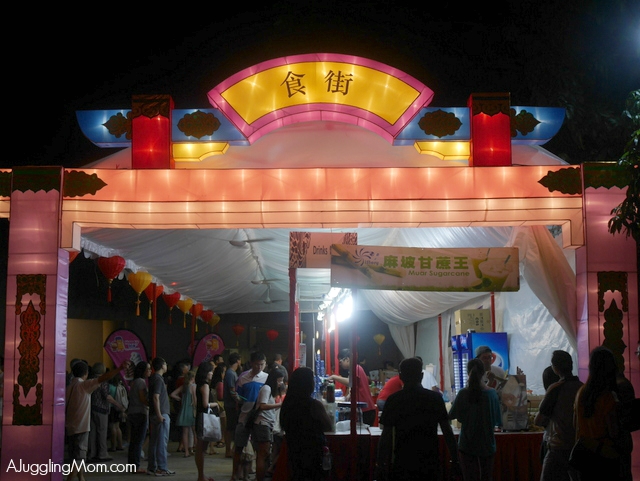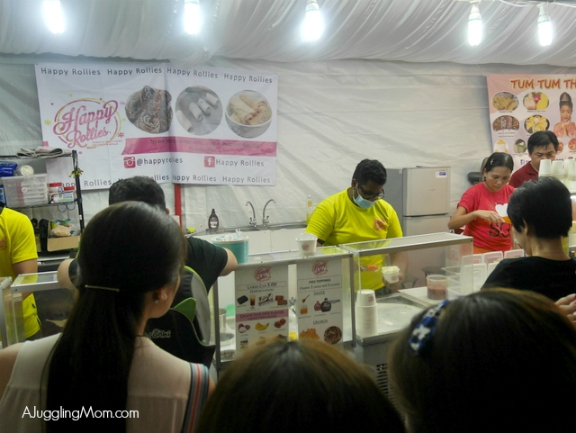 After dinner, we caught sight of more lantern light up like this mega dinosaur ones at the heart of the Supergrove tree. The kids were all so fascinated that their heads could move too.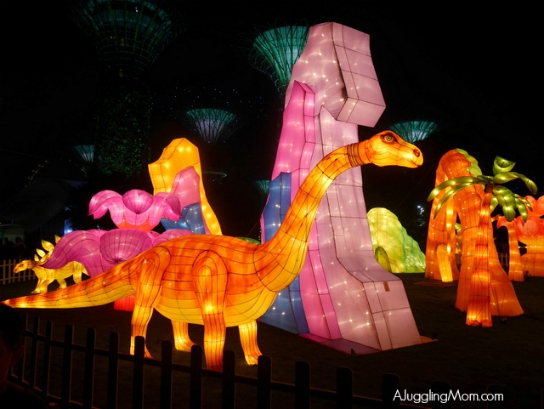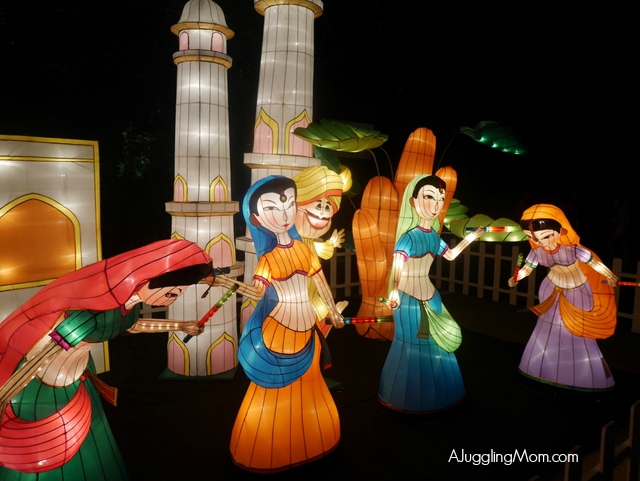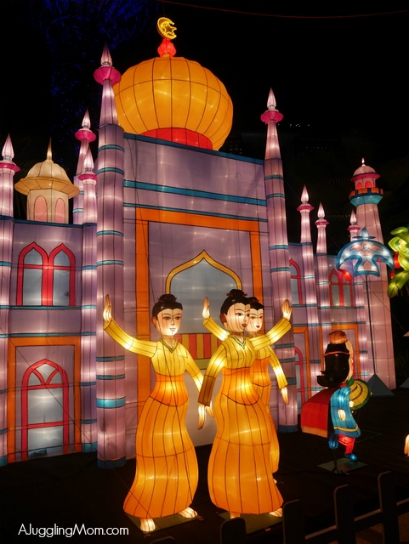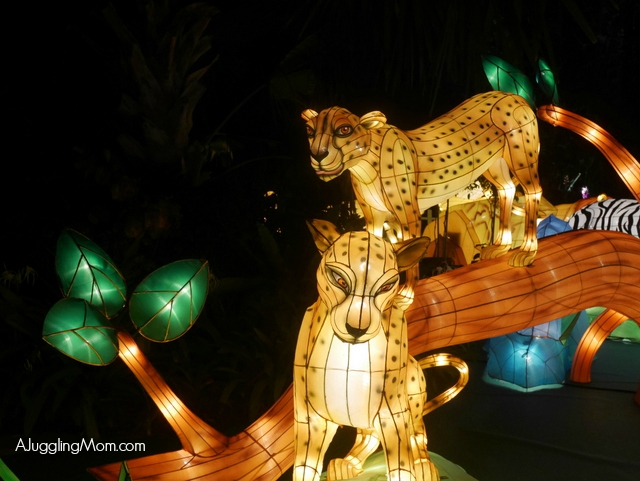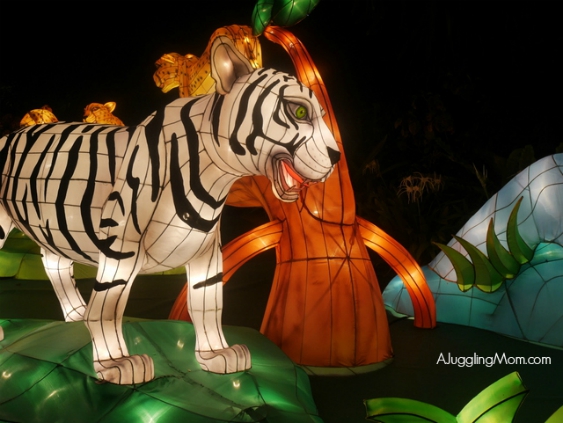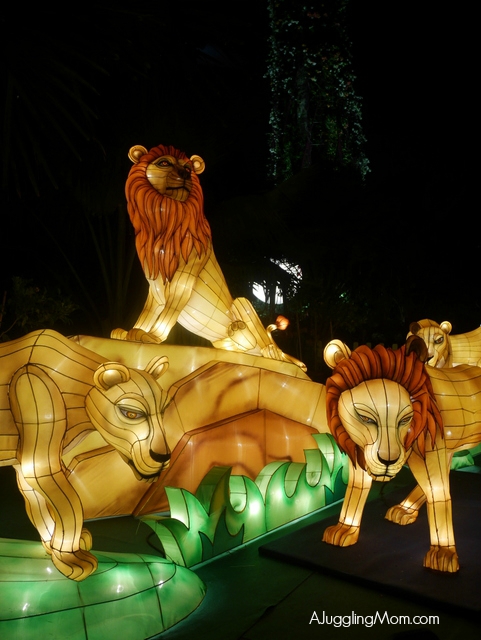 Besides the dazzling display of lanterns, don't forget to catch the cultural performance as well as the daily Garden Rhapsadpy that happens every night at 7:45pm and 8:45pm where the Supertrees comes to life in a spectacular light and sound show.
The Lantern Display at Gardens by the Bay will be up till 4 October and they will also have fireworks display on 3 October,if the weather isn't too hazy, so keep your fingers crossed.
Just a few tips if you intend to head down today or next weekend,
If parking if full, you may want to find alternative parking at Marina Barrage of Satay by the Bay
If crowds are not your thing, then do visit on a weekday
For kids below 12 years old to enjoy complimentary entry to the Flower Dome and Cloud Forest do bring along their LED lanterns between 5-9pm till 4 Oct
Seniors get to enjoy free entry to the Flower Dome and Cloud Forest till 31 Dec and do look out for the special seniors queue at the ticketing counter
Wishing all of you a very Happy Mid-Autumn festival with your family and loved one!
For more information, do check Gardens by the Bay facebook page here.
Tagged: Gardens by the Bay, lantern, Mid-Autumn festival