If you have a tradition of taking family photos at Christmas, why not make them extra magical at Gardens by the Bay's first ever Disney Tsum Tsum flora display in the Flower Dome.
And the best part, you don't even need to engage a professional photographer because these adorable Disney stackable characters will lend their magic and cuteness to all your photos.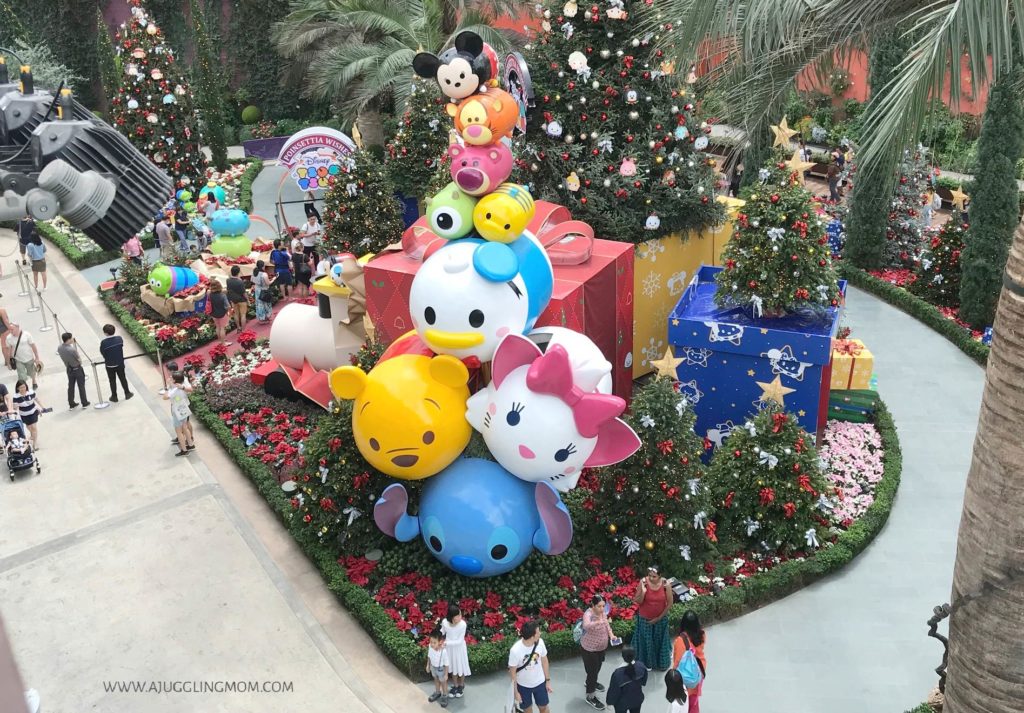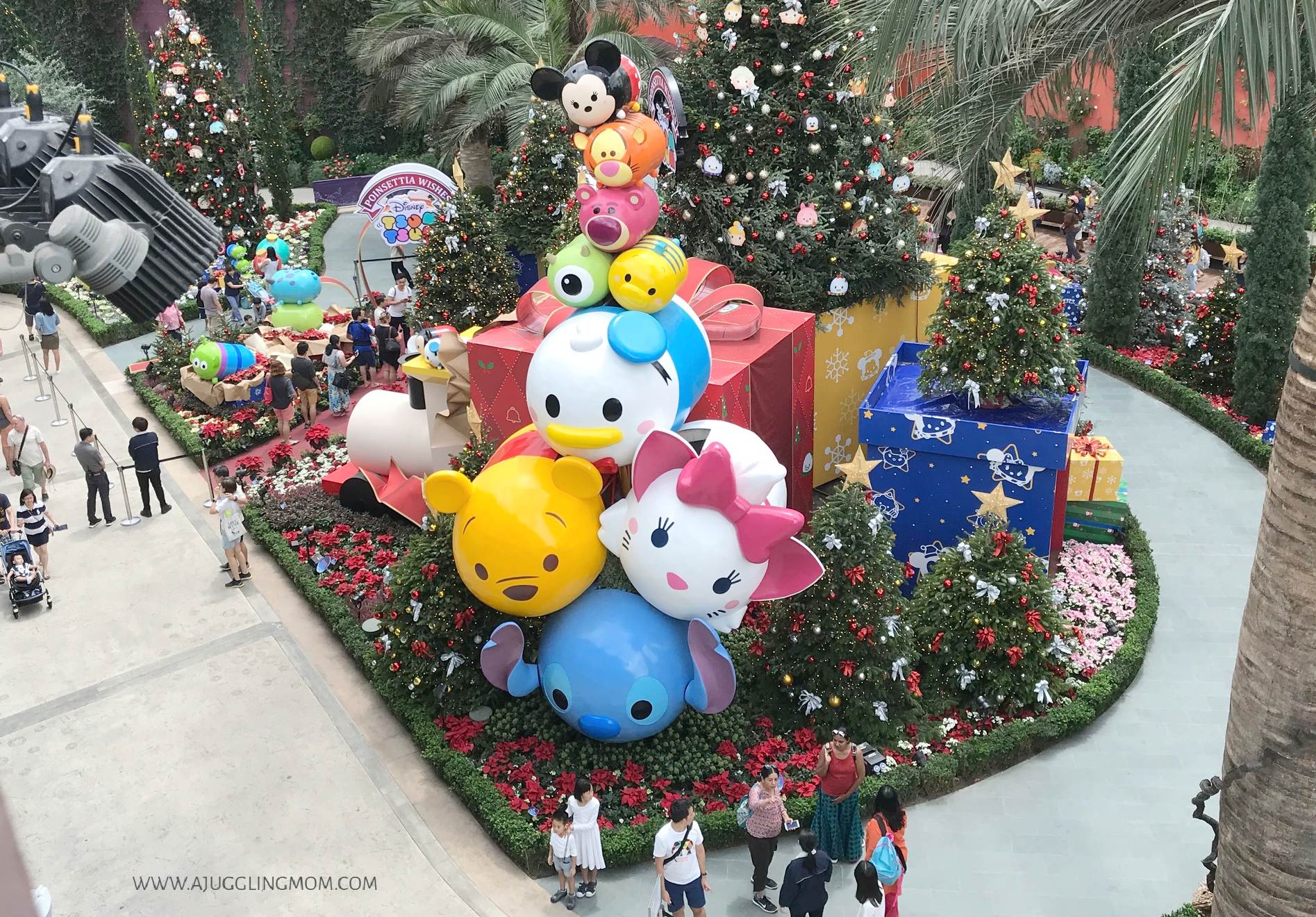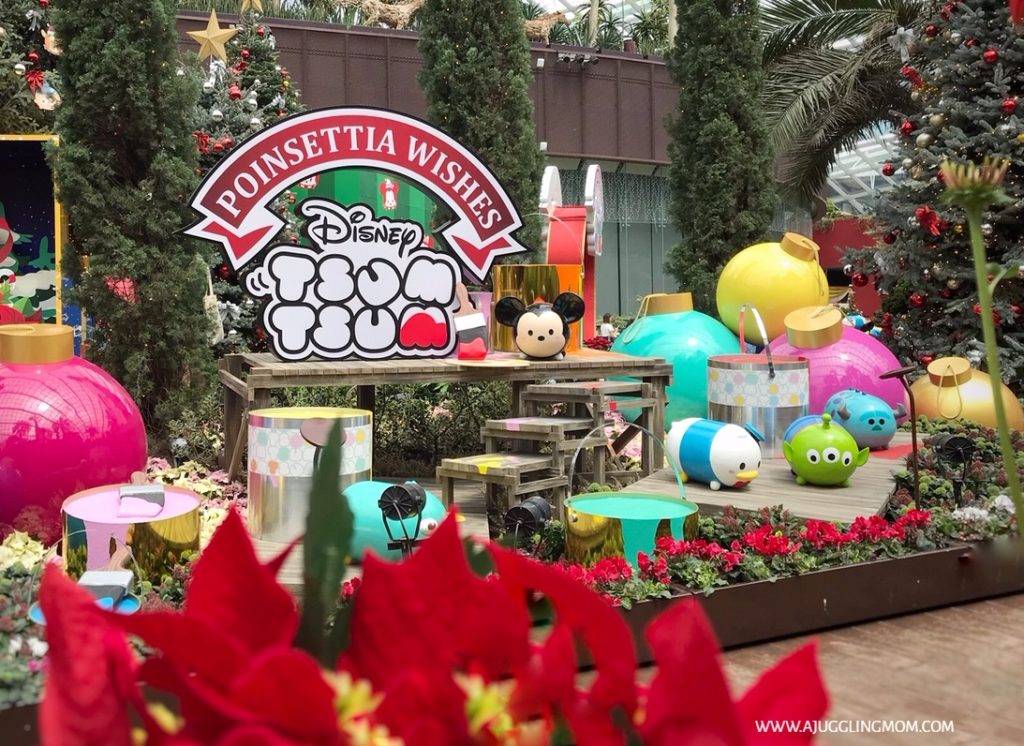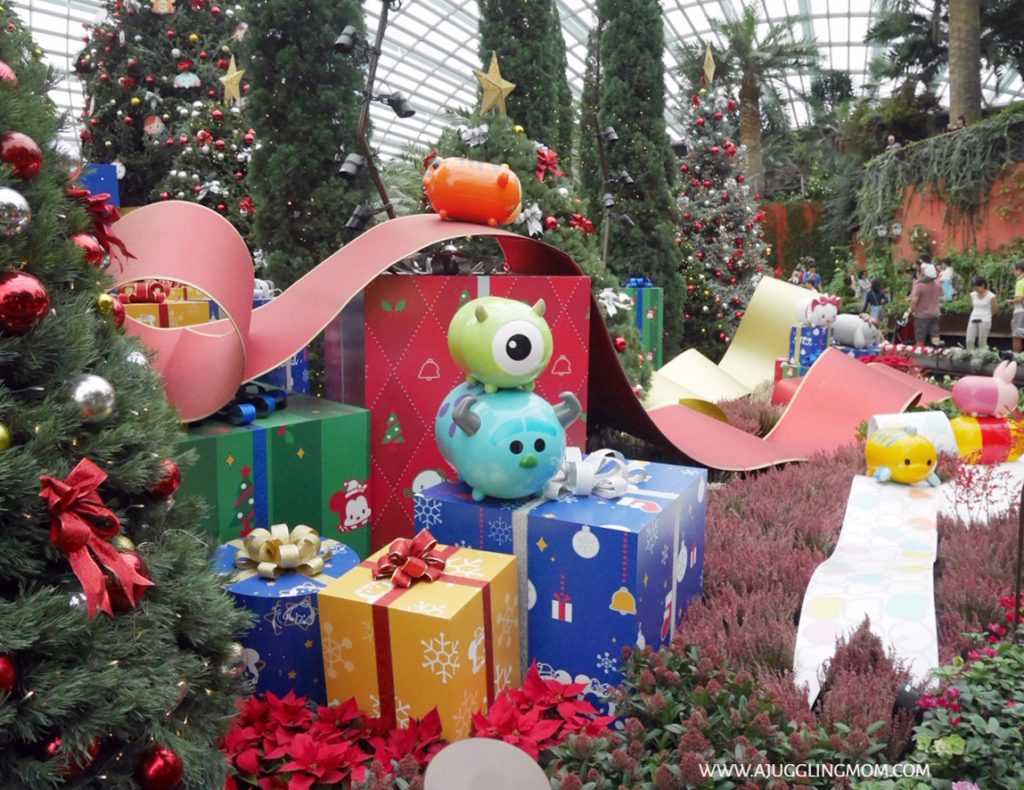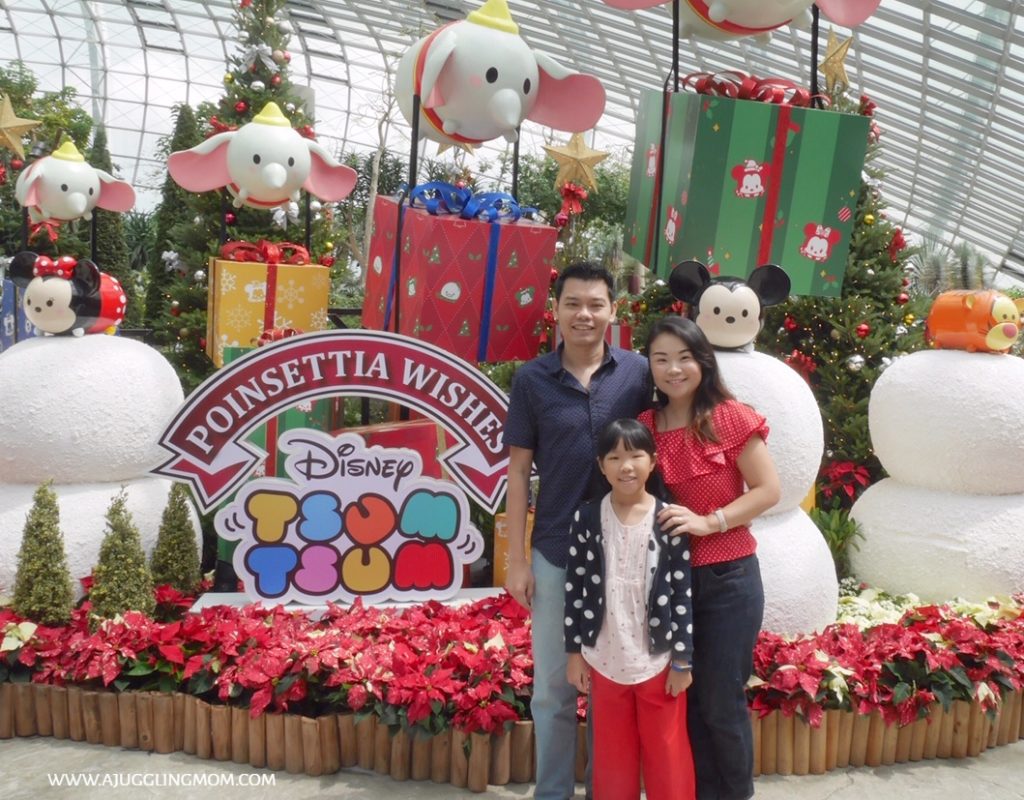 If you're planning to get some precious family photos taken for the holiday season, gather up your family, dress them up in Christmas coloured outfits and don't forget to bring along appropriate props for that added Christmas feels when you come to the Gardens.
Need some ideas?
Then read on and get some inspirations.
Poinsettia Wishes featuring Disney Tsum Tsum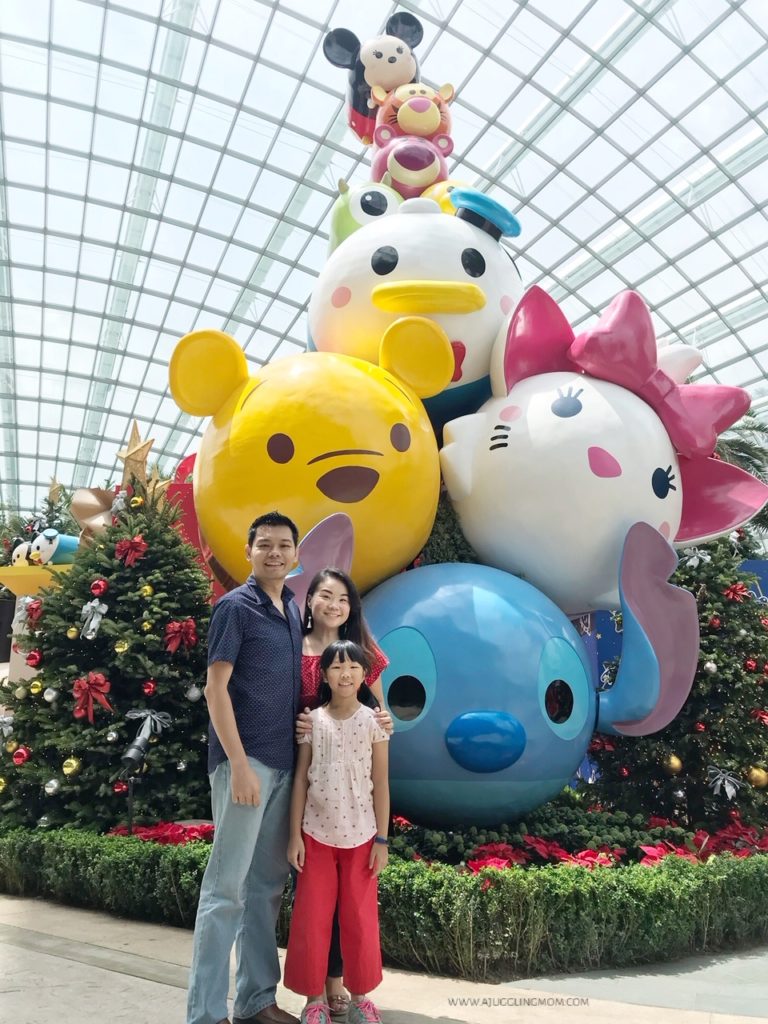 Props to up your Instagram game
1.Mickey/ Minnie ears
If you own a pair of adorable Mickey/ Minnie ears from your Disneyland visits, this is the perfect chance to showcase them.  I even came appropriately dressed in matching polka dot prints.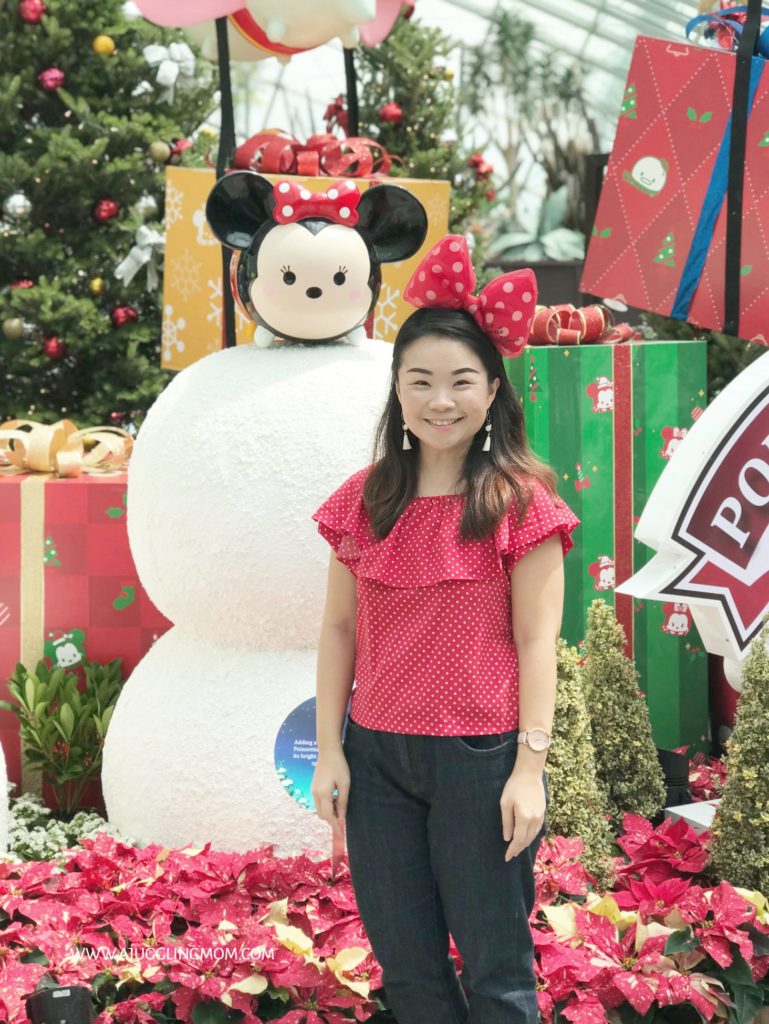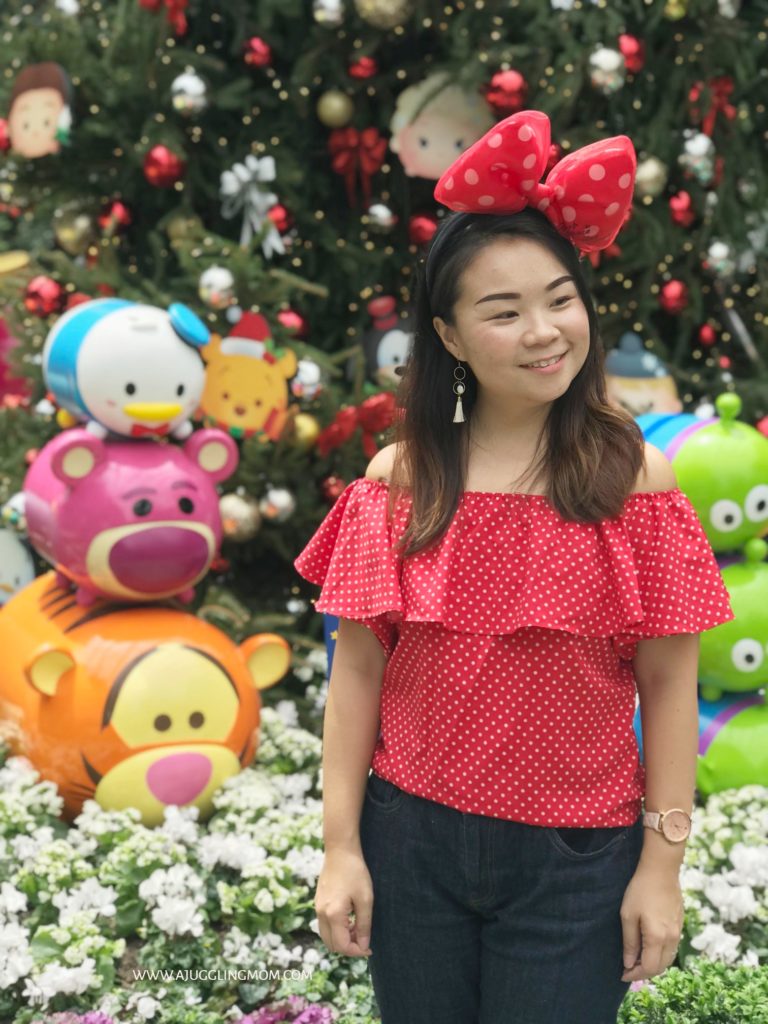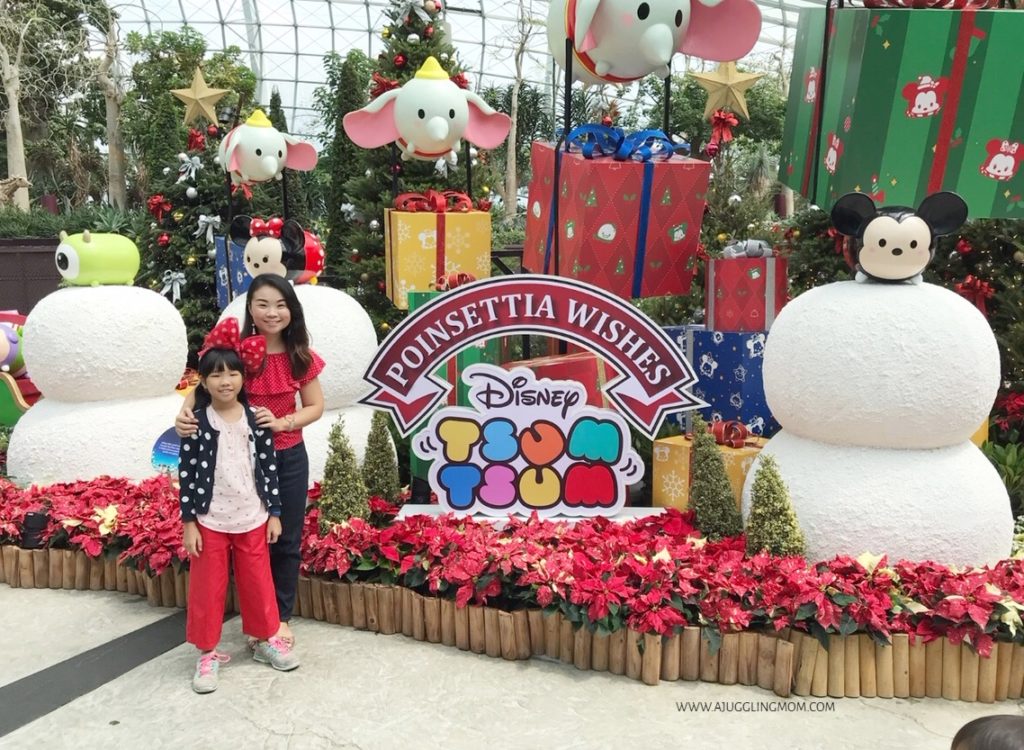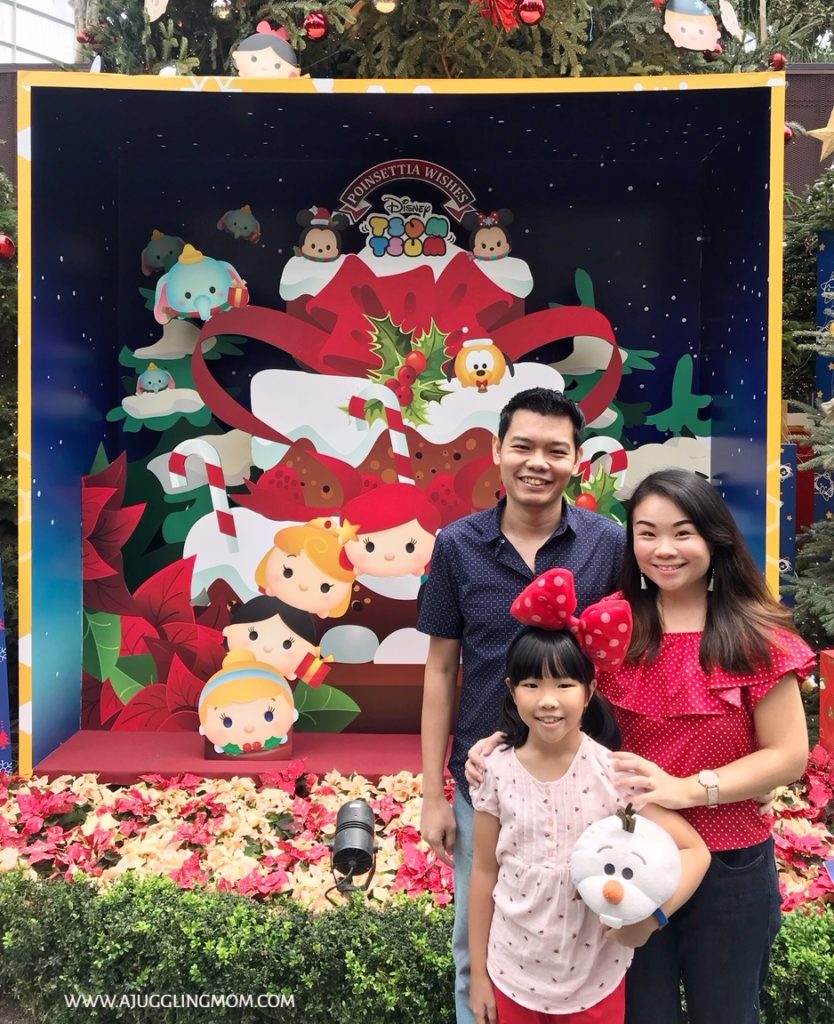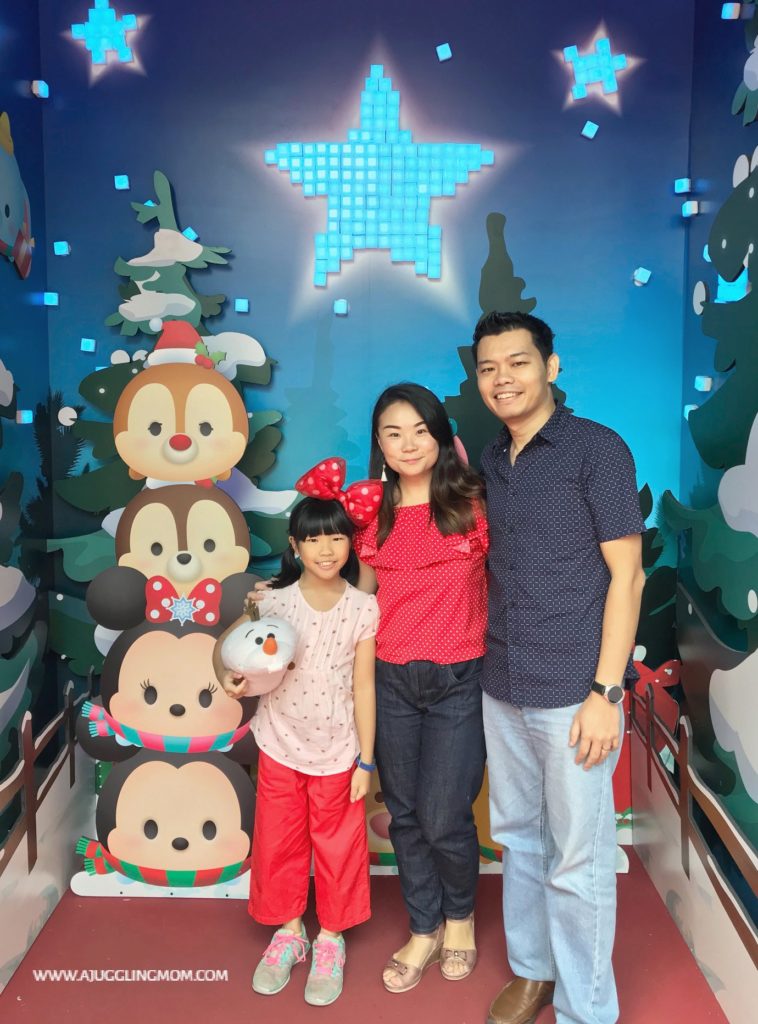 2.Tsum tsum plushie or soft toys
Since Sophie owns an Olaf Tsum Tsum plushie, we brought him along for our pictures. And to top the cuteness quotient, we even added a Santa hat. We heard ladies squealing, so cute, so cute when we were taking this series of photos and I have to agree too!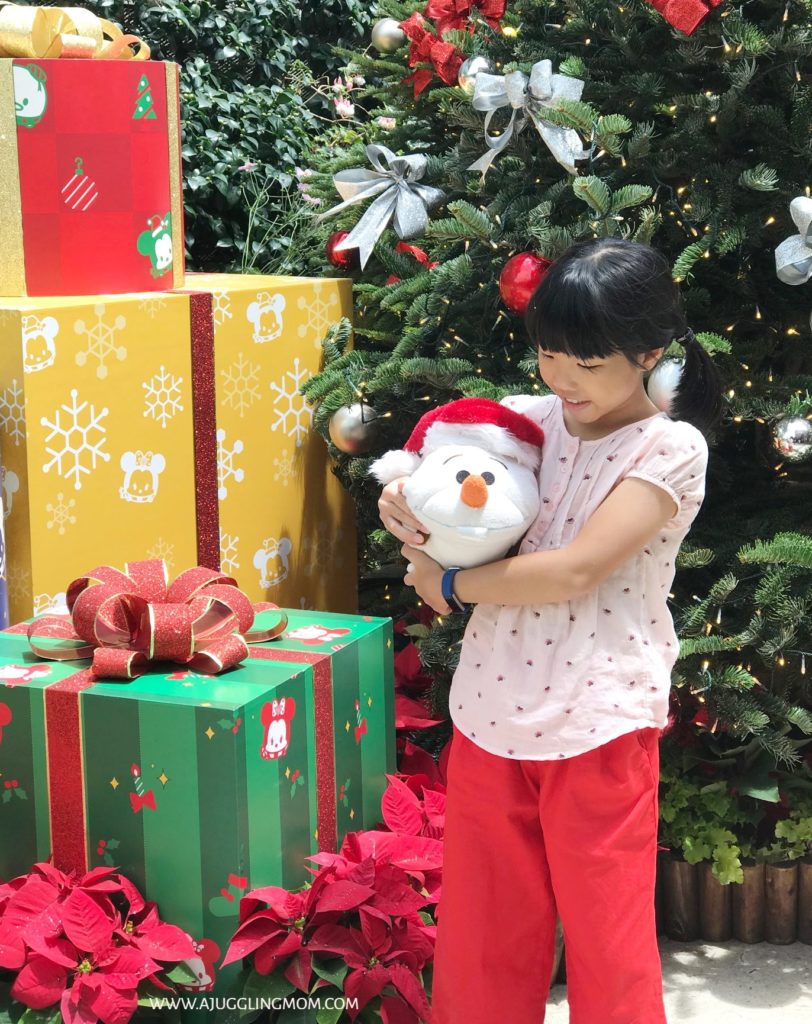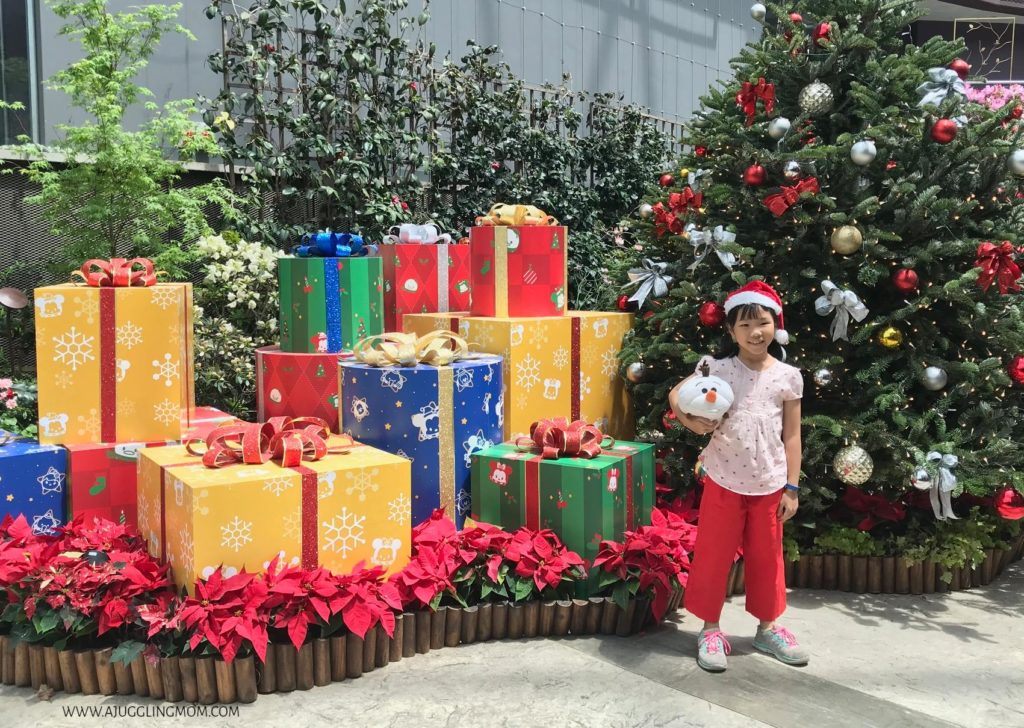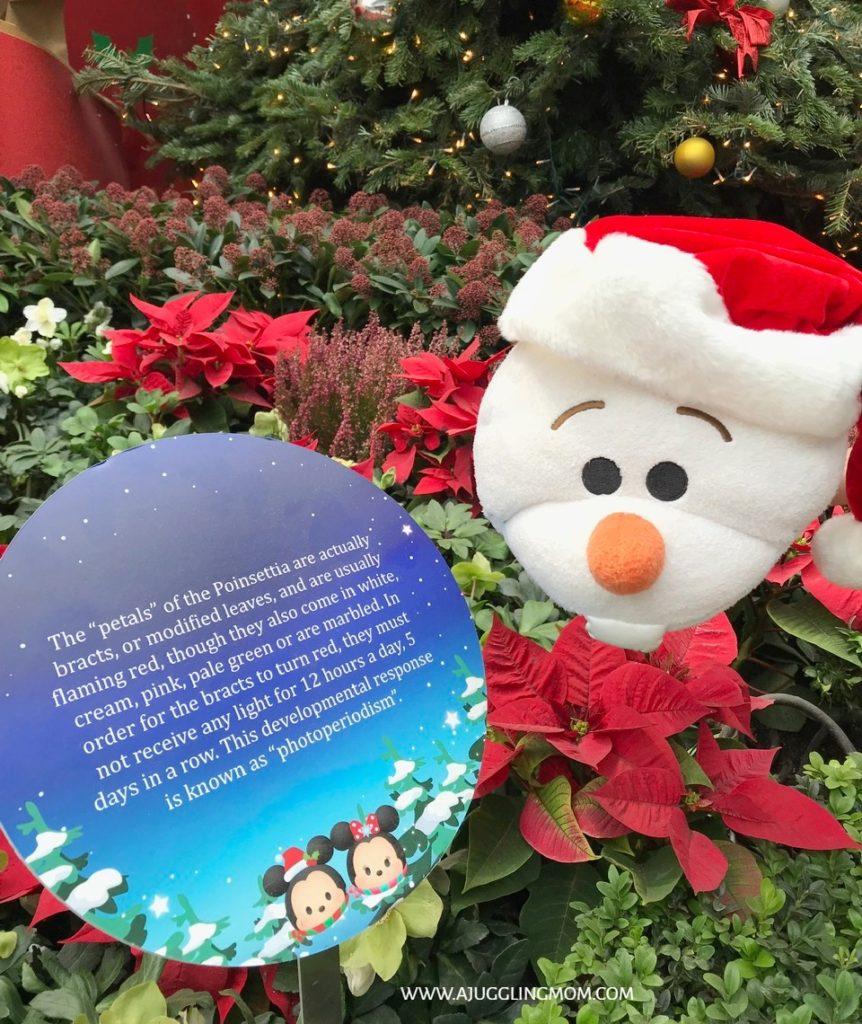 3. Santa hats
If you find Santa hats too tacky and they are not your thing, pass them to your kids since they can pretty much get away wearing anything because they are so cute!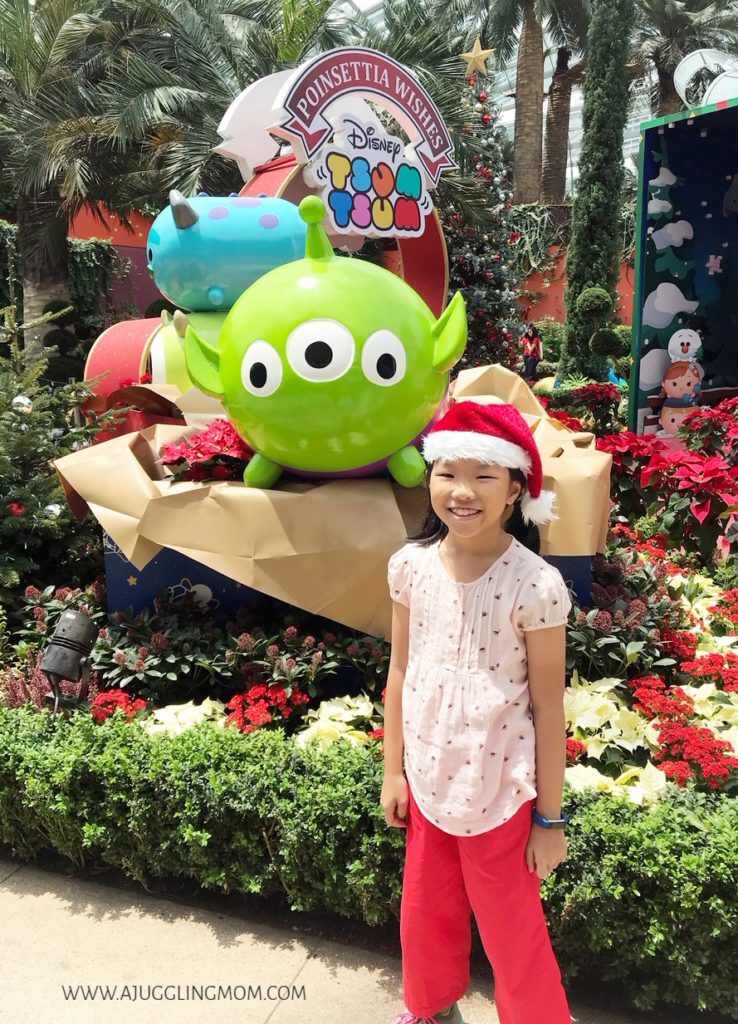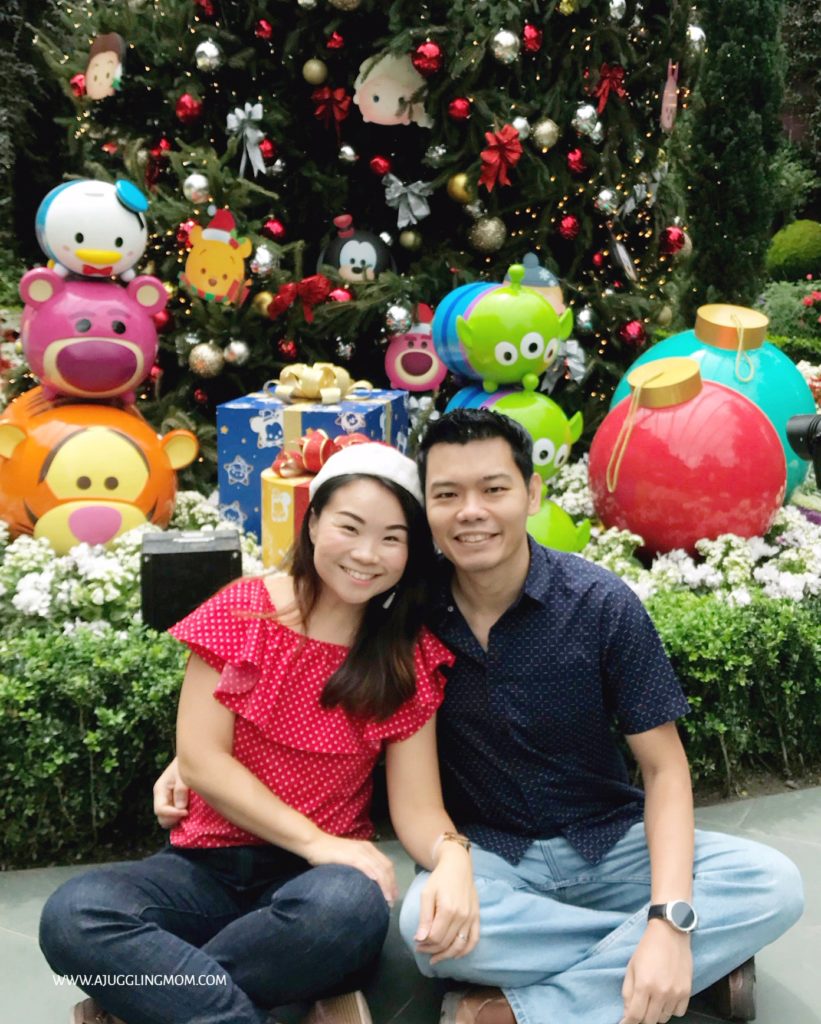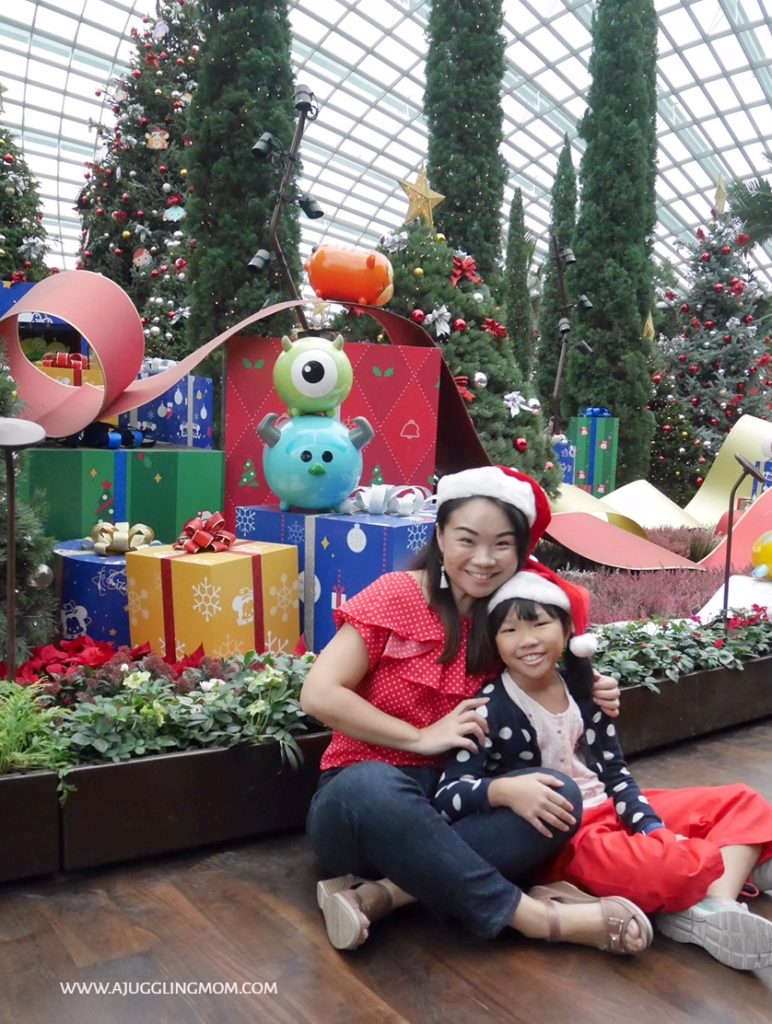 To get another perspective for your photos, try sitting down to capture the Tsum Tsums. We had to wait patiently for the crowd to disperse before plonking ourselves on the ground and quickly snapped these photos.
4. Bauble
I adore this photo of Sophie looking into the bauble which has all the right feels for a dreamy and magical moment with the Christmas tree and Tsum Tsum characters behind her.  When I took this photo on portrait mode with my iPhone, I kept gushing that it's so fairytale like.
And the best part, it only cost me $2 from Daiso 🙂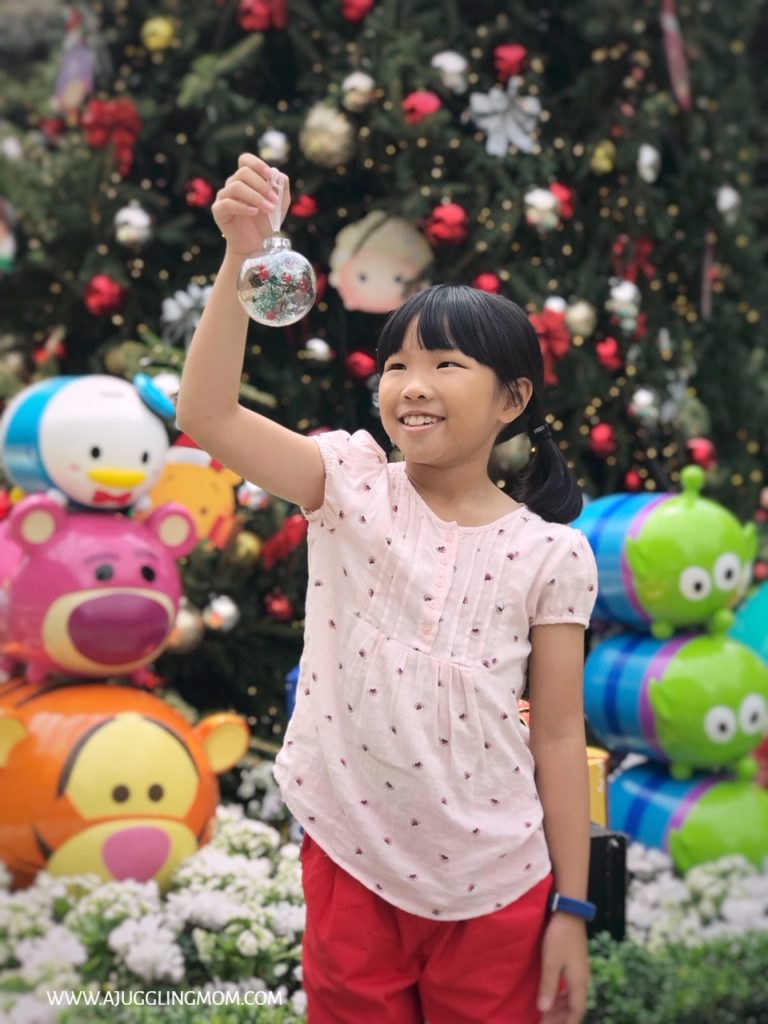 5. Mistletoe
When I was looking for inspiration on Christmas photos poses, I came across this mistletoe idea and showed Alexis the photo that we were going to recreate. He was so reluctant initially because there were so many people and he had to plant a kiss on me.
But there is nothing my dear hubby wouldn't do for me even though he was so embarrassed. In the end,  we got ourselves such a sweet photo especially since it was taken by Sophie. Though hubby is not always this affectionate, I still get butterflies in my stomach when he hugs my waist and leans in close.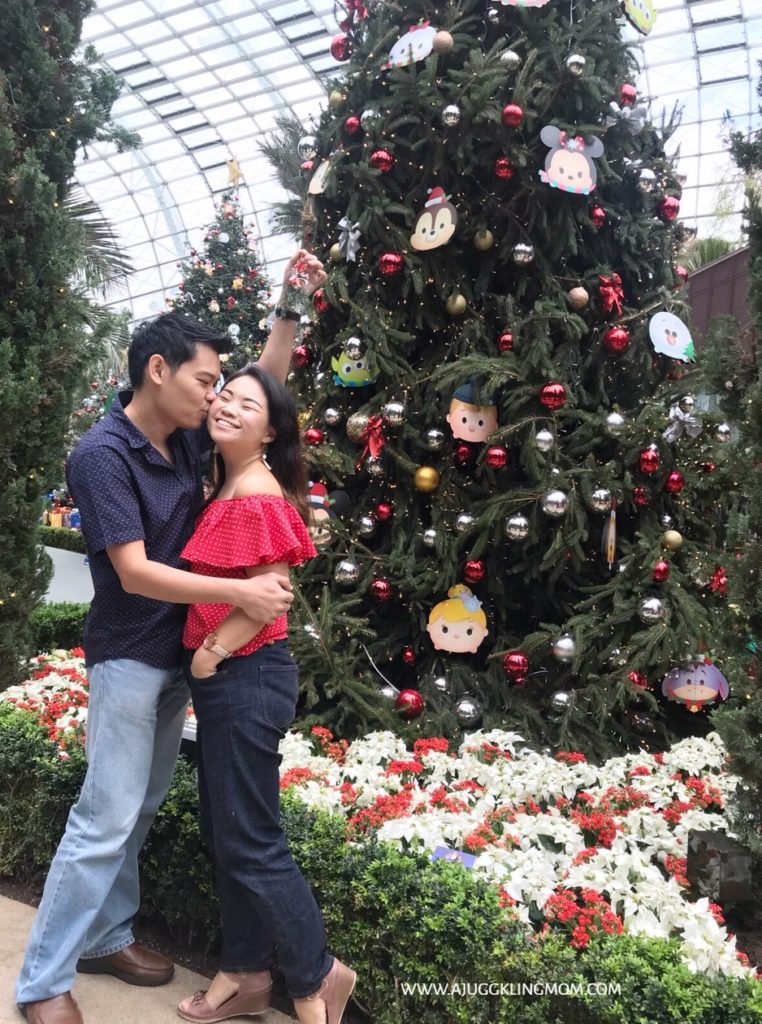 While we posed for some photos, the candid ones were also so precious!
Like this one of Alexis and Sophie which shows an impish side of cheeky Sophie.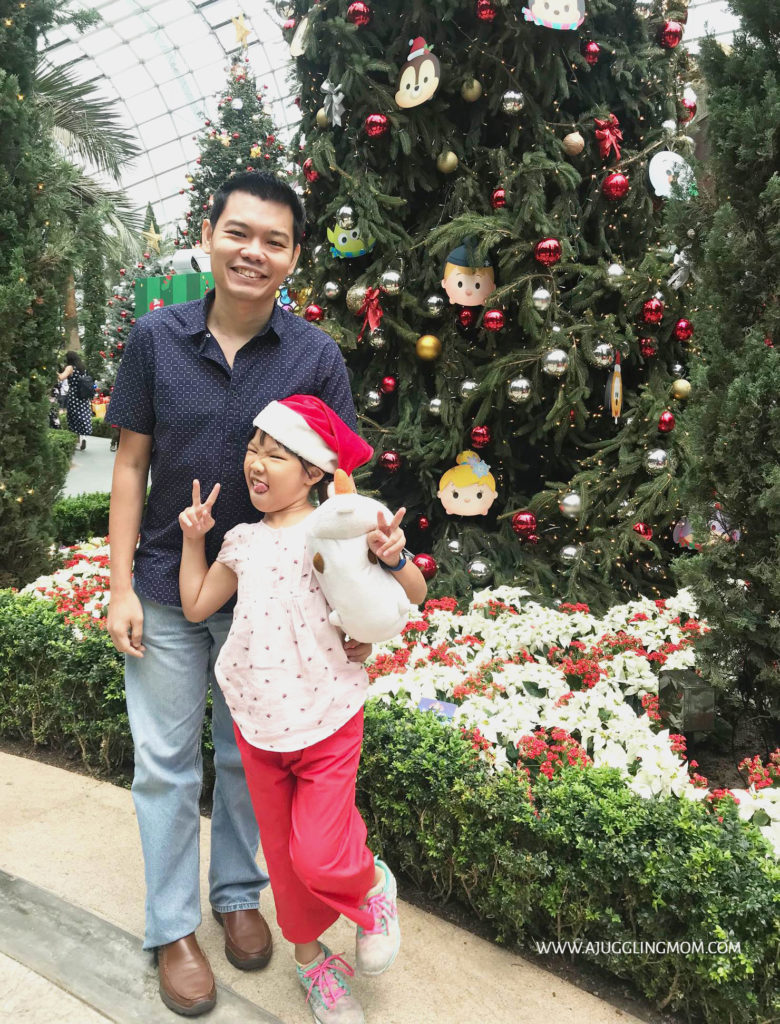 This of the two of them taking a selfie.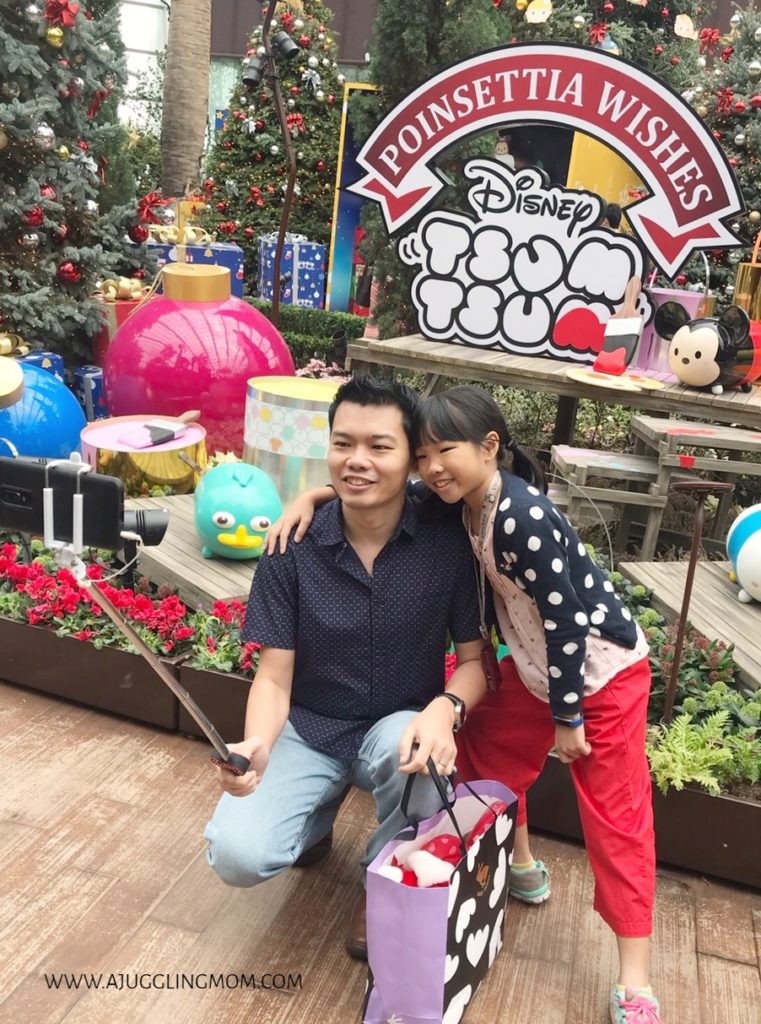 Experiment with different angels
Instead of always taking frontal photos, I wanted to experiment with different angels and these are what I got from a side or bottom up angle.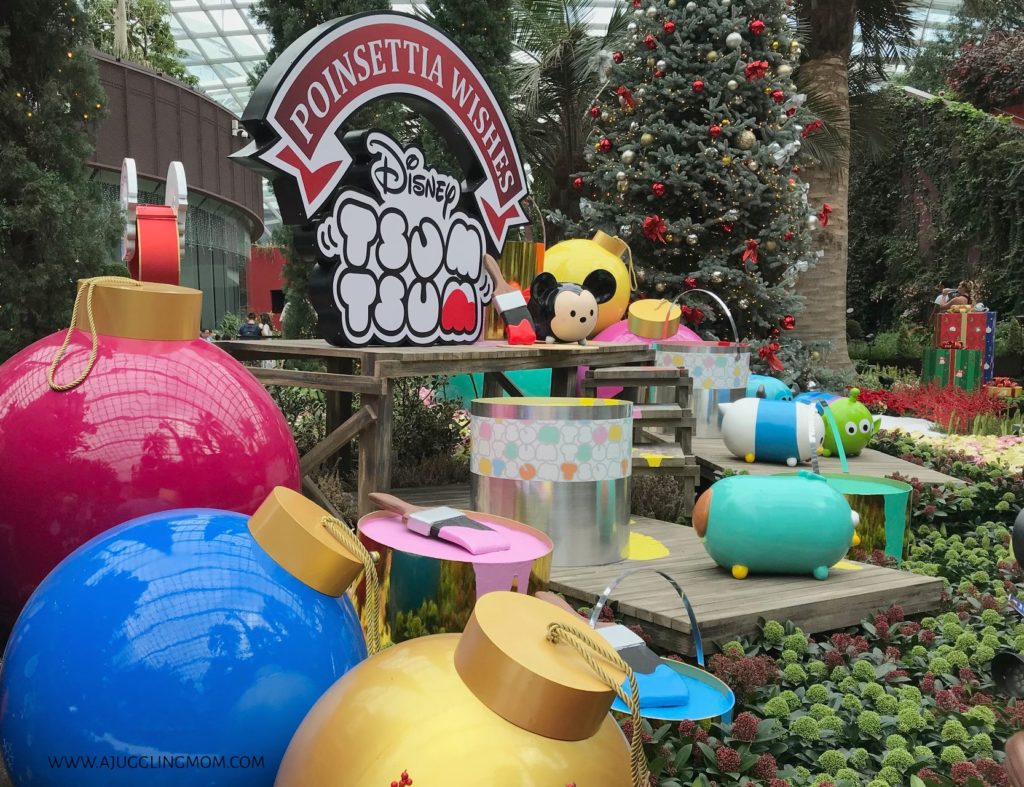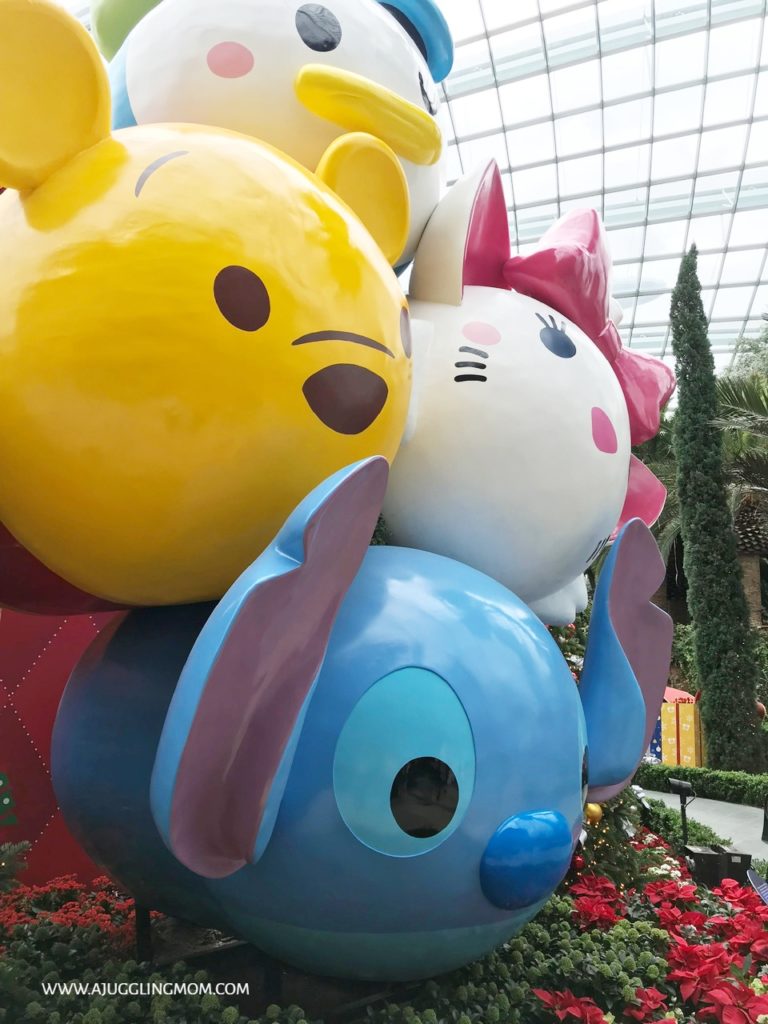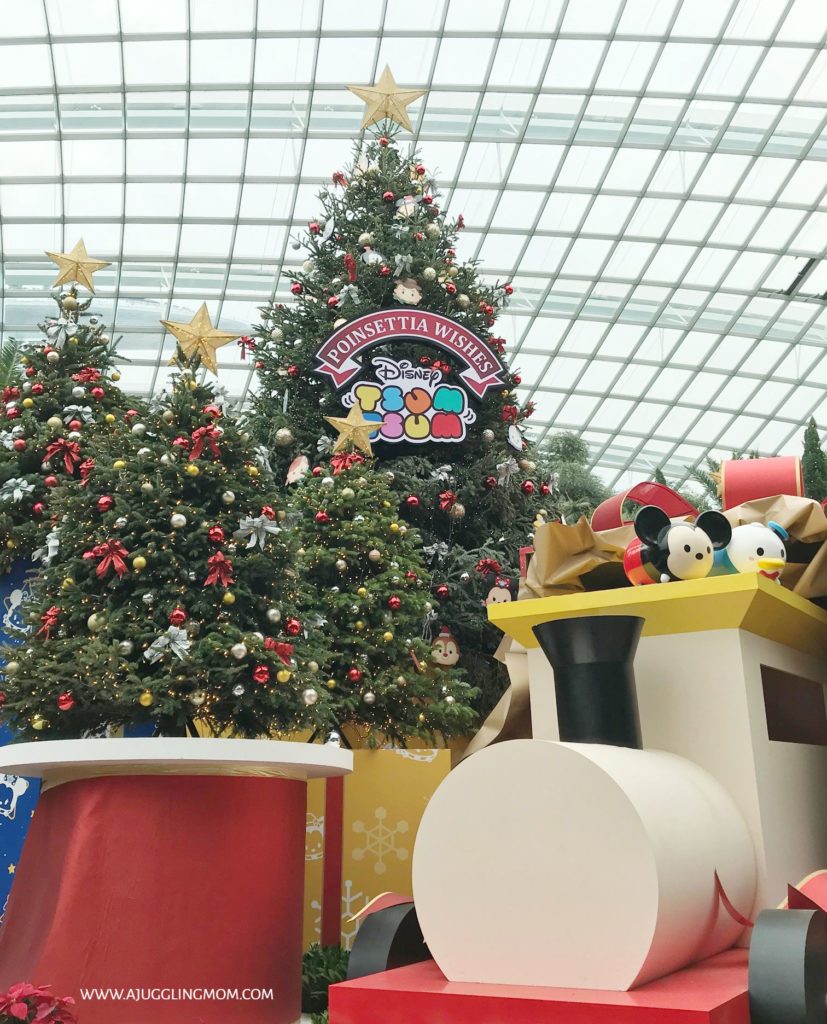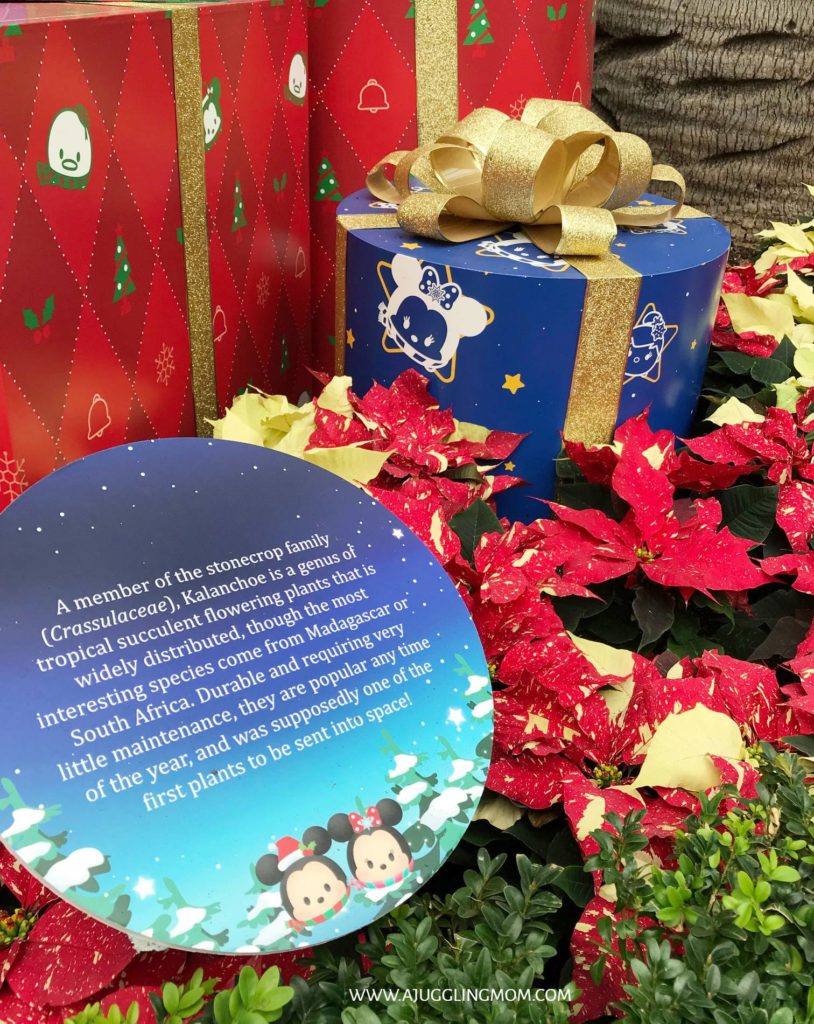 We had so much fun at the Flower Dome and Alexis and Sophie were such good sport that afternoon posing and take photos.
I joked that it must be the magic in the air at Gardens by the Bay where Disney theme songs were played creating an immersive enchanting Disney experience. Being a Disney fan, this flora display makes it one of my favorite theme displays and it's not to be missed for all Disney fans!
Poinsettia Wishes Featuring Disney Tsum Tsum" floral display
Venue: Flower Dome, Gardens by the Bay
Dates: 2 November 2018 –  6 January 2019
Time: 9.00am – 9.00pm | 9.00am – 10.00pm (30 Nov – 26 Dec 2018)
Admission charge to Flower Dome applies
Singapore residents get 10% off tickets for online bookings.
For more information, do check Gardens by the Bay facebook page here.
We can't wait for Christmas Wonderland 2018!
– – – – – – – – – – – – – – – – – – – – – – – – – – – – – – – – – – – – – – – – – – – – – – – – – – – – – – –
Enjoyed reading this post? Do like my Facebook page  and you can also follow me on Instagram (@ajugglingmom) for more parenting and travel articles as well as fun places to go with your family.
Tagged: christmas, Disney, family friendly activities in Singapore, Gardens by the Bay