Sponsored Post
I'm always on the look out for new places to bring Sophie to on weekends. But with housework piling up, it's inevitable that we skip a weekend or two so that my home looks decently clean for the 3 of us. Needless to say, it's a challenge to keep the active little one entertained while I zip around the house doing my dusting, washing and cleaning.
When LolliBox approached me to do a review of their craft in box, I jumped at it as it sounded like a fantastic way to keep Sophie busy with craft work which she enjoys while I get busy with the household chores.
LolliBox is created to bring convenience to busy parents by packing together a box full of fun hands-on  crafting projects and educational activities for kids. Inside the box were materials and activity guides that were compiled with a theme that changes every 3-4 weeks.
The theme that we received was "Amazing Animals" so all the different activities and learning materials were centered around discovering new things about animals.
We started with the "Discover" activity, which is about the wonders of animal camouflage.
The first part of the games was to sort colored craft sticks by colour. After the easy part, the second round of games is to scatter the coloured sticks over different backgrounds like a grass patch, rugs, pavement, etc and trying to sort them.
We didn't progress from the first round as Sophie was not very enthusiastic about this activity. I reckon that the second part of the activity may be a challenge for her as well. So we quickly moved on the to next activity, which was a bonus activity,  colouring a zoo-themed photo frame.
The little artist enjoys colouring so once I handed the markers and photo frame to her, she started shading and needed no assistance with her photo frame. At one point, she even asked me, "Mama, is it nice?"
The next activity was "Create" and we had to build a zoo.
The given materials for this activity was a piece of card board, coloured clay, ice cream sticks and animal figurines.
This was by far the most interesting activity as we could both engage in the activity together. As Sophie was covering the base with green clay I introduced a new occupation to Sophie, a zoo keeper. While constructing her zoo enclosure, I explained what a zoo keeper does, from looking after the animals  to feeding them, bathing them etc. It's no surprise that Sophie changed her mind about being a farmer and traded it for a zoo keeper after this activity.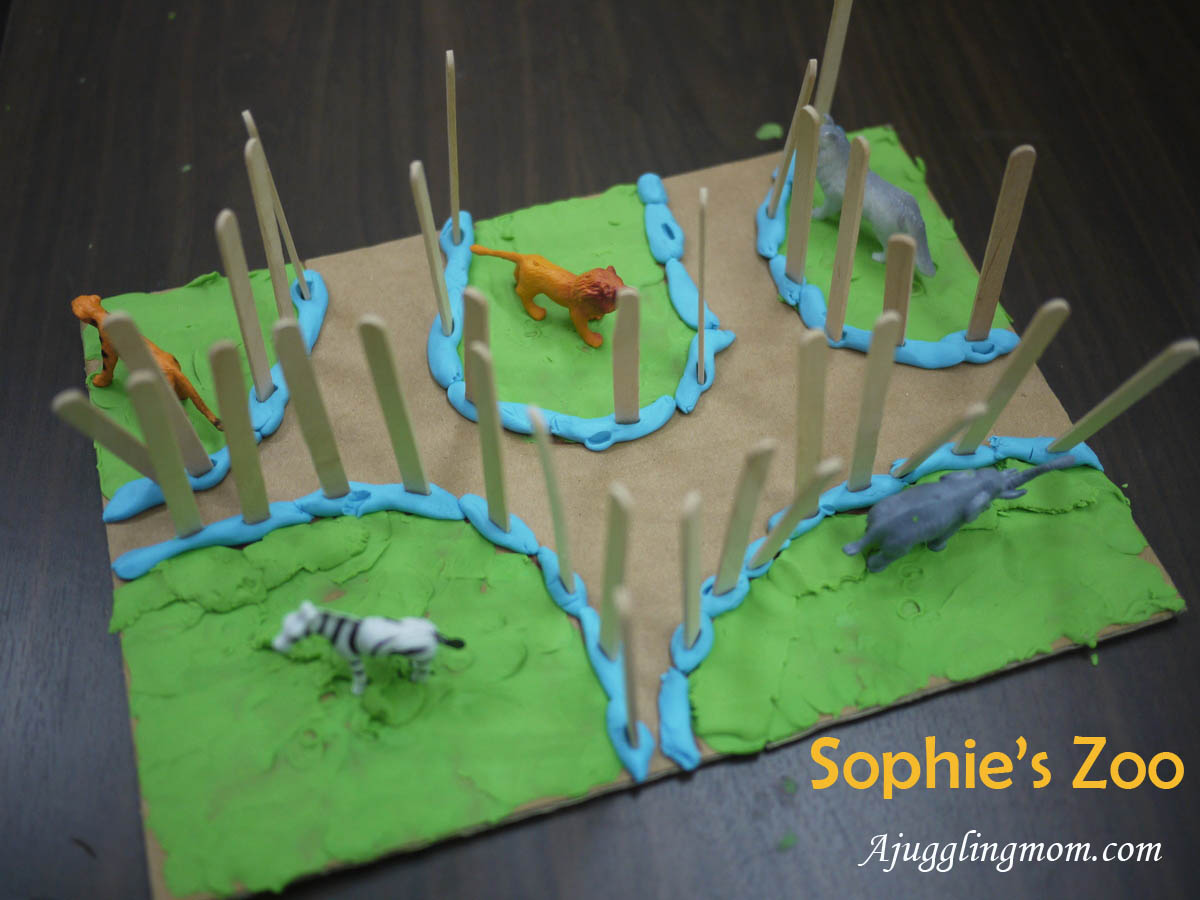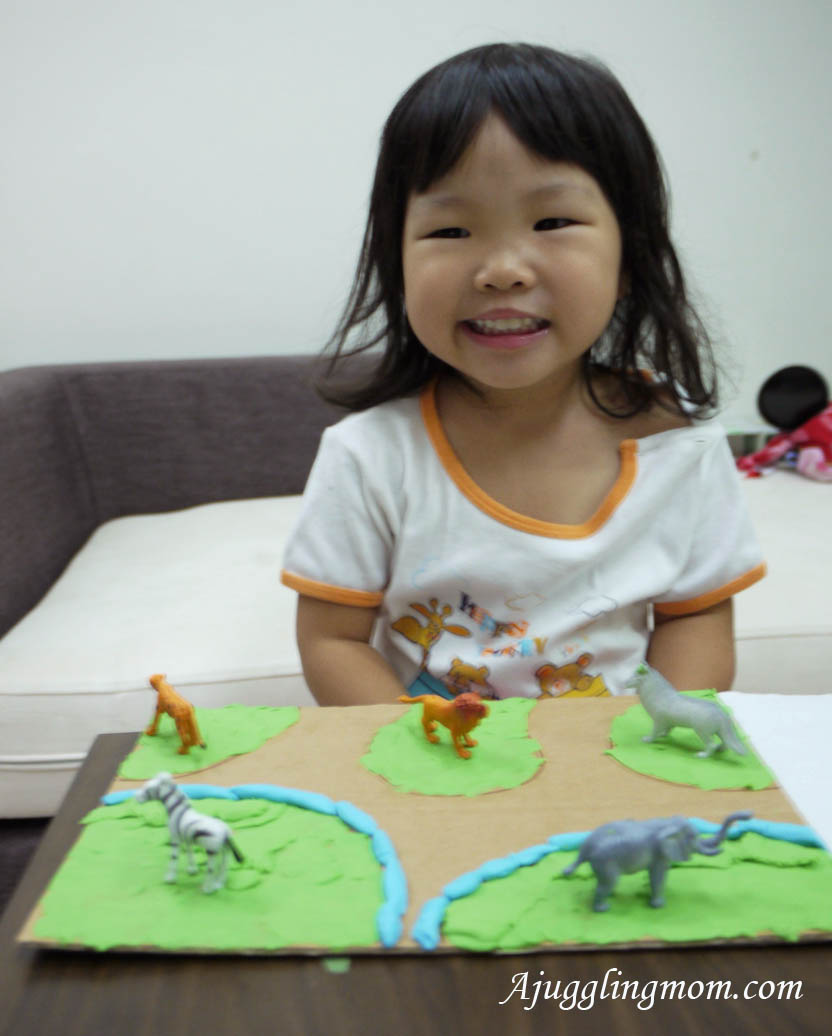 A very proud zoo keeper and her zoo 🙂
Upon completion of all her tasks, my little animal lover was awarded a zoo themed badge to a recognition  of a job well done.
Conclusion:
I do like the idea of doing more art and craft with Sophie but as a busy working mom this can be challenging from scouting and preparing the materials, to making it interesting and educational for Sophie. I like it that there are more than 1 activity within Lollibox and there is one that is bound to capture the child's attention.
While the recommended age for children to enjoy Lollibox is between 3-7 years old, younger kids will need guidance to go through the activity meaningfully. In Sophie's case, at 2 and a half years old, she could complete the coloring activity without assistance but she'll definitely needs help in understanding the rest of the activities.  Nevertheless, this is a great opportunity for parents to bond with your children through learning and playing together. 
By introducing different themes every 3-4 week, kids can explore and discover new topics and keep them looking forward to the next Lollibox for more fun crafts.
Promotion:
If you'll like to try out the Lollibox with your child, here is a promotion where as readers of A Juggling Mom, you'll enjoy 10% off any purchase or subscription to LolliBox from now till 16 July 2012. Simply enter the coupon code 'JUGGLE' when you checkout to enjoy the discount.
That's not all. Lollibox is also giving one of my lucky readers a chance to win the latest theme Lollibox, Grow Plant Grow, where your child can observe and learn for himself/herself how plants grow from a seed to a full mature plant.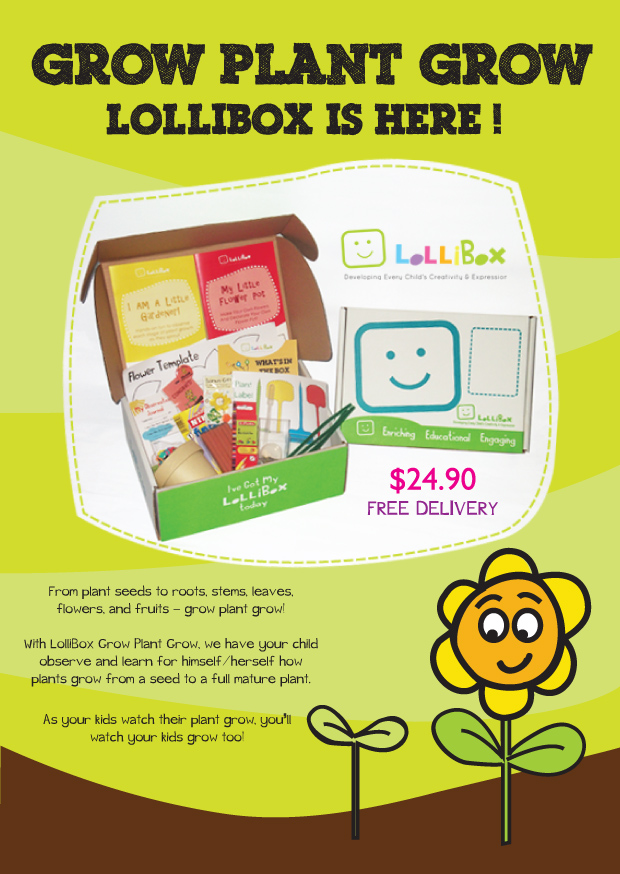 All you have to do is leave me a comment with your Facebook name and head over to Lollibox's Facebook page with the link here and like them to be in the running for this giveaway. Promotion for the giveaway ends on 30 June 2012 and the winner will be selected by the first week of July.
Good luck!
Note:
This giveaway is open to Singapore residents only.
This giveaway will close on 30 June 2012 at midnight.
Winners will be randomly drawn.
Winners will be notified via email.
*A Juggling Mom received a free product in order to write this review. However, all opinions expressed here are my own.