Two weeks ago, I had the pleasure of participating in a Lifebuoy ambassador photo shoot along with the other lovely mums, June from Mama wear papa shirt and Ruth from Mommy Cafe. Being regular mums, it's not an everyday affair that we get styled and dolled up, so we were all looking forward to being models for the day.
Come, follow me to see what goes on behind the scenes of a photo shoot.
I was the first to have my make up done and was briefed that I'll be portrayed as a yummy baking mum. (Okay, I added that yummy part 😛 )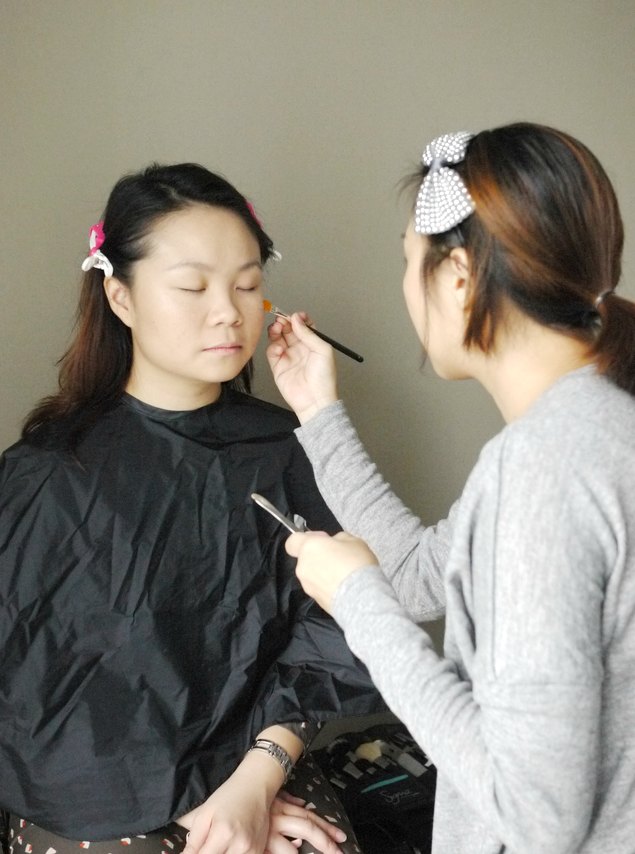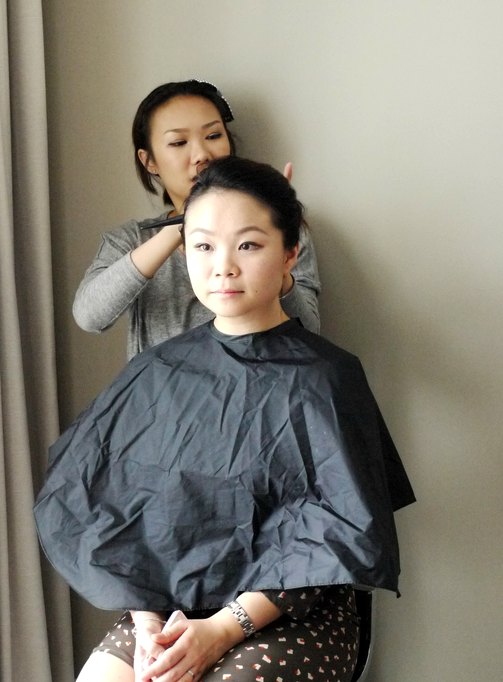 And of course, what are we mums if not for our kids? Sophie was also roped in for the photo shoot and her eyes sparkled with excitement when she saw the rows of colorful cupcakes before her.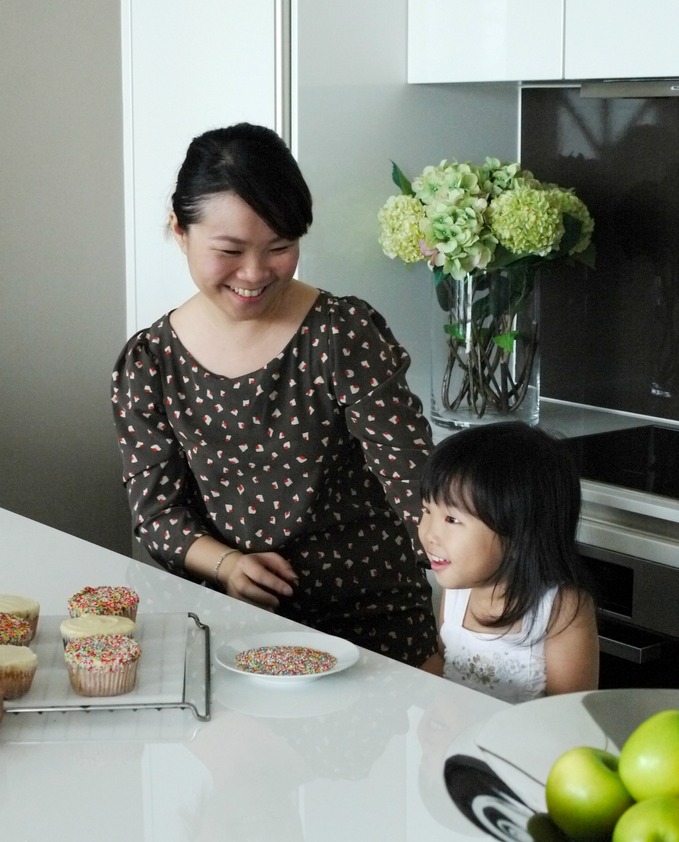 For our mother and daughter photo, we had to decorate the frosted cupcake with rainbow sprinkles. No child can resist rainbow sprinkles, so after demonstrating it once to Sophie, she had her go at it.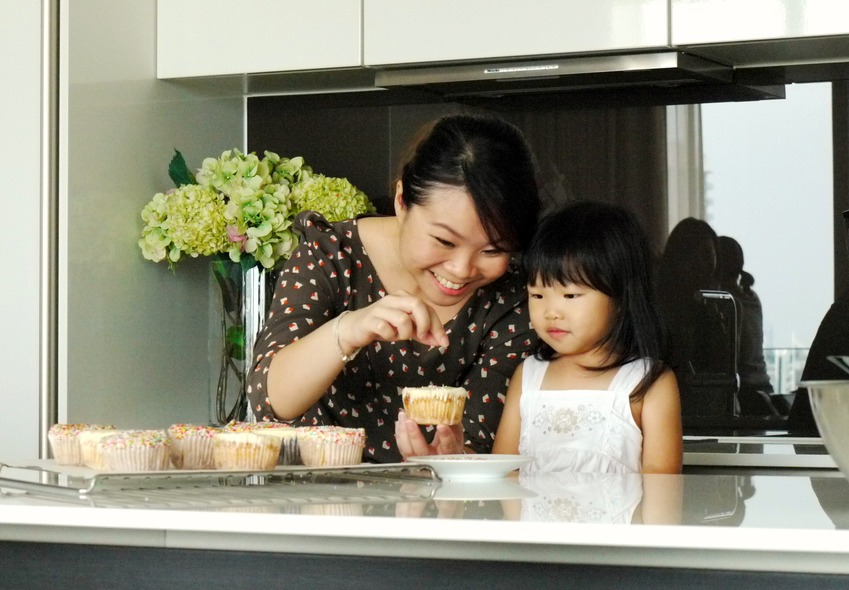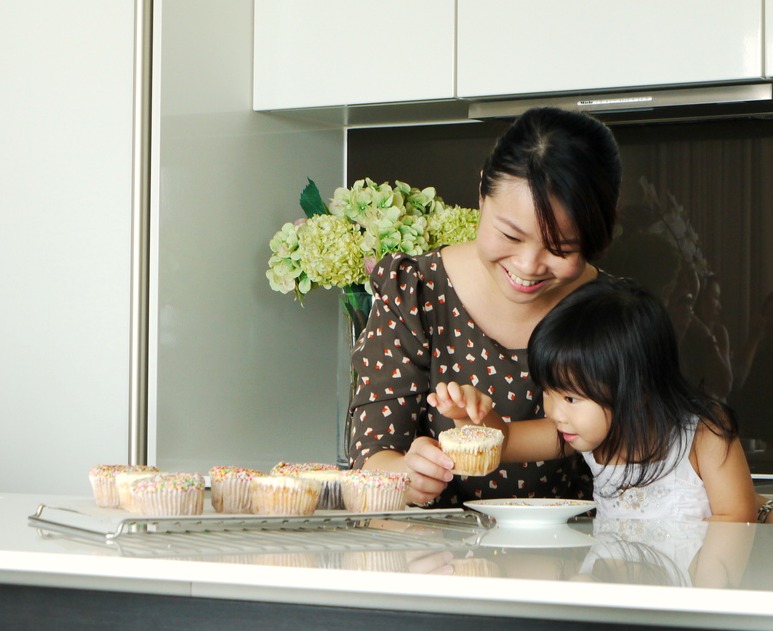 Is it like this mama?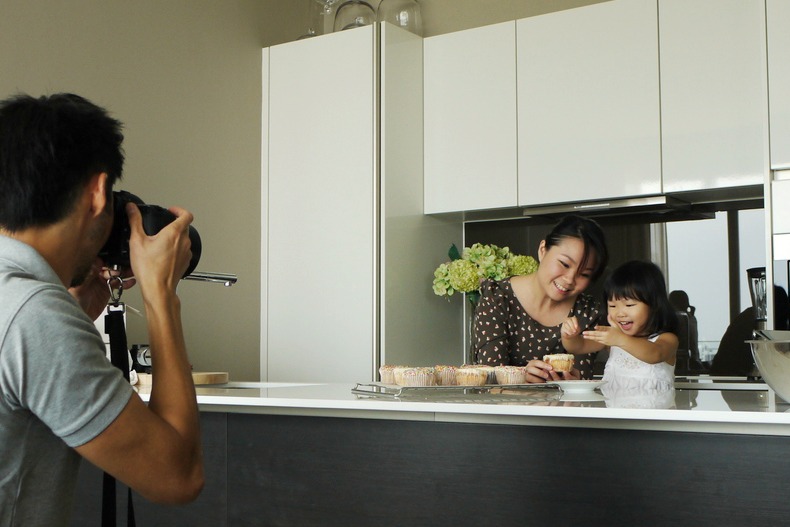 Sophie had lots of fun decorating the cupcakes and we thought we'll try to do something silly, just to bring out a spontaneous reaction from Sophie. But that didn't quite turn out as well as you can see from the video.
But thankfully, it all ended well as she got to eat one of these yummlicious cupcakes before she whisked off to look for her new friend, Kenan, Ruth's charming little prince.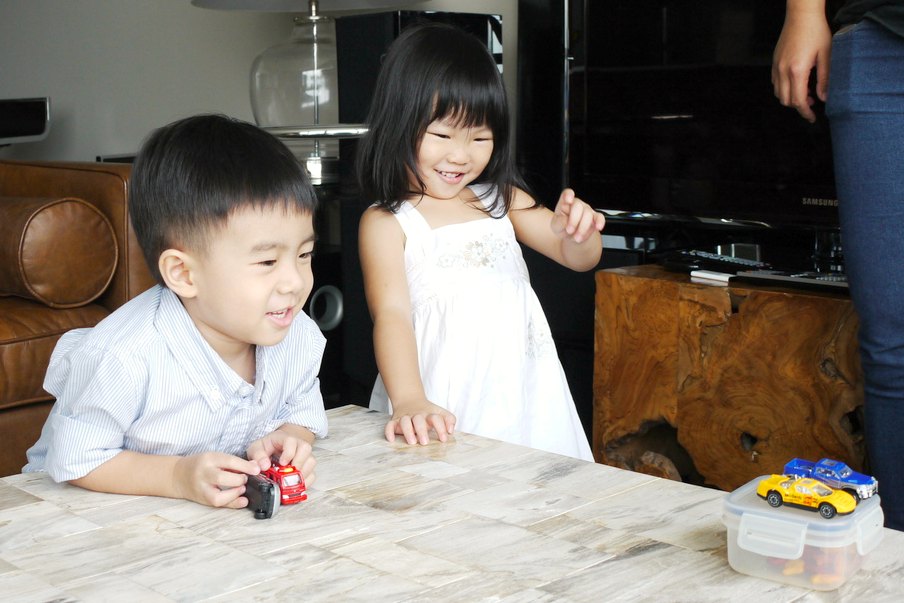 Next up, was my individual Martha Steward moment.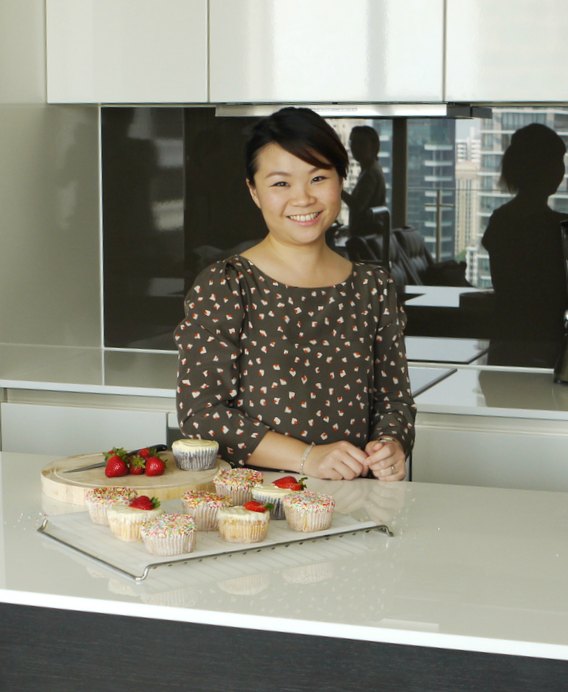 For my baking mummy shoot, I had to decorate my cupcakes with a strawberry. Sounds easy peasy until you have a cameramen as well as 10 pairs of eyes on you. But everyone was really patient and we got through the shoot and wrapped up for my part.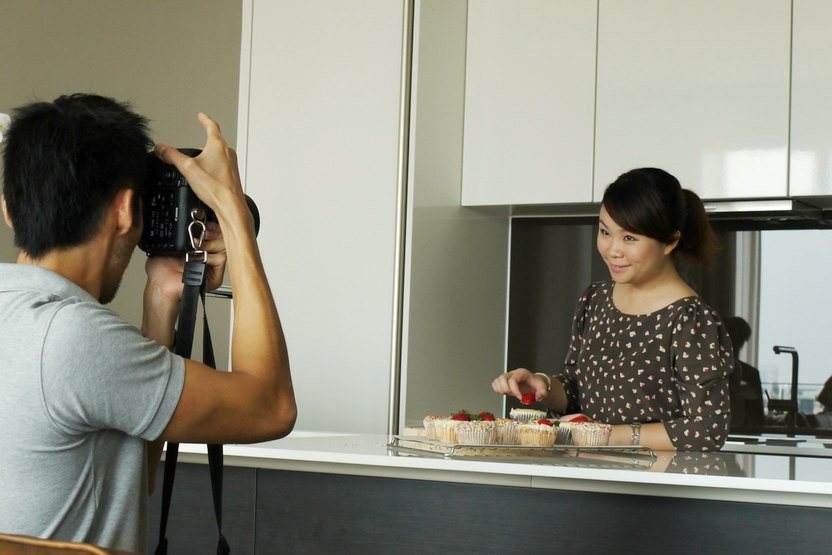 While waiting for the other mums to have their photos taken,  Alexis took a photo of Sophie, Kenan and Vera.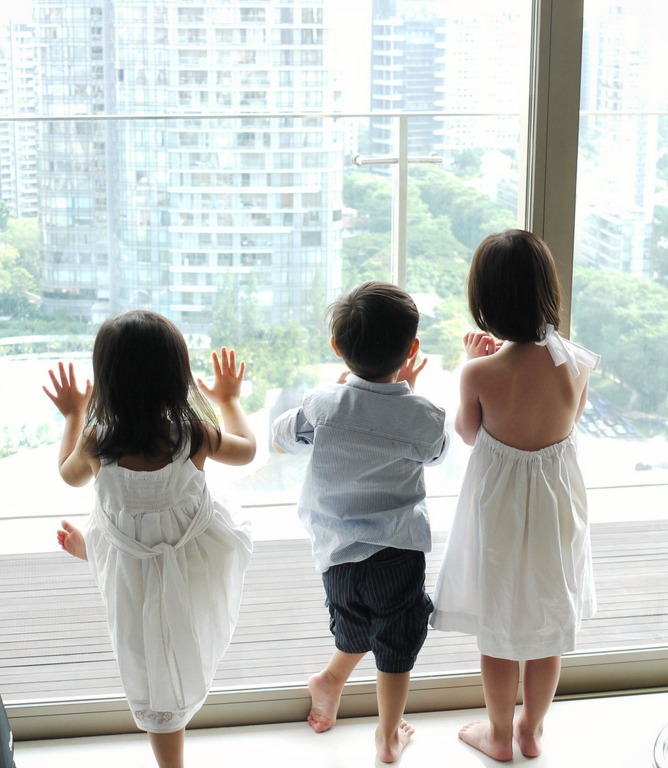 I love this shot of the 3 kids. Sophie looked like she was doing some yoga pose while balancing with a crossed leg. Either she's super flexible or cho lor to the max!
We concluded the photo shoot with a group photo for the 3 of us. You probably wouldn't be able to tell from the final photos but the kids were running around impatiently trying to get the mummies attention while the photographer fought with them to keep our attention on his camera.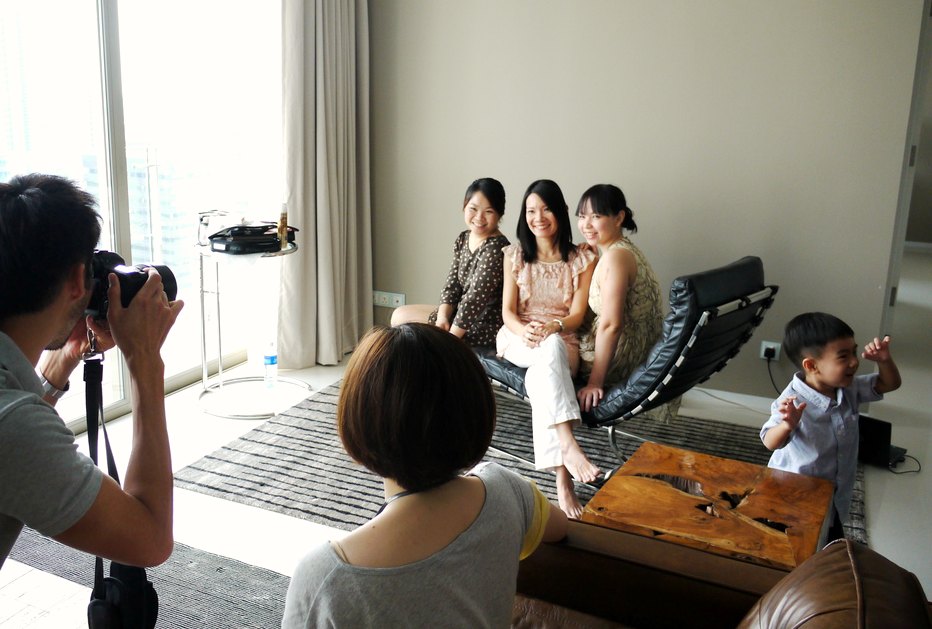 Since the kids were so keen to be in the photos, we decided to include them for the final photo just for fun. But even for that Sophie had to be bribed with a cupcake to keep her from running away.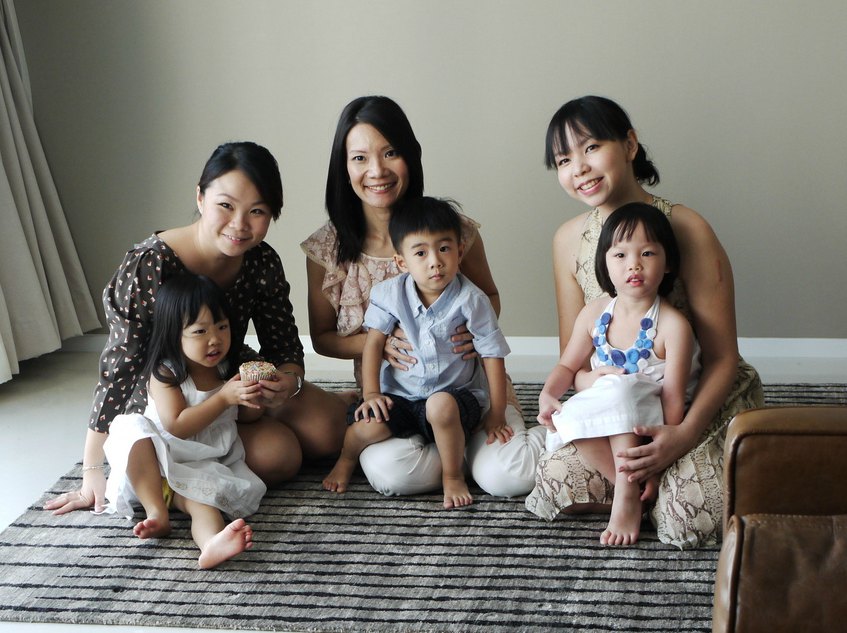 I'm so thankful to have the opportunity be a part of this Lifebuoy campaign. Protecting lives is at the core at what I do everyday as I work in the insurance line. So when I was approached to be one of the ambassadors for Lifebuoy, I immediately agreed as the message of protecting lives and caring for my family's health resonated with me.
As a mum, I hope to be able to inspire and influence other mums to take care of our health so that we can fulfill our roles as the main caregiver of the family and give them the best.
On a more personal note, it meant a lot to me that Alexis and Sophie accompanied me for this photo shoot. Sophie, of course for bringing so much joy and laughter that afternoon as she got up to her cheeky antics with the other kids. I am so proud at how cooperative she was during the photo shoot and we had fun playing little bakers, decorating the cupcakes. And not forgetting my dear hubby, Alexis who played such a supportive role to watch over Sophie and keep the kids entertained while we were behind the camera.
I can't wait to see the final pictures! Thank you Lifebuoy! 

Tagged: Lifebuoy, Photograph