Kids are naturally curious about everything around them and the world is like a big outdoor classroom for them.
"Mummy, how does a butterfly that breaks out of a cocoon?"
"How can a leaf get carried by the wind?"
These are just some of the thousand and one questions that I get bombarded with on a daily basis by my five-year old. And what better way to help them nurture and encourage their curiosity than through play.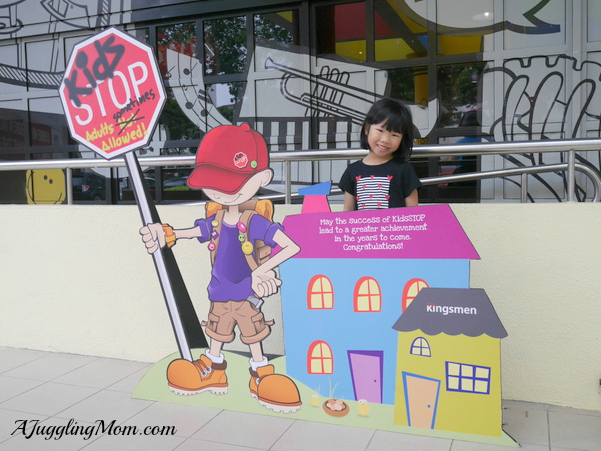 That's why KidsSTOP, an exclusive 3000-quare meter children's science centre was set up to cater to young minds between 18 months to 8 years old. This makes it suitable for pre-schoolers to lower primary as the Singapore Science Centre is too advanced for younger tots.
In here, children get to discover science with lots of interactive and hands-on activities through experiential play. With over 20 play areas, it promises to be an exciting edutainment centre for the whole family too.
In the Built Environment, which Sophie calls the Bob the Builder area, kids get to operate machinery to help them lift and transport plastic balls and understand how gears and kinetic energy works. This may seem more appealing to boys, but that deter Sophie from having her share of fun as she waited patiently for her turn. This was a hot spot since it was located near the entrance where many kids made a beeline for this once they entered.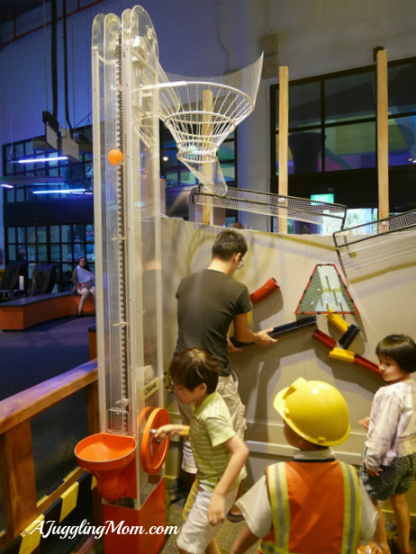 She also learnt how to build a strong foundation by using different sizes of foam pieces to build her building.
There was also an exhibit that requires you to fix the gears to make the cuckoo clock chime but Sophie was lured by the Dino Pit next door.
In the Dino Pit, kids get to role play as paleontologist as they dig to uncover fossils using brushes, chisels and shovels. Just pass them the needed equipment and be prepared to linger around here for a while.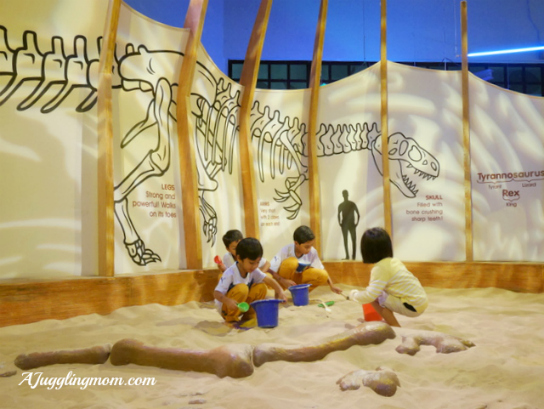 At one area, children can also learn the names of the different species of dinosaurs along with some facts about them. Little ones who don't like getting sand in their feet can opt to do shading at the tables nearby for their very your own fossil prints.
In the Flight and Space area which you'll easily spot with a cockpit, kids can pretend to be a pilot. To get them into character, there are uniforms to get them into the role of a pilot before they take flight.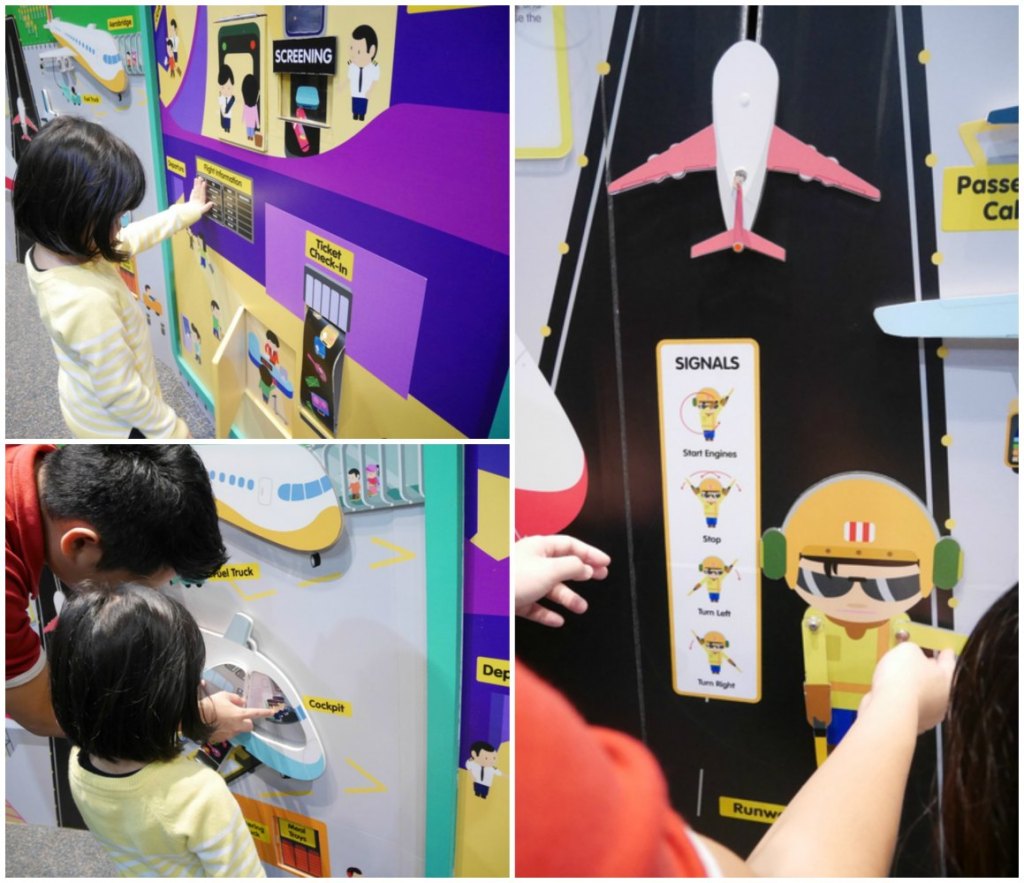 At the area behind the cockpit,  kids also discover how kinetic energy works when they paddle the wheels of a bicycle and watch it generate wind.
Here kids can also learn about the solar system and the name of the planets.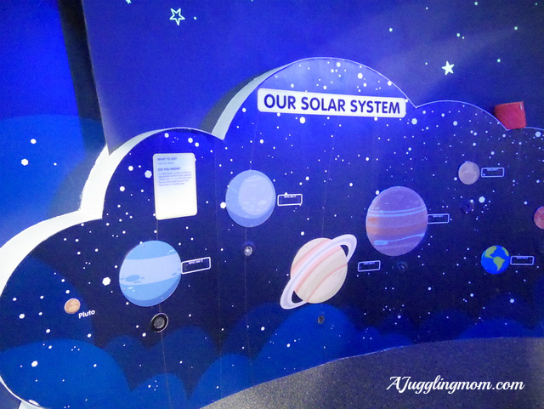 As we proceeded along, the huge net which was the Big Dream Climber caught Sophie's eye and she sped up the  climbing structure to reach the Music Zone at the top together with Daddy.
I didn't manage to get up there, but Sophie told me there was a trampoline and different musical instruments such as floor piano and chimes and a larger version of the retro wooden frog toy where it gives off a croaking sound when you run a stick down its back.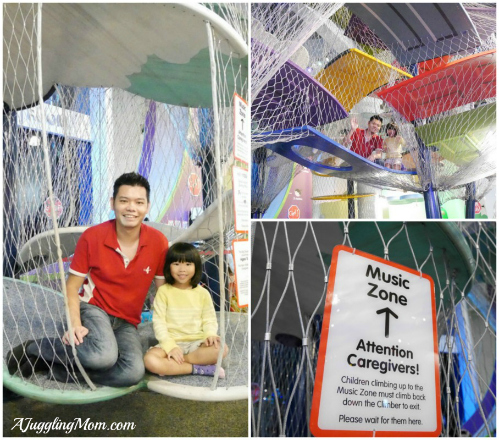 Another big area within KidsStop is the Human Body zone where kids can explore about their body by dressing up as a doctor or nurse.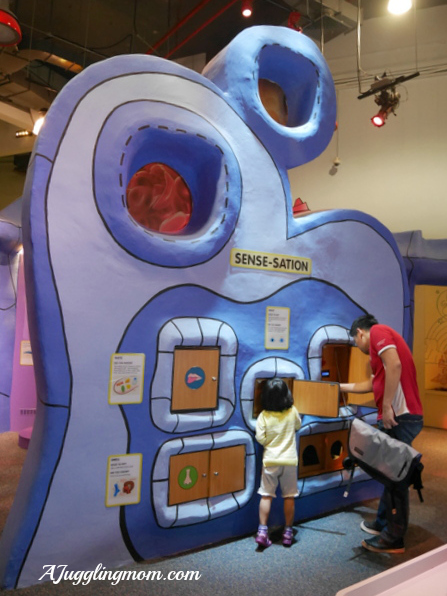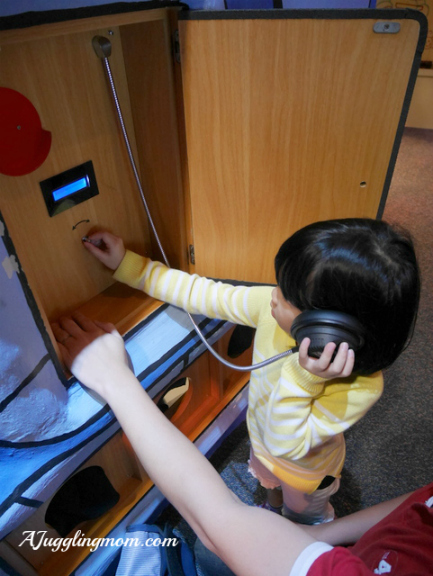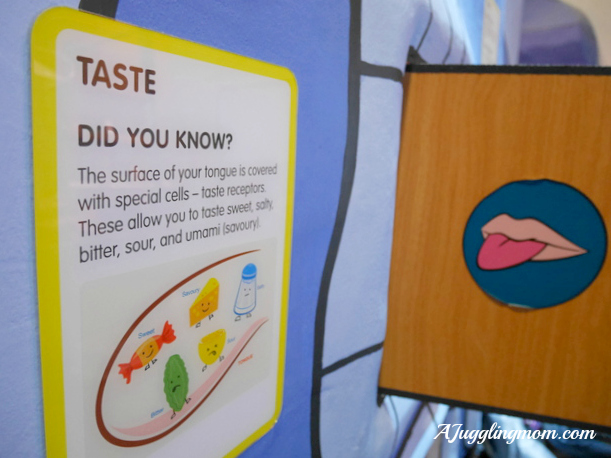 Here is where the five senses get unpacked with some small nuggets of information plus hands-on activities.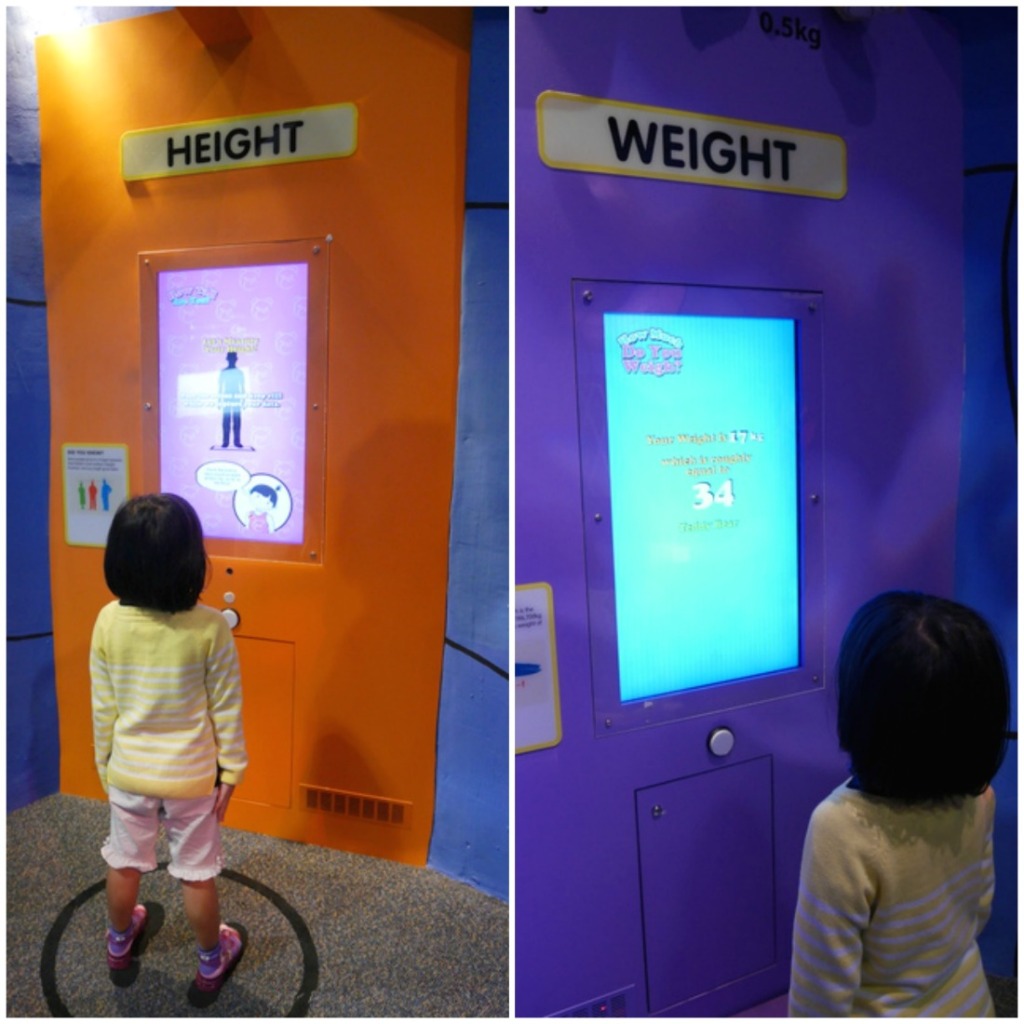 An interesting way to learn about their height and weight. Sophie is equivalent to 34 teddy bears at 17kg much to her amusement. Don't forget to record all your findings in this little booklet which you can pick up too.
But the area that had her stuck at for the longest is the Supermarket and Café zone which are just side by side.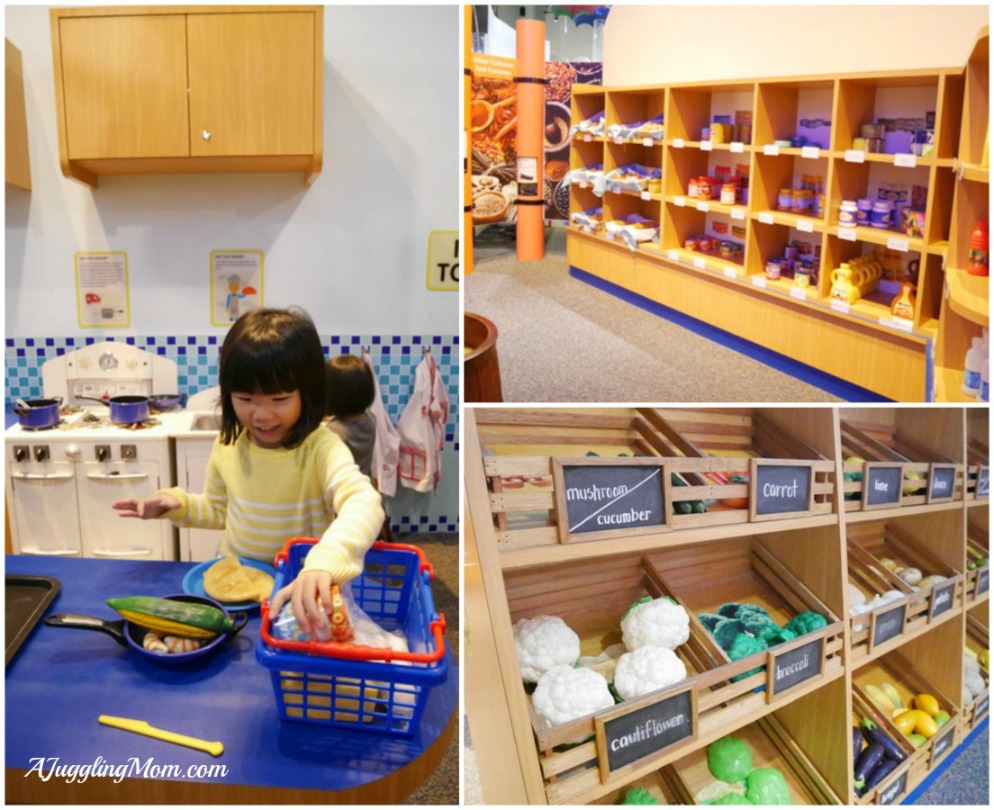 Here at the Supermarket, kids learn about having a balanced diet and the different food categories. I was impressed at how well stocked the supermarket was and I think the kids all loved it as well as they grabbed their shopping carts and went round doing their shopping.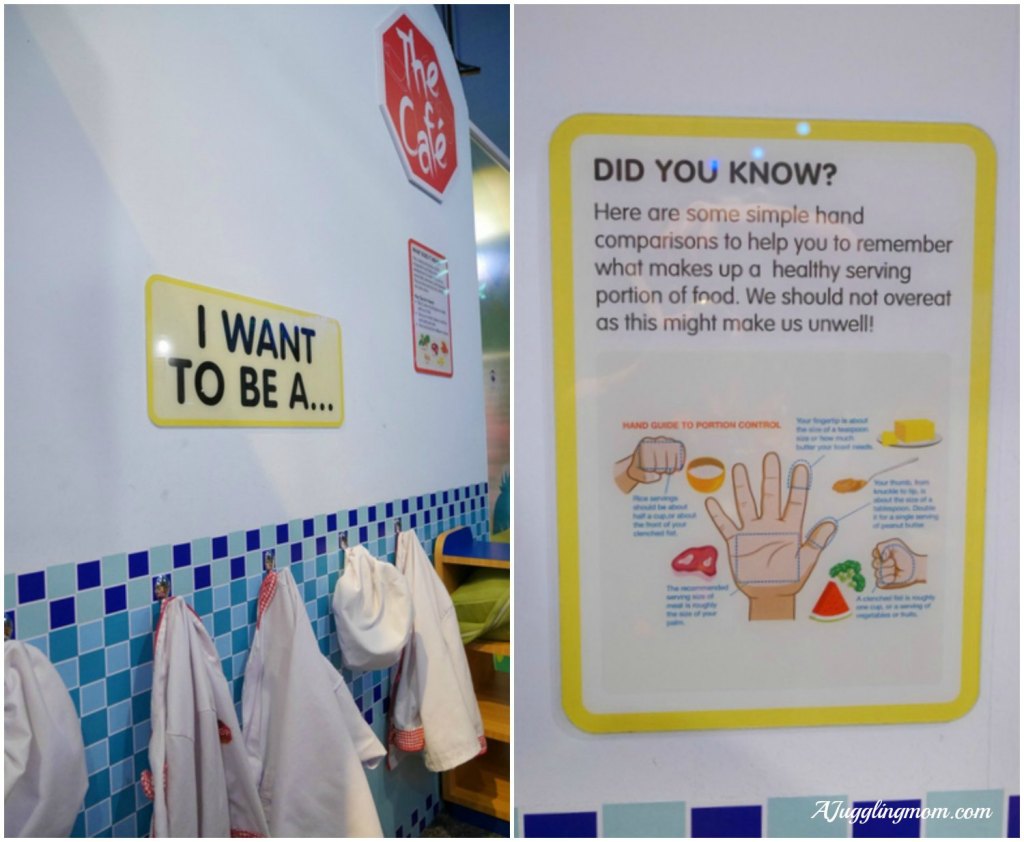 Kids have the opportunity to learn where their food like fries, fishball and others came from with an informative show.
The supermarket also had a very realistic set up of a cash register that had the kids vying for it. Sophie wanted her go at it but I'm glad she learnt to wait and finally got her chance when the kids trickled away. As the items got scanned, they beeped just like the real thing.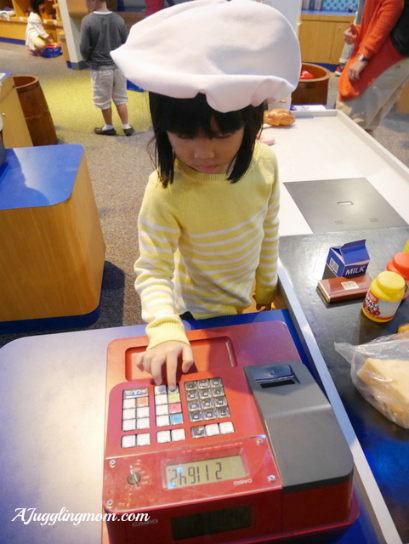 There was another section at the back of KidsSTOP after the Omni-theater that we totally missed out this time round so Sophie didn't get to try the Math, Critters, Theater and Tinkering sections.
One of the highlights was the Giant J slide where you can experience the feeling of free fall but once Sophie saw it, she got intimidated by it and decided to give it a pass. So we'll return for another visit.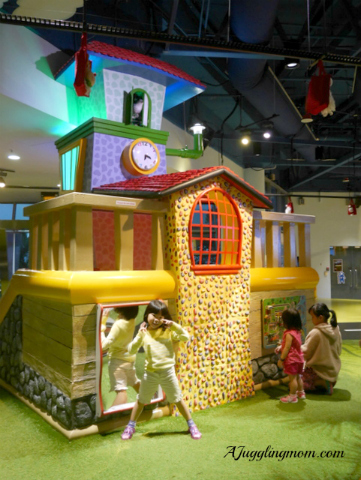 A Juggling Mom reviews
Overall, KidsSTOP provides a fun and conducive environment for kids to learn about Science as they get busy in the hands-on activities and play. It will be even more beneficial if they are accompanied by parents who can point out these information to reinforce the learning at the various stations. With a variety of stations, I'm sure your child will find something that interest them. While kids from as young as 18 months can enter,  I find that it's most suitable for kids between 4 to 7 years old.
Do remember to bring your socks as they are required for some of the activities like the Dream Climber, Giant J and Small World. Otherwise you may purchase them at the retail shop at the entrance. Prams and strollers are not allowed within KidsStop.
And for parents who prefer to sit back and relax while waiting, there are massage chairs just outside the party room.
Ample parking space is available right at the entrance that is shared by Snow City next door.
Do note that there are two time slots for weekdays (plus a morning slot for pre-school bookings) and weekends as follows.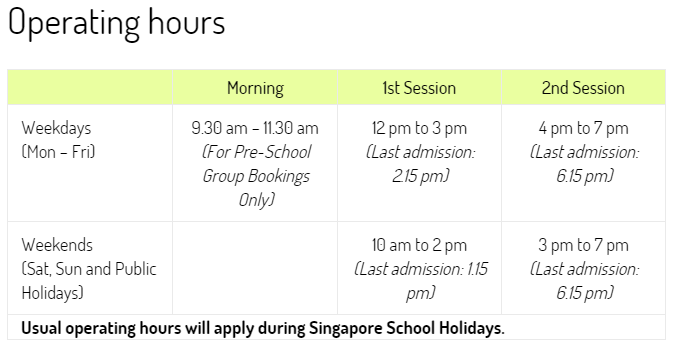 Here's the information for admission charges.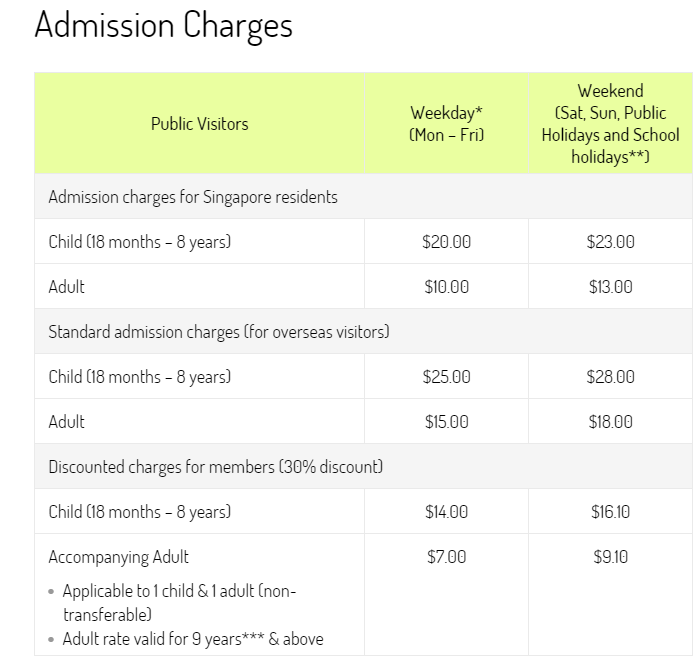 KidsSTOP
21 Jurong Town Hall Road,
Singapore 609433
Tel: +65 6425 2500
Website: KidsSTOP
* A Juggling Mom was invited to KidsSTOP to write this review. No monetary compensation was received. All opinions are honest and are my own.
Tagged: educational, family friendly activity, Weekend activities