With just less than a month to the new school term, Sophie is all ready for Primary 4. We've purchased her school books, school shoes and recently upgraded her school bag which she's outgrown.
Right from Primary 1, we have established that it was important to buy Sophie a quality school bag that gives her a good back and spine support. This is one aspect that should not be compromised or skimped on as she is still growing at her tender age.
Even though many schools now allow students to leave their textbooks in school, the weight of their workbooks, exercise books, stationary, lunch box and other knick knacks can still add up quite considerably which would invariably hurt their back and development.
For the past 3 years, Sophie has been using the same ergonomic school bag with little complaints. But by the end of Primary 3, she shot up and we decided it's time to upgrade her to a bigger bag which would be more suitable for her height.
We went with IMPACT as their spinal protection backpacks are medically endorsed by Singapore Physiotherapy Association and The Chiropractic Association (Singapore).
ERGOWORKS Showroom at Marina Square
We headed to ERGOWORKS showroom in Marina Square on level 3 (#03-140/141) and Sophie had a hard time deciding on which bag to get for herself from the wide variety of models on display.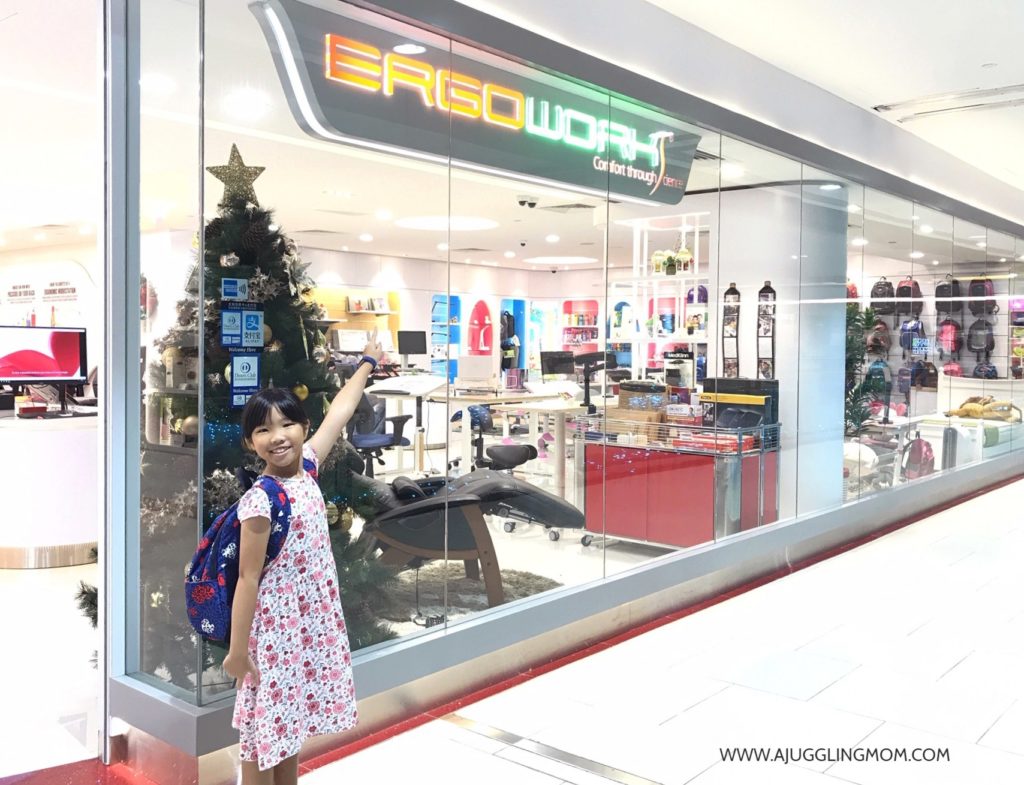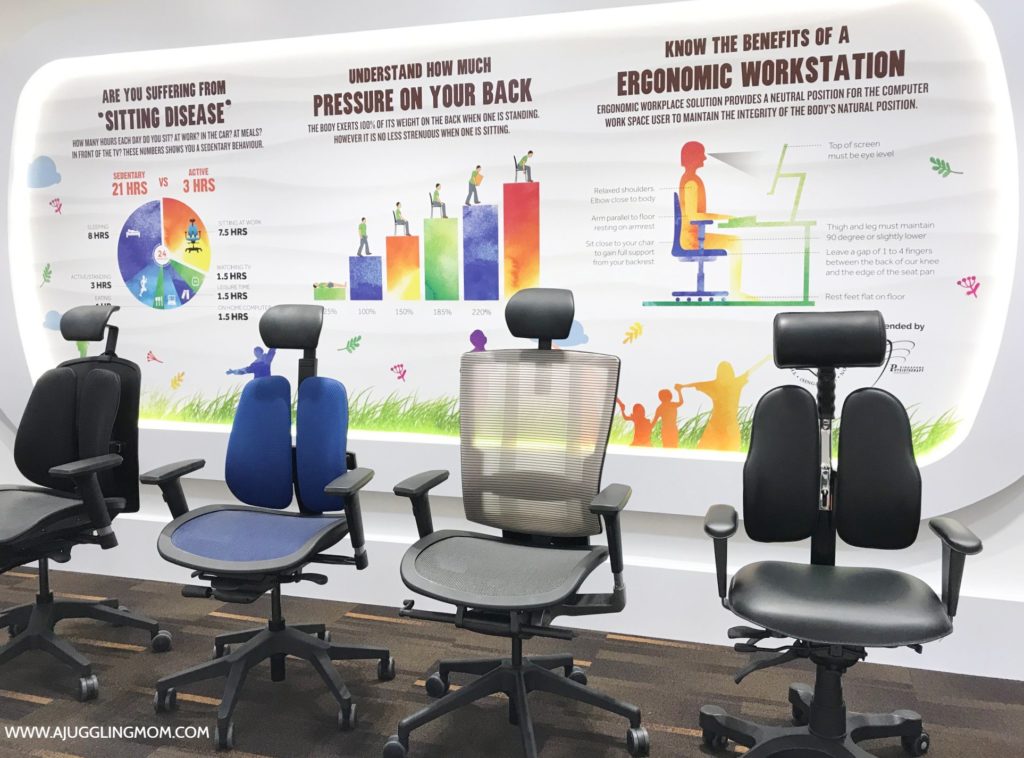 The first thing we did was to take her height to ensure that we get her the correct size.
Based on Sophie's height, we were advised by the friendly sales assistant to get size M for her. This helped to narrow down our selection and these are the designs that she shortlisted for her 127cm frame.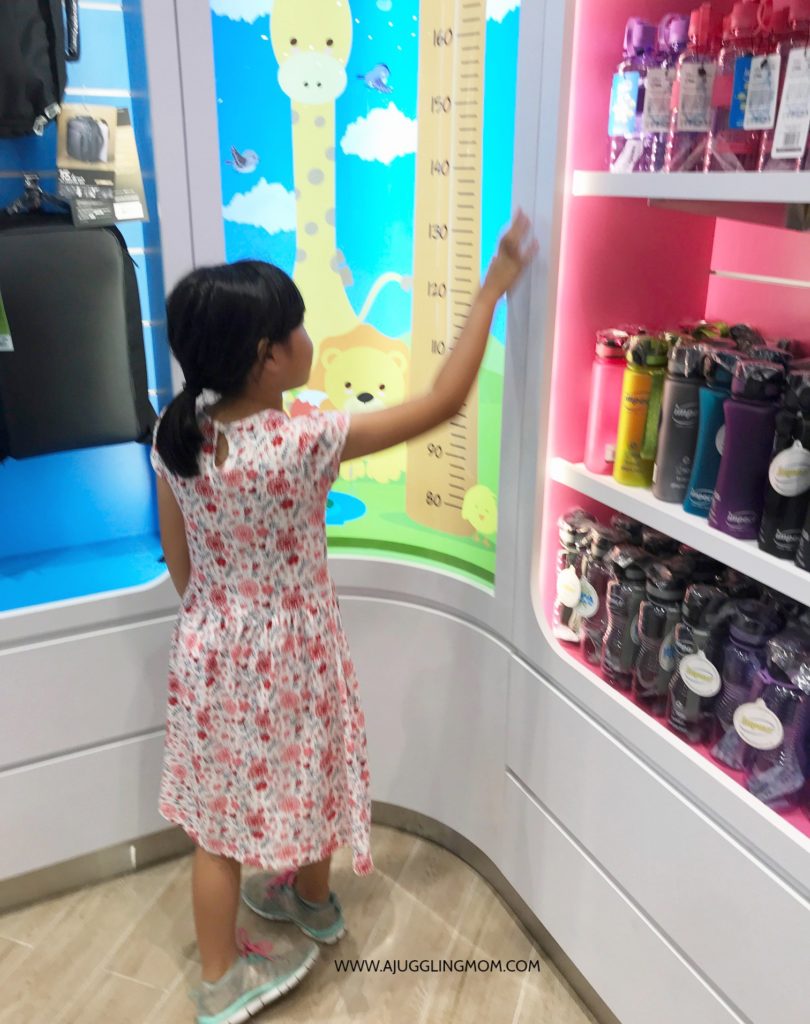 Ergo-Comfort Spinal Support Backpack IMPACT IM-0037A 
This model promotes better posture and spinal health for your child with its patented orthopaedic spinal protection system to reduce stress on both spine and back.
It has stress-free backpack straps and a comfy U Neck fit back straps. This model has a slightly structure and comes with detachable waist belt to redistribute weight stress effectively.
Dimensions: 36cm (H) x 27.5cm (W) x 14cm (D). Weight: 950g. Price: $119 (Usual price $139)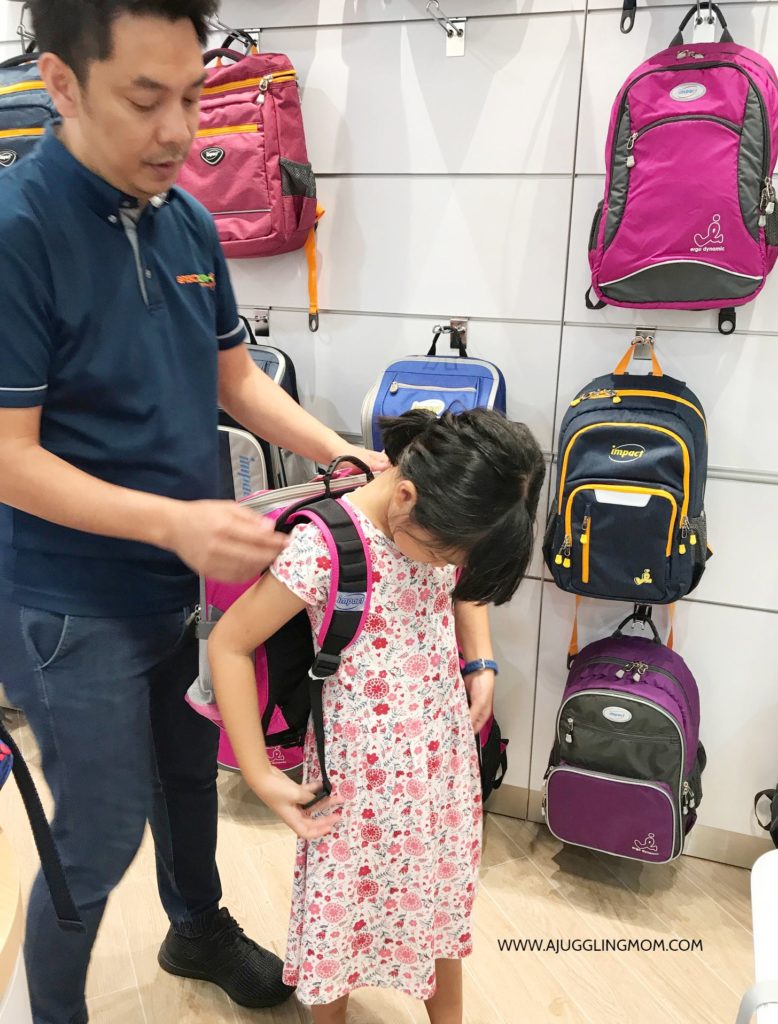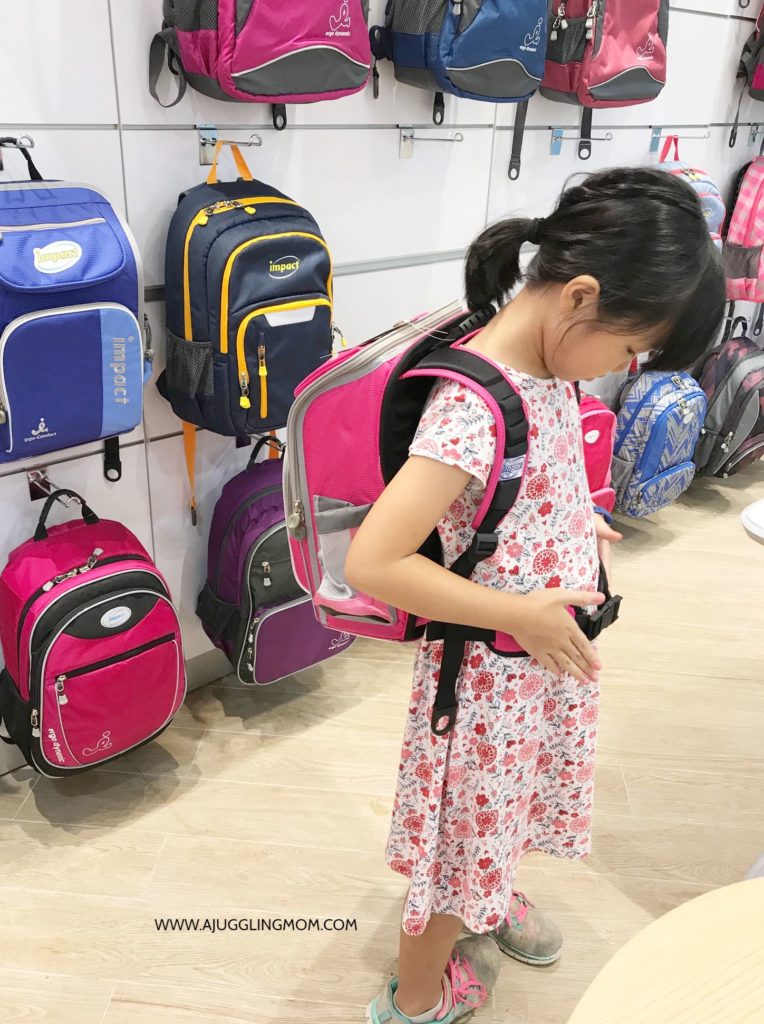 IMPACT Air Light Spinal Protection Backpack IPEG-226 
This backpack is one of the latest models and it features a patented 3D Airy Light Back-Care System to reduce stress on spine and back. Unlike the other models that have zip closure, this has a draw string.
The multiple compartments make it easy for kids to organise the contents of their bag.
Unlike the previous model that has a waist belt, this has a chest stabilization belt which provides the same effective distribution of weight stress.
This will be the model for the giveaway at the end of the article and it comes in three colours, blue, pink and purple.
Dimensions: 40cm (H) x 27cm (W) x 17cm (D). Weight: 850g. Price $129 (Usual price $169)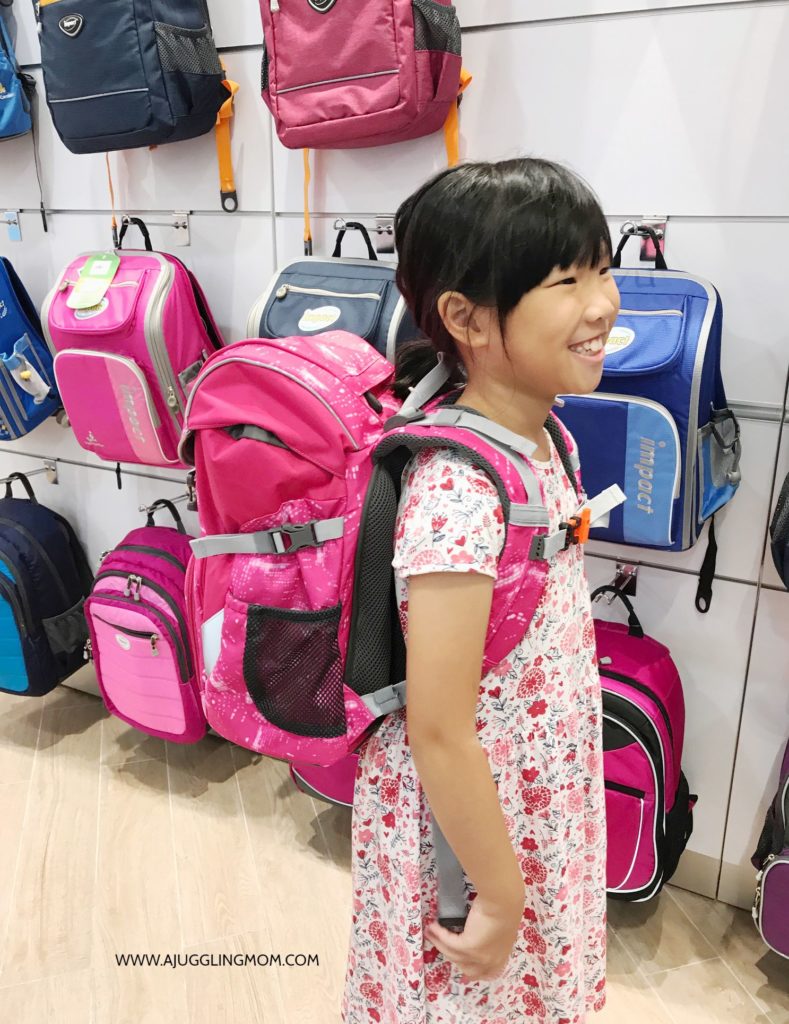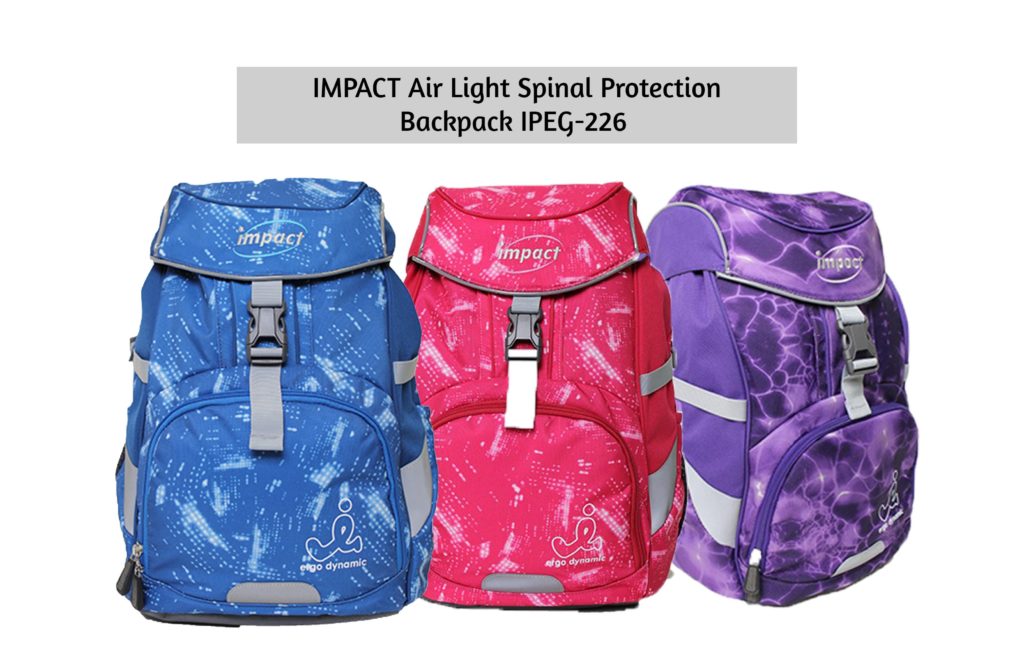 IMPACT Ergo Air-Cell Spinal Protection Backpack  IPEG-229
This is another latest model that just hit the shelves recently. Sophie was drawn by its unique "bubble" back straps which uses air cell technology to relieve pressure off shoulders.
Similarly, this model comes with a chest stabilisation belt and parachute pull rings allowing your child to adjust the backpack, ensuring that it sits nice and snug around their back.
Made with super polyester material that is dust & water-resistant, this bag checks our boxes for having a wider width and being lighter in weight at 800grams. This model ultimately became Sophie's final choice as well.
Dimensions: 45cm (H) x 31cm (W) x 13cm (D). Weight: 800g. Price: $129 (Usual price $149).
I also got Sophie the ion energy water bottle which has a unique inbuilt nano ionizing technology.  With a negative ion water bottle, water molecules can be reduced, making it easier to be absorbed and increases the capacity to promote the body's metabolism, activate cells and enhance immunity.
It is recommended to change the bottle after a year or when scratches start to appear on the inside of the bottle as the ionizing properties diminishes over time. The bottle is BPA free, lightweight and and comes in 4 different colours.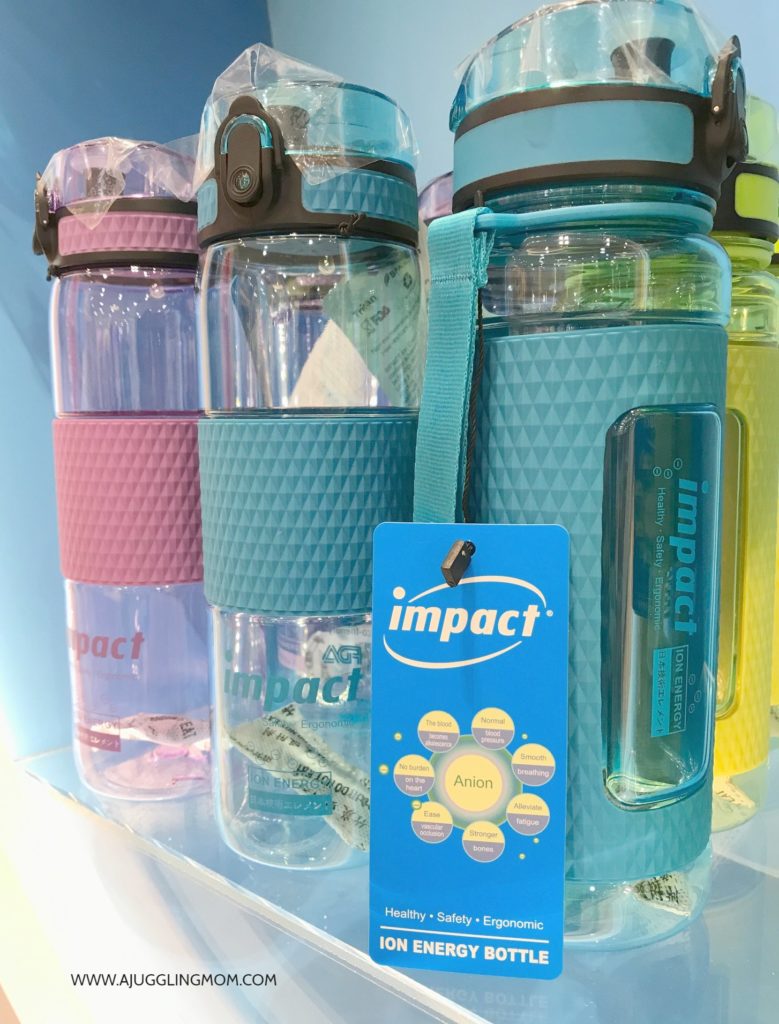 With a minimum spending of $90, you are entitled to the Purchase with Purchase Promotion and get the stationery pouch and carry bag bundle at just $9.90.
In addition, I've been told that we can enjoy a 20% trade in offer with any used IMPACT bag (regardless of condition) and a 15% discount with SAFRA membership card or Cordlife Circle membership card. Note that this discount is applicable for regular priced bags only.
Ergonomic Furniture
We were also introduced to the children's ergonomic furniture and gained a better understanding on the benefits on having furniture that are adjustable as your child grows.
The DUOREST chair makes a great ergonomic chair that can be used with the ergonomic desk or on its own. If you notice from the photo, it has a foot rest which ensures that your child is sitting upright so that their legs are angled at 90 degree.This can be removed when your child grow taller and can touch the floor while seated upright.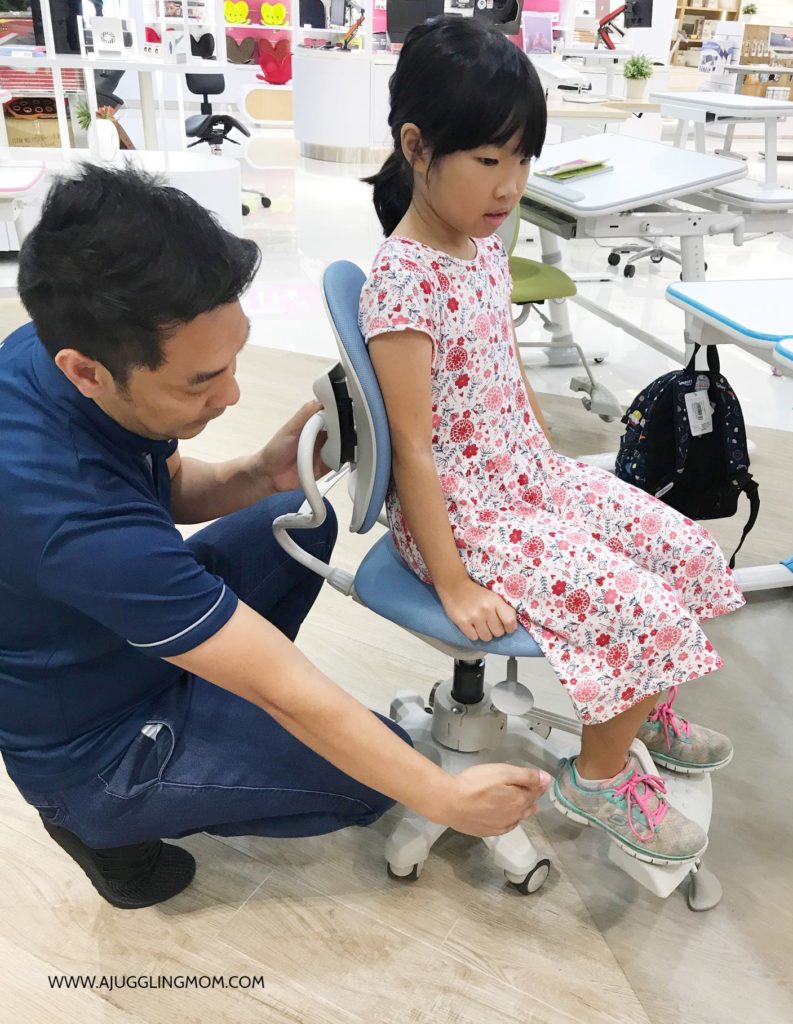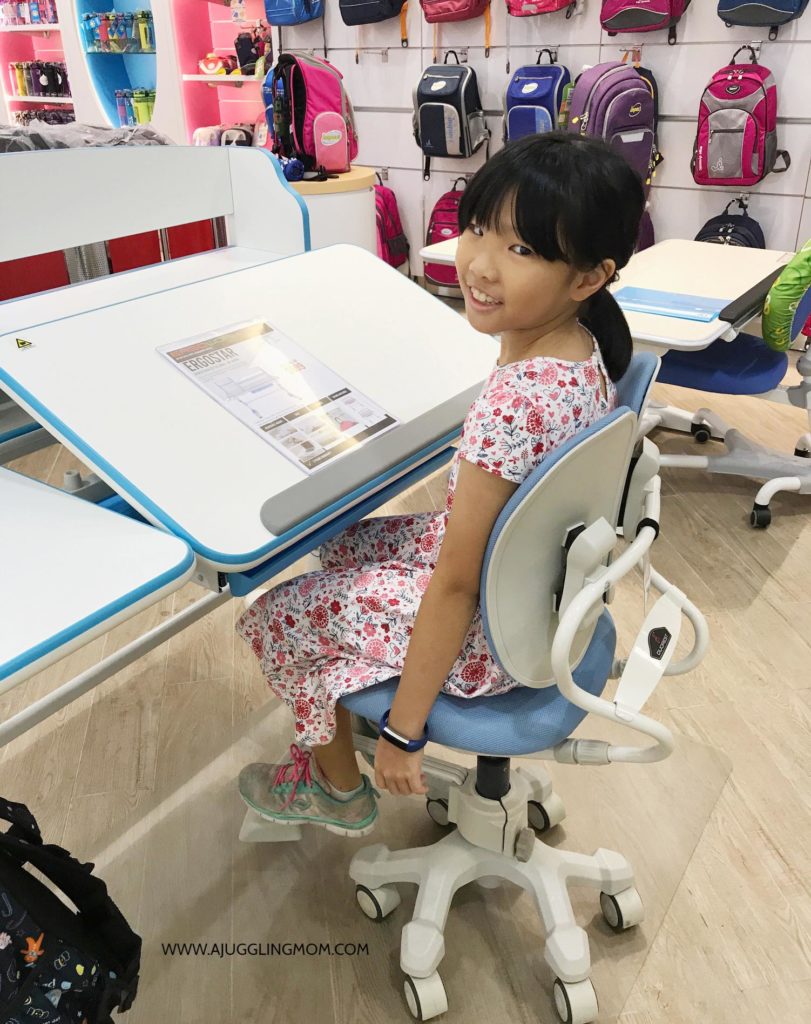 Ergonomic Sleep Solution
As my husband tends to get shoulder and neck aches, I was curious to find out more about their customised sleep support pillows. Here at ERGOWORKS, they offer a choice of 2 customised pillows.
The first option is the Made to Measure Pillow which is specially customised according to your measurements, preference as well as sleeping patterns, i.e. side or back sleeper. The made to measure pillow also comes in kids size.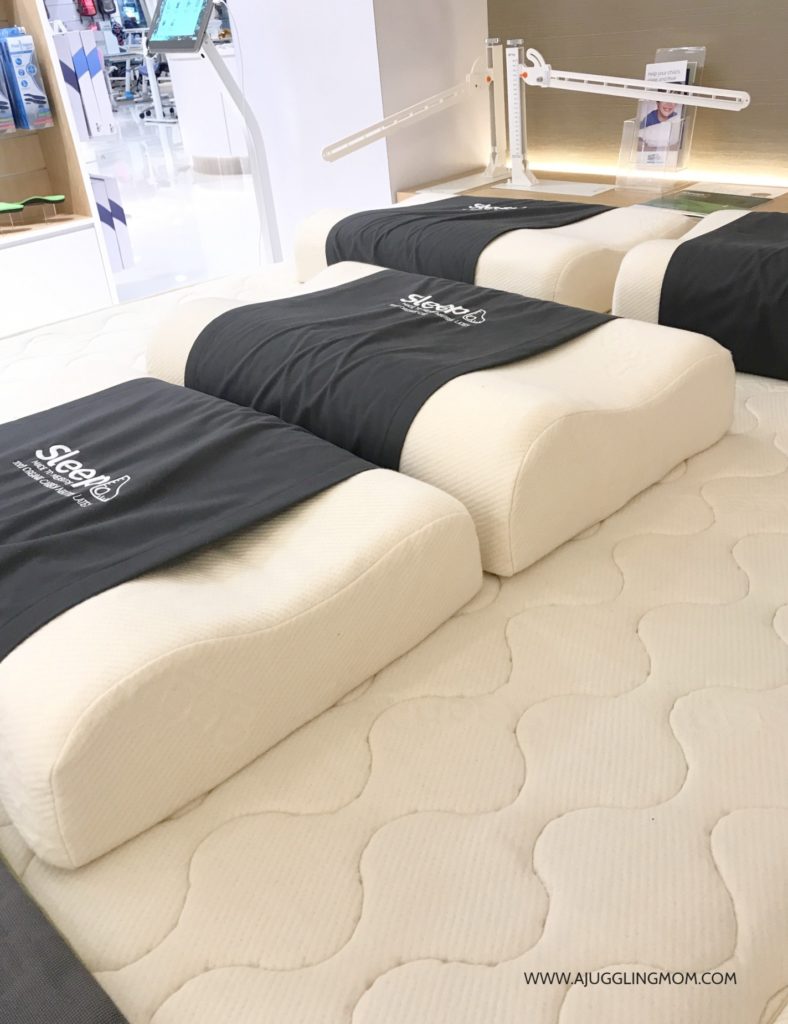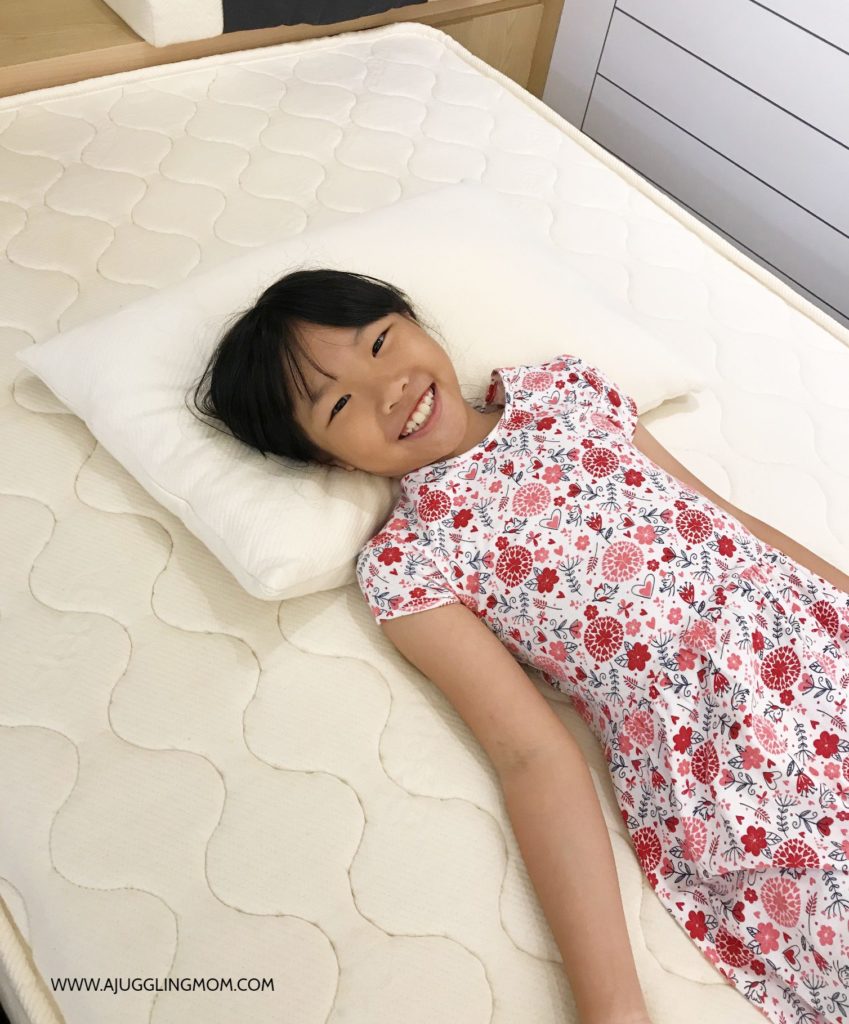 The second option is the ERGO Adjustable Pillow which allows you to control its height by 1mm by adjusting 4 parts which are neck, back of head and both sides to find the maximised height for each individual.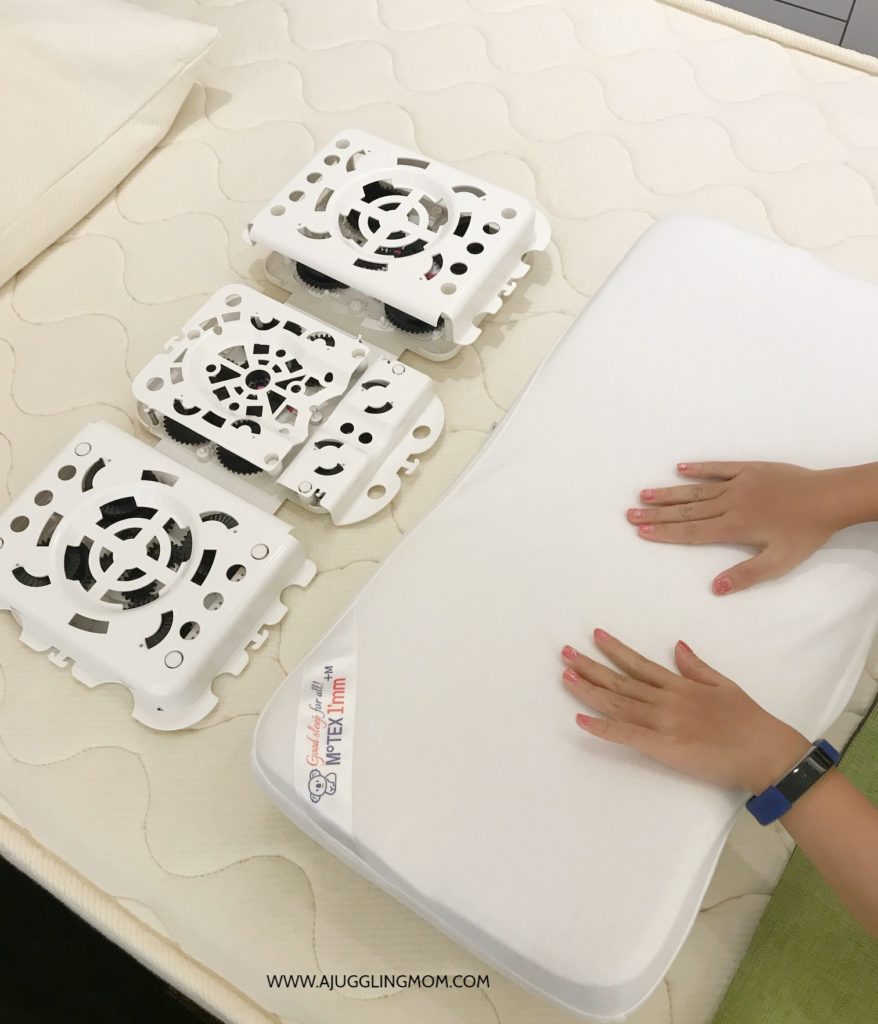 Comparison of Ergonomic School Bags
As Sophie was using another brand of ergonomic school bag previously, I got her to do a side-by-side comparison of both bags.
The air cell technology on the back straps of her new IMPACT bag were very comfortable and they help to take the weight and pressure off from her shoulders.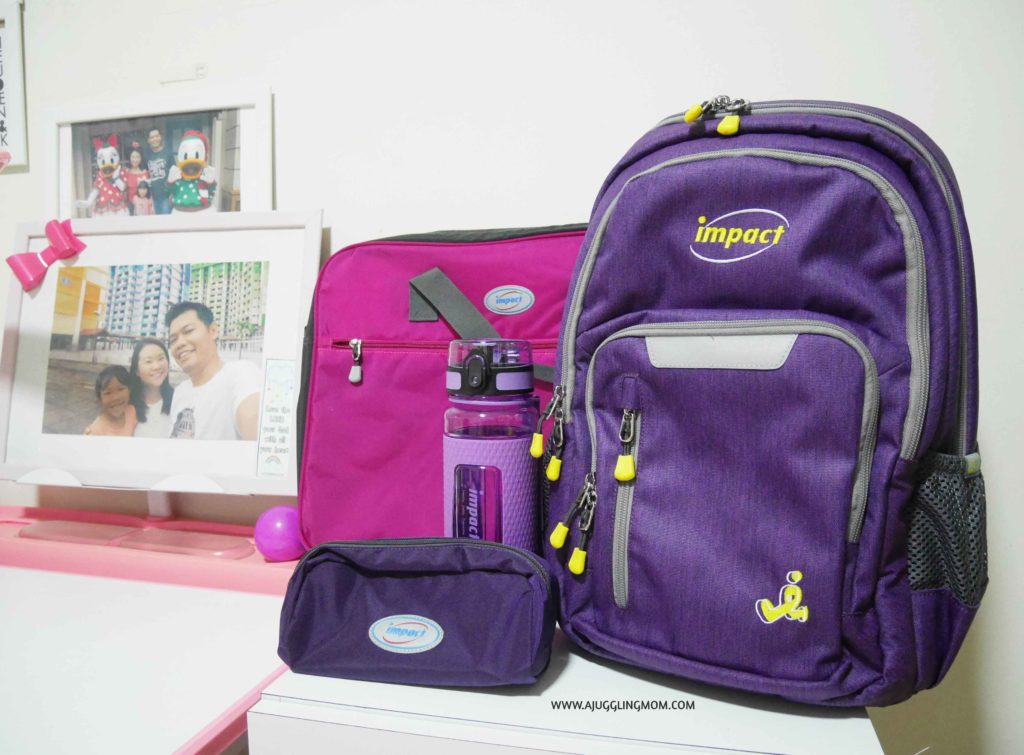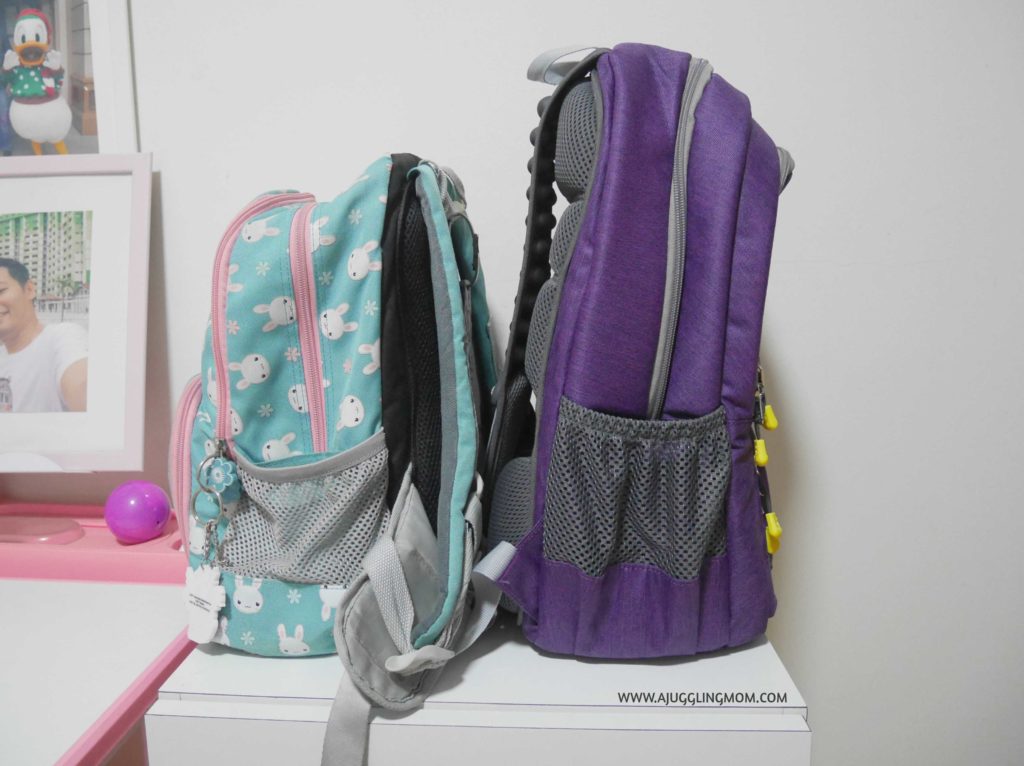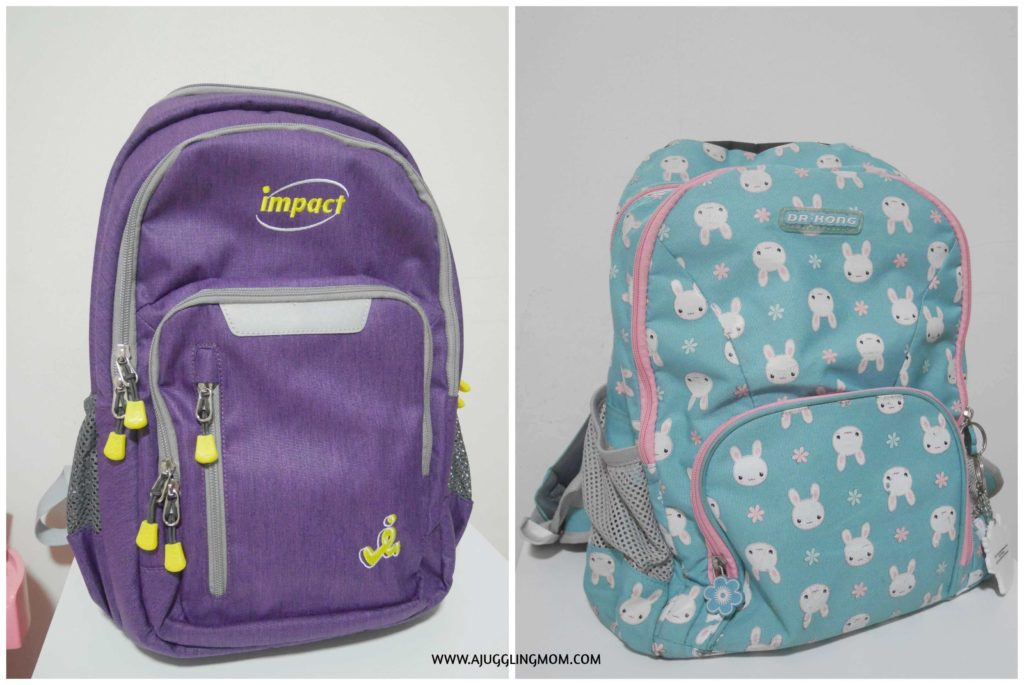 There are also more compartments in her new back pack compared to her previous school bag, which makes it easier for her to organise the contents of her bag and to prevent them from shifting around in her bag.
With a more sturdy structure, the IMPACT backpack stands on its own easily without "collapsing" or sliding down behind her chair too.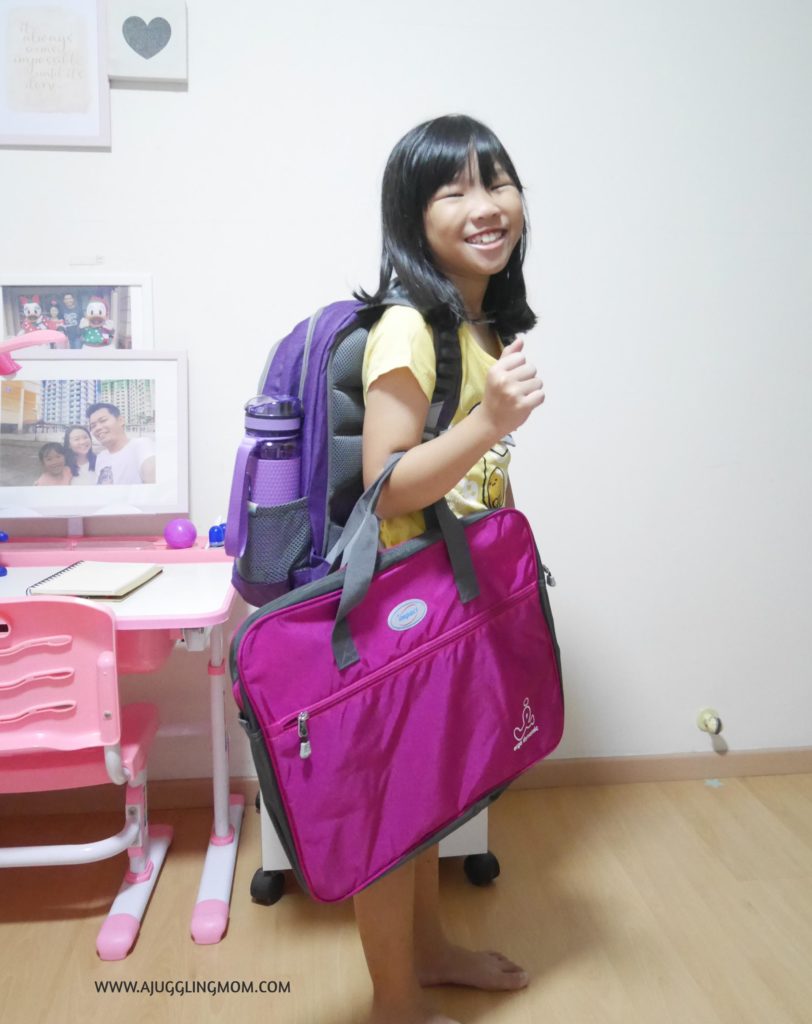 One thing that could be improved is to have double belts to secure the shoulder straps and the waist belts to further improve on the weight distribution.
Over all, Sophie is very satisfied with her new IMPACT back pack and she can't wait to use it in the new school term.
ERGOWORKS OUTLETS
Marina Square
6 Raffles Boulevard #03-140/141 Marina Square (One level above McDonald's)
Opens Daily: 11:30am – 9.00 pm
Telephone: 6837 3370
Centrepoint
176 Orchard Road #03-36 Centrepoint
Opens Daily: 11:30am – 9.00 pm
Telephone: 6836 8488
Causeway Point
1 Woodlands Square #03-26 Causeway Point
Opens Daily: 11:30am – 9.00 pm
Telephone: 6893 8488
 – – – – – – – IMPACT ERGONOMIC SCHOOL BAG GIVEAWAY – – – – – – –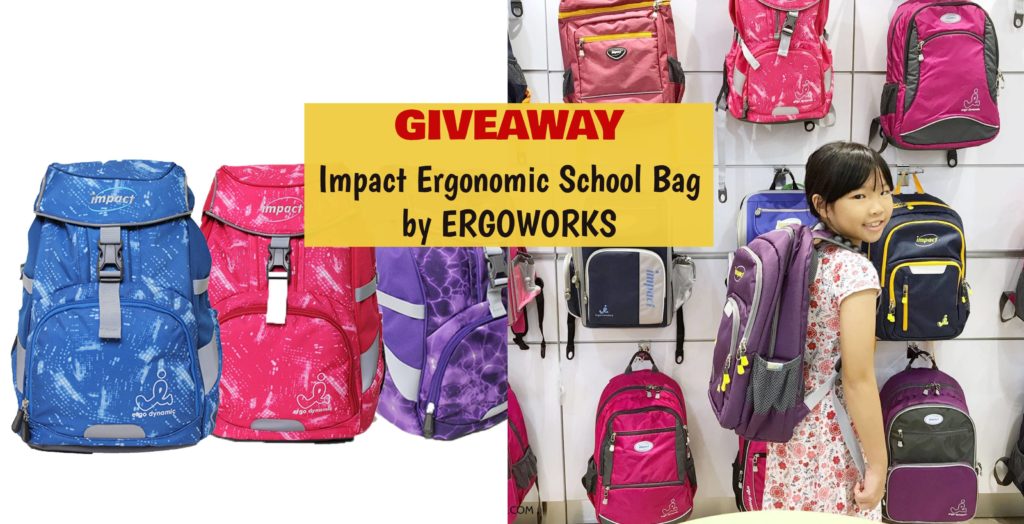 Thanks to our sponsor ERGOWORKS, we are giving away 2 IMPACT Ergonomic School Bag, each worth S$129 (Model: IPEG-226. Choice of Blue/Purple/Pink) to 2 lucky readers (1 bag each).
To participate, simply:
1. LIKE & SHARE this post (must be set to public)
2. LIKE ERGOWORKS & A Juggling Mom Facebook pages
3. LEAVE A COMMENT on why you want to win this for your child and TAG 3 other friends to share this giveaway with them.
All 3 steps must be fulfilled to qualify for a chance in the giveaway. Giveaway ends on 28 December 2018.
I'll also be picking another winner from my Instagram (@ajugglingmom) so do take part there to double your chances of winning!
2 winners will be randomly chosen from Facebook and Instagram and winners will be notified via email. This giveaway is only open to all readers residing in Singapore. This giveaway is by no means endorsed, administered or affiliated with Facebook or Instagram.
* This is a sponsored collaboration with ERGOWORKS to write this post. No monetary compensation was received. All opinions and photos are mine. 
Tagged: ergonomic school bag, Ergoworks, Impact school bag