As a mum to a three-year old daughter, there's nothing that gets to me more than my daughter's whining. You know, that high-pitch voice that sounds pitiful and annoying. Almost like when someone is scratching their nails across the blackboard.
I've been told by mums who have boys that their sons are equally capable of pulling that trick to their parents in order to get them to surrender to their demands and it can be a hundred times worse because boys shouldn't be whiners.
So is there a secret to get the kids to stop whining?
The good news, I've learnt from the author of No More Misbehavin', is that whining is learnt, so this behavior can be unlearnt. And here are Michele Borba's top 4 tips to eliminate whining in your household.
1. Establish a zero tolerance for whining
I'm sure you know this one already – stop giving in to your child every single time he/she whines and letting them think that whining work.
But it's no good to just ignore their whining, you have to teach them to replace it with another behavior.
;
When Sophie launches into her whining mode, I'll tell her firmly that she's using a whining voice and she needs to talk in a nice voice for me to pay attention to her. At this point, it helps to get down to their level and look them in the eye to show them that you mean business.
;
2. Demonstrate appropriate voice tone
Show your child what is the difference between a whiny voice and a normal or what I call a nice voice and explain to them why whining is unacceptable.
Tried and tested: When I first started doing this, Sophie would whine in protest and refuse to replace her whiny voice with a nice voice. Eventually after constant reminders, she's slowly unlearning the bad habit of whining and knows that if she wants something, speaking in a nice voice is the way to go.
3. Lay down your rule
Don't assume that kids know what is the expected behavior from them. (Even husbands need a reminder now and then) The surest way to put a stop to undesirable behaviors is to make it a house rule – No whining in our home. We speak with a nice voice.
4. Set a consequence if whining continues
What if your kids continues to whine despite numerous warnings? Here's when Michele suggests that you should set an immediate consequence so that your child knows that you will not tolerate such behavior. Consequences can range from time-out to taking away privileges.
Be prepared to execute the consequence every single time they threaten to go into their whining mode. Otherwise you'll send mixed signals to your kid that you're not serious about it.
Last but not least, remember that breaking a bad habit takes time, so always be positive and encourage good behavior. When you catch your child using the right voice, praise them to reinforce the desired behavior, the pay off will be well worth it.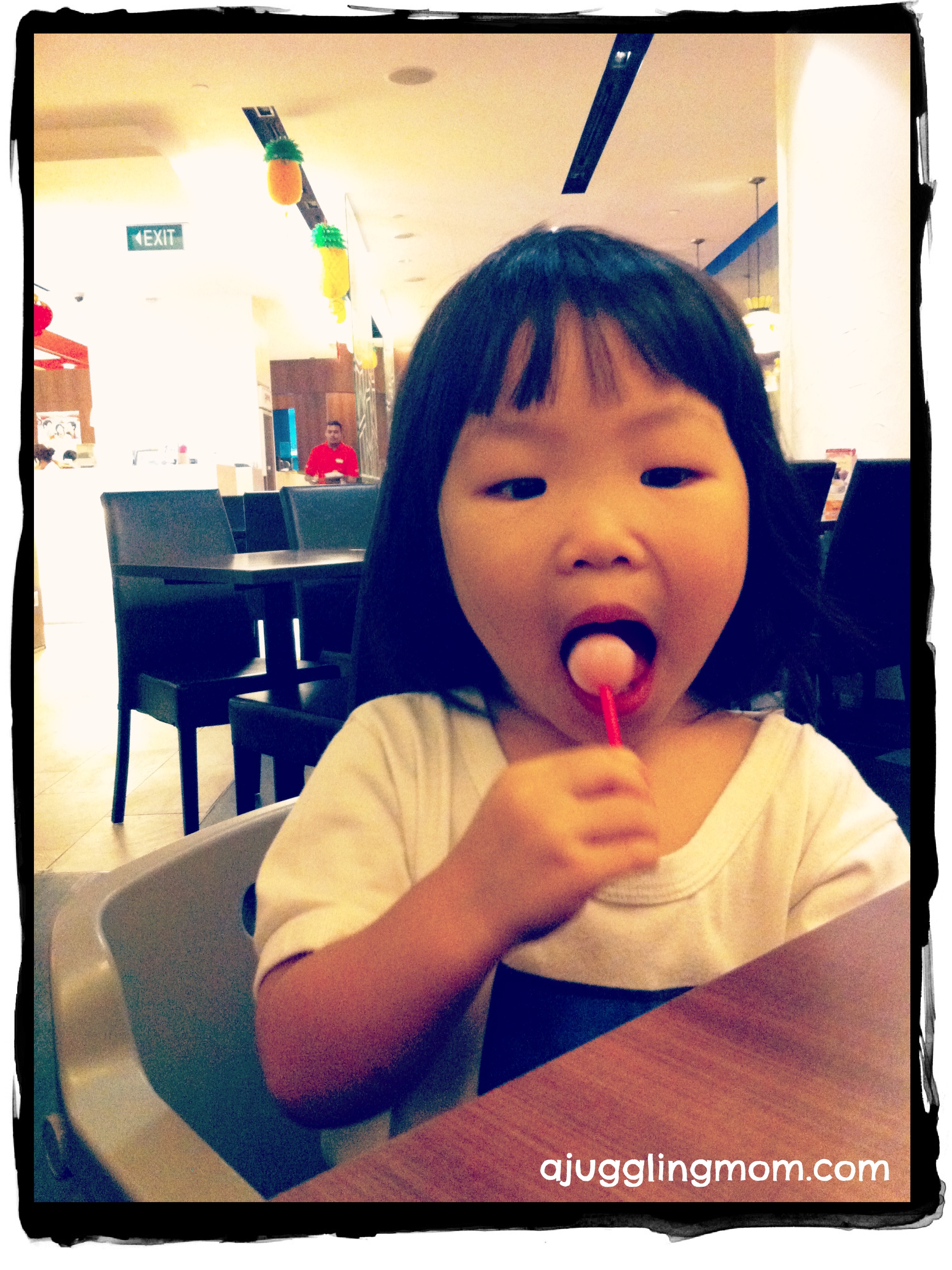 A lollipop treat for good behavior
Good luck for whine-free days ahead!
Do leave a comment to share your tried and tested methods on how you get your kids to stop whining.