Looking for an exciting and fun filled family experience this March school holidays? Then round up the family and head to HeadRock VR, Singapore's first and largest Virtual Reality (VR) theme park in Resorts World Sentosa.
There are 11 thrilling attractions where you can go on a jungle rafting adventure, test your marksmanship at various shooting games, or brave the snow blizzard on a heart pumping dog sled ride.
The theme park admits kids ages 6 and up, but I'll recommend this for kids ages 8 and above for them to get the most of the rides and games.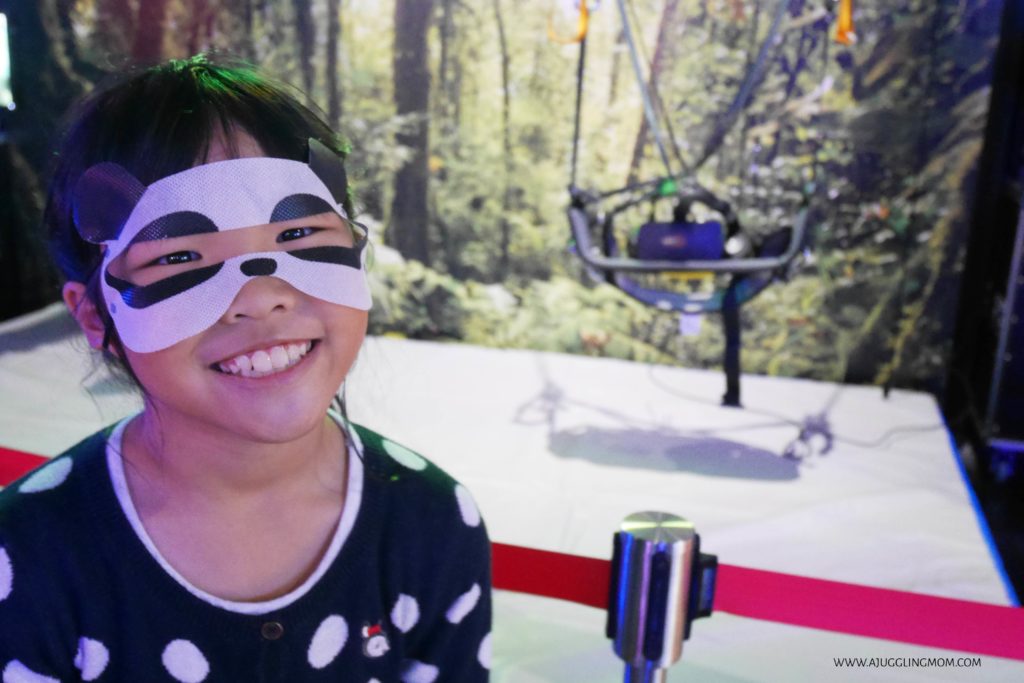 The attractions are spilt into 3 zones and here's what each zone has to offer.
After getting your tickets at the counter, you'll be given these cute face nimal masks which are to be worn under the VR goggles for hygiene purpose. We wasted no time and went to try the attractions in the blue zone.
Exploring the Blue Zone
Beat Saber – 4/5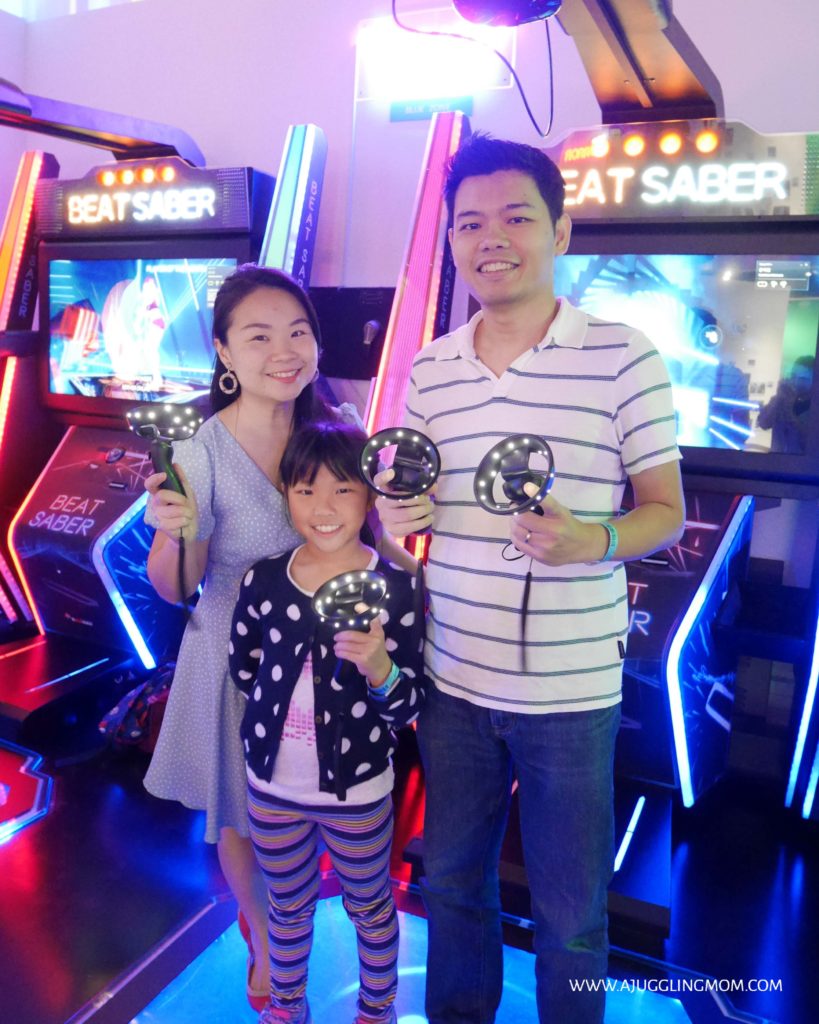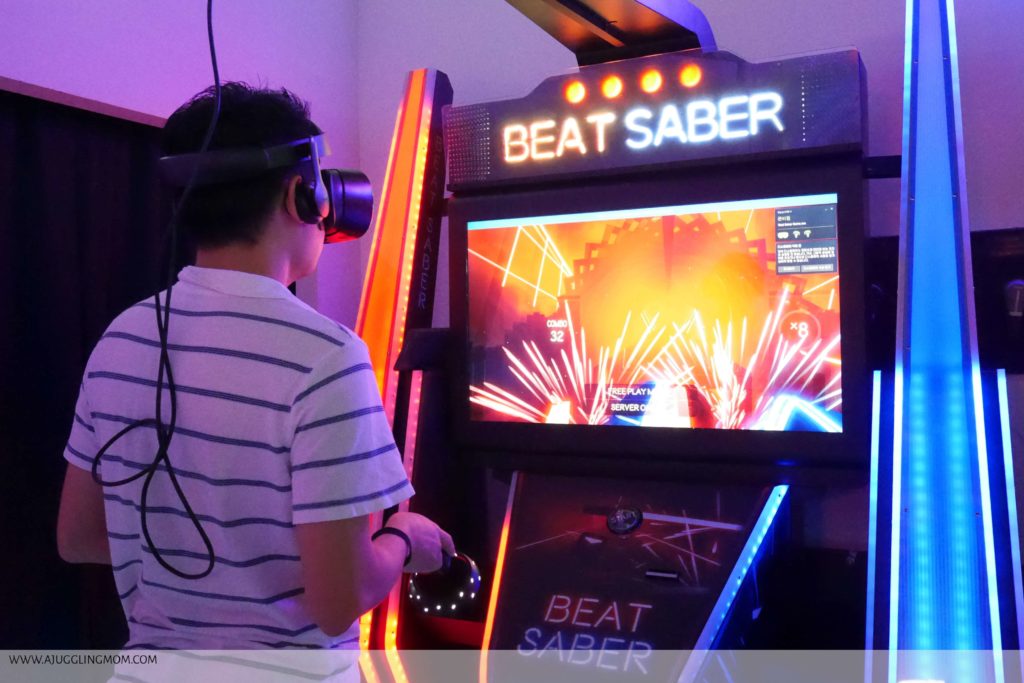 Beat Saber is a rhythmantic game, which reminded me of Dance Dance Revolution. Here you will be armed with two hand held controls (Sorry Star Wars fans, no light sabers for you) to slash to the beat of the rhythm of the song.
But this turned out to be a fun game as it not only test of your hand eye co-ordination, as you'll need to crouch and dodge obstacles as well.
There are varying levels of difficulty and you can pit against another player for an added challenge. This is one game that you can play on and on as you'll get a buzz seeing the number of combos you ace.
Jump Jump -3/5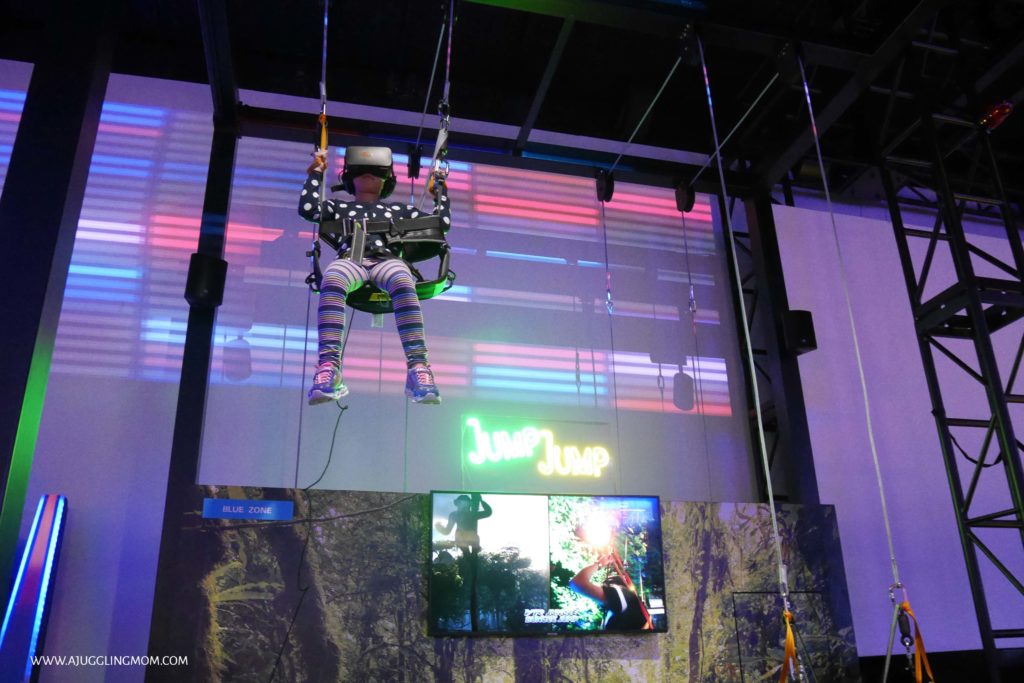 Initially Sophie was intimated by the height of this but after seeing daddy go on it once, she tried it for herself and got so hooked, she went on it 3 times.
Free falling rides are far from my kind of fun, as I hate that feeling where my heart is still up in the air when I'm down on the ground.
But if you're up for it, this promises a lot of zero gravity as you jump your way through the jungle like Tarzan.
Flying Dive
This ride was under maintenance during our visit and it's a similar drop ride that was beside Jump Jump.
Storm Blizzard – 4/5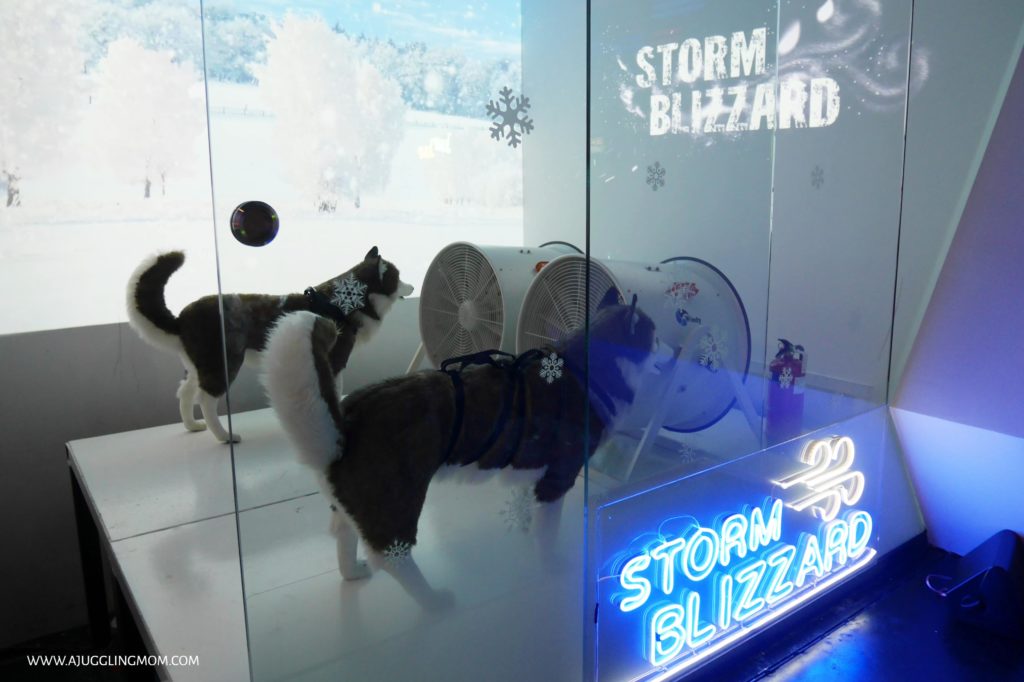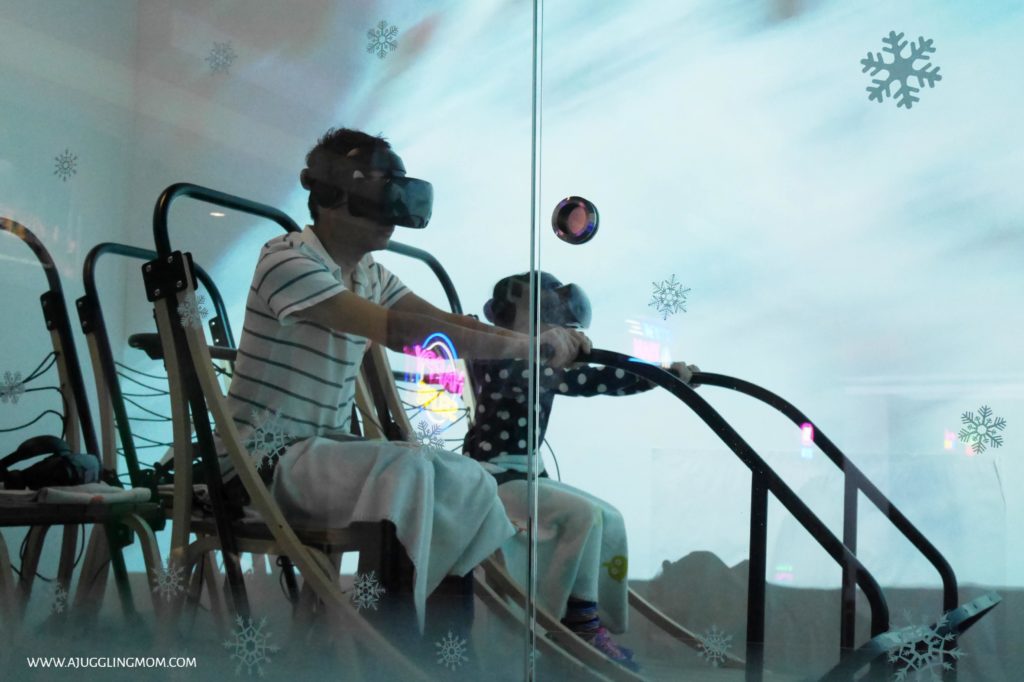 The storm blizzard ride was recently enhanced and while I don't know what they tweaked, this has to be the most immersive VR ride by far.
The set up with the two huskies gives you a hint that you'll be pulled by a dog sled where you'll race through a blizzard storm dodging falling rocks and balance precariously on the edge of a cliff. I don't want to give the storyline away, but this is one ride that gets 5/5 from me.
To make the blizzard more realistic, two powerful fans were blowing at us which really upped the chill factor and realism which explains why they provided blankets. Ladies may want to hold down your skirts if you want to avoid a Marilyn Monroe moment.
Exploring the Green Zone
After all that adrenaline high, we headed to the green zone for some shooting games and our favourite has got to be Zombie Busters.
Robin Hood – 3/5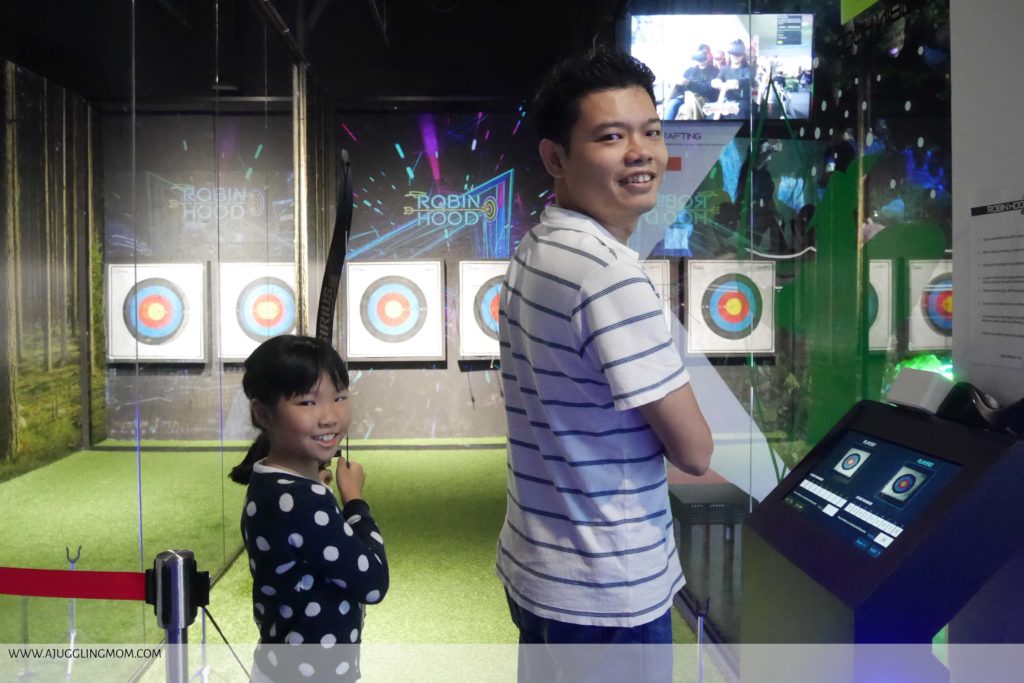 Here a target board is projected on the screen and you do not need to put on any VR googles.
It was pretty challenging for Sophie as she had to extend her arm and really flex those arm muscles of her. But still she aced it and felt extra motivated when it flashed 'GREAT' each time she hit the target board.
VR Room – 3/5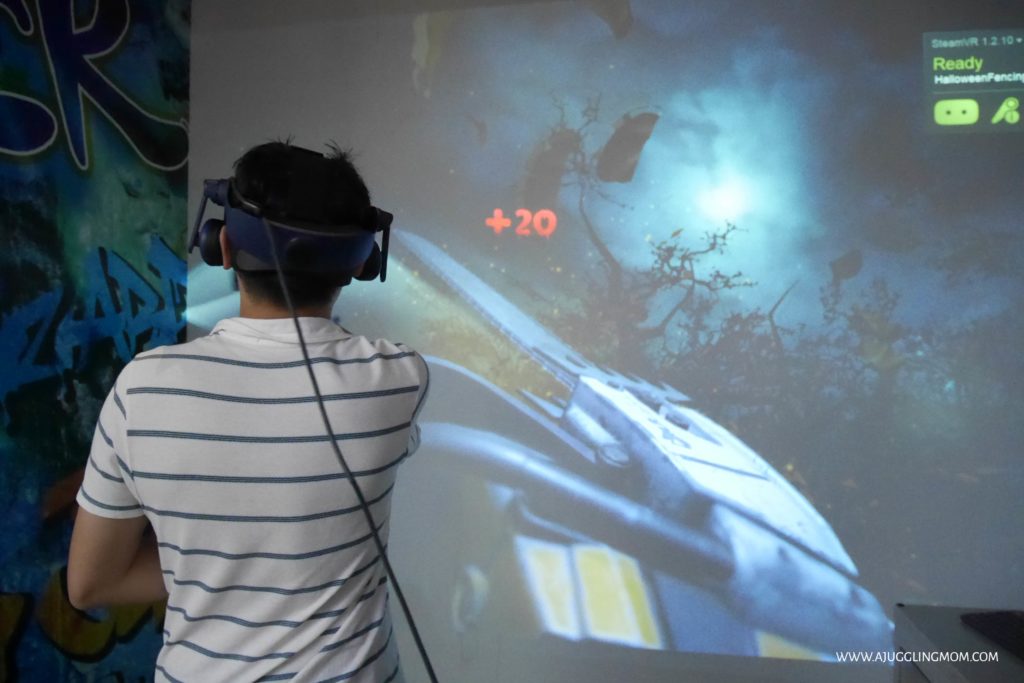 The VR room offers 3 game options, 2 were shooting games and an archery game. It didn't take long for me to get the hang of archery shooting where I shot mean looking spiders and even a flying dragon.
I wasn't keen on zombie slasher as the graphics for this game looked scarily realistic so I got my hubby to try it. Both games offered that 360–degree experience which is made even more interactive with the ear piece.
Zombie Busters – 4/5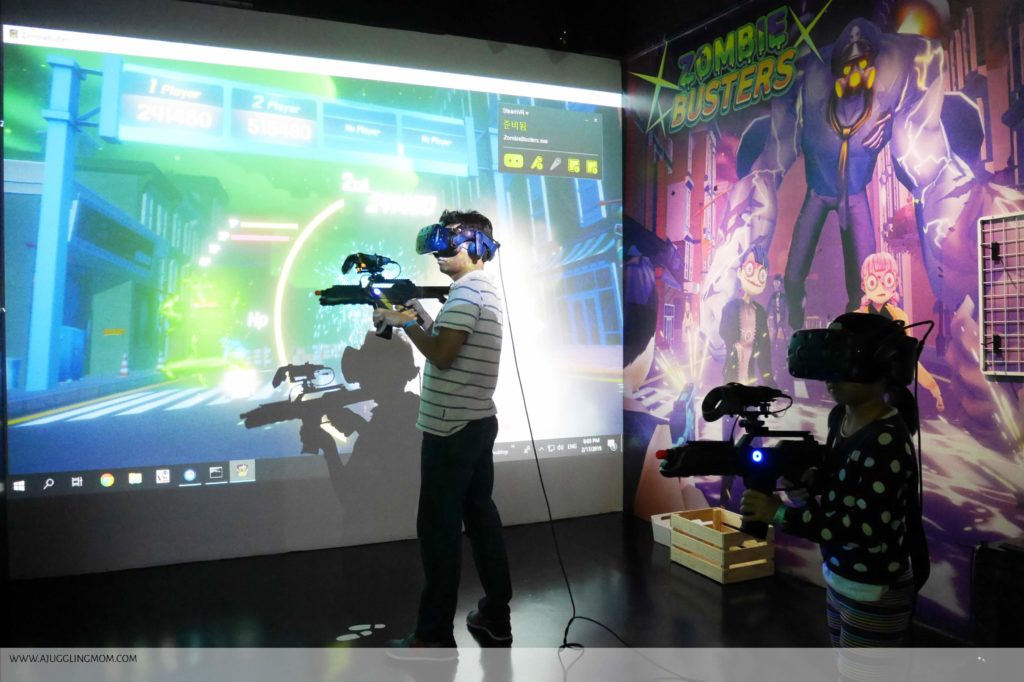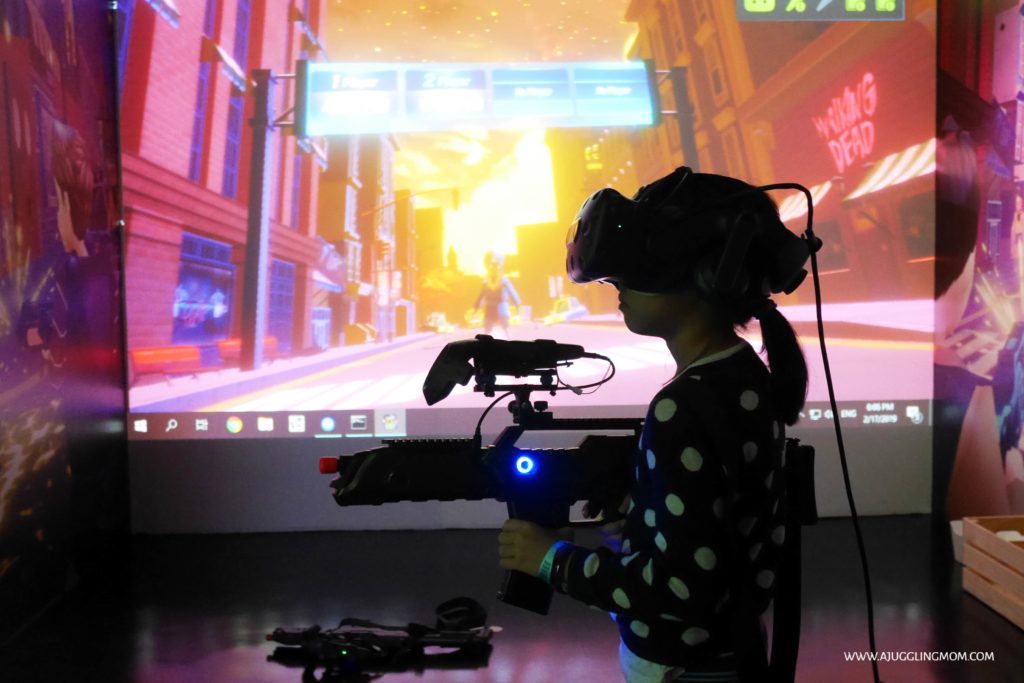 Among all the shooting games, I'll highly recommend this. In this game, you get to team up with a partner and bust the zombies to survive in an apocalypse.
While it may be a zombie game, the graphics are more cutesy so you don't have to worry about gory-looking zombies that come charging your way from all directions giving your kids (or even yourself) a scare or nightmares.
Exploring the Orange Zone
Jungle Rafting – 5/5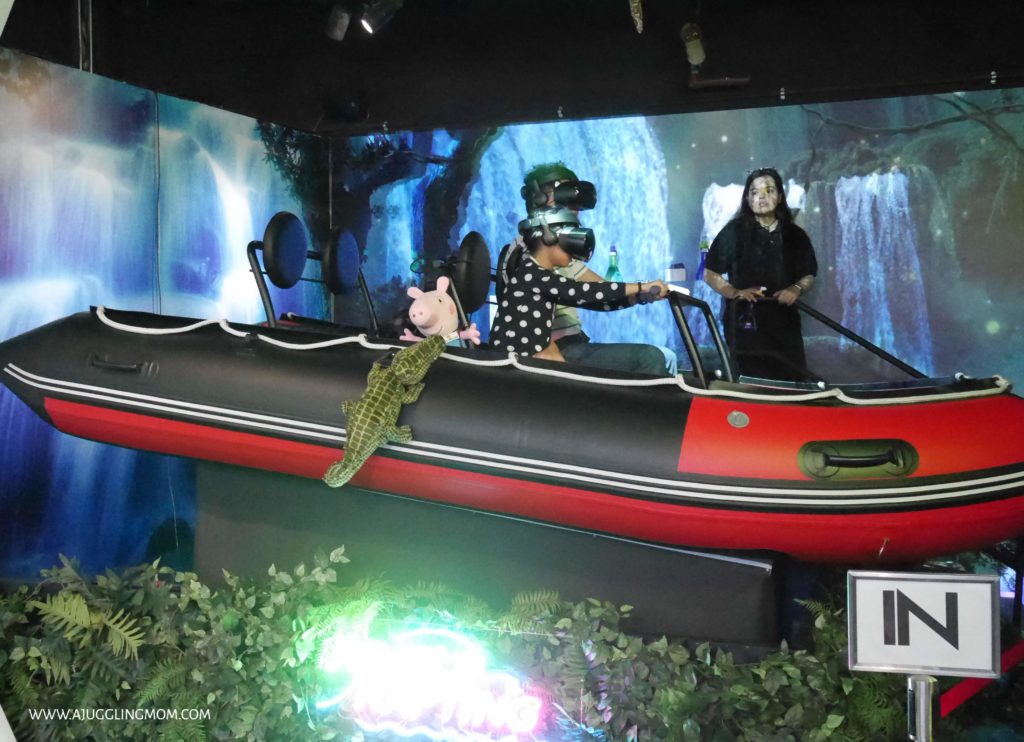 Climb aboard an actual raft as you get taken on a prehistoric jungle adventure with a super enthusiastic guide. But do keep your hands inside the raft as you'll be escaping from a T-Rex who's hot on your heels.
I'm one of those annoying people who scream when taking roller coasters and I had to remind myself that this was only a virtual ride as it felt very convincing especially with the surprising water effects.
Sky Scraper- 3/5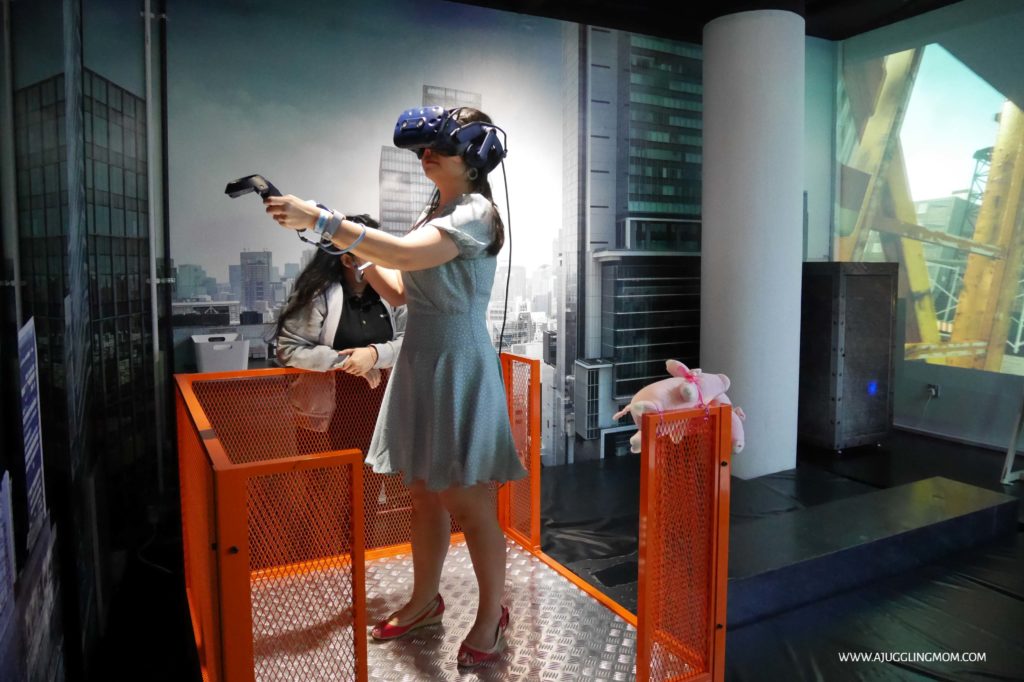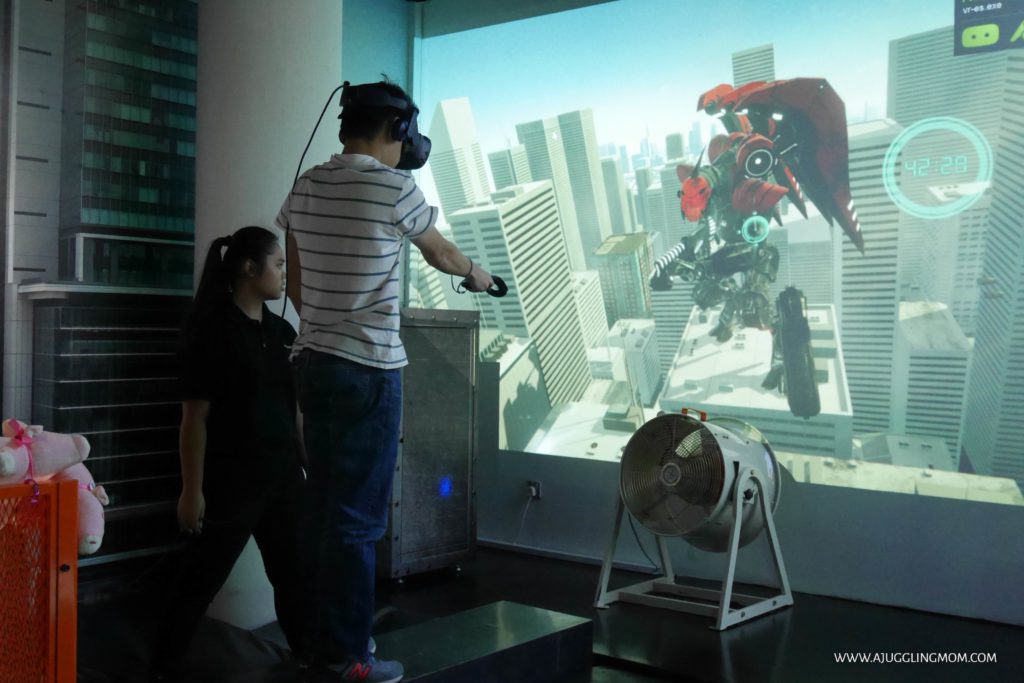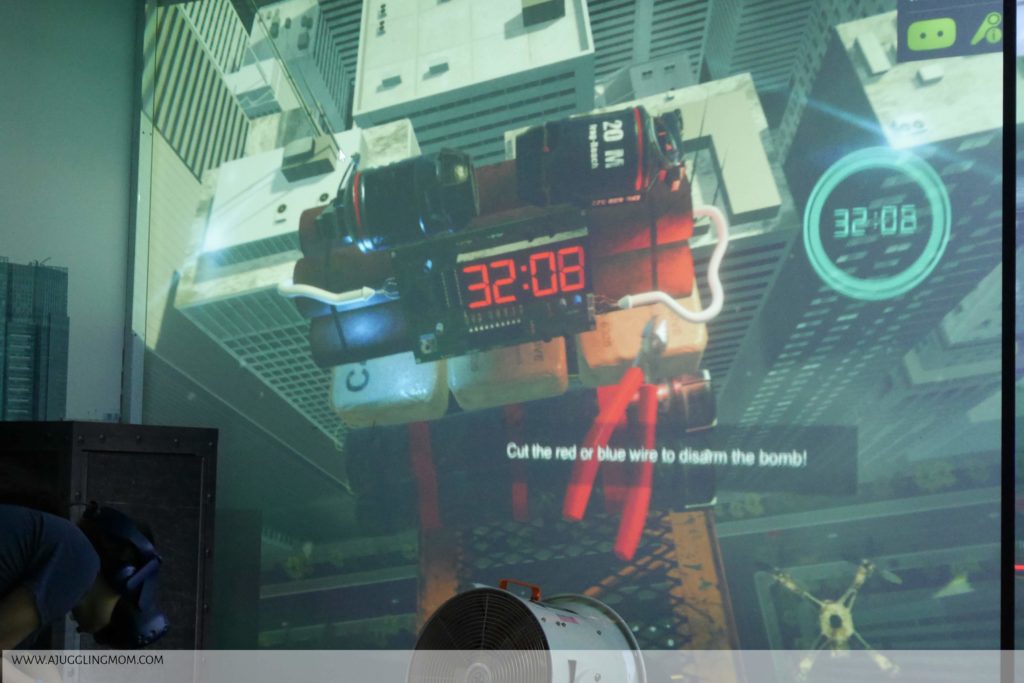 Don't let your fear of heights keep you from trying this game. Take down robots and drones and make sure your knees don't buckle while you are on atop a sky scraper.
If that sounds too easy, make sure you cut the right wire to disarm the bomb and accomplish the mission with a count-down timer reminding you that time ticking away.
Extreme Train –3/5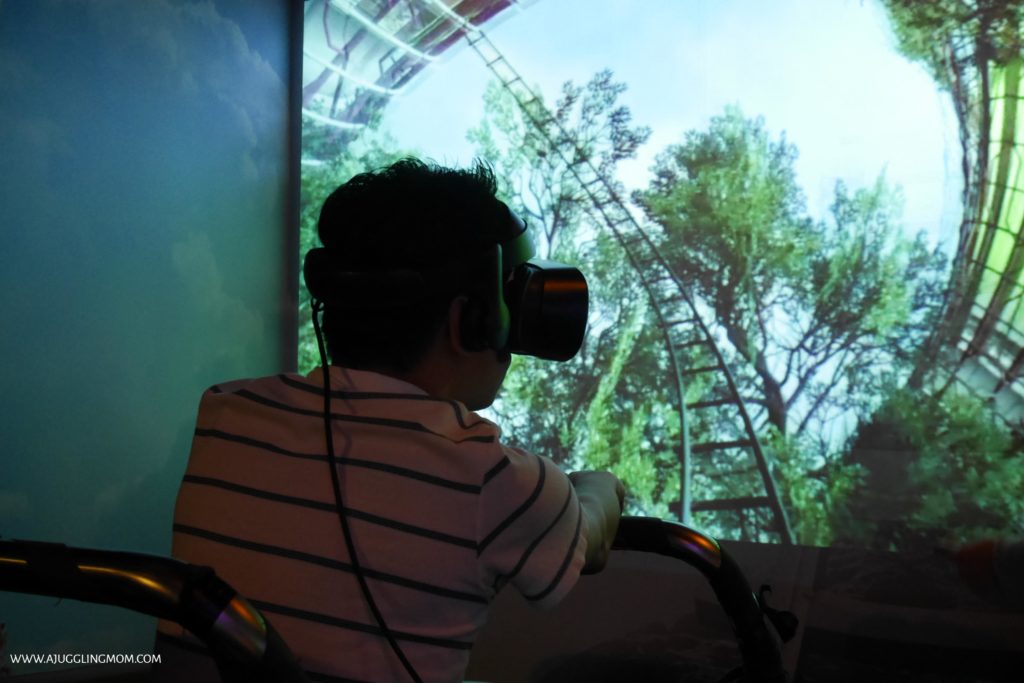 The extreme train is a roller coaster rider where you get taken on a secret treasure island in the skies. Although the twists are turns are lot milder than your regular roller coaster, I felt my heart racing and lifting when it took leaps in mid-air.
But the ending was kinda cheesy with the appearance of supertrees and even merlions in an attempt to add a local flavour to the ride.
Horror Room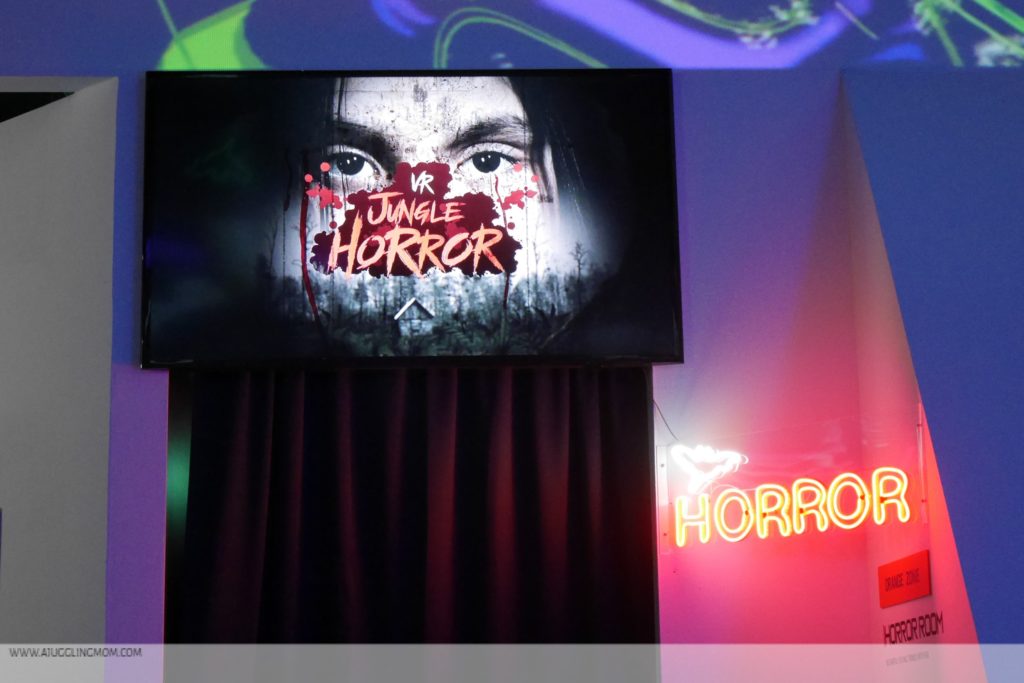 We gave this a miss but according to the guests who came out of it, they said you had to choose between escaping from a haunted house deep in the Amazon forest, or from witches and zombie.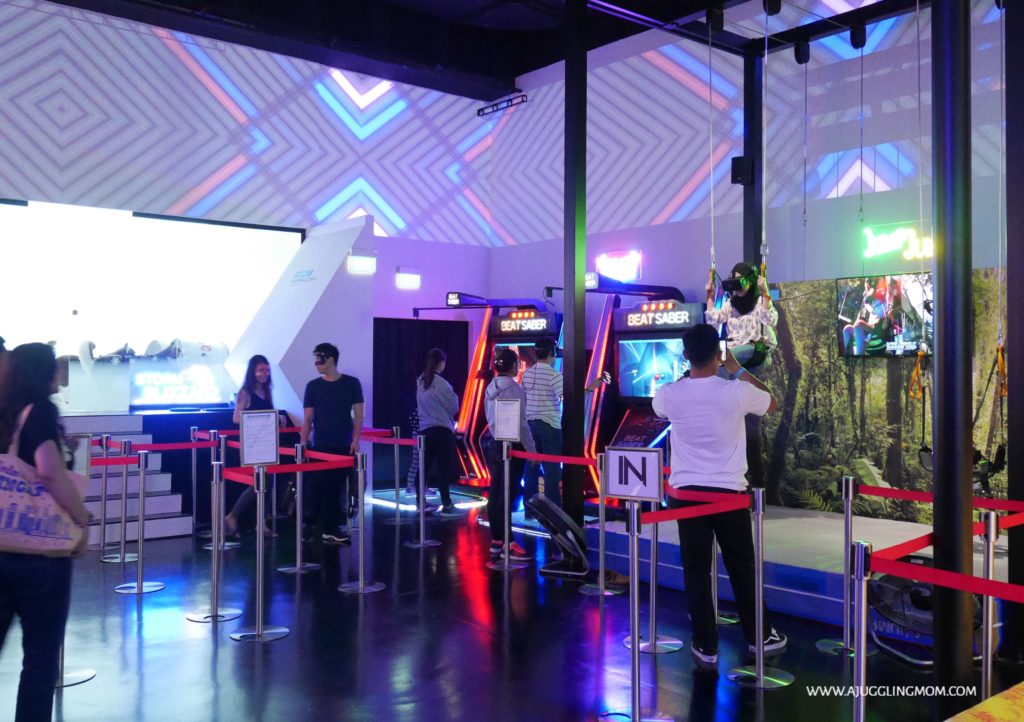 As a themepark, HeadRock VR offers a very unique play experience for the family that promises guests an extreme adventure that is larger-than-life. We spent a good 2 and a half hours and Sophie wanted to continue if not for the fact that we had to adjourn for dinner.
When we stepped out, we felt a little dizzy, so it's a good idea to remind your kids to take breaks in between. It's also perfect for those who prefer to stay in-doors with air-conditioning or when it pours heavily because hot and rainy are the only two seasons we have in Singapore.
Price Package Information
There are different packages where you can mix and match attractions from different colour zones for your own VR experience.
$35 for Big 3 package: 1 attraction in Green Zone, 1 attraction in Blue Zone, 1 attraction in Orange Zone
$50 for Big 5 package: 1 attraction in Green Zone, 2 attractions in Blue Zone, 2 attractions in Orange Zone
$65 for Big 7 package: 2 attractions in Green Zone, 2 attractions in Blue Zone, 3 attractions in Orange Zone
And from now till end March 2019, they are running a special promotion which you don't want to miss!
| | |
| --- | --- |
| 15% off BIG 3/Big 5/BIG 7 | For individuals |
| 20% off BIG 3/Big 5/BIG 7 | For students with local student pass |
| 30% off BIG 3/Big 5/BIG 7 | For families (3 or more pax) |
Tickets can be purchased via SISTIC or on-site. Do take note of the minimum age requirement of 6 years old.
Address: 26 Sentosa Gateway, #01-38/39, Singapore 098138. Next to Trick Eye Museum.
Opening hours: 10AM – 8PM daily.
Telephone: 6963 4609
– – – – WIN TICKETS TO HEADROCK VR SG – – – –
Thanks to our sponsor HeadRock VR Singapore , I'll be sending 3 families for their very own VR experience. There will be a Grand Prize of 1 set of BIG 5 for 4 pax entitling you to 5 experiences & 2 sets of BIG 3 for 4 pax entitling you to 3 experiences.
To participate, simply:
1. LIKE & SHARE this post (profile must be set to public).
2. LIKE Headrock VR Singapore & A Juggling Mom Facebook pages.
3. LEAVE A COMMENT on which ride you're most excited to take and TAG 3 other friends to share this giveaway with them.
This giveaway is open only to those residing in Singapore & closes on 2 March at 2359 hrs. Steps 1-3 must be completed to be eligible for the giveaway. All the best!
I'll be picking one winner from Facebook and two winners from my Instagram (@ajugglingmom) so do take part there to double your chances of winning!
Take note:
3 winners will be randomly chosen from Facebook and Instagram and winners will be notified via email or direct message.
Winners must collect their prize in person at HeadRock VR.
This giveaway is only open to all readers residing in Singapore. This giveaway is by no means endorsed, administered or affiliated with Facebook or Instagram.
*  A Juggling Mom was invited to HeadRock VR to write this review. No monetary compensation was received. All opinions and photos are mine.
Tagged: Resorts World Sentosa, RWS, School holidays, Sentosa, themepark, Virtual Reality, VR