I don't know of any little girl who don't have a favourite Disney Princess and for Sophie it's none other than Princess Ariel. When asked why Ariel is her favourite, Sophie tells me it's because she has a tail and has red hair plus she sings very well.
I know that some mums object to exposing their little girls to the Disney Princesses, after all a girl shouldn't get her head wrapped up thinking that they lives are all about being beautiful and falling in love with a prince for her happily ever after ending. But this article from Playhood on Lessons to learn from Disney Princesses may change your mind like how it changed mine.
Like how the story of Snow White teaches little girls that friendship can come in unexpected places, and from unexpected people. Jealousy and envy always leads to trouble.
And Ariel, her passion to pursue her wildest dreams because you never know where your little adventure will take you.
Disney's Princess Film Festival
This November School Holidays, Walt Disney Studios Singapore and Cathy Cineplexes presents Disney's Princess Film Festival. From 16 to 27 November 2013, five classic Disney Princess movies will re-run at Cathay Cineleisure Orchard and Cathay AMK Hub. They are Aladdin, Beauty and the Beast, Rapunzel, Snow White and Sleeping Beauty.

We caught Snow White at the media preview last weekend and I can't believe that this movie was created way back in 1937 and was even one of my mum's favorite show as a child!
As there was a Disney Princess best dress contest, we rented a Little Mermaid costume from My Mini-Me, an online shop that specialises in children's costume rental for an affordable price of $10 a day.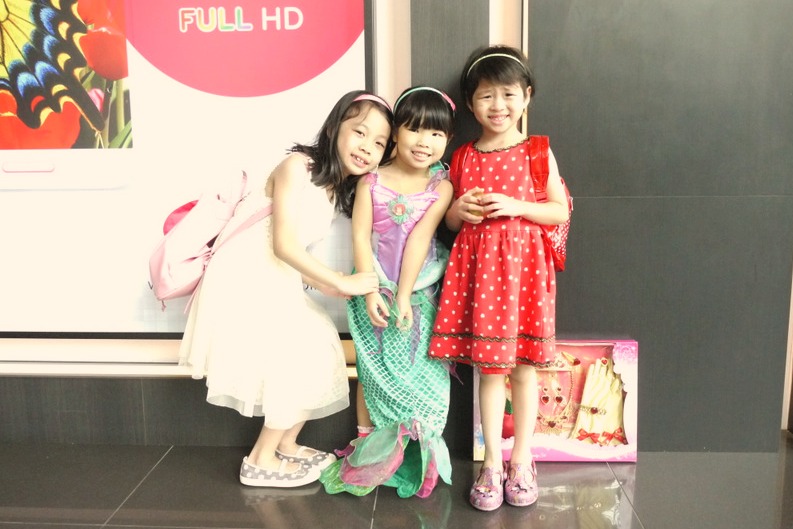 Sophie with her classmates Sarah and Charlotte who joined her for the movie
 Sophie won 2nd prize in the best dressed contest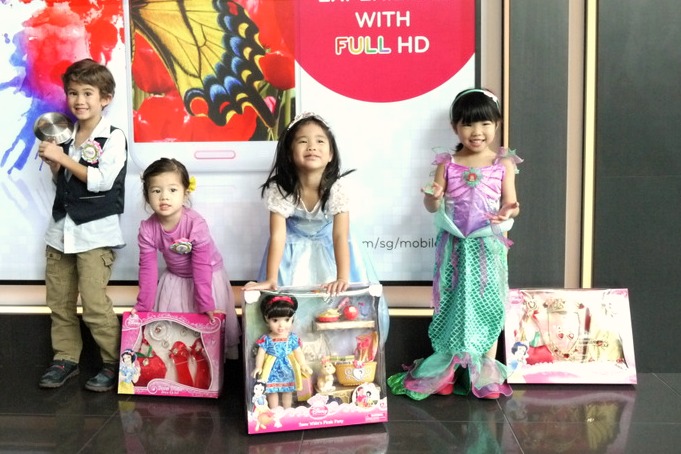 Sophie with Princess Rapunzel, Eleanor and Cinderella, Anya
The Snow White movie was so old school and you can just see how Disney movies have evolved by leaps and bounds. We can't wait for the upcoming Disney's year-end animation FROZEN that opens on 28 November!
Tickets are priced at $9 each (Maybank cardmembers: $8) for the Disney's Princess Film Festival. What's more, your child can receive a limited edition FROZEN sticker sheet with every pair of Disney's Princess Film Festival ticket purchased. Or get a get a Mattel's Sparkling Princess with a min. of 6 Disney's Princess Film Festival tickets purchased.
Now who's ready for a magical Disney Princess moment?'
* A Juggling Mom received tickets to  Disney's Princess Film Festival. to write this review. However all opinions expressed are mine. 
Tagged: movies, November school holidays idea, school holiday ideas