Of late, this juggling mom has been struggling to keep afloat.
Can I be honest and confess that I really haven't got it all under control? My house is in a constant state of mess that I no longer invite any of my friends over. That includes my mummy dearest, because I know she will nag at me and express disappointment of how I have failed in my house keeping duties as a mother and wife. After 2, 3 months of cooking healthy meals for myself, I am now in two minds about giving up on cooking when it's not exactly my hubby's choice of food plus cooking for one just seems like a waste of time when it included cutting, cooking and washing up late into the nights.
My daughter has been extremely sticky to me,  and she's been crying inconsolably when she sees me in my  jogging gear and insist that only mama can put her to bed. And while I could wake up early to jog before everyone is up, all I really want to do is catch a few more winks so that I can keep awake at work.
These days, it's my dream to be able to sleep in on a weekend or maybe even sleep the day away. Which is really unlike me as I'll be the first to lecture you that you're wasting your precious life away by being so unproductive. Yet on weekends when I do fall asleep when I put Sophie to sleep for her nap, I'll get so frustrated at myself because I would feel guilty that I have "wasted" the time sleeping instead of catching up on my house chores.
As a working mom, the weekends are precious for me to bond and spend quality time with Sophie. Yet at times, I am also secretly thankful that she's over at her grandma's place for a night or two so that I don't have to deal with her tantrums or keep her busy when I'm running around the house picking after the toys, doing the laundry and what have you.
I'm not even trying to be a supermom and am giving myself pep talks that I can get through it like most of the working moms in Singapore. But I don't know if I'm only setting myself up for more stress by trying to give 100% in every aspect of my life.
I'm beginning to feel very stretched and am experiencing stress, that's manifesting itself with indigestion by the end of the work day. I don't want to short change by family nor my company, and would really appreciate help to keep my sanity these days.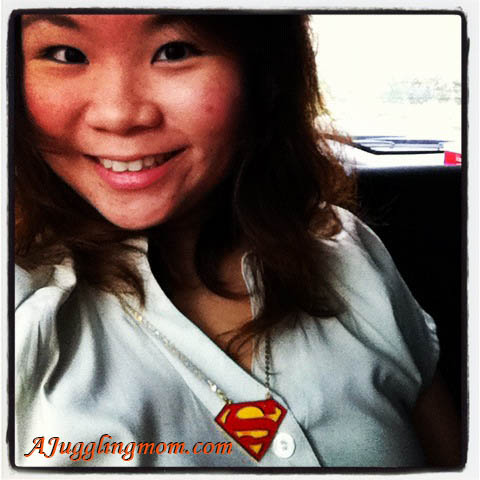 Supermom – NOT!
If you've got suggestions or advice on how I can get my juggling act together, do drop me a note. Perhaps, I just need to have a good run to beat this defeated feeling.
Tagged: balance, career, family, working mom