We just returned from our 5 days, 4 nights cruise holiday on board the Costa Victoria last week. It's been a while since we took Sophie along with us on a holiday so we wanted to take things slow and go at a more leisurely pace so a cruise sounded like an ideal family vacation.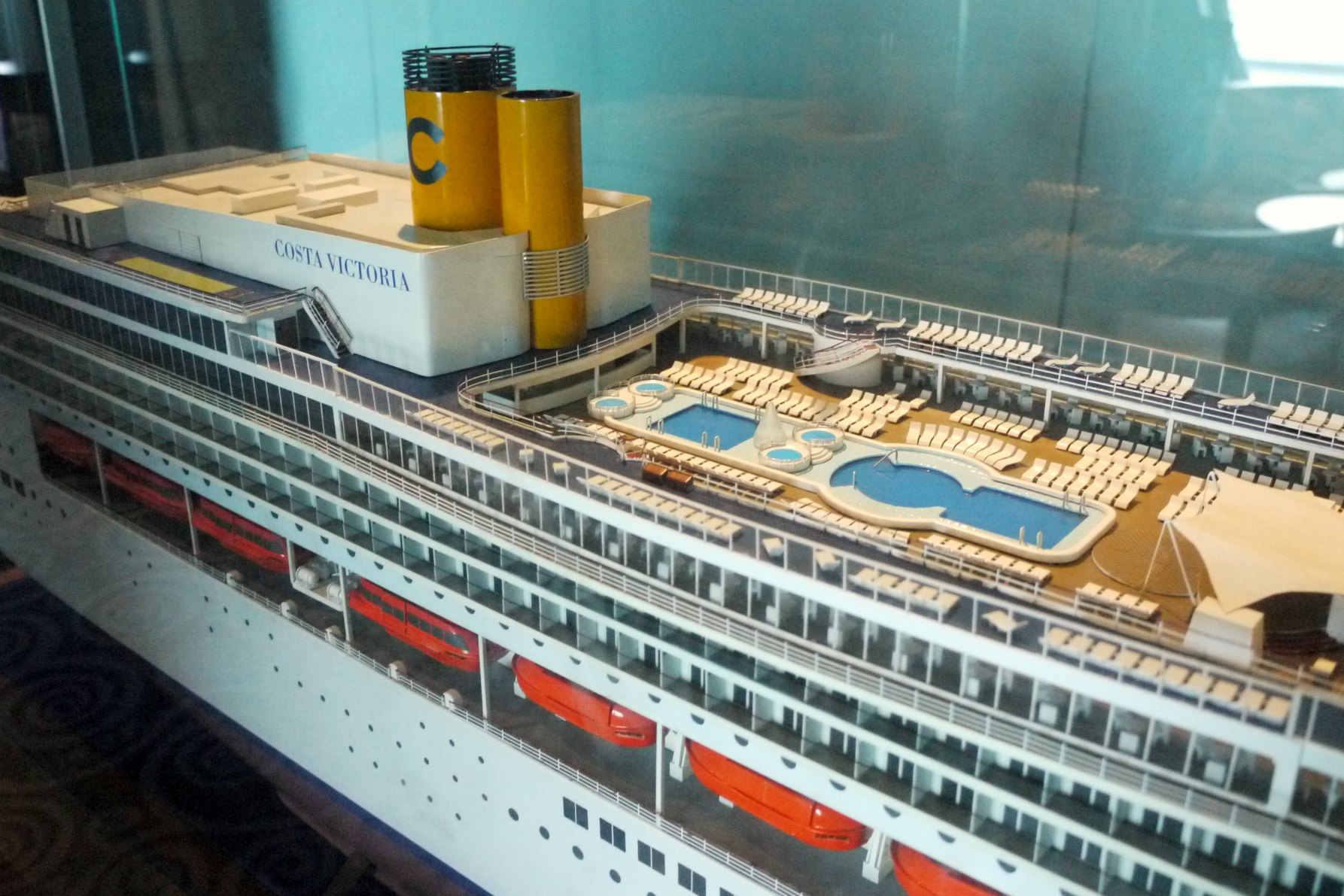 The Costa Victoria is an Italian-themed cruise liner and it is the largest from Costa Cruises to sail in Asia. The cruise liner under went an extensive refurbishment in 2004 where additional balconies were added. At maximum capacity, she can accommodate close to 2,400 guests.
We boarded the ship at around 5pm from the new Marina Bay Cruise Centre on Saturday.
The view of our cabin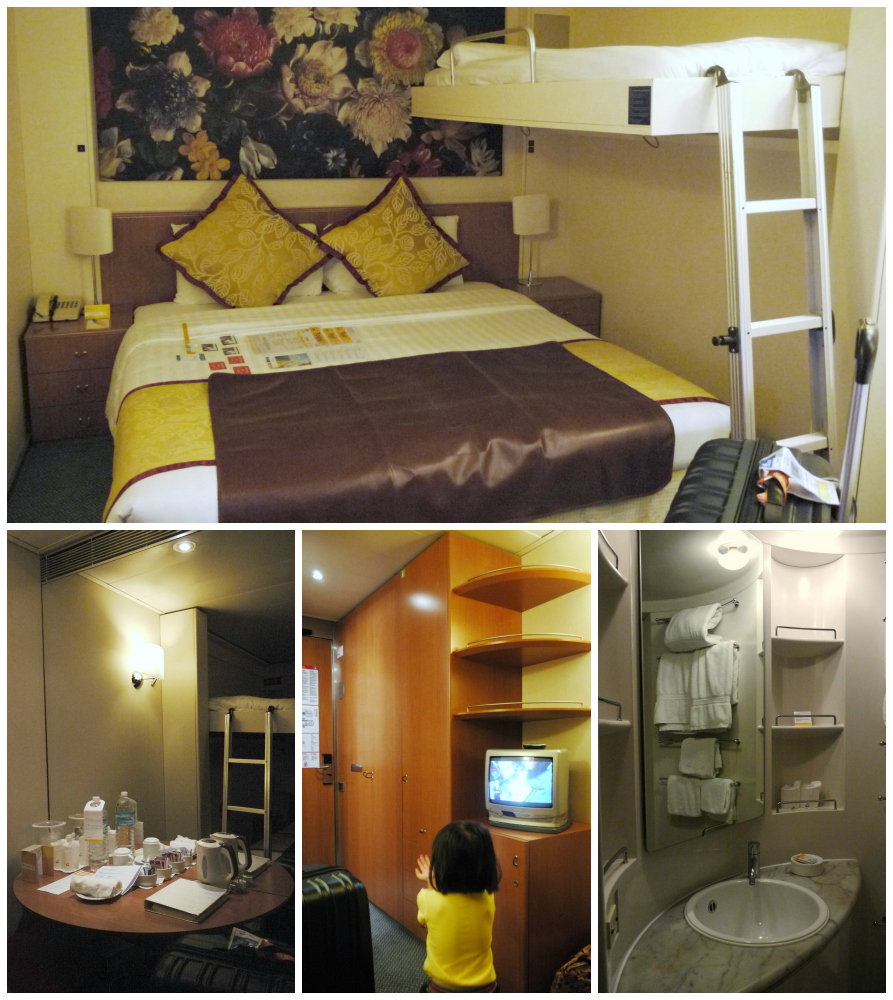 We opted for the most basic cabin and our room was on Deck 6A. For a family of three, I found the room a bit of a squeeze as there was hardly any space for our luggage. Thankfully, we're usually not too fussy about our rooms since we reckon that we'll be out of our cabin most of the time.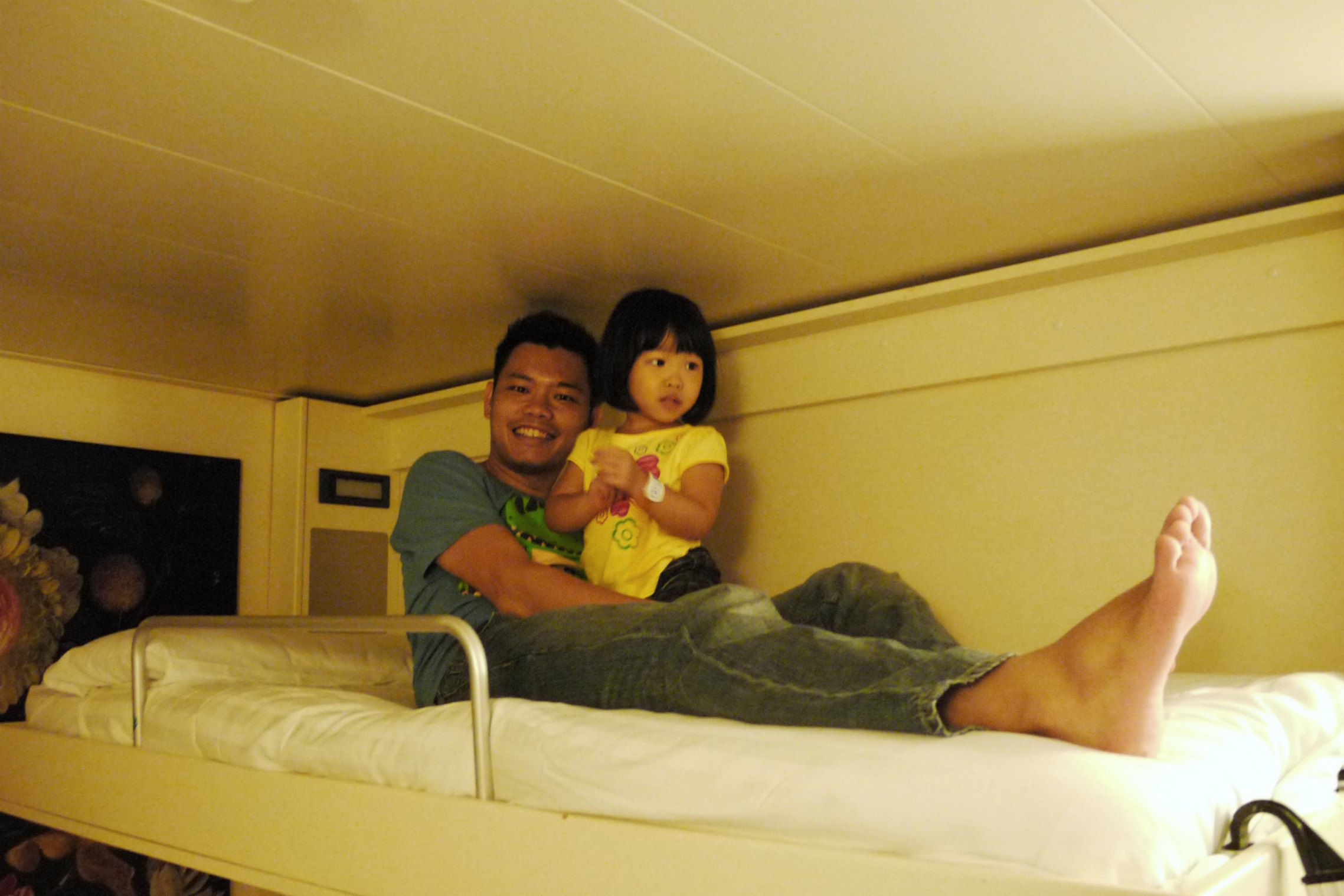 Alexis was very excited at the overhead bunk. But we decided against Sophie sleeping on top as I didn't want to risk having my face squashed if Sophie rolled down the night as she's capable of turning and tossing when she's asleep.
About 20 minutes after we settled down, we had to assemble for a mandatory safety drill where all passengers had to familiarise ourselves with the safety procedures on board.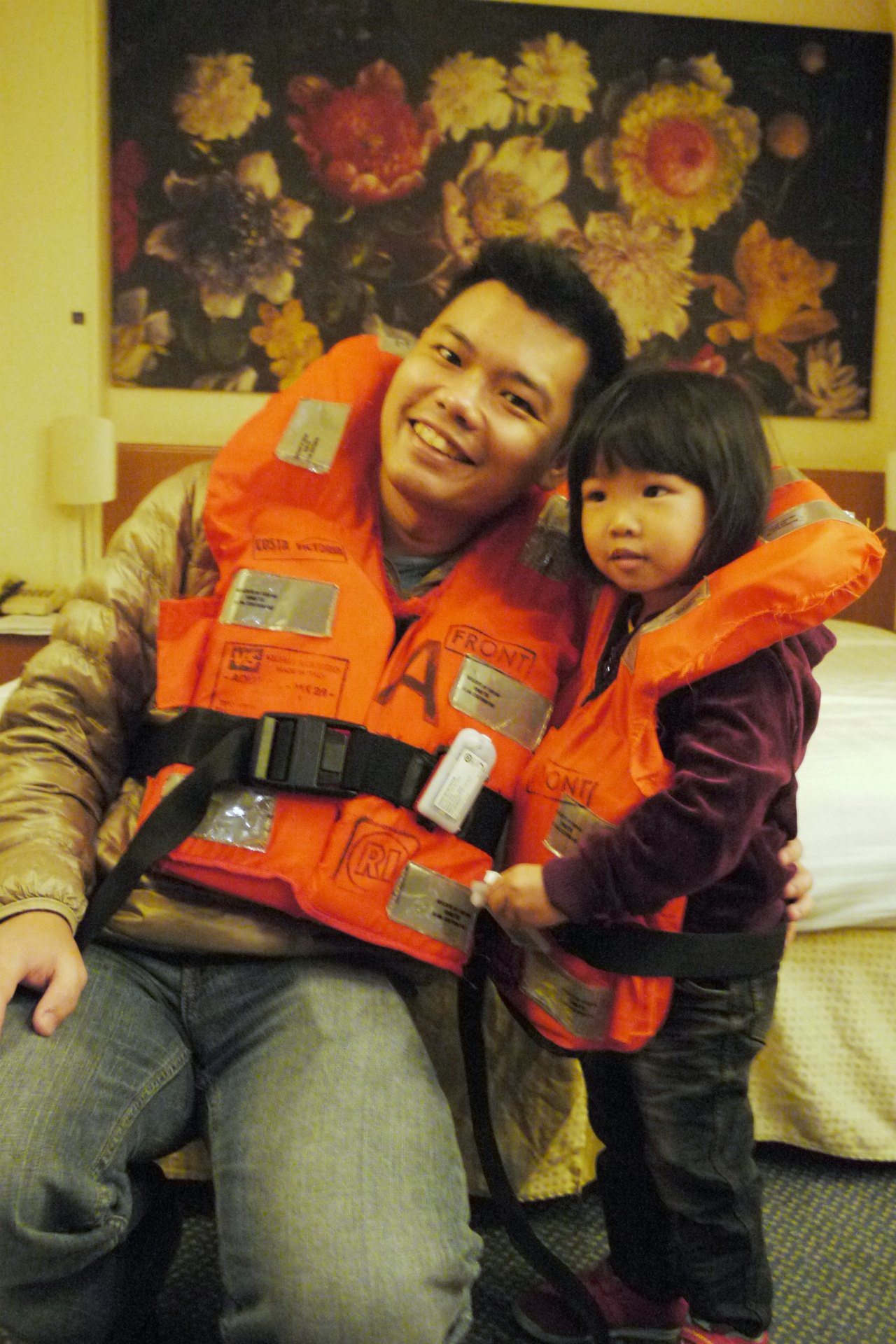 I've never been on any cruise before, but I felt that the safety drill was not very well organised. Due to the different nationalities on board, after the assembling at the meeting point, we still had to wait till all the instructions had been given in the 4 languages before we were dismissed. By then, a lot of the seniors were getting impatient and felt stuffy from the heat.
At dinner time, passengers are split between the Sinfonia Restaurant or Fantasia Restaurant for an ala carte sit down dinner. There are two timings for dinner, where the earlier time slot starts at around 6:15pm and the second starting around 9:00pm.
We were given assigned table numbers and was served by our dedicated waitress. There is usually a choice of 2-3 items for appetisers, soup, main course and desserts depending on the theme for the day. If you prefer a more fancy dinner, there is also an option to dine at the II Magnifico Club Restaurant where there's a fixed men priced of USD$33.
After dinner, we went to check out and register Sophie for the Squok Club – a kids club for those aged between 3 to 11 years old. We were given an introduction on the activities and were given a program sheet containing a schedule of the activities for the next few days.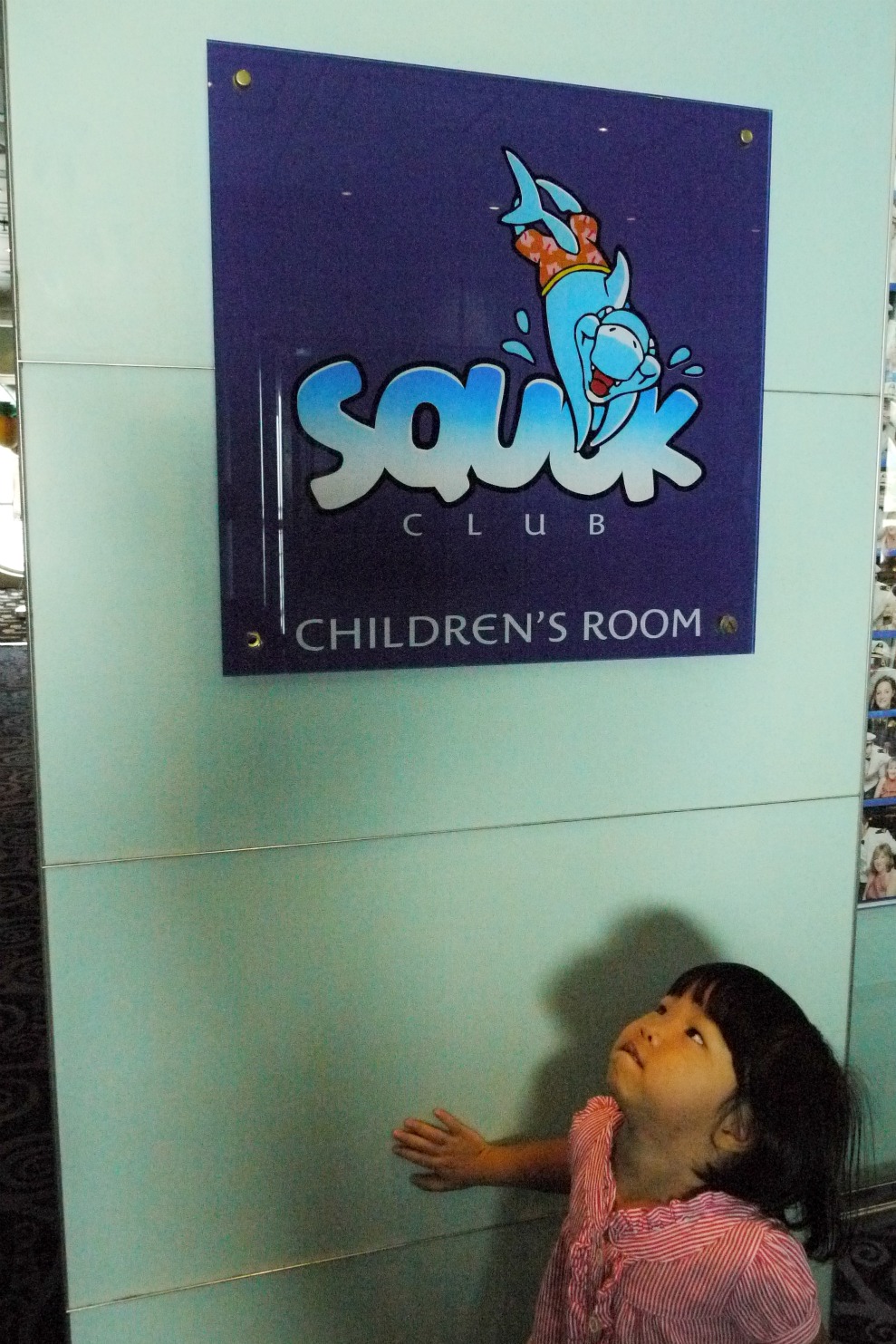 Unfortunately, I started feeling ill as I boarded with a bad sore throat and cough and decided to retreat for the night.
The next day, I was still feeling ill and had Alexis take Sophie round the ship to explore on their own. These are some of the facilities.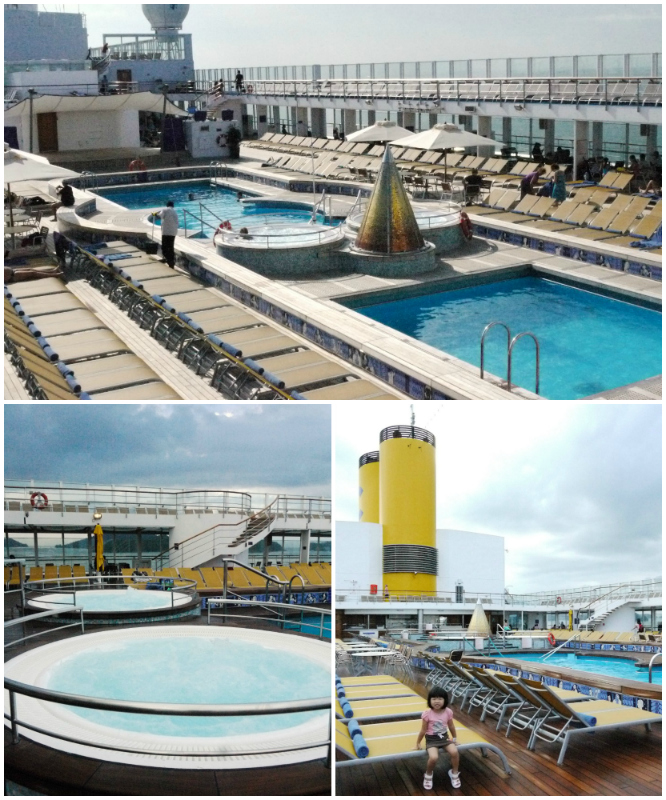 The jacuzzi and swimming pool.
We expected the pool to be more child-friendly but the 2 pools were very small without any slides or play area. It was a real pity as Sophie didn't even get to swim as Alexis and I both took turns to fall sick. A real shame I know.
The casino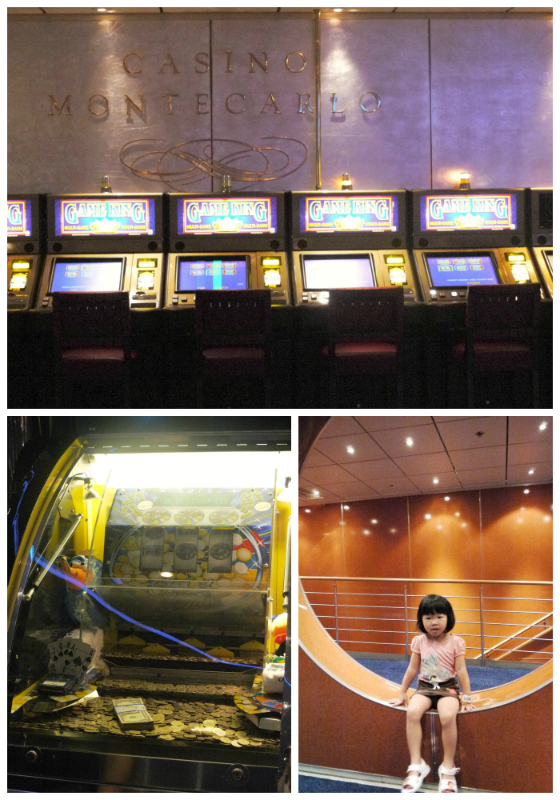 I was surprised to find the casino right in the middle of the walk ways so it's easily accessible to everyone including children although I'm pretty sure that they will ask you not to bring your kids there. There were slot machines and tables for mahjong, black jack, etc.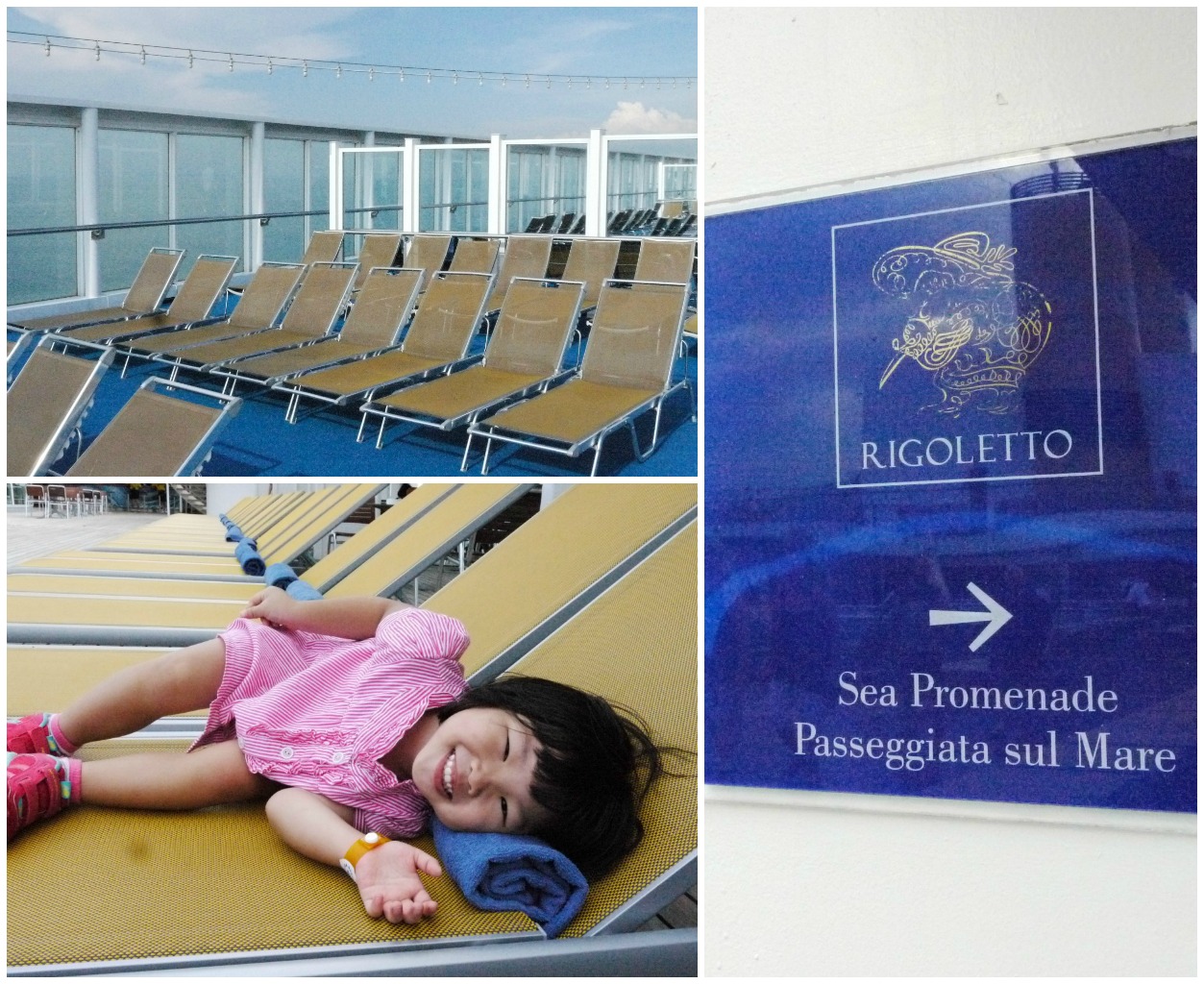 Sun bathing deck on deck 11 and deck 12
The second evening was the Gala Night, where we got dressed to the nines and attended the cocktail with the Captain at the Festival Theatre.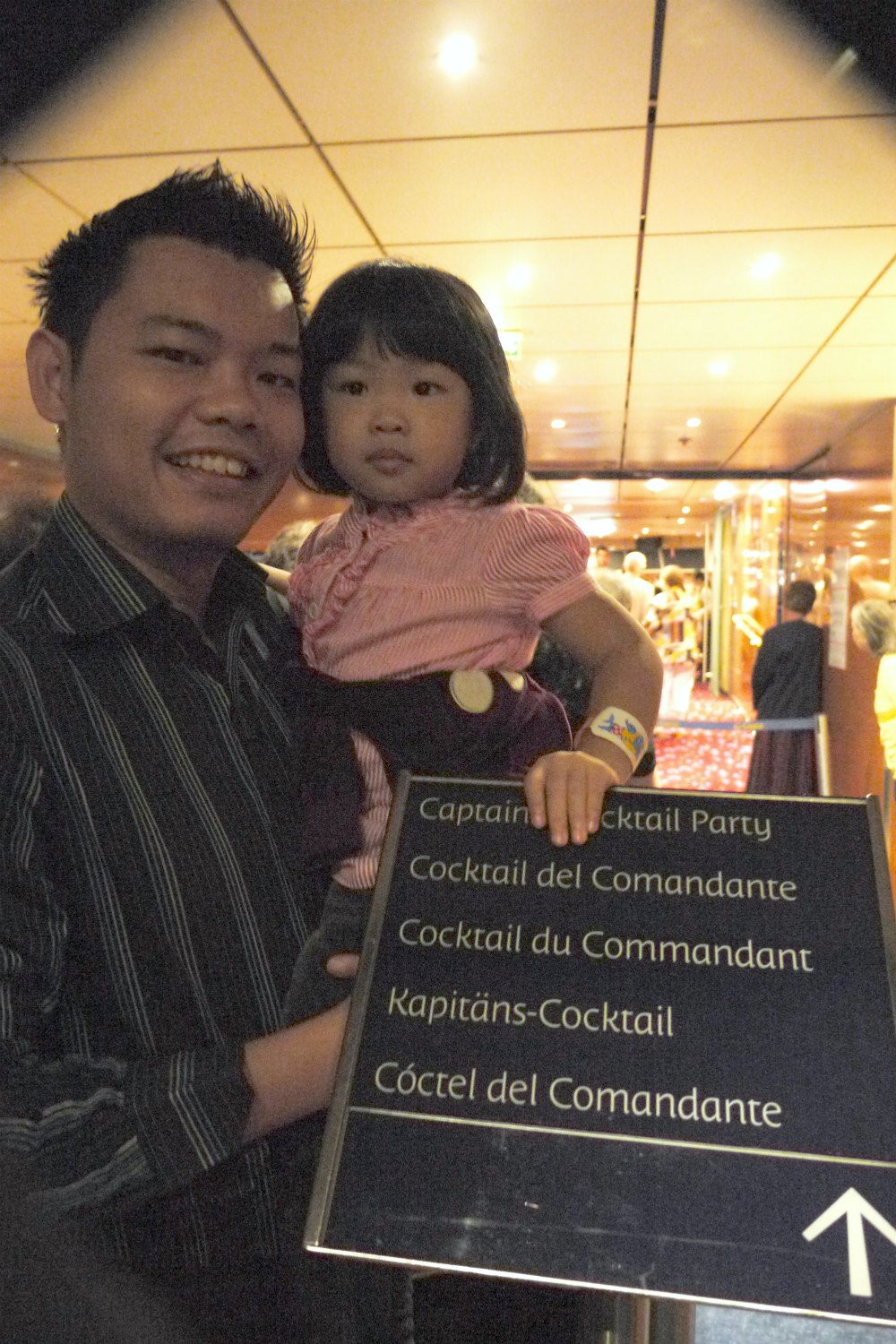 Alexis sipping on champagne while Sophie had a fruit punch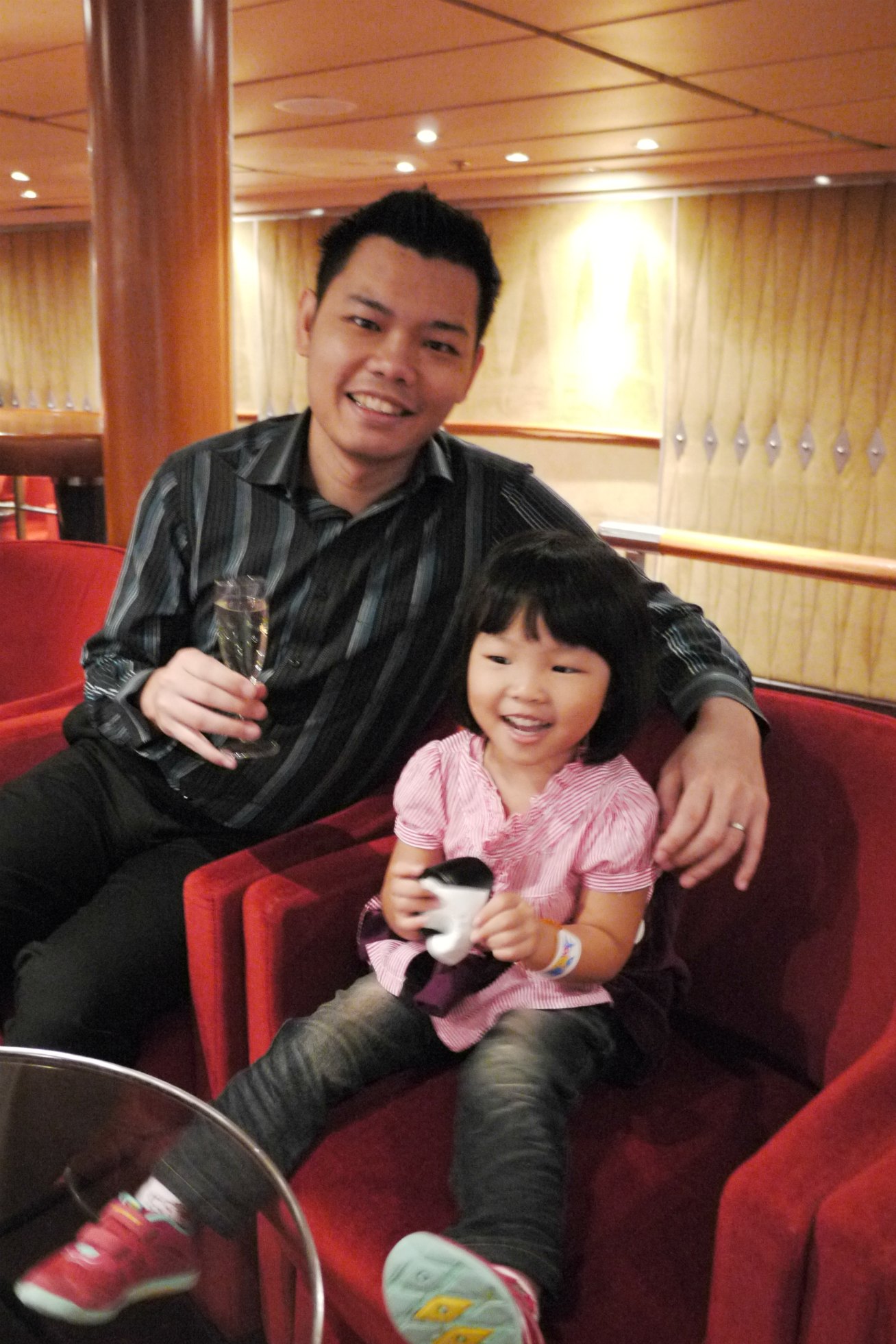 We were entertained by a singer on the piano while some of the passengers got on their feet and waltzed on stage. After a round of introduction from the Captain on his key crew staff and a toast we headed for dinner. That night, the restaurant had a more sophisticated menu which was more fitting for the evening.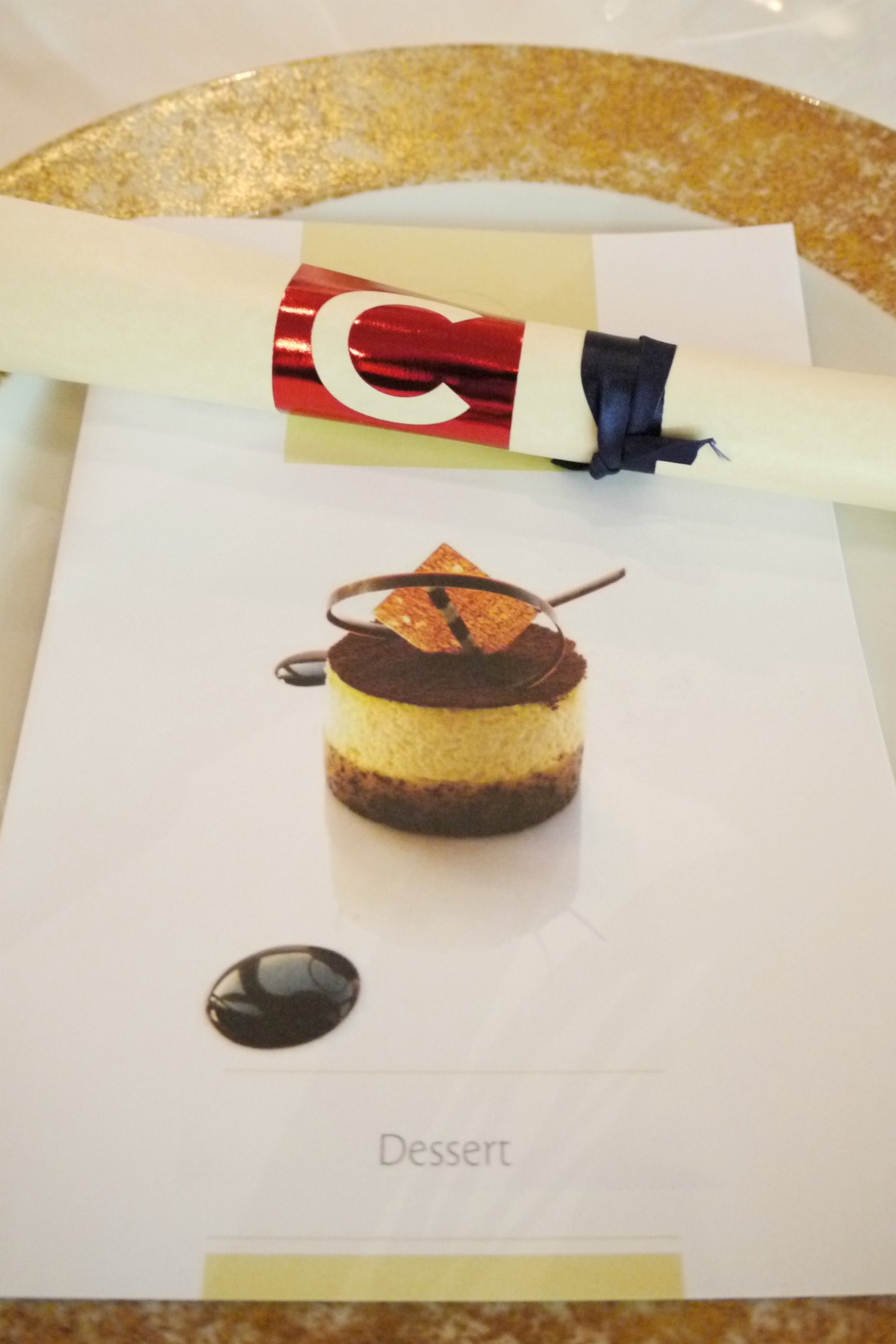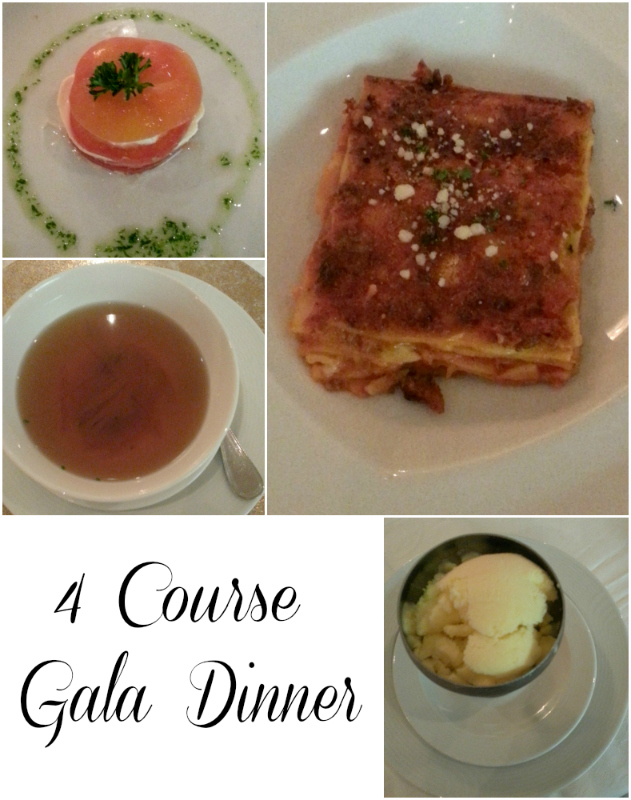 From top left:
Insalata Caprese, Caprese salad with tomato and mozzarella. Consomme di manzo, Beef consomme with tomato, celery and chives. Lasagna all Emiliana, lasagna with meat ragout Emiliana style. Sorbet, Pineapple and honey dew sorbet
The dishes were generally a little too salty for my liking and I forgot to take a picture of my main course which was a BBQ chicken. Frankly, I was less than impressed with the food and found most dishes to be too salty for my palate. But I do like the variety that they offered and the standard of food did seem to improve over the days so my tastebuds might have been affected by a bout of fever and flu.
Sadly, I was still feeling unwell and started to get the shivers after dinner and so I bade the night good night and had an early night. This is turning out to be a real resting trip for me as I spent more time in the cabins than anywhere else on the cruise.
More of my review on the Costa Victoria to follow on Thursday.
Tagged: cruise, family friendly, malaysia