Before I left for my Hong Kong vacation, we brought Sophie to watch Cirque du Soleil's Totem. I remember my very first Cirque du Soleil show was 7 years ago in Las Vegas, where Alexis and I watched ZA and Mystere and were completely awed by their jaw dropping performance that was truly in a league of its own!
I was so excited to hear that Cirque du Soleil is finally returning to Singapore after 10 years and made sure I was not going to miss them in the world. Totem is Cirque du Soleil's fourth big top production where their performance is staged under its trademark blue-and-yellow big top. And in case you are wondering, they are at Bayfront Ave, right next to the Marina Bay Sands.
Like many of their shows,  Totem has a story line and this one explores the ties that bind man to other species, his dreams and his infinite potential as they take us on a fascinating acrobatic journey into the evolution of mankind. But in my opinion, the plot doesn't really matter as it's all about the amazing acrobatic performances, plus the acts have very little connection.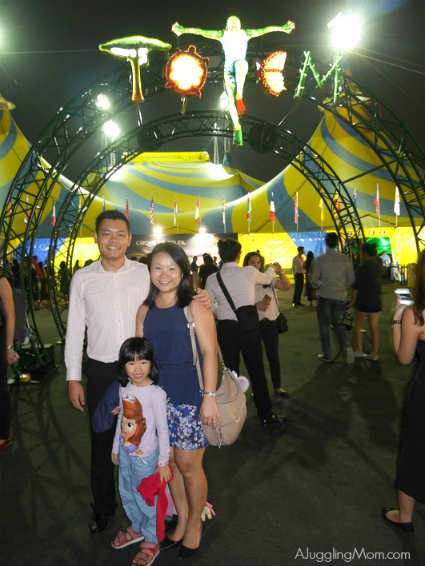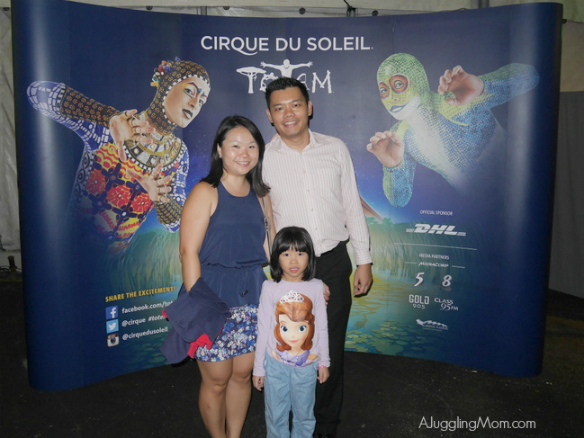 Our weekday show started at 8pm and we were there slightly earlier to take a few photos and also check out the merchandise. When we got seated, we saw a few clowns walking around to interact and also prank the audience in true circus style. A poor couple was blinding following one of the clowns as he ushered them to different sections to look for their seats before leaving them in the lurch to the amusement of the rest of the audience.
Oh and if you're bringing your kids for the show, do ask the ushers for a booster seat. Sophie was stoked to sit on her plush booster seat that even the ladies gave her such envious looks.
The show started with parallel bars act to which Sophie exclaimed that she wants to learn that in her gymnastic class. Watching them swing their bodies in such perfect rhythm and timing with ease makes it all look so easy even though we all know how much training and practice it must take them to perfect it. But what further impressed me was how the performers brought life to their character with their lifelike portrayal as amphibians in their mannerisms and costumes.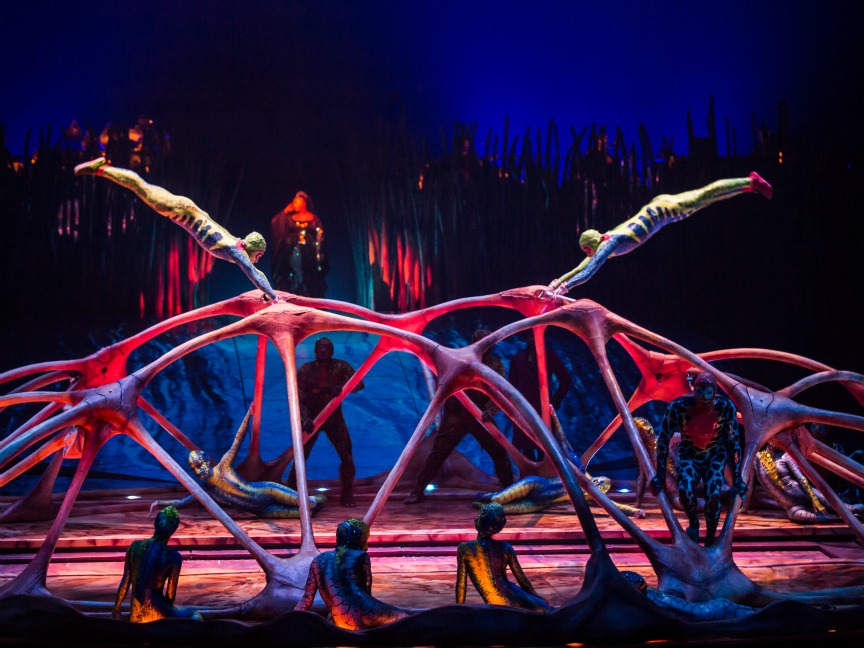 To add a fresh element to the show, there were two Native American hoop dancers in the show who are siblings. From one of their interviews, this pair of brother and sister mentioned that they were specially scouted  for the show and while their act is no death defying performance, you'll be wowed by the fluidity of their movements as they maneuver more and more hoops to create dynamic shapes to evoke various animals and images in a ritual that symbolizes the endless circle of life.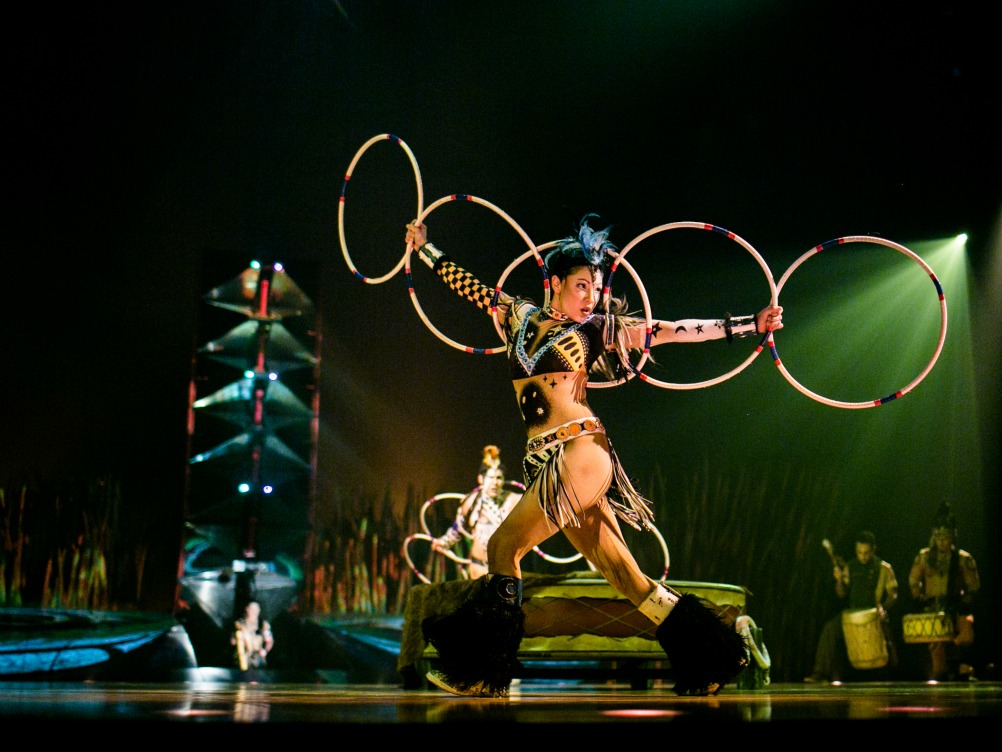 Comedic acts were interspersed in the show and the crowd's favourite has got to be the charming Valentino as he flirted with the audience and tickled the crowd with his funny antics.
But for the first half of the show, the stars were these 5 unicyclists who not only cycled in unison but also did the impossible by gracefully balancing bowls on their heads which their partners flipped with their feet!The precision and balance that they had was unbelievable and they received thunderous applause when they continued their act even though they miscalculated and missed one or two bowls.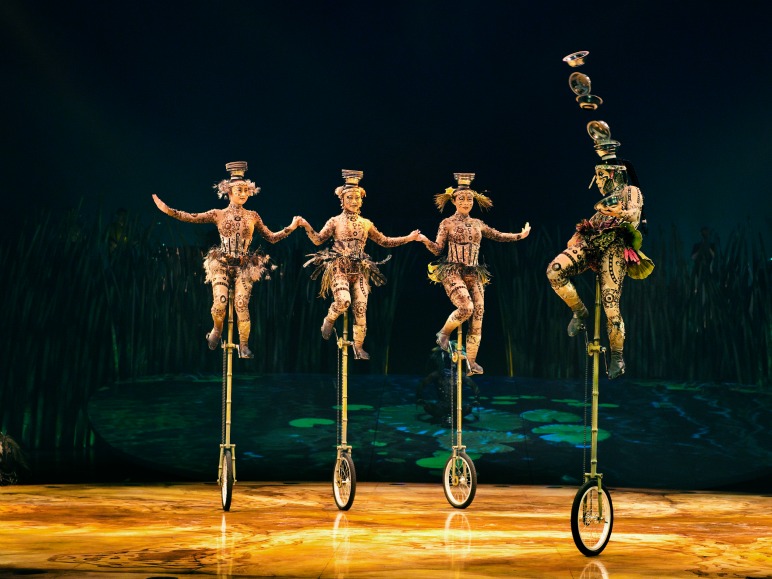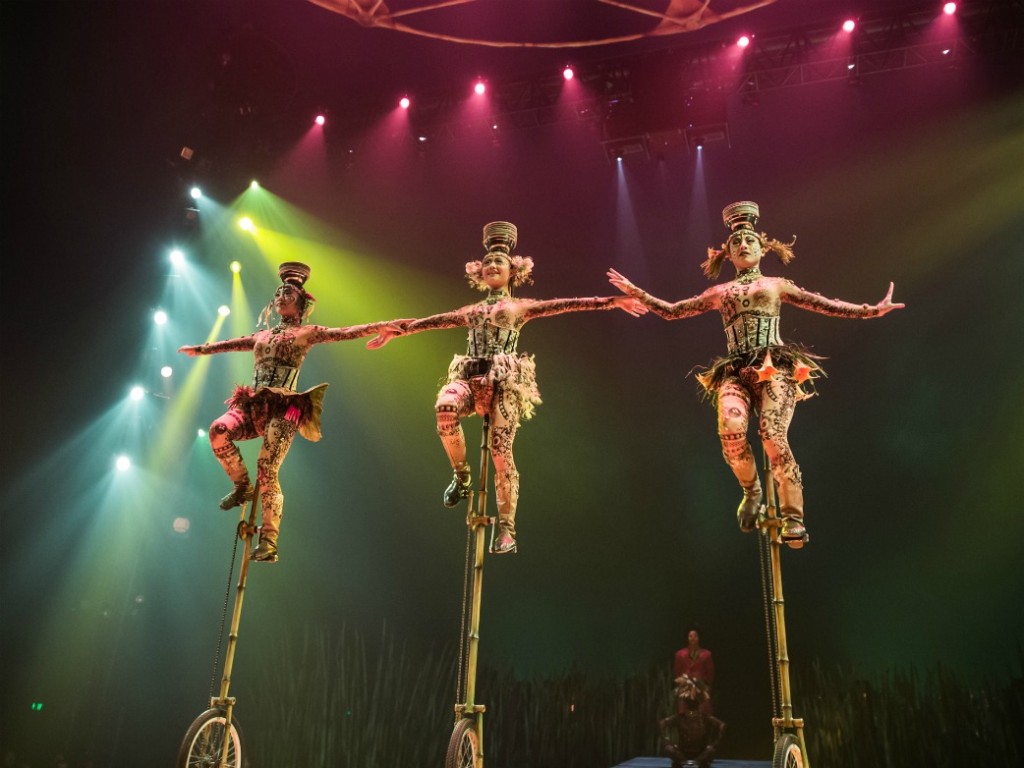 Another extraordinary act was the trapeze duo where the pair of love birds teased and flirted with each other and had us audience at the edge of our seats as we witnessed a display of incredible strength as they lifted each other with ease with just a leg or extended arm and dangled in perfect symmetry beautifully.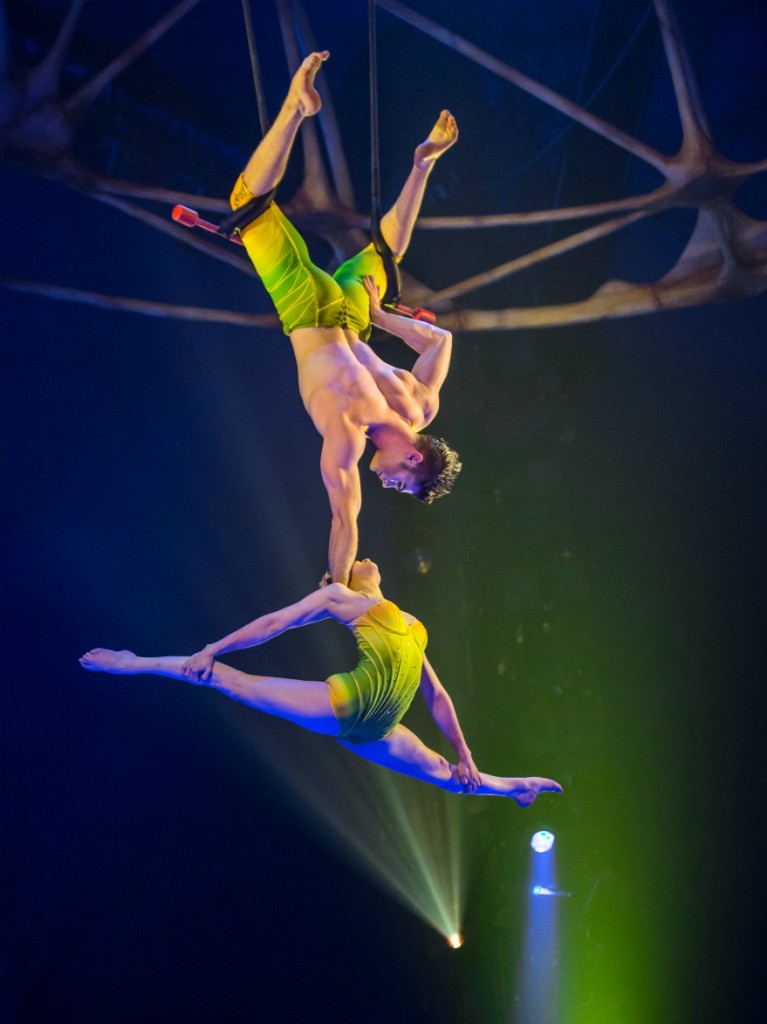 Mesmerising colourful balls being juggled by the Scientist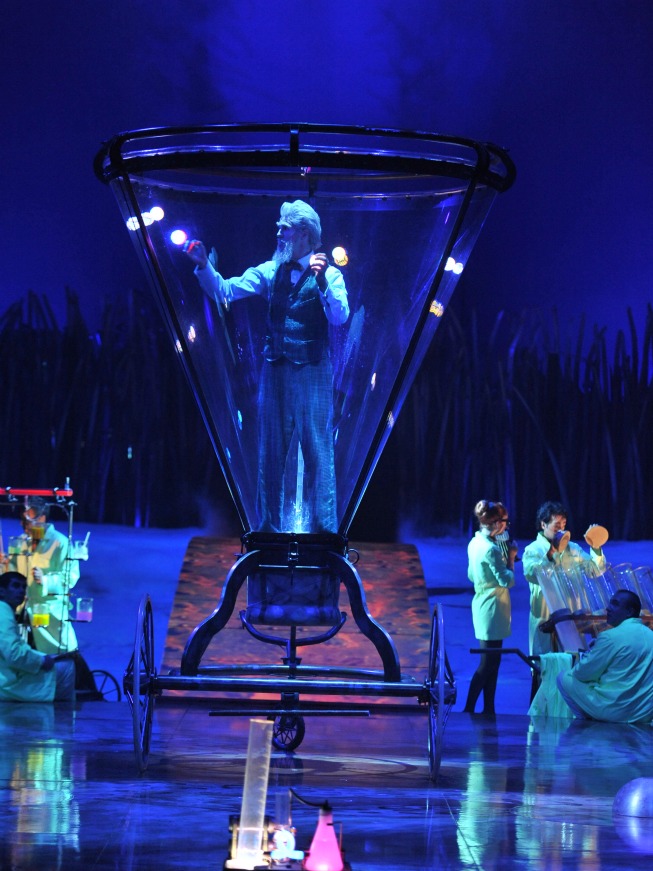 Another act that had me in suspense and cringing ever so slightly was this pair of roller skaters as they balanced precariously on a drum like stage while the lady was swung around at dangerously top speed. I almost broke into a sweat and had my hands over my mouth because I swear I was going to scream from all that anxiety.
But I think I better not go on with anymore spoilers as I'm sure you'll want an element of surprise for the performance as well.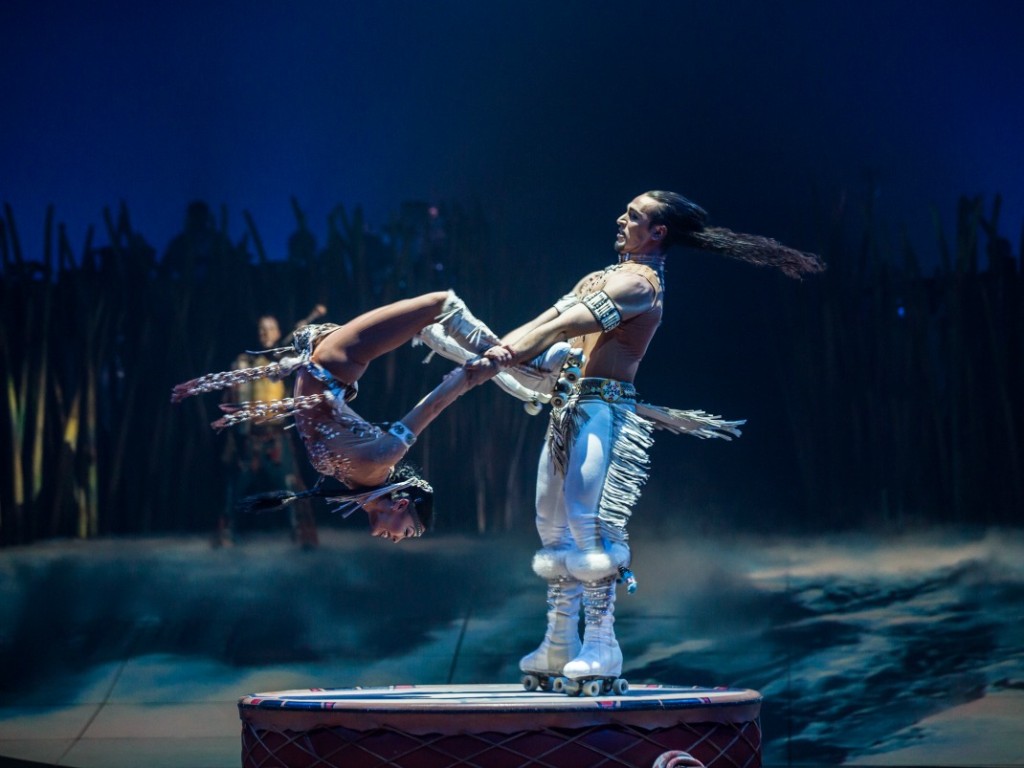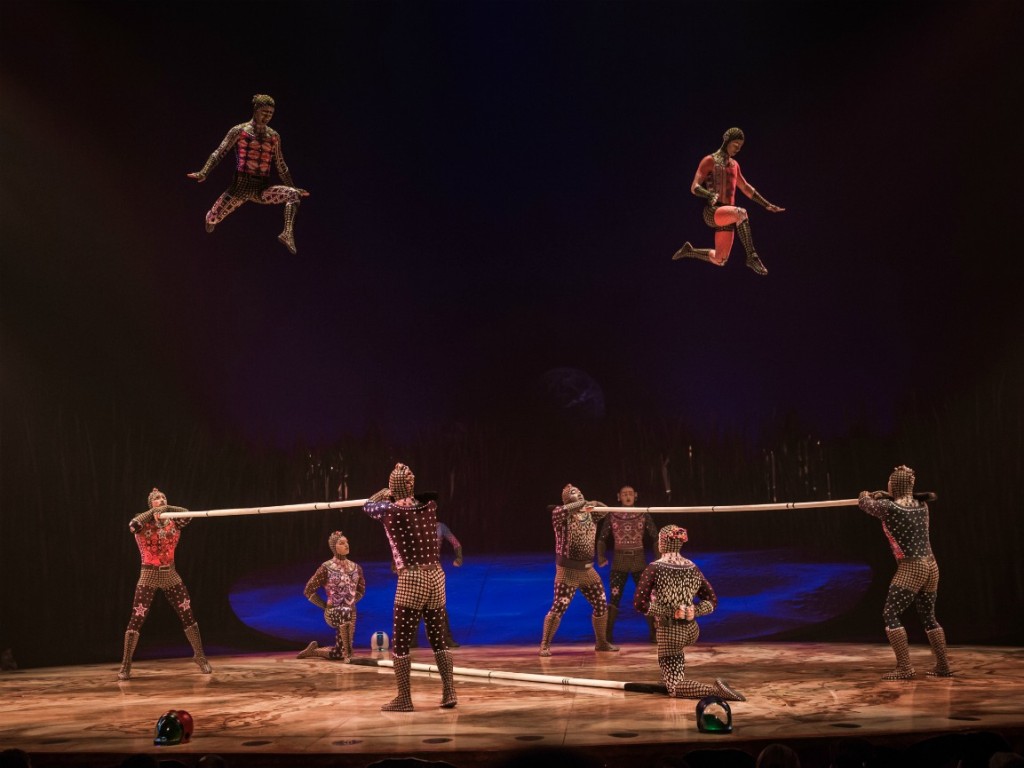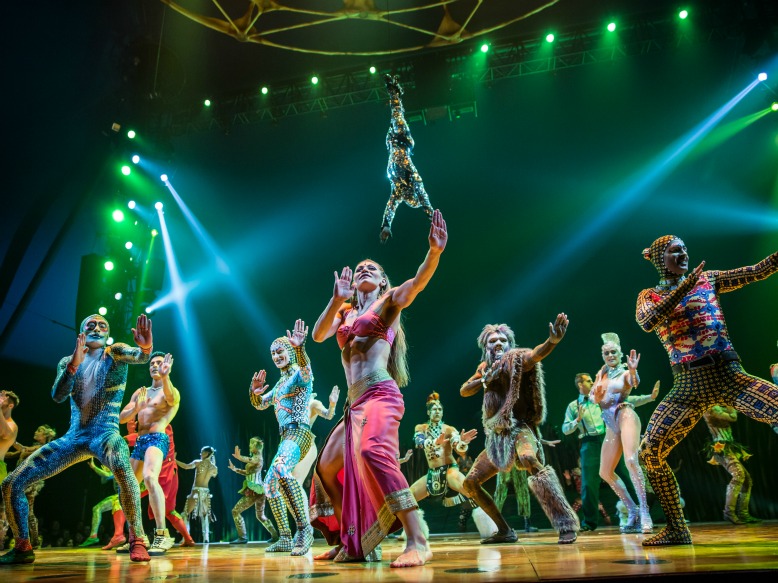 After the spectacular performance, I left in amazement at what the human body is capable of and all these performers have shown just how far we can push our bodies to achieve these incredible feats. I'm glad that Sophie got to watch it with us and she's so motivated to practice hard at her gymnastic class so that she can be as good as the performers in the show.
And at that point it seemed like the perfect opportunity to teach her the saying, 台上一分钟,台下十年功, which is translated as , a minute on stage takes 10 years of hard work to perfect it.
Like what I've told everyone who asked if it's worth it even for kids, I say, go! You'll be guaranteed a world class performance and will not be disappointed. And don't just take my word for it, go catch it for yourself. but hurry as the last show is on 13 December!
Our seats were at the corner seat of Category 5 and though there were some parts that were blocked by the poles, overall it was still okay and we could still have a clear view of the stage. But the best seats are those right in front of course and Category 3 should give you an excellent view 🙂
And if case you were expecting champagne, popcorn and ice cream during the interval, it's only for the media who were invited at the gala premier. You can head out to the snacks booth outside and grab your munchies or better still make a quick visit to the loo as the show is 2.5 hours long.
TOTEM by Cirque du Soleil
Dates : 28 Oct to 13 Dec 2015
Venue : Under the Big Top at Bayfront Avenue next to Marina Bay Sands
Timeing : Tuesday to Friday 8pm; Saturday 4.30pm & 8pm; Sunday 1.30pm & 5pm
Ticket Prices: $98 through to $188, VIP tickets at $308 and $328 (first row)
Duration: 2 hours 25 mins (including 25 min interval)
Booking Through Sistic: http://www.sistic.com.sg/events/totem1215
Booking By Phone: +65 6688 8826
*A Juggling Mom received complimentary tickets to watch Totem by Cirque du Soleil. No monetary compensation was received. All opinions are honest and are my own. Photos are used with credits to BASE Entertainment. 
Tagged: family friendly activity, Media Invite, Singapore