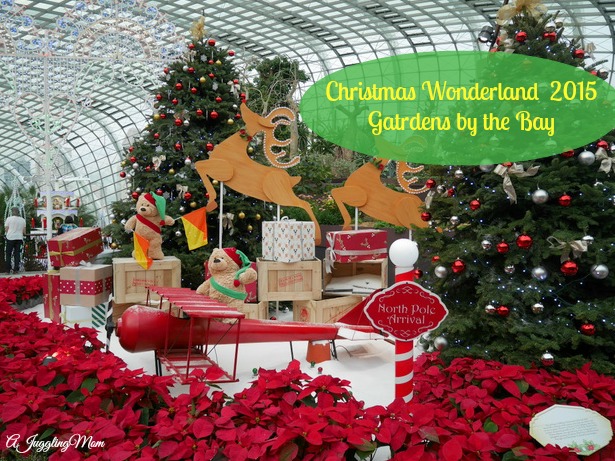 Christmas Wonderland returns to Gardens by the Bay and this year, it's bigger and better with new attractions for the whole family with their presenting sponsor, AIA Singapore.
We were there 3 weeks ago for the official opening of Christmas Wonderland and were back again last Sunday as one visit is simply not enough. Being there at different timings offered different experiences and depending on what you're hoping to see or experience, I'll say a good time is go is 5pm where the crowds is still decent. The hubby who's usually quite nonchalant about Christmas had a twinkle in his eye when he told me that he felt the festive atmosphere in the air. A sure sign that this Kaleidoscopic visual treats left a huge impression on him!
At the entrance of the Golden Garden, we were greeted by the magnificent Luminarie light sculptures at the Frontone. And just like guides, the trail of lights guided us into the Festive Market at the Supertree Grove; The Fairground near The Meadow; and the Christmas Toyland floral display in the Flower Dome.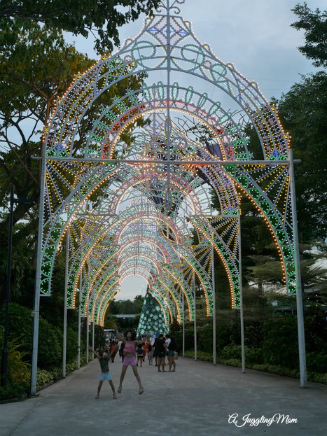 Christmas Toyland, Flower Dome
For Christmas, it's a kids dream come true in the Flower Dome where toys take centre stage. At the entrance, we were greeted by Teddy Bears at the North Pole who were  ready to take us on an enchanting adventure aided by their reindeers!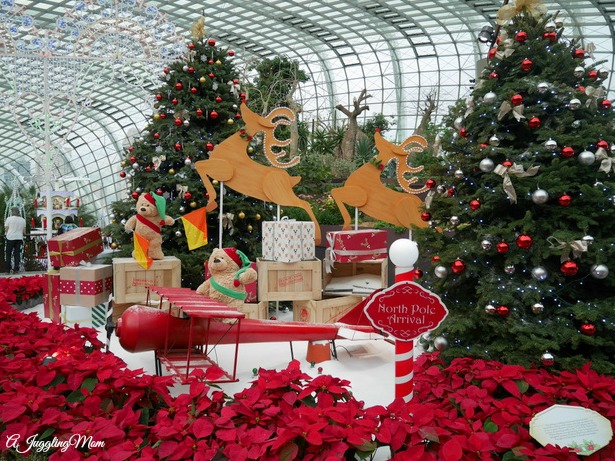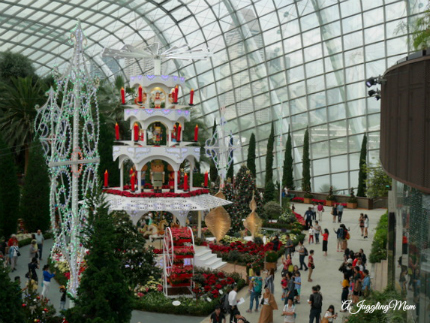 For the Yuletide season, poinsettia, that are traditionally used for Christmas flora displays graced the fields along with Christmas rose, winter heather and holly and oh how it added to the Christmas cheer.
My favourite is no doubt the 11-metre Christmas Pyramid that looks like a giant Christmas tree. Do you notice the toy soldiers and teddies on each level and there's also a wooden carousel. I heard that this Christmas Pyramid transforms into a live stage for festive performances right here within the Flower Dome, which is a first too. How cool!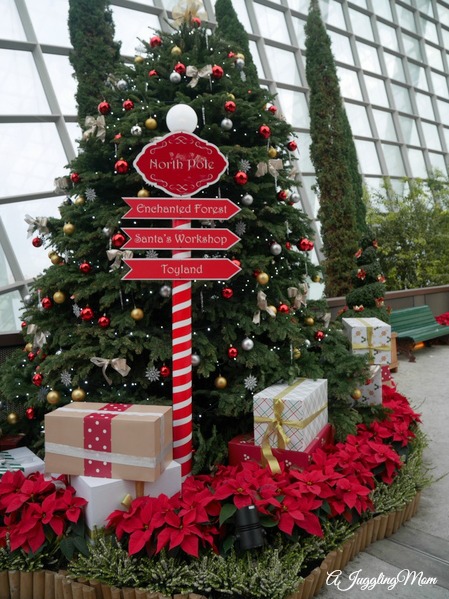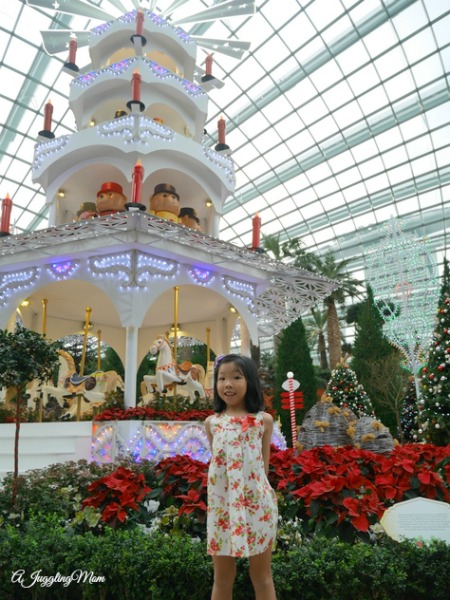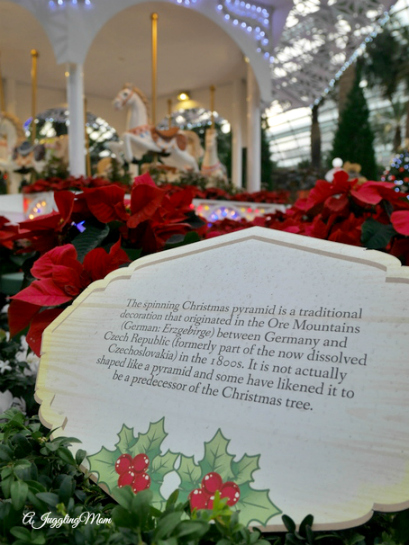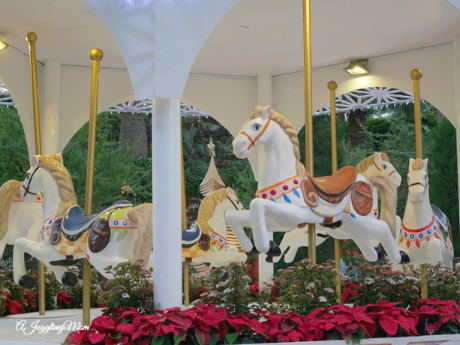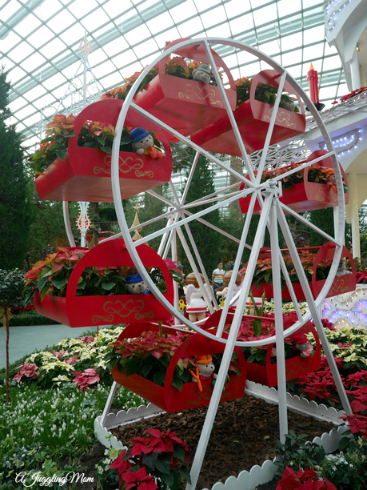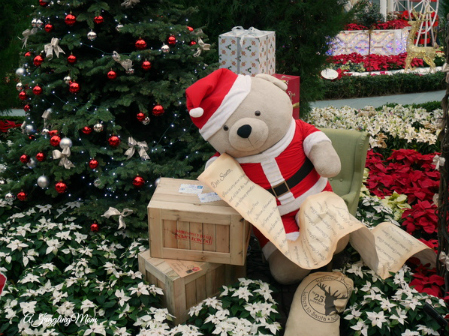 Why it's for Santa Bear of course and look at his long list of presents from children all over the world. I wonder if I'll get mine in my Christmas stockings. Don't you just love the whimsical display and I felt like an excited little girl trying to spot the helpful teddy elves who are packing off the toys for Santa.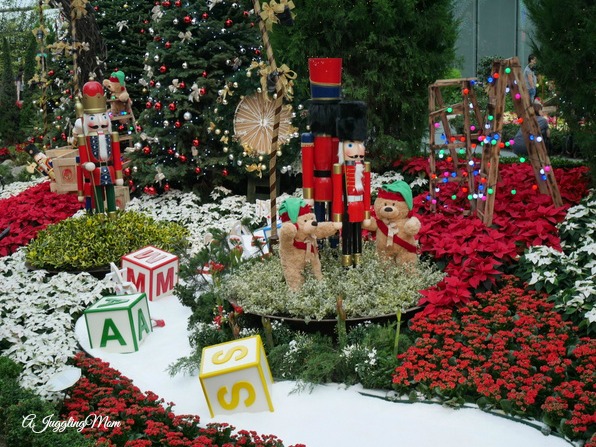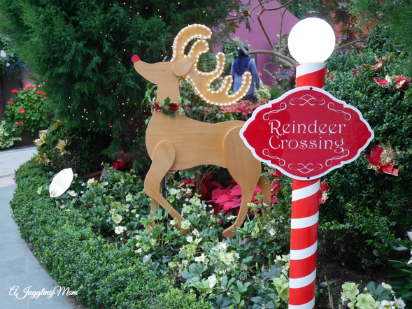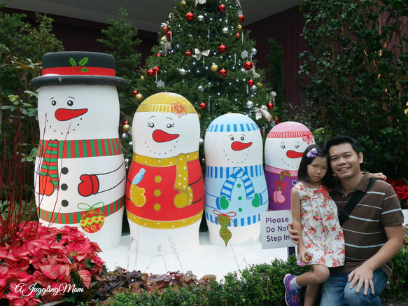 The only thing that's missing is just SNOW to complete the whole Christmas festive spirit. There are lots of photo opportunities and all you need are willing subjects unlike Sophie here who shot me a, "Are you done taking photos already, mummy?" look. She was hurrying me to move on to the Fairground where I promised her carnival rides and games.
The Fairground
To the Fairgrounds we go and we headed over with style on this classical train!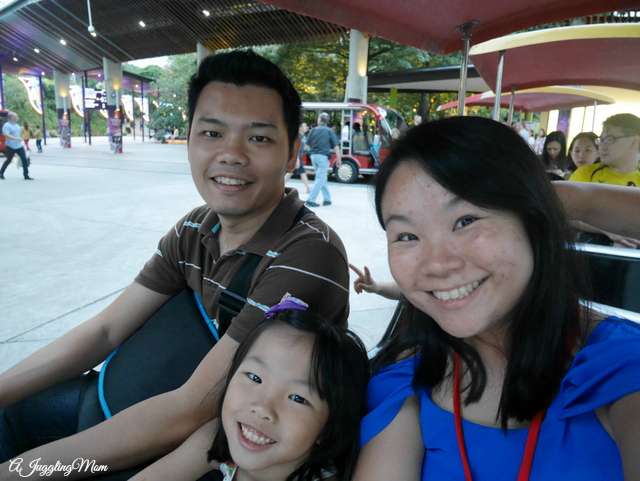 Over at the new area, The Fairground, you can find a delightful offering of rides and games for both young and old. There was the European vintage-style carousel that flew in all the way from Europe as well as the tallest slide in Singapore, Helter Skelter, at 14m high.
You can also try your hand at the game stalls where you can walk away with Disney plush toys from Toy Story, Winnie the Pooh and Baymax!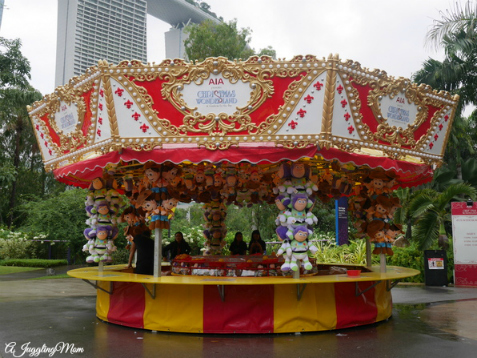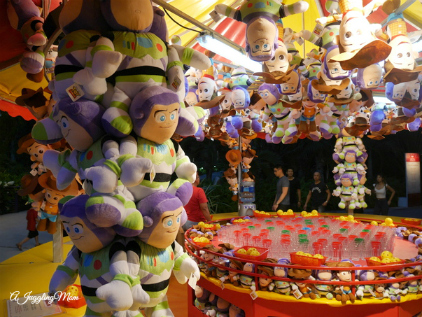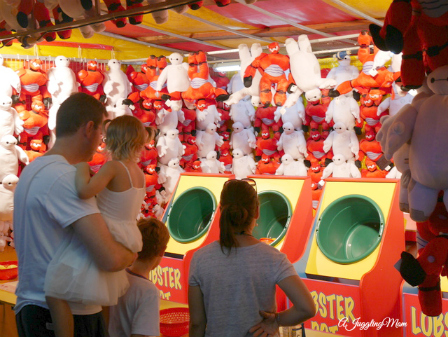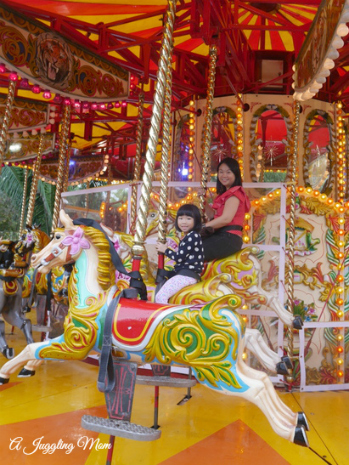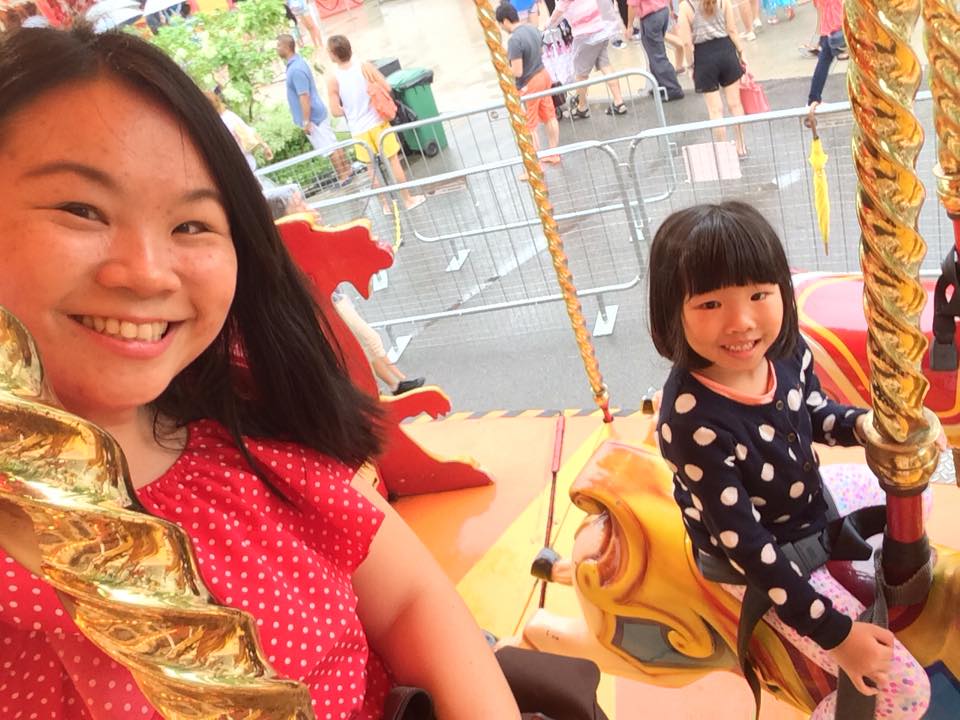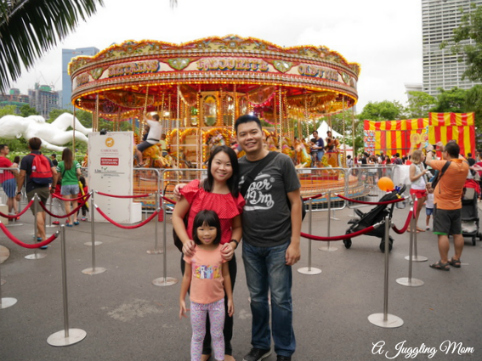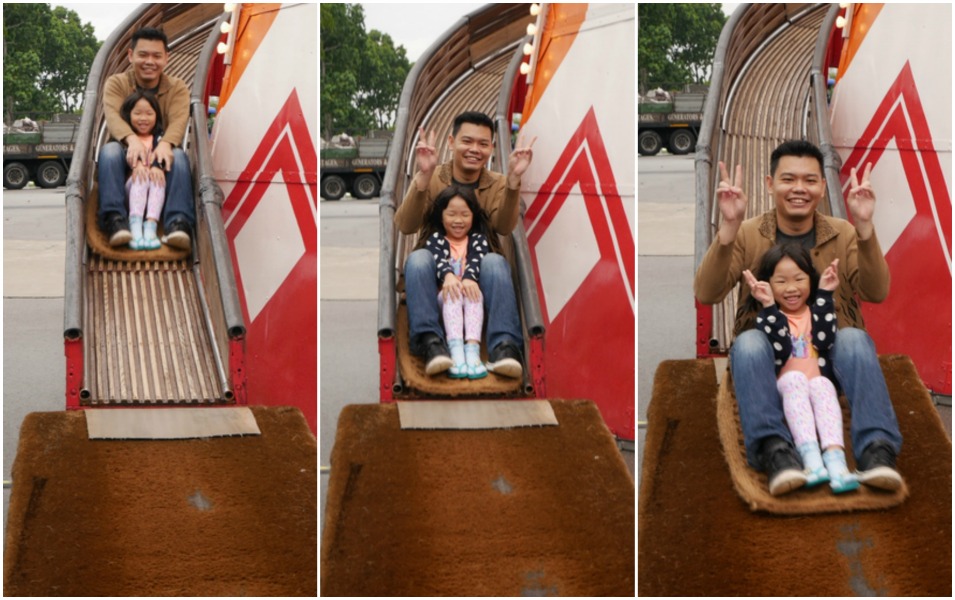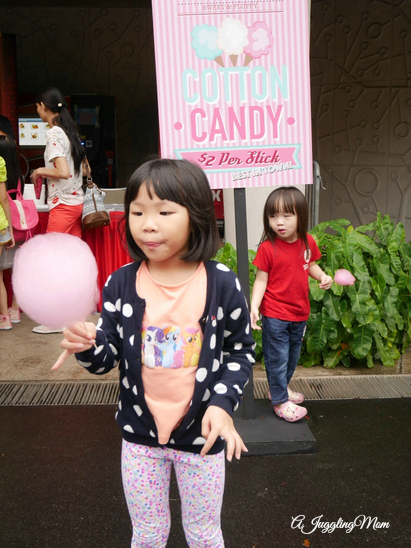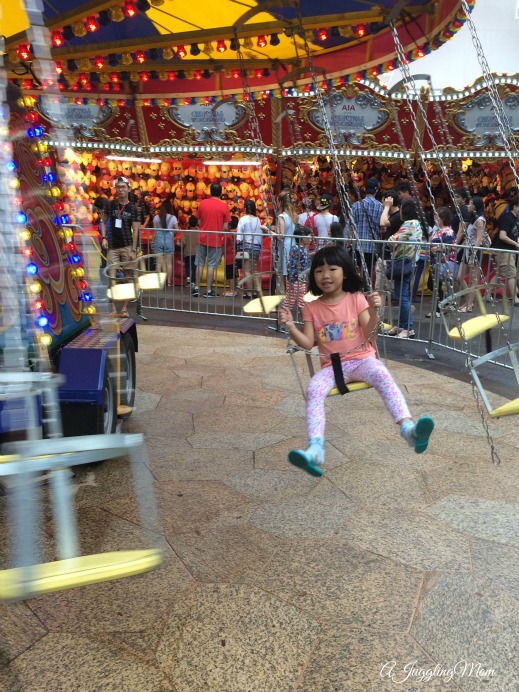 We missed the Swinging Chairs on our visit and Sophie was so excited to take this!
But the main highlight for our visit last Sunday is the Ice Skating Rink in the Ice Palace, yet another new attraction this year.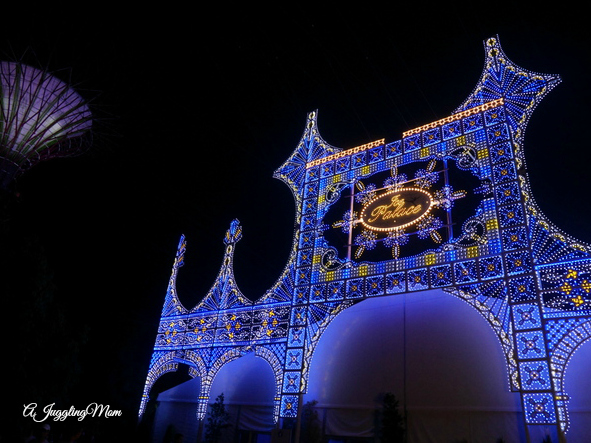 For those with younger kids, you can take them to the Snow Playground where kids get to play with real snow and create their snowman! Each session is 30 minutes and prior booking is advised to avoid disappointment. Adults and child need to pay $12, which includes boots but you'll need to purchase gloves and socks .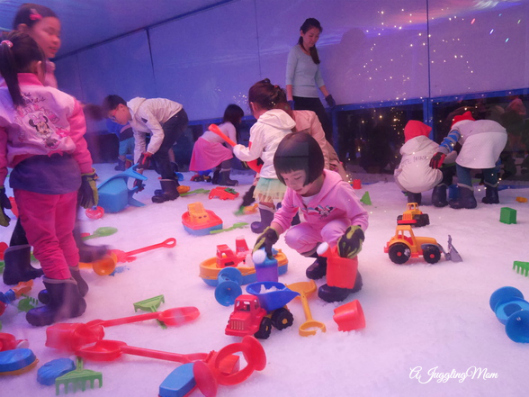 Did I mention that Alexis was actually more excited to go ice skating than Sophie since it's been ages since he last ice skated. It was Sophie's first time ice skating and since she knows the basic to in line skating, she did quite okay and was aided by Mr Cool Penguin here.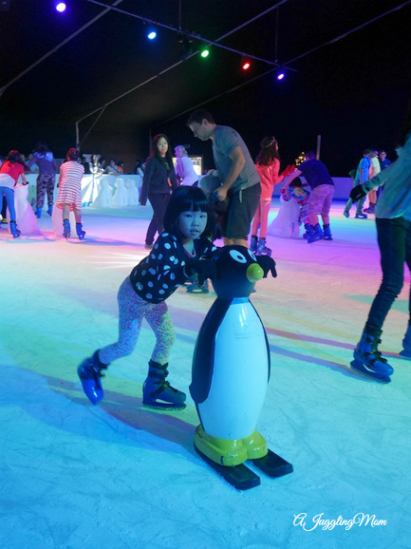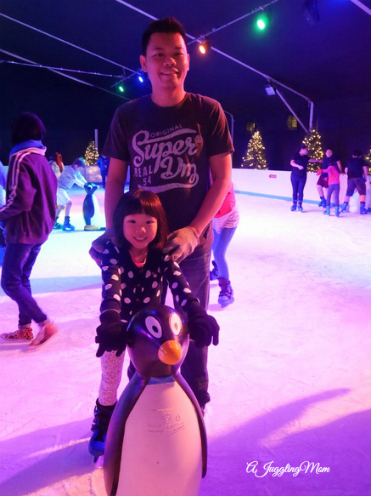 Attempting to make snow ball with ice shavings. Will just have to settle for this until we go for our white Christmas holiday in future.
It's a good idea to bring your own socks and gloves and come prepared with jeans and a jacket as the ice skating session lasted for 45 mins and you need to pay $14 for 45 mins which includes ice skates rental.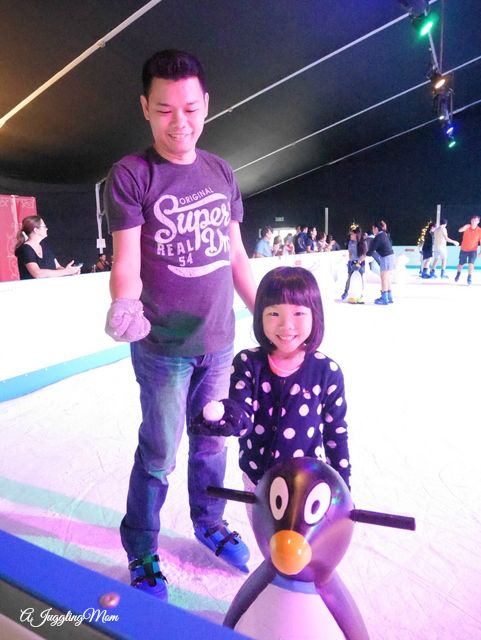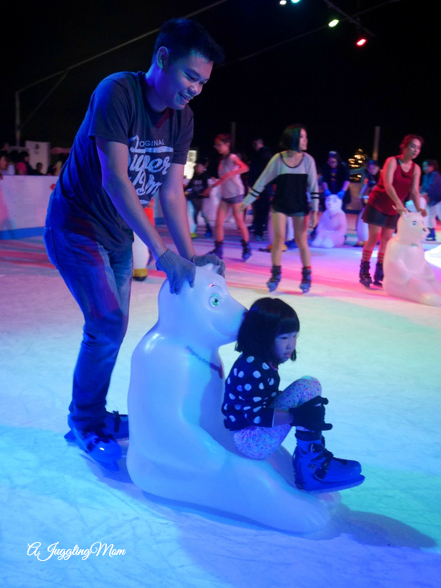 Father and daughter has such a fun time on the ice skating escapade and I think I'm going to come back again just for this! Even though Sophie fell on her bum 8 times, she did well and had an enjoyable time with no complains. It was good that we got here earlier for the second session at 4.20pm so it wasn't too crowded.
Don't forget to take a whacky photo at the AIA Trick Art too! From the photos I've seen, it looks even better with more people. This 3D optical illusion artwork is one of the free activities at Christmas Wonderland and we were a jolly good time posing for it.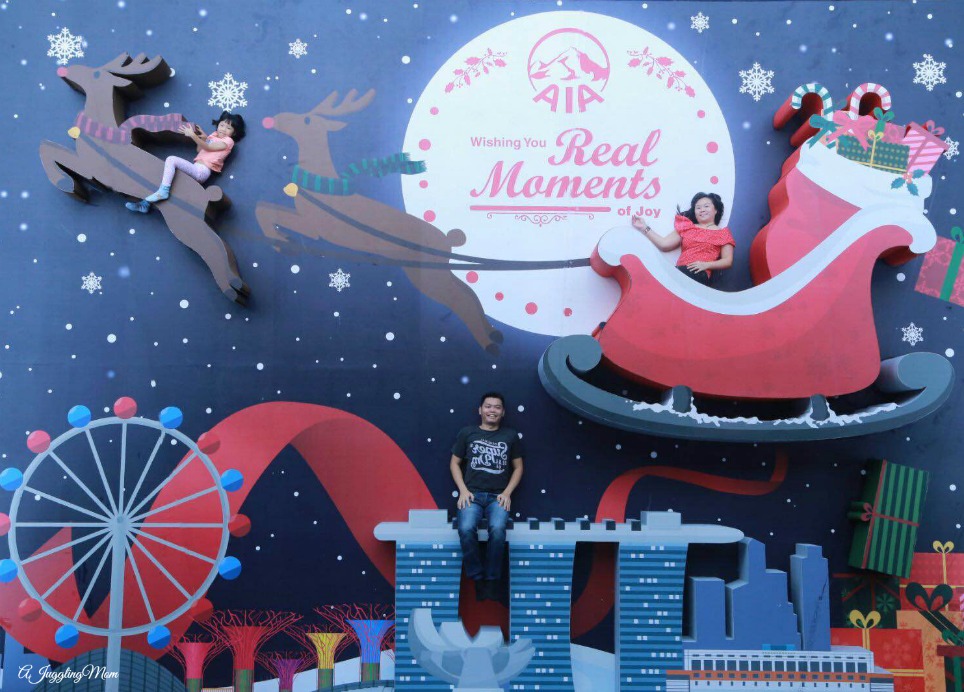 Don't forget to check out the European style Christmas Festive Market where they have a variety of food, crafts, handiwork, and specialty stores. And if you feel more indulgent, there is also the Spiegeltent that serves a specially curated festive menu from Harry's. I heard they've got weekend brunch as well!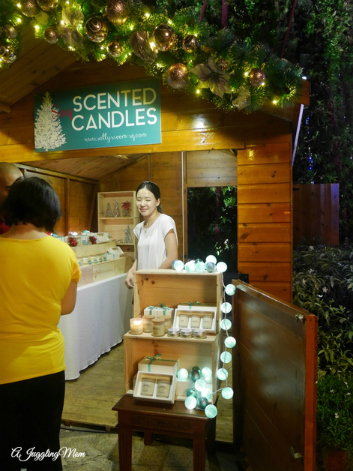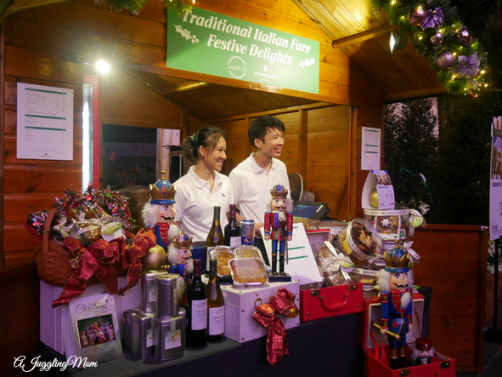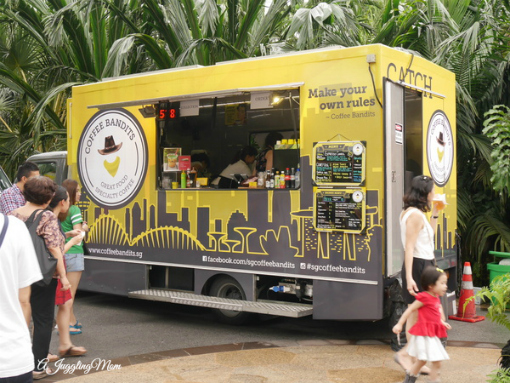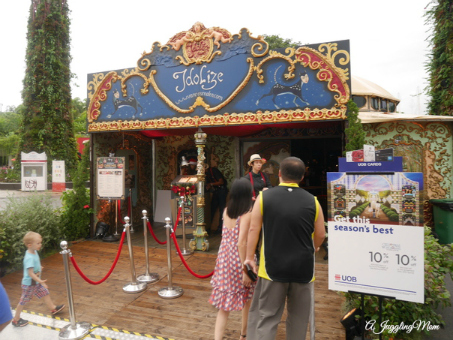 And no visit to Christmas Wonderland is complete without staying to admire the dazzling Spalliera at 7pm daily. The  Spalliera is the largest Luminarie that towers over 20m and will certainly take your breath away when they are lighted. What's even more spectacular is when Blizzard Time starts where you get to see 'snow' in tropical Singapore 🙂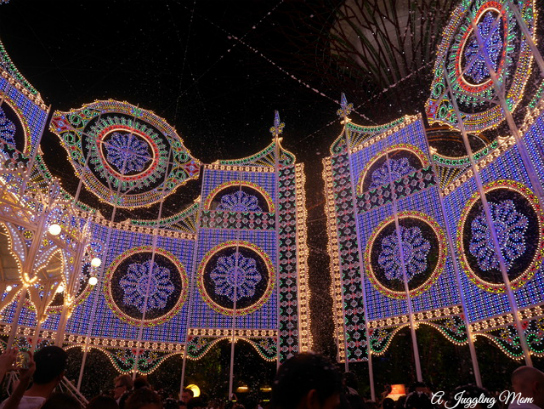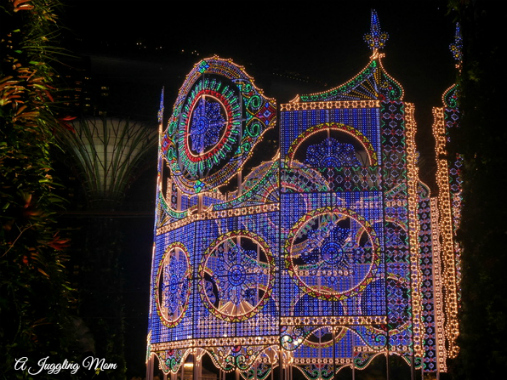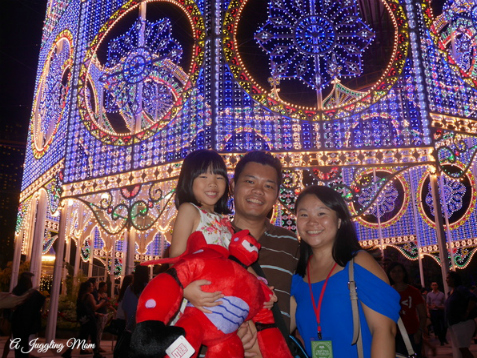 There's still two weeks more to visit Christmas Wonderland if you haven't already done so before it ends on 27 December. Access to Christmas Wonderland is free, while admission charges for the Flower Dome apply.
Christmas Wonderland at Gardens by the Bay
4:00PM to 12:00 midnight daily
Free admission
The Luminarie Light Sculptures will be lit from 28 November 2015 to 3 January 2016 from 7:00PM to 12:00AM daily.
Spiegeltent, Ice Palace, The Fairground (rides & carnival games) & Festive Market opens from 28 November 2015 to 27 December 2015 from 4:00PM to 11:00PM daily.
Tagged: christmas, Gardens by the Bay, Singapore