We're only 4 weeks away from Christmas. Can you feel the festive spirit in the air already?
Every year, I look forward to this time of the year where I launch into my elf mode and start my Christmas cards production. This year I'll be adding watercolour Christmas cards to the mix after I attended a Christmas watercolour workshop with Dottieshop last week.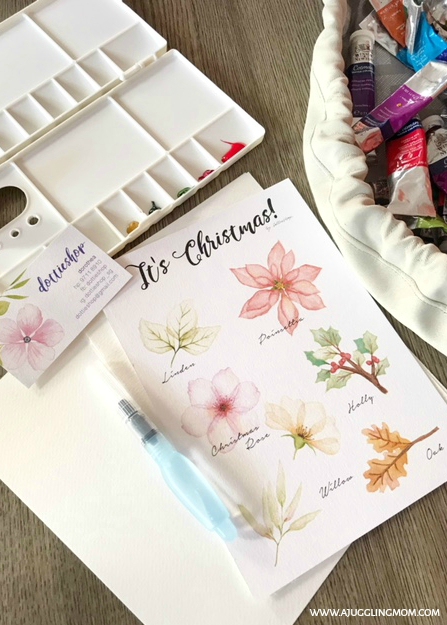 Watercolouring has been making waves on social media for a while now and I've been so inspired by the beautiful paintings that I see popping up on Instagram and Pinterest.
I finally made time to attend a workshop last week and was so glad that little Sophie got to tag along for a kids session too.
Let's get painting
To get us started, we were all given an aquash water brush by Pentel, watercolour papers, a palette, class notes and sample Christmas prints of selected fall and winter blooms, including poinsettia, holly branches, oak leaves and Christmas roses as a reference.
Dorothea kicked off with the kids session first, and here she's explaining the angle to hold the water brush and how the kids can pick up paint with it. She was very patient and answered every questions that the kids bombard her with.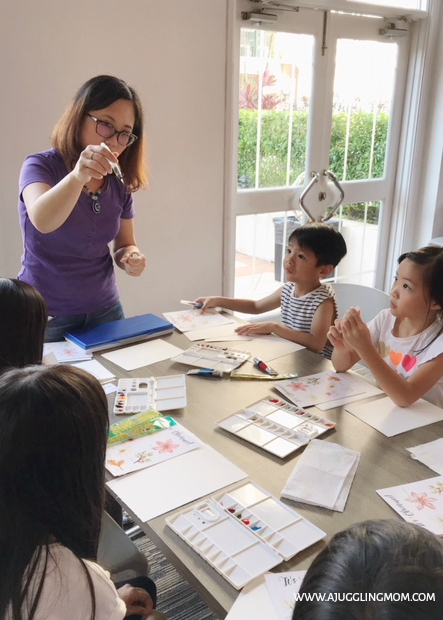 Just when I wondered why Sophie has so little inclination towards art unlike her mama, she surprised me with her quiet focus as she drew and painted that morning. And whoever said you can't paint a rainbow Easter Egg at a Christmas workshop?
Here's my attempt at painting poinsettias.. which kinda looked like a lotus.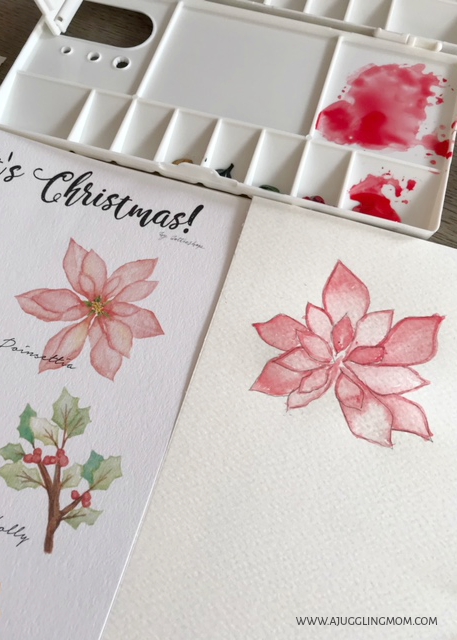 With Dorothea's guidance, I managed to control how much pigment to pick up and how to ensure my paint brush is not too wet to prevent unintended blending mistakes.
It's also important to use lighter pencil strokes if you don't want them to appear after adding watercolour.
Watercolouring Fun Fact
Do you know that if you want lighter colours, you add water instead of adding white paint. And on the converse, you use less water if you want your colours to be more intense.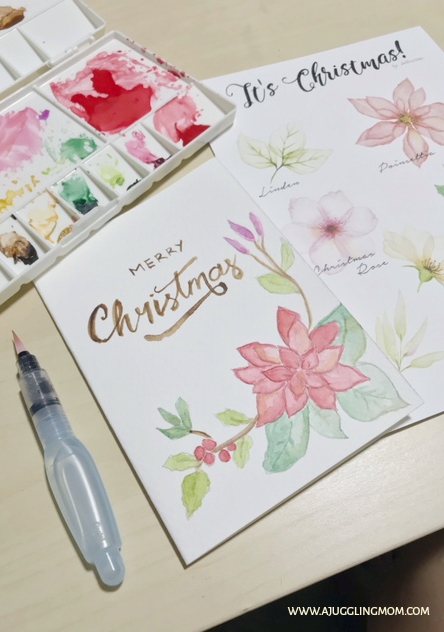 With a bit more practice, here's my watercolour Christmas card. I even tried my hand at calligraphy.
And the verdict? I definitely could do with more practice. But for now, I'm pleased with my card.
If you're keen to pick up watercolouring and gift your love ones with hand-painted watercolour Christmas cards like the ones featured above, Dorothea from Dottieshop will be conducting 2 more Christmas themed workshops on 6 and 17 December at Artify Studio.
Sign up for classes here and you may just pick up a new hobby before the year ends 🙂
You can also check out more of her creations and be notified of future workshops on her Facebook page.
So thankful for such a fun and relaxing morning where I can do what I've been wanting to do for a long time. As the year unwinds, I should make it a point to remember to take time out for myself and do more of what makes me happy.
After all, a healthy being starts with mental health 🙂
Tagged: art, handmade cards, hobby, watercolouring