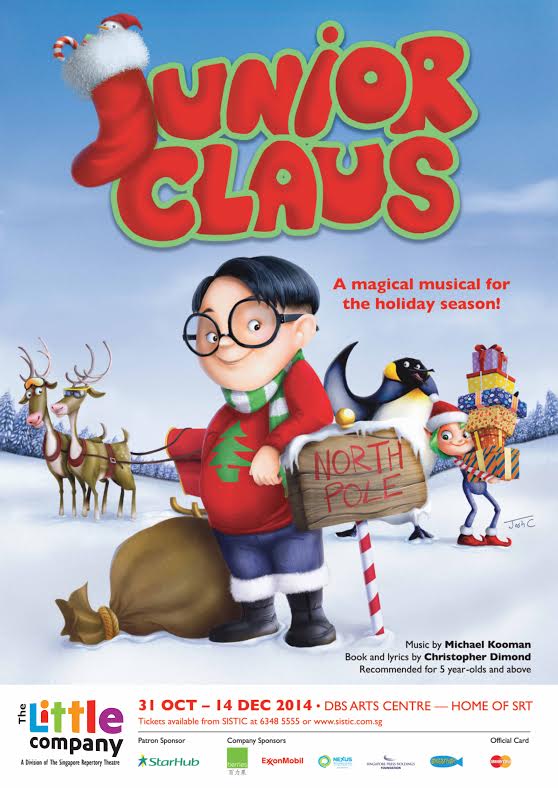 This December, Singapore Repertory Theatre's The Little Company takes you to Far away North Pole for an exciting adventure to bring back the Spirit of Christmas in their year-end musical, Junior Claus.
Musical Synopsis
Junior Claus is the rebellious heir to Santa Claus who is more interested in coming up with new inventions of gadgets and gizmos than taking over his Dad's empire. Junior Claus may be the son of Santa, but he like more and  more children of the world no longer believe in the magic of Christmas causing the Belief-o-Meter to fall to a dangerously low level. Unhappy that he's always living in the shadow of his father, Junior Claus decides to pack up and leave Santa's workshop after he causes Santa Claus to go into a deep slumber when he willfully made a declaration of disbelief in Christmas.
Unknown to Junior, Grumpo, the scheming and greedy elf who has been left in charge of Santa's workshop has malicious plans to ruin the Yuletide season forever for kids all over the world. With such disastrous  trouble brewing in the North Pole, will Junior Claus find the courage to return and put Grumpo's evil plans to a halt?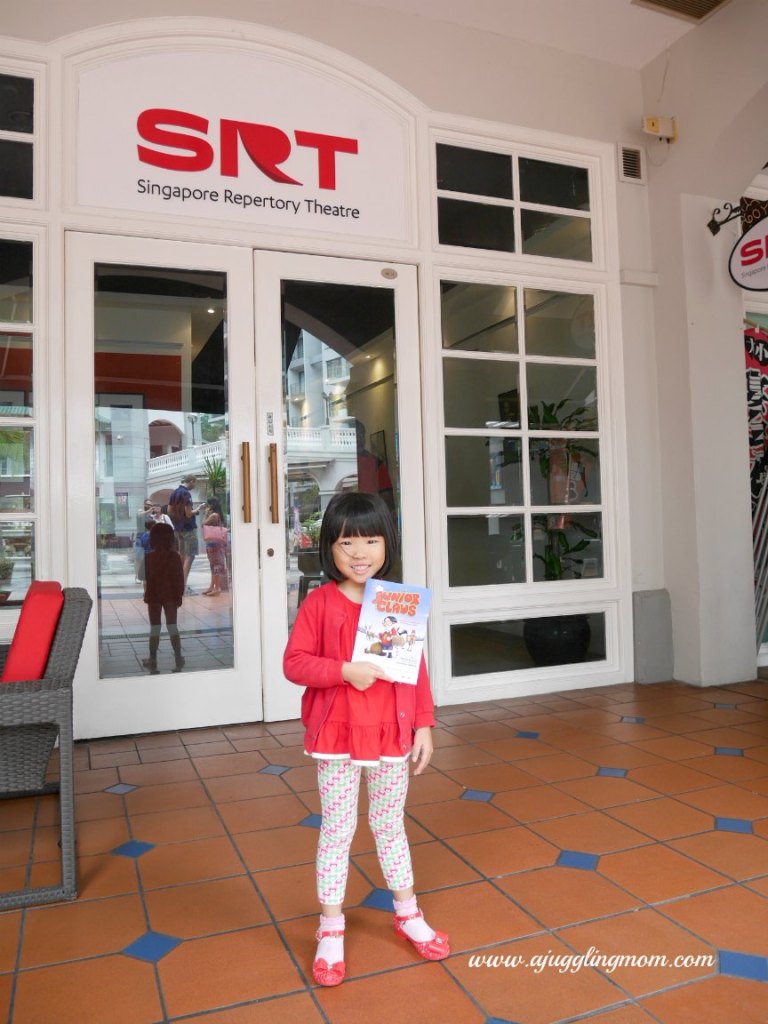 Children will love this adventure filled musical filled with upbeat songs and funny dialogues along with lovable characters like Chipper, the perky elf who is a steadfast friend of Junior Claus who helped him discover the magic of Christmas.
And  Pengy, the really really really talkative penguin who brought much humor to the performance. And of course, Junior Claus who finally understood that beyond the gifts and toys, Christmas must first happen in your heart to experience the true spirit of Christmas.
Though it was a little longer at 1.5 hours, Sophie sat patiently through it and was enthralled by the winter wonderland backdrop and colourful Santa's workshop. Some of the dialogue was hard for her to catch as they were being sung, but that didn't stop her from being participative in the show when they got all the kids to save Christmas.
Junior Claus is a musical that will warm the hearts of young and old and is a musical not to be missed this Christmas season. Suitable for children five and up.
Ticketing and Show Information
Dates: 31 October to 14 December 2014
Venue: DBS Arts Centre – Home of SRT
Ticket Prices: Weekdays $35 (Cat 1), $32 (Cat 2), Weekends $45 (Cat 1), $42 (Cat 2); There are also family packages available.
Duration: 1 hour 30 mins (with 15 mins intermission)
Ticketing: Sistic counters, or visit their website www.sistic.com.sg
– – – – – – – -– – – – – –  GIVEAWAY FOR A JUGGLING MOM READERS – – – – – – – – – – – – – – – 
And here's your chance to win a family package of 4 tickets to catch Junior Claus on 8 November 2014, 2:30pm! To take part in the giveaway, do fulfill the steps on the Rafflecopter widget below.
The more steps you complete, the more chances you gain. Giveaway ends on 5 November 2014, 11:59pm. Good luck!
Please note:
This giveaway is only open to readers residing in Singapore
Winner will be required to self-collect the tickets on the day of the show, 8 November at least 15 mins before it starts.
* A Juggling Mom was invited to Junior Clause to write this review. No monetary compensation was received. All opinions are honest and are my own.